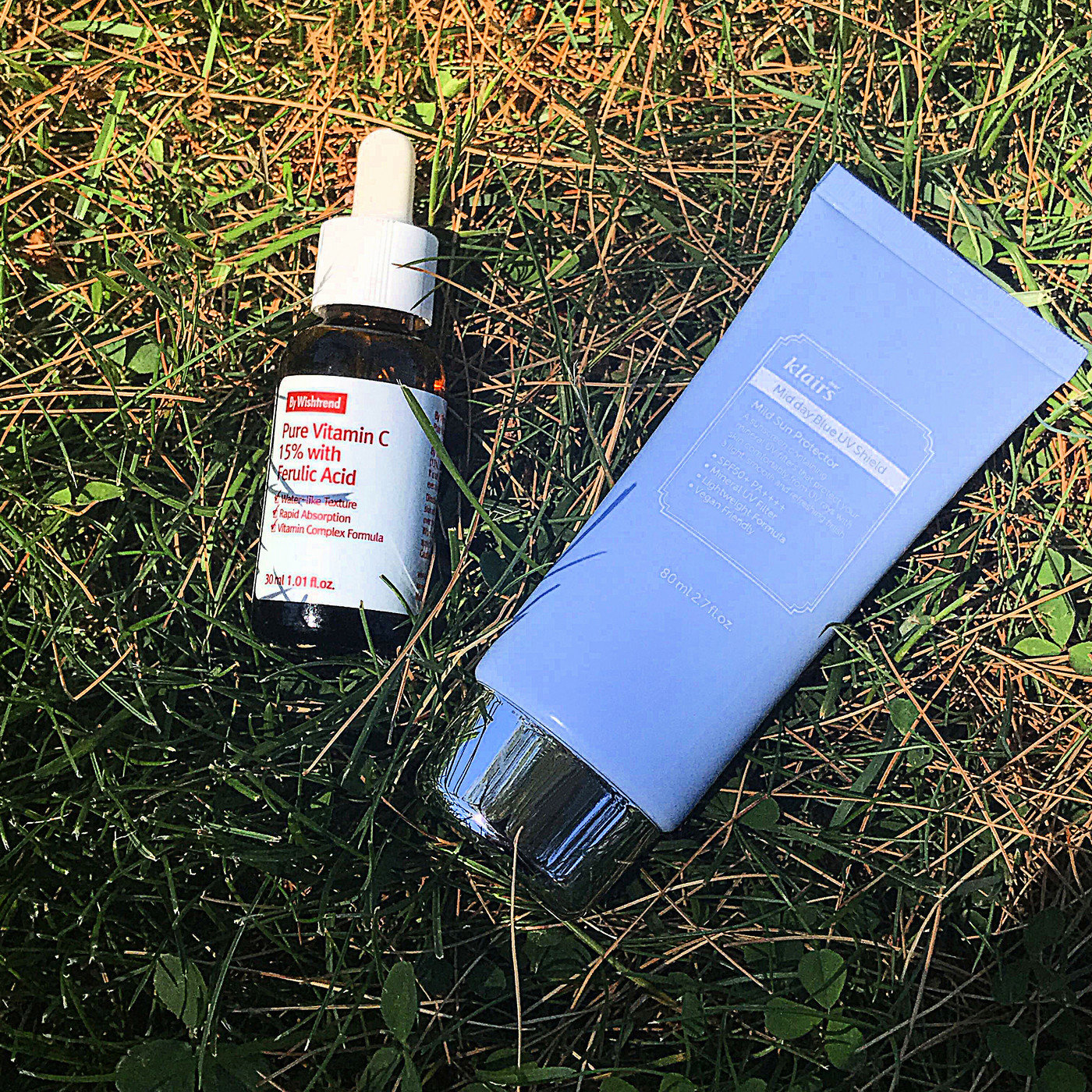 Wishtrend owns both By Wishtrend and Klairs products and they recently came out with two new products, helping to repair and refine your skin while protecting it.  By Wishtrend has a Pure Vitamin C 21.5% Advanced Serum which I have used but didn't see any brightening effects with it (review)  By Wishtrend came out with this milder vitamin C serum ~ Pure Vitamin C 15% with Ferulic Acid ~ which is not as "harsh" as the C 21.5% and is great for beginners to vitamin C or those who need a lower percentage.  We should all wear sunscreen daily no matter what and it is especially important to use a sunscreen after applying acid treatments.  Klairs has a new sunscreen ~ Mid Day Blue UV Shield, with soothing guaiazulene. I received both of these products for review purposes from Wishtrend.
Some products were complementary to review and was not paid.  All reviews are my own honest opinion and  I never have been asked to write copy for a brand.  This blog post might contain promo codes, affiliate and referral links, which using my links will help generate a small commission that helps support my blog at no extra cost to you.
Skin Type/Concerns:  Oily, blemish prone, aging skin with hyper-pigmentation and fine lines/wrinkles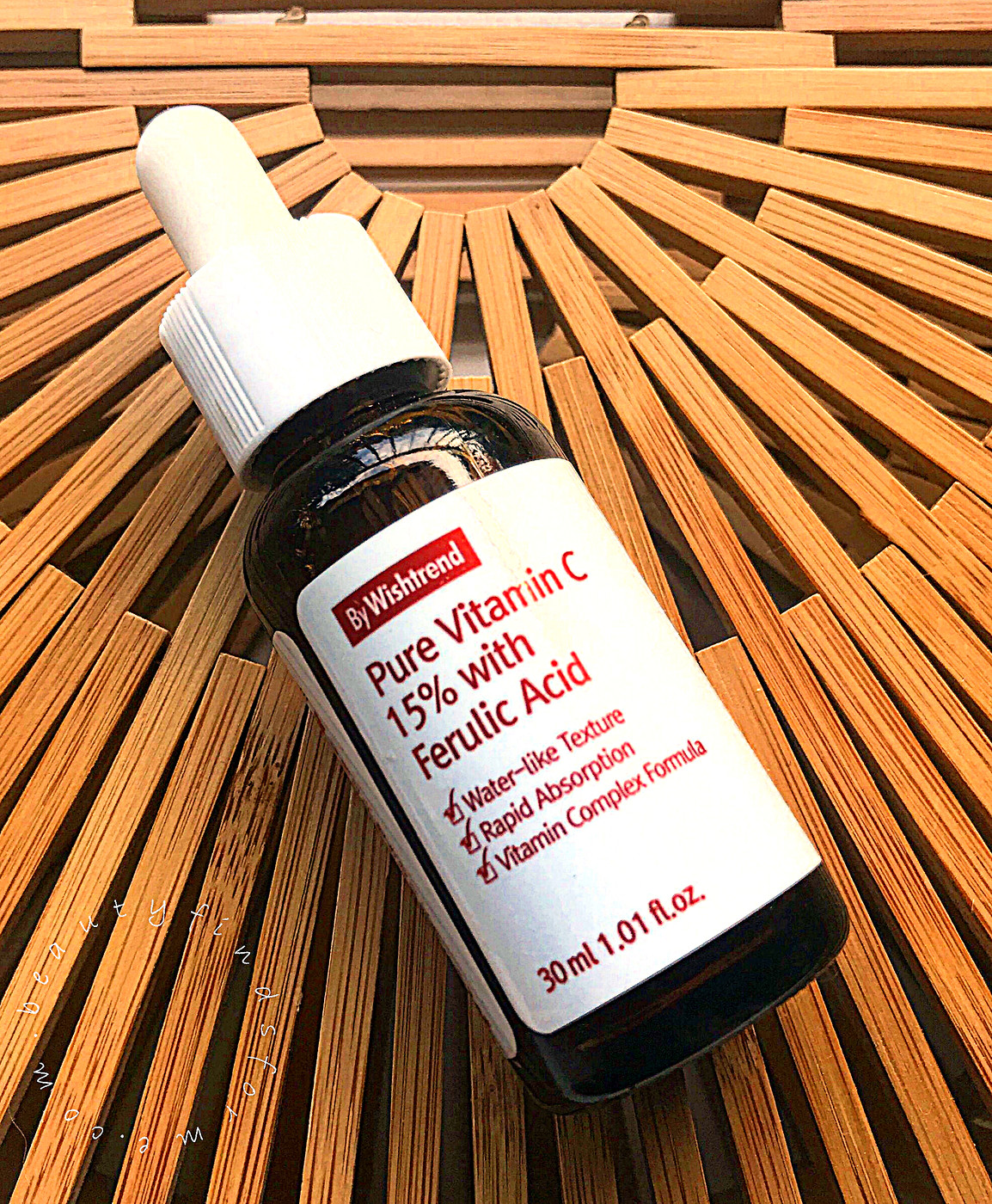 By Wishtrend Pure Vitamin C 15% with Ferulic Acid:  The serum's top ingredient is sea buckthorn (hippophae rhamnoides) water.  Sea buckthorn is immensely rich vitamins C, A and E, beta carotene, minerals, amino acids and fatty acids.  It's known for its antioxidant properties to help slow down aging and to regenerate new skin cells, while penetrating deep into your derma layer,  locking moisture inside.
The third ingredient in the list is ascorbic acid, aka vitamin C.  Vitamin C 2 is an anti-aging, skin-brightener antioxidant which helps combat free radicals, firming skin, boosting collagen production, fading sun damage and acne scars.   It is also important for stimulating collagen production.  As we all know, vitamin C is very susceptible to oxidation, turning our serums to a deep orange shade, and this serum is in a water base, compounding the problem.  However, By Wishtrend added two forms of stabilized vitamin C, 1% ethyl ascorbyl ether and sodium ascorbyl phosphate, both great additions to this water based serum.
Vitamin C serums can make your skin tacky or sticky, so By Wishtrend used diglycerin instead of glycerin for hydration.  This has a larger molecular structure than glycerin, so it isn't as tacky on the skin. This also has calcium pantothenate, which is the salt of vitamin B5, making it a humectant, attracting moisture to the skin.
The addition of .5% ferulic acid is to help boost the efficiency of the vitamin C and other antioxidants, such as vitamins B5, B and vitamin E found in here.   This also helps by reducing new fine lines, wrinkles and spots, as it is also an antioxidant ~ containing vitamins A, C and E.
This also has skin brightening niacinamide, which is an anti-inflammatory, improves your skin elasticity, enhance the skin barrier function and also it helps to even out skin tone and reduce post-inflammatory hyper-pigmentation. 
Ingredients: Hippophae Rhamnoides Water, Ethoxydiglycol,  Ascorbic Acid, Diglycerin, Methylpropanediol, 1,2-Hexanediol, C12-14 Pareth-12, Ethyl Ascorbyl Ether, Tromethamine, Ferulic Acid, Ethylhexylglycerin, Water, Niacinamide, Calcium Pantothenate, Maltodextrin, Sodium Starch Octenylsuccinate, Sodium Ascorbyl Phosphate, Tocopheryl Acetate, Pyridoxine HCl, Silica cosDNA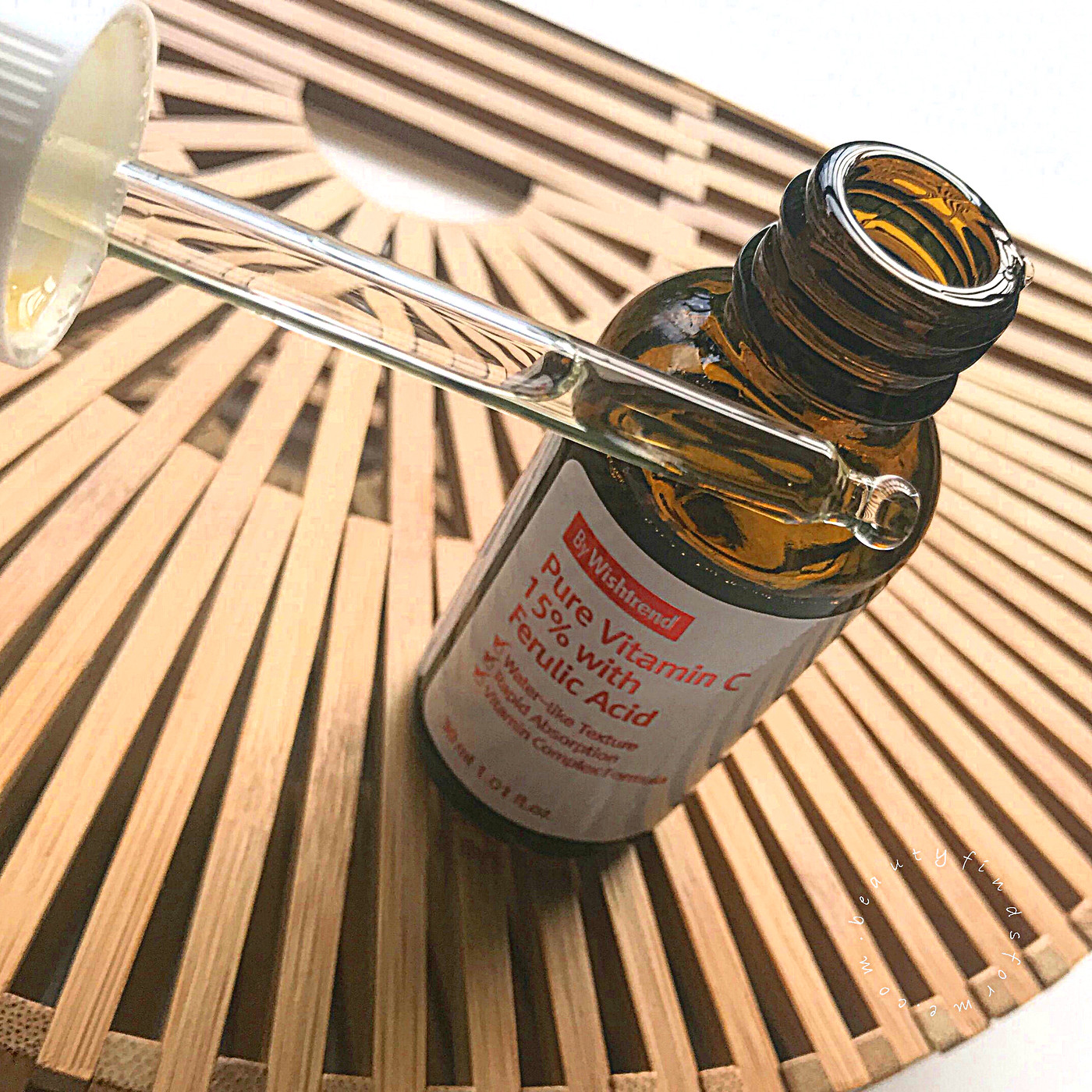 This comes in an light amber colored  30 mL glass bottle with the eye drop applicator packed separately ~ you just need to remove the cap off the bottle and then replace it with the eye drop applicator.   The amber color helps the vitamin C from oxidizing too quickly from light, but you should store this in a cool, dark place ~ it doesn't have to be a frig but a bathroom cabinet is fine. That is where I store mine and it hasn't turned bright orange yet. 

This has is a watery type of serum, with a slight yellowish tinge to it.  It doesn't smell like "hot dogs", which a lot of vitamin C serums smell like ~ instead it has a faint acid scent.   The pH level is about a 3, making it acidic.  NOTE:   I have read that another reviewer got a 5.5, so I am ordering some new strips in case mine are old or bad ~ and I will update this blog post once I get them to double check.  Based on a 3 pH level and using LabMuffin's Free Acid Calculator, this will have a free acid content of 13.9%. This means this serum will have an increase in cell turnover and collagen, according to Goals to Get Glowing Free Acid Value (FAV) Chart.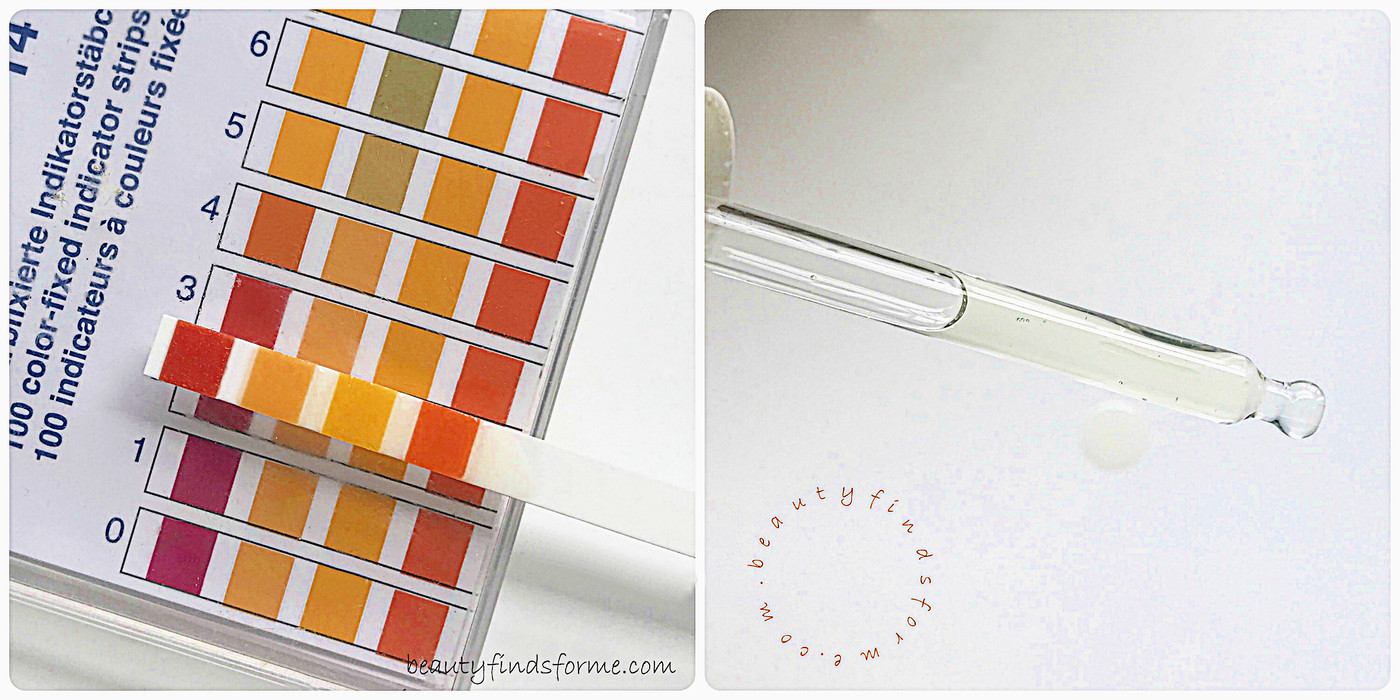 As this is an acid, I like to apply this right after my watery toner step ~ there is a slight tingling the first few times I used this, but then my skin got used to it.  I did not experience any breakouts or purging with this serum, which is why I want to retest the pH level.  Normally, with such a low pH, my skin reacts horribly to it, but perhaps the addition of the ferulic acid and stabilized vitamin C ingredients, it is more gentle on my face. 
This dried down fairly well and didn't really leave a tacky finish, like most vitamin C's do and my skin looks more glowing and radiant after applying.   However, I did not notice any reduction of hyper-pigmentation discoloration, which is what I really want to see in a vitamin C product.  However, I always have issues with Vitamin C ~ it either makes me break out or it doesn't lighten hyper pigmentation.  With that said, if you like the Klairs 5% Freshly Juiced Vitamin Drop Serum, then you should upgrade to the By Wishtrend Pure Vitamin C 15% with Ferulic Acid.
With every acid treatment, hell, EVERYDAY without fail, you should be applying a sunscreen. There are lots out there and personally, I do prefer a chemical sunscreen for my oily skin.  That said, there are several mineral sunscreens that do not leave my skin dewy and this one from Klairs ~ Mid Day Blue UV Shield ~ is one of them.
Whenever I do a sunscreen review, I always like to include this in my blog post.  It may seem repetitive if you are familiar with my blog posts, but not everyone reads every review or clicks on resources to find out what I am referring to.  If you already know this information, skip over to read the review of Klairs Mid Day Blue UV Shield
We all know what SPF rating means, but what does PA stand for?   I am very familiar with SPF (sun protection factor) and that it ranks based on protection from UVB :: ultraviolet B (shortwave) rays.  But the PA rating is something newish to a lot of Western readers, and I really notice it on Asian sunscreens, not so much American brands.    PA is the amount of protection the sunscreen offers from UVA :: ultraviolet A (long-wave) rays.  PA ranks with + signs and the higher the + signs, the more protection you will get from UVA rays.
UVB is what causes sunburns and reddened skin and has direct links to cancer.  UVA is what causes us to tan, and age ~ wrinkles and deep lines are caused by UVA exposure.  A really fantastic article about ultraviolet rays and how they affect our skin can be found here at the Skin Cancer website  and I highly recommend reading it.   One thing I have learned is that a broad spectrum sunscreen is the proper choice as it will help deflect the UV rays and not allow them to penetrate into your skin layers.  All of the make p:rem UV Defense Me sunscreens are rated SPF 50+ PA++++
TL;DR:  You need to wear them.  Don't skimp on or skip this step.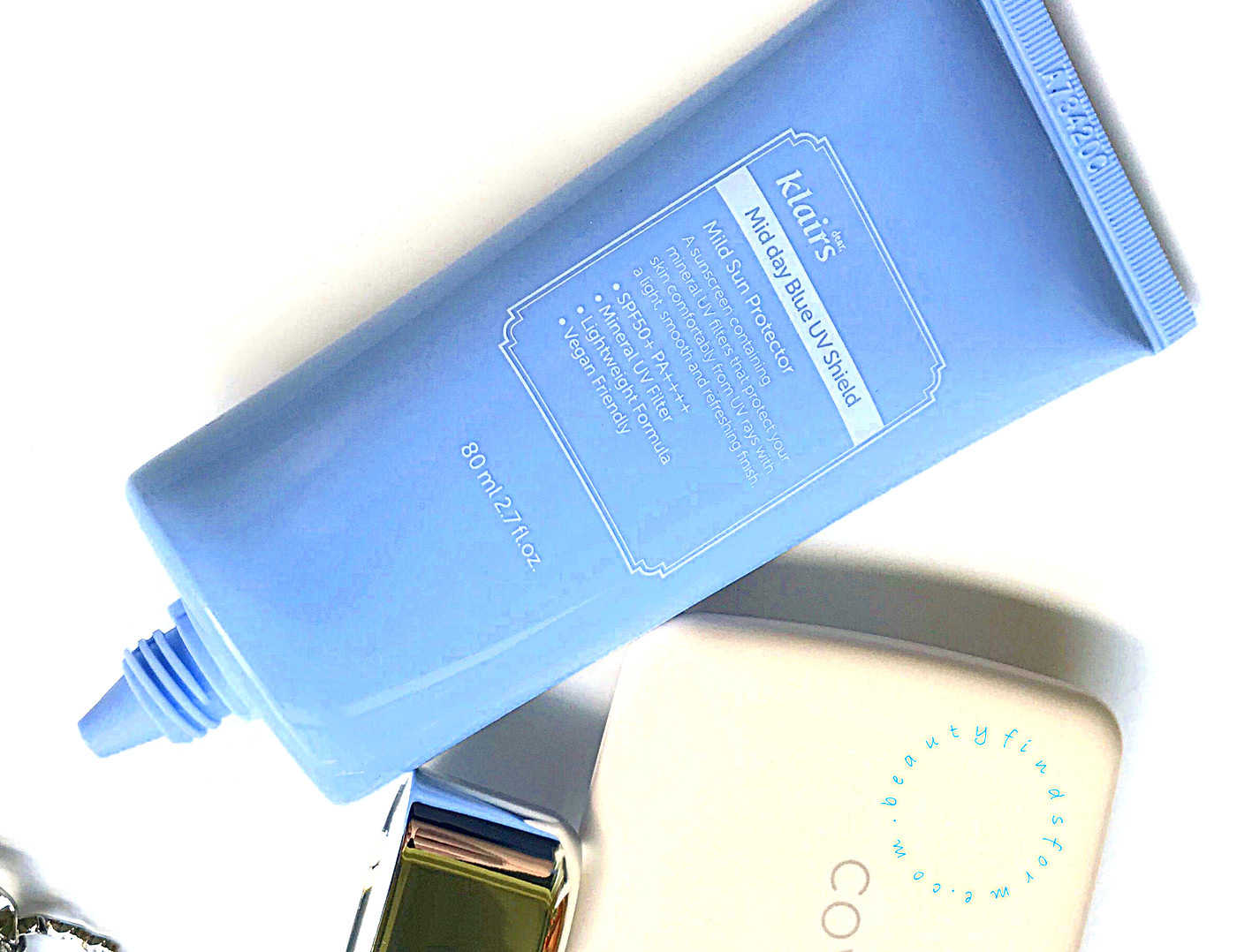 Klairs Mid Day Blue UV Shield has SPF 50 PA++++ protection with two physical mineral UVA/UVB blockers: zinc oxide and titanium dioxide.  These are common blockers and they do protect the skin quite well from harmful UV rays, but keep in mind that mineral sunscreens can leave a white cast.  The other notable ingredient is chamomile derived guaiazulene, a soothing, anti-inflammatory and healing  ingredients that provides the rich lavender-blue shade and it is also an antibacterial.  
Rich in fatty acids and phospholipids, echium plantagineum seed oil provides antioxidant antimicrobial and anti-inflammatory benefits.  Amino acid betaine is a humectant, anti-inflammatory with skin smoothing benefits.  Anti-inflammatory cardiospermum halicacabum reduces skin redness, itchiness and helps prevent moisture loss.  Inositol has water binding properties and helps prevent dryness in skin while acting as an anti-inflammatory.
Get the picture here?  This sunscreen has loads of anti-inflammatory benefits!  It doesn't contain any artificial coloring or alcohol and is vegan friendly.
Ingredients: Water, Cyclohexasiloxane, Zinc Oxide, Titanium Dioxide (CI 77891), Polyglyceryl-3 Polydimethylsiloxyethyl Dimethicone, Dibutyl Adipate, Propanediol, Caprylyl Methicone, 1,2-Hexanediol, Disteardimonium Hectorite, Betaine, Magnesium Sulfate, Hydrogen Dimethicone, Inositol, Aluminum Hydroxide, C30-45 Alkyl Cetearyl Dimethicone Crosspolymer, Polyglyceryl-2 Dipolyhydroxystearate, Styrene/Acrylates Copolymer, Stearic Acid, Pentylene Glycol, Ethylhexylglycerin, Octyldodecanol, Guaiazulene, Echium Plantagineum Seed Oil, Cardiospermum Halicacabum Flower/Leaf/Vine Extract, Helianthus Annuus (Sunflower) Seed Oil Unsaponifiables, Dicaprylyl Carbonate, Cetyl Ethylhexanoate, Tocopherol, Fragrance cosDNA 
This comes out of the tube a bluish-lavender shade and due to the mineral filters in here, this will brighten up your skin ~ the term tone-up means that ~ not that it will tone as in firming up your skin, but brighten or lighten your skin.  It isn't noticeable on my medium-fair skin, but I would expect that darker skin tones will struggle with this sunscreen. 

Also, if you have dry-combo to dry skin, you should be aware that this sunscreen mattifies.  For me, this is a dream come true, but for those who are looking for a "dewy" look, they will be disappointed.  This does have a fragrance and the best I can describe it as is "yeasty" ~ like fresh dough.  I actually like the scent, but it could be off putting for others.  
For my oily skin type, I like that it is lightweight and glides on easily ~ I haven't noticed any pilling effects with it.  The brightening effect isn't that bad on me and this doesn't settle into my fine lines and wrinkles.  I like that it has a matte finish, along with all of the other antibacterial and anti-inflammatory ingredients ~ it hasn't clogged my pores or caused me to break out.  As far as mineral sunscreens go,  this one is a good choice for light to medium-light skin tones who are oily or oil-combo. 
Where to Purchase
Wishtrend sells all of Klairs and By Wishtrend products.  
You can use UNBOXINGWISHTREND to get 10% off your purchases  or act quickly and use MICHELE15 to get 15% off your purchases ~ this expires at the end of August 2020.  You automatically receive Free Shipping with purchases $60.00 USD and over.  Wishtrend ships globally and you can pick your own samples now!   
[ product received in exchange for a review. contains affiliate links for a small commission ]