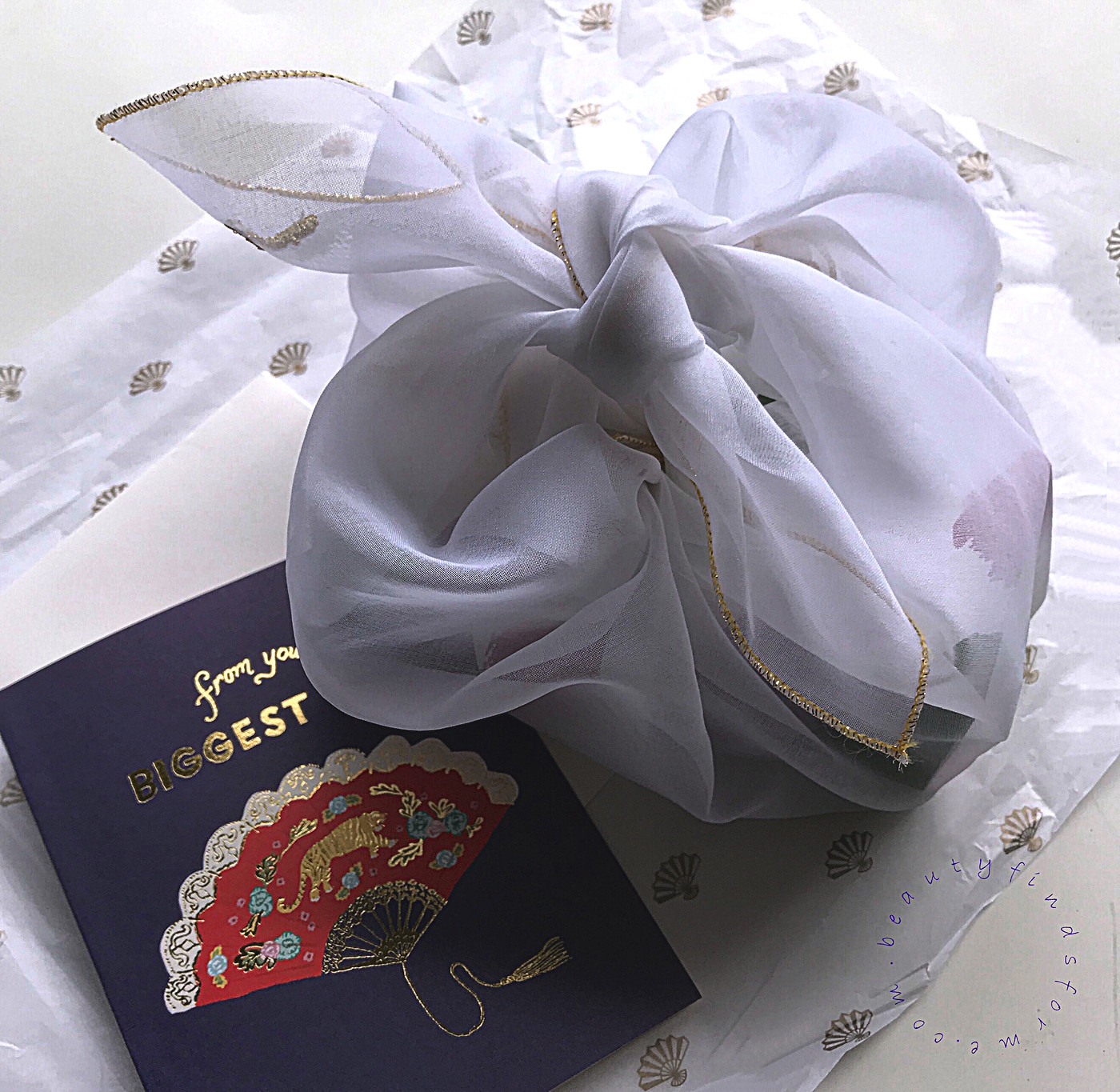 It's been a long time coming, but Whalmyung created a brand new skincare line!  I love Whalmyung skincare products  (read reviews here) and have been with them since day 1 ~ so you can imagine how happy I was when I learned that I was receiving three items from their Minimal Eucaming Skincare line.  I have been using these products for a couple of months now and was waiting for the official launch before releasing this review. Thank you so much Whalmyung for sending me this skincare line!

Skin Type/Concerns: Oily, blemish prone, pores, aging with fine lines/wrinkles and hyper-pigmentation
I received some of these products complementary to review and was not paid.  All reviews are my own honest opinion and  I never have been asked to write copy for a brand.  This blog post might contain promo codes, affiliate and referral links, which using my links will help generate a small commission that helps support my blog at no extra cost to you.
About Whalmyung and Dong Wha Pharmacy
I wrote this up with my original review with Whalmyung's Elixir, but thought it would be nice to repeat it again, as the history of this brand is really amazing and rich with Korean Hanbang tradition.  I found an article about the Dong Wha Pharm and its history on Korea Net, an information online site operated by the Korean Culture and Information Service (KOCIS) (source).  Dong Wha Pharm (Dong Wha Yak Bang) opened its doors in 1897 and is the first and oldest Korean pharmaceutical company.  They created a medical herbal digestive drink, Whalmyung Su (hwal-myung su), which is in the Guinness World Records as Korea's oldest branded product!   They also own the oldest trademark with their fan-shaped logo ~ Bu Chae Pyo
image credit korea.net
Whalmyung Su literally means "life-saving water" and was created for the Royal Family of Korea's Joseon Dynasty.  It soothes and treats digestive problems, with its formula made from acacia, cinnamon and dried cloves.  Dong Wha Pharm has created other versions of this medical herbal drink and today, over 100 million bottles are sold annually.  They create 400 different types of medicine with exports to 30 countries around the world
Left: Early photo of Dong Wha Yak Bang company.  Right: Whalmyung Su ~ 117 year history  image credit korea.net
In 2017, Dong Wha Pharm branched out to skincare and launched a "royal secret formula" skincare line to help celebrate their 120th year anniversary.  They base their skincare products on their famous Whalmyung Su formula, selecting herbs from the   Whalmyung Su Secret Formula 11 herbs to create some unique and effective products! 
Key Ingredients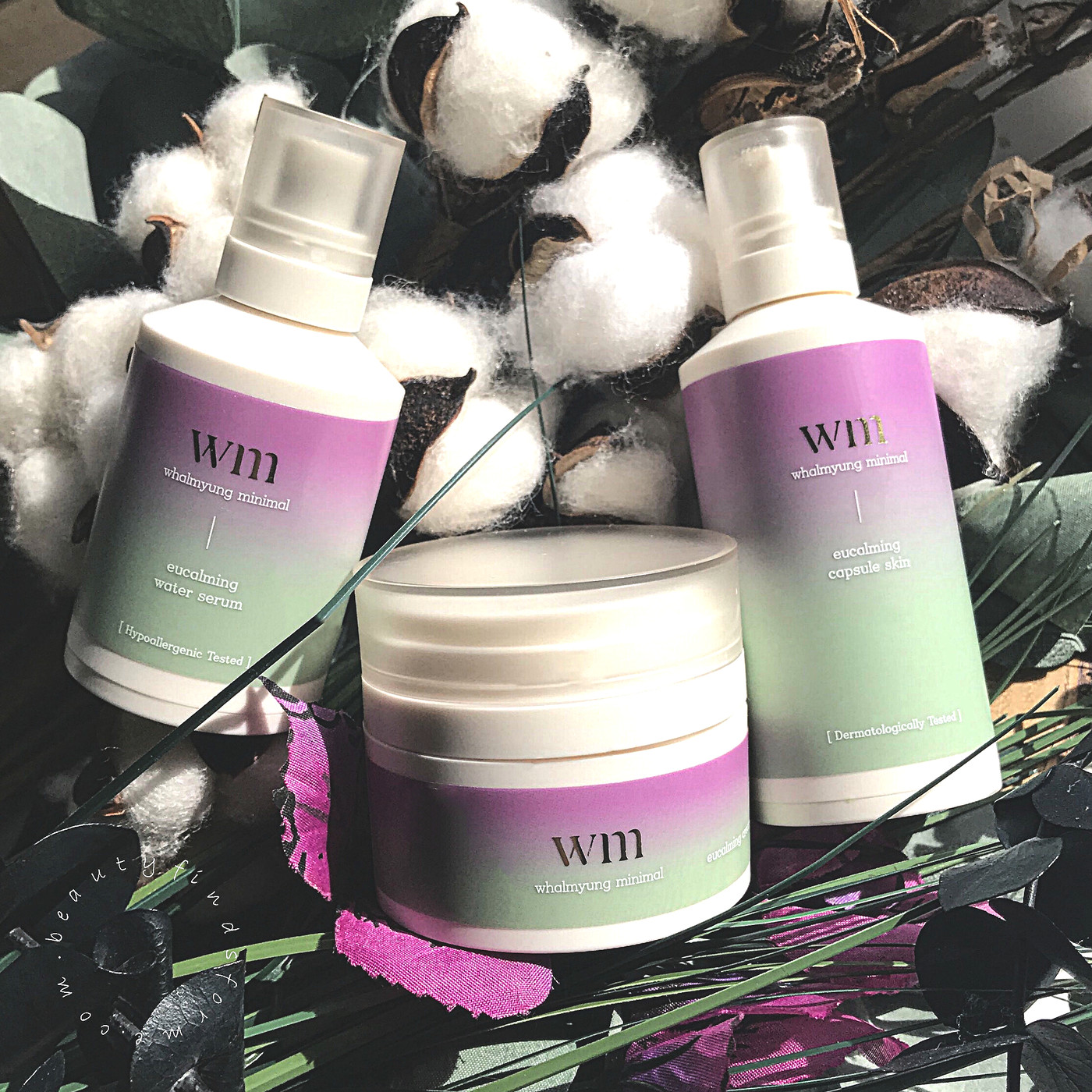 WM Whalmyung Minimal Eucaming skincare line focuses on soothing and calming ingredients with a simple yet effective formula.   The key ingredients in this skincare line are
Formulated with medical-grade, eucalyptus-derived purple azulene (sodium guaiazulene sulfonate) which has antioxidant, antibacterial and anti-inflammatory properties. It helps to relieve skin issues and irritations because it soothes and lessens swelling and redness, while healing skin and stimulating cellular renewal.  It repairs the skin by strengthening the skin barrier and  helps normalize oil-water balance in your skin, while protecting your skin for external damage. soothing and skin repairing benefits.  The purple color is naturally derived so you can expect different shades, even if the formula is the same. 
image from whalmyung
Patented WM1897-P5™ contains 5 signature ingredients that Whalmyung is famous for.  This contains ingredients that are anti-oxidant and anti-inflammatory with a rich source of vitamin C: 
Rich in vitamin C, flavonoids and hesperidins, citrus unshiu (mandarin orange) helps tighten pores, brighten your skin's complexion, while controlling hyper-pigmentation.  Cinnamon has anti-inflammatory properties, so it will help soothe, reduce swelling and redness and will also moisturize your skin.   As cinnamon has tannis, it is also an astringent, anti-septic and antibiotic, so it will help with pore and blemish control.  Nutmeg is an astringent and contains anti-inflammatory proprieties, so it helps with skin issues ~ it can help reduce infection and swelling and can also lighten blemish scarring and hyper-pigmentation.  Corydalis has anti-septic and antibacterial properties, so it also helps with keeping skin clear, while its anti-inflammatory properties reduce redness and swelling. 
Ginger contains 40 antioxidant compounds that help with anti-aging, removes toxins and stimulates your blood circulation.   It combats and prevents damage from free radicals, helping improve elasticity which makes your skin firm, toned and less wrinkles.  It have anti-bacterial properties to help fight off infections, it is also an anti-septic and antimicrobial, which helps keep blemishes away and its anti-inflammatory properties help reduce redness and swelling of the skin.   It also helps reduce the appearance of hypopigmented  scarring ~ these scars are lighter than your skin tone and occur when your skin loses its pigmentation ~ it is the exact opposite of hyper-pigmentation.   It also is a skin brightener and can help even out your skin tone by inhibiting the production of melanin. 
Tremella or snow fungus, helps draws water to the skin, just like hyaluronic acid, helping keep your skin hydrated and moist, plumping up fine lines and wrinkles. Snow fungus is an antioxidant, helping combat and reserve free radical damage, including lightening of hyper-pigmentation spots
These products contain a couple of hydrating humectants: Sodium hyaluronate helps supply nutrition and strengthen your cell barrier and will penetrate deep into your skin, while retaining moisture. Glycerin will moisturize and hydrate the skin, leaving your face feeling smooth and soft.  
The Minimal skincare line uses an established technology called Membrane Filtration, which helps separate and reject solid particles using a very thin filter, "membrane", formulated at room temperature as to preserve the active ingredient's benefits and functions without heat damage.  Using their minimal formula,  Whalmyung achieves a water-in-oil texture, without using emulsifying ingredients. 
All three of these products have been dermatologist tested and are hypoallergenic.  All products have no fragrance to them and are recommended for sensitive, irritated, oily/combo, blemish prone and dehydrated skin types.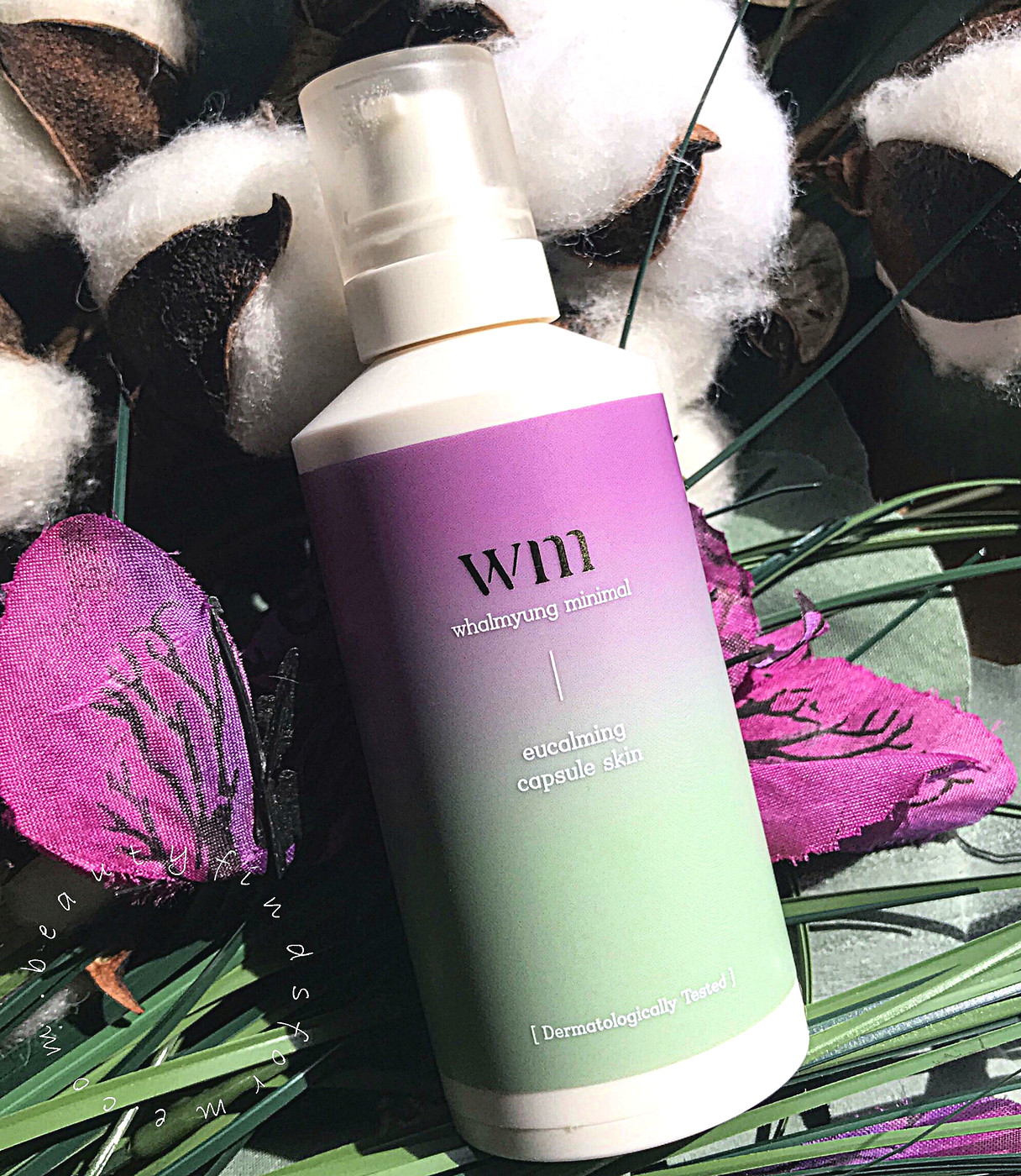 WM Whalmyung Minimal Eucalming Capsule Skin Toner is a lovely toner!  I was a bit worried with one of these products as they do contain rose water.  However this does not smell like rose at all and I did not experience any adverse reaction.   Not only does this have the key ingredients, but several more that are have calming, soothing, oil controlling and astringent benefits. 
Antioxidant damask rose floral water is a great ingredient for oily skin as it helps purify while acting as an astringent. It also has soothing and moisturizing properties.  Chrysanthemum has a rich concentration of vitamin A, so it helps with skin issues, like irritation and rashes.  It is a calming and soothing anti-inflammatory  as well as antiseptic.  Centella is an old friend of mine ~ this common herbal ingredient is used medicinally to help speed up wound healing, such as blemishes and skin rashes. It also helps minimize the appearance of pores.  Amino acid humectant betaine also is an anti-irritant, providing silky smooth skin while soothing skin.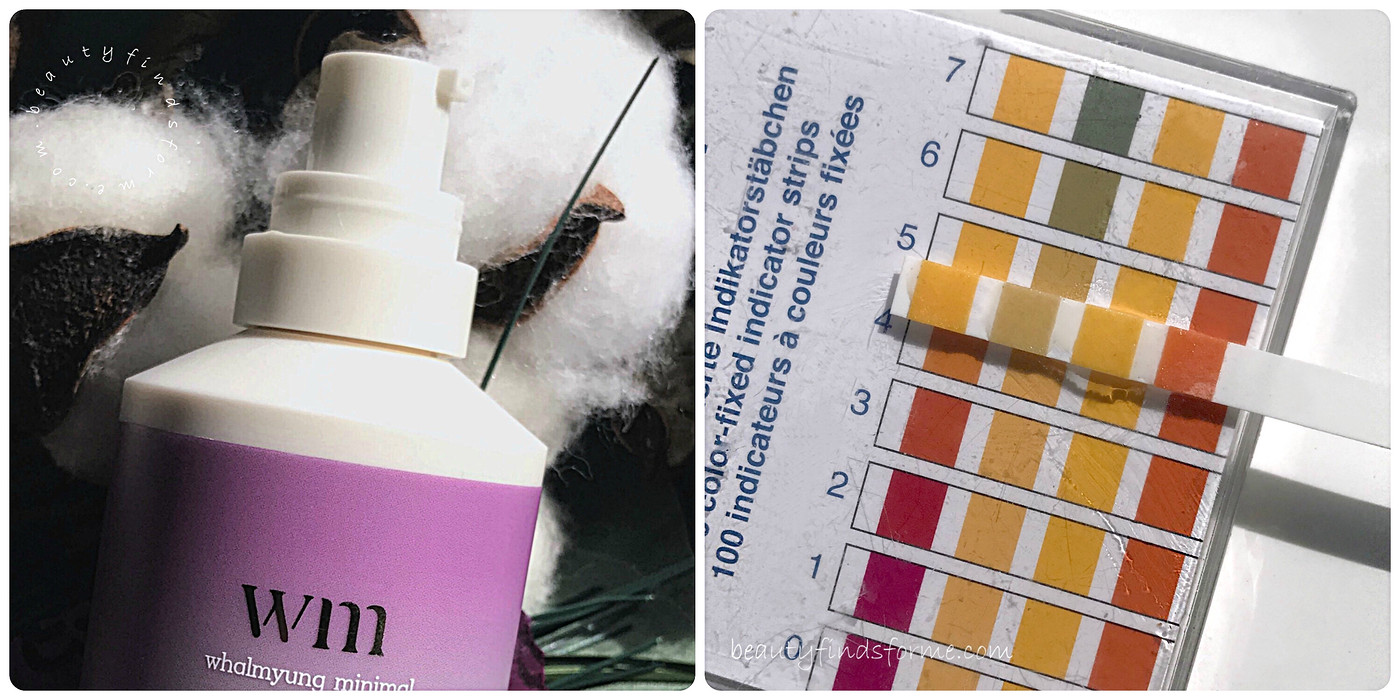 This comes in an adorable little bottle but it is 50 mL.   The packaging on this skincare line is so sweet with the purple (azulene) and green (eucalyptus) against the cream plastic containers.  This has a pump applicator and the toner has a thicker than water texture with a nice slick feeling to it. This has a very  faint purple shade. 

This has a pH of 5 and it is very hydrating. Despite its watery texture, I can actually feel this on my skin as it dries down ~ it is creating a film barrier over my skin, but it is not sticky or tacky.  This does leave my skin soft and supple  while giving my skin soothing relief.  This is a great toner for a multi-layered step and it is also really great if you put the toner in the refrigerator first ~ I notice that my skin looks more fresh when I do that.   
Ingredients: Water, Rosa Damascena Flower Water, Isopentyldiol, 1,2-Hexanediol, Tremella Fuciformis Polysaccharide, Betaine, Sodium Hyaluronate, Sodium Guaiazulene Sulfonate, Caprylic/Capric Triglyceride, Panthenol, Chrysanthemum Indicum Flower/Leaf/Stem Extract, Centella Asiatica Leaf Water, Glycerin, Citrus Unshiu Peel Extract, Zingiber Officinale (Ginger) Root Extract, Cinnamomum Cassia Bark Extract, Myristica Fragrans (Nutmeg) Kernel Extract, Corydalis Turtschaninovii Root Extract, Hydroxypropyl Methylcellulose, Ethylhexylglycerin, Hydroxyethylcellulose, Dipotassium Glycyrrhizate cosDNA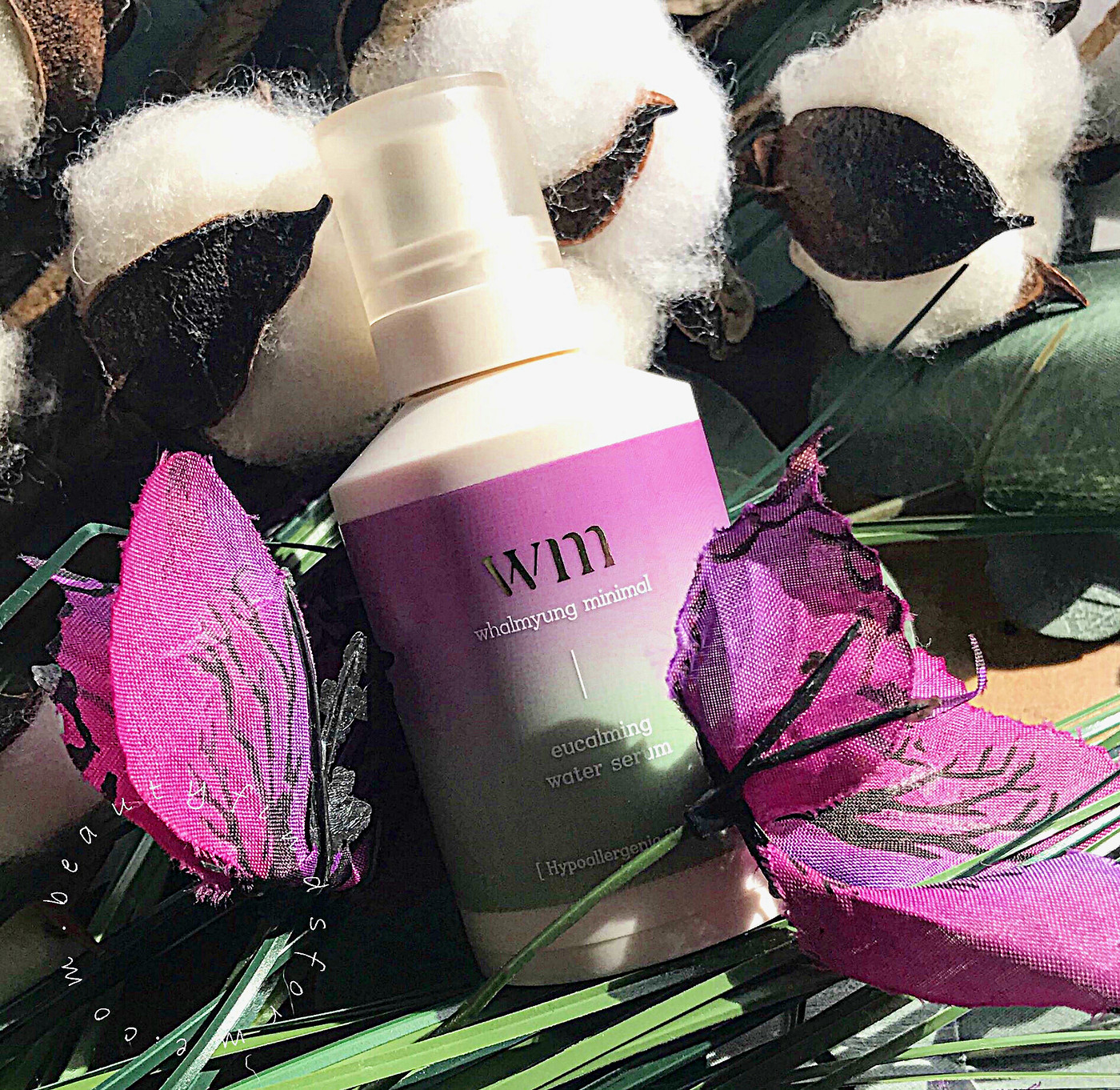 WM Whalmyung Minimal Eucalming Water Serum is probably my favorite item of the trio ~ but I do love all of them!  My only complaint is that it is only 20 mL.  I took the ingredient list off the box, as the one on the website was not correct as that was the toner ingredients.  Along with the key ingredients, this also contains nourishing jojoba oil is rich in fatty acids, vitamins B and E, minerals copper and zinc.  It  absorbs deeply and quickly into skin for moisturizing, skin repairing benefits without a greasy feel. Amino acid arginine  promotes healing and detoxes your skin. It also helps guard against the formation of wrinkles and loss of skin firmness.
Trehalose supplies concentrated moisture to your skin and helps retain moisture, preventing your skin from drying out. Polyglyceryl-3 polyricinoleate is a natural vegetable derived ~ castor oil ricinoleic acid and glycerol ~ emulsifier and emollient  that has a non-greasy texture.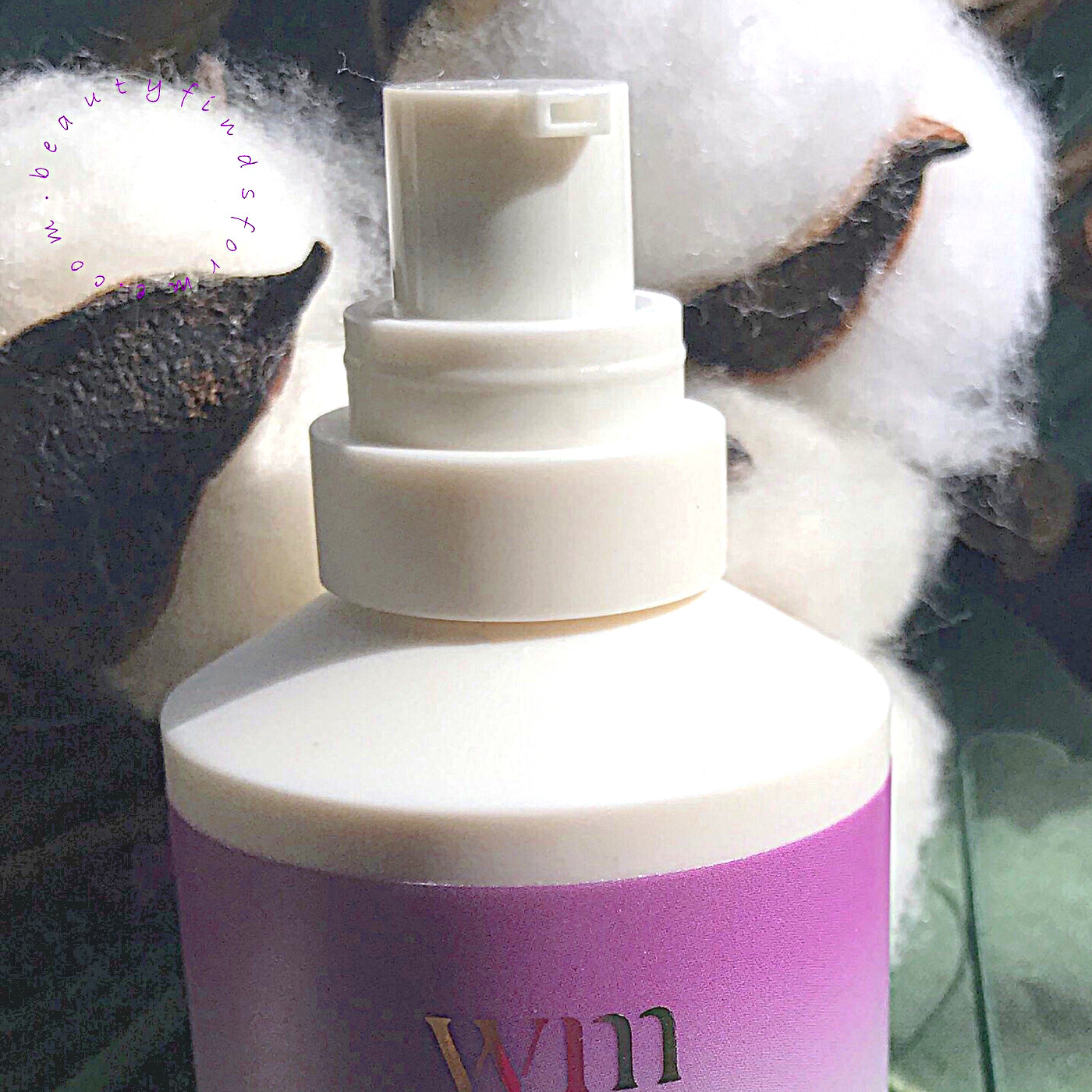 This comes in a smaller bottle version of the toner and also has a pump applicator.  The serum is a lightweight with almost a gel texture and has a beautiful opaque periwinkle blue shade.  Again, there is no scent to this product and it does absorb nicely on my skin, no greasy or sticky residue.

This is a beautiful serum! I noticed how quickly it helped calm my skin down as it has such an amazing cooling sensation to it and it doesn't pill or roll up when I apply my next skincare/makeup steps.  This feels so nice on my skin, leaving it so smooth and looking less red.  It is also quite moisturizing but it doesn't leave me looking like a grease pit ~ just a pretty glow! 
Ingredients: Water, Isopentyldiol, Glycerin,  Simmondsia Chinensis (Jojoba) Seed Oil, Trehalose, 1,2-Hexanediol, Tremella Fuciformis Polysaccharide, Betaine, Sodium Hyaluronate, Sodium Guaiazulene Sulfonate, Panthenol, Citrus Unshiu Peel Extract, Zingiber Officinale (Ginger) Root Extract, Cinnamomum Cassia Bark Extract, Myristica Fragrans (Nutmeg) Kernel Extract, Corydalis Turtschaninovii Root Extract, Acrylates/C10-30 Alkyl Acrylate Crosspolymer, Arginine, Dipotassium Glycyrrhizate, Polyglyceryl-3 Ricinoleate cosDNA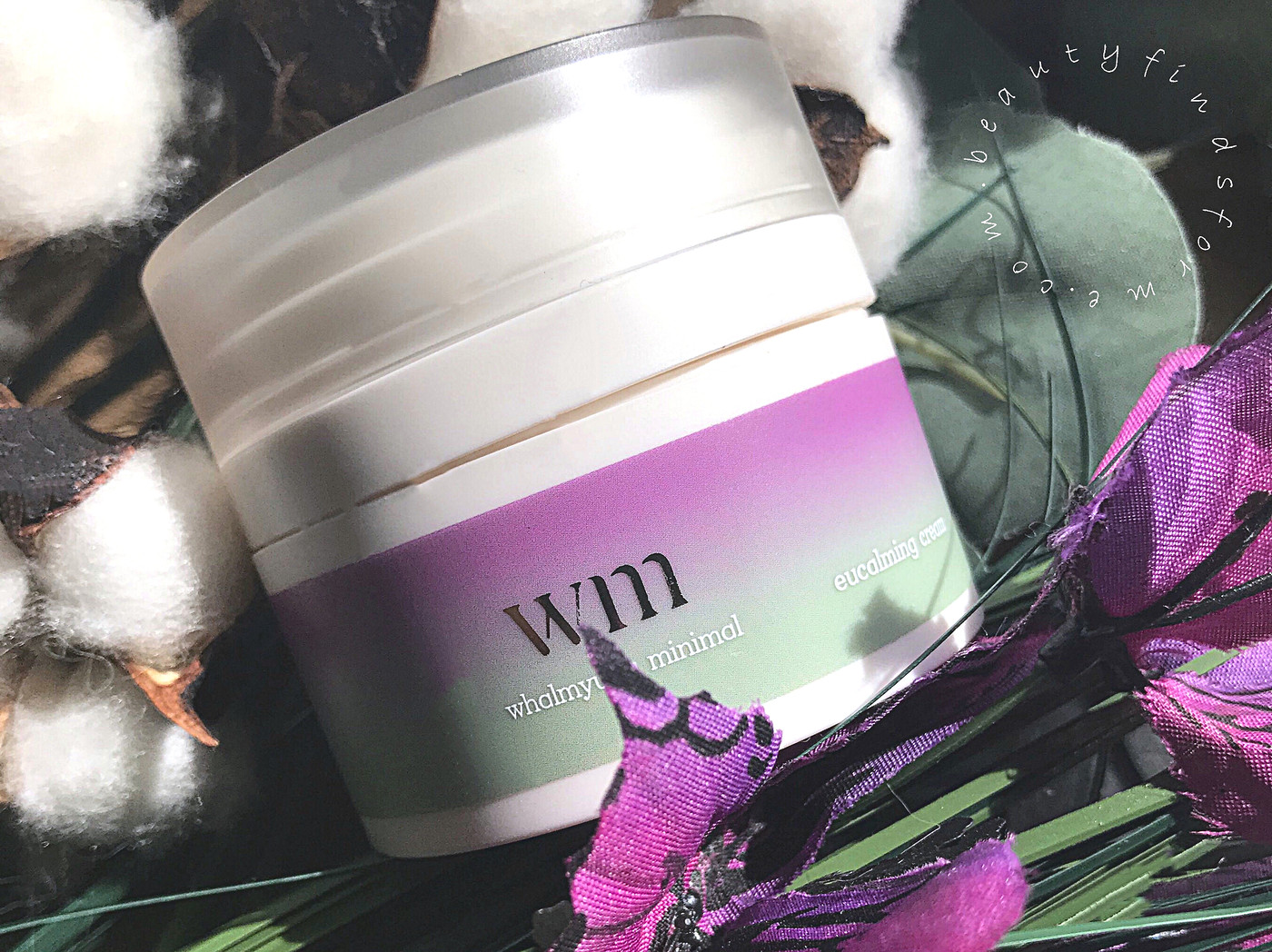 WM Whalmyung Minimal Eucalming Cream  is the last item in this trio of skincare items.  This has pretty much the same ingredients as the serum, with the addition of some thickeners.  This tub has a twist off cap and inside is a pump applicator. Just press down and up comes the cream!  The cream is very lightweight in a off-white shade with no scent.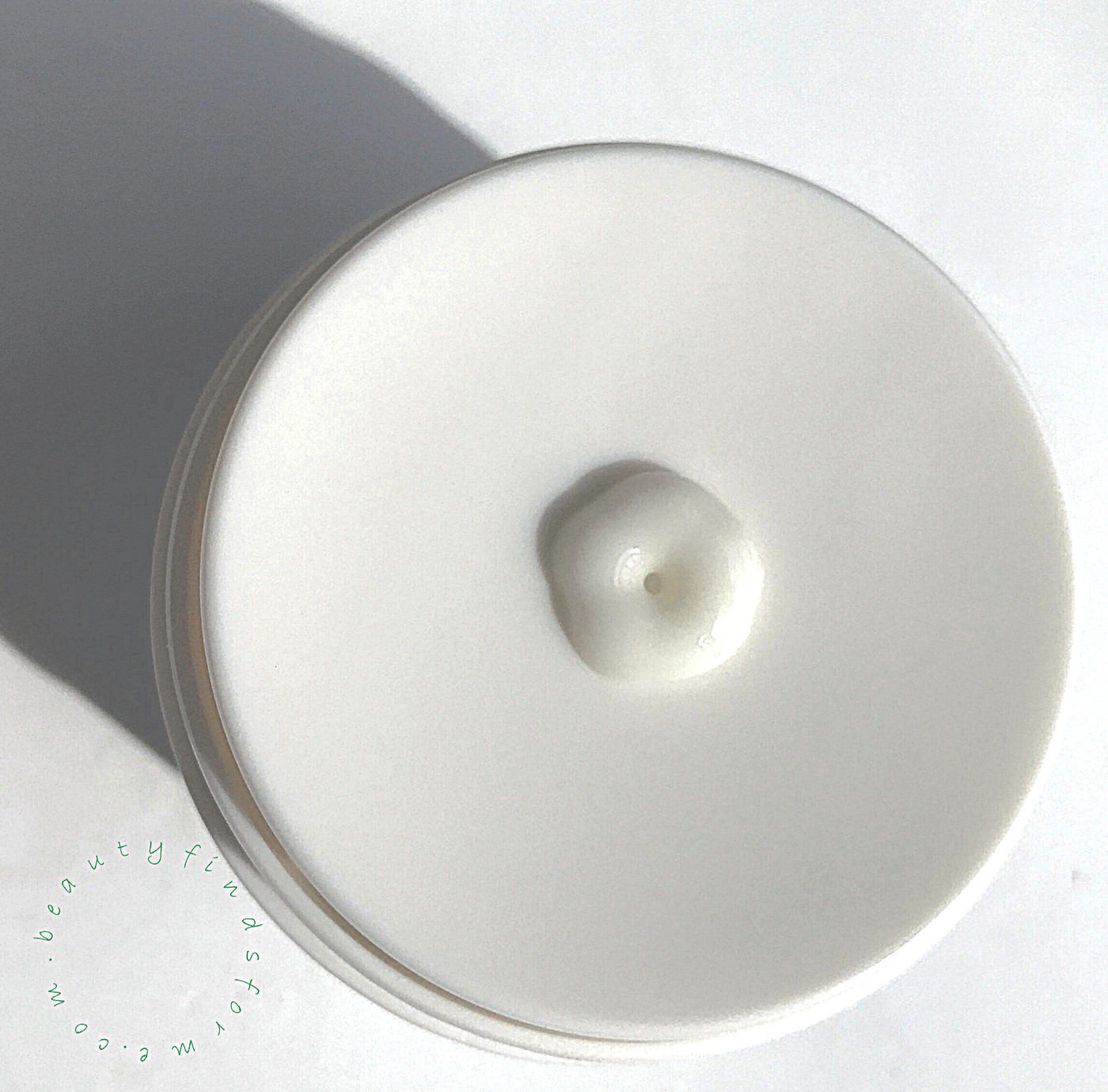 I love how quickly and easily this spreads on my skin.  It doesn't leave a greasy residue but it is a very glow-up cream ~ it doesn't dry down to a matte finish.  For days where I am using a more matte foundation, I like using this cream first as it helps my skin get into a nice soft, plump and hydrated mode before applying a drier foundation.   It helps soothe my skin ~  I use it after I do my Tria Hair Removal Laser 4X  treatment and I notice the redness goes down quickly afterwards.  This doesn't clog my pores and I do recommend it as a nice summertime moisturizing cream for oily skin.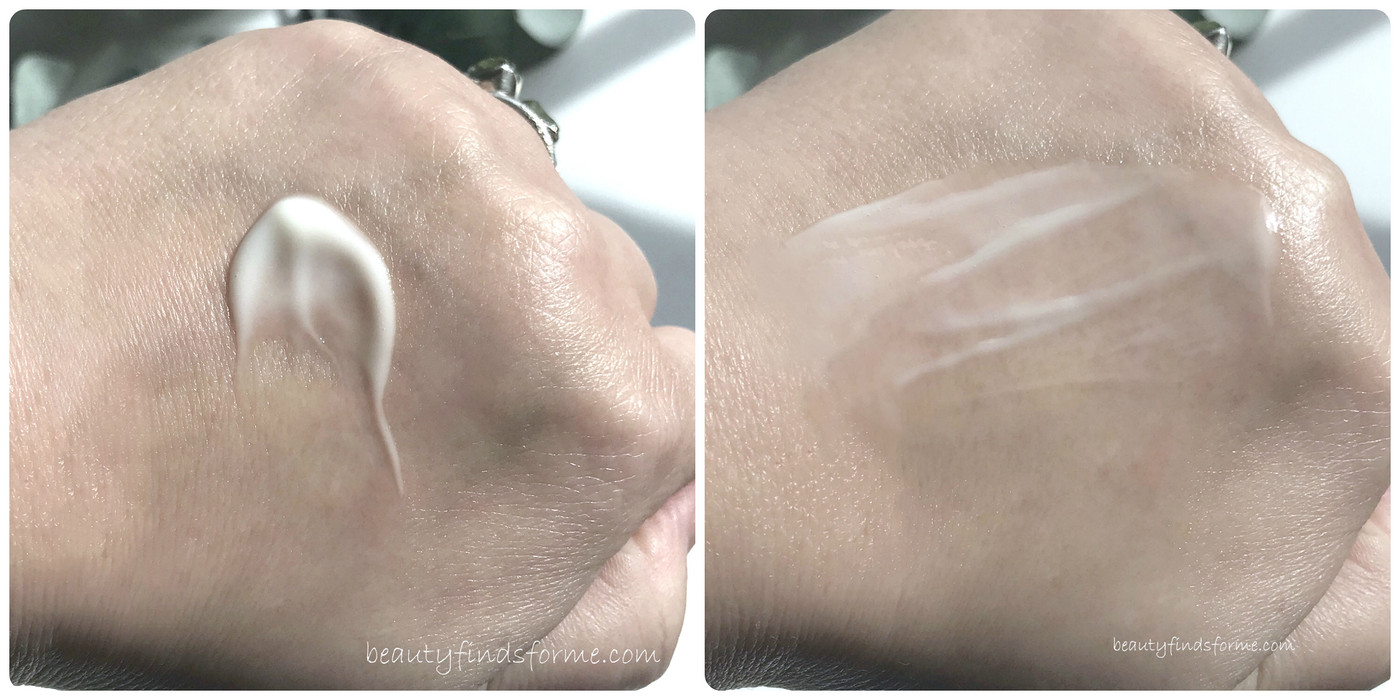 My one complaint is the tub it is in.  The lid that has the pump unscrews way too easily and when I tightened it down, it went on crooked.  I cannot unscrew it now 😦  The latter is user-error but the former should not have happened.  
Ingredients: Water, Simmondsia Chinensis (Jojoba) Seed Oil, Isopentyldiol, Glycerin, Trehalose, 1,2-Hexanediol, Tremella Fuciformis Polysaccharide, Betaine, Sodium Hyaluronate, Sodium Guaiazulene Sulfonate, Panthenol, Citrus Unshiu Peel Extract, Zingiber Officinale (Ginger) Root Extract, Cinnamomum Cassia Bark Extract, Myristica Fragrans (Nutmeg) Kernel Extract, Corydalis Turtschaninovii Root Extract, Hydroxyethyl Acrylate/Sodium Acryloyldimethyl Taurate Copolymer, Acrylates/C10-30 Alkyl Acrylate Crosspolymer, Arginine, Carbomer, Dipotassium Glycyrrhizate, Polyglyceryl-6 Polyricinoleate  cosDNA  
Final Thoughts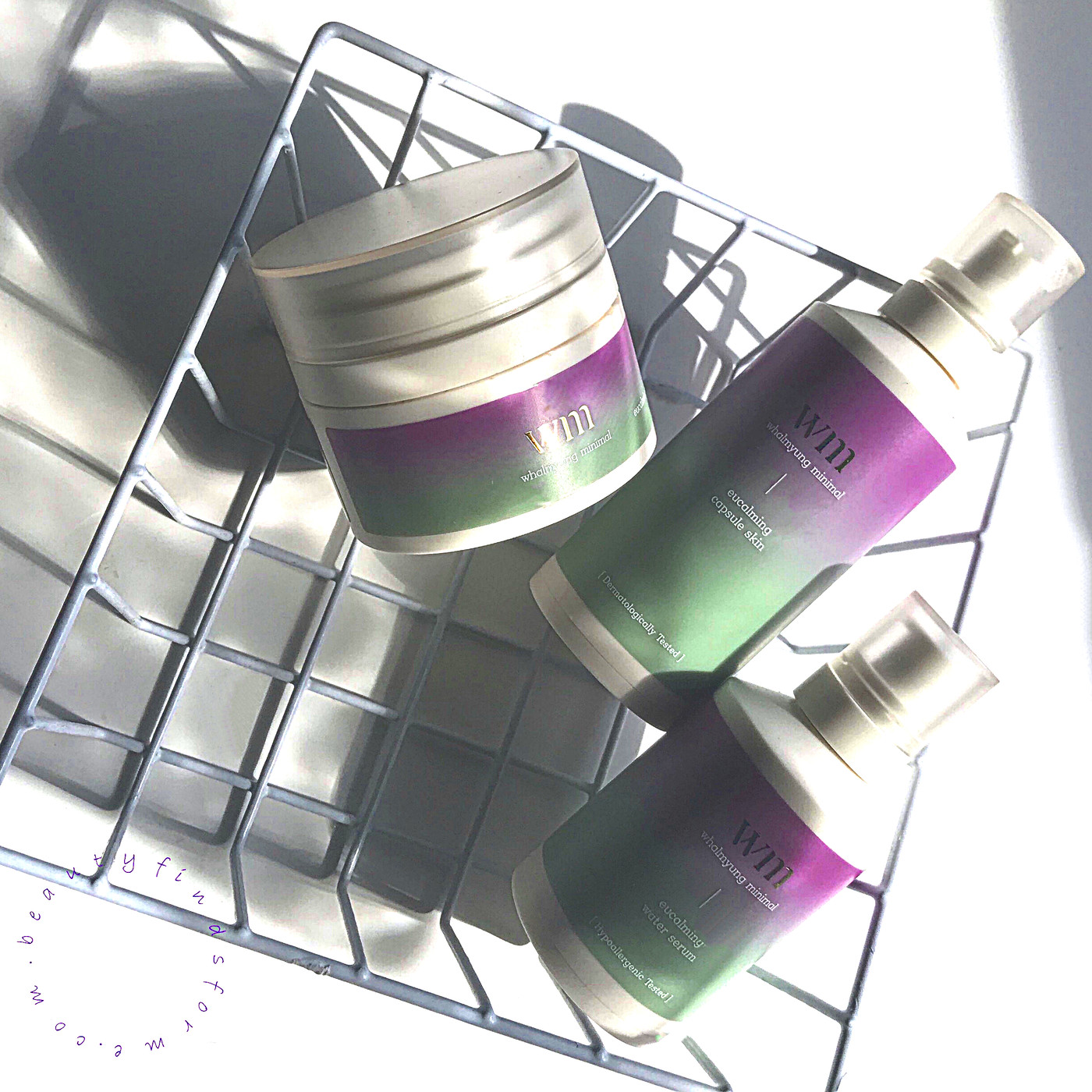 I am very impressed by the WM Minimal Eucalming skincare line.  It does what it claims to do ~ hydrated, calm and soothe with minimal ingredients…. well, minimal for Whalmyung!   This skincare line can be used by all skin types, although drier skin types might want to use Whalmyung's WM5™ Hydrating Cream for additional moisture.  This line is perfect for going into the summer months and for oily/combo skin types, this will give you hydration plus glow!  My favorite item is the Water Serum and I will purchase that one as I think it is the standout item in the trio for me.   Whalmyung has done it again ~ they don't release a lot of products, but when they do, I am always interested in them.  I did purchase the other two items in this line ~  Minimal Eucalming Cleansing Ampoule and Minimal Eucalming Patch ~ and I will review those as well. 
Where to Purchase
image credit from whalmyung
The Minimal Eucalming skincare line is at Whalmyung's USA site.  They are currently running a 20% off promotion with their new line ~ use MINIMAL at checkout ~ good until May 16th and they have free shipping right now.
You can also purchase it at Amazon USA and it has free shipping
[ disclosure:  products received for review purposes. post contains affiliate links providing a small commission at no cost to you ]