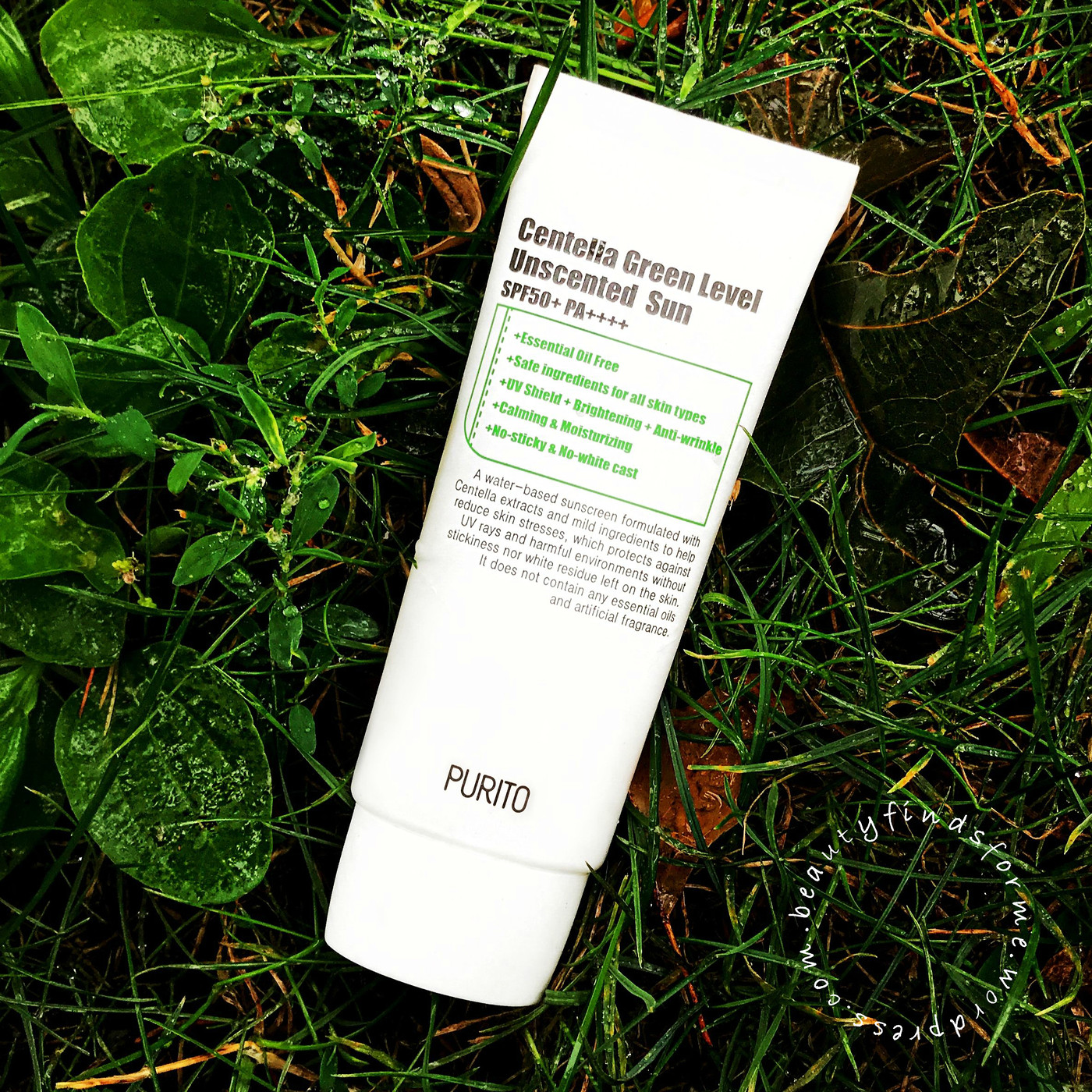 Purito is one of my favorite green Korean beauty skincare lines and I have reviewed several of their products (reviews here), including their famous Centella products.  Purito is a  "green" Korean Skincare brand and their brand name "Purito" means to "purify" and the Chinese character 土 for "soil", emphasizing the pure and natural ingredients used in their skincare. Their philosophy is to be honest and make safe, natural products, without artificial fragrances, preservatives, surfactants and PEG's. Purito strives to make products safe enough to use with both adults and children and conforming to EWG Green Level ingredients. Their packaging is also eco-friendly when possible, and they spend more time on the formula than packaging as they believe it is what is inside that counts and they do not conduct animal testing. 
Purito has created two sunscreens in the past ~ Comfy Water Sun Block SPF50+ PA++++, a physical sunscreen with minimal white cast and Centella Green Level Safe Sun SPF50+ PA++++, containing lavender and chamomile oils.  Now, I haven't tried either of those two sunscreens, but I do know that customers who were sensitive to essential oils or wanted an unscented sunscreen requested one to be made without the EO's ~ Purito listened and they sent me the latest sunscreen Centella Green Level Unscented Sun with a SPF50+ PA++++ rating. 
Skin Type/Concerns: Oily, blemish prone, aging skin with fine lines/wrinkles, hyper-pigmentation, pores
I received these products complementary to review from the brand and was not paid.  All reviews are my own honest opinion and  I never have been asked to write copy for a brand.  This blog post might contain promo codes, affiliate and referral links, which using my links will help generate a small commission that helps support my blog at no extra cost to you.
Whenever I do a sunscreen review, I always like to include this in my blog post.  It may seem repetitive if you are familiar with my blog posts, but not everyone reads every review or clicks on resources to find out what I am referring to.  If you already know this information, skip over to read my review for the Purito's sunscreen.
We all know what SPF rating means, but what does PA stand for?   I am very familiar with SPF (sun protection factor) and that it ranks based on protection from UVB :: ultraviolet B (shortwave) rays.  But the PA rating is something newish to a lot of Western readers, and I really notice it on Asian sunscreens, not so much American brands.  PA is the amount of protection the sunscreen offers from UVA :: ultraviolet A (long-wave) rays.  PA ranks with + signs and the higher the + signs, the more protection you will get from UVA rays.
UVB is what causes sunburns and reddened skin and has direct links to cancer.  UVA is what causes us to tan, and age ~ wrinkles and deep lines are caused by UVA exposure.  A really fantastic article about ultraviolet rays and how they affect our skin can be found here at the Skin Cancer website  and I highly recommend reading it.   One thing I have learned is that a broad spectrum sunscreen is the proper choice as it will help deflect the UV rays and not allow them to penetrate into your skin layers.
TL;DR:  You need to wear them.  Don't skimp on or skip this step.
Main Ingredients
CICA Care: Centella asiatica is a soothing and repairing skin care ingredient, as it is a plant that is rich in saponins and is an anti-inflammatory, calming your skin and aid in wound healing. It is rich in amino acids as well as essential fatty acids, beta carotene and other phytochemicals, which help with wound healing and stimulating new skin cell growth.  It not only just helps with healing, it helps reduce blemishes and skin rashes as it has anti-bacterial properties.  Centella extracts will helps minimize the appearance of pores, and since it stimulates collagen production, it will make your skin more supple and firm.  This formula contains four components extracted from centella asiatica ~ asiaticoside helps form collagen to strengthen your skin and speeds up wound healing. Asiatic acid is an anti-aging compound, that helps to plump up your skin, prevents wrinkles, fine lines and scar tissue. Madecassic acid helps aid in the production of collagen and tissue while  madecassoside helps soothe, reduce redness and inflammation and helps heal your skin.  
Niacinamide is a powerful antioxidant that acts as an anti-inflammatory, improves your skin elasticity, enhance the skin barrier function and also it helps to even out skin tone and reduce post-inflammatory hyper-pigmentation.  Adenosine helps improve the reduction of wrinkles and is also an anti inflammatory. Silica is a crucial item when it comes to your skin's connective tissue, collagen. By stimulating certain cells, silica helps strengthen your collagen and elastin, which in turn will help firm and tone your skin and plump up your skin, so fine lines and wrinkles are not as noticeable.  This also has two hydrating water-binding ingredients with hyaluronic acid and glycerin along with antioxidant vitamin E helps fight and repair free radical damage, while providing anti-aging benefits. 
This sunscreen provides broad spectrum protection, which means is that it will deflect both types of UV rays ~ UVA and UVB ~ and will not allow them to penetrate into your skin layers. SPF (sun protection factor) ranks based on protection from Ultraviolet B (UVB) shortwave ways. PA is the amount of sunscreen offers from Ultraviolet A (UVA) long-wave rays. The more plus signs after the PA rating, the more protection you will get from UVA rays. UVB is what causes sunburns and reddened skin and has direct links to cancer. UVA is what causes us to tan, and age ~ wrinkles and deep lines are caused by UVA exposure. There are two sunscreen ingredients in here:  Uvinul A Plus, also known as diethylamino hydroxybenzoyl hexyl benzoate, is used in sunscreen products and it is an oil soluble UVA ingredient.  Thanks to Vanity Rex (source), I learned more about the second sunscreen in here ~ organic compound ethylhexyl triazone (Uvinul T150) is a very stable, UVB filter and is water insoluble.  These two UV filters are reef safe ~ the ones you have to avoid are octinoxate (ethylhexyl methoxycinnamate) and oxybenzone (benzonephenone-3) if you are planning to go to the ocean side.
This also has butyloctyl salicylate (aka TEA-salicylate, trolamine salicylate) which is an ultraviolet light absorber to help protect skincare products from breaking down due to UV rays.  This ingredient is an FDA-approved OTC active sunscreen ingredient, but it really isn't used as such and there is a 2019 proposal with the FDA not to use this as an active sunscreen ingredient. 
image credit puritoen.com
Ingredients: Water,Butylene Glycol, Butyloctyl Salicylate, Glycerin, Diethylamino Hydroxybenzoyl Hexyl Benzoate (Uvinul A Plus),Hydrogenated Polyisobutene, Acrylates Copolymer, Silica,1,2-Hexanediol, Niacinamide, Dibutyl Adipate, Ethylhexyl Triazone ( Uvinul T150), Polyglyceryl-3 Methylglucose Distearate, Cetearyl Olivate, Cetearyl Alcohol, Dicaprylyl Carbonate, Sorbitan Olivate, Glyceryl Stearate, Methyl Glucose Sesquistearate, Sorbitan Stearate, Centella Asiatica Extract, Madecassoside, Asiaticoside, Madecassic Acid, Asiatic Acid, Pentaerythrityl Tetra-di-t-butyl Hydroxyhydrocinnamate, Disodium EDTA, Adenosine, Hyaluronic Acid, Caprylyl Glycol, Ethylhexylglycerin, Tocopherol (vitamin E)  cosDNA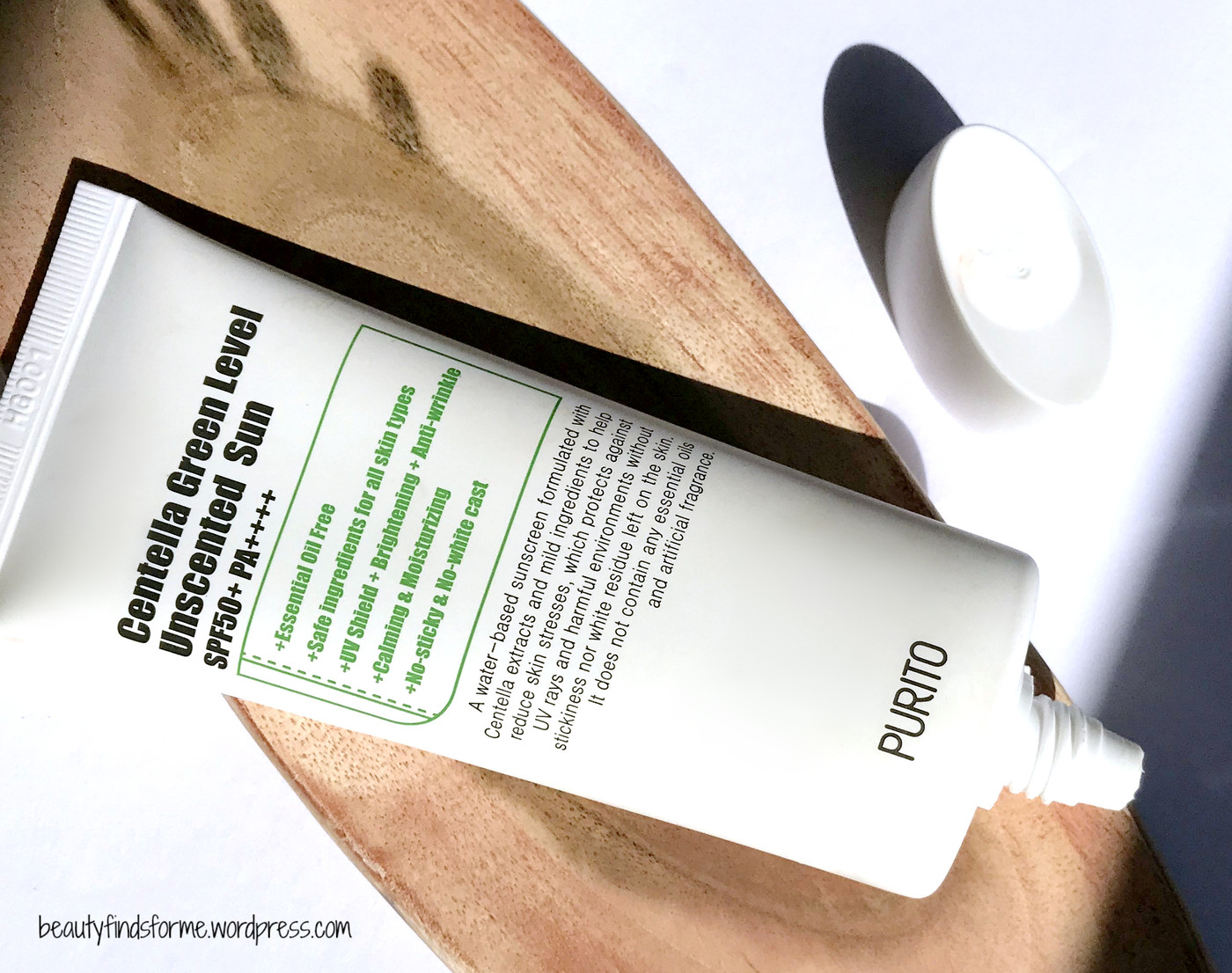 Purito basically doesn't have sexy looking packaging, as they believe it is what is inside the packaging that counts ~ so this comes in a plain white soft plastic tube with a twist off cap ~ I wish it was a flip top, but beggers can't be choosers.  This is oil free, with UV filters, brightening and anti-aging ingredients, along with the CICA care for calming your skin and hydrating ingredients for moisturizing.  The sunscreen is a lightweight white lotion with no scent ~ this sunscreen not contain man made or natural scents at all, because all odors were blocked using their proprietary technology.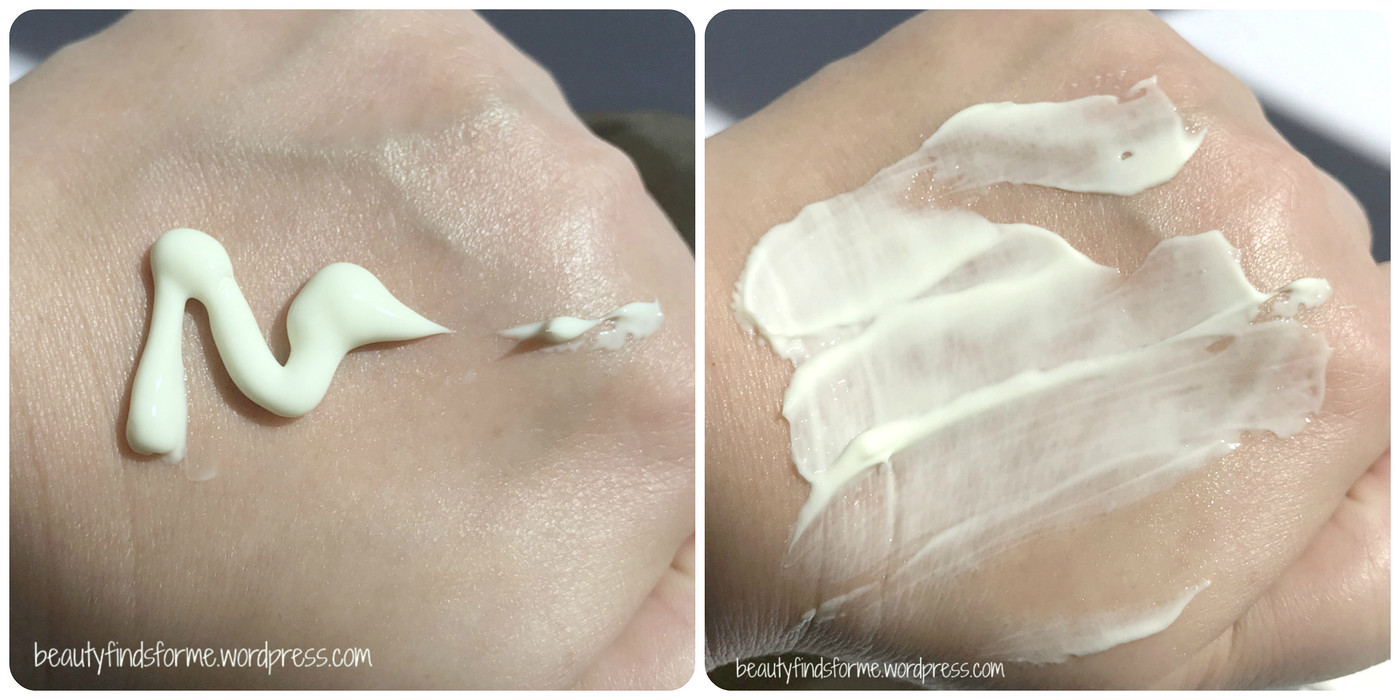 The swatches look cream colored because of the strong sunlight and reflection.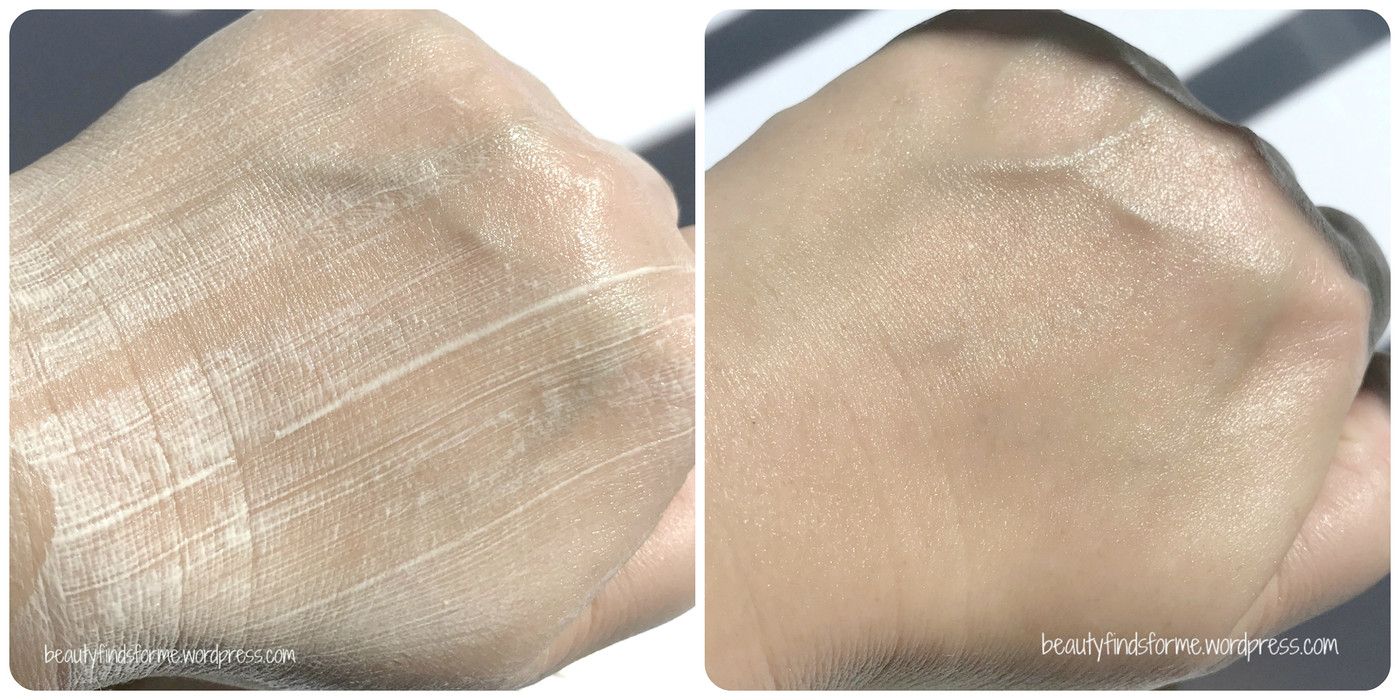 You can see that the initial application is still not absorbing, but once I pat over it again, it quickly sinks into my skin.
The moisture base of this sunscreen is 70%, so this feels like a lightweight lotion to me ~ it is not a fluid sunscreen, which I prefer, but it is lightweight enough for me that I do not feel like I am wearing a sunscreen.  I can actually skip my final moisturizing step if it is too hot and humid out and just apply this.  It doesn't leave a white cast as it is a chemical sunscreen, it isn't heavy, greasy or tacky on my skin.  Purito's Centella Green Level Unscented Sun absorbs quickly, leaves a nice semi-matte finish on my skin and it does play well with makeup (no pilling!)  I have not experienced any irritation or blemish breakouts with this product.
Purito Centella Green Level Unscented Sun is not water or sweat proof, so I wouldn't recommend this for outdoor activities but this is a good solid sunscreen for normal daily wear. This is good for sensitive skin too, as it doesn't contain UV filters that would trigger blemishes or irritate skin.  Purito uses EWG Green Level Grades 1 and 2 ingredients, so if you are looking for ingredients that are skin-friendly, Purito does pride itself on its EWG Green levels.
Final Thoughts
This is a really lovely sunscreen from Purito that works well with oily skin types.  It leaves a semi-matte finish and I can basically skip my lotion step and use this sunscreen instead ~ it is moisturizing without being greasy or sticky.  There is no white cast, dries down quickly and it is great for normal daily use.  I think I would enjoy the original version as that smells like lavender and I LOVE lavender, so if I purchase this, I will go for the scented version.  However, for those who need a sunscreen that is unscented for various reasons, this is a great choice.   
Where to Purchase
You can purchase this 60 mL sunscreen at the following online shops
[ some products received  complementary for review purposes. contains affiliate links ]