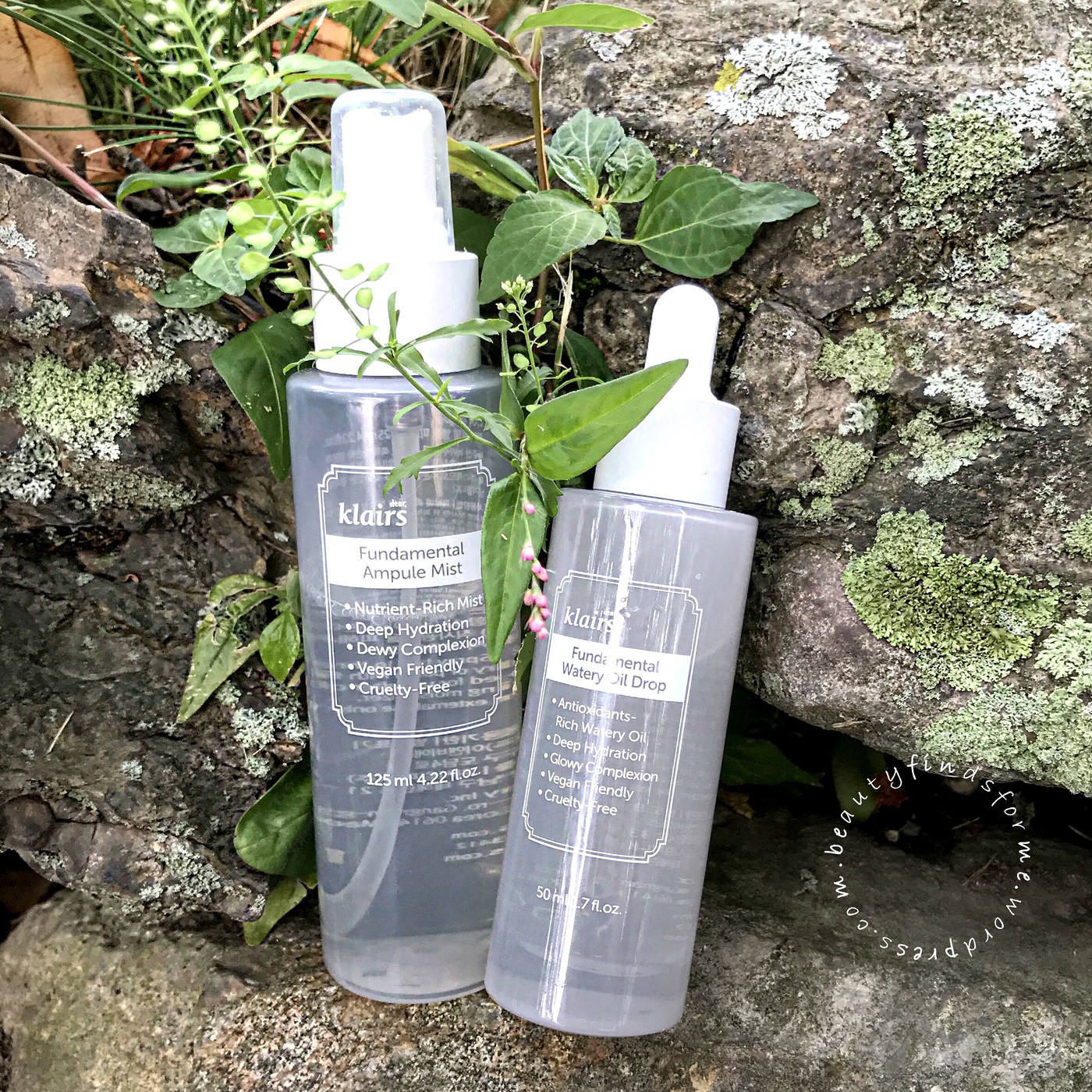 Klairs is one of my favorite K-Beauty brands from Wishtrend ~ I purchased my first Klairs product back in 2015 and have been in love with the brand since then ~ see my reviews here.  Klairs has changed over the years, listening to customers concerns and they have reformulated all of their products to be vegan.  Their formulas are effective, but mild enough for sensitive skin and free from fillers, alcohol, parabens and artificial dyes and fragrances. I was lucky enough to receive the latest items in their lineup from Wishtrend the new Fundamental line, for review purposes. 
Skin Type/Concerns: oily, blemish prone, aging concerns, pores, fine lines/wrinkles, hyper-pigmentation
I received these products complementary to review and was not paid.  All reviews are my own honest opinion and  I never have been asked to write copy for a brand.  This blog post might contain promo codes, affiliate and referral links, which using my links will help generate a small commission that helps support my blog at no extra cost to you.
What is the Fundamental Line & Key Ingredients
The goal of the new Fundamental line is to help balance your skin, leaving it radiant and healthy.  When I first read the names of these products, I thought ~ oh, it's for DRY skin ~ and then I read the description.  These products will work on all skin types, but are especially great for those with oily to combination skin.  Dry skin types might not find these moisturizing enough.  Both of these products are have no color or scent to them.  They include the following ingredients:
Jeju green tea leaf water, helping to provide moisture and it's full of powerful anti-oxidants, due to its high concentration of polyphenols.  Green tea helps reduce the appearance of fine lines and wrinkles.
Oryza sativa (rice) is full of amino acids, vitamins, minerals and other nourishing compounds to help clear your skin, treat acne and has skin brightening and firming benefits.  Rice contains γ-oryzanol, which is a potent antioxidant that can slow the production of hyper-pigmentation and prevent freckles and age spots. 
Amino acid betaine is a humectant and anti-irritant, providing silky smooth skin, soothing and calming skin.
Hydrating humectants glycerin and sodium hyaluronate make an appearance. Glycerin helps with healing of wounds, sealing in moisture and maintaining the skin's water balance, making the skin look healthy, moist, soft to touch, leaving your skin looking radiant and supple.  Sodium hyaluronate is an intensive moisturizing ingredient which bonds water to keep skin hydrated. It is a natural substance found in the human body, helping to retain 100 to 1,000 times its own water weight in our skin cells.
Sorbitol is an alcohol that is sugar like and it is a humectant. Sorbitol will suck the water from the air, hydrating your skin to prevent moisture loss.  
Ceramides are lipids (fats) which are important in helping to repair and protect your moisture barrier. They will


keep your skin hydrated and plump as they retain water. Ceramides are found naturally in your body and you




lose the ability to produce as you age, so adding them to skin care products helps with anti-aging

Kelp or laminaria japonica helps bind moisture to your skin and it also reduces inflammation.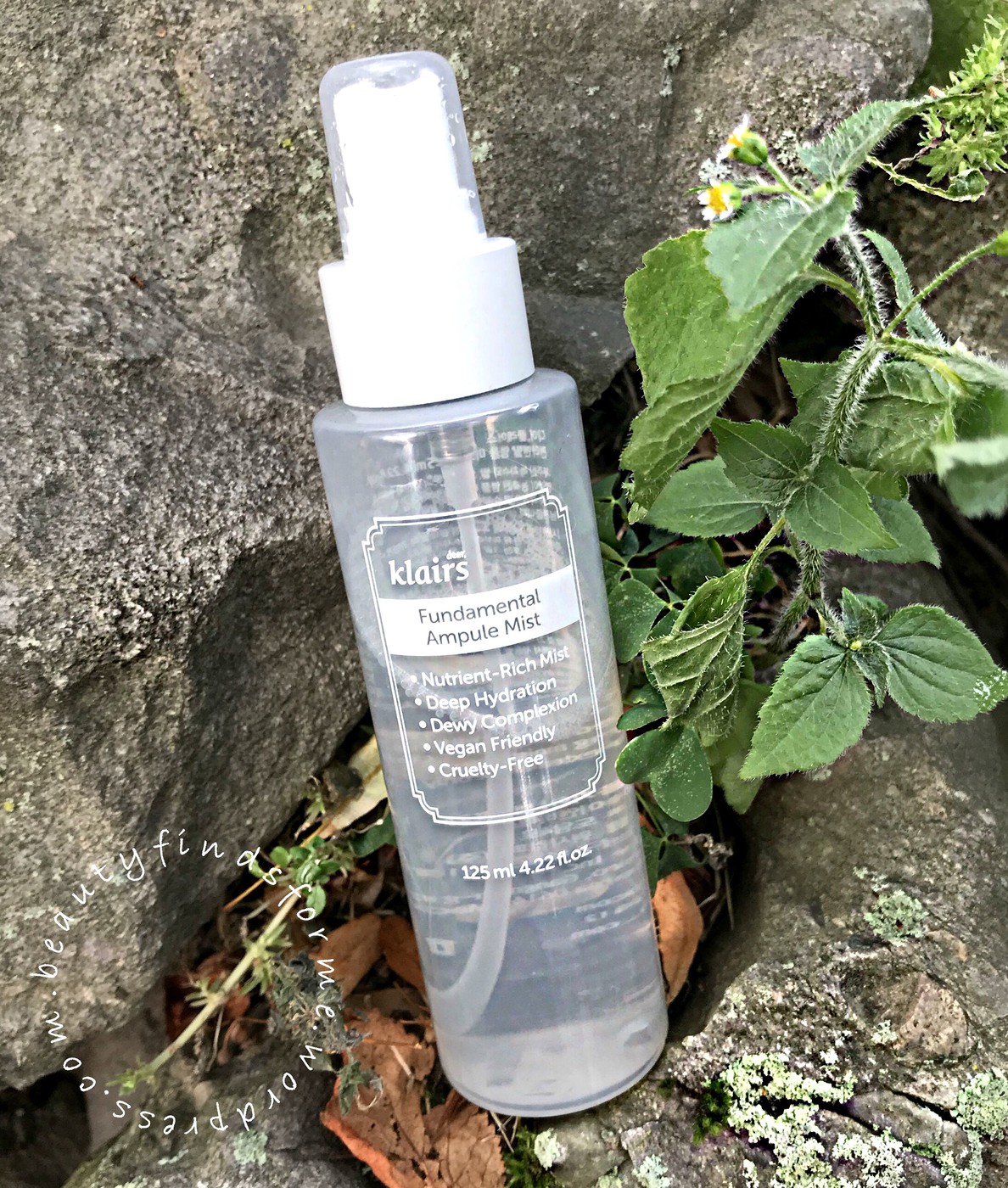 The first item in the Fundamental line is the Ampule Mist.   Not only does it contain the common ingredients, including 82% of green tea leaf water, but they added additional ingredients to really boost the hydration and antioxidant care with
Luffa Cylindrica contains an active enzyme that removes dirt and oil from your skin, while hydrating it naturally.  It also has a high concentration of antioxidant flavonoids 
Hibiscus esculentus is okra, one of my least favorite veggies to eat.  Applied topically, however, it helps reduce the appearance of fine lines/wrinkles, lighten post inflammatory hyper-pigmentation and soothe and calm skin that has been irritated, as it is a rich source of vitamins A and C, along with other antioxidants such as beta-carotene.  
Trehalose provides concentrated moisture to your skin and helps retain it.  
Mugwort has been used in traditional European herbal medicine to help heal skin wounds and contains a rich source of antioxidants.
Panthenol is a natural humectant, which retains moisture and hydrates the skin. It also is a good lubricant on the skin, making skin look soft and smooth. It is also an anti-inflammatory
Ingredients: Camellia Sinensis Leaf Water (82%), Butylene Glycol, Glycerin, Luffa Cylindrica Fruit Extract, Oryza Sativa (Rice) Extract, Hibiscus Esculentus Fruit Extract, Betaine, Trehalose, 1,2-Hexanediol, Water, Artemisia Vulgaris Extract, Panthenol, Sorbitol, Sorbitan Sesquioleate, Ethylhexylglycerin, Laminaria Japonica Extract, Sodium Hyaluronate, Hydroxyethylcellulose, Disodium EDTA, Hydrogenated Lecithin, Ceramide NP cosDNA
Klairs calls this an Ampule Mist because it contains antioxidant nutrients that will help your skin achieve a radiant look.  They actually state "dewy" but I found this is not the case with my skin.  This mist comes in a tall plastic bottle with the traditional misting pump.  This has a pH of 5 so it is skin balancing.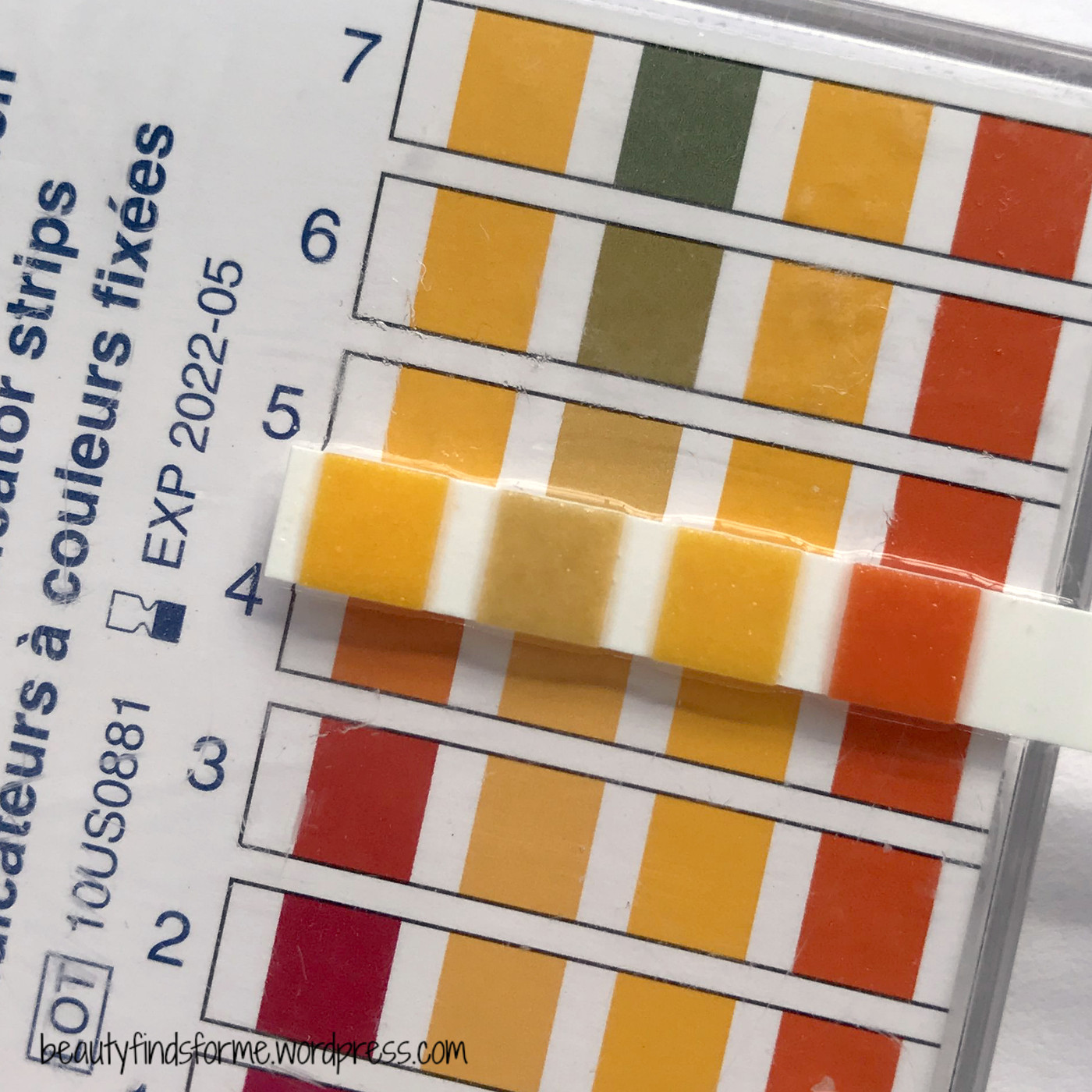 This really hydrates my dehydrated oily skin very well ~ a few pumps and my face it drenched with this product.  I like using this as my toner step and letting it dry down before applying the next steps in my skincare routine.  Its texture is not as watery as water and feels very slick on my skin.  However, once it has dried down, it leaves no oily or sticky residue just soft and supple skin.  This increased my moisture balance by 20% but decreased my oils by 41%  initially, which is surprising!  This is a great mist to take with you if you are outdoors a lot this summer as it deeply hydrates my skin quickly.  It's a nice mist/toner for those looking for a simple, deeply nourishing and hydrating step. I didn't notice any brightening effects, but this did hydrate and calm my skin.  You can also used this mist to create your own mask packs as well ~ just spray the product on some cotton pads and apply to your skin.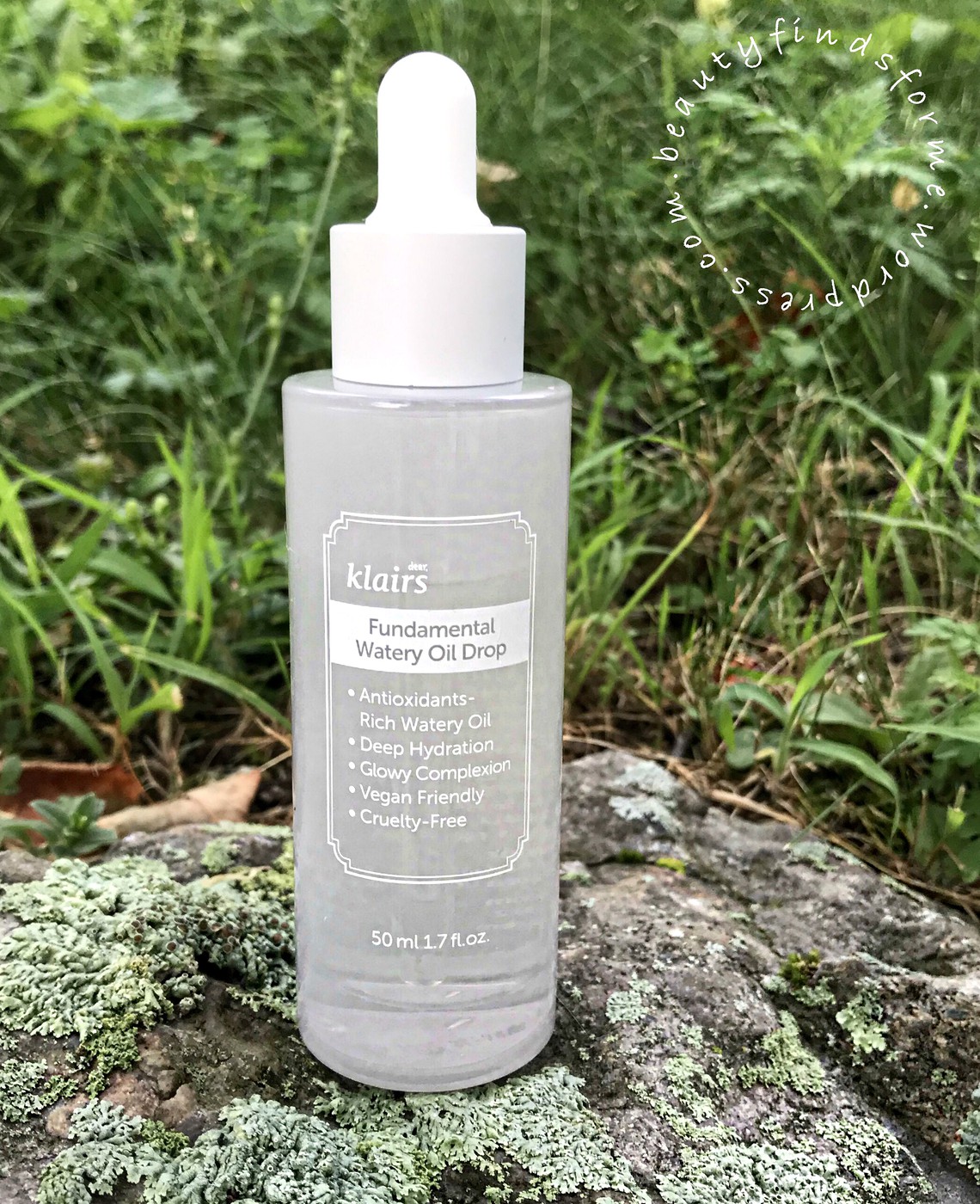 Watery Oil Drop is not an OIL.  So  many people were confused by this name, thinking it was a facial oil ~ including me!! That is why it is important to read the description!  This is a water based serum that mimics the rich moisture of a facial oil.  Besides the key ingredients, it also contains
Bifida ferment is a probiotic and it is becoming quite popular to add this ingredient into skincare products now. The claims are that it works as a DNA repair agent when applied to your skin. Bifida ferment is the fermented result of bifida and it should help revitalize skin so it is clear and radiant, increase hydration and prevent dehydrated, rough skin. It should also firm and restore elasticity to your skin while strengthening your skin barrier to help prevent damage from environmental factors.  
Aspergillus/rice ferment is a fungus based ferment from starchy mold ~ in this case, the starch is rice ~and helps with brightening and moisture. 
Arginine is an amino acid that promotes healing and detoxes your skin. It also helps guard against the formation of wrinkles and loss of skin firmness.
Vitamin E is the antioxidants of all antioxidants ~ it prevents free radical formation, protects the upper skin layer from initial harmful UV radiation and prevents the deterioration of fats in your cell membranes.
Copper tripeptide-1 aids in the production of glycosaminoglycans which help support and maintain the production of collagen and elastin,  making your skin firm and retain moisture
Acetyl hexapeptide-8 helps bind water to your skin, helps regenerate skin cells and reduce the appearance of fine lines and wrinkles
Ingredients: Water, Glycerin, Butylene Glycol, Camellia Sinensis Leaf Water, Oryza Sativa (Rice) Extract, Bifida Ferment Extract, Betaine, Dipropylene Glycol, Sorbitol, 1,2-Hexanediol, Aspergillus/Rice Ferment Extract, Camellia Sinensis Leaf Extract, Dipotassium Glycyrrhizate, Sorbitan Sesquioleate, Ethylhexylglycerin, Sodium Acrylate/Sodium Acryloyldimethyl Taurate Copolymer, Sodium Hyaluronate, Hydroxyethylcellulose, Xanthan Gum, Arginine, Carbomer, Tocopheryl Acetate, Acrylates/C10-30 Alkyl Acrylate Crosspolymer, Laminaria Japonica Extract, Ceramide NP, Hydrogenated Lecithin, Copper Tripeptide-1, Acetyl Hexapeptide-8 cosDNA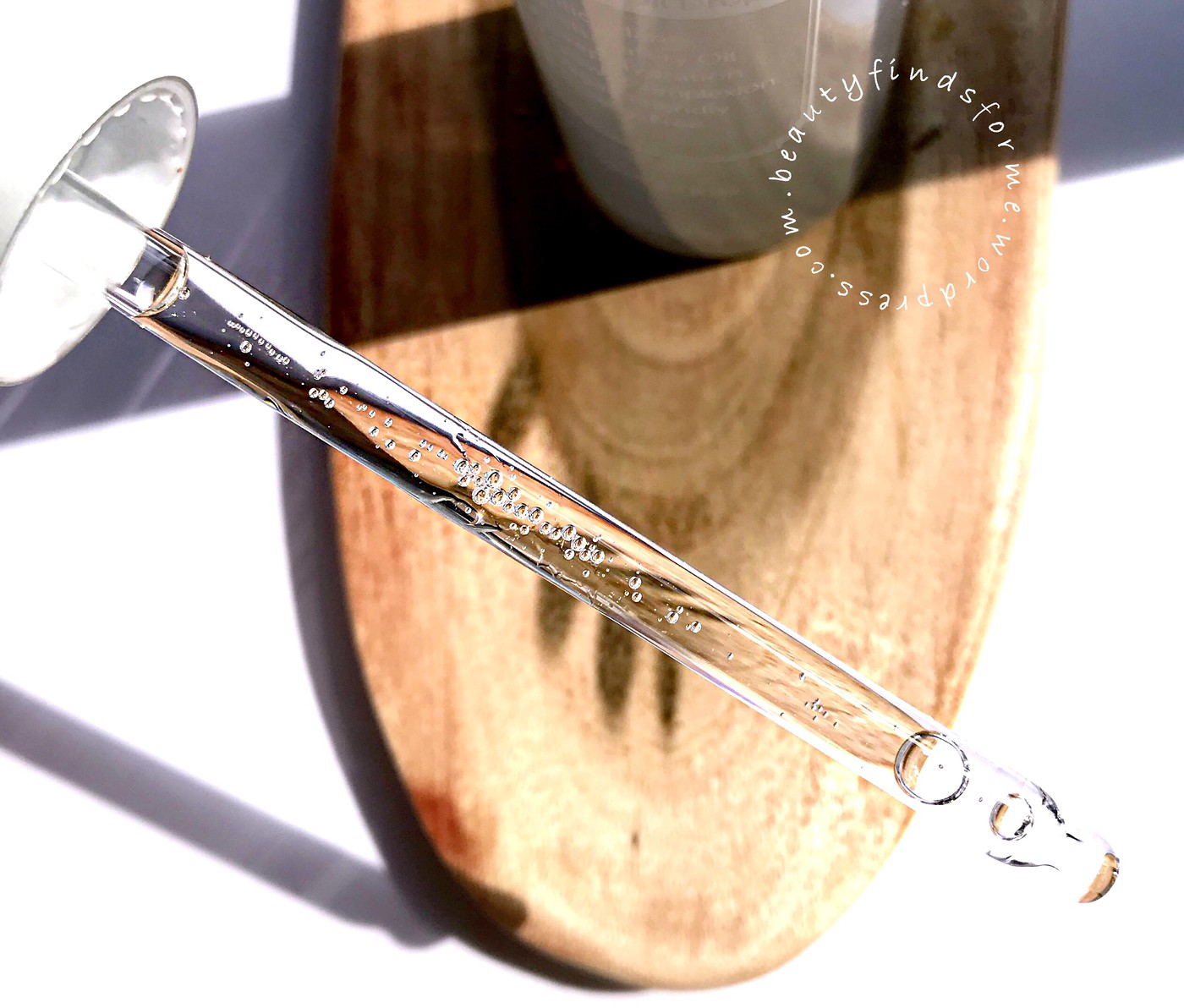 This comes in a 50 mL bottle with an LONG, and I mean long, pipette for its eye drop applicator.  The pipette almost seems a bit loose because it is so long ~ I wish they would put this it in a more squat bottle with a shorter more sturdier pipette.  This colorless and scentless watery serum feels very slick and smooth ~ it does remind me of an oil, but it doesn't have that greasy or oily finish.  It is not sticky on my skin and it is so watery that at times, I was wondering if all I was getting was some hydration.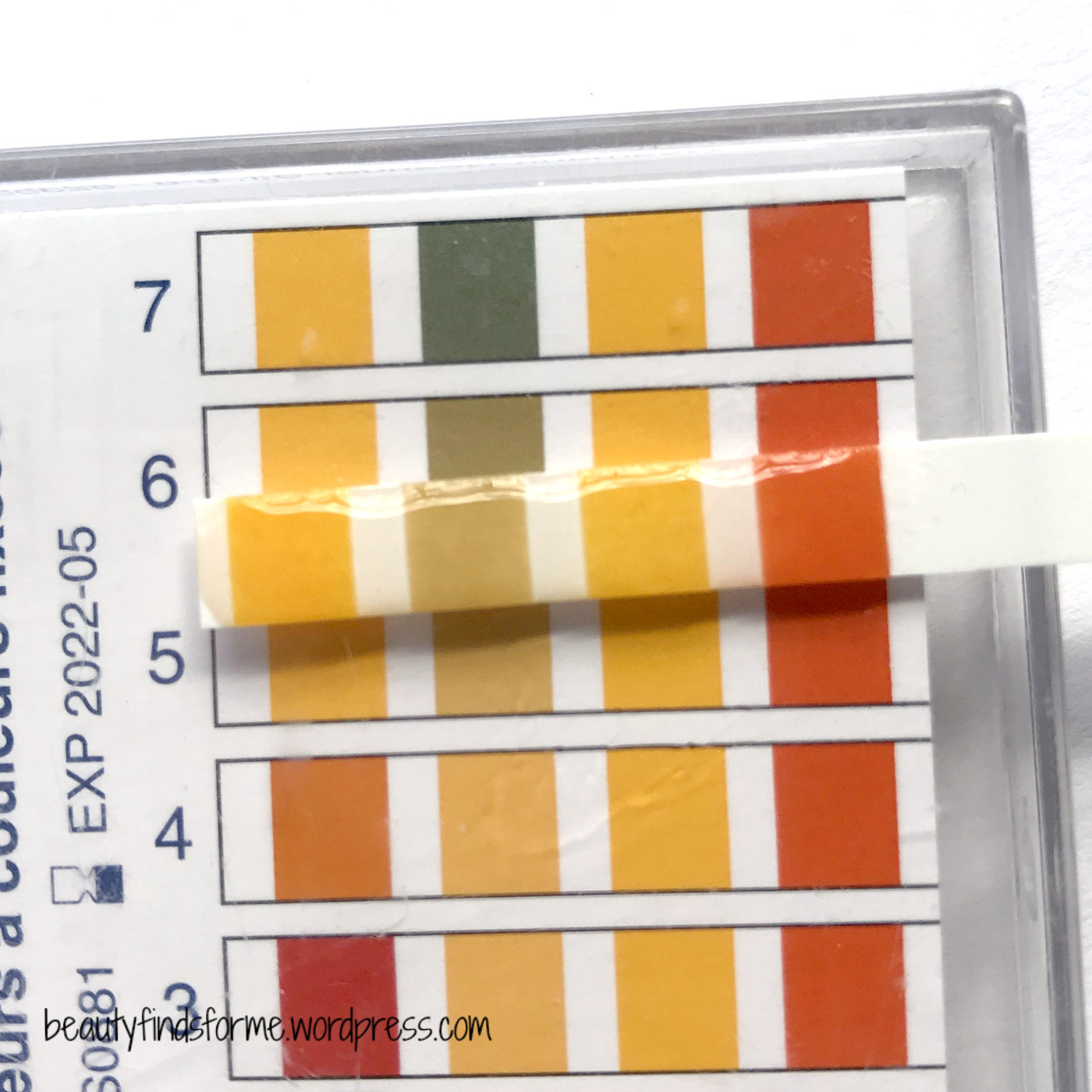 This does have a skin balancing pH level of 5 and it did increase my moisture levels by 36% and my oils by 29%, but I never felt oily or this was "too much" for my skin.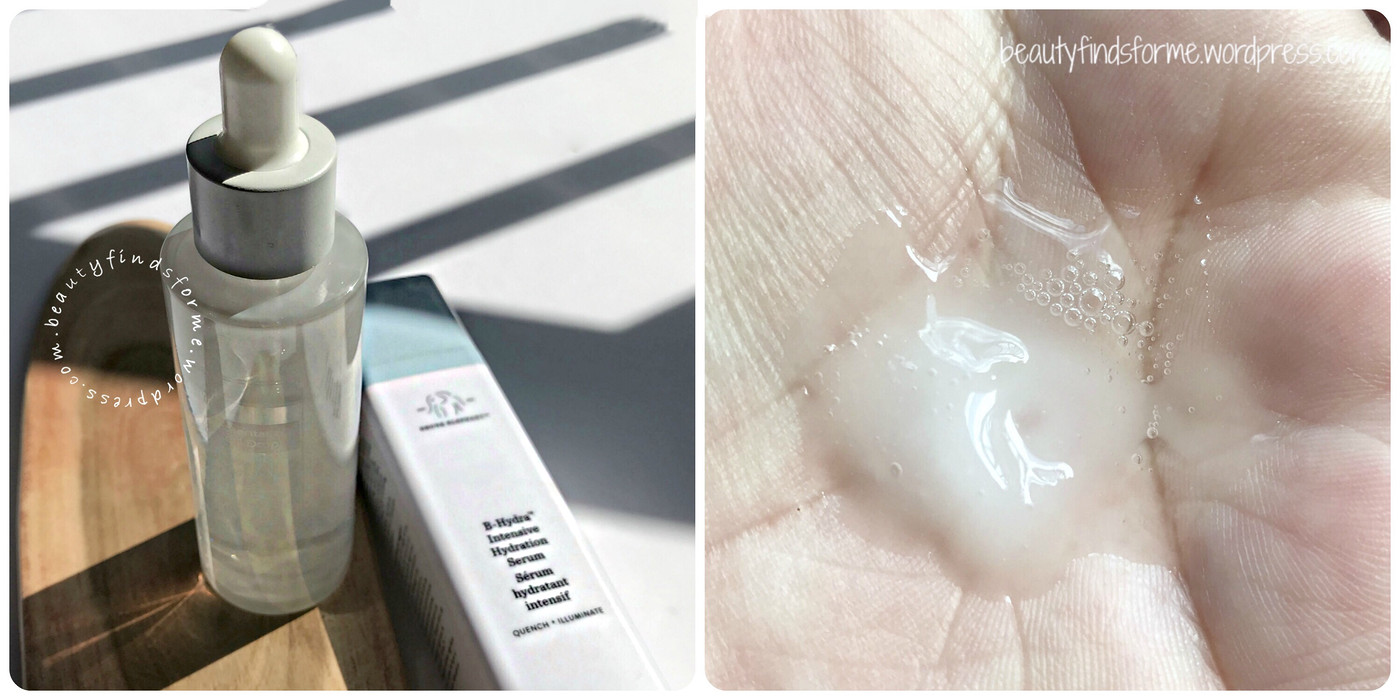 I then decided to mix it in with a heavier product, like my lotion or emulsion step ~ in this case I am using Drunk Elephant's B-Hydra Intensive Hydration Serum as it has a more lightweight lotion texture to it.  This provides a powerhouse of hydration and moisture to my skin, making it feel supple and soft. If you have oily skin like I do but it is dehydrated, like me, and are afraid of using oils in the summer (raises hand), this is a fantastic alternative for us.  It's hydrating, nourishing and provides a nice glowy look without being sticky or greasy.  I like that it has anti-aging peptides and antioxidants in here as well ~ since I can't stop time, I have to use all the products I can to ensure my skin stays supple and soft for as long as it can! 
Where to Purchase
At Wishtrend!  Wishtrend carries the full line of Klairs products and I would say that the Watery Oil Drop is THE product I would recommend out of the two.  I think that one really helps my skin and I will repurchase it for the summertime.  The Ampule Mist is just as nice but if I had to pick one, it is the Watery Oil Drop.  
[ products received for review purposes.  blog post contains affiliate links ]