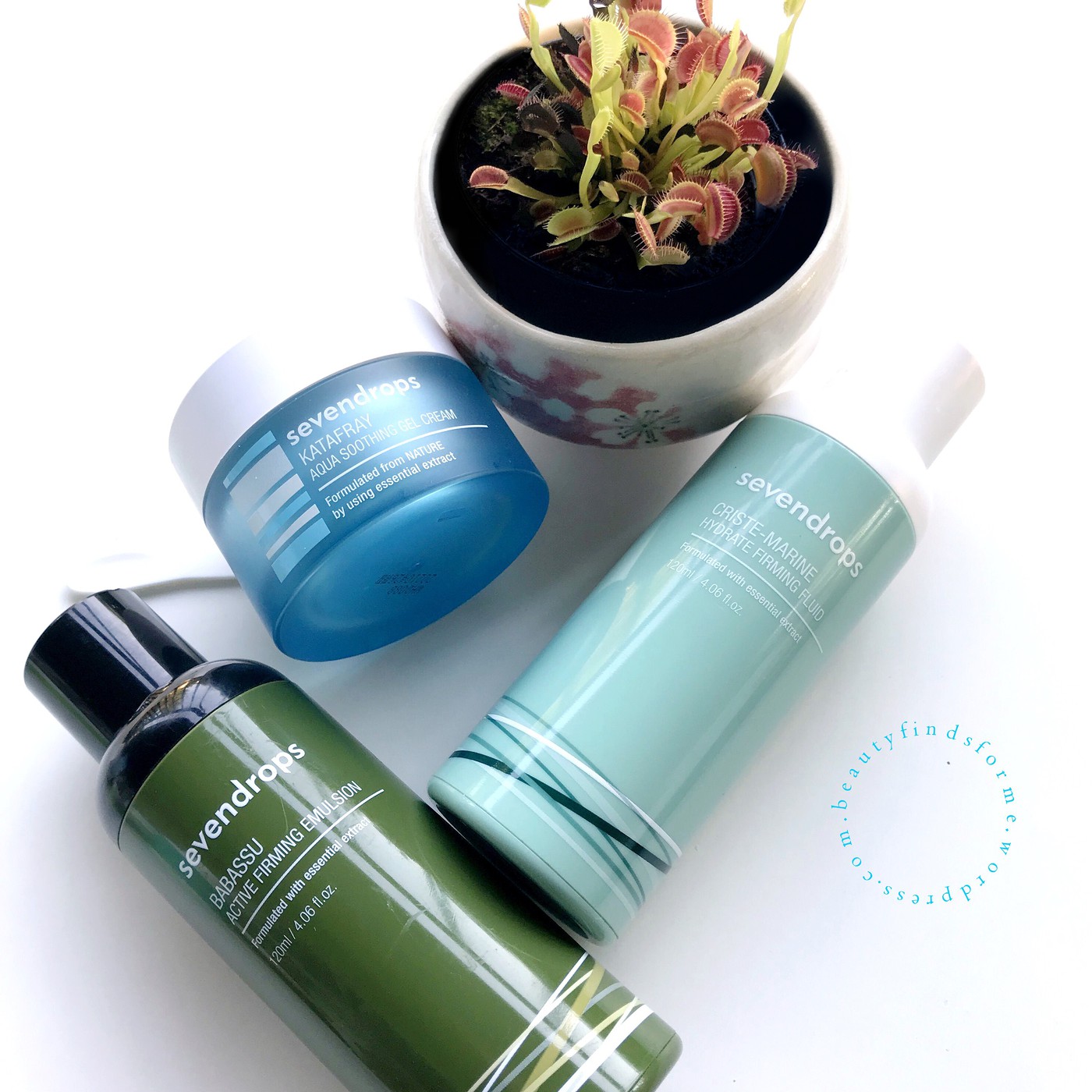 This review IS LONG overdue!!  I have been enjoying my Sevendrops products for a while now and actually have finished TWO of them and repurchased one of them.  Sevendrops is a skincare brand located in Seoul, South Korea, using authentic certified essential oils and rare natural ingredients ~ the name of the product contains the ingredient that Sevendrops wishes to showcase.   They have a fairly robust lineup at their Global shop and have a few items at the Amazon USA store.  They sent me three of their popular skincare items and I have to say they are pretty darn fantastic.
Skin Type/Concerns: Oily, blemish prone, pores, aging, hyper-pigmentation, fine lines/wrinkles
Some products were complementary to review and was not paid.  All reviews are my own honest opinion and  I never have been asked to write copy for a brand.  This blog post might contain promo codes, affiliate and referral links, which using my links will help generate a small commission that helps support my blog at no extra cost to you.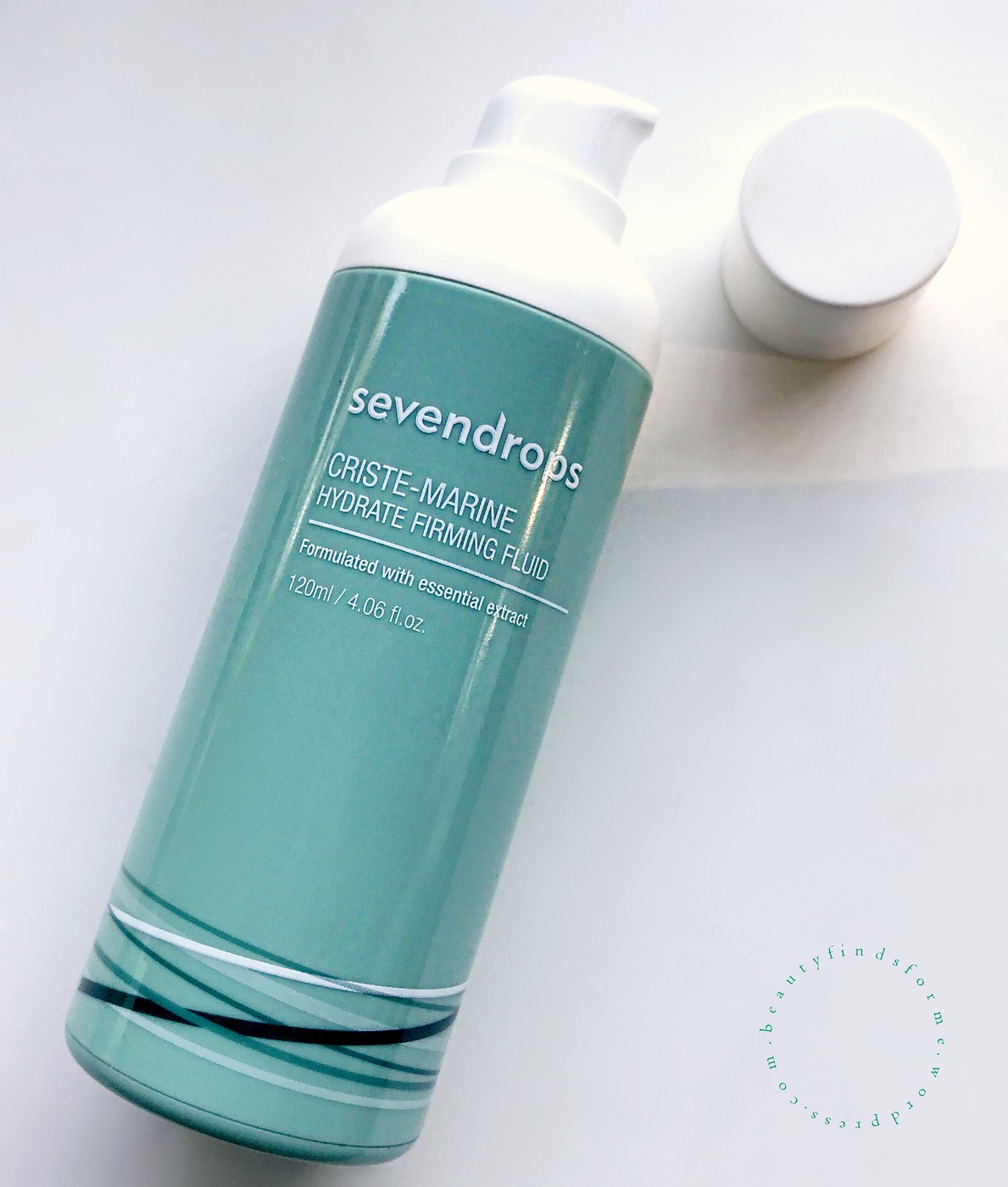 CRISTE-MARINE Hydrate Firming Fluid is my absolute favorite item in the Sevendrops trio.  This is made with 4,000ppm of crithmum maritimum , also known as sea fennel, which is found off the Mediterranean coast and is a source of  natural retinol.   This marine plant  This helps tighten and firm the skin as it helps boosts collagen production, softens skin, reduces the appearance of fine lines and wrinkles as it can aid with cellular turnover.  It also has the ability to even out your skin-tone and refine and smooth your skin's texture.  Additional ingredients include
Amino acid betaine is a humectant and anti-irritant, providing silky smooth skin and soothes and calms skin.
Hydrating humectant glycerin helps with healing of wounds and seals in moisture, maintaining the skin's water balance on an intercellular level, which makes the skin look healthy, moist, soft to touch and leaving your skin looking radiant and supple
Hyaluronic acid is an intensive hydrating ingredient which bonds water to keep skin hydrated. It is a natural substance found in the human body, consisting of amino and uronic acids. 
Bamboo contains over 70% of silica, which is a crucial item when it comes to your skin's connective tissue, collagen, helping to firm, tone and plump up your skin, so fine lines and wrinkles are not as noticeable. Bamboo also is a very soothing ingredient, as it is an anti-irritant, retaining moisture along with combating  free radicals as it does contain anti-oxidant proprieties as well
Adenosine is yeast derived and is an anti-wrinkle and anti-inflammatory ingredient.
Hydrolyzed collagen deeply moisturizes the skin
Centella asiatica is a common herbal ingredient that is used medicinally to help speed up wound healing, such as blemishes and skin rashes. It also helps minimize the appearance of pores, and since it stimulates collagen production, it will make your skin more supple and firm. 
Criste-Marine also contains a slew of essential oils as Sevendrops does use them:  grapefruit, lemon, orange, lavender, clay sage, juniper, peppermint and sandalwood.  Honestly I do not smell any scent with this product despite the essential oils. 
Ingredients: Water, Glycerin, Dipropylene Glycol, Betaine, Crithmum Maritimum Extract(4,000ppm), Ammonium Acryloyldimethyltaurate/VP Copolymer, Acrylates/C10-30 Alkyl Acrylate Crosspolymer, Polyglyceryl-10 Laurate, Polyglyceryl-10 Myristate, Potassium Hydroxide, Adenosine, Disodium EDTA, Sodium Hyaluronate, Citrus Grandis (Grapefruit) Peel Oil, Citrus Medica Limonum (Lemon)Peel Oil, Citrus Aurantium Dulcis (Orange) Oil, Butylene Glycol, Lavandula Hybrida Oil, Salvia Sclarea (Clary) Oil, Juniperus Mexicana Oil, Citrus Paradisi (Grapefruit) Fruit Extract, Mentha Piperita (Peppermint) Oil, Portulaca Oleracea Extract, Cnidium Officinale Root Extract, Centella Asiatica Extract, Santalum Album (Sandalwood) Oil, Hydrolyzed Collagen, 1,2-Hexanediol, Bambusa Vulgaris Extract cosDNA
The packaging on this product is functional ~ it isn't sexy looking or something that makes you appreciate the aesthetic, but I have to say it is what is inside that counts. This comes in a vacuum pump bottle, topped off with a cap.  The pump dispenses this lovely liquidy-gel that quickly turns into a watery fluid.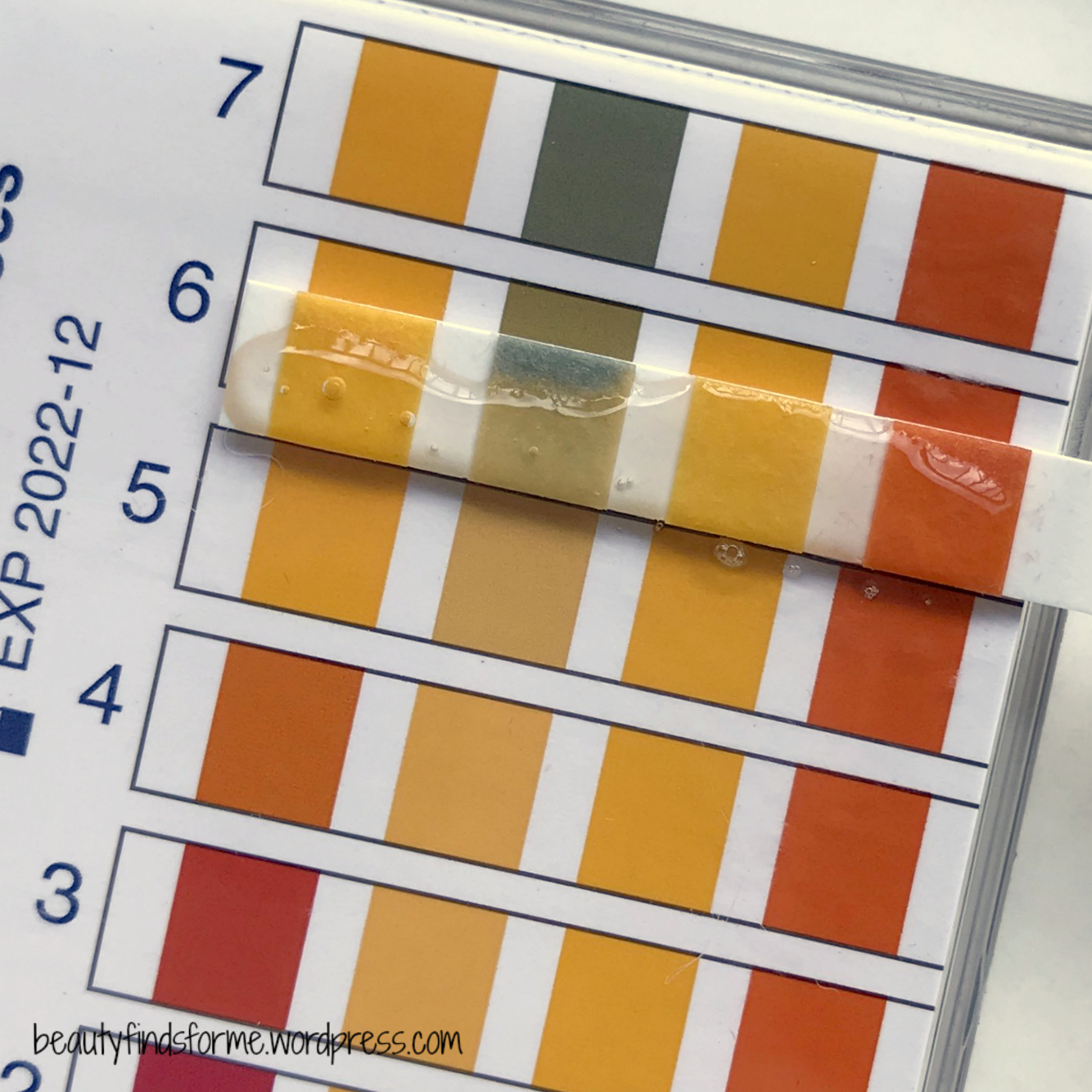 This has a pH level of 6 and I use this in my toner step.  It is not greasy, sticky, oily or tacky ~ it absorbs quickly into my skin with a cooling and refreshing feeling.  This product is perfect for multiple layer usage and my skin feels so soft, supple and hydrated after using it.  It increased my moisture levels by 39% and decreased my oils by 34% initially. This is one I will repurchase in the future and it is, by far, my favorite item from Sevendrops.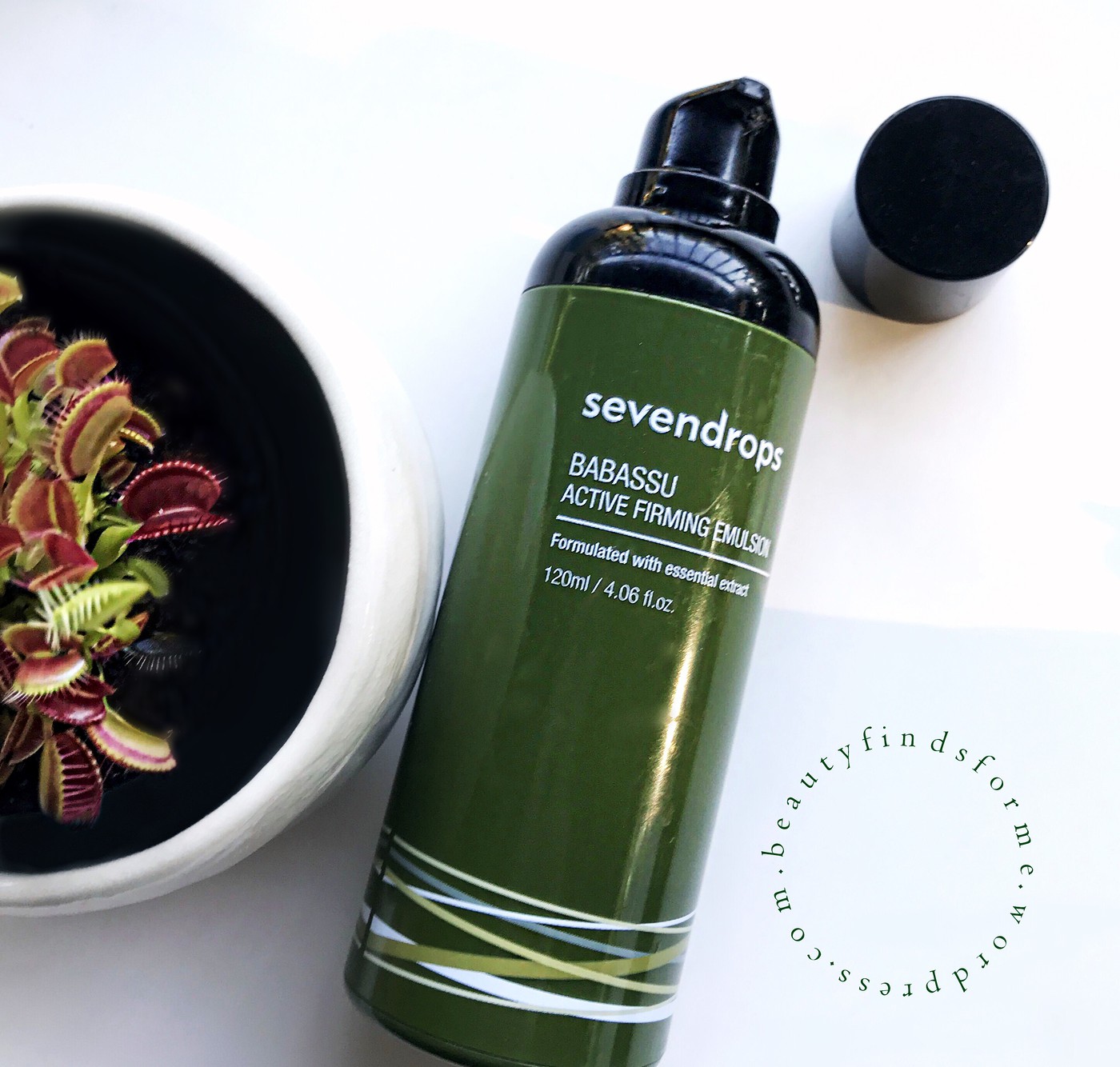 BABASSU Active Firming Emulsion replaces a lotion or moisturizer step for me.  As an oily skinned person, I rarely use cream type moisturizers but rely on emulsions or lotions.  Featuring an ingredients found in the Brazilian tropical rain forests, organic babassu seed oil  (20,000ppm) is a water soluble oil that has sebum regulating, softening, smoothing and elasticizing benefits.  It can also improve your skin tone and it is very nourishing.   This also contains hydrating humectants glycerin and hyaluronic acid, healing and soothing centella along with
Shea butter contains a rich source of concentrated natural vitamins and fatty acids ~ oleic, stearic, palmitic, linolenic ~ and is highly moisturizing and nourishing. It helps repair your skin, as well as reduce skin inflammation and it also smooths your skin to protect it from drying and it strengthens your skin over time as it helps aid in the collagen production
Trehalose supplies concentrated moisture to your skin and helps retain moisture, preventing your skin from drying out.
Tea tree is known for its topical purifying, antiseptic and anti-fungal properties and help target and treat blemish-prone skin. It also reduces oil and sebum production on your skin, while not disrupting the moisture level.
Sugar derived glucose is hydrating, for smooth and firm skin
Morus alba (mulberry) is rich in antioxidants, helping slow down aging process, by combating free radicals, removing dead skin cells. It is also known for its brightening properties (arbutin) , which will reduce the appearance of spots caused by hyper-pigmentation
Anthemis nobilis (chamomile) promotes soothing care, reducing skin irritations.   
Leontopodium alpinum (edelweiss) has twice as potent as vitamin C as an antioxidant and helps bring moisture and balance your skin as well
This also has essential oils of lemon, orange, lavender, clary, juniper, peppermint, sandalwood and this time, I do smell a fresh citrus scent with this emulsion.
Ingredients: Water, Glycerin, Butylene Glycol, Caprylic/Capric Triglyceride, Hydrogenated Polydecene, Cetearyl Alcohol, Ethylhexyl Palmitate, Orbignya Oleifera Seed Oil (20,000ppm), C14-22 Alcohols, Tri-C14-15 Alkyl Citrate, Butylene Glycol Dicaprylate/Dicaprate, Butyrospermum Parkii (Shea) Butter, Neopentyl Glycol Diheptanoate, Caprylic/Capric Glycerides, Polyglyceryl-3 Methylglucose Distearate, Cetearyl Glucoside, Trehalose, C12-20 Alkyl Glucoside, Palmitic Acid, Citrus Nobilis (Mandarin Orange) Peel Extract, Stearic Acid, Carbomer, Xanthan Gum, Citrus Grandis (Grapefruit) Peel Oil, Adenosine, Potassium Hydroxide, Citrus Limon (Lemon) Peel Oil, Citrus Aurantium Dulcis (Orange) Oil, Disodium EDTA, Lavandula Hybrida Oil, Myristic Acid, Glucose, Salvia Sclarea (Clary) Oil, Juniperus Mexicana Oil, Mentha Piperita (Peppermint) Oil, Melaleuca Alternifolia (Tea Tree) Leaf Water, Santalum Album (Sandalwood) Oil, Leontopodium Alpinum Callus Culture Extract, Centella Asiatica Extract, Morus Alba Bark Extract, Anthemis Nobilis Flower Extract, 1,2-Hexanediol, Ethyl Hexanediol, Ethylhexylglycerin, Sodium Hyaluronate cosDNA 
This is another un-sexy vacuum pump bottle, only this time with a black bottle and green label.  The emulsion looks on the surface to be a nice creamy, smooth lightweight lotion, with a citrus scent, but don't use too much!!  It is deceptively rich and nourishing – if you have dry skin, your skin will drink this up! I have oily but dehydrated skin and I use a little dabs on my face to allow it to absorb properly.

It does spread easily on face it takes several minutes of massaging and tapping it into my skin for it to absorb completely.  It seems to just "sit" on my skin initially with a nice white cast ~ haha.  Once it is absorbed fully into my skin, my skin does feel very supple and moisturized, without a greasy or sticky residue.  It increased my moisture levels by 24% and decreased my oils by  43% initially.  However, it does leave a protective barrier on my face, which I am not a face of for a day moisturizer, so either I use this at night or wait for cold months.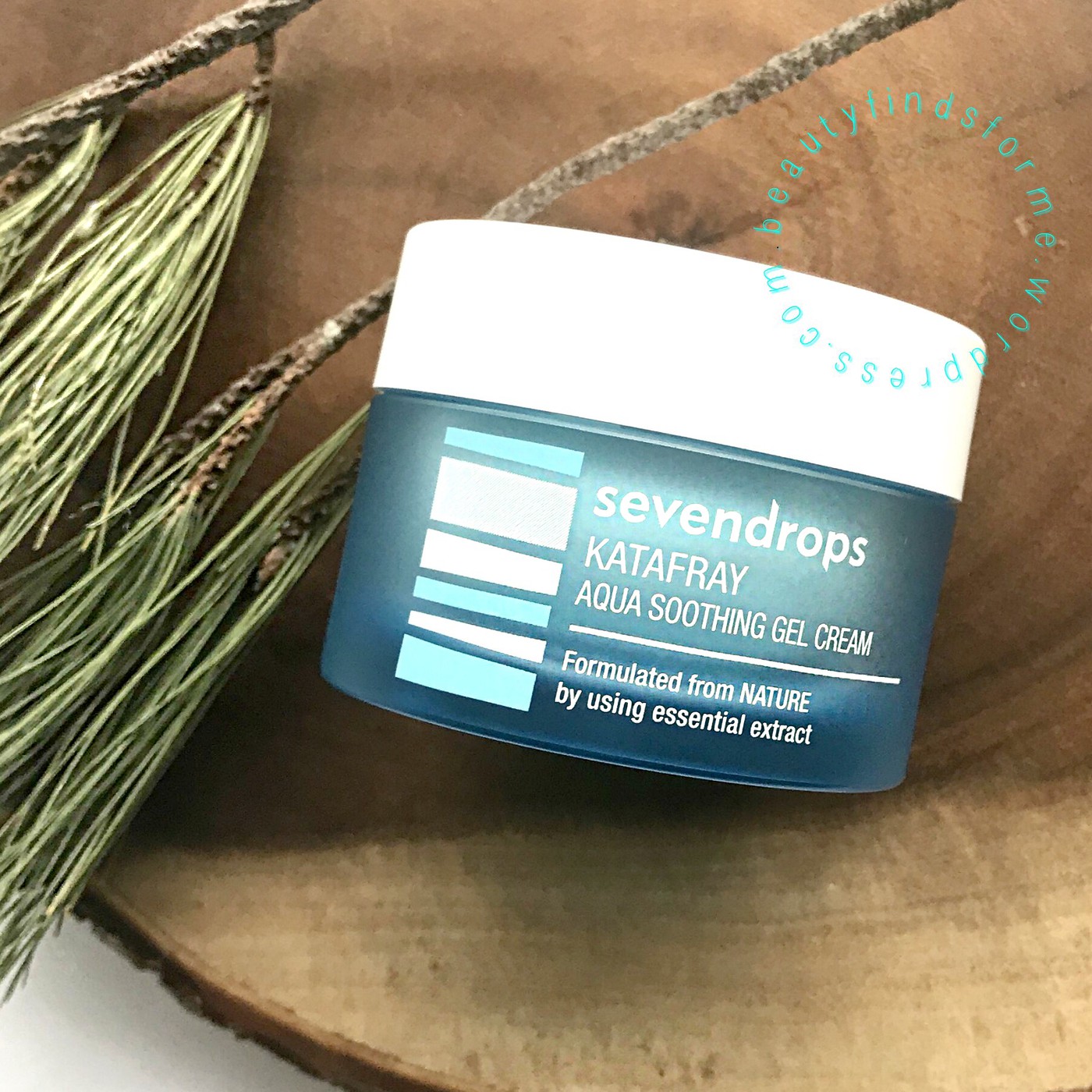 KATAFRAY Aqua Soothing Gel Cream This was the first Sevendrops product I tried and I fell in love!  I used this during the winter months and I purchased another one for the upcoming cooler weather as well. This is a great product for  oily, dehydrated skin. Katafray Aqua Soothing Gel Cream will provide NMF (Natural Moisture Factor) as it contains 1,000ppm of Madagascan katafray bark extract, otherwise known as cedrelopsis grevei.  This ingredient not only provides anti-inflammatory benefits, but will aid in your skin's own natural hydration production, as it draws moisture to your skin, sealing in it for multi-level hydration.  This also contains hydrating glycerin and betaine, purifying antiseptic tea tree  along with

Anti-inflammatory panthenol helps cellular renewal and is an effective moisturizer. Panthenol is a natural humectant, which retains moisture and hydrates the skin. It also is a good lubricant on the skin, making skin look soft and smooth. I boost the softness and elasticity of your skin, 
Imperata cylindrica (cogon grass) has anti-irritant, anti-inflammatory, anti-oxidant and anti-bacteria benefits.   It helps  to energize and revitalize and helps prevent freckles and wrinkles by improving blood circulation
Malachite, yes that green stone, helps increase glutathione activity, which is an antioxidant molecule, so this will help with combating free radical damage and reverse the signs.  This also contains collagen stimulating copper, to help with skin elasticity as well as  regulate moisture levels
Rich in minerals, mimosa pudica (mimosa) contains iron, zinc, copper and maganese, which provide anti-bacterial benefits, healing skin issues.   
Viscum album (mistletoe) is not only soothing, but acts as an astringent, softens skin while boosting the elasticity of your skin.
Portulaca oleracea prevents dryness of skin and soothes skin with its excellent moisturizing ability. 
Piper methysticum (kava kava) helps speed up wound healing and it is a skin conditioner while slowing the loss of water from your skin by creating a barrier on your skin's surface.
Mandarin orange peel is not only aromatic, but tones your skin
This doesn't contain any essential oils but it really doesn't need to.  The scent is out of this world! 
Ingredients: Water, Glycerin, Cyclopentasiloxane, Dipropylene Glycol, Betaine, Cyclohexasiloxane, Dimethicone, Carbomer, Butylene Glycol, Cetearyl Alcohol, Citrus Nobilis (Mandarin Orange) Peel Extract, Panthenol, Potassium Hydroxide, Cedrelopsis Grevei Bark Extract (1000ppm), Imperata Cylindrica Root Extract, Viscum Album (Mistletoe) Leaf Extract, Xanthan Gum, Malachite Extract, 1,2-Hexanediol, Disodium EDTA, Glyceryl Acrylate/Acrylic Acid Copolymer, Melaleuca Alternifolia (Tea Tree) Leaf Water, Portulaca Oleracea Extract, Piper Methysticum Leaf/Root/Stem Extract , Ethyl Hexanediol, Mimosa Pudica Leaf Extract cosDNA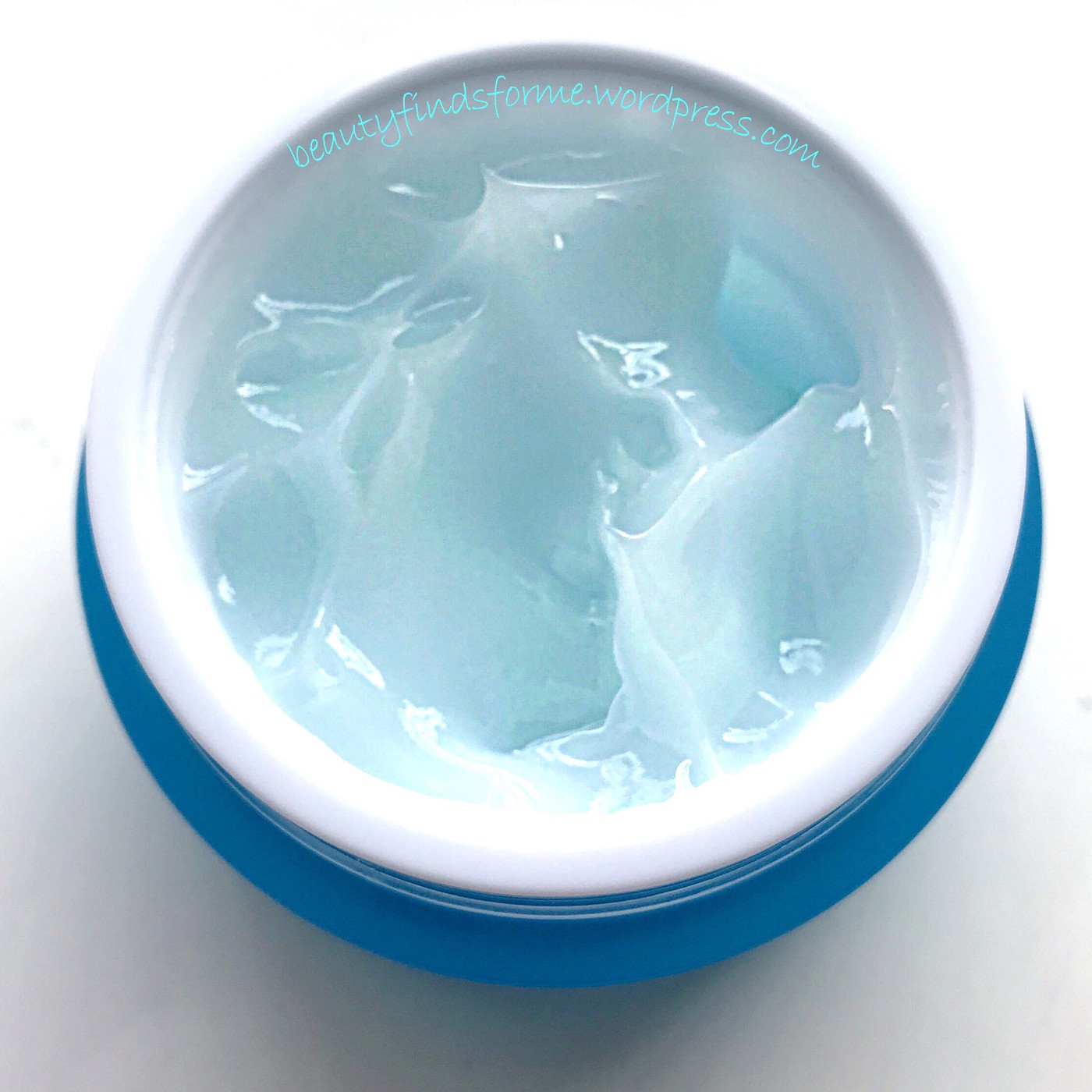 So this air-whipped gel cream does not come in a boring package ~ it is in an aqua frosted plastic jar with white lettering.  Open it up and this is just delightful ~ a beautiful ice blue gel cream, that is very lightweight.  It does have a lot of slick slip to it, due to lubricating silicons and dimethicone in here, but it isn't sticky or tacky in its feel. The scent of this is amazing and also comes from katafray, as that has a dry, woody, sweet scent ~ to me, it is like an earthy dirt scent with grass tones. It is wonderful and addictive.

A little of this cream goes a long way, melting into my skin, while drying down nicely as my skin just drinks it up. Not tacky feeling, greasy or anything ~ this absorbs beautifully and leaves behind moist, supple skin that is SO SOFT.  It increased both my moisture and oil levels evenly at 20%. I used this all throughout the big freeze last winter here in the Boston area, and it really was just refreshing on my skin, moisturizing it nicely and protecting my skin from the harsh cold winter winds.   It is so soothing and it doesn't sting or hurt my skin if my skin gets chapped or windburned.  Oh and did I mention THAT SCENT.  I would love a perfume in that scent, it really is just so lovely.   As I stated earlier, I loved this cream so much that I have another one, waiting for the cold winter to arrive!
Where to Purchase
image from sevendrops.com
Amazon USA
At Seven Drops online shop, which has global shipping
This has their full line up, including IMMORTELLE Revital & Radiance Serum, which I really wanted to try so I just purchased it!
[ some products were received in exchange for a review. contains affiliate links for a small commission ]