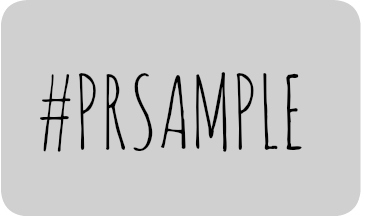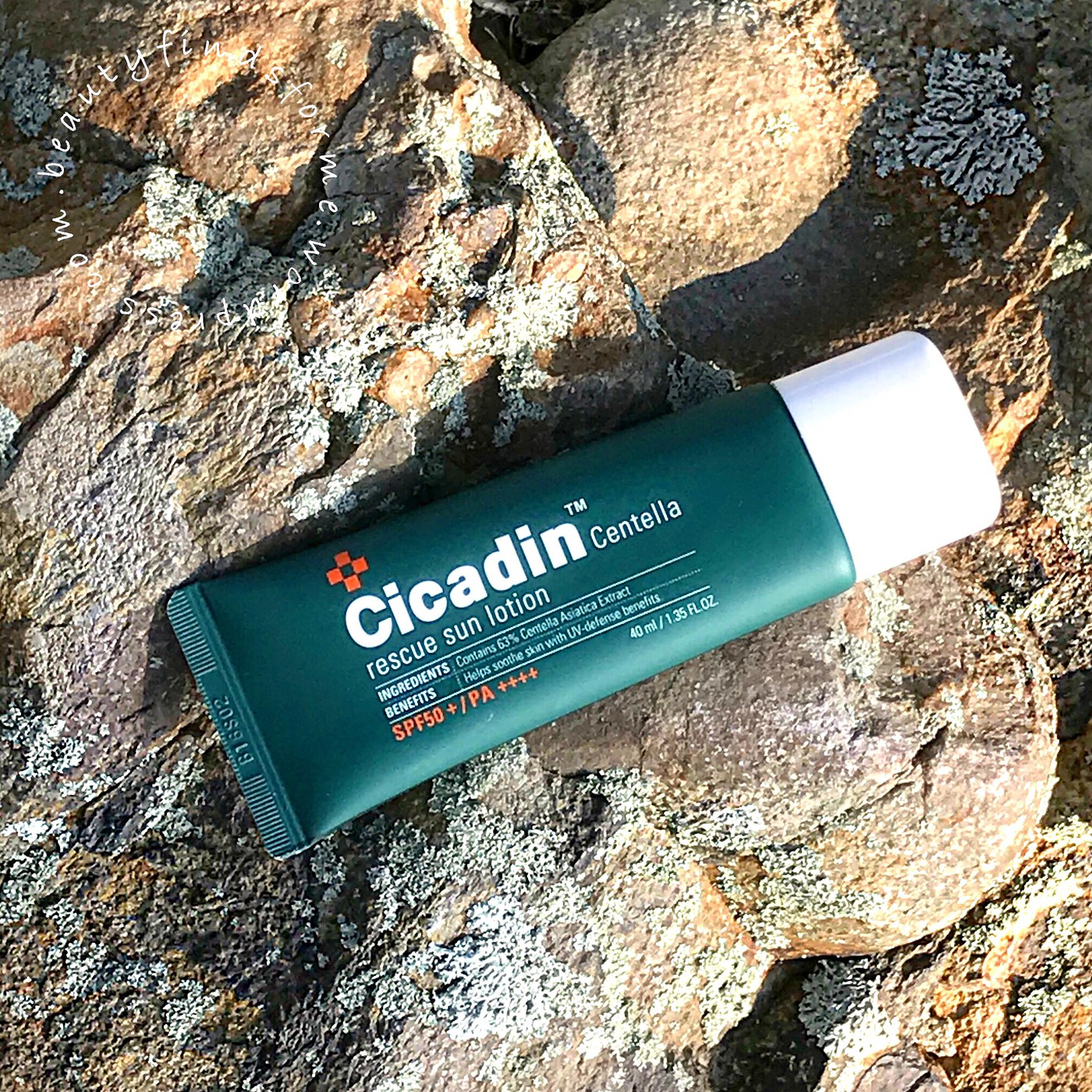 As it is the summer, I seem to test more sunscreens even though I wear them all year round.  For some reason, Missha isn't a brand that I normally gravitate towards, but I saw this physical sunscreen made with centella and thought I would give it a try.  A lot of my readers want to try more physical sunscreens, but are also scared that it will leave a horrible white cast.  I am happy to be the tester here!!   Thanks to online K-Beauty store Jolse, I was able to snag this cute little sunscreen.

Skin Type/Concerns: Oily, blemish prone, pores, aging, hyper-pigmentation: sun damage and PIH, fine lines/wrinkles
Some products were complementary to review and was not paid.  All reviews are my own honest opinion and  I never have been asked to write copy for a brand.  This blog post might contain promo codes, affiliate and referral links, which using my links will help generate a small commission that helps support my blog at no extra cost to you. 
Whenever I do a sunscreen review, I always like to include this in my blog post.  It may seem repetitive if you are familiar with my blog posts, but not everyone reads every review or clicks on resources to find out what I am referring to.  If you already know this information, skip over to read my review for the Missha Sunscreen.
We all know what SPF rating means, but what does PA stand for?   I am very familiar with SPF (sun protection factor) and that it ranks based on protection from UVB :: ultraviolet B (shortwave) rays.  But the PA rating is something newish to a lot of Western readers, and I really notice it on Asian sunscreens, not so much American brands.  PA is the amount of protection the sunscreen offers from UVA :: ultraviolet A (long-wave) rays.  PA ranks with + signs and the higher the + signs, the more protection you will get from UVA rays.
UVB is what causes sunburns and reddened skin and has direct links to cancer.  UVA is what causes us to tan, and age ~ wrinkles and deep lines are caused by UVA exposure.  A really fantastic article about ultraviolet rays and how they affect our skin can be found here at the Skin Cancer website  and I highly recommend reading it.   One thing I have learned is that a broad spectrum sunscreen is the proper choice as it will help deflect the UV rays and not allow them to penetrate into your skin layers.
TL;DR:  You need to wear them.  Don't skimp on or skip this step.
Key Ingredients
Obviously CICA ~ 63% centella extract, which is a common herbal ingredient that is used medicinally to help speed up wound healing, such as blemishes and skin rashes. It also helps minimize the appearance of pores, and since it stimulates collagen production, it will make your skin more supple and firm. This formula also contains a concentrated derivative extracted from centella asiatica ~ madecassoside, which helps soothe, reduce redness and inflammation and helps heal your skin. Missha uses low temperatures, 4°C (39°F) to age their harvested centella. 
Missha has included something in here called "Green Calamine", which is the marriage between calamine and chlorella vulgaris: Calamine is a very soothing ingredient and will help reduce swelling and itchiness. It is also an antiseptic, which will help prevent infections and will disinfect and it is an astringent as well. This is considered an essential medicine by WHO (World Health Organization). Calamine can cause brightening of the skin tone as it is basically zinc oxide, which helps fade blemishes, hyper-pigmentation and give an overall brightening effect on your face. In fact, many people use calamine lotion to help fade and prevent blemishes, control oil and also as a moisturizer.  Chlorella vulgaris is a green algae that has anti-aging benefits, as it contains carotenoids. It helps prevent the disintegration of collagen and elasticity in your skin, and it actually aids in the production of collagen. It helps tone and firm your skin and it contains amino acids, which are protein building blocks and it is believed that chlorella can help refine and smooth your skin's texture.
image source jolse
Lavender oil is in here, so this has a very light herbal lavender scent.  Lavender oil doesn't just smell good, but it does have some nifty benefits ~  it helps regulate the amount of sebum our skin produces, balances the oil production of the skin and also helps speed up wound healing.  This sunscreen provides broad spectrum protection, which means is that it will deflect both types of UV rays ~ UVA and UVB ~ and will not allow them to penetrate into your skin layers. SPF (sun protection factor) ranks based on protection from Ultraviolet B (UVB) shortwave ways. PA is the amount of sunscreen offers from Ultraviolet A (UVA) long-wave rays. The more plus signs after the PA rating, the more protection you will get from UVA rays. UVB is what causes sunburns and reddened skin and has direct links to cancer. UVA is what causes us to tan, and age ~ wrinkles and deep lines are caused by UVA exposure. This has UVA/UVB filter titanium dioxide, which is great for sensitive skin and can provide a white cast. Some people want a physical sunscreen and this is it.
Ingredients: Centella Asiatica Extract (63%), C12-15 Alkyl Benzoate, Titanium Dioxide, Propanediol, Butyloctyl Salicylate, Aluminum Stearate, Polyhydroxystearic Acid, Polymethylsilsesquioxane, Lavandula Angustifolia (Lavender) Oil, Polyacrylate Crosspolymer-6, Sodium Stearoyl Glutamate, Sodium Stearoyl Glutamate, Methyl Pyrrolidone, Hydroxypropyl Methylcellulose Stearoxy Ether, Stearic Acid, Ethylhexylglycerin, Madecassoside, Calamine, Chlorella Vulgaris Powder, Triethoxycaprylylsilane cosDNA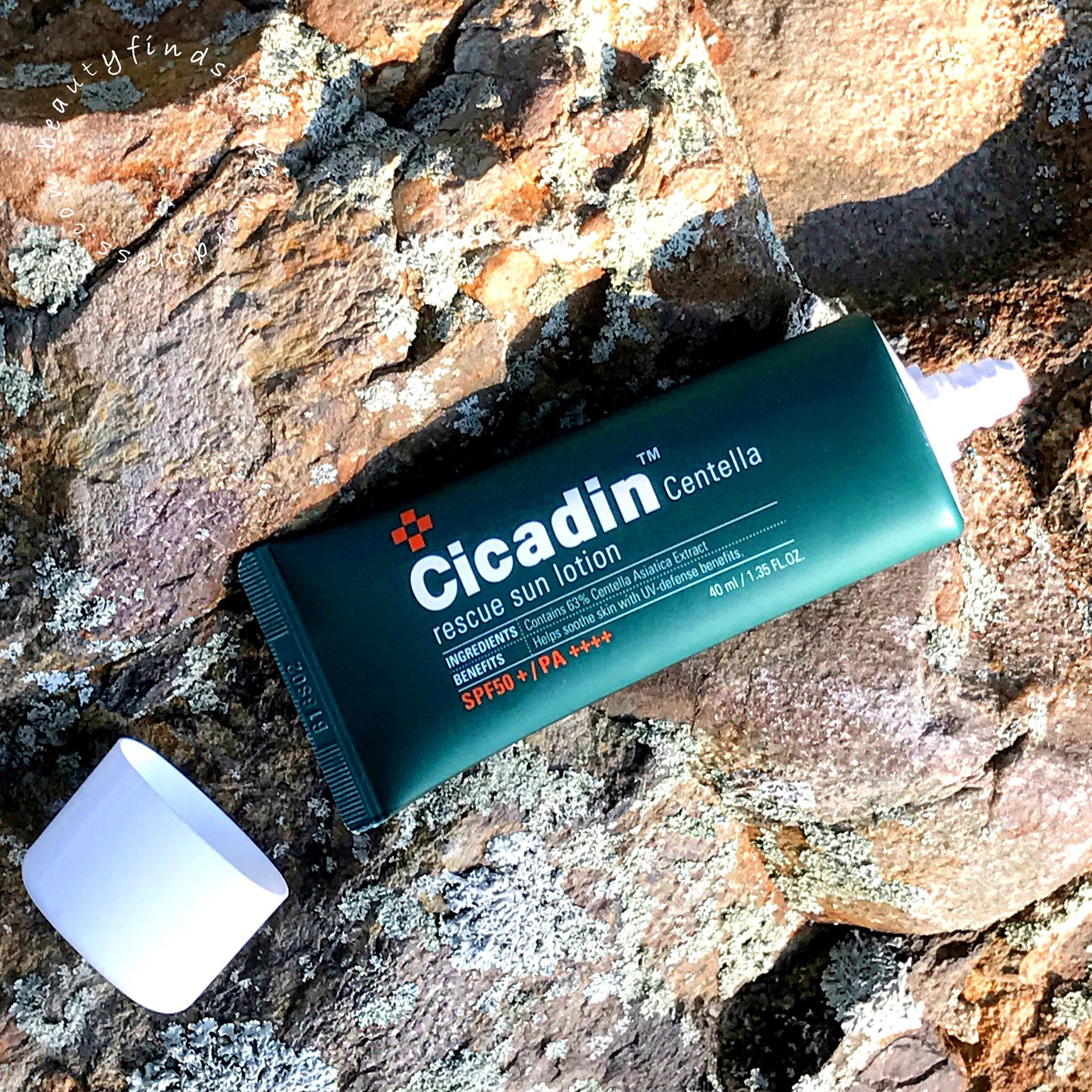 OMG There is something so adorable about this 40 mL tube!  I don't know ~ maybe it's the green color with the orange accents ~ the tube is one of those "flat" tubes so it doesn't roll around and it has a squarish cap that twists off ~ I wish it was a flip cap, as that would make this easy to apply with one hand.  It has a blunt tip applicator and and the lotion comes out nicely without any effort.
This sunscreen is a joy to use. I just tried a USA made physical sunscreen with a lesser SPF and it was so thick and dewy, that I couldn't use it on my face. This beautiful little sunscreen by Missha is lightweight, just like a lotion (hence its name!) and it spreads easily, absorbs quickly and doesn't leave my skin feeling sticky or looking oily.  The addition of calamine in here helps with oil controlling and I never feel that my skin looks too shiny when I apply this.  That is very important for oily skin types, as one reason why we may not wear our sunscreen is the heavy thick greasy nature of a lot of USA and Western sunscreens. 

Despite the addition of the titanium dioxide, this doesn't leave a white cast ~ it does go on white and initially, it looks like it is really brightening my skin, but once it absorbs into my skin, I am not seeing a white cast, nor do I see any settling around my fine lines and wrinkles.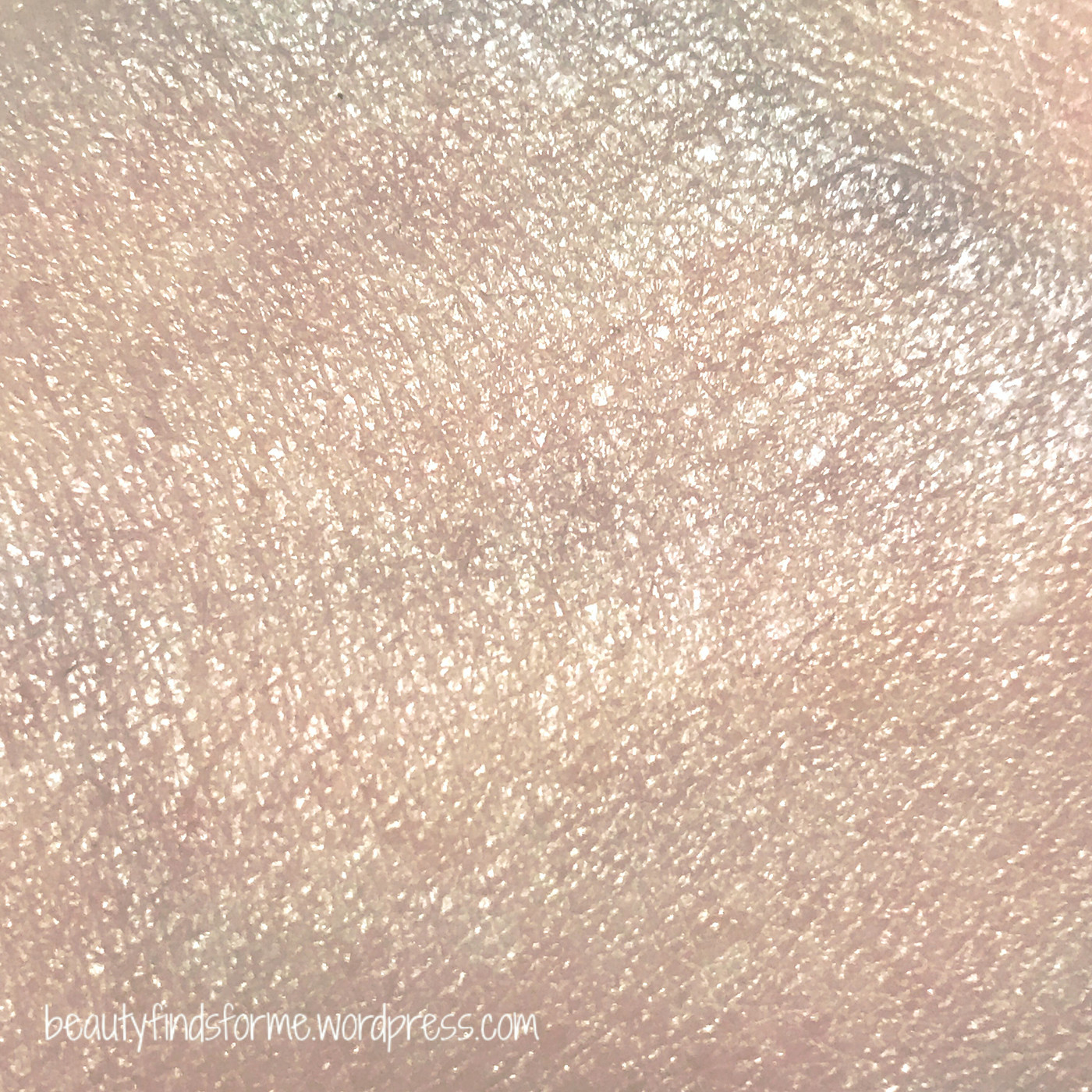 closeup of my skin ~ you can see there is no white residue within the skin's lines
This doesn't leave a dewy finish, but it does moisture and leave my skin feeling very supple.  This is not sweat-proof or waterproof but it is a good sunscreen to wear on a daily basis for normal wear.  My rating:  Great little sunscreen, provides moisture, doesn't clog pores, helps heal skin, nice light fragrance, no visible white cast on my light/medium skin tone. 
Where to Purchase
Missha CICADIN Centella Rescue Sun Lotion is sold at Jolse for under $11.00 USD for a 40 mL tube  (click here) ~ this is a great price for a physical sunscreen that leaves no white cast and doesn't make my skin feel like a grease pit!  Jolse has free shipping, ships globally and they give out lots of free samples!  They also carry quite a bit from the Missha CICADIN line, including additional sunscreens in stick form.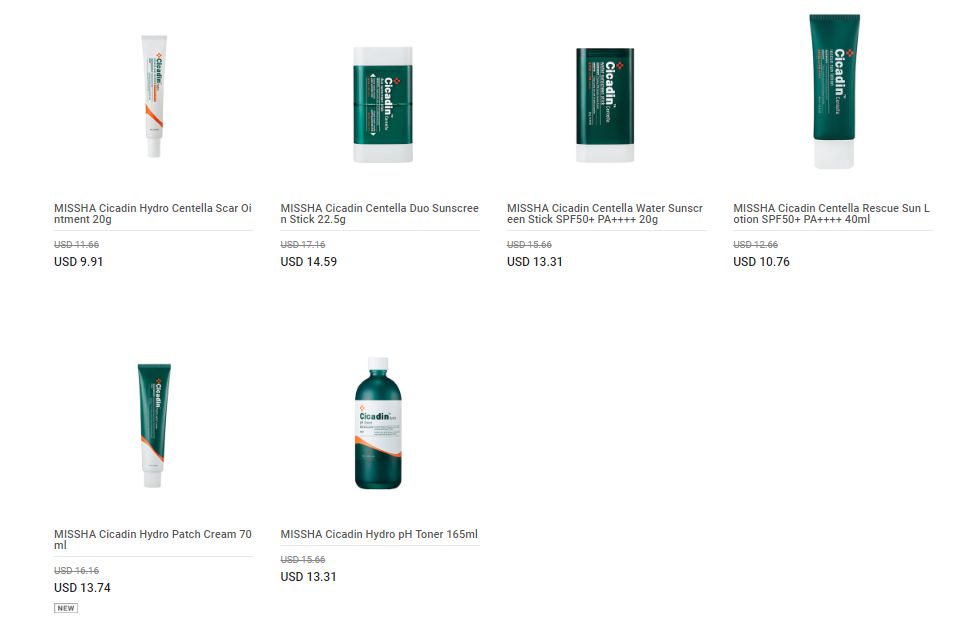 [ some products were received in exchange for a review. contains affiliate links for a small commission ]