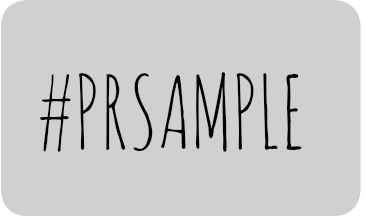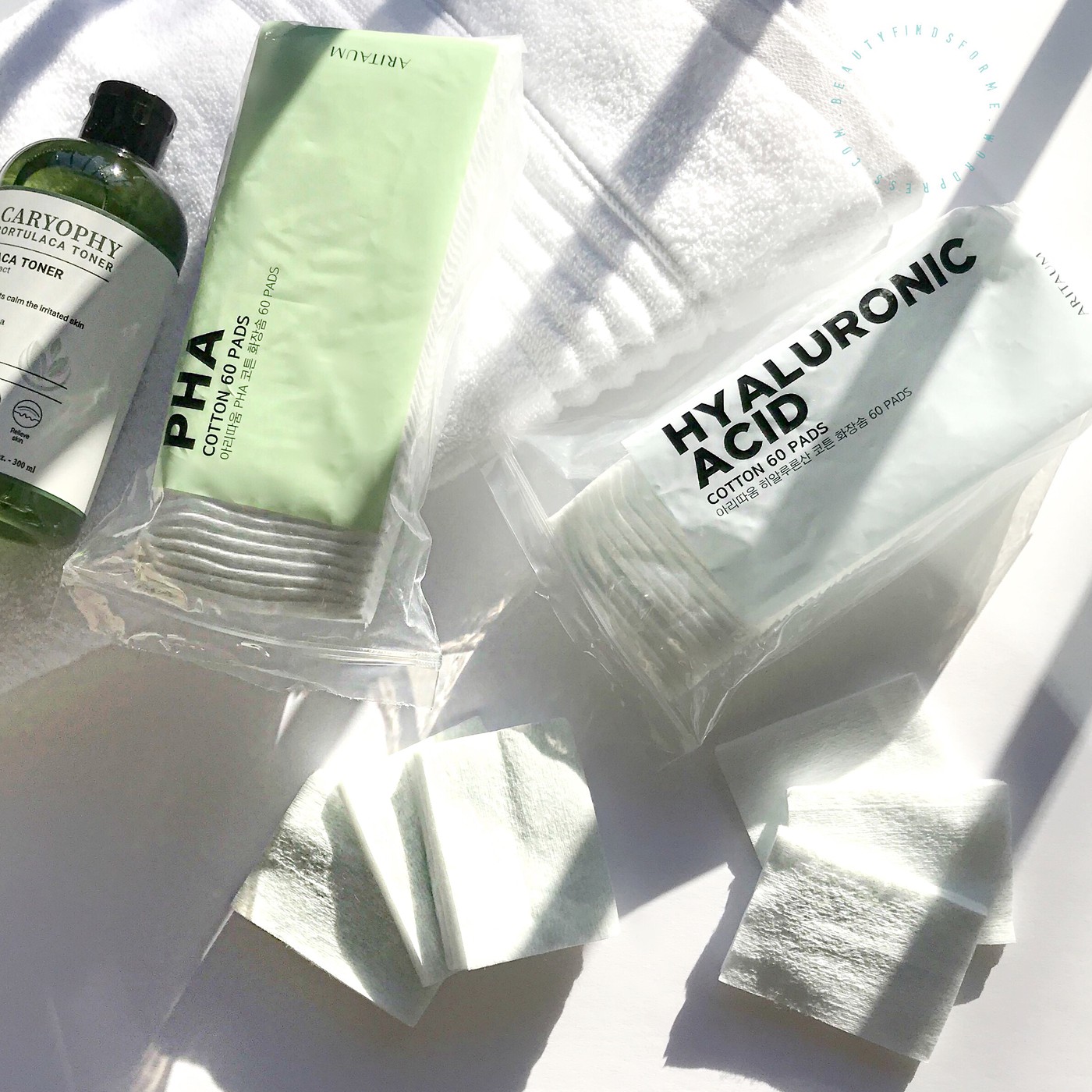 Last year, I wrote a blog post about two infused cotton puffs and I was really impressed with both of them:  A'PieuChungchoon Calamine Cotton Puffs and  Etude House Bamboo Charcoal Cotton Pads.  When I saw that Aritaum came out with a couple of infused cotton puffs, I really wanted to try them and see how they performed.  Jolse graciously sent these puffs to me for review purposes. 
I received some of these products complementary to review and was not paid.  All reviews are my own honest opinion and  I never have been asked to write copy for a brand.  This blog post might contain promo codes, affiliate and referral links, which using my links will help generate a small commission that helps support my blog at no extra cost to you.
My skin type and concerns:  Oily, aging, blemish prone, pores, hyper-pigmentation, fine lines and wrinkles.
Why do we love cotton puffs?  Well, we want something that feels nice against our skin, works to deposit our toners and FTE's, remove makeup without irritation.  Not all cotton puffs are the same ~ some are thick and plush, with a mixed ratio of cotton plus some other material, others are natural, eco-friendly ones, some are thin and unassuming, but are fantastic for making mask packs and the list goes on.  Let me know in the comment section what you use your cotton puffs for!  Anyway, most of us deal with plain old cotton puffs or a mix of material, with no other added benefits.  Last year, infused cotton puffs started making the rounds and this time, Aritaum jumped on the bandwagon with their versions.   Aritaum's cotton pads have similar characteristics:
image from jolse
Measures: 70 x 50 mm (±2mm)

Ingredients: Made frompremium cotton, with one side infused with powder.

The side with the infused ingredient is a bit rough

The side without the product is softer

The two sides are quilted together 

Comes in a resealable plastic bag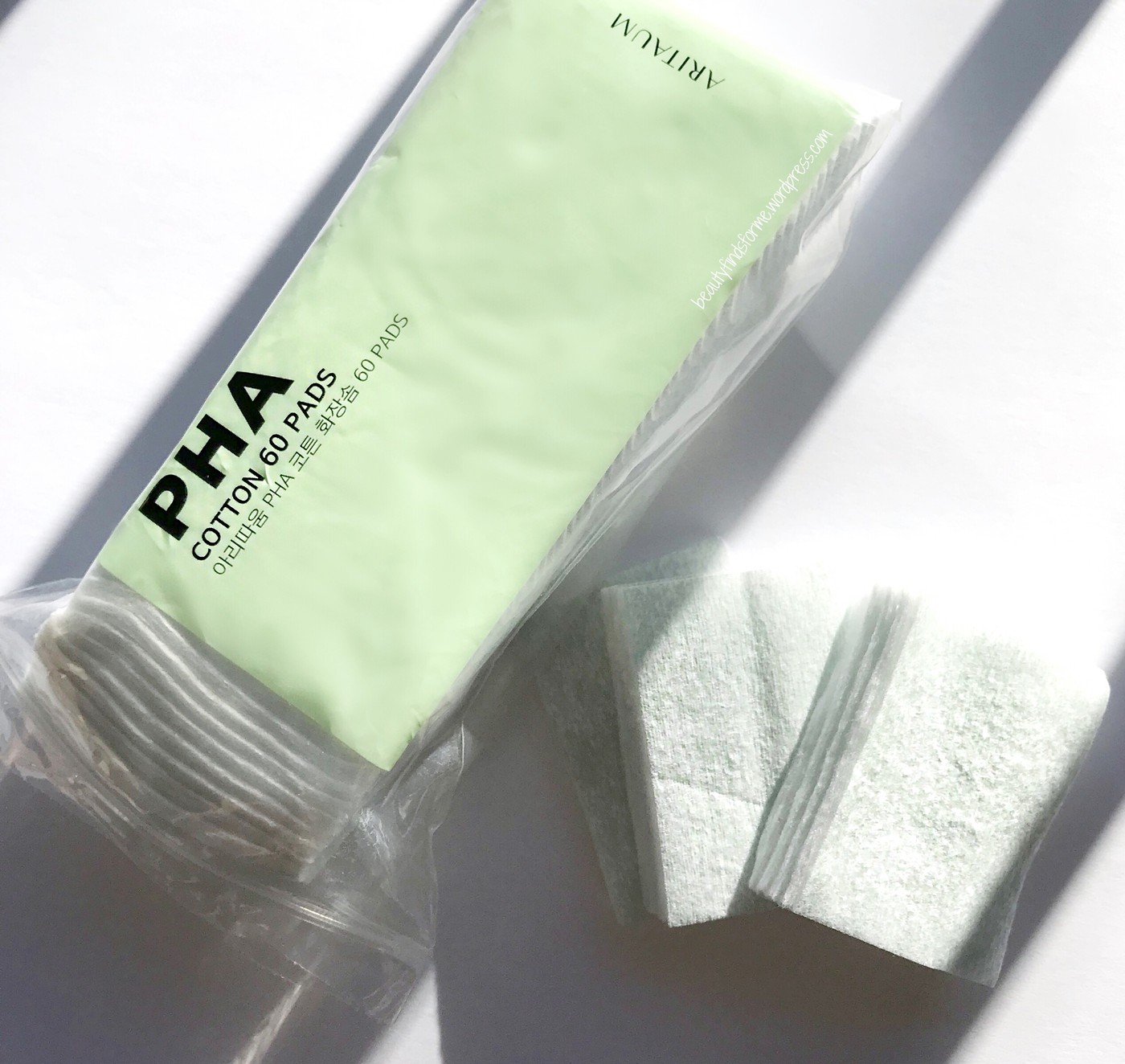 Aritaum Cotton Pads PHA  OHHH… infused with PHA!   If you don't know, PHA stands for Poly Hydroxy Acids. PHA is a third generation peeling/exfoliating ingredient, like AHA and BHA, but it is less irritating.  It is just as effective as an AHA, but it is gentle and mild, as the molecules in PHA are larger and do not penetrate deeply into the skin.  PHA's take longer to show results, but if you use a product for about a month or so, you should see some skin tone and texture improvement.  PHA's also have hydrating and moisturizing benefits that can help strengthen your skin barrier function and they contain anti-oxidant properties, making it a good choice for anti-aging skincare products.  PHA's also can be used with other products such as retinol and skin lightening hydroquinone.  PHA products can be used on all skin tones as well and help reduce photo-aging.  (source)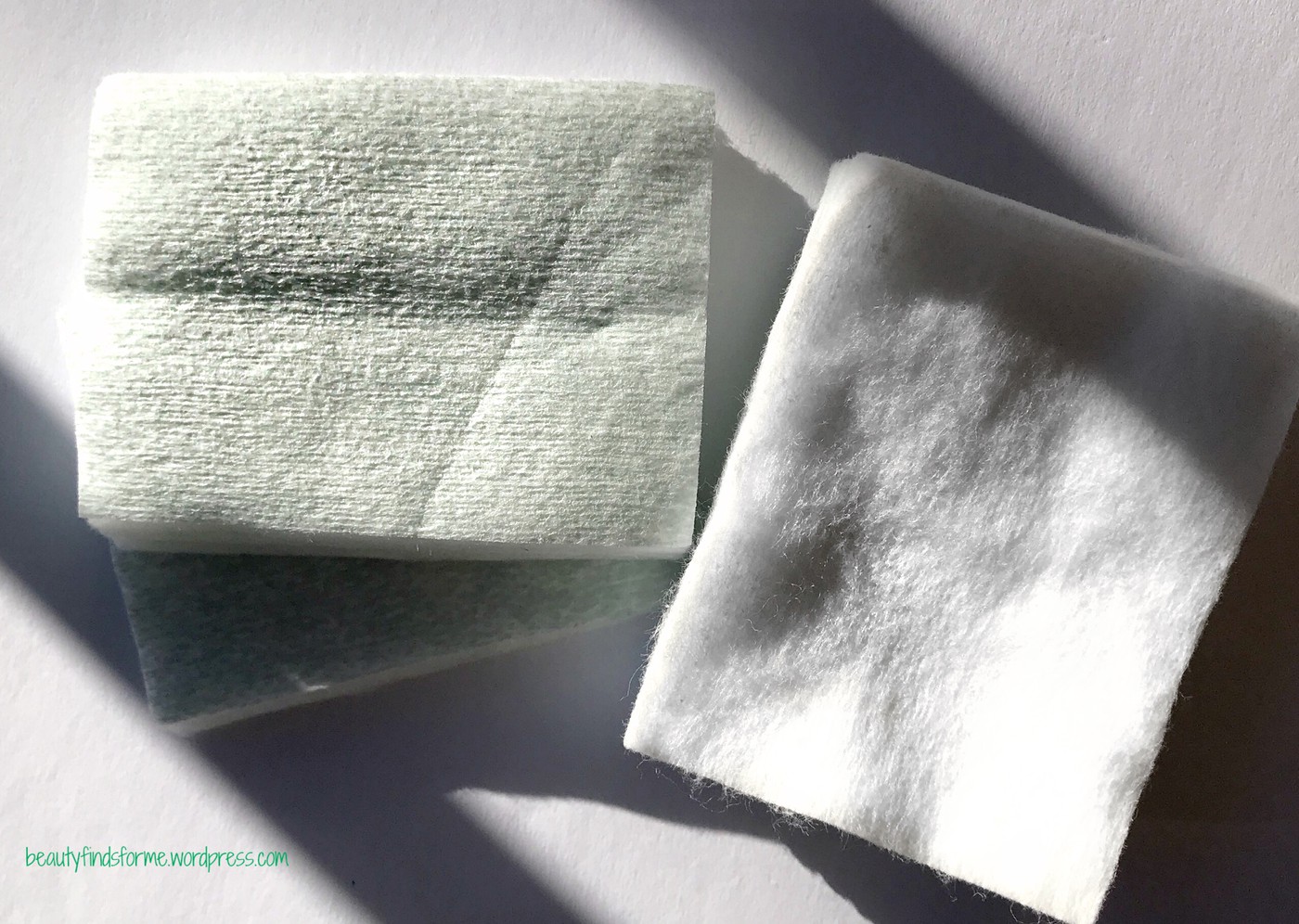 Now, obviously, the PHA in this cotton pad is minuscule, as Aritaum didn't even bother to put a percentage or ppm in here with the ingredients list.  The infused side is a pale green shade and is a bit rougher than the plain cotton side.  I use the infused side as an exfoliating pad, after applying my toner or cleansing water, then flip the pad around to pat down.  I honestly have not seen any benefits from using this as a PHA ~ the only exfoliation I can tell is from the fact that the pad is textured and it is a physical exfoliation.  
image from jolse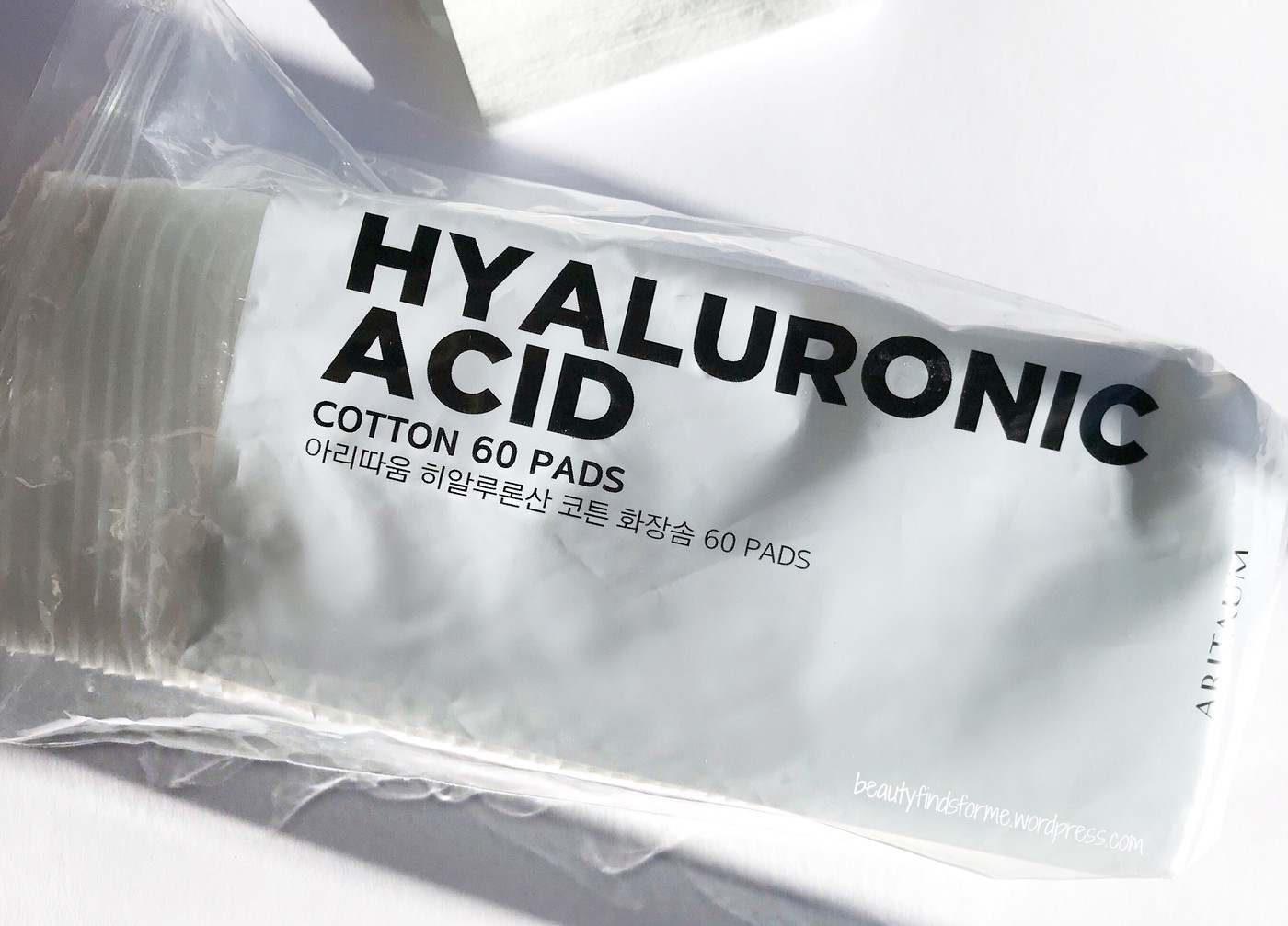 Aritaum Cotton Pads Hyaluronic Acid I was hoping this one would be better ~ thinking that ohhh, if I travel, I can just use these with any cleansing water, toner or even plain water to get hydration, as hyaluronic acid can absorb, store and attract moisture and makes for soft, hydrated supple skin.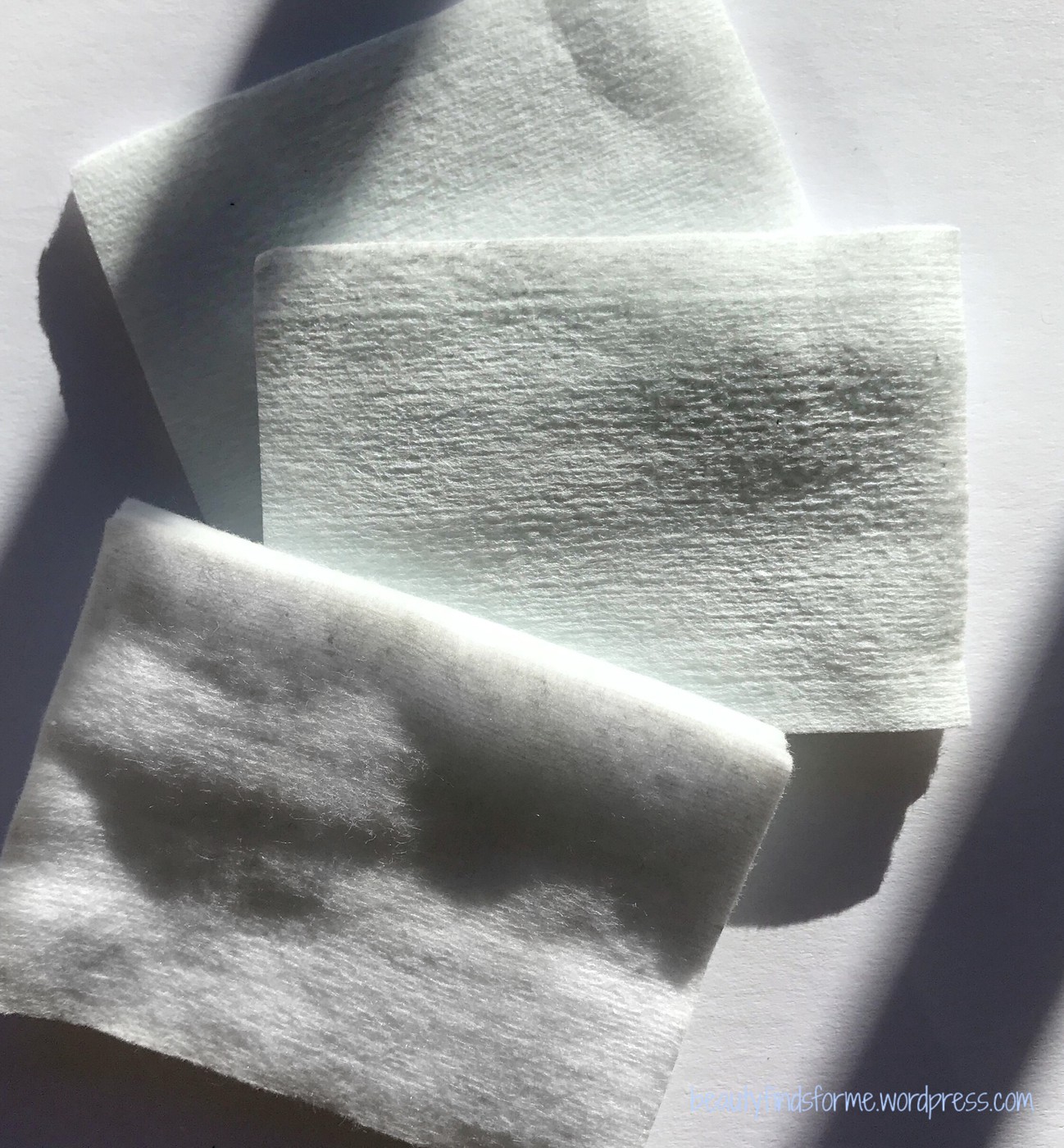 Nope.  Again, no percentage of hyaluronic acid in these pads ~ unlike A'Pieu who gave a percentage or ppm of the infused ingredient, Aritaum is bent on NOT telling us anything here.  One side is a pale blue, indicating the hyaluronic acid ~ water ~ again, rough texture and the other is that softer side.  Again, no massive dose of hydration just because I used the HA side of the pad.  My skin was refined not by the HA ingredient, but from the physical roughness of the pad.  
image from jolse 
Final Thoughts
Hmm, if you are looking for a pretty look with the pale greens and blues of the Aritaum cotton pads, then I say you have found it.  If you are looking for adding PHA or Hyaluronic Acid into your routine, don't look towards these cotton puffs. I honestly cannot recommend these cotton puffs ~ I didn't see any benefits from using either the PHA or HA puffs in my routine.  Unlike the A'Pieu Chungchoon Calamine and Etude House Bamboo Charcoal, these puffs from Aritaum really didn't provide any visible benefits ~ they LOOKED pretty with the pale green and blue side, but they were rougher than I cared for.  I used them, but didn't see any skincare results from them. Now, that doesn't mean that infused cotton puffs are a fad ~ you just will have to kiss some frogs before you find your prince, so to speak, and I will continue to try different infused cotton puffs as I do think some are quite fantastic!   Are there are other cotton puffs/pads out there that are infused that you know of?  Let me know in the comments below!  
You can purchase both of these items at Jolse ~ they retail for around $5.18 USD for 60 pads
If you want to purchase Cotton Puffs that actually DO have some benefits, I recommend these
All prices will fluctuate slightly due to the Korean Won/USD conversion.  Jolse has free shipping all the time, ships internationally and gives out free samples.

disclaimer: this product was sent to me for review purposes. all opinions are my own and are unbiased