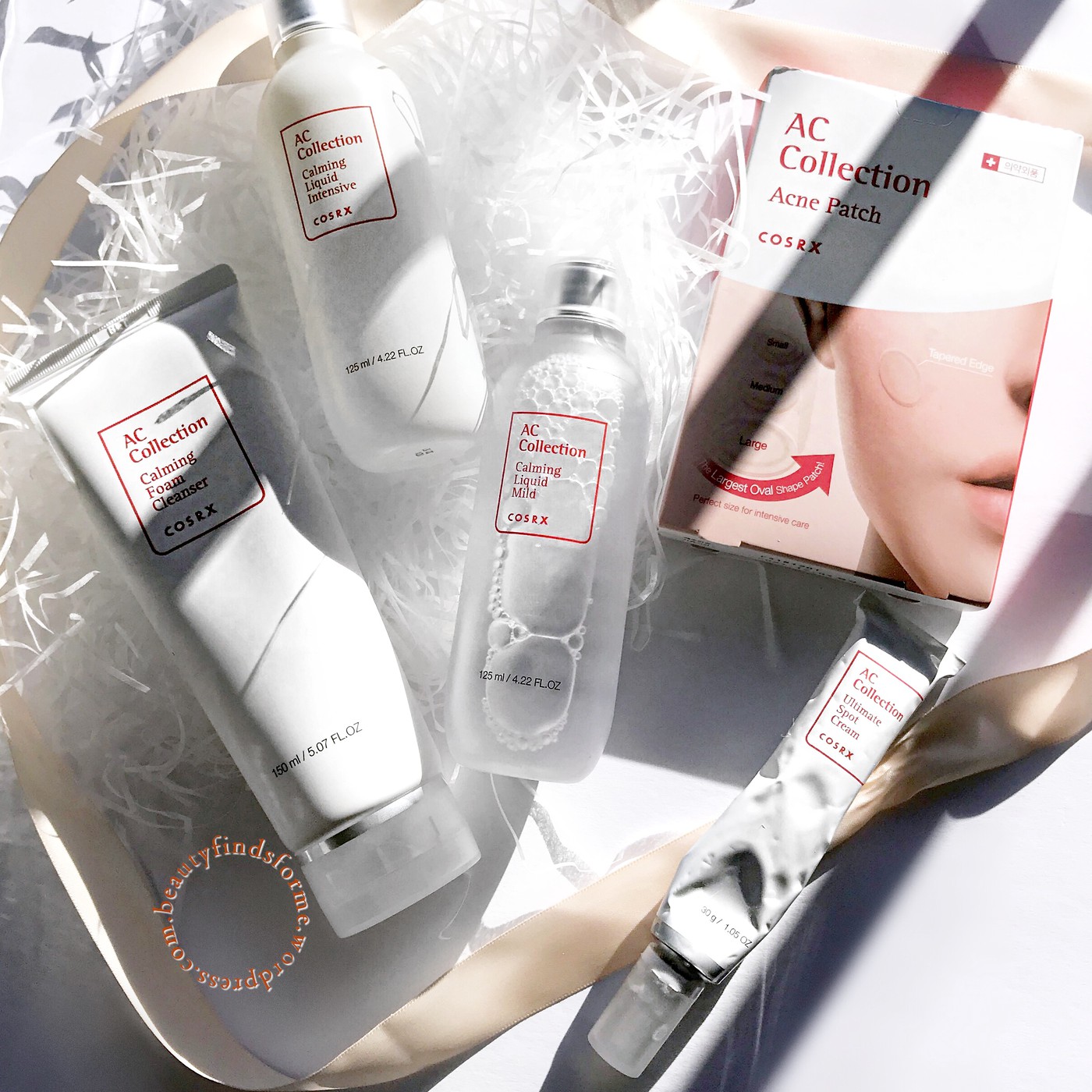 This is a brand new release from cosRX ~ their AC Collection Acne skincare line.  I am so pleased that cosRX sent me this amazing bundle of new products to test and review!  This line consists of five products:  Calming Form Cleanser, Calming Liquid Mild, Calming Liquid Intensive, Ultimate Spot Cream and Acne Patches.  I am a huge fan of cosRX products and you can read all of my past reviews here. 
Skin type/concerns:  Oily, aging, blemish prone, pores, hyper-pigmentation, fine lines and wrinkles. 
I received these products complementary to review and was not paid.  All reviews are my own honest opinion and  I never have been asked to write copy for a brand.  This blog post might contain promo codes, affiliate and referral links, which using my links will help generate a small commission that helps support my blog at no extra cost to you.
Common Ingredients
All of these products contain some form of centella asiatica, which is known as a soothing, repairing and healing herbal skin care ingredient.  It not only just helps with healing, it helps reduce blemishes and skin rashes as it has anti-bacterial properties.  Centella extracts will helps minimize the appearance of pores, and since it stimulates collagen production, it will make your skin more supple and firm.     There are some centella derived ingredients in four of the items: cleanser, both liquids and spot cream: asiaticoside helps form collagen to strengthen your skin and speeds up wound healing.  Asiatic acid is an anti-aging compound, that helps to plump up your skin, prevents wrinkles, fine lines and scar tissue. Madecassic acid helps aid in the production of collagen and tissue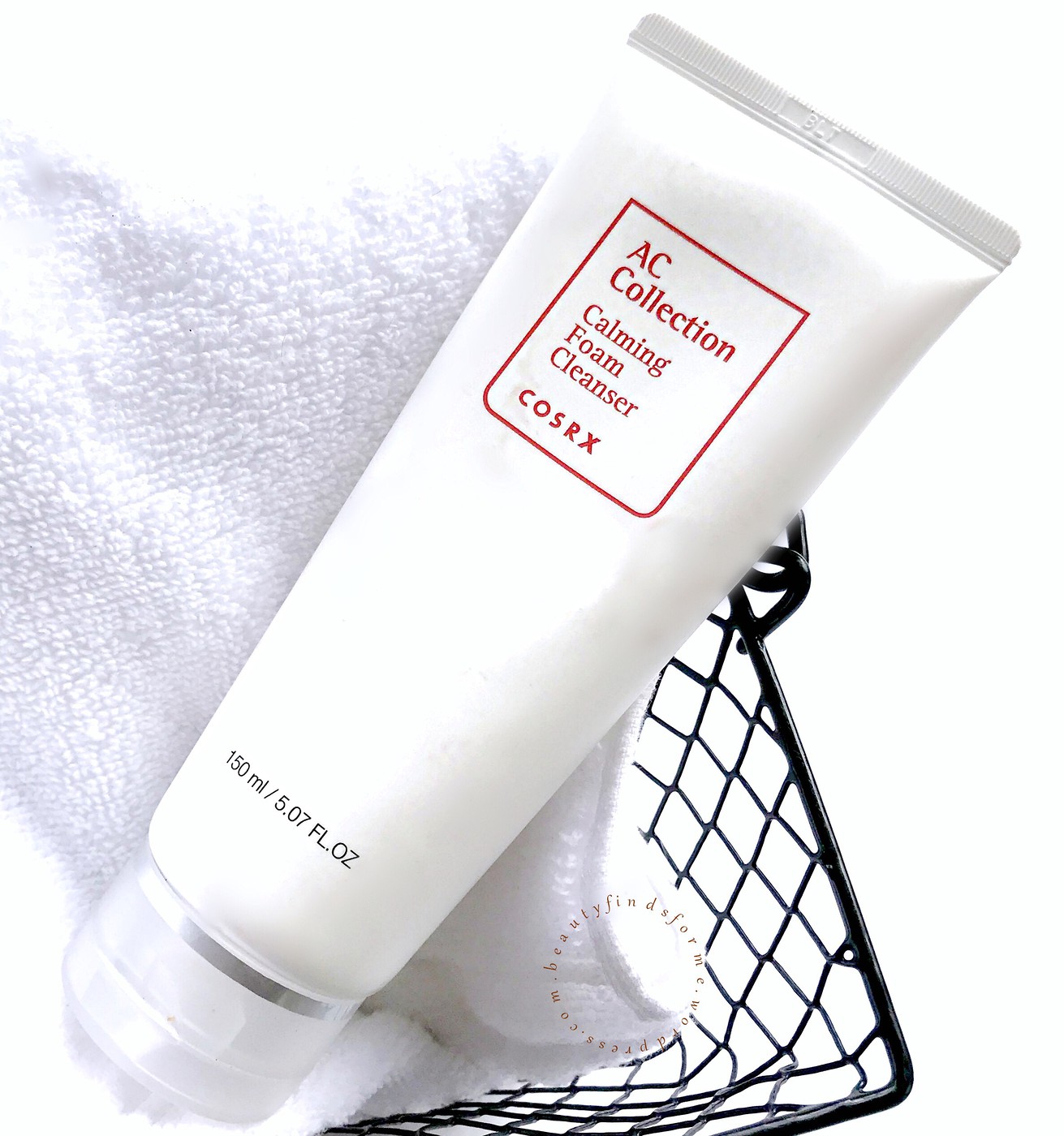 AC Collection Calming Foam Cleanser  cosRX makes some AMAZING dense foaming cleansers, but just a warning, they usually are high in pH levels.  I am one of those people that do not test the pH level until after I have used a product a few times, as I do not wish to reject a product just because of the pH level.  My skin doesn't have issues solely based on pH levels and this cleanser is one that I can use without issues.  Besides the threee centella derivatives, this also has a couple of nice ingredients for oily skin ~ lavender is an effective healing, anti-inflammatory and antiseptic ingredient, pine leaf oil is an astringent and antibacterial and salicylic acid is a BHA, going deep into pores to unclog, de-grease and clean out dirt and debris
Ingredients: Water, Glycerin, Stearic Acid, Myristic Acid, Lauric Acid, Glyceryl Stearate, PEG-100 Stearate, Lauramide DEA, Cocamidopropyl Betaine, Lavandula Hybrida Oil, Pinus Sylvestris Leaf Oil, Potassium Cocoate, Salicylic Acid, Asiaticoside, Asiatic Acid, Madecassic Acid, Disodium EDTA cosDNA
This does have a pH level of about a 9 to 9.5, which can be way to high for some folks.  It comes out of the tube a very creamy product with a lovely gentle lavender herbal scent.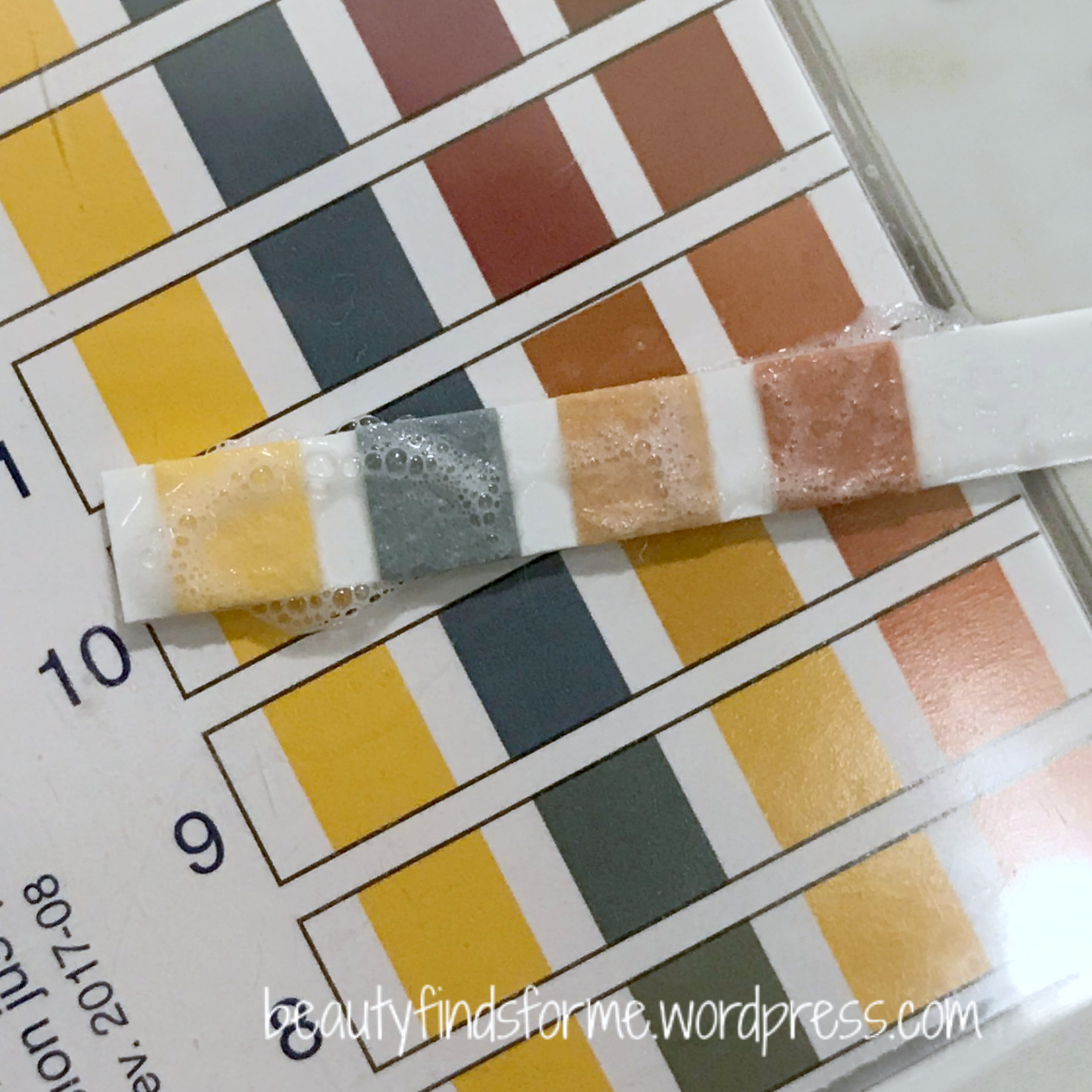 This quickly foams up to a nice lather.  I didn't experience over-dryness with this cleanser, but I also have very oily skin too.  I feel that this cleanser is better suited for really oily skin and during hot, humid months.  It cleans very well too for a foaming cleanser, removing the majority of my stubborn, hard-to-budge makeup.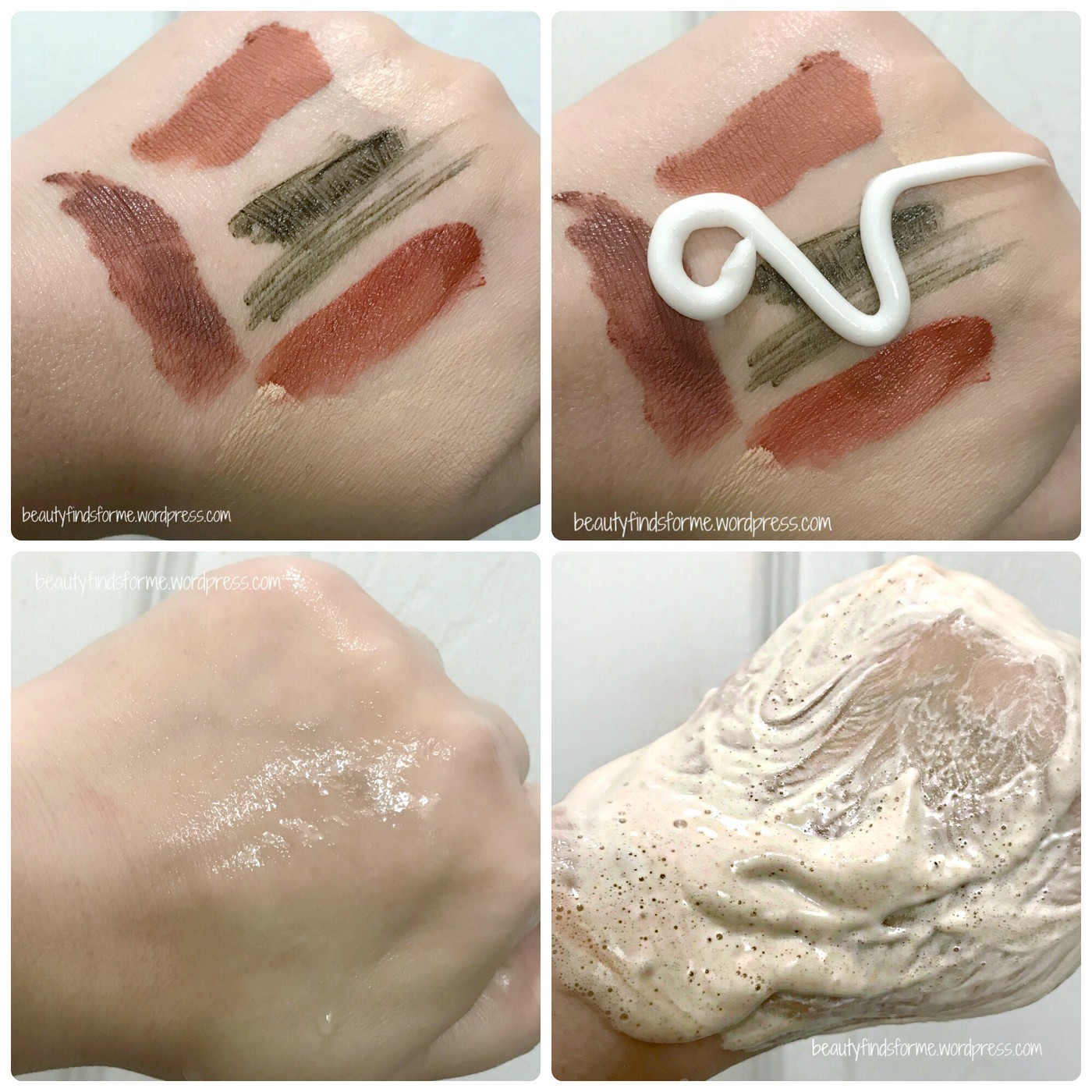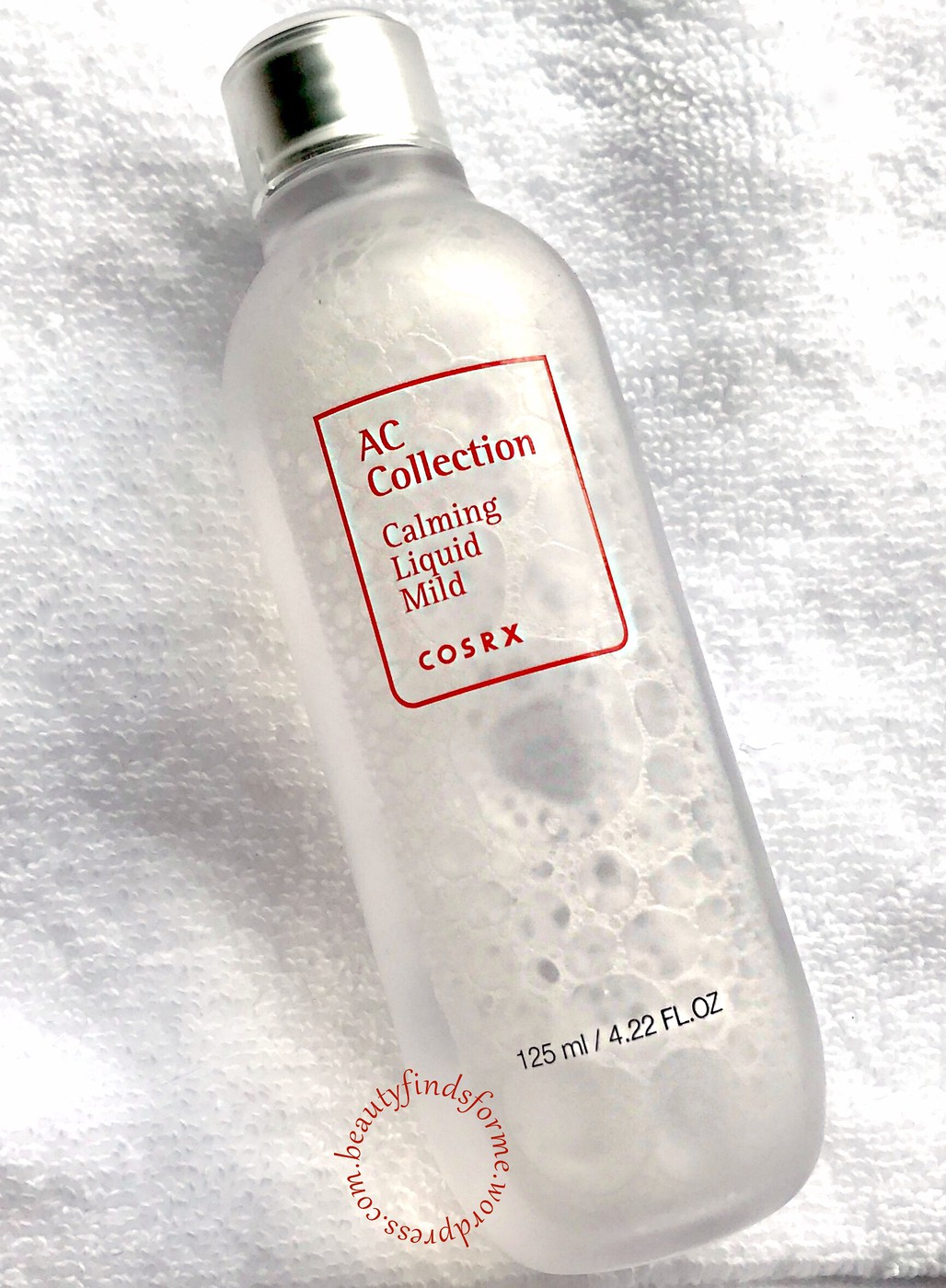 AC Collection Calming Liquid Mild  I think this is one product that most people of all skin types who suffer from blemishes will enjoy.  The two Liquids (ie toners) in this line come in nice oblong bottles, with pewter toned caps.  The Calming Liquid Mild is in a frosted clear bottle and has a pin hole applicator.  This very watery toner does smell strongly of tea tree and tea tree is a great friend to blemish prone skin ~ it is used for infections and diseases due to its healing and disinfectant properties ~ antibacterial, fungicide, antiseptic, antimicrobial, antiviral and can help speed up wound healing and reduce scarring, as it is a cicatrisant. It helps with preventing dry, flaky skin and because of its antibacterial properties, can help heal current blemishes while reducing future blemishes and control excess oil. It helps with rashes, allergic skin reactions and fungal infections.  This also has 85% green tea leaf water as its first ingredient, a powerful anti-oxidant due to its high concentration of polyphenols.  Green tea helps with reducing the appearance of fine lines and wrinkles. 
This has BHA betaine salicylate is a more gentler form of salicylate acid and will exfoliate to help reduce the appearance of pore size, prevent blemishes, unclog pores by dissolving the dead skin cells and smooths the skin. It is also an anti-inflammatory and antibacterial.  PHA gluconolactone is derived from glucuronic acid, which is a sugar acid and it is suitable for sensitive or mature skin. It functions like an AHA, but more gentler and without irritation, while improving your skin's texture by aiding in cellular turnover, unclogging pores and removing dead skin cells. Recent studies show it might be effective in treating blemishes, due to some anti-bacterial properties.  
Humectants glycerin, panthenol, amino acid betaine and sodium hyaluronate help hydrate your skin, while binding moisture to it. Allantoin is a skin protecting ingredient helps calm and soothe irritation, while soothing and softening your skin and amino acid arginine promotes healing and detoxes your skin.  
Ingredients: Camellia Sinensis Leaf Water (85%), Butylene Glycol, Dimethyl Sulfone, Betaine, 1,2-Hexanediol, Betaine Salicylate, Gluconolactone, Polyglyceryl-10 Laurate, Polyglyceryl-10 Myristate, Glycerine, Panthenol, Allantoin, Arginine, Sodium Hyaluronate, Melaleuca Alternifolia (Tea Tree) Leaf Oil, Asiaticoside, Asiatic Acid, Madecassic Acid  cosDNA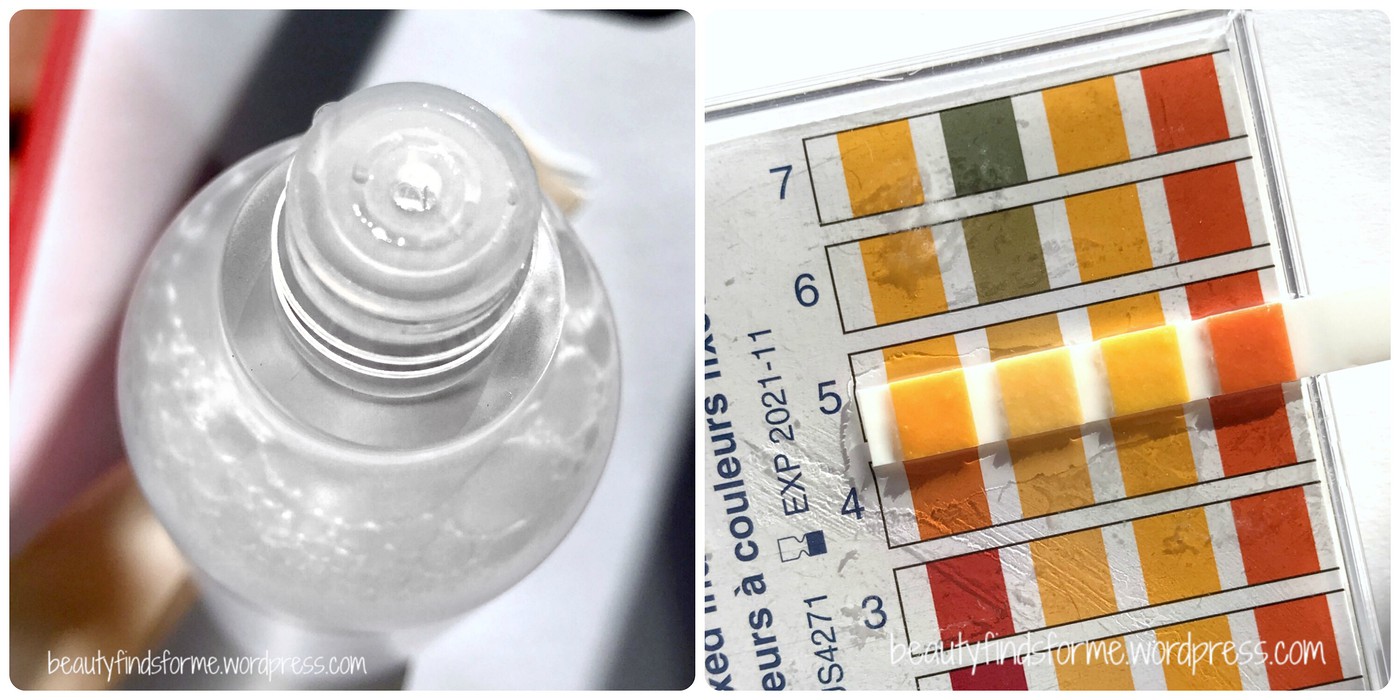 This has a pH level of 5, which makes it a nice skin balancing toner and it is very watery ~ it provides a nice punch of initial hydration, without leaving my skin feeling dry or tight ~ moisture and oil levels increased by around 23% .  No greasy or sticky residue, this just dries down without a trace.   You can also use this toner as a mask pack ~ just soak some cotton pads or a coin compressed sheet mask and place over your skin for a hydrating, blemish busting treatment.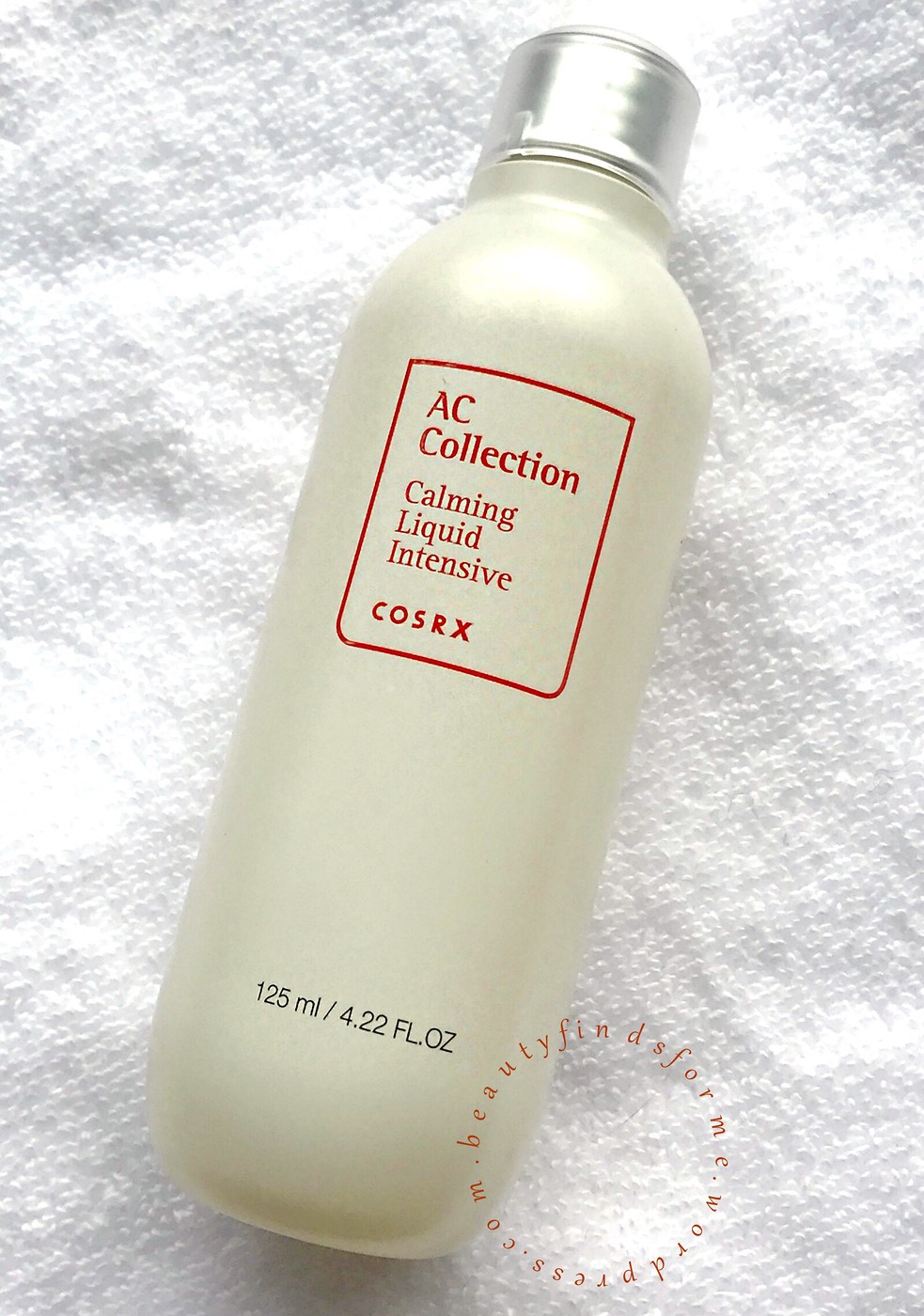 AC Collection Calming Liquid Intensive  This one I would only recommend to those who have very oily skin/T-Zones and aren't sensitive to alcohol.   This is an upgraded version of the cosRX Natural BHA Skin Returning A-Sol and it is a much stronger version than the Mild Liquid ~ it comes in the same oblong bottle but it is white, not clear.  This also contains some similar ingredients to the Mild Liquid, such as tea tree, humectants sodium hyaluronate, betaine and panthenol, skin soothing allantoin as well as the three centella derivatives, but its similarities end there.  This is much stronger ~ it's first ingredient is a friend to many blemish prone skinned people ~ propolis. Propolis (bee glue) is created by honey bees and is a sticky, resinous goo that is used to build their hives. Propolis has been used for medicinal purposes for thousands of years, and is known for its anti-bacteria, antiseptic, anti-inflammatory and anti-fungal properties as well as speeding up the healing time on wounds. It also is an emollient, so it is not only a good blemish and anti-aging treatment, it also moisturizes your skin as well.
The second ingredient is alcohol and yes, this does smell strongly of tea tree-alcohol.  It is not for the faint hearted.  Alcohol is a controversial ingredient and my skin is fine with it, so long the rest of the ingredient list is solid, which in this case, I think it is due to its hydrating ingredients. This has BHA betaine salicylate, which is great for oily skin and instead of a gentle PHA, this one has AHA lactic and glycolic acids, which will help exfoliate the surface of your skin,  increase cellular renewal, helping to even out your skin tone. They are anti-inflammatory compounds and will help reduce inflammation and redness, while healing acne blemishes.  Sodium lactate is derived from lactic acid and will also provide mild exfoliation benefits.
Dimethyl sulfone, also known as MethylSulfonylMethane (MSM) and it is an organic sulfur.  Sulfur is important for blemish prone skin, as it will help dry up and heal blemishes and has antibiotic and anti fungal benefits. It helps purify and disinfect your skin.  Zinc PCA helps control excessive oil on your skin, while providing astringent and anti-microbial benefits as well as helping aid in collagen production.
Ingredients: Propolis Extract, Alcohol, Butylene Glycol, Sodium Lactate, Dimethyl Sulfone, Betaine, Lactic Acid,1,2-Hexanediol, Glycolic Acid, Water, Betaine Salicylate, Cassia Obtusifolia Seed Extract, Panthenol, Allantoin, Sodium Hyaluronate, Polysorbate 60, Hydroxyethylcellulose, Zinc PCA, Melaleuca Alternifolia (Tea Tree) Leaf Oil, Ethyl Hexanediol, Asiaticoside, Asiatic Acid, Madecassic Acid  cosDNA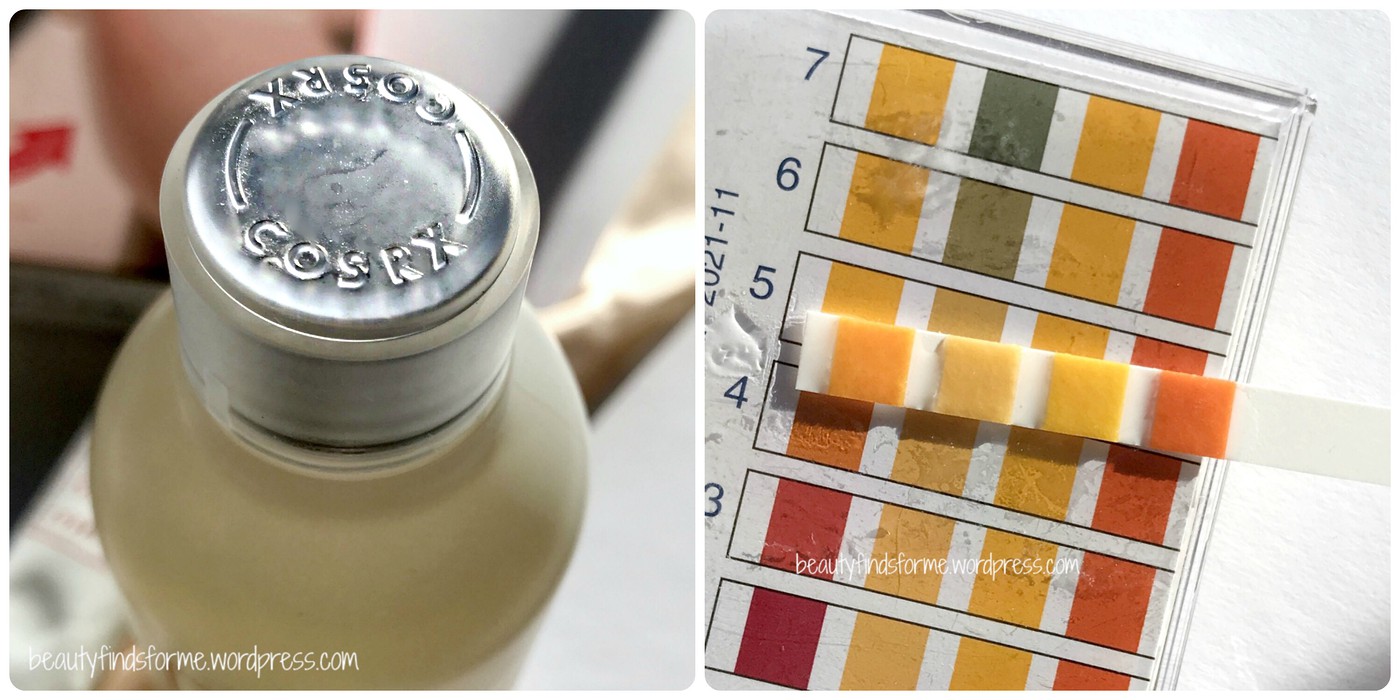 I LOVE the caps on these toner bottles!!  So apothecary looking.  The Intensive Liquid also has a pH level of a 5 and is a very watery toner as well.  This liquid has a mattifying effect on my skin, but it doesn't dry out my skin, increasing my moisture levels by 54% and decreasing oils by 31%.  That said, I can see myself using this primarily in the summertime and as a spot treatment on blemishes during the cooler months.   This toner is a must-have, barring any issues with the ingredients, for those with very oily blemish prone skin.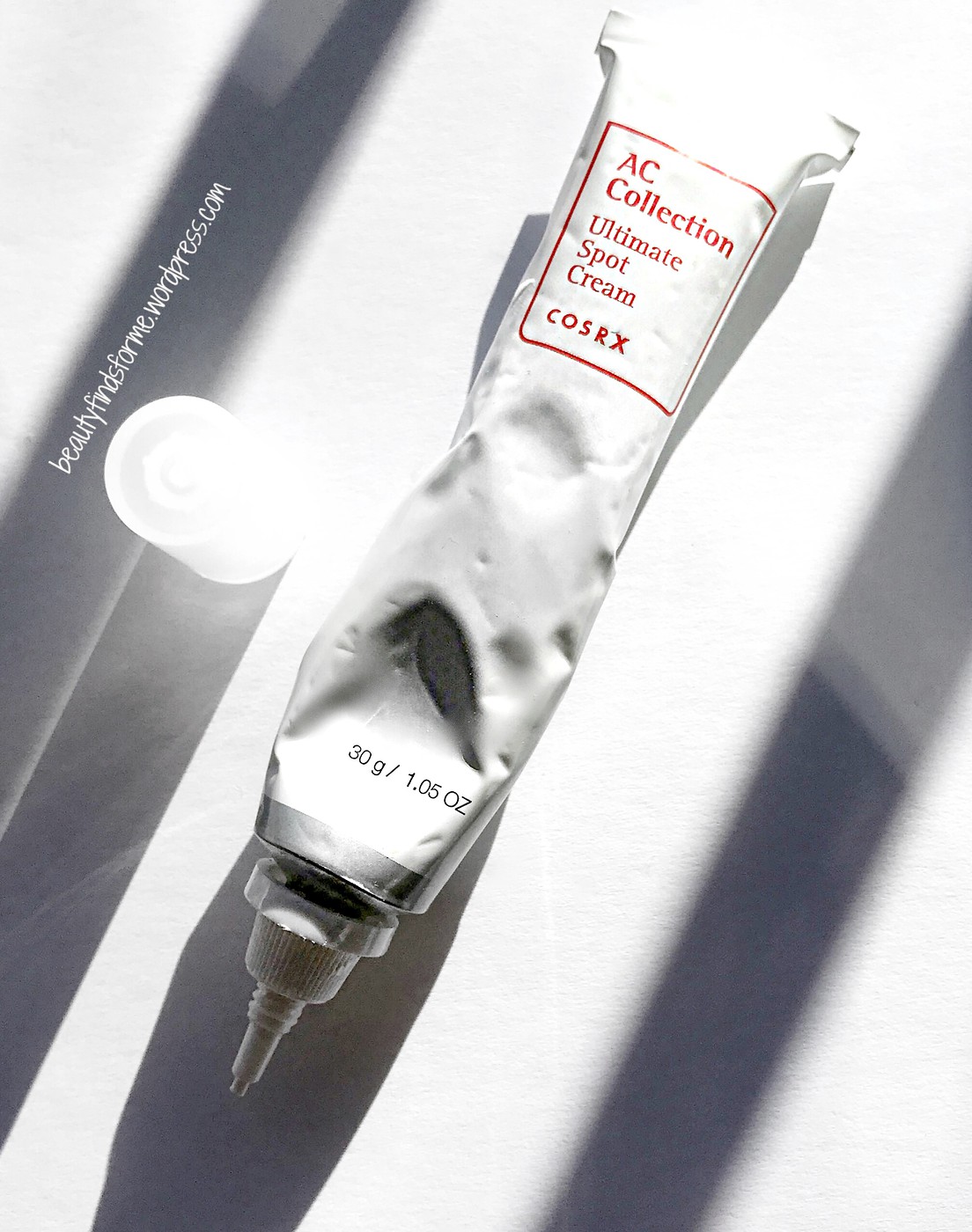 AC Collection Ultimate Spot Cream  We get to one of my favorite items in this collection ~ a spot cream!!  This has a lot of good stuff in it ~ tea tree, the three derivatives of centella asiatica, dimethyl sufone, betaine ~ along with aloe leaf water as its top ingredient ~ aloe is a powerful moisturizer that doesn't leave your skin feeling oily or greasy. It soothes, treats inflammation, helps speed up skin healing and also has a plethora of antioxidants, helping  improve your skin's firmness and keeps your skin moist and hydrated.  Sunflower seed oil is a lightweight oil that has a high concentration of vitamin E,  a powerful anti-oxidant.  It's known for its hydrating and moisturizing properties and it contains omaga-6 fatty acids.   This has two ingredients that are great for fading blemishes, hyper-pigmentation and give an overall brightening effect on your face ~ zinc oxide and calamine.  Calamine is a very soothing ingredient, and will help reduce swelling and itchiness. It is also an antiseptic, which will help prevent infections and will disinfect and it is an astringent as well.  Many people use calamine lotion to help fade and prevent blemishes, control oil and also as a moisturizer. 
Ingredients: Aloe Barbadensis Leaf Water, Butylene Glycol, Helianthus Annuus Seed Oil, Glycerine, Zinc Oxide, Cetearyl Alcohol, Dimethyl Sulfone, Betaine, Polysorbate 60, Elaeis Guineensis (Palm) Oil, Elaeis Guineensis (Palm) Kernel Oil, Cetearyl Olivate, Sorbitan Olivate, 1,2-Hexanediol, Calamine, Dimethicone, Illicium Verum (Anise) Fruit Extract, Scutellaria Baicalensis Root Extract, Xanthan Gum, Melaleuca Alternifolia (Tea Tree) Leaf Oil, Ethyl Hexanediol, Asiaticoside, Asiatic Acid, Madecassic Acid  cosDNA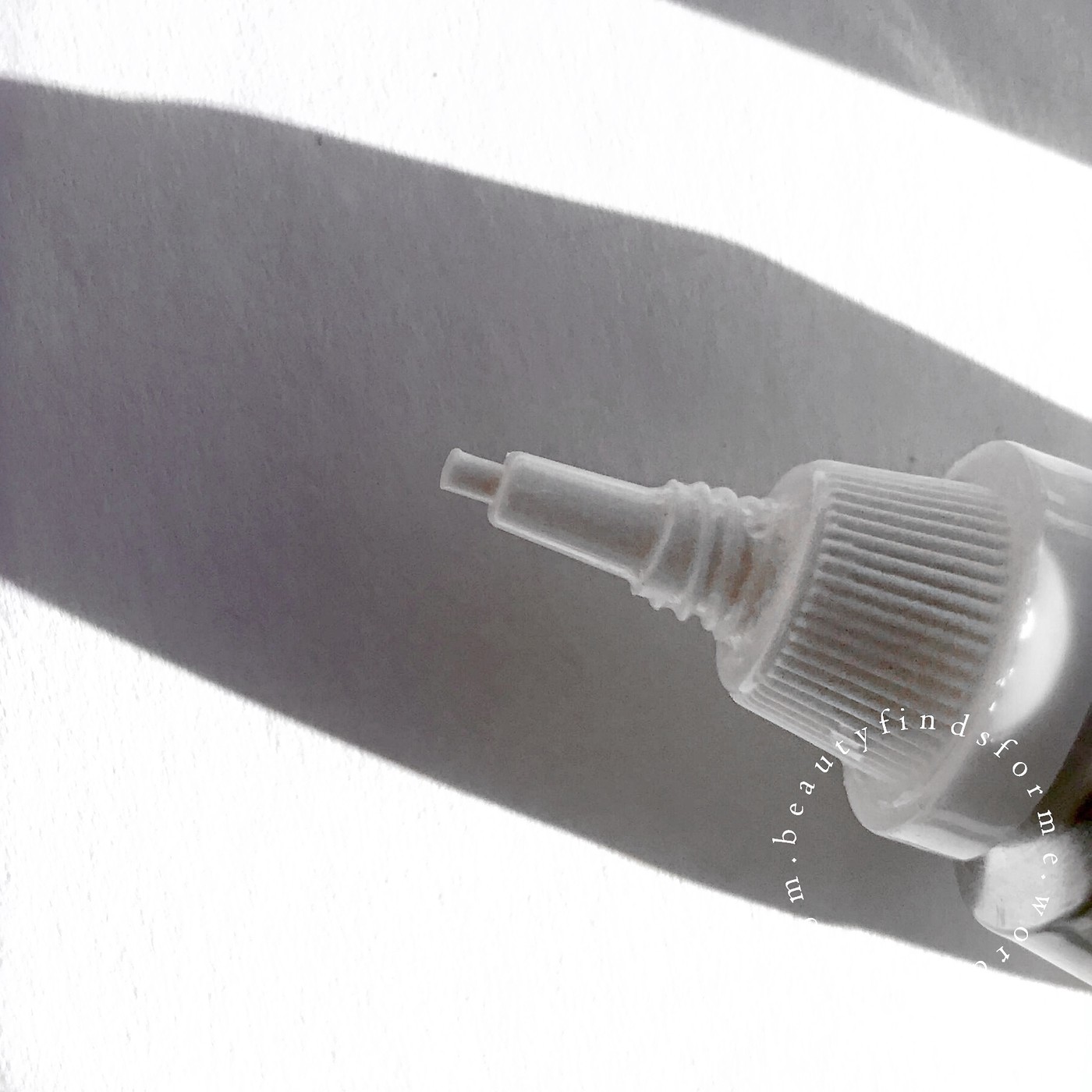 The Ultimate Spot Treatment comes in a long metallic tube with a pointed applicator.  This is a very white creamy product and it does look VERY white on the skin, due to the zinc oxide.  If I massage it in long enough, the white cast does go away and there is a temporarily brightening effect on my skin where I applied this product.  As I do not put this cream all over my skin, I don't like that look too much, but I do wear foundation over it, so it isn't noticeable.  However, if you don't use foundation, make sure to blend this in very well, otherwise you will see a white cast.  I actually like using this more at night time than during the day.  This does have a faint scent of tea tree, but it isn't as strongly scented as the liquids.

This leaves a brightening, yet matte finish on my skin, applies smoothly as it does have dimethicone in here. This is not the most moisturizing product out there ~ it does dry up my pimples but it doesn't cause my skin to flake either ~ it has a slight moisturizing and oil bump of 8% .  This has helped with calming my pimples and helping them heal a little bit faster, but not by much.  I have two complaints about this product ~ I do not like the metallic tube and I do not like how the product keeps oozing out of the tube, even when I have stopped squeezing the tube.  I have to quickly cap it as the product just keeps slowing coming out!!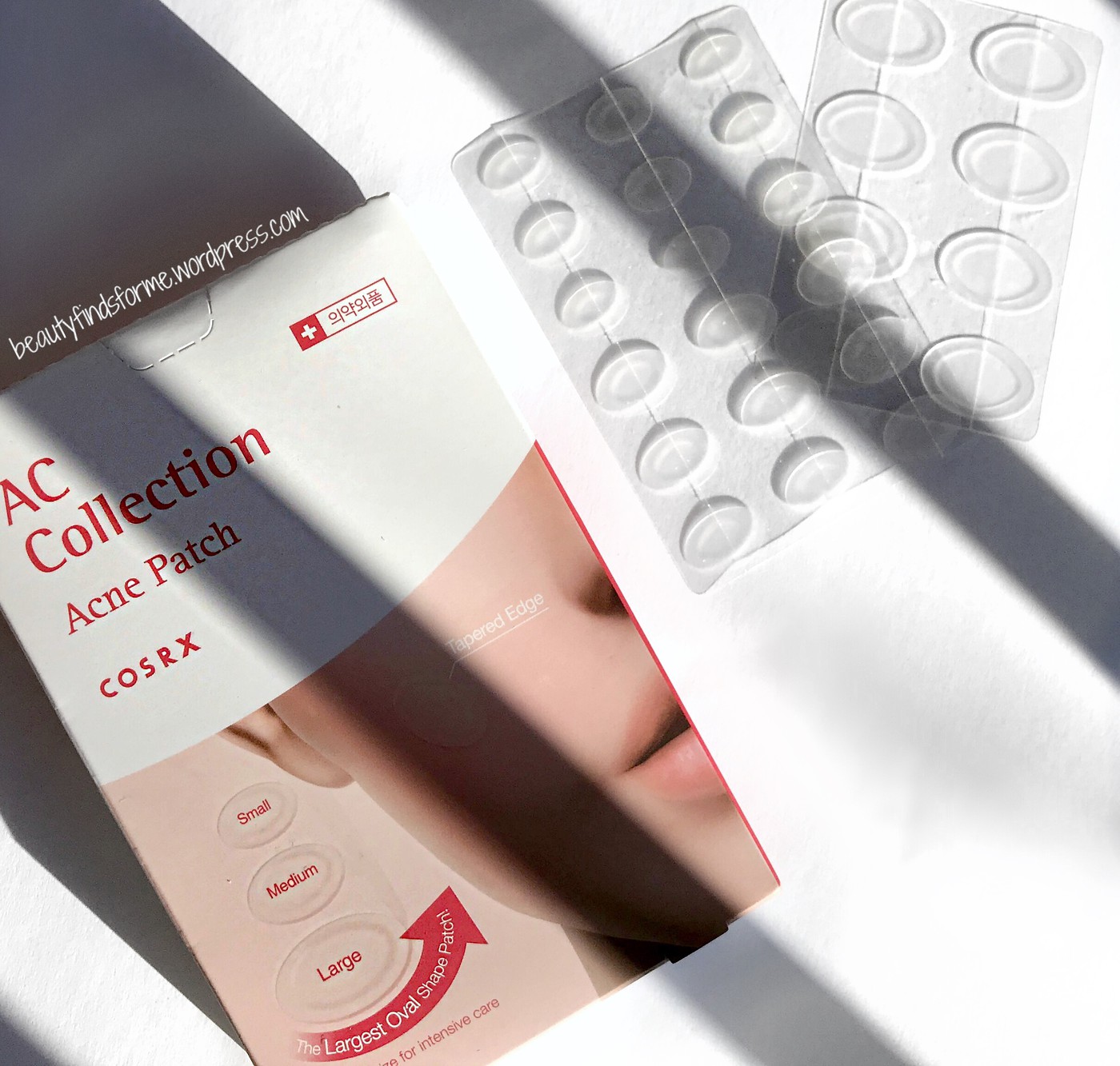 AC Collection Acne Patch (26 Patches)  YEAH!! cosRX is the master for pimple patches and these are fantastic upgrades to the originals.  They now have three sizes ~ Small 9 x 13 mm (9X), Medium 11 x 16 mm (9X) and Large 15 x 23 mm (8X).  They are now oval with thin tapered edges to lie flat and are made with hydrocolloid, which really helps protect your blemishes from bacteria while SUCKING out the pus and gunk.  This also has centella in it for soothing and healing care too.  I love the different sizes and these work just as well as the original Master Pimple Patches only I can wear these during the day as they are almost invisible on my skin.   These patches are also hardy ~ they stick like crazy on my skin and they can also adhere to curved area as well.  I highly recommend these patches!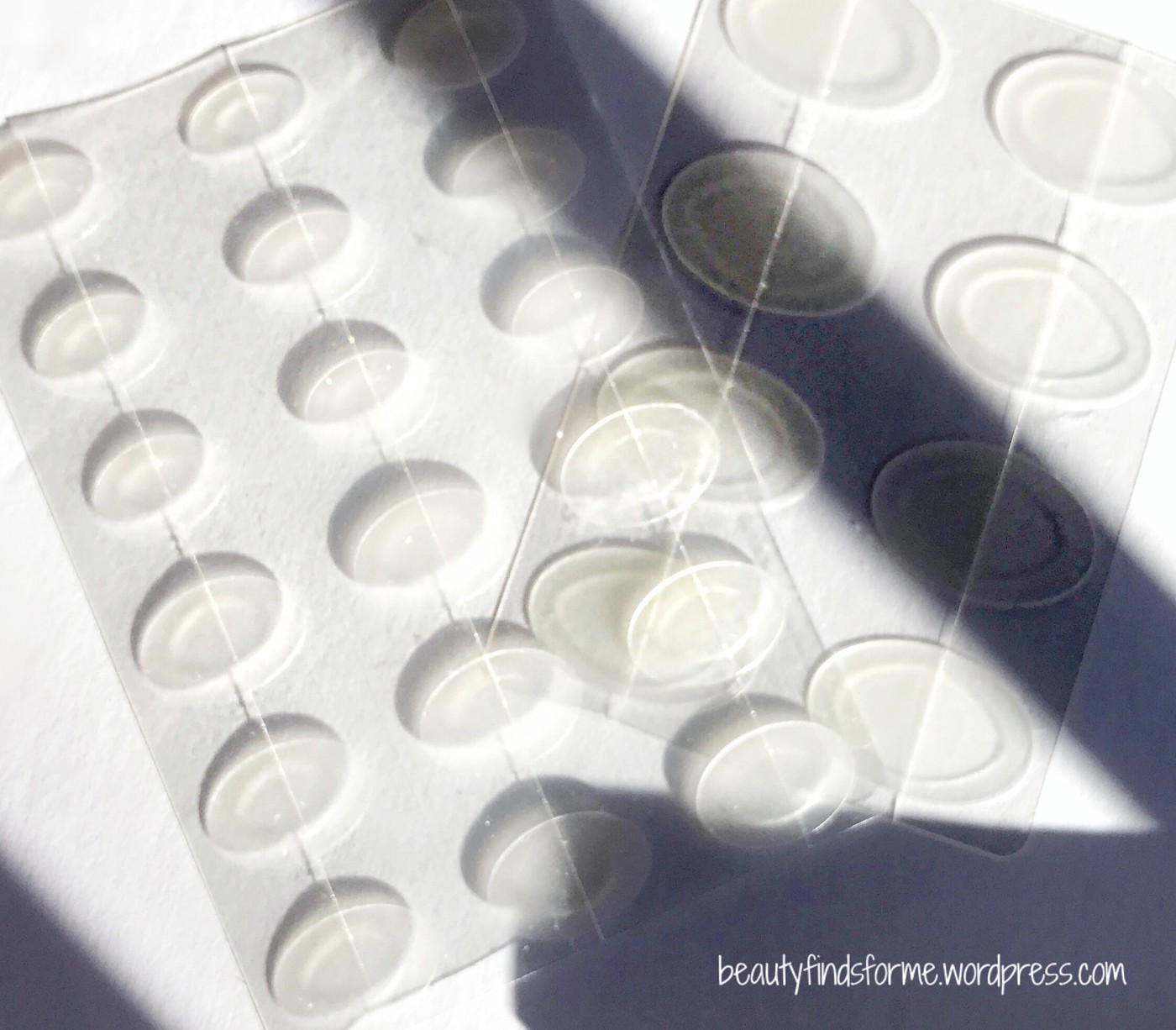 Ingredients: Carboxymethylcellulose Sodium, Polyisobutene, Rosin, Polybutene, Mineral Oil, Centella Asiatica Extract, Polyuethane Film  cosDNA
Final Thoughts
This is a lovely AC Collection line.  cosRX has stepped up their game and produced some really nice skincare items that are good for a lot of skin types.  I think all skin types, barring any issues with the ingredients, can use the Calming Liquid Mild, Ultimate Spot Cream and Acne Patches.  The Calming Foam Cleanser is good if you do not have issues with higher pH levels and Calming Liquid Intensive is the only product that I would say should be reserved for oily skin types as an all over facial toner.  You can use this to spot treat if you have drier skin, but it is a pretty huge bottle for spot treating!!  I am going to save the Calming Liquid Intensive for the summertime, as I think my oily skin type will really benefit from this healing liquid during the warmer months. All other products are great year-round and outside of the cleanser, I felt all of them helped soothe and heal my skin.  I also love the tea tree scent ~ some people hate it, but I love the fresh herbal scent of tea tree. 
Where to  Purchase
So many places! cosRX is a very popular brand, so expect to find it at many places.  The standard pricing, give or take a few dollars, should be as follows:
AC Collection Calming Foam Cleanser 150 mL  $15.00

AC Collection Calming Liquid Mild  125 mL $25.00

AC Collection Calming Liquid Intensive  125 mL $25.00

AC Collection Ultimate Spot Cream  30 grams $22.00

AC Collection Acne Patches 26 patches $7.00
Wishtrend  I listed them individually as you cannot search on AC Collection just yet.  Free Shipping over $69.00, lots of free samples and use UNBOXINGWISHTREND to get 5% off your purchases
AC Collection Calming Foam Cleanser  
StyleKorean  (click here to view full collection)  I notice that there is a new item in the AC Collection ~ Blemish Spot Clearing Serum.   You can get free shipping in some countries and only if you reach a threshold. 
YesStyle (click here to view full collection).  They also have the new Blemish Spot Clearing Serum too.  Free shipping to the USA with $35.00 or more and they do have international shipping. 
Beautytap  Beautytap has the full collection (click here to view) Use UNBOXING15 to get 15% off your purchases at Beautytap!  Their shipping has gotten expensive, but I always suggest a nice group haul.  Free shipping to the USA at $70.00 or more. 
Amazon USA  Free USA Prime Shipping
Jolse  Jolse has free shipping and carries the full line of the AC Collection (click here to purchase), plus lots of free samples! 
Cupidrop  Cupidrop does not carry the Acne Patches but they have the other items in this review (click here to purchase).  They have free USA shipping at $40.00 or more. 
[  products received  complementary for review purposes  ]