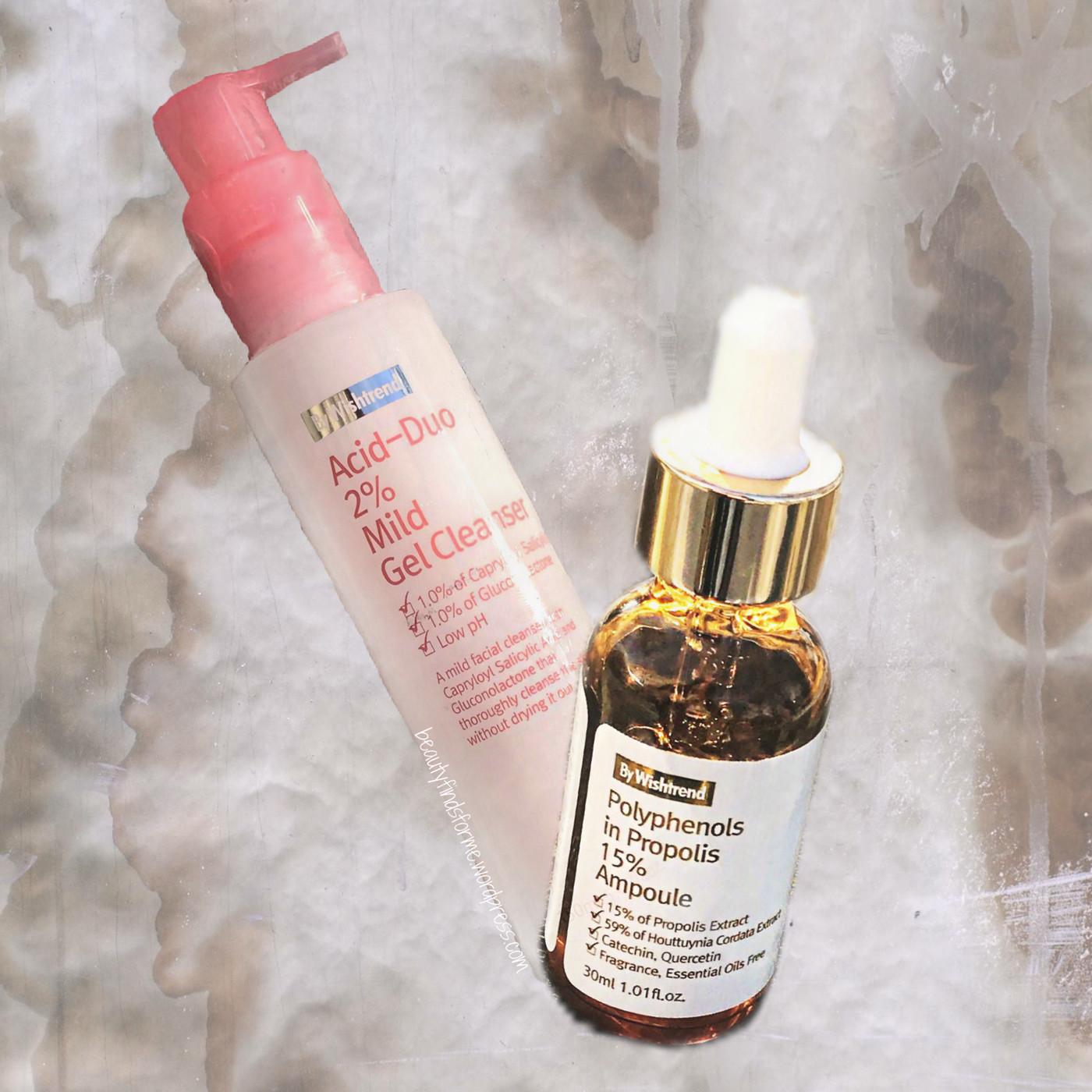 By Wishtrend has been busy with releases lately and this is one of two blog posts that I will have with products from that line.  By Wishtrend is one of several brands that Wishtrend owns ~ they also own Klairs and Jungle Botanics. Both of these products were press samples from 08Liter, even though I had purchased the cleanser myself over Black Friday. 
Some products were complementary to review and was not paid.  All reviews are my own honest opinion and  I never have been asked to write copy for a brand.  This blog post might contain promo codes, affiliate and referral links, which using my links will help generate a small commission that helps support my blog at no extra cost to you.
Skin Type/Concerns:  Oily, blemish prone, aging skin with hyper-pigmentation and fine lines/wrinkles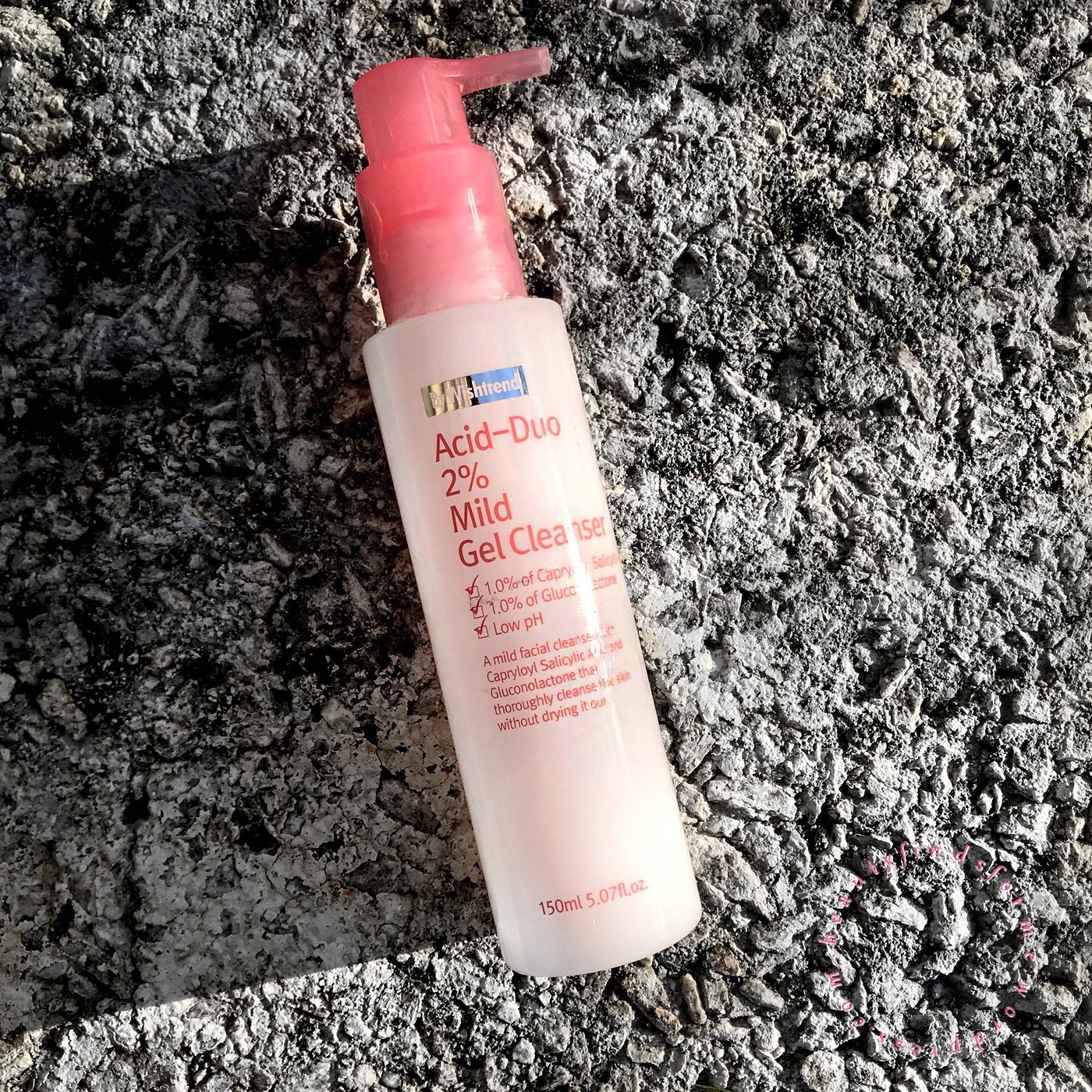 By Wishtrend Acid-Duo 2% Mild Gel Cleanser:  So, this is a bit confusing.  I DID purchase this over Black Friday and then I also received this thru 08Liter ~ because I wanted to see if the pump on this product was defective or not.  Let's get that out of the way first before I gush over this product.  This product comes in a beautiful pink plastic bottle with what looks to be a sturdy pump.  That doesn't work.  The cleanser I purchased ~ the pump would go down and not come back up, so I had to pull it back up.  I received the 2nd bottle of this cleanser through 08Liter and whereas the pump does go back up, but so slowly to the point of where I pull it back up.  The gel cleanser is difficult to get out of the bottle.  By Wishtrend needs to fix this pump ASAP, as the product itself is fantastic.
This mild cleanser contains two exfoliating ingredients ~1%  PHA gluconolactone, which acts similar to an AHA, but is more gentle and less irritating and 1% capryloyl salicylic acid, which is a LHA.  I am seeing this ingredient more in skincare ~ for example, I just purchased a cleansing oil by Shu Uemura that contains this LHA. Salicylic acid is derived from willow tree bard and capryloyl salicylic acid is the a derivative of salicylic acid, so it has all of the anti-bacterial, anti-inflammatory and deep pore cleansing and exfoliating properties as a BHA, but it can be used in lower percentages than salicylic acid.
This also has some hydrating ingredients with panthenol and beta glucan along with herbal ingredients that are designed to heal, soothe, and provide antiseptic and astringent benefits: rosemary, willow bark, lavender, thyme, peppermint, chamomile and calendula.
Do not confuse the foaming and cleansing agent sodium lauroyl sarcosinate with the bad SLS, sodium lauryl sulfate. Sodium lauroyl sarcosinate is not toxic or harmful and is derived from a natural amino acid called sarcosine. This is free from sulfates, essential oils, fragrances and colorants.
Ingredients: Water, Sodium Lauroyl Sarcosinate, Cocamidopropyl Betaine, Lauramide DEA, Diglycerin, PEG-120 Methyl Glucose Dioleate, Sodium Chloride, Disodium Cocoamphodiacetate, Sodium Lauroyl Glutamate, Gluconolactone, Capryloyl Salicylic Acid, Butylene Glycol, Hexylene Glycol, Panthenol, Maltodextrin, Citric Acid, Sodium Citrate, Beta-Glucan, Salix Alba (Willow) Bark Extract, Rosmarinus Officinalis (Rosemary) Extract, Lavandula Angustifolia (Lavender) Extract, Thymus Vulgaris (Thyme) Extract, Rosa Canina Fruit Extract, Mentha Piperita (Peppermint) Extract, Melissa Officinalis Extract, Jasminum Officinale (Jasmine) Extract, Hibiscus Sabdariffa Flower Extract, Cymbopogon Citratus Extract, Chamomilla Recutita (Matricaria) Extract, Calendula Officinalis Extract, Aspalathus Linearis Extract, Cyanocobalamin,Sodium Benzoate, Chlorphenesin, 1,2-Hexanediol  cosDNA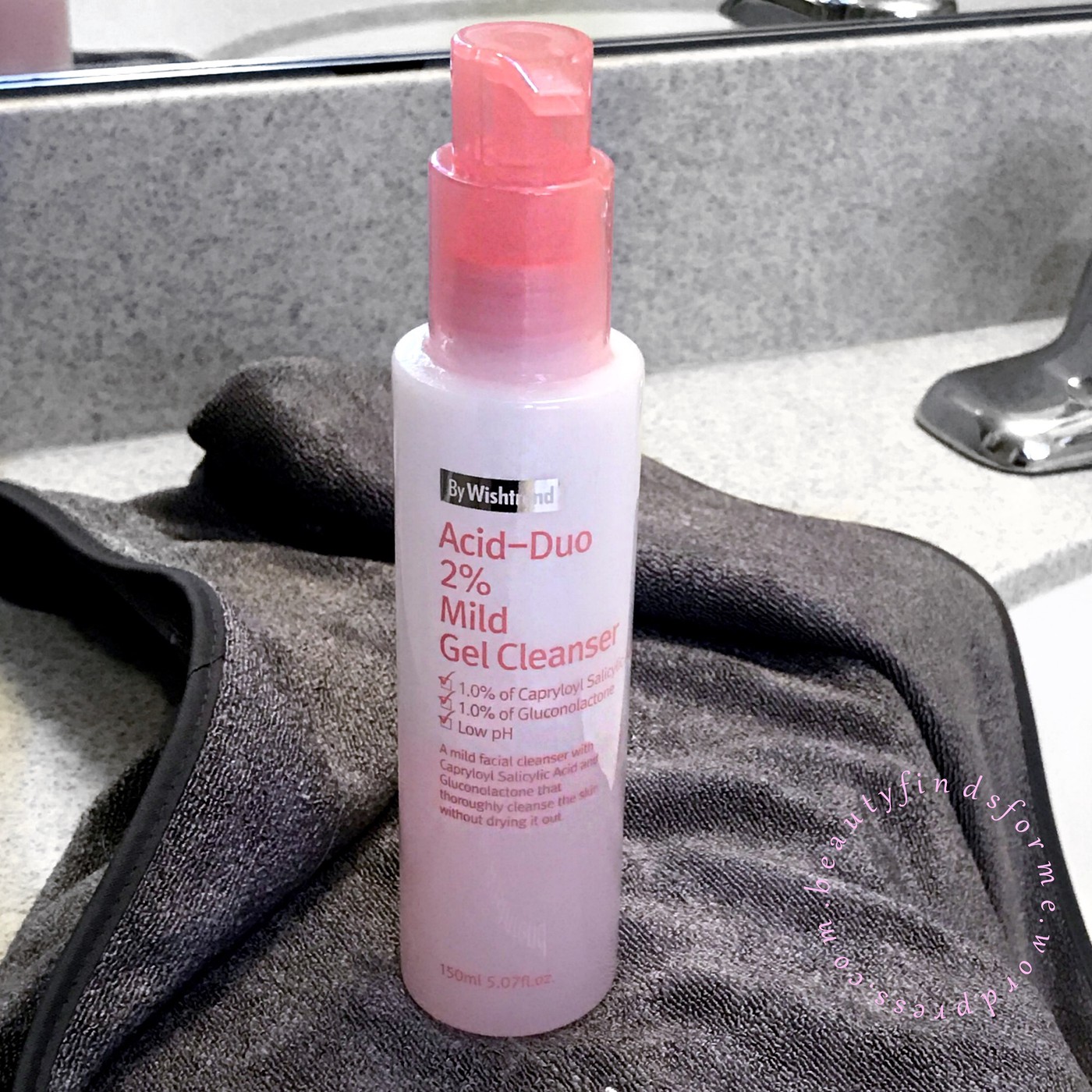 This is a thick gel with a slightly pink hue to it.  It has a faint bitter scent, which I do associate with acid type products but it isn't overpowering or lingering.  The pH level is a respectable 5.5, making it mildly acidic and therefore, should not strip your skin.
Outside of the pump, this mild gel cleanser is one of my favorites!  It really cleanses well, without stripping my skin dry and my oily skin feels very refreshed and clean after using this.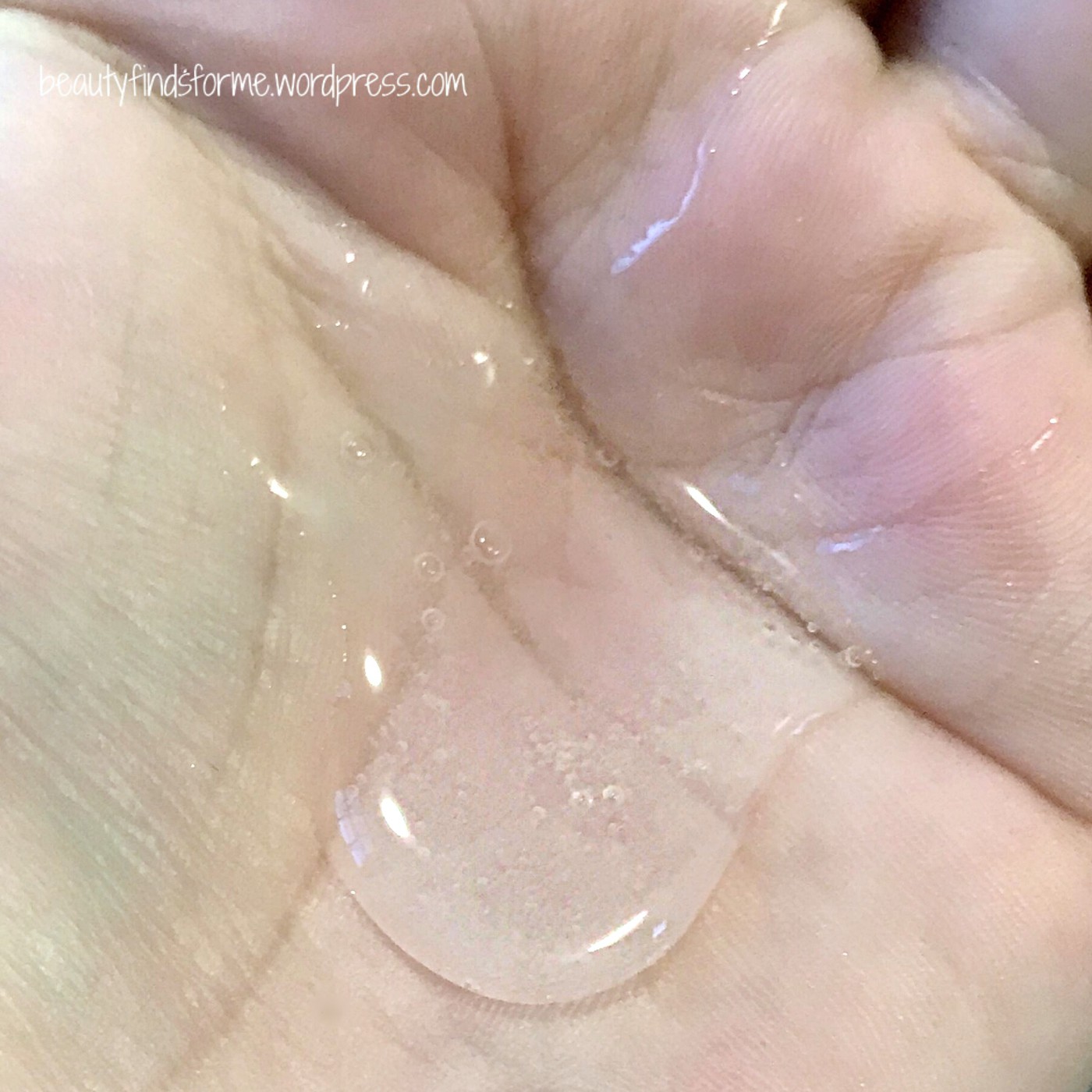 The addition of a BHA means that excess oil and dirt is removed, so that my pores do not get clogged as much, while PHA will help gently exfoliate the outer layers of my skin.  This is so gentle that I use it daily, as it does not sting or irritate my skin.  As it is a thick gel, I had thought initially that I would have issues with it foaming, but it turns out that is not the case. The trick is to make sure you face is wet, then pump or pour the cleanser into a wet hand, briskly rub your hands to together to make a gentle foam and then apply on your face.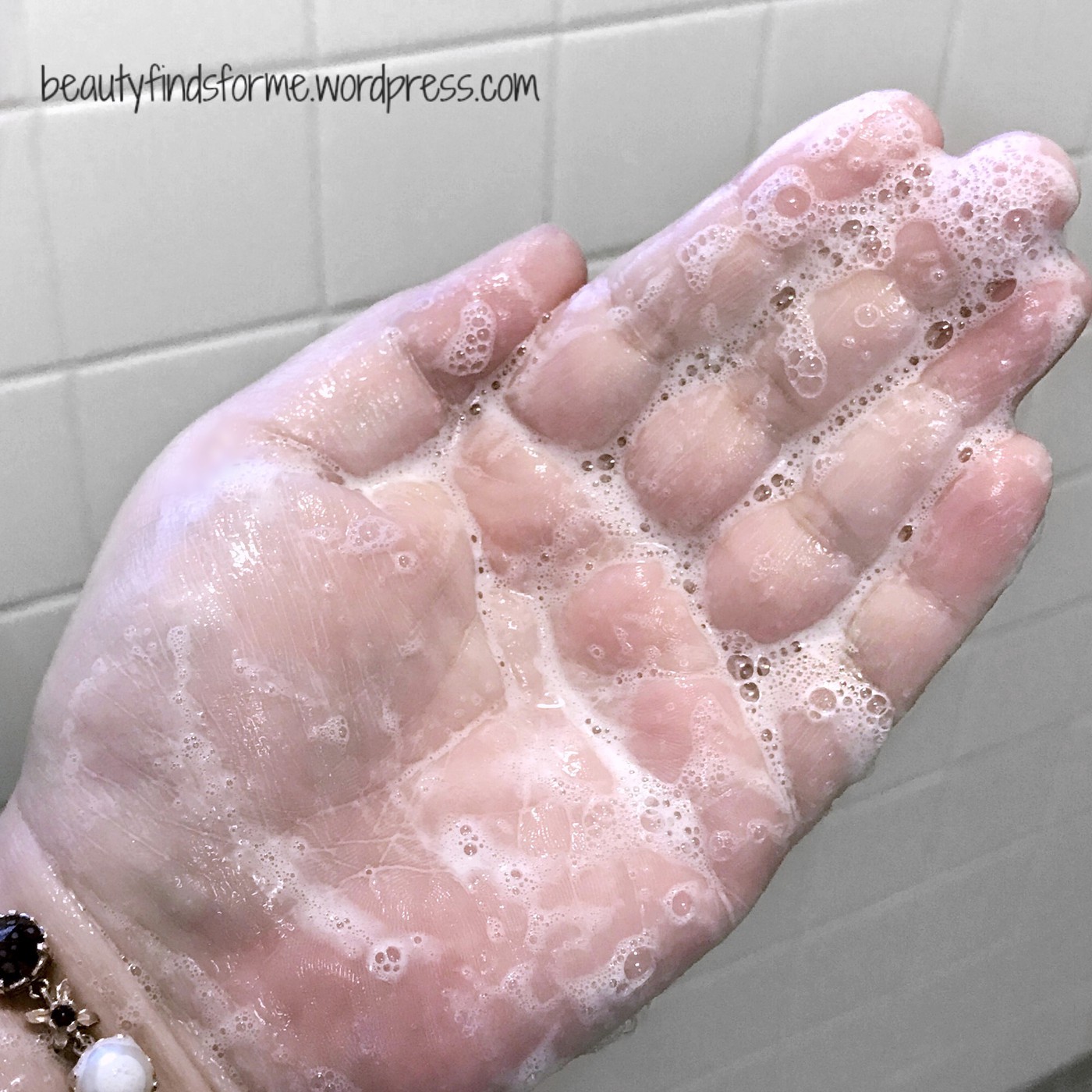 The foam is soft and fine, it isn't a dense thick foam, as gel cleansers really aren't designed to be dense foaming products.  I am glad I have another bottle of this gel cleanser as I do love it… but seriously By Wishtrend, fix the pump.  It really is bad. Outside of that pump issue, two thumbs up for this cleanser!  I think that all skin types, including sensitive, can use this mild acid gel cleanser ~ you would just have discover the frequency of how often you would use it.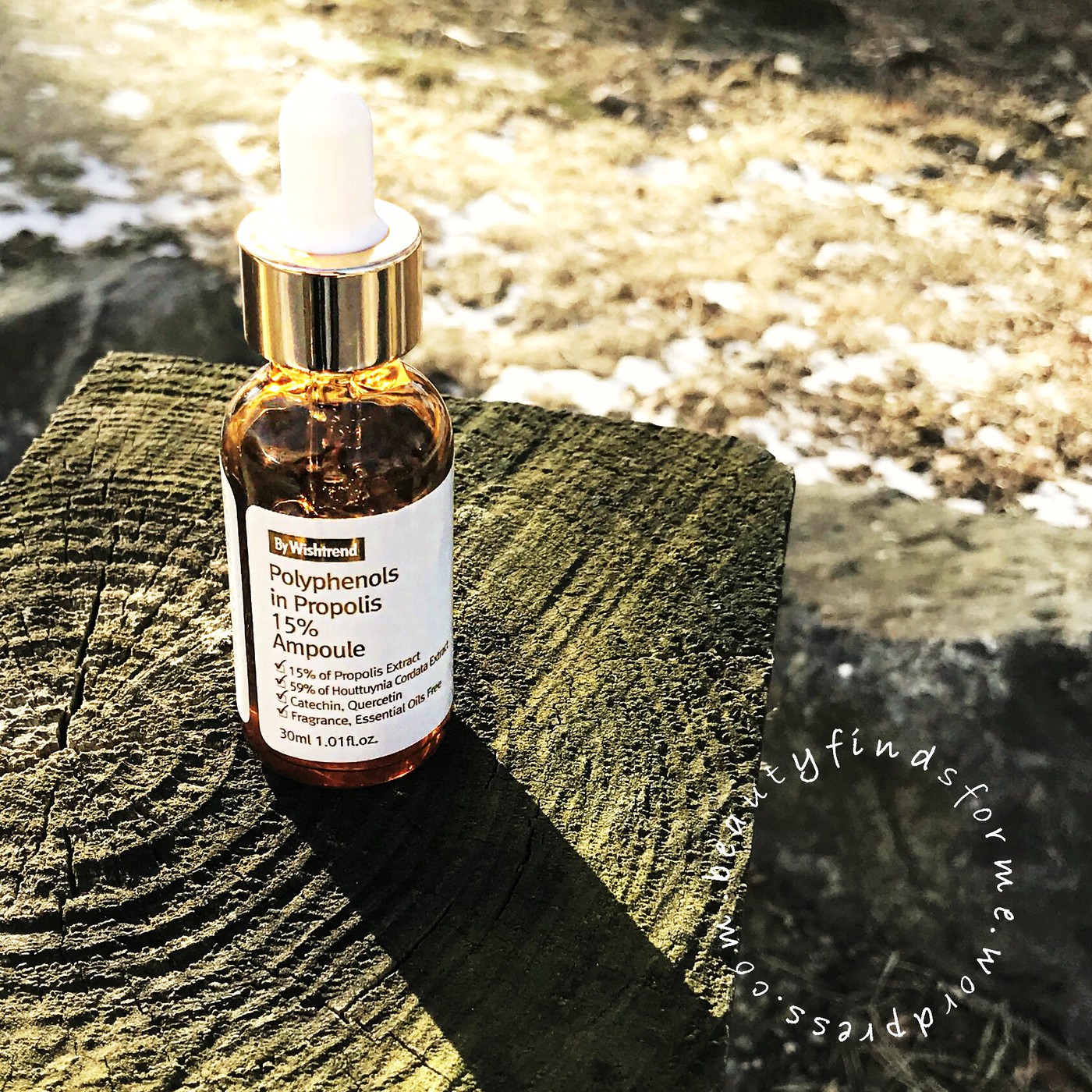 By Wishtrend Polyphenol in Propolis 15% Ampoule: I have been looking for a good propolis product ever since Graymelin discontinued their amazing Propolis 80 Energy Ampoule (review here).  As an oily skinned person, most propolis products are too sticky and tacky for my skin type, so I am looking for a thinner, more watery type of propolis product without the dewy tacky finish. By Wishtrend states this is for blemish prone skin, so I jumped on the bandwagon to try. 
Propolis (bee glue) is created by honey bees by using the sap from evergreens or the sap on conifer, evergreens and other trees whose leafs are needle-like. This sap is then combined with beeswax and results in a sticky, resinous goo that is used to build their hives. Propolis has been used for medicinal purposes for thousands of years, and is known for its anti-bacteria, antiseptic, anti-inflammatory and anti-fungal properties as well as speeding up the healing time on wounds. It contains anti-oxidant properties due to its slew of vitamins ~ A, B1, B2, B3, C, bioton (H), bioflavonoids (P) ~ and minerals ~ calcium, magnesium, iron, zinc, silicon, potassium, phosphorus, manganese and cobalt and has over 50 different flavonoids.
 
Propolis also is an emollient, so it is not only a good blemish and anti-aging treatment, it also moisturizes your skin as well.  This product contains 15% propolis extract, sourced from the Auvergene volcanic region in France, which is important as it contains two antioxidant polyphenols, catechin ~ similar to what is found in green tea ~  and quercetin, which is known for its anti-inflammatory properties.
Now, despite its name, the top ingredient is actually 59% houttuynia cordata, a medicinal herb that is found in a lot in Asian skin care products. It is an antibiotic, which helps with preventing infection from skin problems, such as blemishes. It is also a potent antioxidant, as it contains anti-aging compounds such as flavonoids and triterpenoid, which helps strengthen, purify and revitalize your skin, It also has powerful detox properties,  acts as an astringent and anti-inflammatory.
Herbal ingredients of  turmeric, neem, perilla and witch hazel all work together for healing, anti-blemish, anti-inflammatory, soothing, anti-septic and astringent cocktail, while glycerin, sodium hyaluronate, betaine and panthenol provide hydration and skin conditioning.  Zinc PCA is really good for oily, blemish prone skin as this compound marries zinc ~ to help control sebum production and prevent bacteria that causes blemishes ~ and PCA (pyrrolidone carboxylic acid ) which is a a natural moisturizing factor (NMF) ingredient, providing hydration.
Ingredients: Houttuynia Cordata Extract (59%), Propolis Extract (15%), Glycerin, Propanediol, Isopentyldiol, 1,2-Hexanediol, Water, Sodium Hyaluronate, Ocimum Sanctum Leaf Extract, Corallina Officinalis Extract, Portulaca Oleracea Extract, Punica Granatum Fruit Extract, Hamamelis Virginiana (Witch Hazel) Extract, Melia Azadirachta Flower Extract, Panthenol, Perilla Frutescens Extract, Curcuma Longa (Turmeric) Root Extract, Lactobacillus Ferment, Melia Azadirachta Leaf Extract, Butylene Glycol, Ammonium Acryloyldimethyltaurate/VP Copolymer, Betaine, Xanthan Gum, Ethylhexylglycerin, Disodium EDTA, Zinc PCA, Pantolactone cosDNA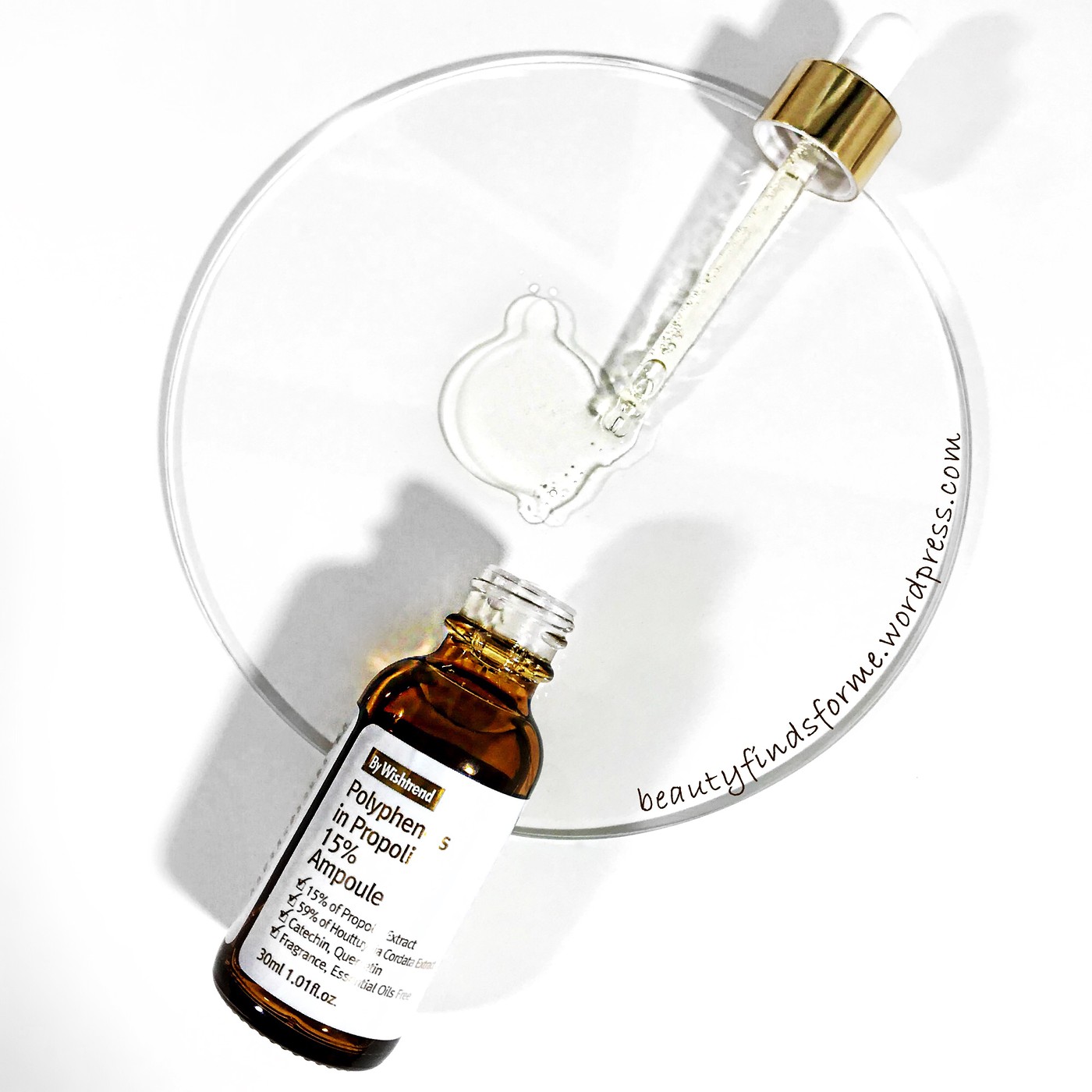 This golden, somewhat watery ampoule has a lovely bitter herb scent to it and it really helps soothe my skin.  However, does it heal or prevent blemishes?  Does it absorb nicely without a tacky or sticky residue?  Does my skin glow, as propolis really brings the glow on.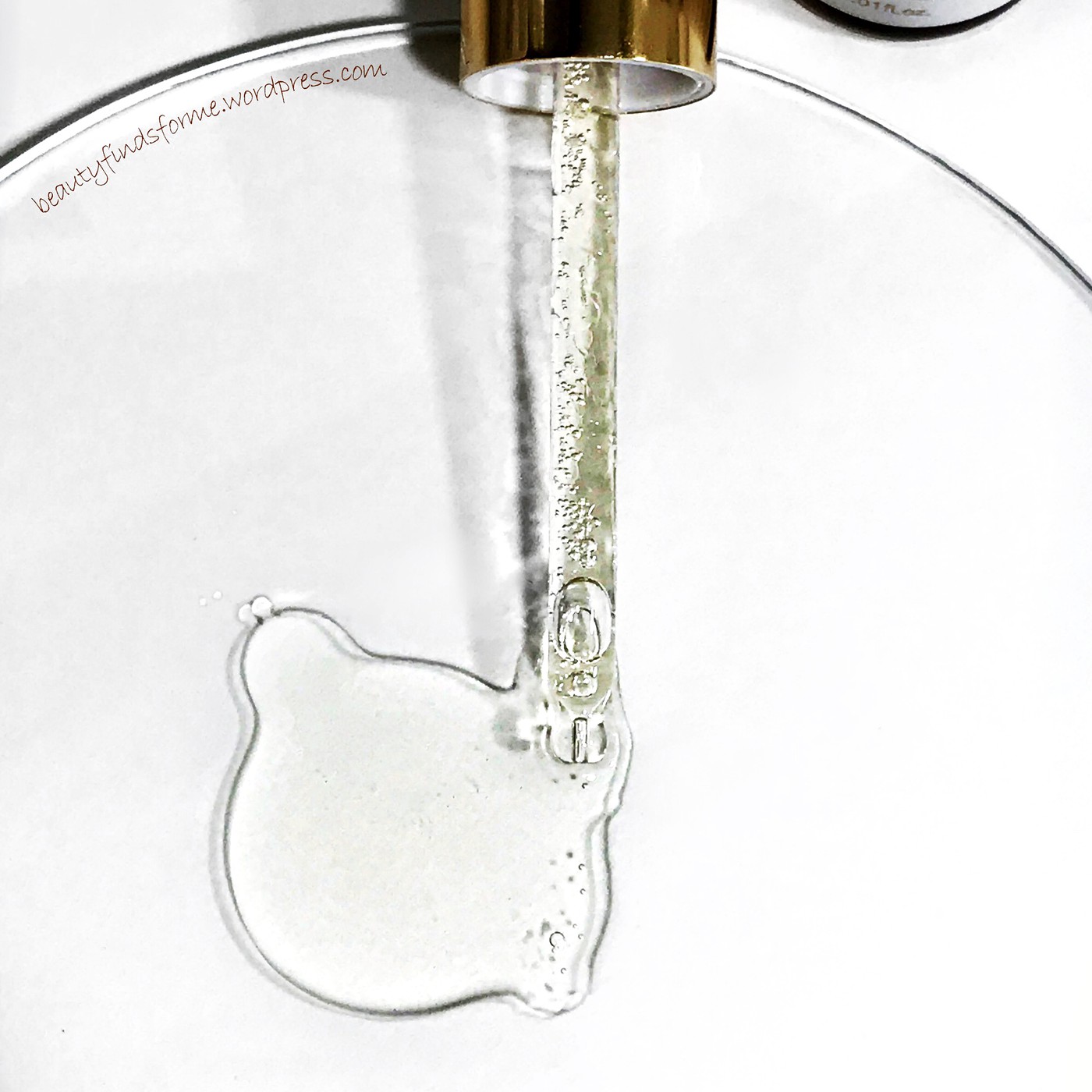 Easy questions answered first:  It absorbs nicely, but takes its time doing so.  It does leave a sticky residue, so I use it at night time only.  It does increase my moisture levels by a whooping 81% while decreasing my oils by 38%.  My skin does look more glowy and fresh when I use it, but I haven't noticed it preventing blemishes.  Or really healing them faster.  I am sure it is providing lots of healing benefits to my skin, but I have been cursed with hormonal blemishes for a couple of weeks now and this product has done nothing to speed that healing process up.

Would I recommend this product?  It doesn't HURT to have this in your skincare routine.  I think that it is a good item to have if you want a nice herbal, propolis product for glowing skin, but it doesn't really do much for me outside of that.  I wish it didn't have that tacky finish to it, but I think if you have dry blemish-prone skin, you might enjoy this more than I did.  It is not horrible, but I did expect to it to heal up my blemishes faster.   
Final Thoughts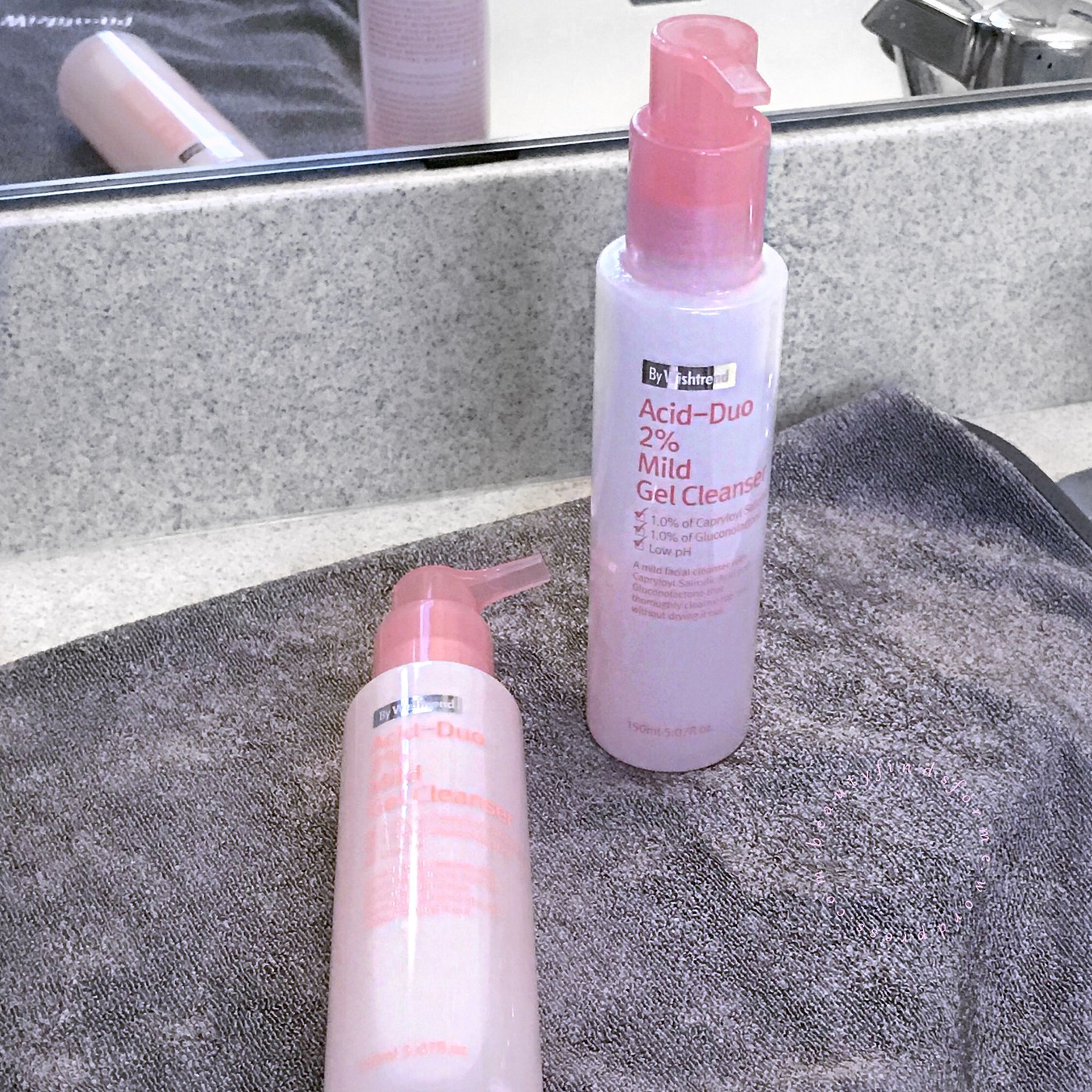 If you have oily skin, run ~ don't walk ~ to purchase the By Wishtrend Acid-Duo 2% Mild Gel Cleanser.  I will be purchasing this cleanser over and over again ~ even with the crappy pump, which I hope they fix soon ~ I wasn't the only one who complained about this pump, so it is a design flaw.  This cleanser is great for oily, blemish prone skin.  The By Wishtrend Polyphenol in Propolis 15% Ampoule is a mixed bag for me.  It's nice, it does provide nice glowing skin in the morning, but I didn't notice any healing or prevention of blemishes, plus the finish was too sticky/dewy for me.  However, if you have drier skin, you would love this for its overall healthy skin glowing benefits and I am sure that all of those lovely herbal and propolis ingredients are doing great things for the skin.  I just wasn't wow'd by it as a blemish controlling/healing product nor did I think the finish was good for oily skin.  
Where to Purchase
Wishtrend carries both of these items and you can use UNBOXINGWISHTREND to get 5% off your purchases ~ this affiliate code is good until the end of February 2019.
They also packaged two of my favorite By Wishtrend products into a bundle!! 2 Step Gentle Exfoliator Set containing By Wishtrend Acid-Duo 2% Mild Gel Cleanser and By Wishtrend Mandelic Acid 5% Skin Prep Water (review here) 
If this is your first time shopping with Wishtrend, you can save $5.00 off your purchase by using my friends referral number ~ 092847308  ~ and you will receive the coupon. Register first and enter the my code in the form labeled "friends invitation program" and wait for the coupon before you place your order.  Also, remember to save your welcome and any order emails from Wishtrend.  They usually have discount and free shipping codes just for your use in them, so you can save even more money on your next order!
You automatically receive Free Shipping with purchases $69.00 USD and over
Don't forget to check out Wishtrend's Free Shipping Product Selection

Wishtrend ships globally
[ product received in exchange for a review. contains affiliate links for a small commission ]