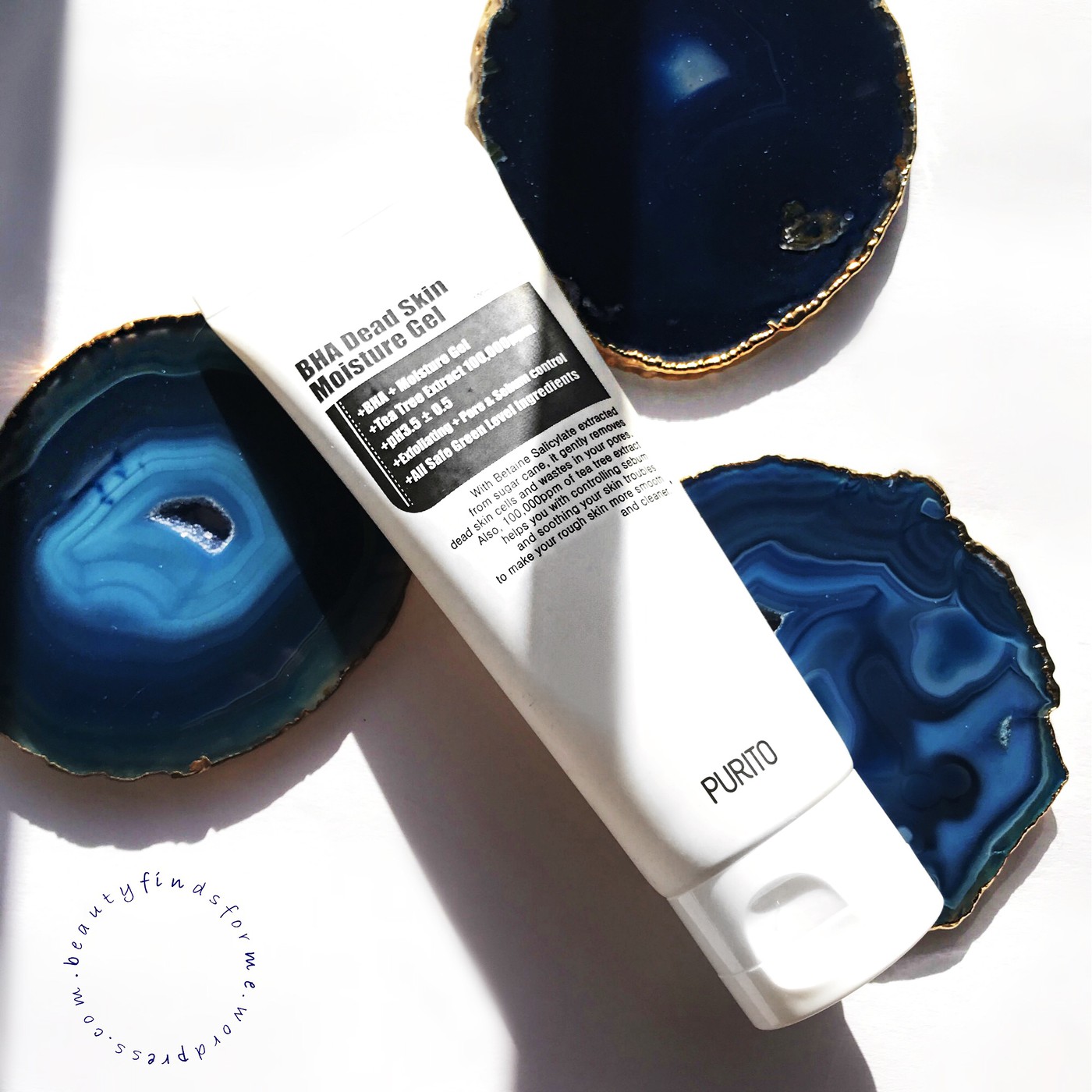 When I heard that Purito was coming out with a BHA product, I got really excited ~ one of my biggest skincare disappointments last year was when cosRX reformulated their BHA Blackhead Power Cream and added in AHA and PHA to their formula.  The reformulated version is just as good in my eyes, but a lot of people cannot use AHA's but can use BHA, so I was looking for a "pure" version of a BHA cream or gel.  I have tried many products from Purito  and I find them to be a solid, no-nonsense brand that delivers on its claims.  You can read all of my reviews here. 
The brand name "Purito" means "purify" and "soil", emphasizing the pure and natural ingredients used in their skincare. Their philosophy is to be honest and make safe, natural products, without artificial fragrances, preservatives, surfactants and PEG's. Purito strives to make products safe enough to use with both adults and children and conforming to EWG Green Level ingredients. Their packaging is also eco-friendly when possible, and they spend more time on the formula than packaging as they believe it is what is inside that counts (I totally agree with this!) and they do not conduct animal testing.
Skin Type/Concerns: Oily, blemish prone, aging skin with fine lines/wrinkles, hyper-pigmentation, pores
I received these products complementary to review and was not paid.  All reviews are my own honest opinion and  I never have been asked to write copy for a brand.  This blog post might contain promo codes, affiliate and referral links, which using my links will help generate a small commission that helps support my blog at no extra cost to you.
Claims
image credit purito
The following are the claims behind this product from Purito:
"A moisturizer infused with BHA and hyaluronic acid to gently remove dead skin cells and impurities while instantly moisturizing your skin. Removes dead skin cells and debris in pores with betaine salicylate without skin irritation.  Skin soothing effects with 100,000ppm of tea tree extract. Rich moisturization with hyaluronic acid.  With pH value of 3.5, it returns your skin into a slightly acidic state, balances your skin and helps with cellular turnover"
Key Ingredients
image credit purito
This gel does not have a lot of ingredients, but what it does have helps with blemish prone skin, oily or otherwise.  100,000ppm of tea tree extracts.  Tea tree is known for its topical antiseptic and anti-fungal properties and help target and treat blemish-prone skin. It also reduces oil and sebum production on your skin, while not disrupting the moisture level.  This also has hydrating sodium hyaluronate which attracts and binds moisture to your skin, along with moisturizing, non-greasy aloe vera, helping to sooth, treat inflammation, speed up skin healing and provides anti-aging benefits as it contains antioxidants, such as beta-carotene, vitamins C and E.
BHA (Beta Hydroxy Acid) in here is betaine salicylate ~ this BHA will actually go into your pores, dissolve and clean out the dead skin cells and excess oil.  BHA needs a lower concentration, around 1 to 2 percent, and should have a pH level between 3 and 4 to work effectively.  Also, BHA ingredients should be in the lower half of the ingredient list. BHA's are usually less irritating than AHA's and unlike AHA's, BHA' are lipid/oil soluble, which means they can dissolve in fats and penetrate sebum filled pores much better than AHA's.   BHA's are best for oily skin and blemished skin.  If you have combination oily/normal, you can use BHA's, barring any sensitivities. 
The citric acid at the end of the ingredient list is acting as a preservative, not an AHA.  Ammonium acryloyldimethyltaurate/VP copolymer is used to thicken the formula to achieve the gel like texture.
image credit purito
Ingredients: water, butylene glycol, melaeuca alternifolia (tea tree) leaf extract (100,000ppm), 1,2-hexanediol, sodium hyaluronate, aloe barbadensis leaf extract, ammonium acryloyldimethyltaurate/VP copolymer, betaine salicylate, ethylhexylglycerin, sodium citrate, citric acid cosDNA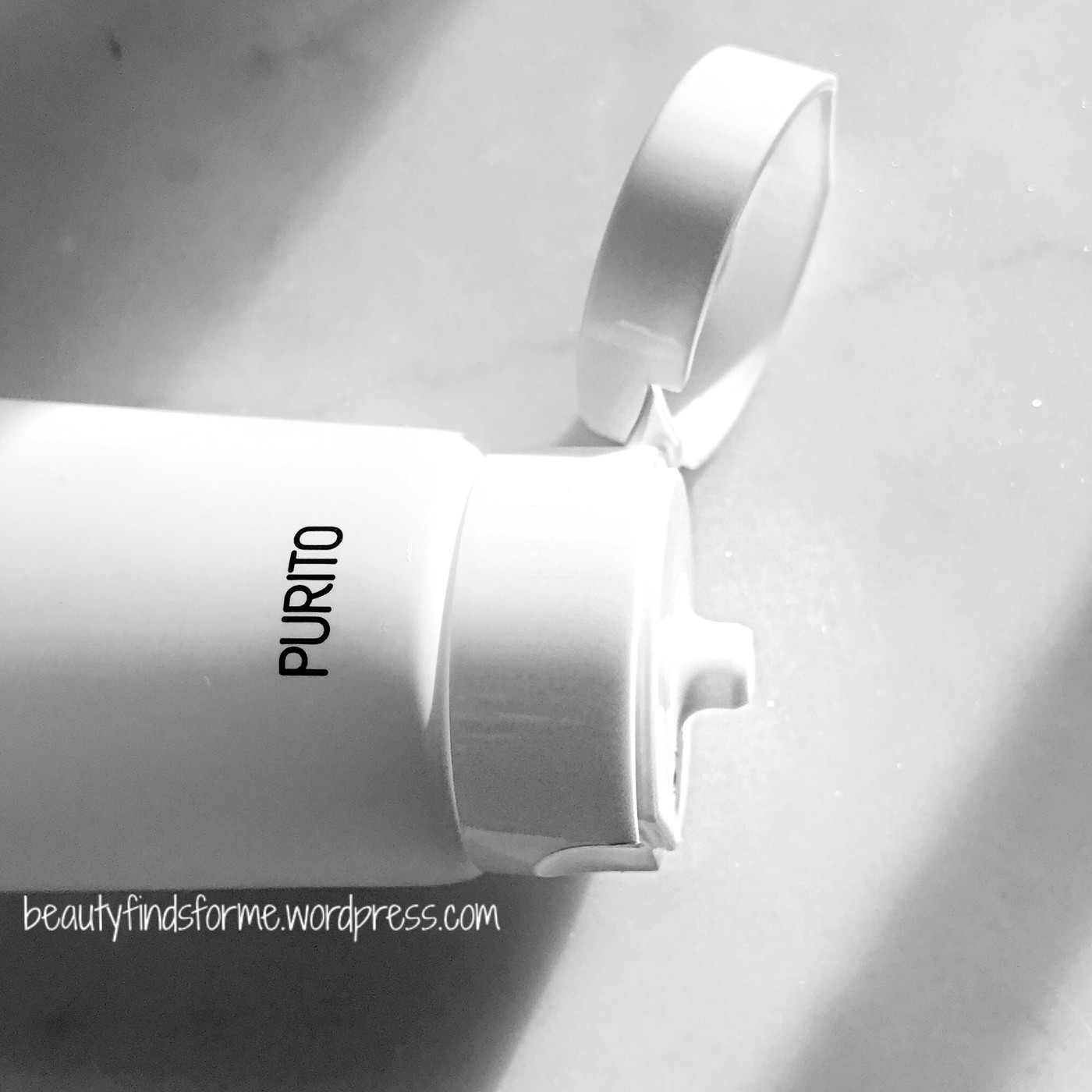 BHA Dead Skin Moisture Gel comes in a soft vinyl white tube with a flip cap applicator.  The clear gel has an initial soft texture, but once it is massaged into the skin, it turns watery.  Despite a lot of tea tree in here, there is not It has a faint bitter scent, which I do associate with BHA products. 

This has a pH level of around a 3, which is a great level for a BHA and the BHA is in the proper placement in the ingredient list ~ BHA's should be near the bottom of the ingredient list. This has that typical aloe vera feel to it once it is applied ~ a bit tacky but after a few minutes, it does dry down on my skin.  This is quite moisturizing for a gel ~ my initial moisturize/oil readings were an increase of 68% in moisture and a decrease of 26% in oil. My skin feels very supple and firm with this gel product.  I use it daily, twice a day except when I am using a strong chemical exfoliator.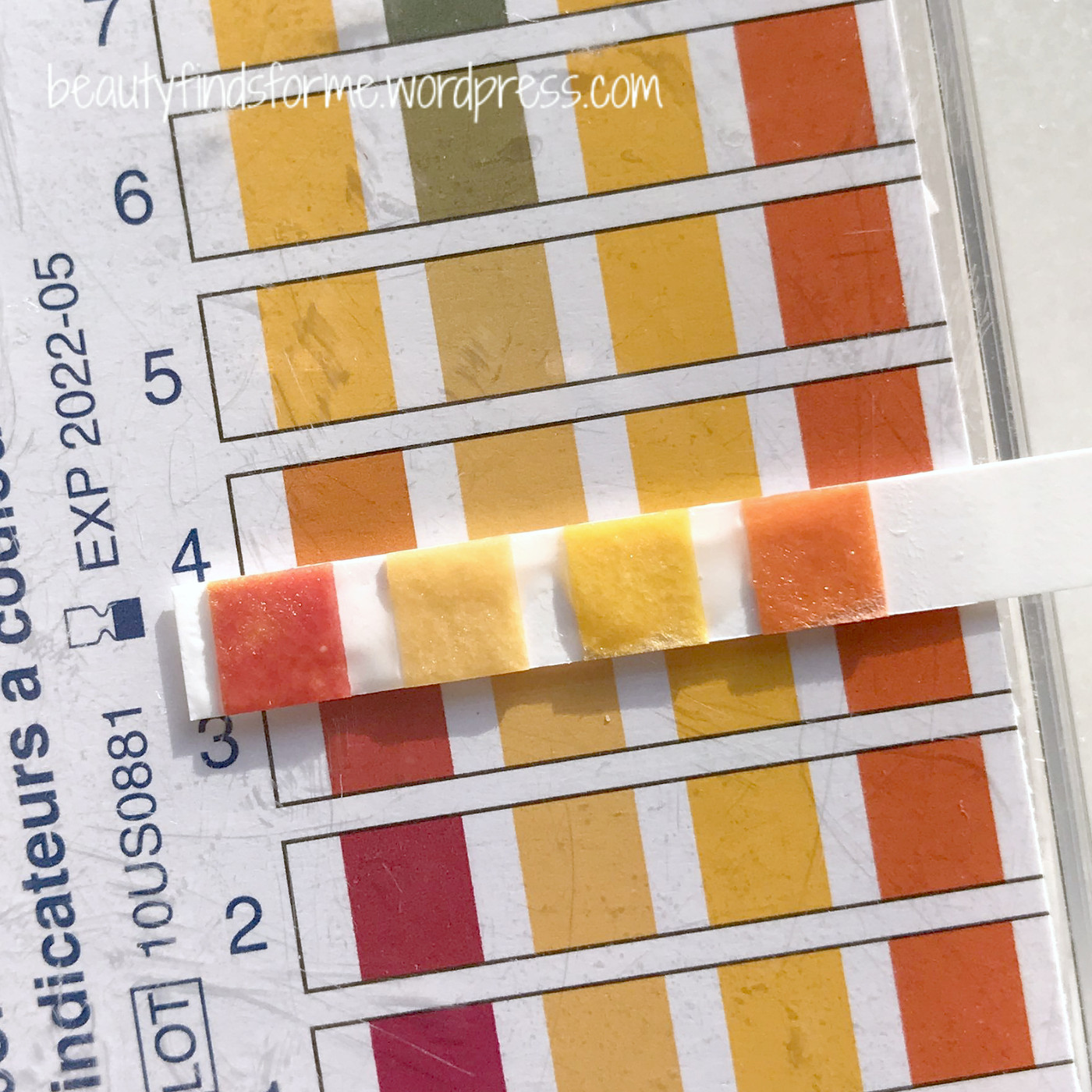 As far as being a deep cleaner of pores and such ~ I think it does a good job, but this is a very mild exfoliator.  It doesn't sting my skin at all and this is one of those products that for my skin type, it is good for daily maintenance.  Purito does not list the BHA percentage in their BHA Dead Skin Moisture Gel, so based on the performance and pH testing, I feel this is less an exfoliator but more of a hydrator.  With daily use, you can get benefits of gentle exfoliation, but it is very mild. This is made with EWG green grade level 1 ingredients and can be used daily. It is made without preservatives, so Purito does recommend storing this in a refrigerator.  I never do that, and my gel is just fine, but YMMV.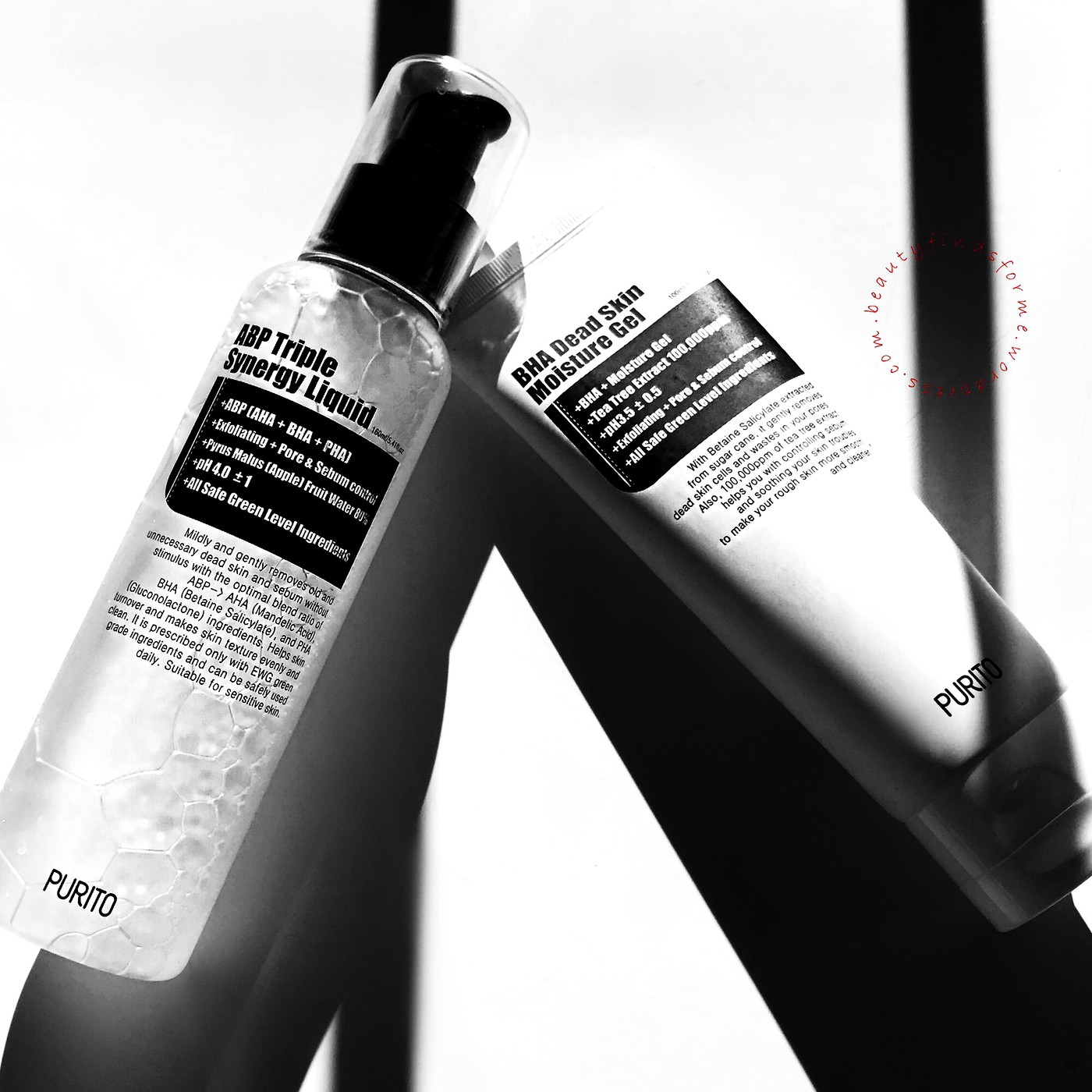 I like to use this with the Purito ABP Triple Synergy Liquid (review here), due to the fact that both of these products are so mild.  Korea has regulations about the percentages of AHA and BHA they can use, so whereas I do use stronger, USA-made exfoliators to really do some serious peeling, my Korean acid products help my skin hydrated and over time, it will provide a gentle mild exfoliation.  These types of products allow me to not slack off on my chemical treatments, whether they are a 25% AHA, 1% retinol or 2% BHA.   The other nice thing about BHA's is that is naturally has skin-soothing benefits, so sensitive skin types can use it.  I do like to review K-Beauty chemical exfoliators as a lot of people do have sensitivities and cannot use a higher percentage and look for gentler options.  
Final Thoughts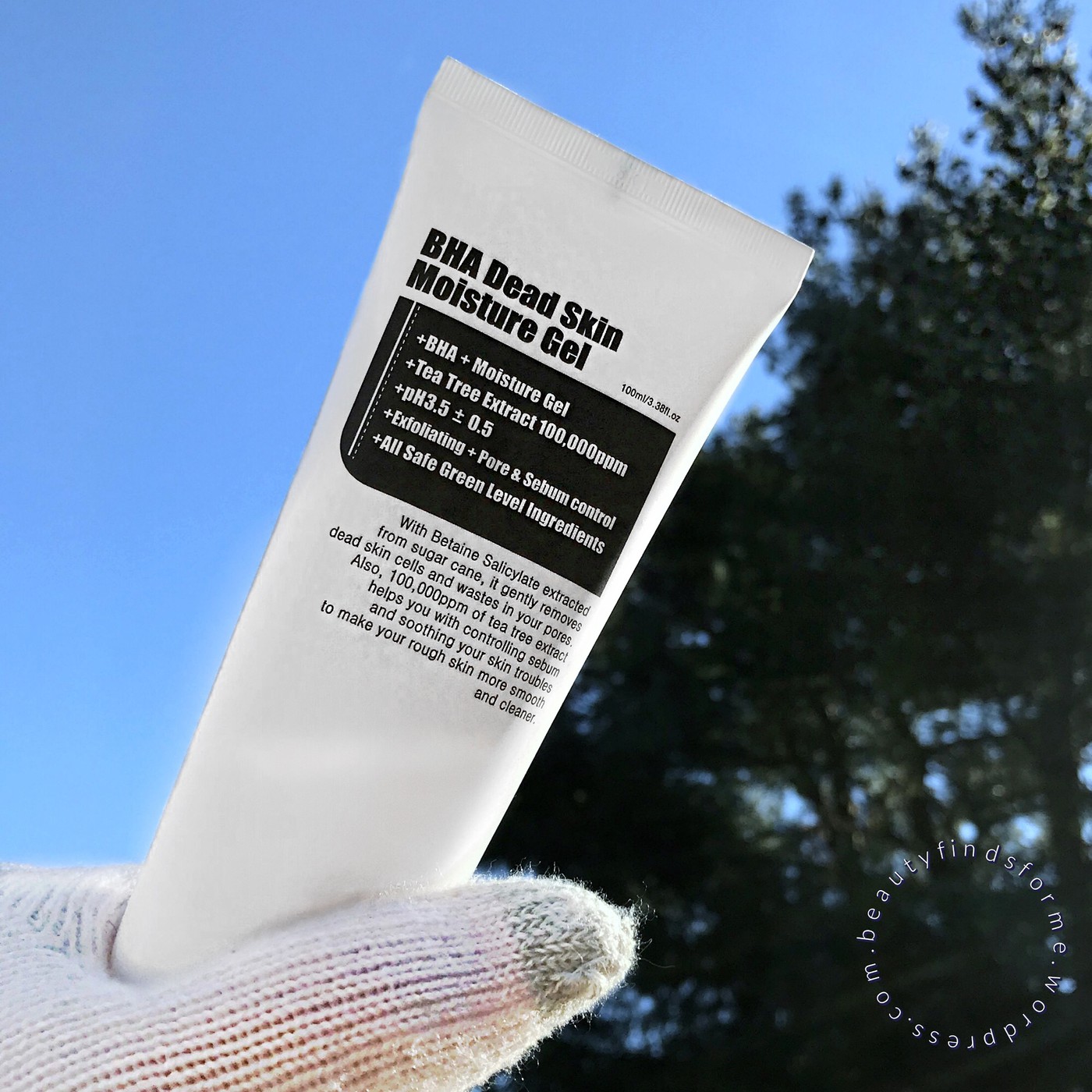 Whereas I didn't find a replacement for my beloved cosRX BHA Blackhead Power Cream, this gel from Purito is a really nice moisturizer and mild exfoliator.  If you have oily skin like me, you can use this daily ~ I apply this after my toner and before my serums as a thin layer.  Great for maintaining clear, smooth skin ~ but if you have dry or sensitive skin, this is really good for you as well, if you are blemish prone.  I feel this will not dry your skin out and it will provide exfoliating benefits that might be greater than what I experienced.  Along with the Purito ABP Triple Synergy Liquid, this is the type of product that someone who is new to acid exfoliators or has sensitive skin would really benefit from.  I think if you do not have sensitive skin or are used to chemical exfoliators at a greater strength, then Purito BHA Dead Skin Moisture Gel is probably way too gentle and mild for your skin type as an acid treatment.  Instead, you would use it as a hydrating product and maintenance.  I can see this being used a lot in the summer time, due to its lightweight watery texture and quick absorption.
Where to Purchase
The prices range from $11.00 to $16.00 for a 100 mL bottle. 
[  products received  complementary for review purposes. contains affiliate links ]