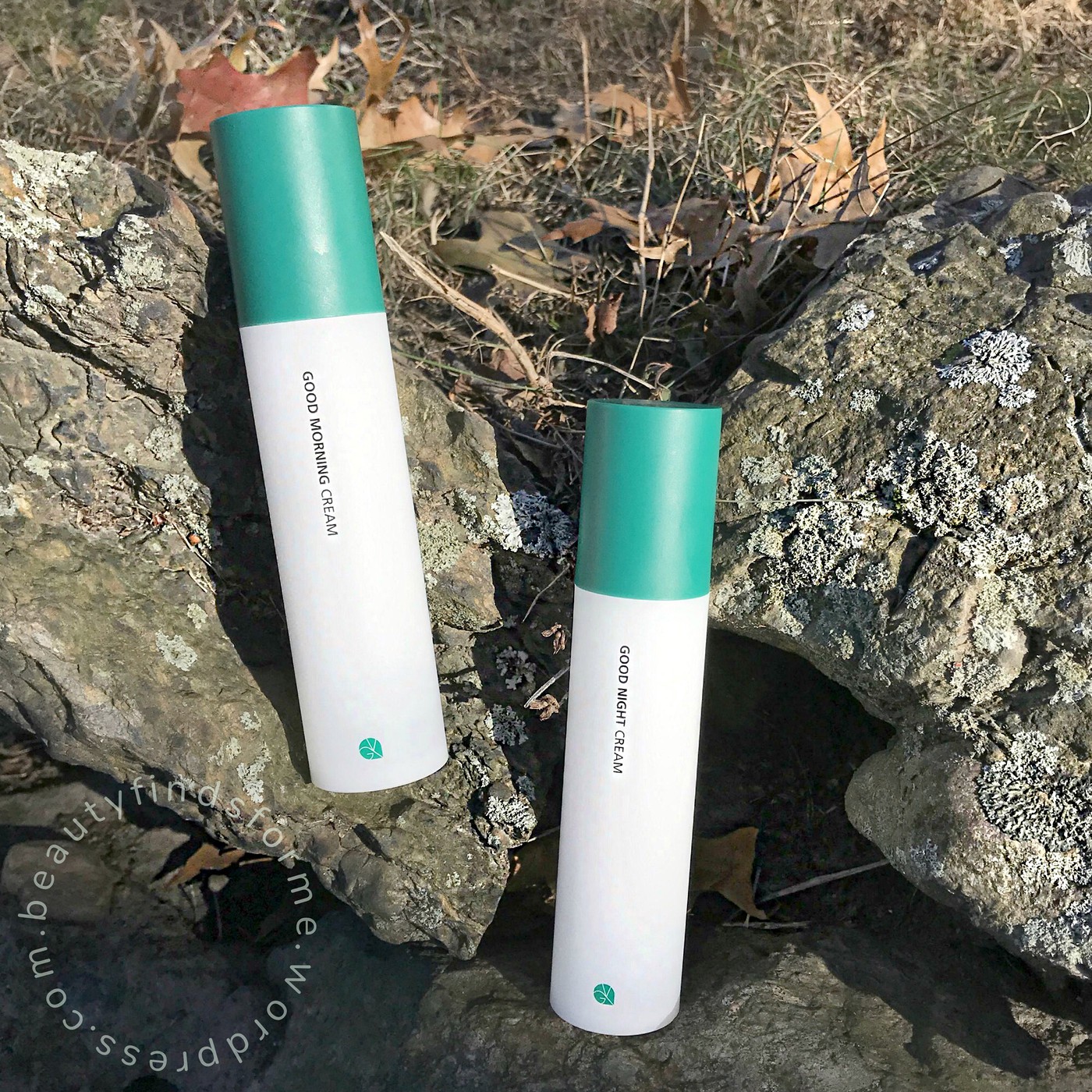 Vegan skincare is exciting to me and I was so pleased that The Vegan Glow sent me their very first two items!  ThiE Vegan Glow marries my love for Green & Clean Beauty with K-Beauty!   Based on years in the Korean skincare industry, The Vegan Glow formulates their products to use the most effective ingredients, eliminating unnecessary ingredients, such as artificial scents and animal derived ingredients.  They are certified vegan and cruelty free brand and EWG (Environmental Working Group) green rated ingredients.  The Vegan Glow is also free from parabens, sulfates (SLS and SLES), phthalates, PEG's and dimethicones.
Skin type/concerns:  Oily, aging, blemish prone, pores, hyper-pigmentation, fine lines and wrinkles. 
I received these products complementary to review and was not paid.  All reviews are my own honest opinion and  I never have been asked to write copy for a brand.  This blog post might contain promo codes, affiliate and referral links, which using my links will help generate a small commission that helps support my blog at no extra cost to you.
The two products I received are Good Morning Cream and Good Night Cream.  Both of these creams come in a 50 mL, white, minimalist airless tube-bottle with a pump applicator, made from recyclable plastic.  They are labeled on the side what the product is as the bottles look exactly alike, but you can also tell the difference from the caps ~ the Good Morning Cream has an outline of the sun and the Good Night Cream has an outline of the crescent moon.   I love how slim the tube-bottles are, making them very portable and the airless pump bottle ensures that the product will remain hygienic. The boxes (not shown) that they come in are made from recycled paper with soy ink print.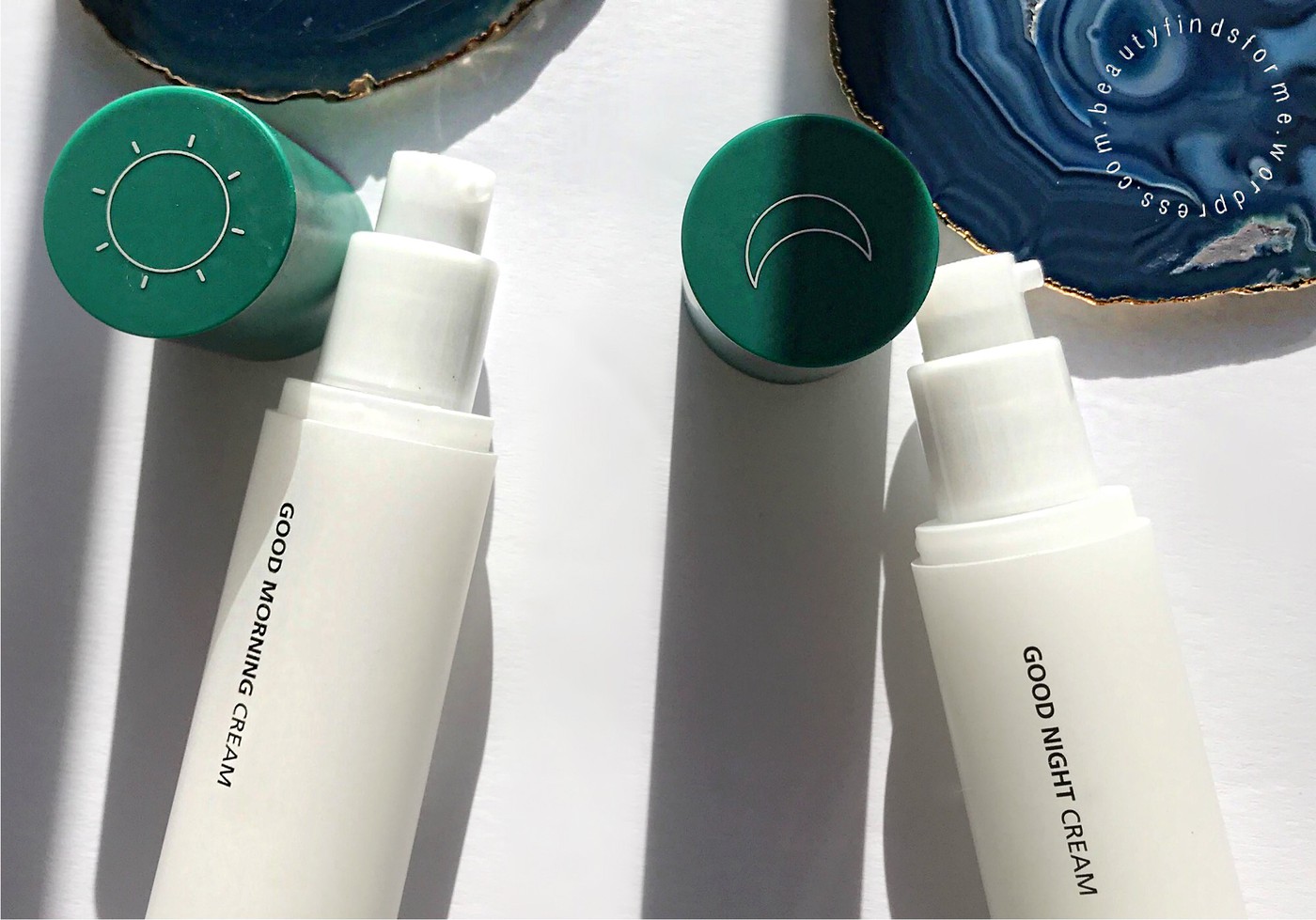 Good Morning Cream will protect your skin moisture barrier all day and is good for all skin types.  This cream only contains a few ingredients compared to other skincare products, but what The Vegan Glow used are optimal for skin moisture, soothing and healing care, while reducing the risk of allergic reactions  
Theobroma cacao is a fatty oil and the use of cocoa butter goes back to Central American tribes ~ the Mayas and Aztecs in particular. It is rich in fatty acids, such as oleic, palmitic and stearic acids and will help combat free radicals and limiting the damaging effects on your skin, while softening and smoothing your skin. Cocoa butter is used to keep your skin soft and supple.  Glycerin helps with healing of wounds and is an humectant, sealing in moisture, maintains the skin's water balance on an inter-cellular level, which makes the skin look healthy, moist ~ never dry or scaly ~  soft to touch and leaves your skin looking radiant and supple
Betaine is an amino acid that is another humectant and anti-irritant, providing silky smooth skin while calming your skin.  Arginine is another essential amino acid, that is an anti-oxidant, promoting collagen production to combat aging.  Allantoin is known for healing, soothing and softening skin and also helps remove cracked and chapped skin, leaving behind healthy looking skin. 
Panthenol, also known as provitamin B5, is an excellent hydrating ingredient for your skin and helps cellular renewal.  Derived from plants, panthenol is a natural humectant, which retains moisture and hydrates the skin. It also is a good lubricant on the skin, making skin look soft and smooth. Ceramides are lipids (fats) which are important in helping to repair and protect your moisture barrier.  This ingredient will keep your skin hydrated and plump as they retain water, making this an excellent anti-aging ingredient. . 
Centella asiatica is a common herbal ingredient that is used medicinally to help speed up wound healing, such as blemishes and skin rashes. It also helps minimize the appearance of pores, and since it stimulates collagen production, it will make your skin more supple and firm.  Centella derived madecassoside will provide soothing and calming anti-inflammatory care, relieving redness and swelling.  Another herbal ingredient is in here ~ rosemary, which provides the amazing scent.  Rosemary has antimicrobial and anti-septic properties, preventing bacteria from infecting pores as well as antioxidant benefits, supporting collagen growth and combating free radical damage.
Ingredients: Water, Theobroma Cacao (Cocoa) Seed Butter, Butylene Glycol, Glycerin, 1,2-Hexanediol, Sorbitan Olivate, Pentylene Glycol, Betaine, Panthenol, Arginine, Carbomer, Rosmarinus Officinalis (Rosemary) Leaf Oil, Xanthan Gum, Allantoin, Centella Asiatica Extract, Hydrogenated Lecithin, Ceramide NP, Madecassoside cosDNA

This a lovely lightweight lotion that that turns watery on my skin before absorbing in completely.  It has a light scent of rosemary, which quite frankly, I wish most skin care smelled like this herb!  This lotion helps improve my moisture levels by 58% and reduces my oils by 24%.  My skin just soaks this lotion in and dries down to a nice semi-matte finish, while providing soft and supple skin.  It is refreshing to use on my skin as the rosemary scent is aromatherapeutic and it helps with providing an uplifting state of mind.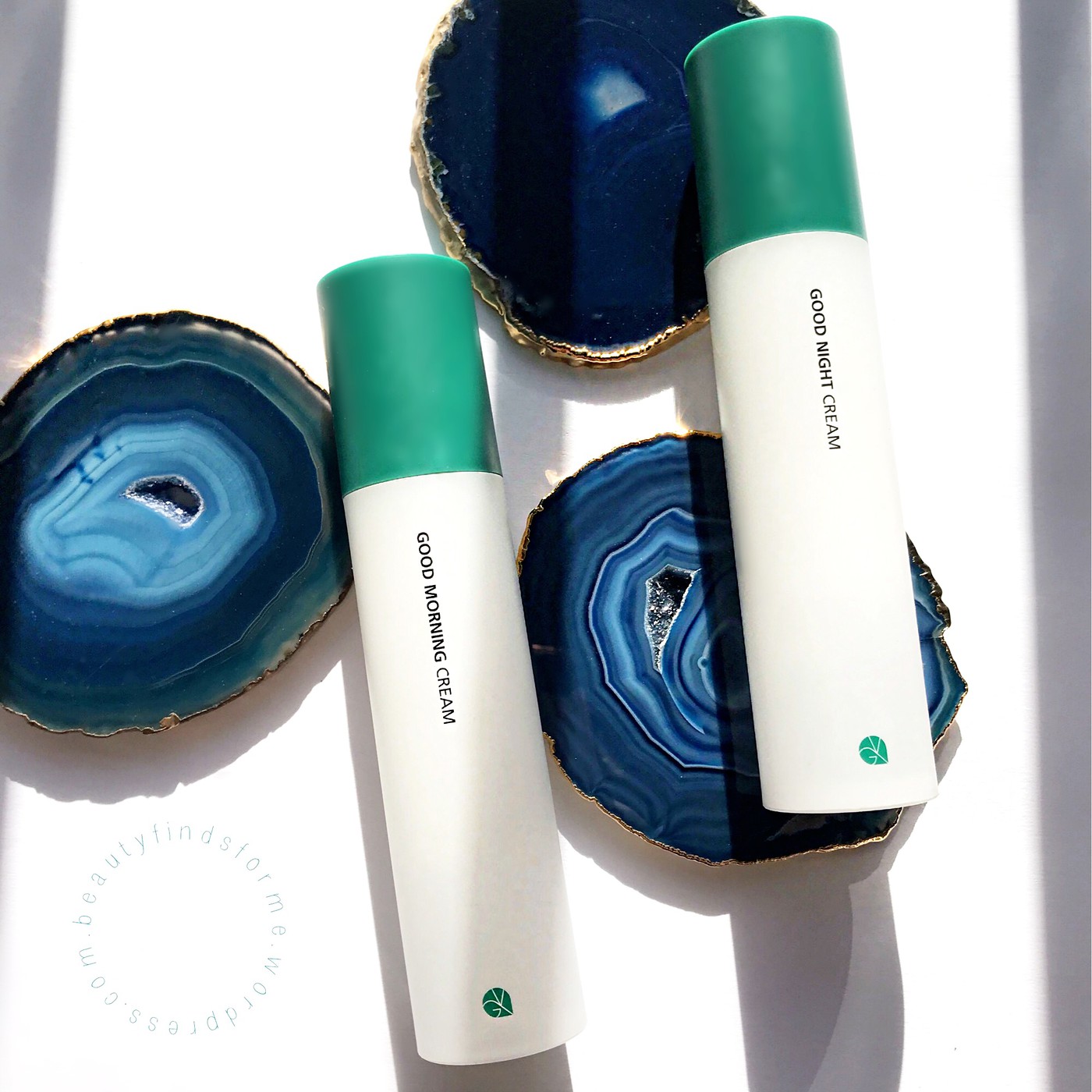 Good Night Cream is also formulated with EWG green level ingredients, so it is safe for sensitive skin as the risk of allergic reactions is minimized. Good Night Cream shares some of the same core ingredients as Good Morning Cream ~ glycerin, arginine, allantoin, centella and madecassoside ~ but has some richer ingredients as well to provide anti-aging benefits. 
Shea butter contains a rich source of concentrated natural vitamins and fatty acids ~ oleic, stearic, palmitic, linolenic ~ and is highly moisturizing and nourishing. It helps repair your skin, as well as reduce skin inflammation and it also smooths your skin to protect it from drying and it strengthens your skin over time, as it helps aid in the collagen production. Wait, you might ask yourself!!  Won't shea butter cause my oily skin to break out?  Au contraire, once again, The Vegan Glow formulated their creams to be lightweight and it doesn't clog my pores.  PLUS shea butter has a comedogenic rating of zero (zip, nada, zilch, nil) despite having oleic acid in it. Shea butter also has antibacterial benefits, which means it helps fight off blemish causing bacteria.  Humectant sodium hyaluronate is an intensive moisturizing ingredient which binds water to keep skin hydrated.  
Tocopherol, vitamin E, is a powerful antioxidants, preventing free radical formation, protects the upper skin layer from initial harmful UV radiation and prevents the deterioration of fats in your cell membranes.  Yeast derived adenosine is an anti-wrinkle and anti-inflammatory ingredient. Vitamin C-rich bergamot  not only provides some brightening effects, but provides the sweet orange citrus scent.   
Ingredients: Water, Glycerin, Ethylhexyl Palmitate, Polyglyceryl-3 Methylglucose Distearate, 1,2-Hexanediol, Cetearyl Alcohol, Butyrospermum Parkii (Shea) Butter, Pentylene Glycol, Arginine, Carbomer, Tocopherol, Adenosine, Citrus Aurantium Bergamia (Bergamot) Fruit Oil, Allantoin, Butylene Glycol, Centella Asiatica Extract, Sodium Hyaluronate, Madecassoside cosDNA
Good Night Cream is a little bit thicker than Good Morning Cream, but it is still is fairly lightweight.  It has a traditional lotion feel to it, not watery, but it does absorb nicely while spreading easily on my skin. This has such a lovely slip to it that at first, I thought there was silicone in here ~ but it is ethylhexyl palmitate, an organic palm oil derivative that is used to replace silicone.  It leaves a soft finish and I feel this really locks in my other skin care products as I can feel that skin barrier film ~ it isn't greasy or anything, just a protective barrier.  This has a very faint sweet orange scent to it.

This increases my moisture levels by 85% and decreases my oils by 21% and in the morning, my skin feels really supple and plump, with a nice glowing look.  As I am in the colder winter months, I do like a bit more moisture on my skin, so I have been using this as a night time cream, not a sleep pack.  In fact, I don't think this is a sleep pack at all but the step before applying one.  In the summertime, I could forego the sleeping pack altogether and just use this after my other skincare steps, as it is nice and moisturizing for me.  Again, my skin didn't experience any blemishes or breakouts, nor did this product sting or irritate my skin.
Final Thoughts
I LOVE these products, especially The Good Morning Cream ~ the rosemary scent makes me so happy. If you have oily or oily/combo skin, these products will be fantastic on their own after your normal skincare routine.  They do not irritate my skin, provide more than enough hydration and brings back the balance in my moisture/oil levels.  I was worried when I read the ingredients on these products when I received them ~ cocoa and shea butter?  Quelle horreur for my oily skin type ~ but The Vegan Glow formulated these products beautifully ~ no sticky or tacky residue and my face is not a grease pit!  They are both lightweight AND nourishing at the same time.  One of my favorite Instagram bloggers, Dot at @sumomosuki is using these as well and I know she has the exact opposite skin type as myself ~ I asked her how she liked them ~  Dot gave it high praise and mentioned that great for layering if you have drier skin.  Have you heard of The Vegan Glow?  Does vegan skincare interest you?  Let me know below in the comments! 
Where to Purchase
Not a lot of places sell this yet ~ you can find it at My Korean Makeup online store  ~ Good Morning Cream is currently on sale for $22.40 (RV is $28.00) USD and  Good Night Cream is $28.00  (RV is $35.00) USD.   They ship internationally except in South Korea, with free shipping on all orders over $20.  For orders under $20.00, a flat shipping rate is $5.00
The Vegan Glow will be selling at YesStyle soon!  Just click here  and search for The Vegan Glow to check to see if it is available yet.   Global shipping ~ free at $35.00 USD
In South Korea, The Vegan Glow does have a contact form, so they might be able to sell to you directly. 
[ disclosure: product received complementary for review purposes.  contains affiliate links ]