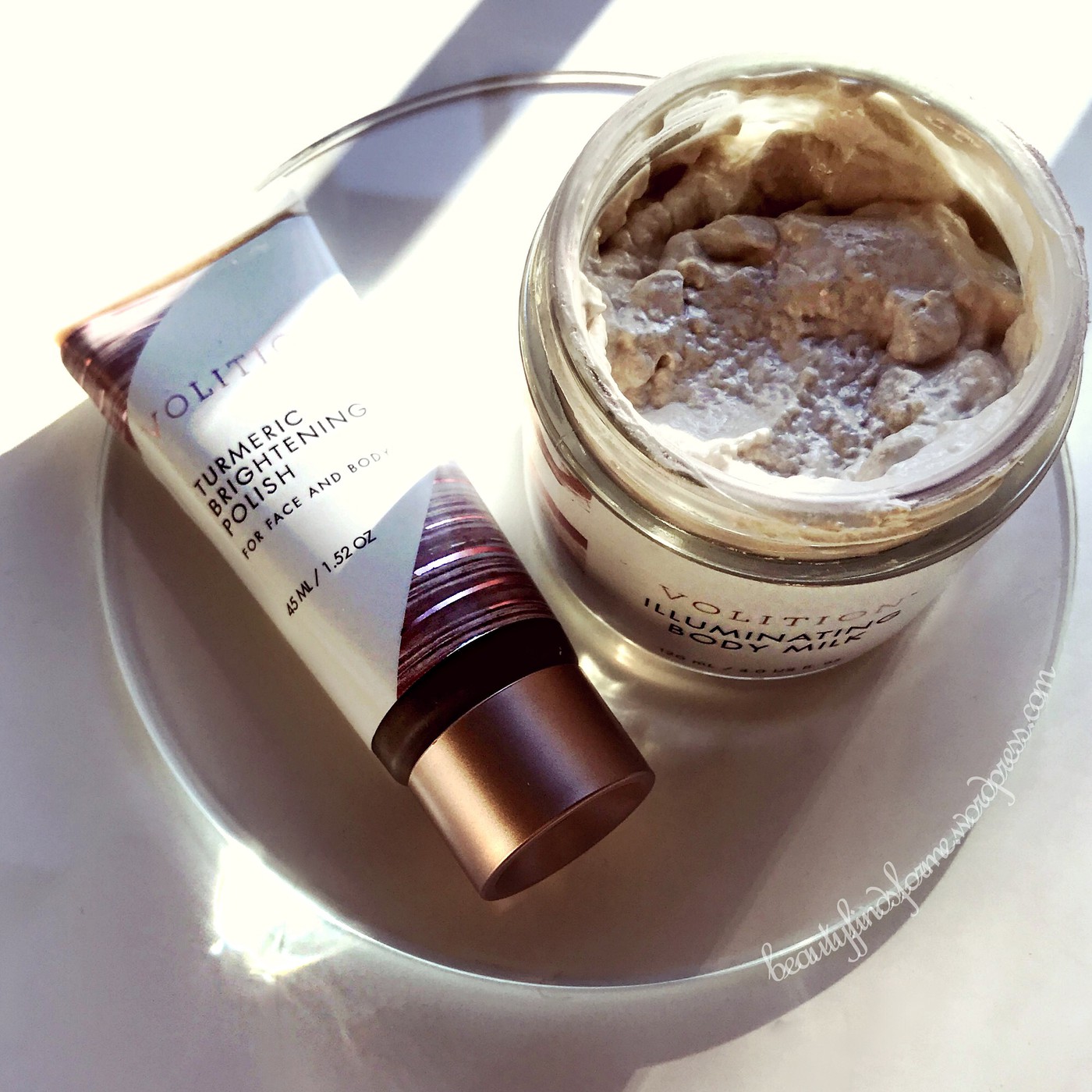 I learned about Volition Beauty from the lovely Angela at Beauty and the Cat.  She had come up with skincare product, sunscreen balls, and submitted it to Volition Beauty to enter in their next selection.  Many of us in the ABCommunity voted for Angela's balls, and guess what?  She was a winner and you can see that her product, now renamed to Sun Pearls (haha), is in production. About a month ago, Volition Beauty reached out to me and I not only joined their affiliate program, but they sent me a couple of products to try! 
About Volition Beauty: At Volition, our mission is collaborative and transparent innovation.  We believe that new beauty products should be created by real people with real beauty problems (aka people like you).  Necessity is, after all, the mother of invention. Together, the Volition community (yes, that includes you) creates the "next big things" in beauty.
Volition Beauty is PETA certified cruelty free.  They never formulate with sulfates, parabens, synthetic fragrances, oxybenzone, phthalates, formaldehyde, formaldehyde releasing agents, mineral oil, retinyl palmitate, coal tar, hydroquinone, triclosan, triclocarban, ethanolamines (DEA/TEA/MEA/ETA), aluminum, talc, nitrates, BHA, BHT, just to name a few. Their packaging is on point too ~ simple yet effective with the rose and copper labels.
Skin type/concerns:  Oily, aging, blemish prone, pores, hyper-pigmentation, fine lines and wrinkles. 
I received these products complementary to review and was not paid.  All reviews are my own honest opinion and  I never have been asked to write copy for a brand.  This blog post might contain promo codes, affiliate and referral links, which using my links will help generate a small commission that helps support my blog at no extra cost to you.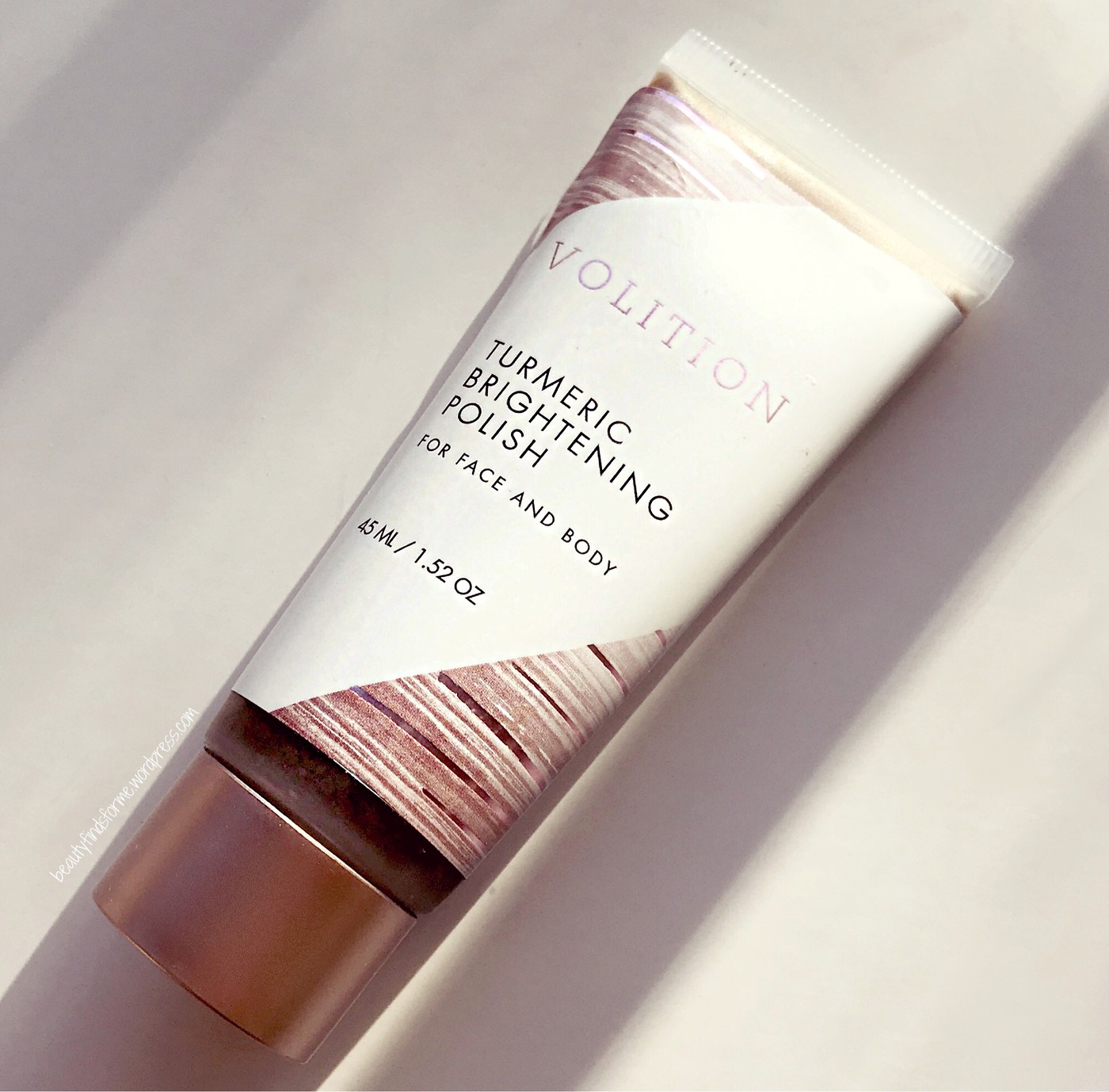 Tumeric Brightening Polish I was really interested in this one, as you know me and my love for masks and scrubs.  Plus this has tumeric in it, which helps reduce blemishes and can reduce scarring.  It is an anti-inflammatory that can calm your skin and also helps remove excess oil and bacteria, as it has antimicrobial benefits ~ this means less clogged pores!  Tumeric helps bring a radiant glow to your skin, brightening it as it contains curcumin. This active anti-oxidant compound inhibits pigmentation and therefore, can help reduce hyper-pigmentation.   Don't worry about the yellow stain that is so common with tumeric ~ this product has been expertly formulated not to stain. This also has antibacterial sandalwood, which can not only combat acne, but has exfoliating properties and can   antibacterial powder can fight acne-causing bacteria, exfoliate the skin, soothes and reduces redness while drying out pimples. This also has some moisturizing oils in olive, sunflower, sesame as well as vitamin E and silica.  There is walnut shell powder and ground turmeric for physical exfoliation; vegan and cruelty free.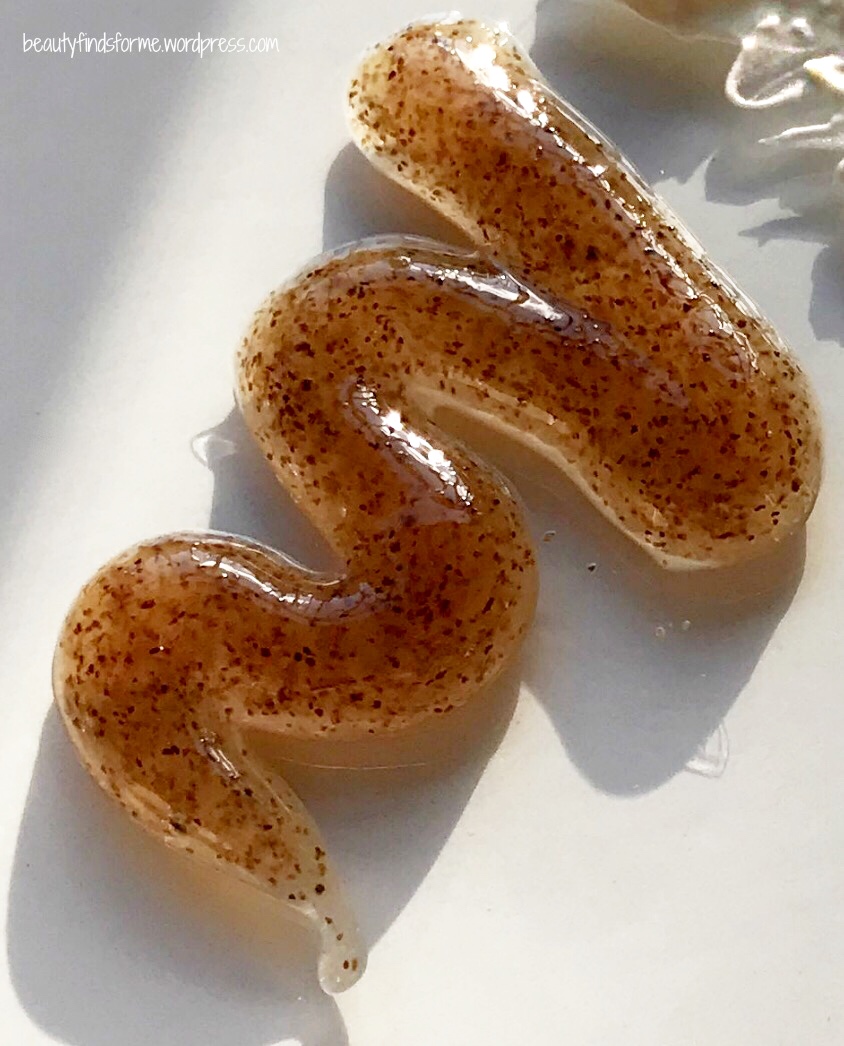 This is a lovely dark amber gel and you can see the scrubby bits in there. It has a light sandalwood and spice scent to it, very pleasant and to my oily skin, the powdered bits are not harsh, but if you have sensitive, dry or thin skin, you should test to see if you can use this as a scrub.  I just massage it into my clean, damp face and then leave on for 2 minutes.  Rinse off and my skin is super soft, super smooth, my pores are clean and they look like they have left my skin (although I know they will come back) and my skin is glowing.  I did not find this to be drying or harsh at all ~ I just follow up with my normal skincare routine, which applies more smoothly and evenly, absorbs more quickly because this mask did a great job exfoliating dead skin cells and preparing a smooth canvas for my moisturizers and toners.   
This polish can also be used on the body to help smooth and polish rough upper arms, the back of your thighs and anywhere you feel your skin needs some TLC! 
Ingredients:  Glycerin, Caprylic/Capric Triglyceride, Ethyl Macadamiate, Sodium Laurylglucosides Hydroxypropylsulfonate, Olea Europaea (Olive) Fruit Oil, Juglans Regia (Walnut) Shell Powder, Helianthus Annuus (Sunflower) Seed Oil, Sesamum Indicum (Sesame) Seed Oil, Graham Flour, Tocopherol, Sucrose Palmitate, Glyceryl Caprylate, Silica, Curcuma Longa (Turmeric) Root Extract, Glyceryl Undecylenate, Ground Turmeric, Leuconostoc/Radish Root Ferment Filtrate, Santalum Album (Sandalwood) Extract, Water  cosDNA
Meet the Innovator: I'm so inspired by the movement among women today to work together and empower each other. Volition Beauty is one of those examples where women are collaborating to express themselves and develop products to address real concerns – not those dictated to us by an industry that's still largely shaped by a stereotypical notion of beauty. The idea for my turmeric face and body scrub draws from an ancient skin care ritual from India that women use to this day. It's an all-in-one product that every woman can use to help their skin stay soft, supple and healthy. – Anuradha K. Avid Traveler (source)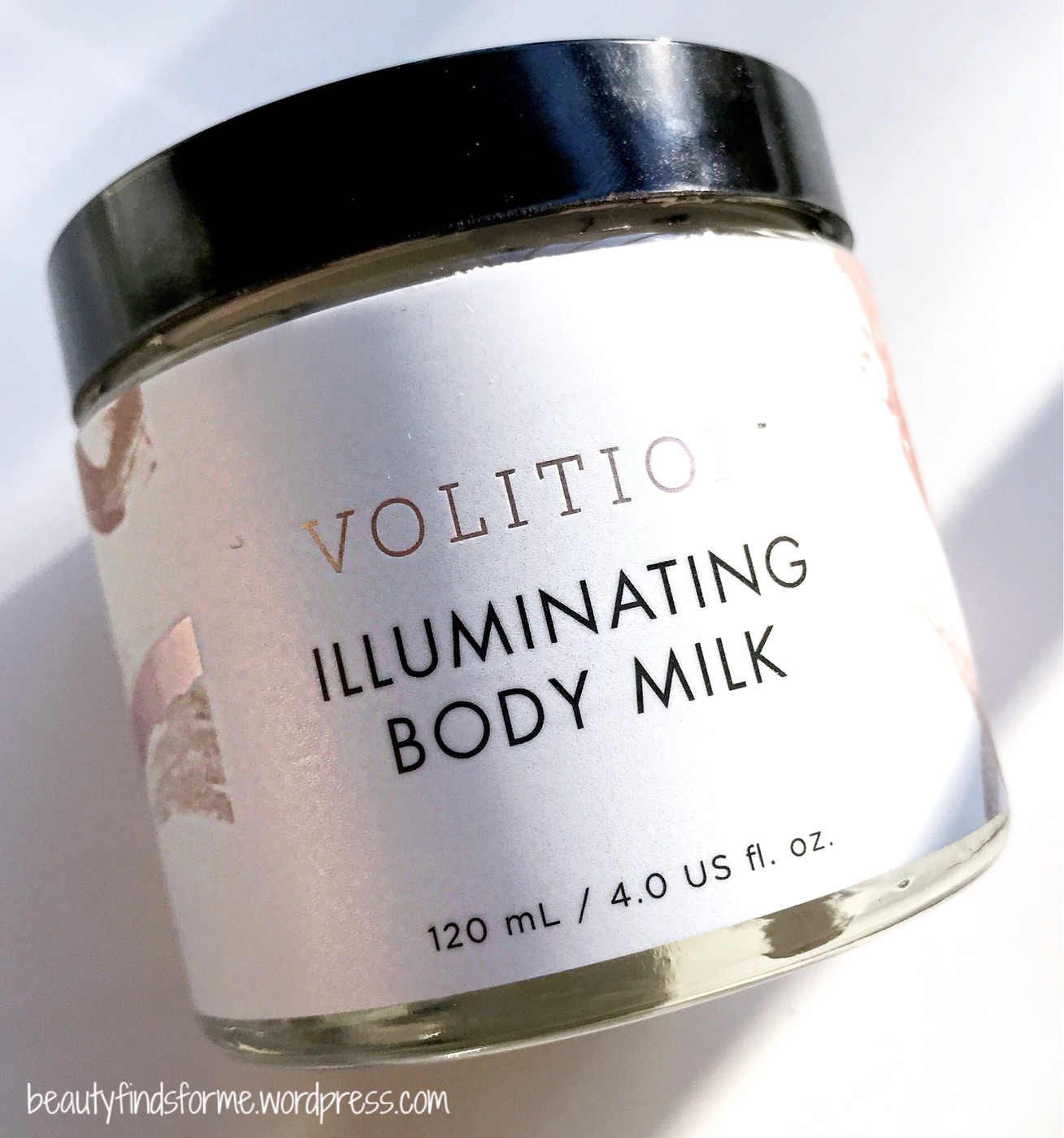 Illuminating Body Milk  When I was sent this, I was both intrigued and also was worried it might be too much for me.  After all, it received rave reviews…from TEEN Vogue, which doesn't inspire this older woman here.  However, I have to give credit to the teenagers ~ this is a fantastic product!!  First all, it is a HIGHLIGHTER for your body, so whereas it might say it moisturizes your skin, it is very lightweight. I recommend using a moisturizer first before applying this miracle product.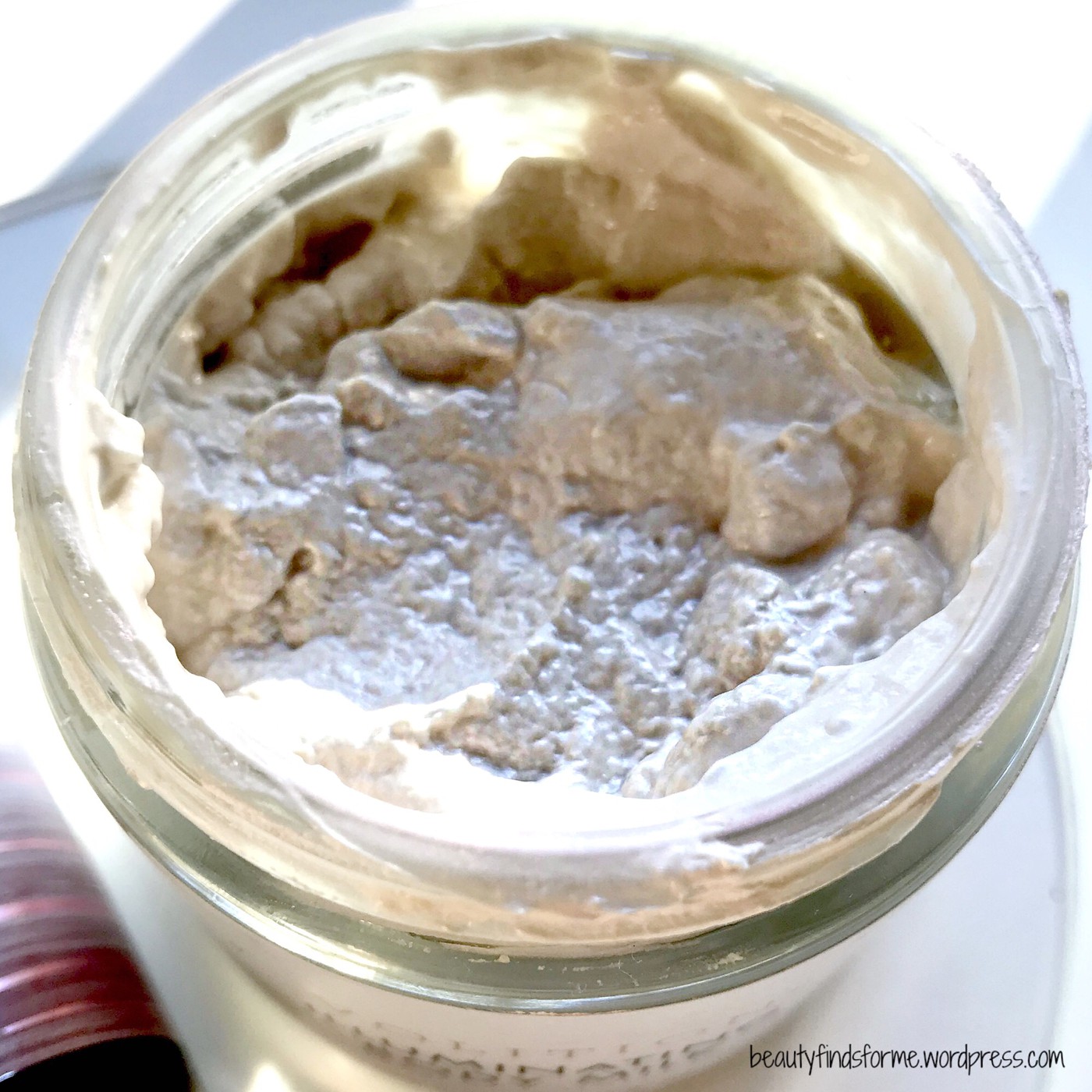 There are a lot of emollients in this body milk ~ dicaprylyl ether, synthetic beeswax, palmitic acid and caprylyl glycol.  There are also a couple of hydrating ingredients with glycerin and sodium hydroxide, but it is very lightweight.  Do not expect a body butter here ~ It is a thin lotion when it spreads out and its primary purpose is to highlight your skin. In fact, Volition Beauty states this has a  "sophisticated emulsifier technology to bring you the unique, sensorial experience of a melting milk."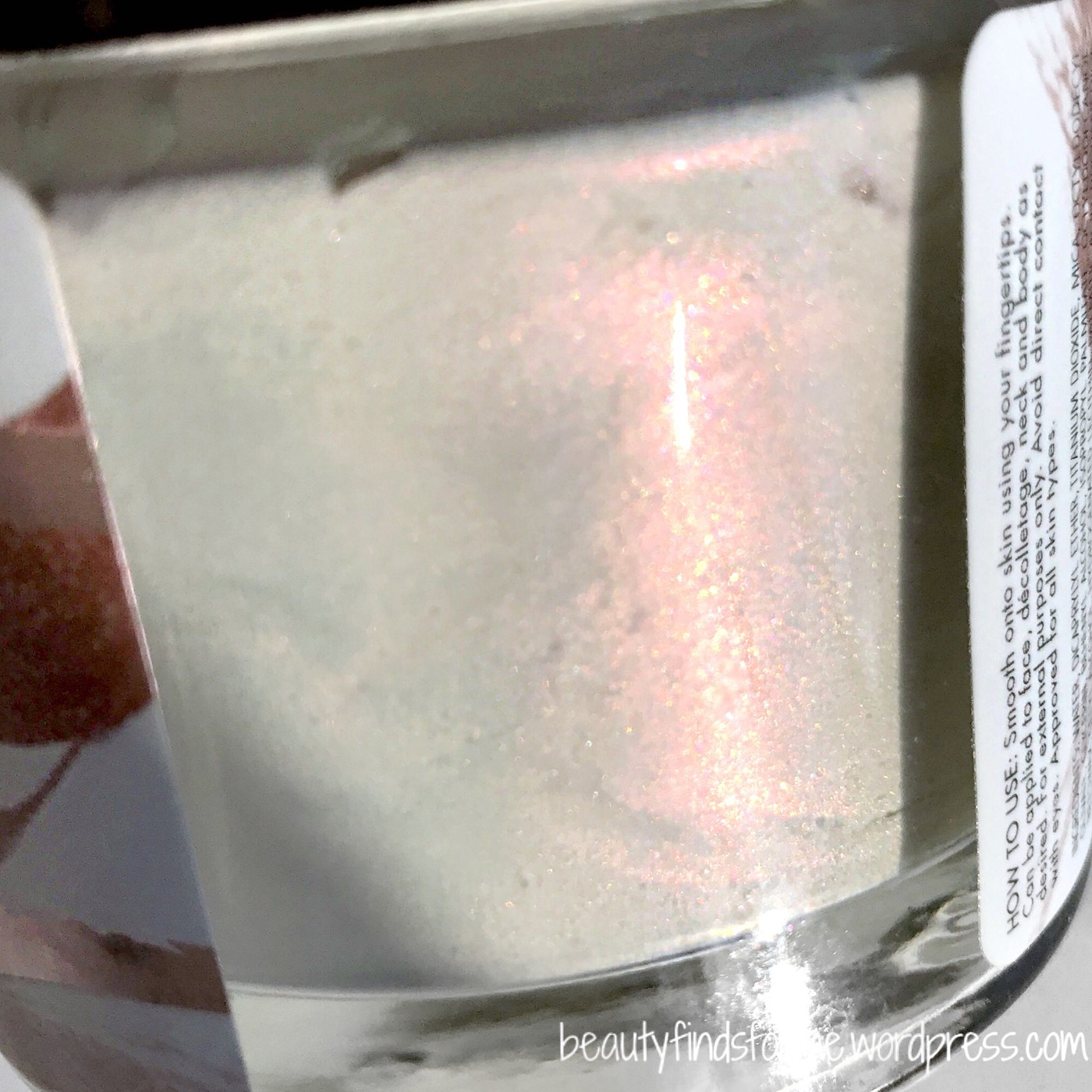 This comes in a huge tub and a little goes a long way. The consistency is like pudding ~ it isn't smooth in the jar, but a bit chunky looking.  I just scoop a bit and apply to my arms, my décolleté and if it was warm out, my legs if I am wearing a skirt or shorts.  And here is where the magic begins ~ this contains light reflecting particles of mica and titanium dioxide that are 40 times smaller and refined than most.  My skin looks like I am glowing from within, it isn't glittery, not metallic ~ just a subtle and natural pink-pearlized glow that ranges from a champagne to flash of pink when the light hits my skin.   You can also use this to highlight your brows and cheekbones as well.  This isn't greasy or oily, leaves no tacky residue, absorbs and dries quickly and I have not experienced any transfer onto my clothing.  No matter what your age, this is appropriate for all!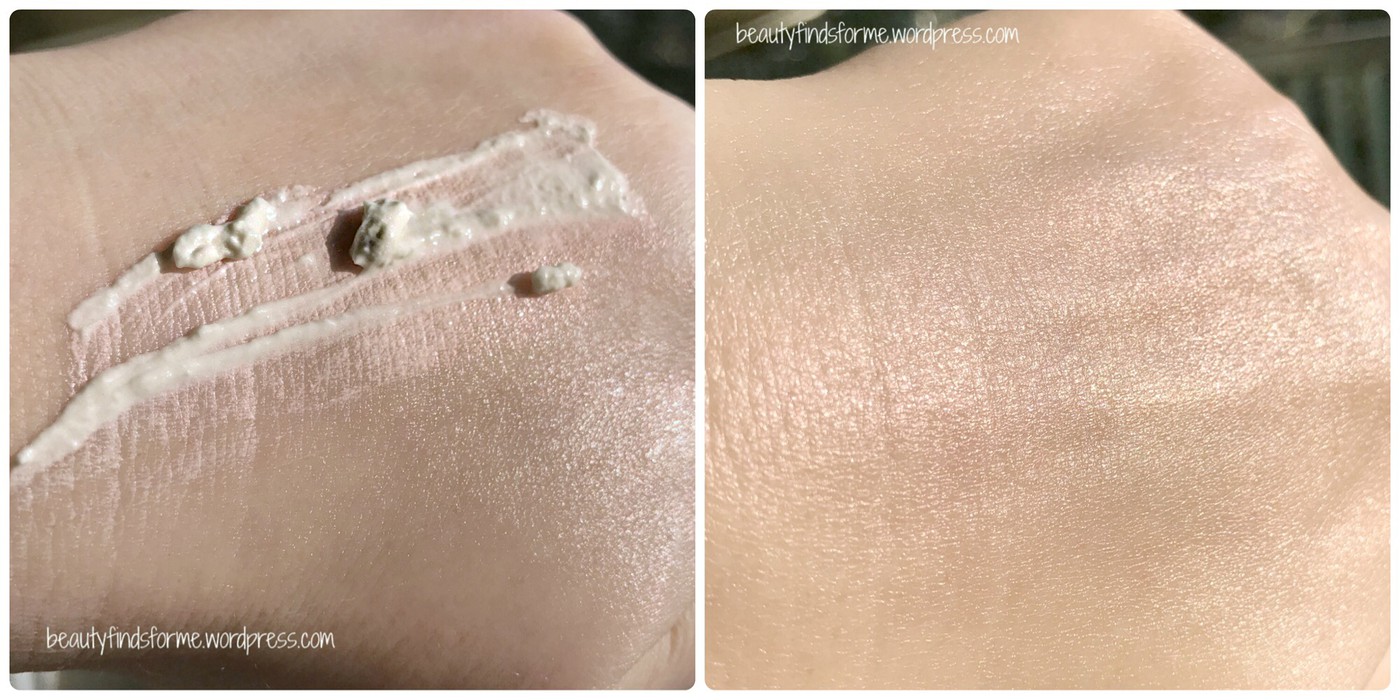 Ingredients: Water, Dicaprylyl Ether, Titanium Dioxide, Mica, Octyldodecyl Olivate, Glycerin, Behenyl Alcohol, Isopropyl Palmitate, Octyldodecanol, Beeswax (synthetic), Cetyl Alcohol, Hydrogenated Lecithin, Palmitic Acid, Propanediol, Acrylates/C10-30 Alkyl Acrylate Crosspolymer, Xanthan Gum, Caprylyl Glycol, Phenoxyethanol, Hexylene Glycol, Disodium EDTA, Sodium Hydroxide.  cosDNA
Meet the Innovator: Julie has a rich history of producing innovative beauty products. As one of Volition's partner laboratories, Julie's woman-led team of top-notch chemists provides great discoveries for the Volition Community through their decades of experience in luxury formulation and core principles founded on efficacy and quality. CEO Julie and her team spend their days researching new ingredients and experimenting with new formulas. As a result, they continue to bring our Community innovative and differentiated discoveries that truly push the boundaries on the status quo.  – Julie K  Chemist & Owner (source)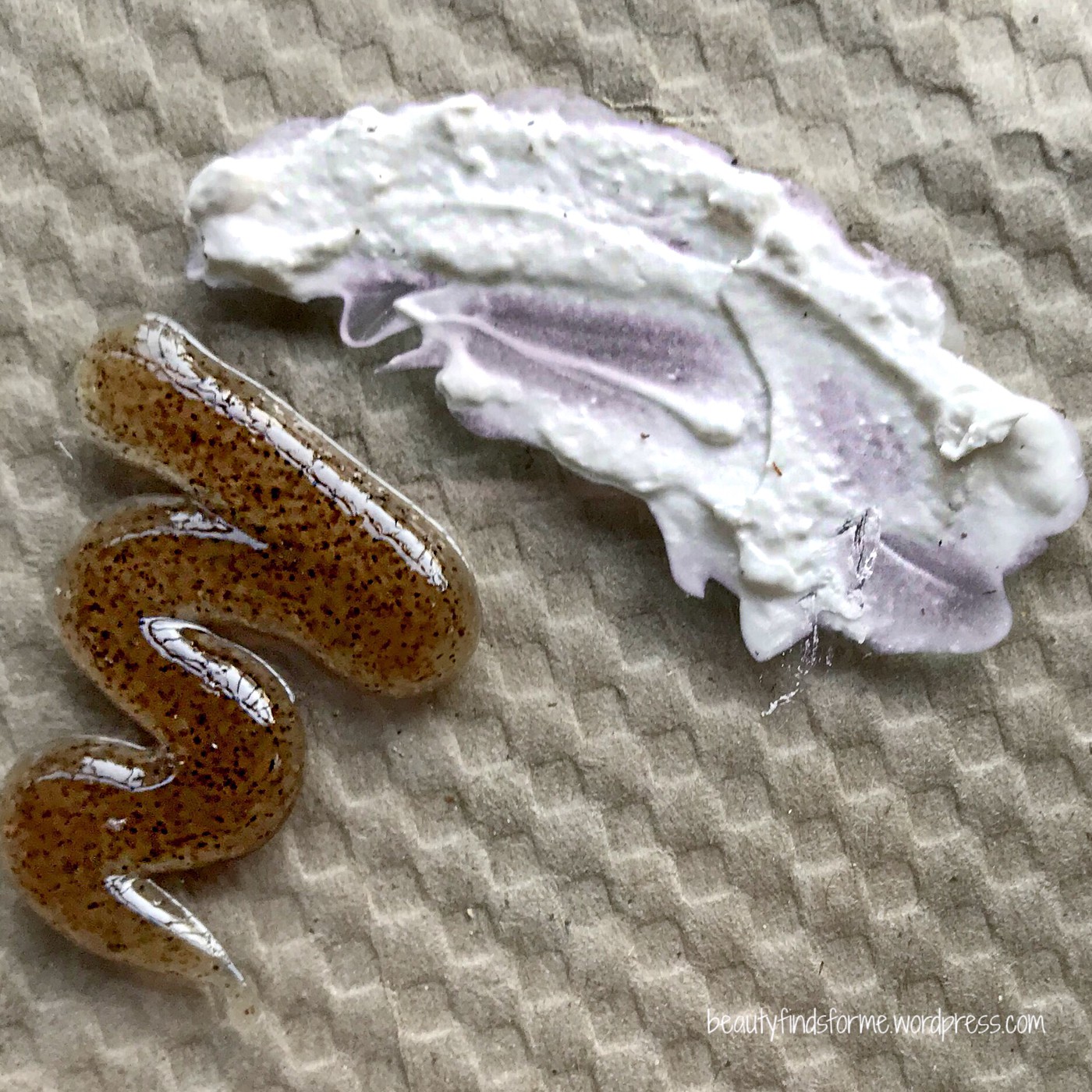 You can see here, that even when the body milk dries down, the pink is very vibrant! 
Final Thoughts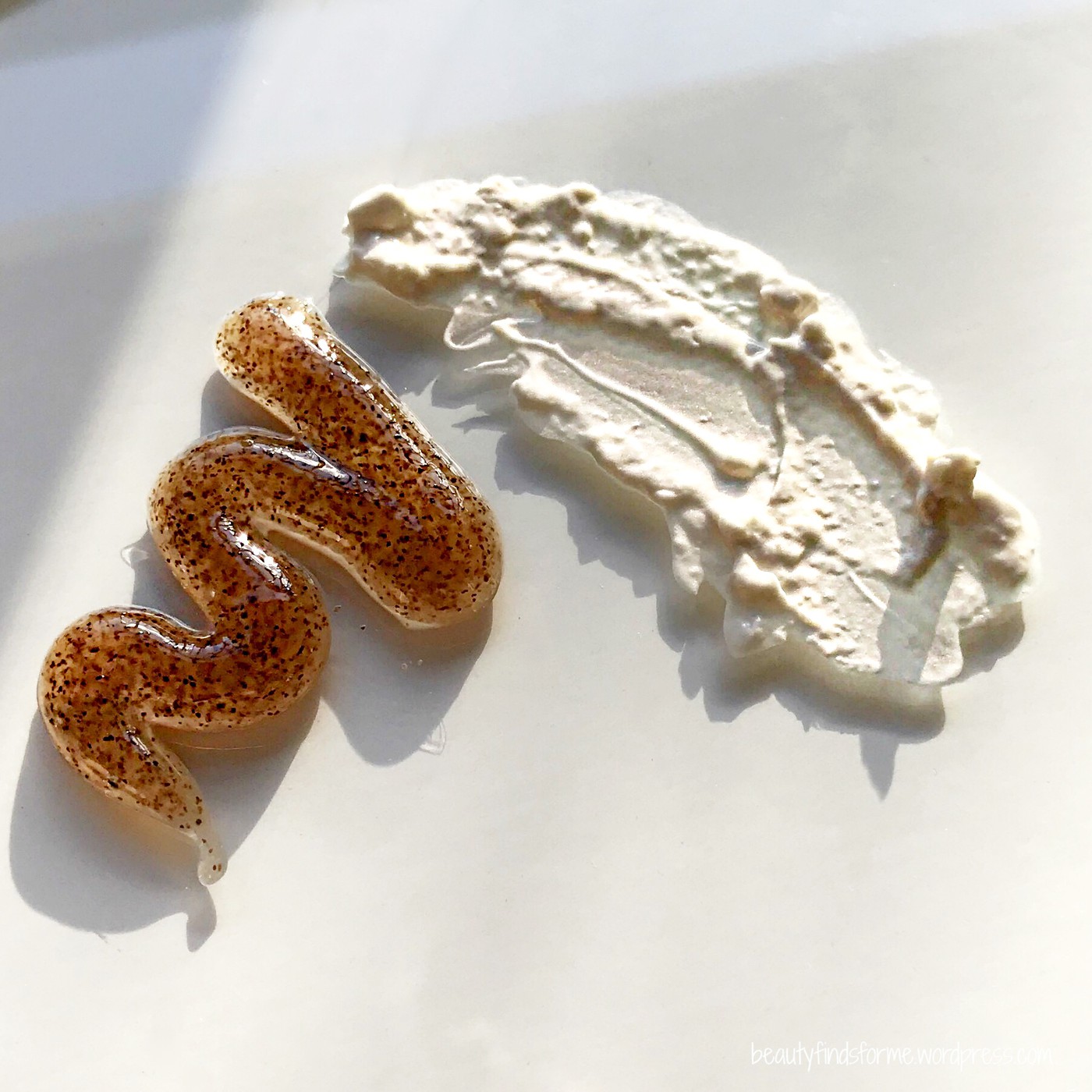 I am wow'd by these products!  The innovators who created them, Volition Beauty for bringing their dreams to reality and to my door!  There are so many great things about this brand ~ how the community selects what products should be brought to fruition, the lovely rose and copper striped packaging, the attention to making sure that the products are fragrance free and best of all, how effective the products are! The Tumeric Brightening Polish is fantastic to rid my skin of the winter blahs, smoothing and brightening at the same time. I was not sure about the Illuminating Body Milk, but that product is a game changer ~ I have used other body highlighters, but they either rubbed off my clothes, too greasy, too blingy ~ but this is perfect.  Just the right amount of light rose shimmer highlight, doesn't feel greasy or tacky, dries quickly and doesn't easily transfer onto to clothing. 
I have poured over their website and already have my wishlist in hand… I really am interested in trying their Snow Mushroom Water Serum, JetSet & Protect Leave-On Mask, Oceanene Youth-Boost Gel,  Detoxifying Silt Gelee Mask, Helix AM/PM Eye Gel.  In fact, I can get 3 of those items in the Winter Survival Kit for $38.00 (Retail value is $84) as it contains a deluxe sized serum, full size leave on mask, deluxe size youth-boost gel and deluxe sized tumeric scrub.  Have you heard of Volition Beauty?  Interested in trying some products from them? 
Where to Purchase
Volition Beauty! They have free USA shipping and free returns with every order including a mini size.  This is so you can try out the mini to see if it works for you.  They also ship to Canada as well and at this time, no other international shipping   
[ some products received  complementary for review purposes. contains affiliate links ]