Blog post contains affiliate links that are in bold
By clicking on the links and purchasing through these links, you provide tracking and generate a small commission to me, at no cost to you!  This helps support my blog and I thank you for using my links!!  Links are in bold ~ just click on them to view and purchase.  I will keep this page updated regularly with new deals as I find out about them.  For a full list of stores with savings, check out my Master Savings Promos/Referrals Page!
BeautyTap (formally W2Beauty)  They will have Daily Deals (Tap of the Day)  releases on their website and weekly brand promos.  I also have a promo code, exclusive for my readers.

NEW!!  For USA customers,  BeautyTap is launching BeautytapASAP, a US-based, US-only with FAST AND FREE SHIPPING.  Options are limited but they have a lot of goodies in here.  Tons of cosRX (see my reviews on tons of cosRX!!), Klairs (see my reviews on tons of Klairs products!), Dr Frog, 23yearsold, AprilSkin ~ with more brands coming soon.  These products are shipped out their domestic warehouses with 3  to 5 day free shipping.   Click here to shop  
SanDaWha is at BeautytapASAP ~ for US-based, US-only customers!  You can still get SanDaWha at the global store as well!!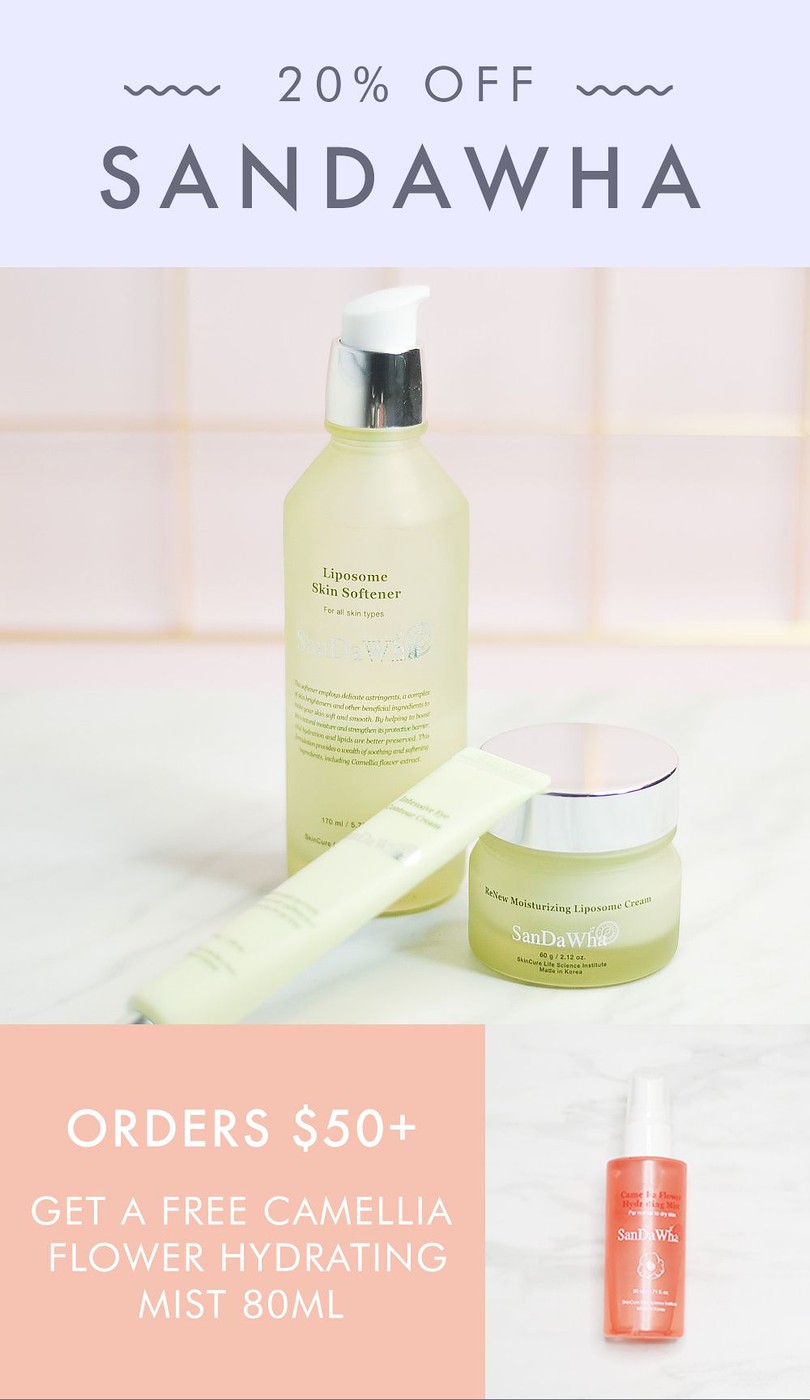 20% off all SanDaWah and all orders over $50.00 will receive a FREE SanDaWha Camellia Flower Hydrating Mist ~ This is for BOTH U.S. shipping (FREE 3 day shipping!)  and global shipping, so click here to start shopping SanDaWha. This sale is good through 10/28/2018 PST.  To see my past reviews on SanDaWha, click here.  I LOVE the Softener and Gel Cleanser (low pH too!) 
Select Laneige items have been added to U.S. 3 Day Shipping as well!!  Click here to see the new products added to BeautytapASAP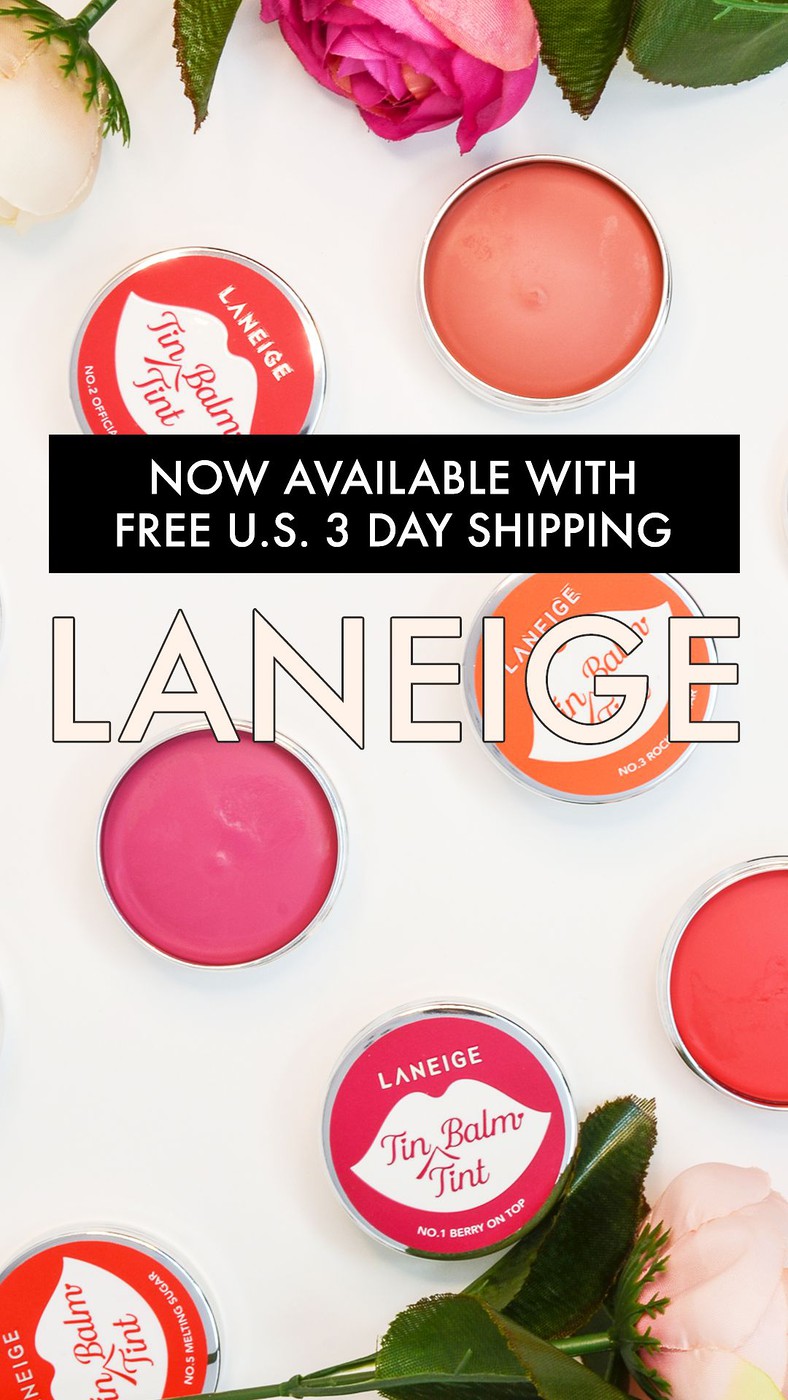 Use You also can use my affiliate code UNBOXINGWISHTREND for 5% off and it is stackable!  It is for use with regular priced items and not kits or sale items.   
Check out their free shipping section ~ ~ use promo code SINGLEFREESHIPPING     I have reviewed a lot of Klairs items, so check out my Klairs reviews here  
I'm From just released their Rice Toner!  I have it and my initial impressions ~ it is a lightweight, milky toner, no scent that I can detect and dries down without any sticky residue.  I will have a full review before BLACK FRIDAY!!
The I'm From Rice Toner is a toner to hydrate and brighten dull, irritated skin. Created with ground Yeoju rice, this toner helps to get rid of impurities located deep in the skin, and exfoliates the complexion for smoother, hydrated skin. It also contains gamma oryzanol, helpful in brightening a dull complexion. This toner is effective for dull, fatigued skin, as well as dry, irritated skin. Simply apply to the whole face with your hands or a cotton round. It can also be used as a facial mist. 
Rice is a traditional ingredient loved in Korea not only for dietary purposes, but also for their effective brightening and cleansing properties for skin. *Please check Wish More for more information about Yeoju Rice. 
Ingredients: Rice extract, Methylpropanediol, Triethylhexanoin, Hydrogenated poly (C6-14 olefin), Niacinamide, Pentylene glycol, Common Purslane extract,  Rice bran extract, Japanese elm bark extract, Amaranthus caudatus seed extract, Hydrogenated lecithin, Distilled water, Polyglyceryl-10-myristate, Butylene glycol, Adenosine, Cellulose gum, Ethylhexylglycerin, 1,2-Hexanediol
By Wishtrend has released a new microfiber towel for $9.00.  This is on MY wishlist for Black Friday  The By Wishtrend Microfiber Towel is a fast absorbent towel to quickly dry your skin. This towel has much better absorbency than regular cotton towels and is made with fine fibers that leaves no lint or dust, even when washed. It remains soft and fluffy due to its material. 
 
Coming SOON:  From Jungle Botantics, The Ecru Clay Soap.  The Jungle Botanics, The Ecru Clay Soap is a bold yet delicate soap that is formulated with Amazonian clay. With its rich ingredients and creamy lather helps to remove residues, impurities, clarify pores and control sebum secretion. Also included is a multi-use linen pad to use as a soap holder or as a cleansing pad. Key Ingredients: Amazonian Green Clay (Kaolin Clay), Jojoba Oil, Olive Oil, Grape Seed Oil, Centella Asiatica Extract

I'm From Mugwort Essence & Wash Off Mask – read my review here.  I love I'm From and have reviewed quite a bit from their line (click here to read).  Mugwort is very good for calming and soothing skin.  The Essence is 160 mL at $30.00 (click here to purchase) and the Wash Off Mask is 110 grams at $26.25 (click here to purchase)
The I'm From Mugwort Essence is an essence to calm and soothe irritated skin. Containing mugwort extract, it is rich in vitamins and minerals to rejuvenate and refresh the skin.  Ingredients list is one:  Artemisia Princeps Extract 100%
The I'm From Mugwort Mask is a wash-off mask to calm and soothe the skin. Containing full of vitamins and minerals, it quickly soothes irritation and redness while having a cooling and calming effect.  
Healing 
Calming 
For Irritated Skin 
For Troubled Skin
Ingredients:  Water, Butylene Glycol, Glycerin, Artemisia Princeps Leaf Powder, 1,2-Hexanediol, Cordyceps Sinensis Extract, Polygonum Cuspidatum Root Extract, Scutellaria Baicalensis Root Extract, Methylpropanediol, Ligularia Fishceri Leaf Extract, Rosa Davurica Bud Extract, Camellia Sinensis Leaf Extract, Glycyrrhiza Glabra (Licorice) Root Extract, Chamomilla Recutita (Matricaria) Flower Extract, Rosmarinus Officinalis (Rosemary) Leaf Extract, Centella Asiatica Extract, Glyceryl Polyacrylate, Sodium Polyacrylaste, Carbomer, Arginine, Phenoxyethanol, Allantoin, Dipotassium Glycyrrhizate, Panthenol, Xanthan Gum, Disodium EDTA
Klairs Midnight Blue Calming Mask  I have these and need to review them!  Look for that soon on my Instagram feed.
The KLAIRS Midnight Blue Calming Sheet Mask is specially designed to calm the skin with ingredients that decrease sensitivity.  Low irritating and cooling ingredients such as Erythritol is used to rapidly lower the skin's temperature and reduce irritation. The sheet to maximize the softness is used to increase calming and balance out the cooling effect of the mask. Bamboo Charcoal on the low irritant sheet makes it comfortable for sensitive skin, and maintains moisture for a long time.
Recommended For 
– For skin that is easily heated during irritation 
– For skin that feels clogged when applying oil products 
– For oily skin with active sebum secretion 
– For skin that frequently undergoes facial extraction
ingredients:  Water, Butylene Glycol, Methylpropanediol, Glycereth-26, 1,2 Hexanediol, Salix Alba (Willow) Bark Extract, Glycerin, Erythritol, Arginine, Carbomer, Carrageenan, Betaine, Allantoin, Ethylhexylglycerin, Propanediol, Polyglyceryl-10 Laurate, Glyceryl Acrylate/Acrylic Acid Copolymer, PVM/MA Copolymer, Disodium EDTA, Dipotassium Glycyrrhizate, Melaleuca Alternifolia (Tea Tree) Leaf Oil, Centella Asiatica Extract
Klairs Rich Moist Soothing Tencel Sheet Mask Klairs redesigned their Rich Moist Soothing Mask and I also have these to try out ~ so again, look for review on my Instagram feed.  Once I review both Klair masks, I will repost here at my blog too.
Seasonal 
I love Klairs Midnight Blue Calming Cream and for this summer, they have released it in a tube (click here to purchase)  It is double the amount. Read my review on the Klairs Midnight Blue Calming Cream here.  
[ descriptions in italics from store; images credit from store; contains affiliate links ]