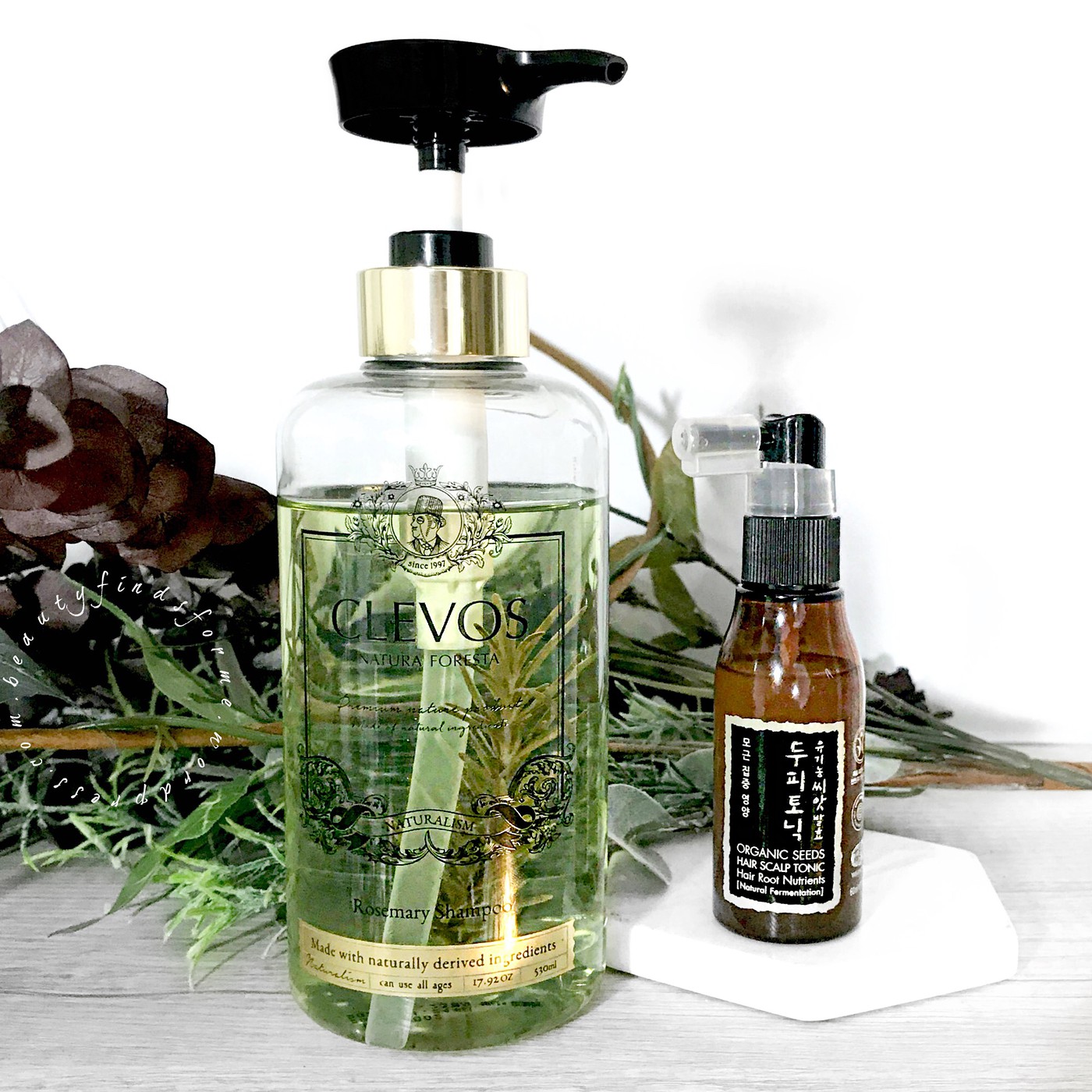 I love my haircare products ~ maybe even more than skincare as I am more tolerant with having scents!  However, I am still picky about the type of smell, so I look for more herbal scents.  Amazon USA has a slew of K-Beauty products and one of the sellers, Credithink, sent me some products of my choosing to review.  I started out with some of the most herbally scented items EVER. 
Hair Type/Concerns:  Oily scalp, oily hair, straight, fine, soft, limp, color treated  
I received these products complementary to review and was not paid.  All reviews are my own honest opinion and  I never have been asked to write copy for a brand.  This blog post might contain promo codes, affiliate and referral links, which using my links will help generate a small commission that helps support my blog at no extra cost to you.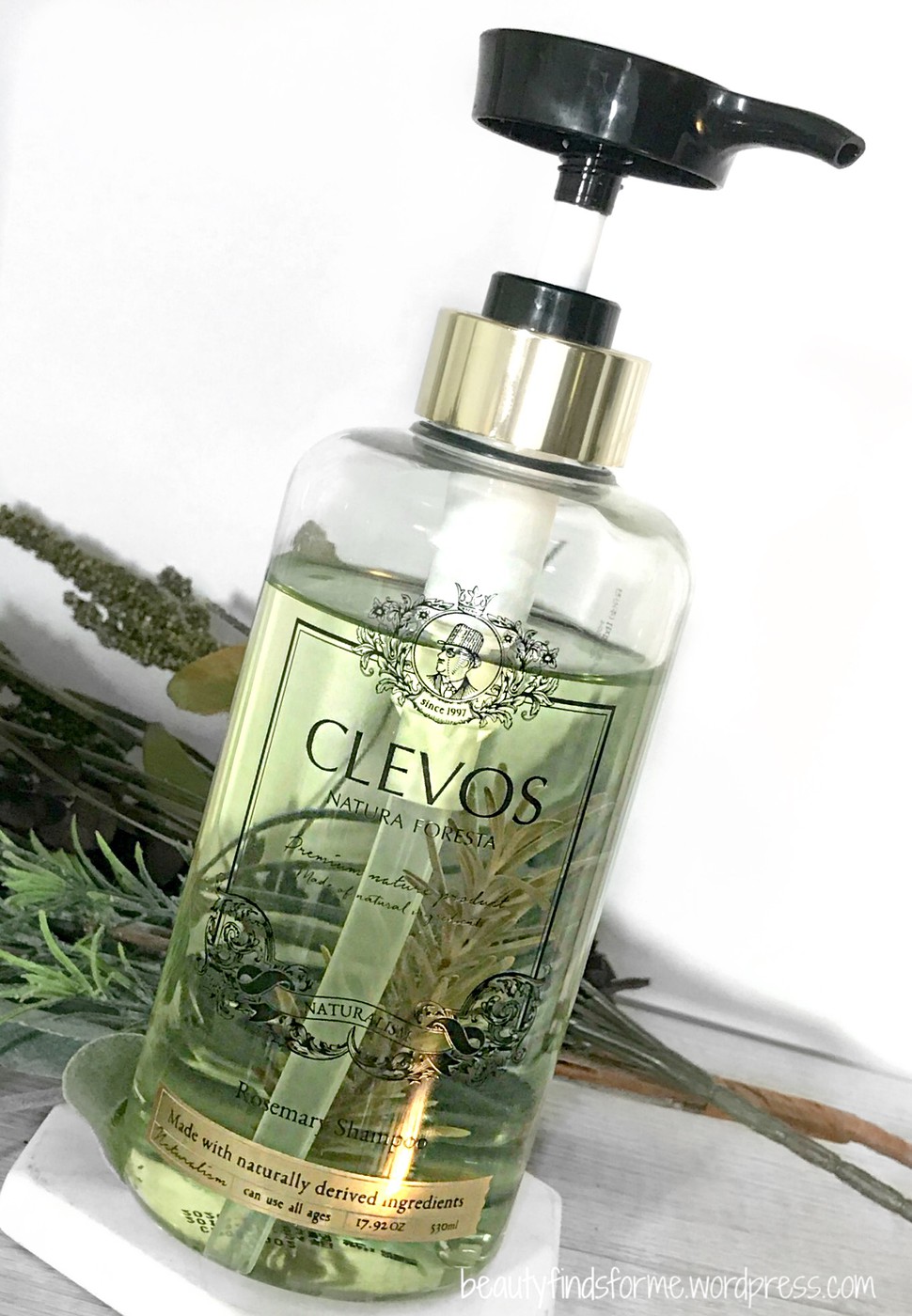 Clevos Natura Foresta Organic Shampoo in Rosemary  Clevos is new to me as a brand and it is an eco-friendly, cruelty free company that is against animal testing.  The Natura Foresta line comes in three varieties ~ Eucalyptus for sensitive and dry hair, Rumohra ~ that is a fern ~ for oily hair and Rosemary for all hair types.  I chose Rosemary as the Rumohra's scent was described as baby powder plus I love ROSEMARY.  It is great for your hair ~ Did you know that during the Middle Ages, rosemary was used as a hair rinse to help bring shine and hair growth?  Rosemary is an ancient medical remedy with an invigorating scent.  For haircare, it is reported to help stimulate hair follicles and hair growth by enhancing blood circulation to the scalp ~ which will promote healthy, stronger and shiner hair.  It also helps with conditioning and soothing your scalp and will clear up dandruff.  It is great for oily hair and scalp, fine hair, adds body and it is reported to darken hair.  This shampoo even has a sprig of real rosemary in it and contains over 75% rosemary leaf extracts. 
Other hair worthy ingredients include nettle ~ improves circulation by stimulating the scalp, fuller, softer, shinier hair; Rich in minerals, it is also an astringent, helps degrease oily scalp and hair, clears up dandruff and repairs hair shafts.  Mildly astringent lemon balm will balance and refresh your scalp and hair while licorice hydrates, strengthens hair while improving hair growth.  Brown rice vinegar is a natural anti-fungal, antibacterial and anti-inflammatory and will help restore the pH balance to your scalp.  Lady's mantle helps your scalp repair itself, promoting natural hair grown, strengthening the hair follicles.  It contains salicylic acid which means it can help unclog your follicles of excess oil and dirt and allow your hair to grow. 
This has several fermented ingredients ~ fermented ingredients help provide the concentrated benefits to your skin (in this case, it is your scalp) faster and penetrates deeper due to the smaller molecular size: vitamin and mineral rich barley help stimulate hair growth while combating hair loss;  emollient oat, bringing shine and body while aiding in hair growth and maintaining a healthy scalp. Soybean helps retain moisture while keeping your hair soft, shiny and smooth and job's tears will help bring moisture to your hair while soothing your scalp.
This natural shampoo is is free of artificial fragrance and sulfates, not tested on animals, and Clevos' products are cruelty-free.  Clevos' are EWG (Environmental Working Group, Skin Deep Database) verified and BDIH (International Organic and Natural Cosmetics Corporation) certified. 
Ingredients: rosmarinus officinalis (rosemary) leaf extract (75.26%), palm kernel/coco glucoside, urtica dioica (nettle) extract(0.05%)*, euphrasia officinalis (eyebright) extract(0.05%)*, alchemilla vulgaris (lady's mantle) leaf extract(0.05%)*, melissa officinalis leaf extract(0.05%)*, lactobacillus/glycine soja (soybean) seed enzymes, lactobacillus/hordeum vulgare seed enzymes, lactobacillus/coix lacryma-jobi ma-yuen seed scutellaria enzymes, brown rice vinegar, lactobacillus/avena sativa (oat) kernel ferment filtrate, baicalensis root extract, paeonia suffruticosa root extract, glycyrrhiza glabra (licorice) root extract, tartaric acid, citric acid, spirulina platensis extract, sodium chloride, rosmarinus officinalis (rosemary) leaf oil, aniba rosaeodora (rosewood) wood oil, rosmarinus officinalis (rosemary)  cosDNA  * certified organically grown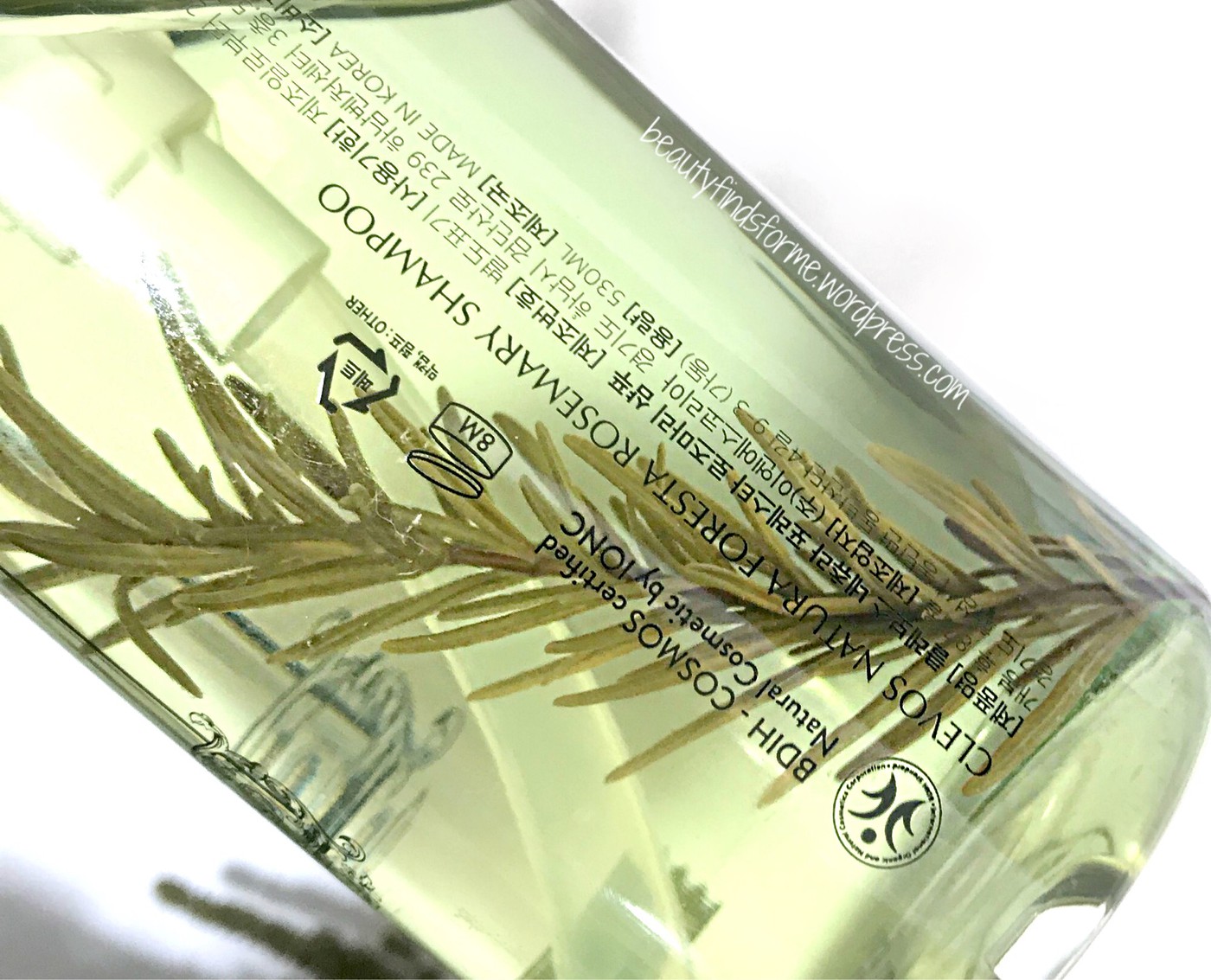 This comes in a whopping 530 mL bottle, clear with gold lettering and initially comes with a regular screw off cap.  It also has a pump packed separately ~ just substitute the pump for the cap and then to unlock the pump, twist it to release it.  There have been reviews about the pump not working ~ mine worked perfectly and it unlocked quickly.  However, if you have issues with the pump and you purchased this via Amazon and CrediThink, send them a message so they can take care of it for you.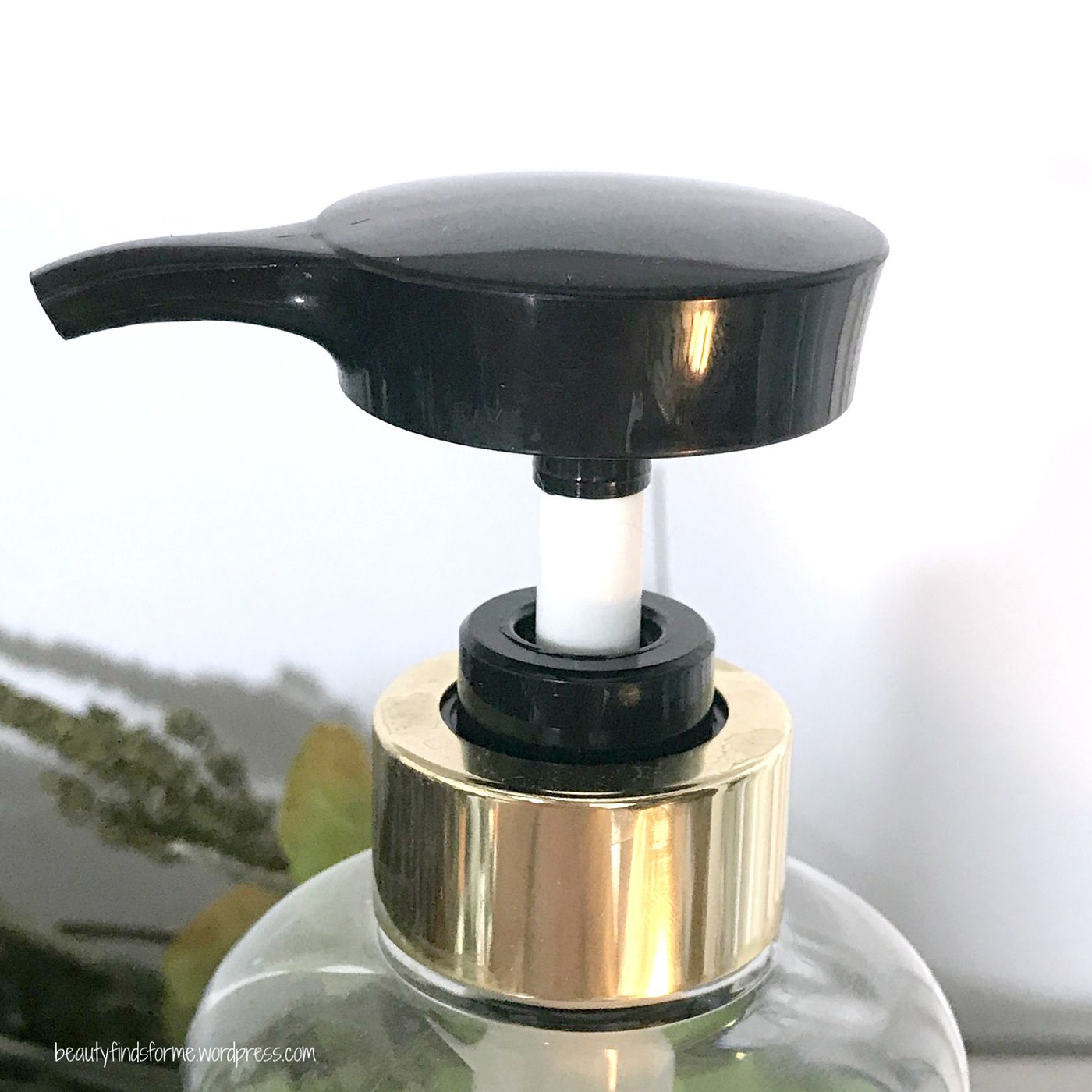 The shampoo is a thick, light olive-green shade that smells so lovely ~ very herbal with that menthol sharpness that rosemary has.  I only need one pump for my chin-length hair and it is lathers up beautifully!  Lots of suds for a sulfate-free shampoo.  My scalp feels immediately refreshed and cooled down while I am shampooing and the rinse off is easy ~ it doesn't leave a residue to weigh my hair down.  My hair feels so clean and smells so good ~ I wish there was a matching conditioner for this shampoo.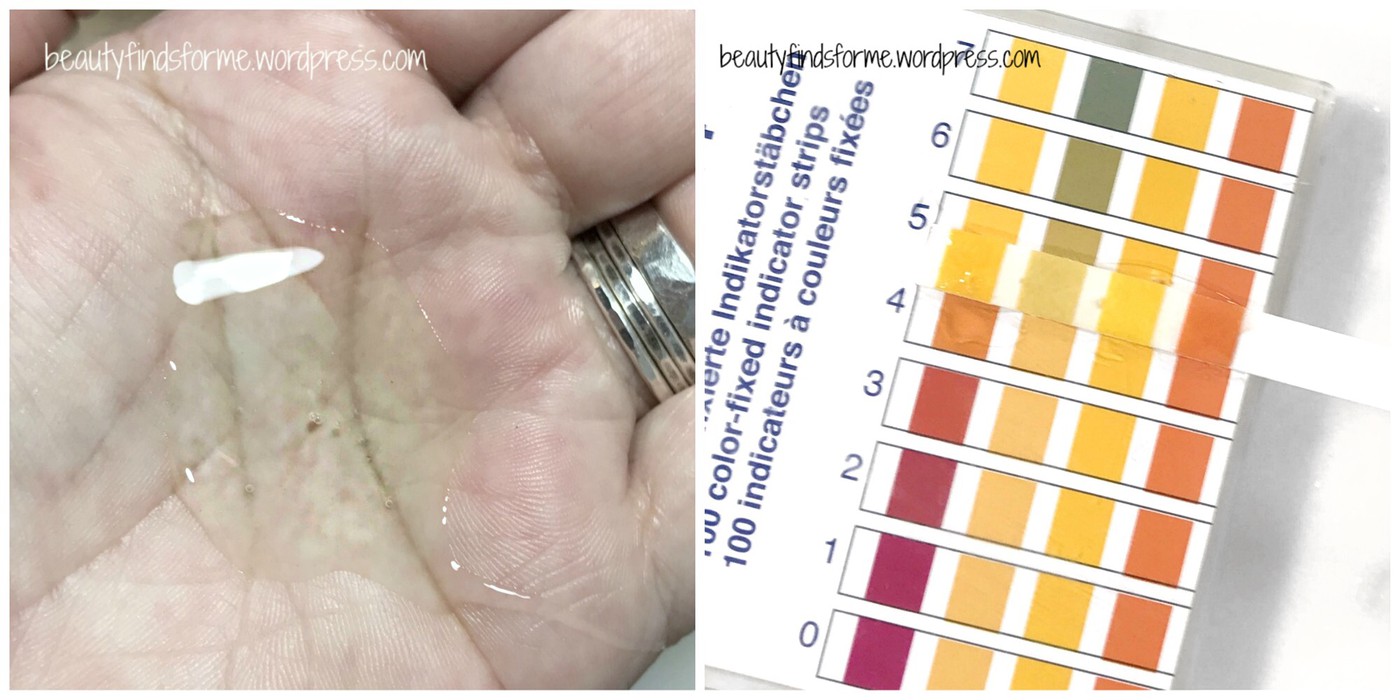 I do need to use a conditioner as my hair is so fine and tangles easily, but I did test it without a conditioner and whereas I needed to be a little more careful combing out my hair with the tangles, my hair was soft and has body.  For those who are concerned about pH levels, Clevos shampoos are subacidic (moderately acidic) and they claim it will bring a natural healthiness to your hair, without the irritation that comes from acidic shampoos or dryness from alkalic shampoos.  I did do a pH test and it came out to about 5, which is a slightly lower, but within range of Clevos claim of 5.5.  There is always a +/- when using non scientific pH testing strips!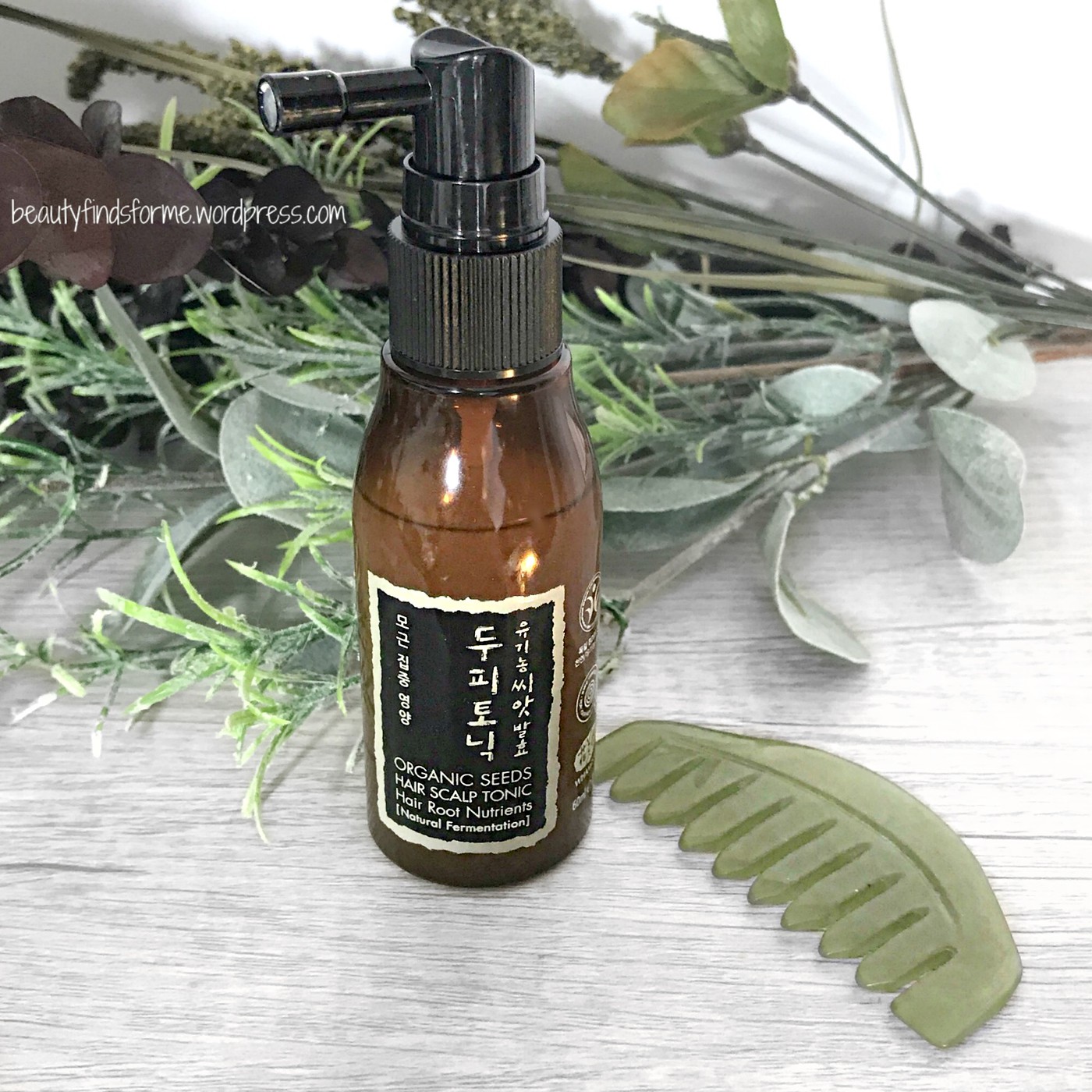 Whamisa Organic Seeds Hair Scalp Tonic I find that I like Whamisa's hair care products 110% more than their skincare products ~ it seems that they cannot go wrong with hair care for me! Whamisa is known for a few things ~ fermented ingredients: Ingredients that have been fermented are slowly processed over weeks, months and sometimes years in a controlled and oxygen-free environment. This helps preserve the ingredients, removes toxic and harmful bacteria, while breaking down the ingredients into smaller, but more nutrient-dense particles.  Fermenting ingredients also enhance amino acids and peptides.  All of these ingredients are then more easily absorbed into your skin/scalp, as they are smaller and can penetrate deeper as well ~ hydrating, nourishing and repairing.  Fermented ingredients are a more nourishing concentrated version of the original and provide anti-inflammatory and anti-bacterial benefits to your skin as well. Whamisa is also known for their eco-friendly, organic ingredients and packaging and the classic herbal scent ~ which they just need to make a perfume already as I love that scent so much.
Fermented ingredients include oat, rice, soybean, barely, sesame, job's tears and turmeric. I have spoken already in this review about most of those fermented ingredients with the Clevos' shampoo, but there are a couple here that I have not covered: Sesame promotes hair growth by improving the scalp's blood.  It penetrates deeply, so it can provide nourishment to the hair shaft and follicles.  Turmeric helps relieve itchy scalps, as it has soothing anti-inflammatory properties as well as antiseptic benefits. 
I also see a BHA (capryloyl salicylic acid) and menthol in here ~ capryloyl salicylic acid helps reduce dry patches and flaking, unclogs pores as it is an exfoliate with anti-inflammatory and antiseptic properties. Menthol is cooling on the scalp and stimulates it, breaking down breaks down the clumps of dead skin and sebum.  Onion has antiseptic and antibacterial benefits and is reported to help with preventing hair loss.  Mung and adzuki beans are rich in vitamins and anti-oxidants, helping your hair be healthy and thicker.
This Scalp Tonic is made with 98.2% vegan, organic ingredients.  It is free from parabens, synthetic and chemical preservatives,  artificial dyes and fragrances, petrochemicals, silicons, mineral oils, EDTA, animal origin ingredients.  EWG verified, BDIH Standard, ECOCERT certified
Ingredients: Lactobacillus/Avena Sativa (Oat) Kernel Ferment Filtrate (44.2%)*, Lactobacillus/Rice Ferment Filtrate (30%)*, Lactobacillus/Glycine Soja (Soybean) Ferment Filtrate (20%)*, Hordeum Vulgare Seed Extract (3%)*, Glycine Soja Seed Extract(.5%)*, Camellia Sinensis (Green Tea) Leaf Extract (.5%)*, Vigna Radiata Seed (Mung Bean) Extract (.3%)*, Saccharomyces/Barley Seed Ferment Filtrate (.2%)*, Phaseolus Vulgaris Seed Extract (.2%)*, Allium Cepa (Onion) Bulb Extract (.1%)*, Lactobacillus Sesamum Indicum (Sesame) Seed Ferment Filtrate (.1%)*, Lactobacillus/Coix Lacryma-Jobi Ma-Yuen Seed Ferment Filtrate(.1%)*, Scutellaria Baicalensis Root Extract**, Paeonia Suffruticosa Root Extract**, Glycyrrhiza Glabra (Licorice) Root Extract**, Lactobacillus/Turmeric Ferment Filtrate, Capryloyl Salicylic Acid, Menthol***, Aniba Rosaeodora (Rosewood) Wood Oil, Cedrus Atlantica (Cedar) Bark Oil  cosDNA * Certified Organically Grown **Preserving Agent *** Natural Origin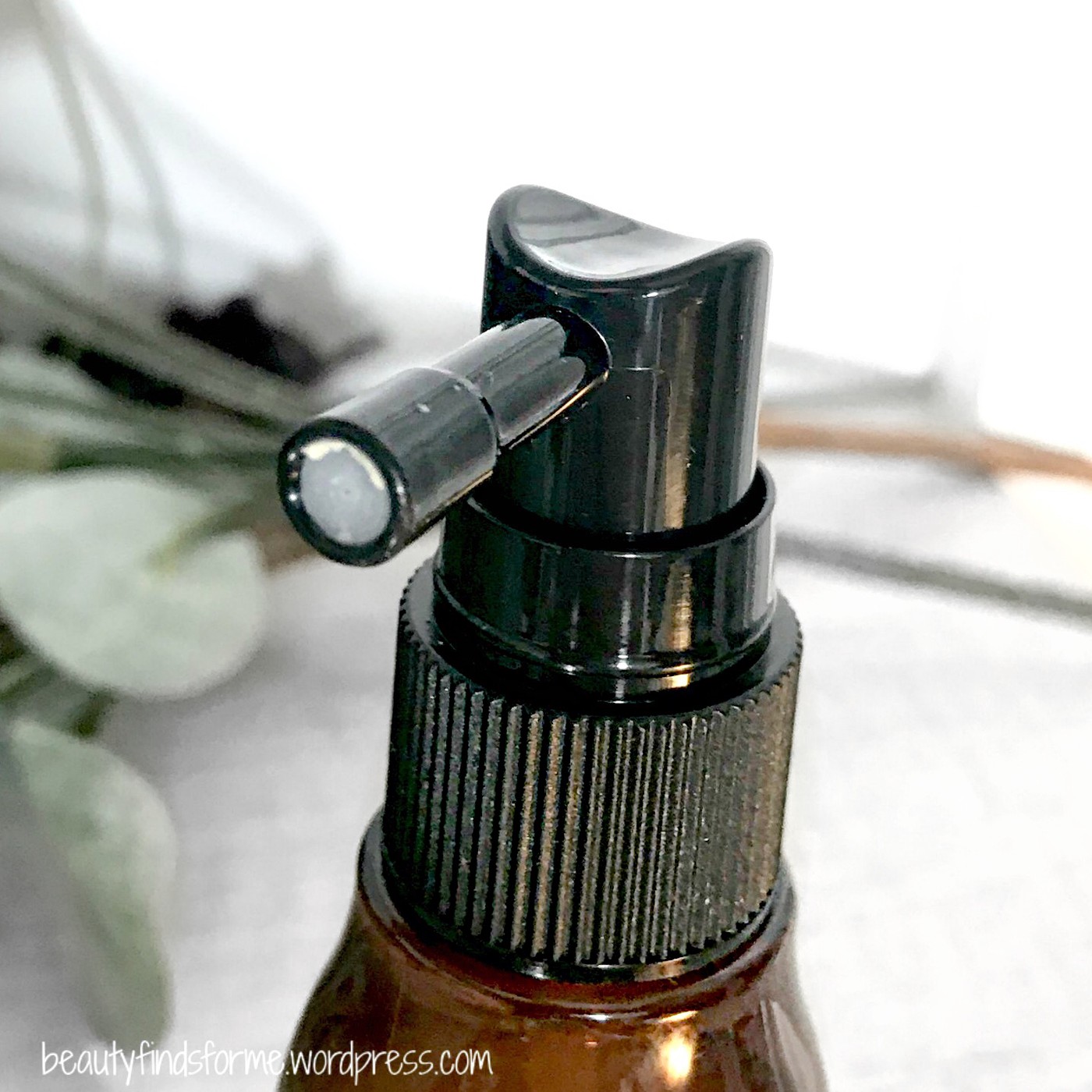 This comes in a compact 2 oz amber plastic bottle with a straight pump nozzle.  Now, you might wonder why it is so small ~ Whamisa uses natural preservatives so their products have a much shorter shelf life.  The expiration on this tonic is 2 years and that is before it is opened.  Once opened, its shelf life is around 6 months.  It makes sense to make this smaller than have a bigger 8 oz bottle that won't be used up before it goes bad.  The nozzle is designed so you can spray accurately on your scalp ~ the liquid is an slightly creamy colored, very fluid and has a bit of a slip to it, due to all of the fermented extracts and oils.   The scent is amazing ~ it is a lovely woodsy scent with a hint of bracing menthol. I feel like I am in the middle of a winter forest!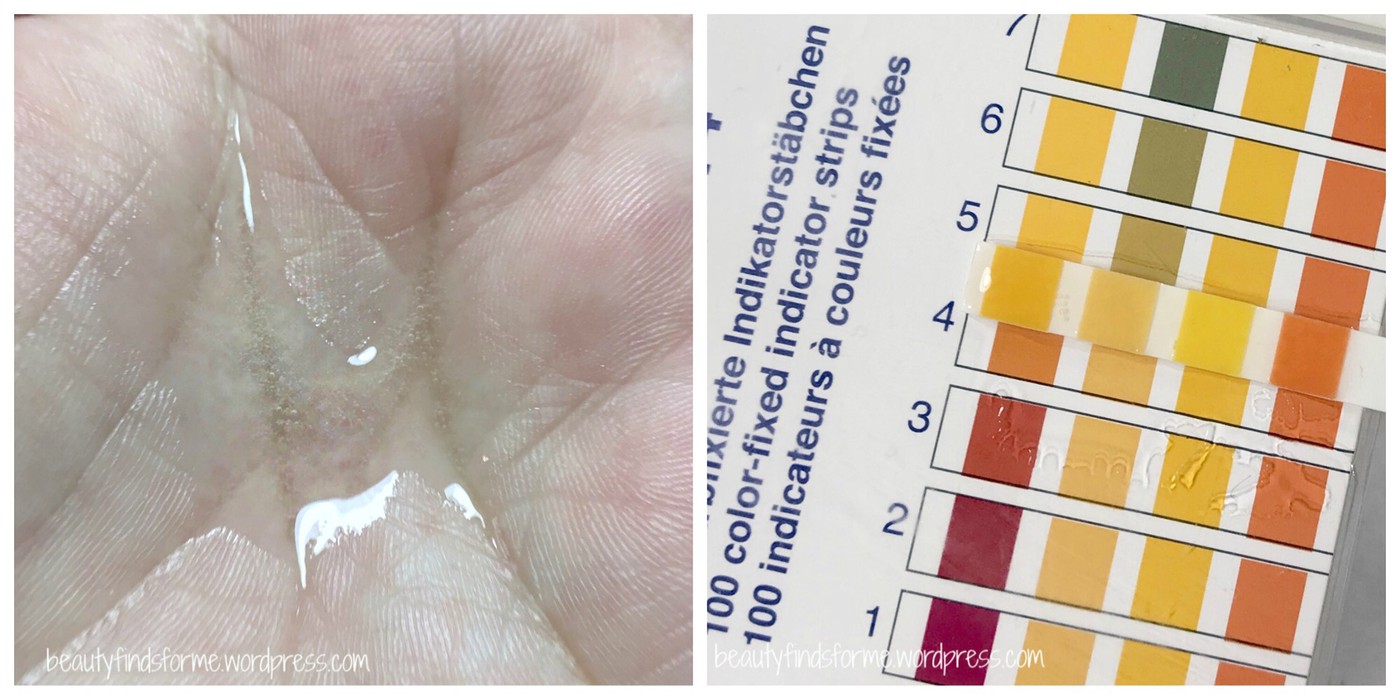 This serum is designed to help those with oily scalps, as an overproduction of sebum causes clogged follicles and itchy skin.  For me, cooler months is when my scalp gets really out of balance ~ the cold winds dry out your hair, while the forced heat air in buildings will also remove moisture from your already stressed hair.  Not to mention what this does to your scalp ~ causing build up, itchy scalps and blocked follicles. You want to have a healthy scalp so that pores are unblocked, sebum production is maintained without imbalance and good blood flow to your hair root, so that your hair will grow fast and healthy.   Removing any build up will prevent "plaque" that has formed on your scalp, which is a by-product of your natural hair oils, hair products including shampoos and conditioners, pollution, sweat and dirt.  This will allow your scalp to "breath" and new hair growth will occur.  Whamisa Hair Scalp Tonic also has the added benefit of not just to allow new hair growth, but to actually promote new hair growth, making your hair thicker and fuller looking.
I just squirt a few places on my scalp ~ I use it after I towel dry my hair, while it is still damp and before I blow dry my hair.  Massage it into my scalp and then continue on with my hair styling routine.   You can use this on dry hair and as part of your nightly routine before bed ~ I think I will start to do that as well.   This has a pH level of slightly under 5, so it is mildly acidic.  It is also non drying, despite being oil controlling and follicle unclogging.  It actually is hydrating and it doesn't leave a greasy residue.  Since this is just for your scalp and not to be sprayed all over your hair ~ this is also safe for color treated hair, which I have.  It is okay to get some on your hair, because the ingredient list is not harmful and you really cannot avoid it, but it is not supposed to be like a hair essence or oil ~ this is a scalp treatment. 
Final Thoughts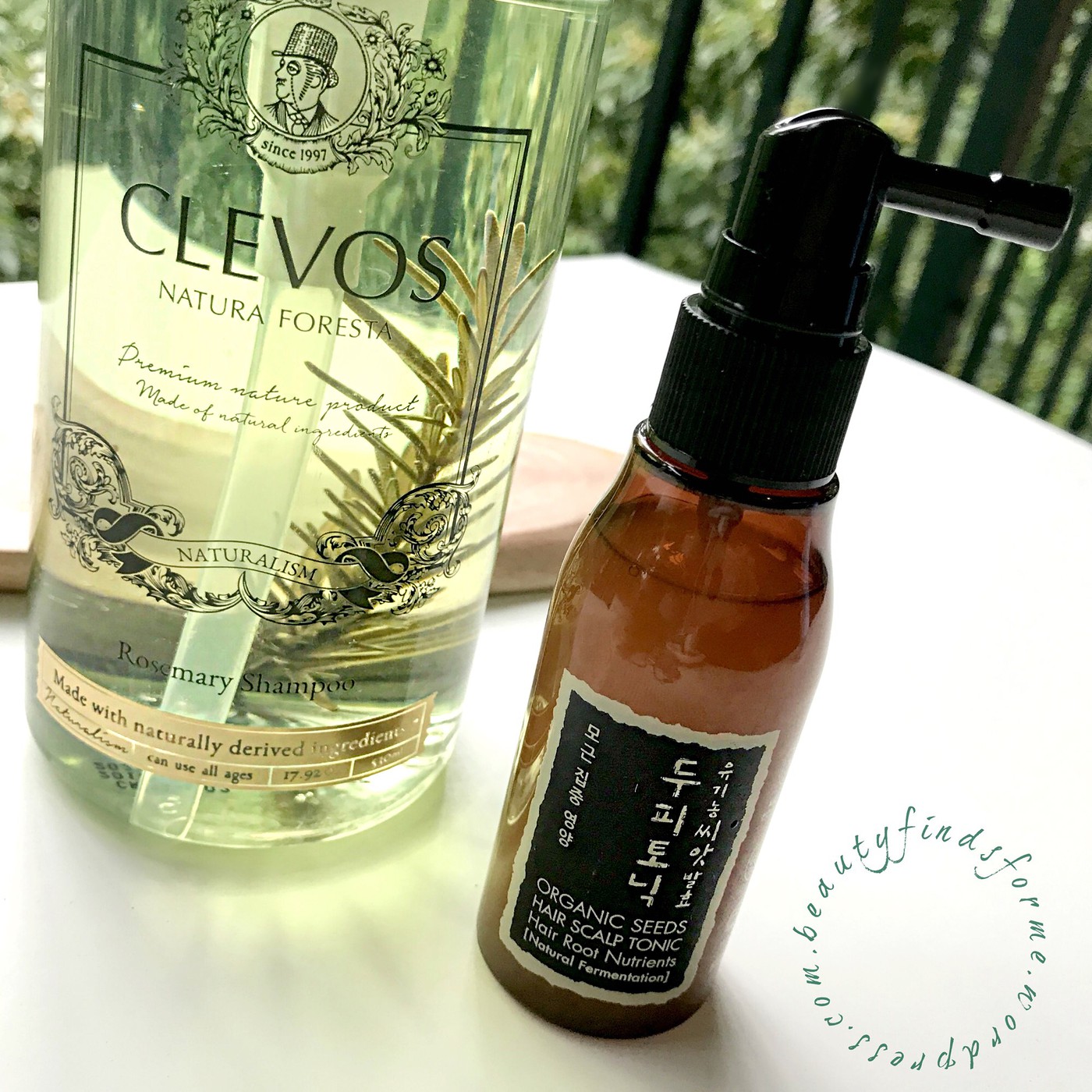 Clevos Shampoo in Rosemary is going to be a repeat purchase.  I love it a lot and one of my favorite shampoos is the Aveda Rosemary Mint and Clevos is much better, imho ~ scent wise, refreshing and cooling sensation, cleansing and results.  It is a little bit on the expensive side, but it is so thick and I only need one pump, this will last me quite a while ~ Aveda was more watery and runny, so I used it up very quickly ~ so even though the price point is similar, Clevos will last me longer. Whamisa Organic Seeds Hair Scalp Tonic is a great choice for those who are looking for more organic, green beauty hair care products.  It is a bit pricey compared to other scalp tonics and although I didn't get a cooling vibe from it, I did find it helped with relieving itchiness and excess oil and the roots of my hair looked a bit more fuller.  I hope over time, this might help promote hair growth as well, as when we get older, hair seems to grow everywhere but on the head!! 
You can purchase these products at Amazon USA, with free prime shipping. 
[ product received in exchange for a review. contains affiliate links for a small commission ]