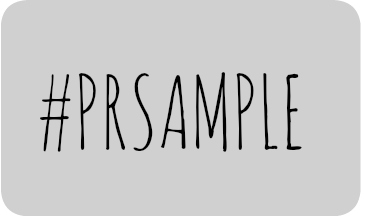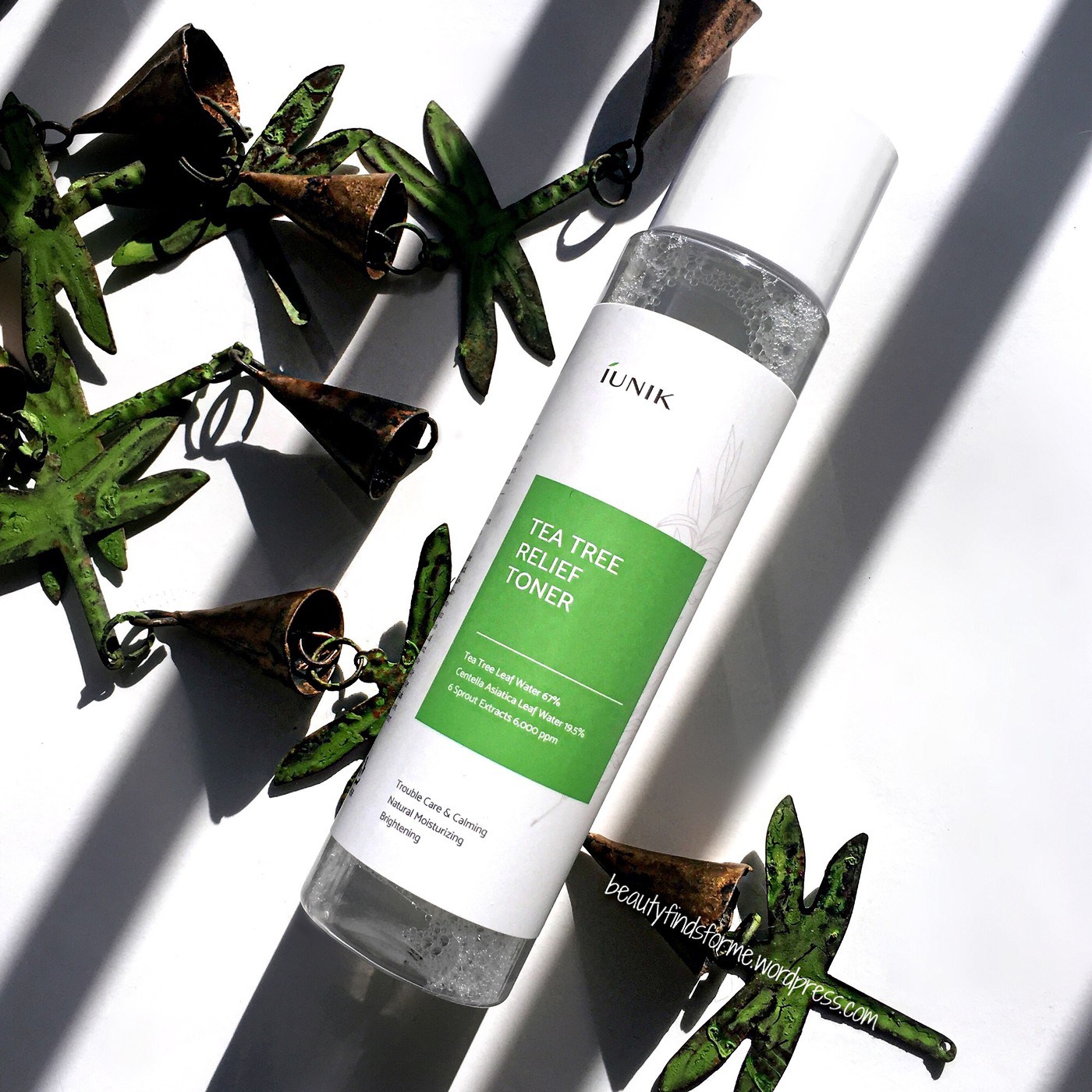 I was recently picked several products for review from brand iUNIK from e-Tailer unique4u, which is a K-Beauty online store.   I have reviewed several other items from this brand and I am really love this very affordable brand!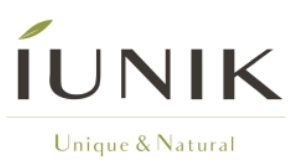 iUNIK doesn't have a huge lineup right now, but what they have is quite interesting and solid and they keep adding new items.  They have serums, toners, peeling gel and cream.  Besides this toner, I am testing out their  Tea Tree Relief Serum, courtesy of unique4u.  I just purchased their  new Centella Calming Gel, so look for reviews on both of those items in a month or so. Founded in November 2016, iUNIK stands for
i = Ideal Skin Over Dreamy (I think they mean ideal skin over unrealistic skin goals)
U = Unique products
N = Natural occurring ingredients, mild and raw materials from natural origin.

I = Ingredients ~ less bad and harmful ingredients, more good ingredients
K = Knowhow knowledge to create the best products thru continuous Research & Development
iUnik uses hypoallergenic only ingredients for all of their products and they have continuous innovation and research to provide the skin care solutions.  All of their products are made in South Korea
Skin type/concerns:  Oily, aging, blemish prone, pores, hyper-pigmentation, fine lines and wrinkles. 
I received these products complementary to review and was not paid.  All reviews are my own honest opinion and  I never have been asked to write copy for a brand.  This blog post might contain promo codes, affiliate and referral links, which using my links will help generate a small commission that helps support my blog at no extra cost to you.
Tea Tree Relief Toner is a god send for oily skinned folks.  This is a special tea tree toner as it also contains soothing and repairing centella as well.  The bulk of this toner is made up of 67% tea tree water, instead of just plain water ~ tea tree is well known for its topical antiseptic and anti-fungal properties and help target and treat blemish-prone skin. It also reduces oil and sebum production on your skin, while not disrupting the moisture level.  20% of this toner is made up of centella asiatica, a common herbal ingredient that is used medicinally to help speed up wound healing, such as blemishes and skin rashes. It also helps minimize the appearance of pores, and since it stimulates collagen production, it will make your skin more supple and firm.
This also contains two hydrating humectants, hyaluronic acid and glycerin ~ hyaluronic acid will bond water to your skin so it stays hydrated. It is a natural substance found in the human body and it made up of amino and uronic acids while retaining  100 to 1,000 times its own water weight in our skin cells.  This ingredient is naturally occurring in our bodies, but as we age, the amount of hyaluronic acid decreases.  1,000 ppm of portulaca extracts helps prevent dry skin, soothes and moisturizes while providing antimicrobial benefits.  Allantoin moisturizes, exfoliates and softens skin, making it look smooth and refined, while reducing and relieving irritation.
This also has 6,000 pp of an organic patented sprout formula ~ Fresh Bud No. 6 contains six different vegetable sprouts, germinated for over a week,  to help nourish your skin:  rapeseed (canola), broccoli, wheat, alfalfa, radish and cabbage, containing rich organic nutrients such as vitamins, minerals and enzymes, acting as antioxidants to protect your skin and prevent damage from free radicals.
This also has niacinamide and licorice root for brightening as well as rooibos ~ aspalathus linearis contains flavonoids that act as antioxidants, helping combat free radicals and also reversing free radical damage.  It has anti-viral, anti-fungal and antibacterial properties, which will help heal and reduce rashes, blemishes and other skin disorders, as well as soothing skin as it is hypoallergenic.  

Ingredients: Melaleuca Alternifolia (Tea Tree) Leaf Water (67%), Centella Asiatica Leaf Water, Butylene Glycol, Niacinamide, Glycerin, Water, 1,2-Hexanediol, Centella Asiatica Extract, Betaine, Sodium Hyaluronate, Polyglyceryl-4 Caprate, Caprylyl Glycol, Portulaca Oleracea Extract (1000ppm), Brassica Oleracea Italica (Broccoli) Extract, Medicago Sativa (Alfalfa) Extract, Brassica Oleracea Capitata (Cabbage) Leaf Extract, Triticum Vulgare (Wheat) Germ Extract, Brassica Campestris (Rapeseed) Extract, Raphanus Sativus (Radish) Seed Extract, Allantoin, Ethylhexylglycerin,  Dipotassium Glycyrrhizate, Aloe Barbadensis Leaf Powder, Ormenis Multicaulis Oil, Pentylene Glycol, Aspalathus Linearis Extract, Glycyrrhiza Glabra (Licorice) Root Extract  cosDNA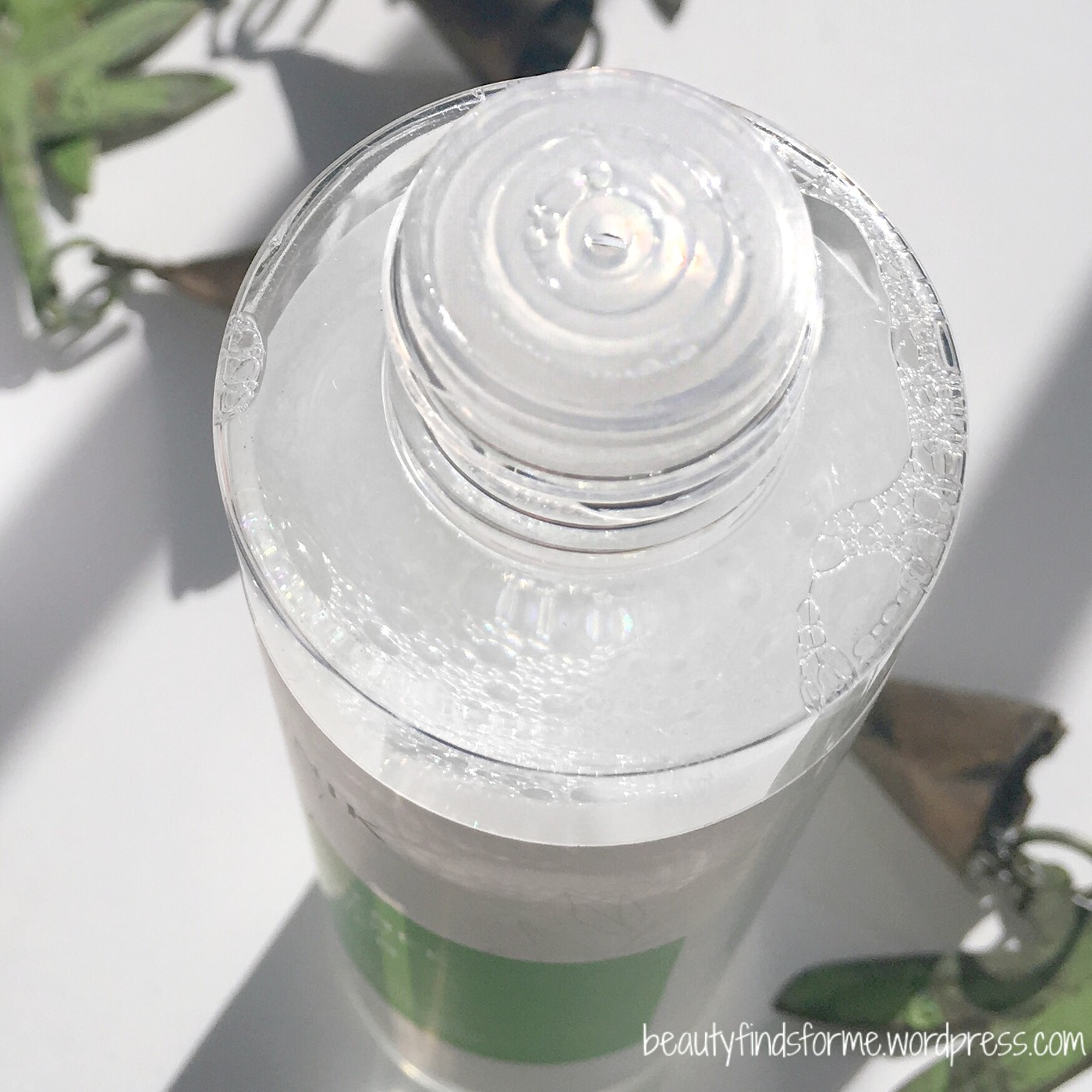 iUnik Tea Tree Relief Toner will help moisturize and nourish your skin, while keeping blemishes and excess oil at bay and it is good for sensitive skin. This comes in a tall 200 mL plastic plain bottle, but it is functional enough ~ it has a white cap that twists off with a pin hole applicator.  This toner is clear and very watery and does not have an viscosity at all ~ it is just like water on the skin. I cannot make out any scent on this toner at all, so for those who need a tea tree toner but do not like the smell of tea tree, this is the one for you. According to the description, this is supposed to have a light chamomile scent, so maybe someone with a better sniffer than me can pick that up.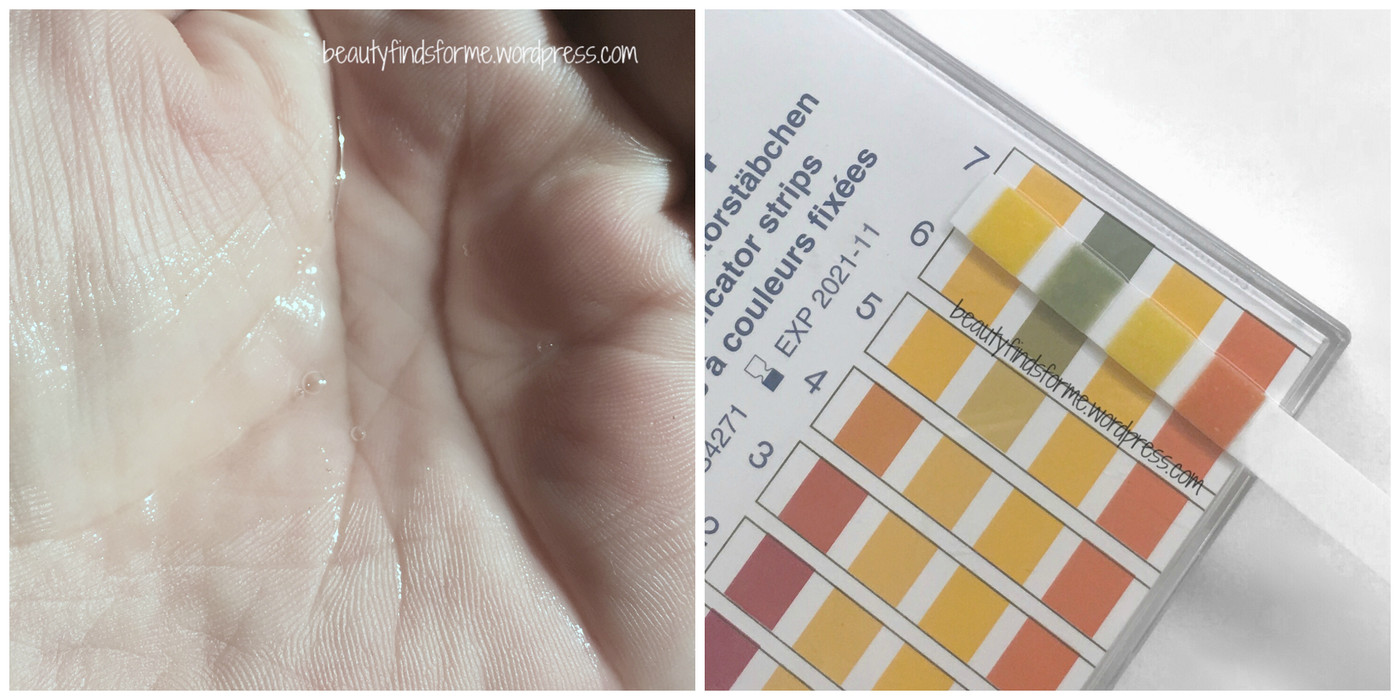 It has a pH level of around a 6.5 to 7  and this watery toner quickly absorbs into my skin, without any greasy residue and it doesn't dry out my skin either. Instead, my skin just feels hydrated and VERY CLEAN.  My pores look more firm and smaller in appearance, due to the tea tree in here ~ tea tree acts as an astringent, which is great for those who want to avoid alcohol but need an astringent toner. 
My skin just feels fresh and it does have a cooling effect. Despite it having astringent benefits, it does not strip my skin ~ in fact, it increased my moisture level by 40% while reducing my oil levels by 36%, resulting in hydrated normal skin.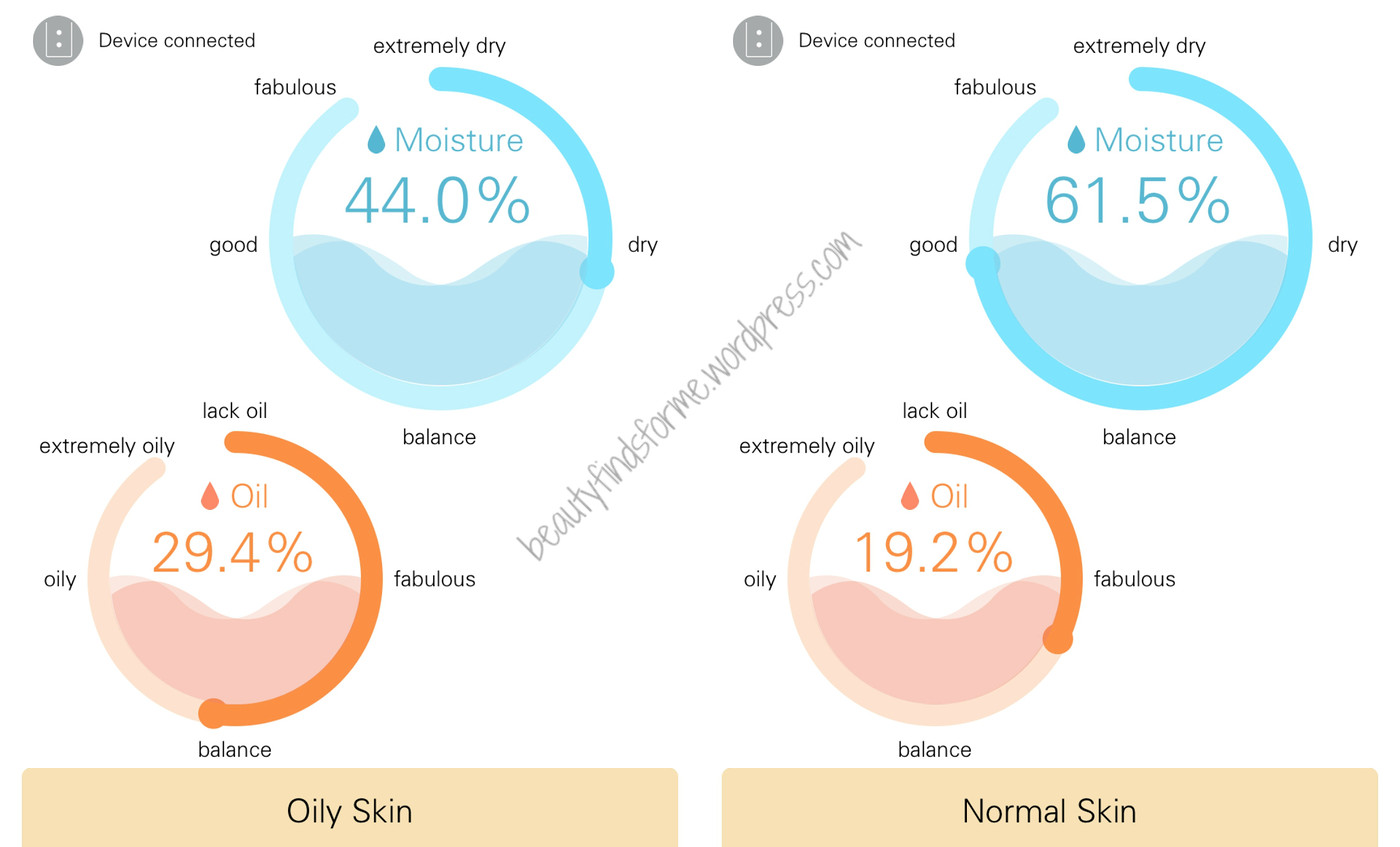 Final Thoughts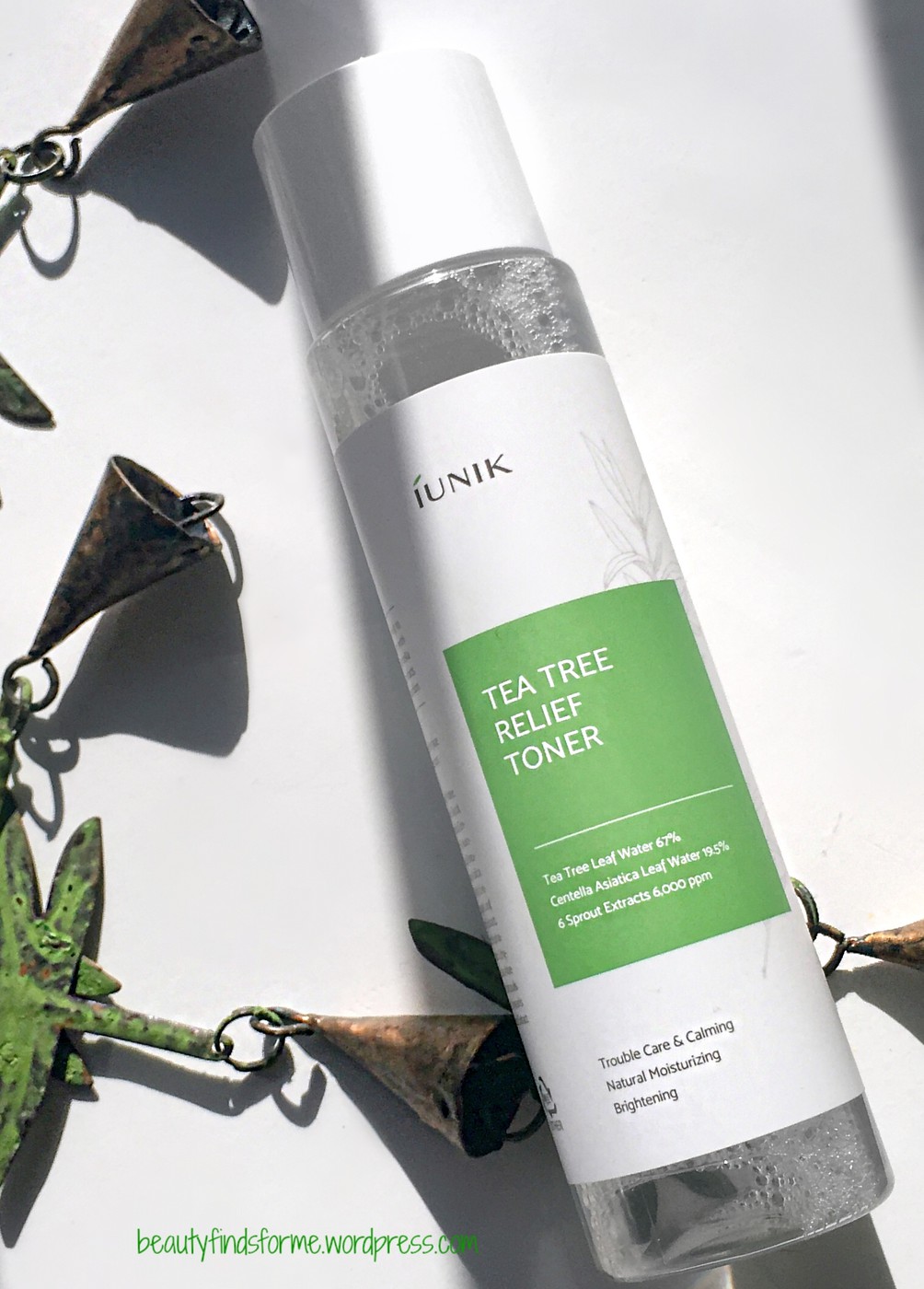 This is a really nice astringent toner that helps calm and repair my skin, while keeping it clear.  It doesn't smell like tea tree, has astringent benefits while providing a burst of hydration on my skin.   I use a cotton pad with this toner as it is so watery, but you can also pat it on as well.  This toner is perfect for those of us who need to cut through our oils and bring our skin moisture/oil levels back into balance, while keeping blemishes at bay.  I am really excited to start using the Tea Tree Relief Serum, as I think it might be a great dup for LJH Tea Tree 90 Essence, but better.  Have you tried iUNIK Tea Tree Relief Toner?  Or any of the iUNIK products?
Where to Purchase
You can purchase iUNIK from unique4 online shop  and the 200 mL bottle is $17.99 USD.   unique4 has free shipping and give samples with every purchase. 
[ disclosure: product received complementary for review purposes.    ]