This month is January and it seems that it is always Crown Chakra month at the beginning of the new year!  Lots of purple this month…  I always enjoy getting my Yogi Surprise Lifestyle box ~ even if you do not practice Yoga, this is a great eco-friendly, green lifestyle subscription box.  What is Yogi Surprise?   

Yogi Surprise Lifestyle Box
6-8 full-size yoga lifestyle items

Vegetarian and GMO-Free

$70+ retail value in every box

$44.95/month + free shipping
This month's theme is Crown Chakra  ~"To help you access those higher states of consciousness, we're offering four very special gifts all designed to balance and strengthen your Crown Chakra"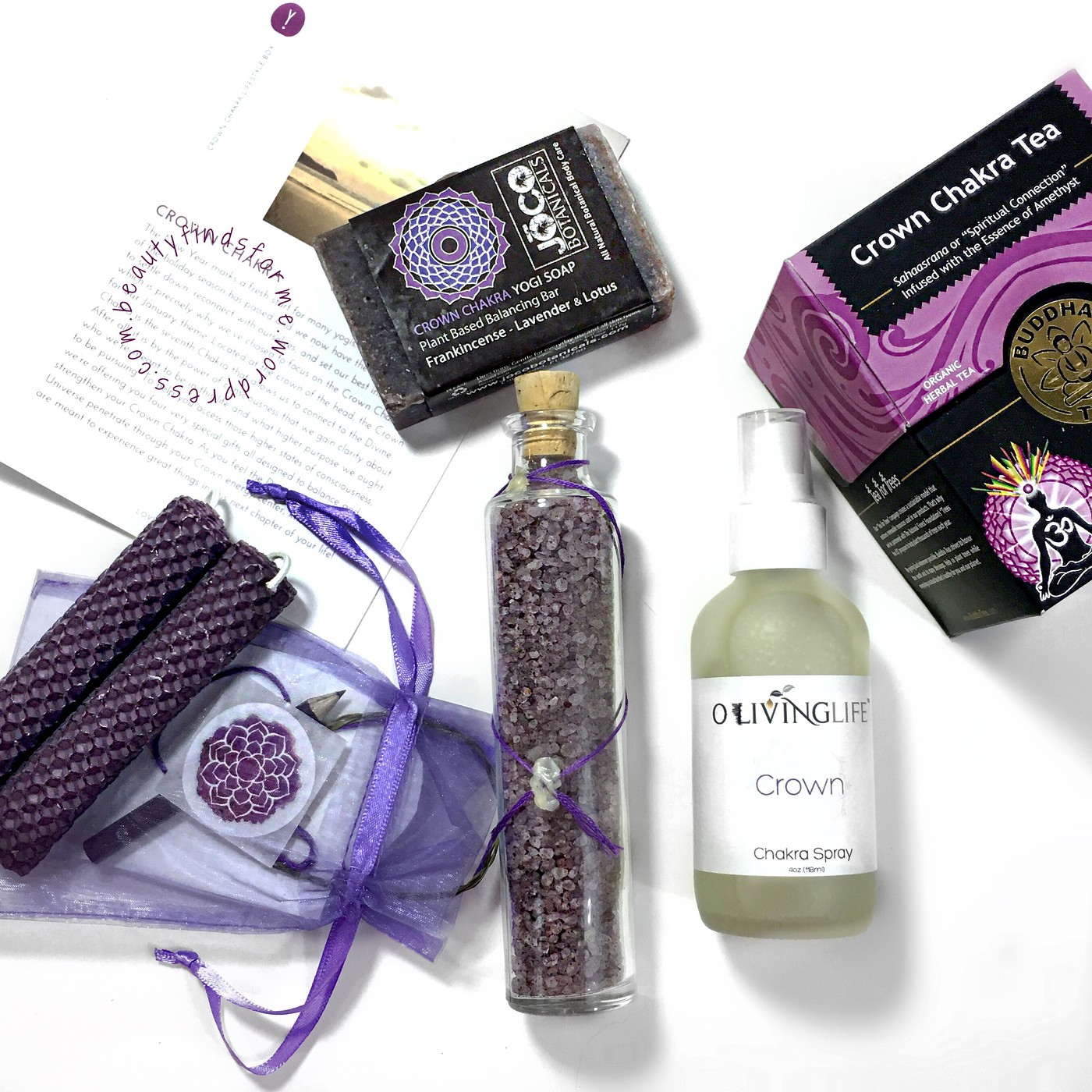 Informational Card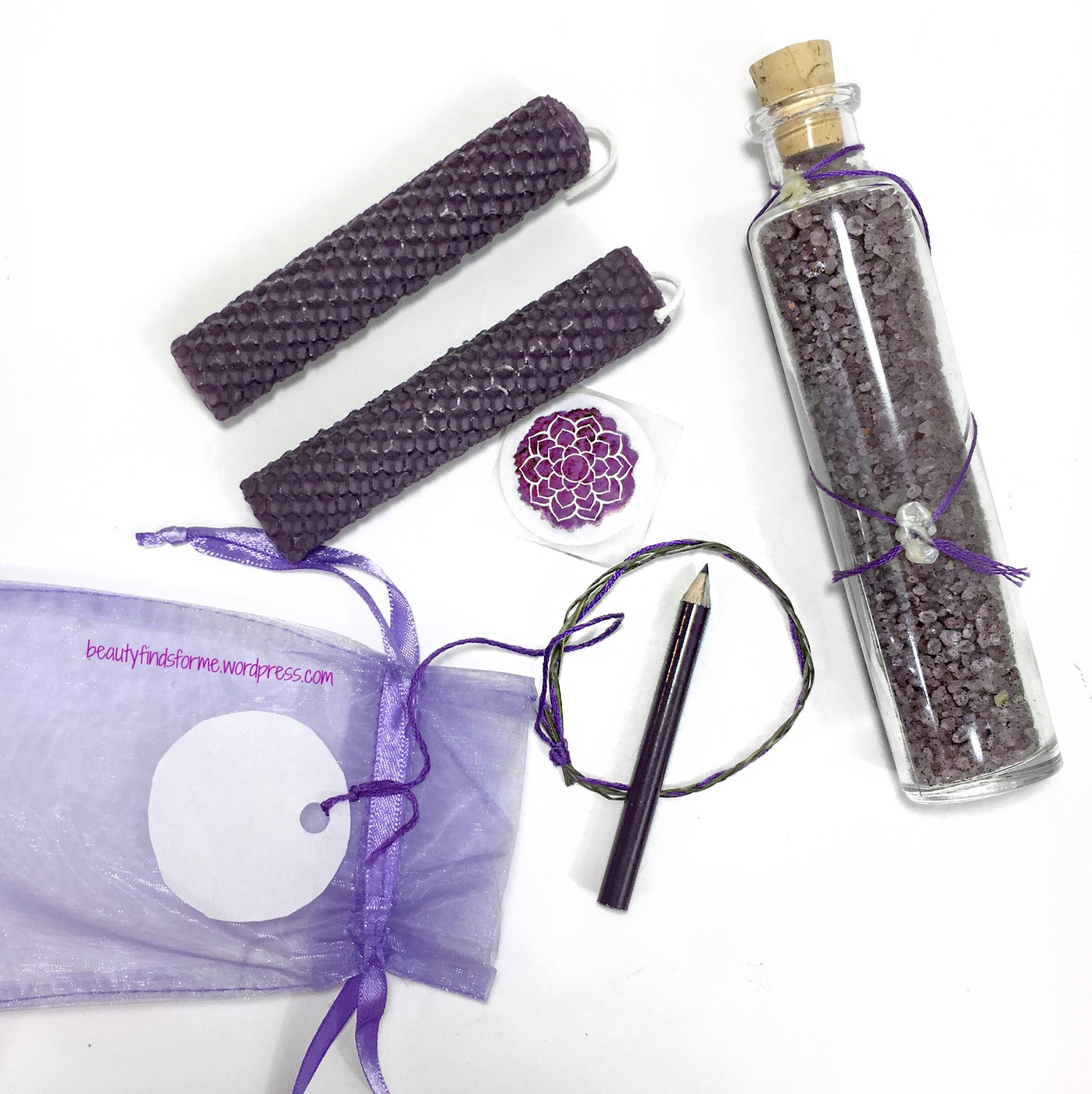 Gemstone Organic Crown Mini Bath Set  This box may only contain "4 items" but one of the items is a multi-piece Ceremonial Healing Bath Tools Set:

A tall glass jar filled with purple colored dead sea salts that have been infused with organic frankincense essential oils, organic bilberry and rose powder.  It has a cork stopper and I did open it to take a sniff ~ I do not smell any rose ~ just the frankincense.  I might try this out as a foot soak first and see if it causes any issues.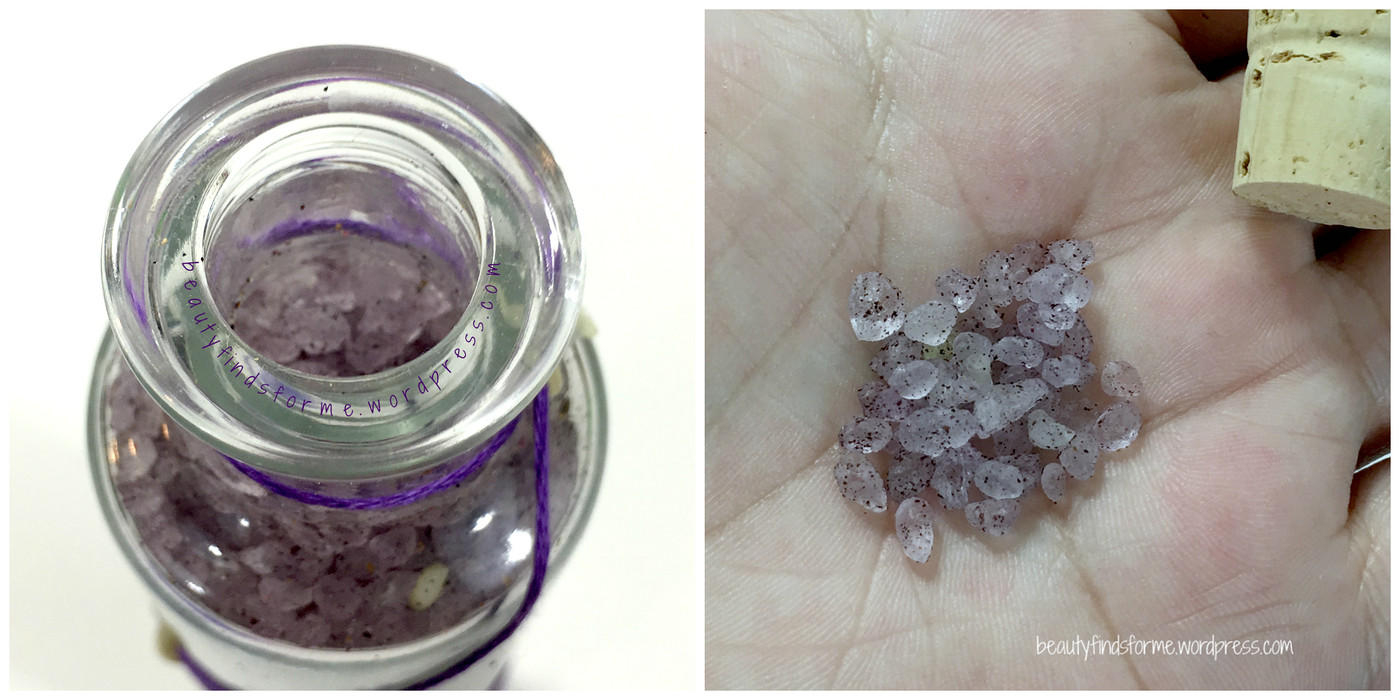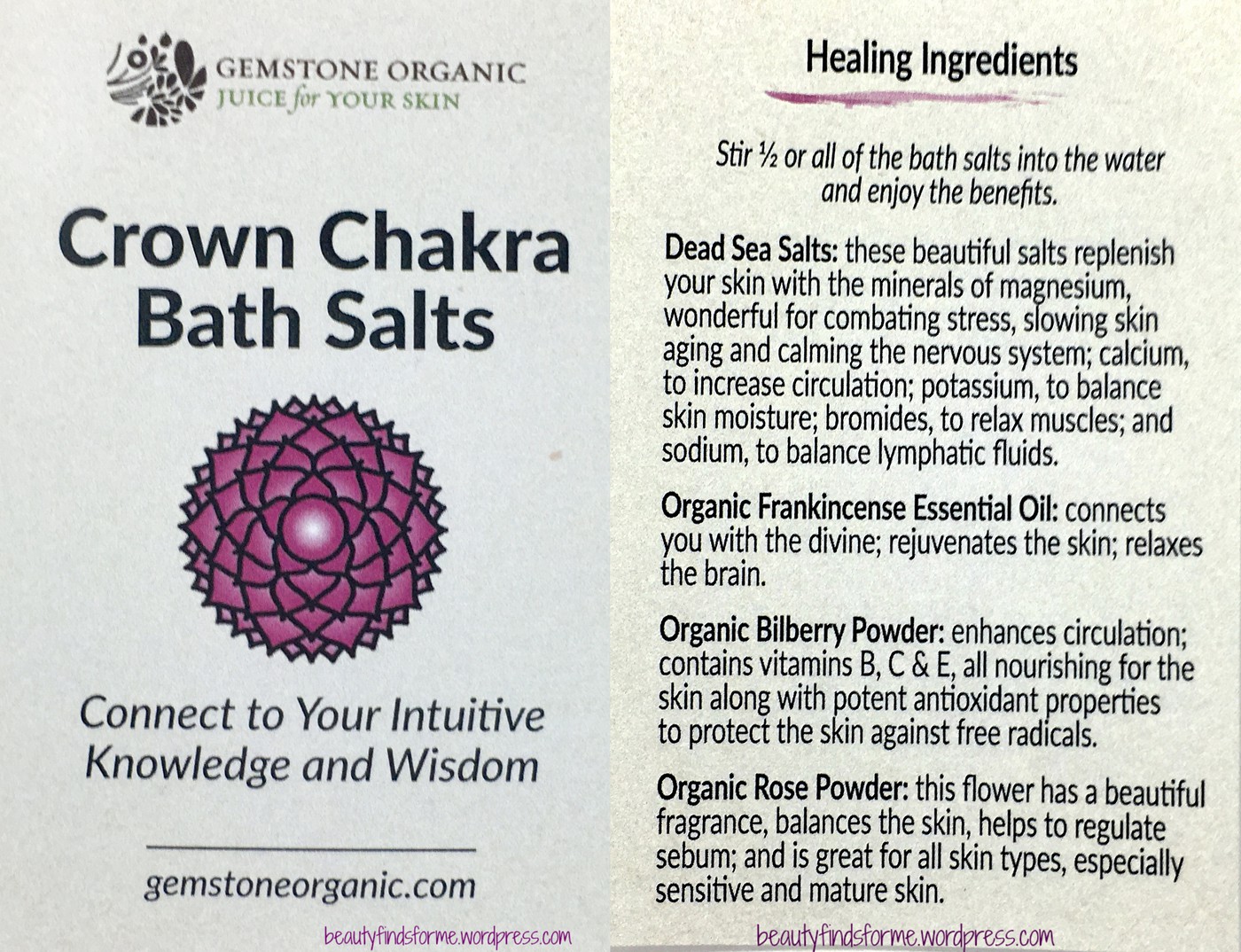 Two beautiful purple beeswax candles ~ I love these!  These are  the old fashioned type, where sheets of wax is patterned with a honeycomb texture and then rolled up to form a candle.  These are scentless and you would light them before you start your Intentional Ritual.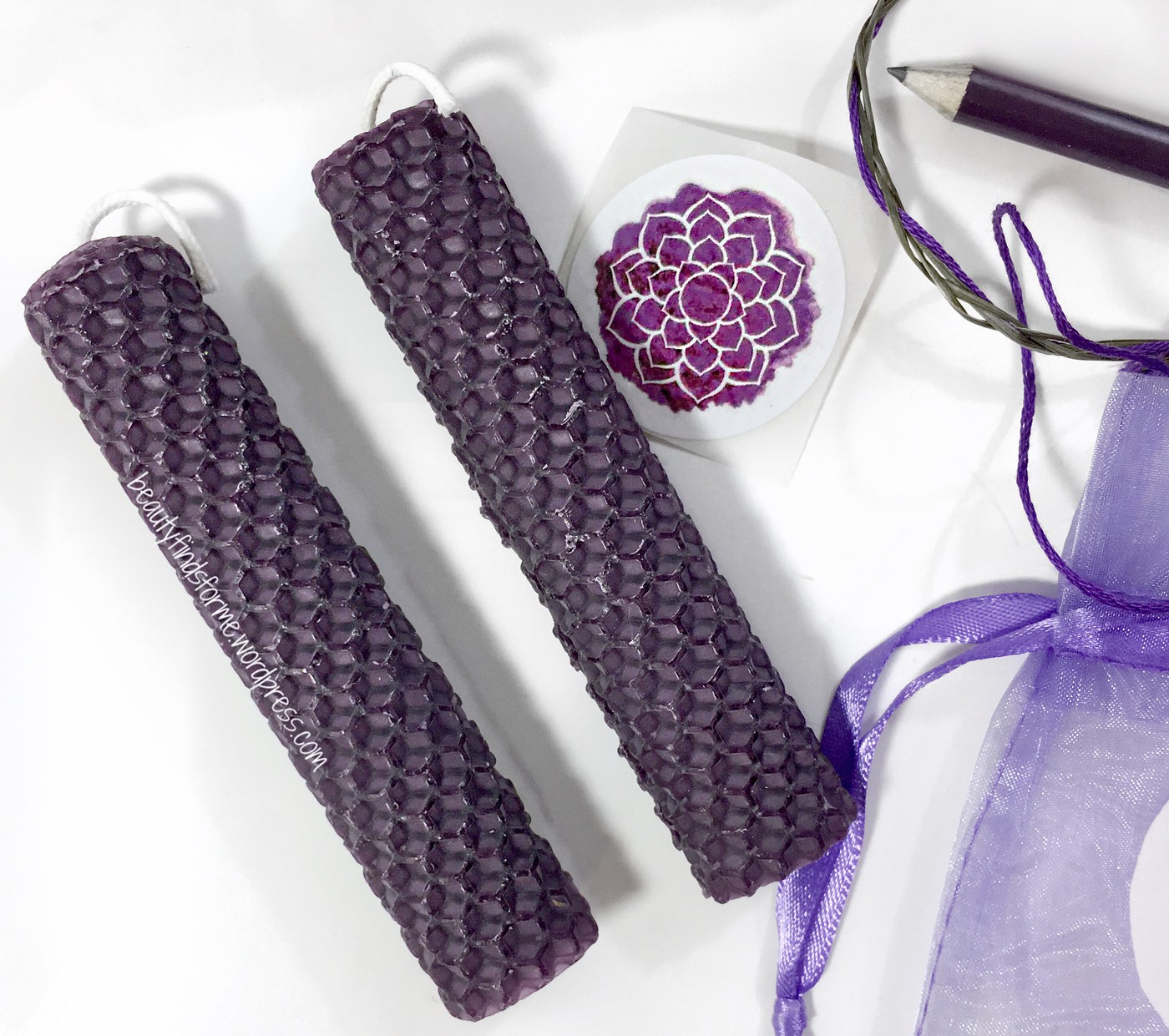 Sweetgrass Crown Chakra Wheel with Intentional Bath Circle, Crown Chakra Mandala Sticker, Mini Colored Pencil ~ Based on the Intentional Ritual guide, you place the Crown Chakra Mandala Sticker on one side of the round Bath Circle paper and then after gathering your thoughts, write down the words that will help bring your intention closer to you.   You then get into the tub filled with the Crown Chakra sea salts, pick up your Crown Chakra Wheel and say the words out loud, place the wheel into the water and watch it dissolve away into your energy center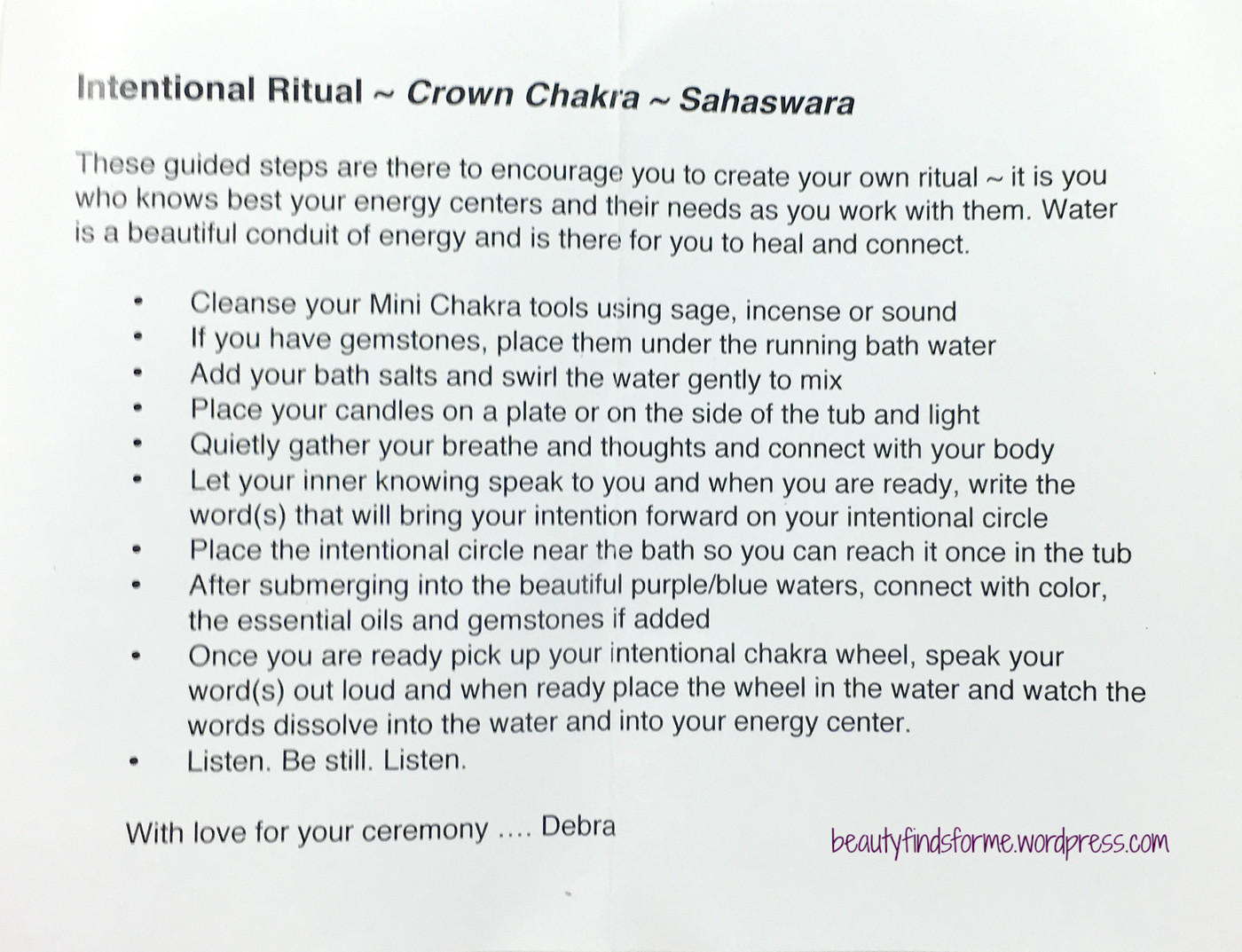 I love to meditate ~ I don't always succeed, as my brain always seems to be zipping along quickly, but this is a way to relax and try to find time just for me.  I will have to try this out ! Gemstone Organic makes all different scents in bath sets, so I will be checking those out as well.  RV $49.00
Description: Connect to Your Intuitive Knowledge ~ Balance your Crown Chakra if you lack purpose in life, have a hard time grasping new ideas or a positive outlook on life, find it difficult to open to the divine, function from a place of worry, unable to connect to your higher wisdom,  or simply to create more balance in this energy center. This ceremonial bath is a beautiful way to learn to live in gratitude, expand your intuitive knowledge and wisdom; to learn to move beyond the limits of your ego, or to deepen your connection to the divine.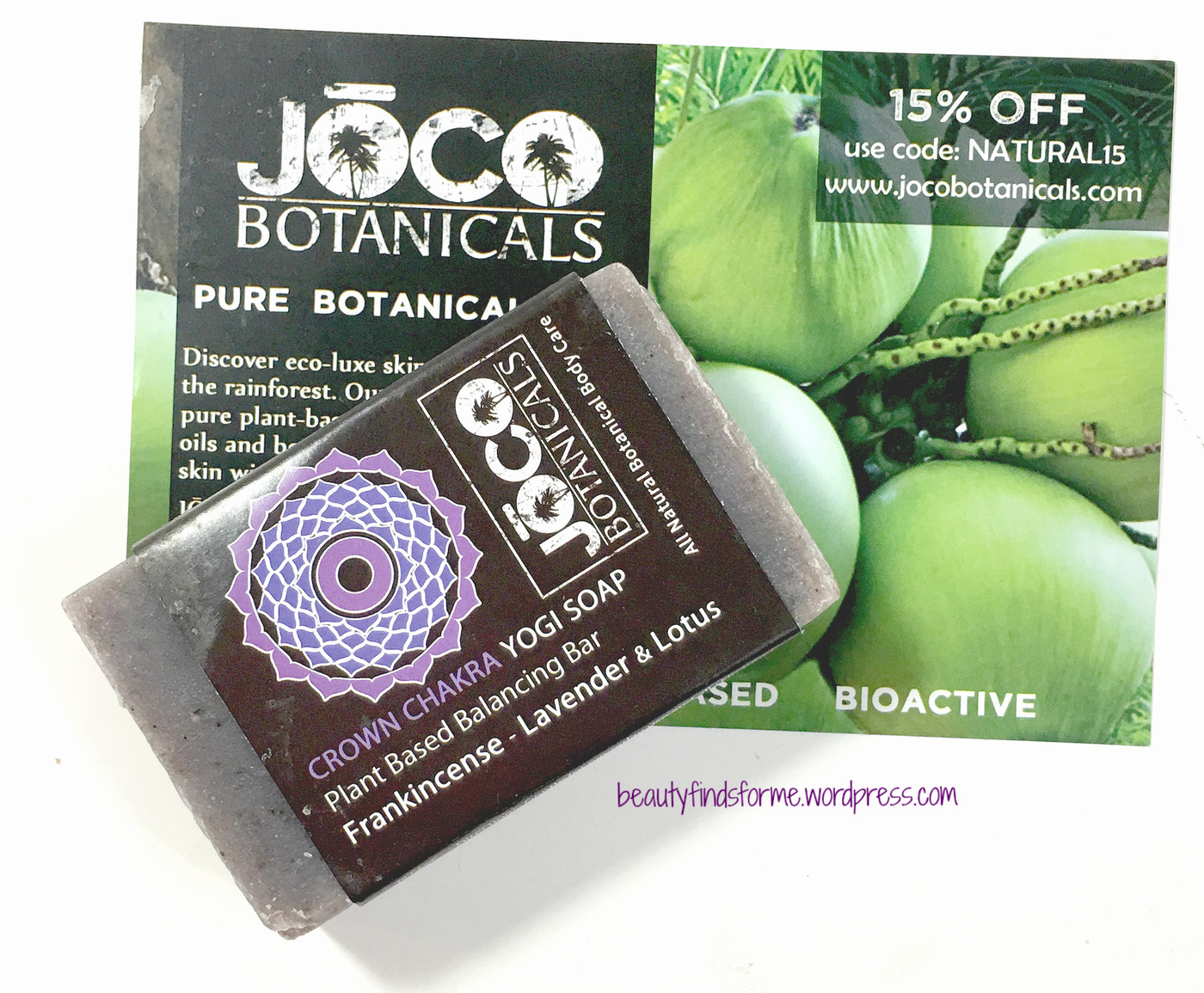 Joco Crown Chakra Yogi Bath Soap Bar  I have received a Chakra soap from Joco before and I love these! This plant based balancing soap bar is one of the best things in here for me ~ it is an Ayurvedic blend of frankincense, lavender, fir and lotus extracts and it smells divine!  I love lavender, fir and frankincense… just amazing. This also is blended water that has been infused with amethyst and quartz ~ amethyst being associated with the Crown Chakra and quartz amplifies all Chakras.  Joco Botanicals makes a whole line of Chakra soaps and this Ayurvedic blend is for The Sahasrara ~ where we connect with our body's center of wisdom and enlightenment.  This handcrafted soap bar is made with rich nourishing kukui and buriti nut oils, and is 100% natural, with the its violet blue shade coming from alkanet root and kaolin white clay. All of Joco Botanicals products are made with eco-friendly 100% natural ingredients and are toxin-free.  4.15 oz RV $8.00  Promo Code:  Use NATURAL15 at Joco Botanicals and save 15% off your purchase.


Ingredients: Saponified Oils (Cocos nucifera (Coconut)*, Olea europaea (Olive)*, Certified Sustainable Elaeis guineensis (Palm* & Palm Kernel), Butyrospermum parkii (Shea Butter), Ricinus communis (Castor Bean)* w/ Retained Glycerin), Aleurites moluccanus (Kukui Nut) Oil, Mauritia flexuosa (Buriti Nut) Oil, Simmondsia chinensis (Jojoba) Seed Oil, Amethyst & Quartz charged H2O Essential Oils of Boswellia carteri (Frankincense), Lavandula dentata (Lavender), Abies sibirica (Lavender) & Myroxylon pereirae (Peru Balsam), Nelumbo nucifera (Lotus) Extract, Alkanna tinctoria (Alkanet Root), Kaolin White Clay, Sea Salt, Tocopherol   * = Organic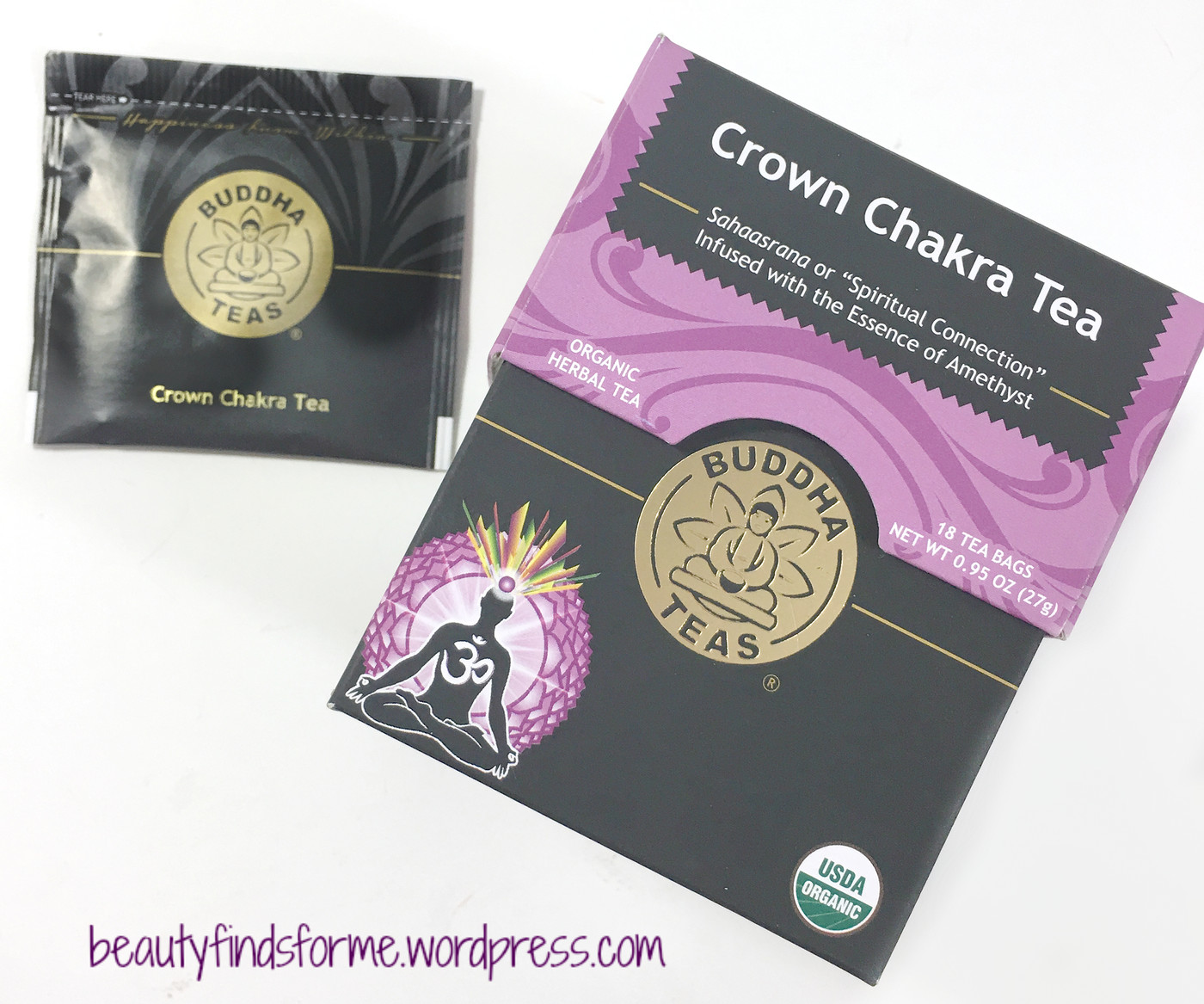 Crown Chakra Buddha Teas  I do love Buddha Teas ~ they are a quality brand, using only fresh, pure organic or sustainably wild harvested ingredients, with no fillers or added flavoring.  They make sure to use unbleached tea bags to avoid chemical contamination and their boxes are 100% recycled.  They plan 5000 trees a year in their "Teas for Trees" Campaign, to help offset the use of paper in their tea bags. Alas, I cannot drink this as it has rose flowers in it ~ if it has been rose hips, I could have. I will give this to my mom as she loves teas like this ~ it has lavender, rose and nutmeg and it has been infused with the essence of amethyst (I have no idea what that means!) This tea is rich in vitamins A, B, C and D and in  minerals such as calcium, magnesium and iron. This is caffeine-free, Kosher, GMO free and gluten free. 18 bags RV $9.00 
Description: Crown Chakra Tea Health Benefits: Known as sahaasrana, the crown chakra is the seventh and final chakra in the chakra order. The crown chakra is located at the top of the head, and is represented by the blooming lotus, a symbol of spiritual awakening. It is the chakra of understanding, self-knowledge and of spiritual awareness. It is most in tune with the spiritual, and a balanced crown chakra leads to the greatest source of bliss. Meditating on this chakra is done by invoking the phrase "I understand". 

Herbs and Essence: The herbs used in this chakra tea are each selected for their unique ability to attune to the crown chakra. The sweet, soothing taste of lavender lends itself perfectly to this tea, as lavender can enhance meditation and help you to become more in tune with the divine wisdom. Complemented by the appealing flavor of nutmeg seed and the smooth floral quality of rose petals, this tea is as divinely delicious as it is spiritual.  The lavender, nutmeg and rose petals found in this tea have all been empowered with the essence of amethyst. This brilliant purple gemstone is known especially as a spiritual gem, providing calm, peace, patience and balance through the physical, emotional and spiritual planes. It is also a stone of prosperity. The essence of amethyst is captured through placing these herbs around the stone for significant periods of time.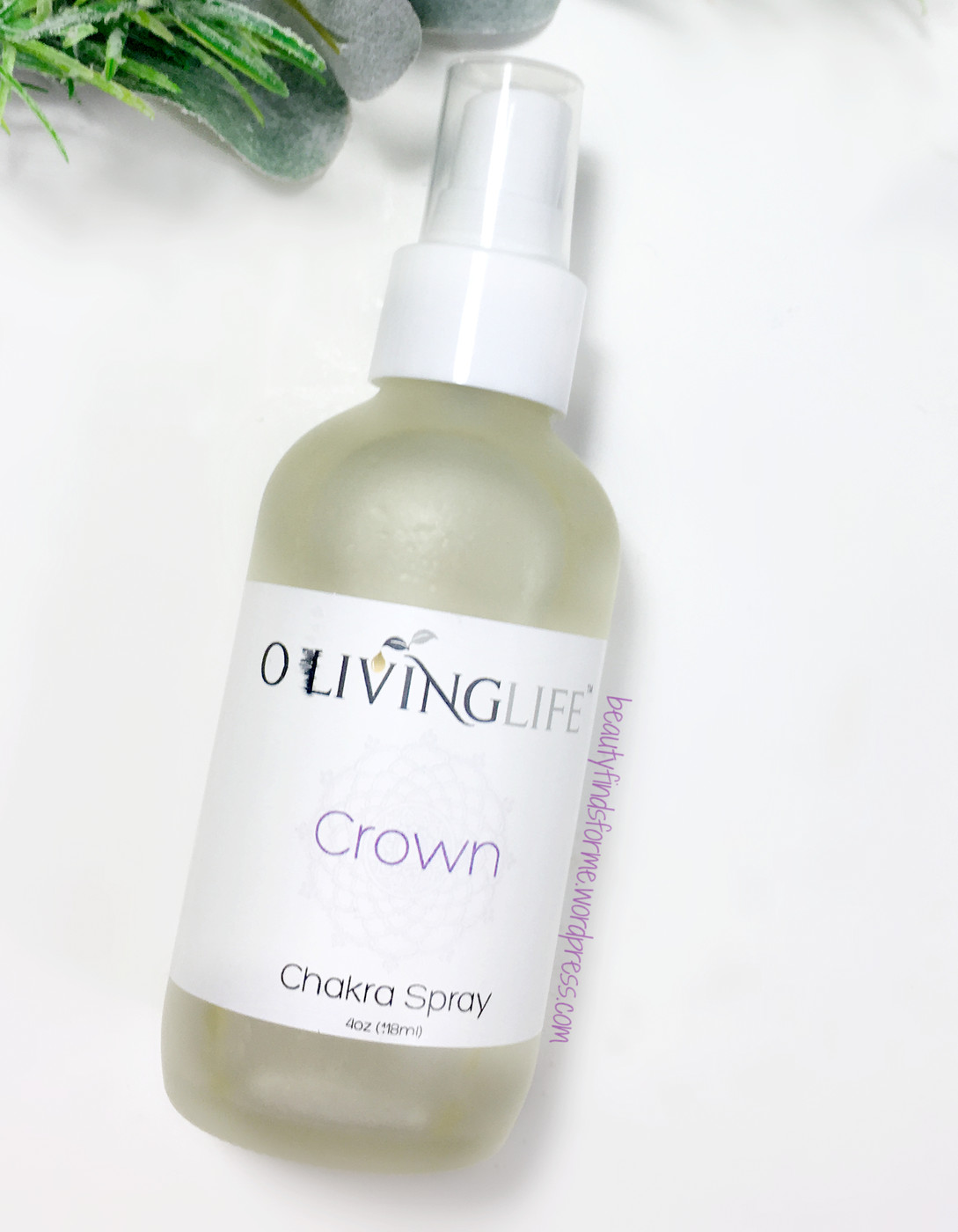 Oiliving Life Crown Chakra Spray This is the 2nd best thing for me in the box, this huge bottle of Crown Chakra Spray ~ This is an organic and multi-use spray that thankfully does not have rose in it!!  It has frankincense, lavender and myrrh essential oils in a base of distilled water and witch hazel, and it 100% chemical free.   This smells amazing ~ it has that lavender scent, but with a richness from the lemony-woody frankincense and earthy, almost licorice scent of myrrh oils ~ it is also very cooling on the body due to the witch hazel.  This spray can be used as a body spray, room spray, freshen your linens or even clean your yoga mat!  All of their oils are natural, organic and either steam distilled or cold pressed.  Oiliving Life is cruelty free, vegan and does not test on animals.  4 oz RV$18.00
Description: Crown Chakra is the 7th Chakra, represented by violet color and it is located at the top of your head. The crown chakra is the energy center of spiritualism and universal knowledge that links you to the Divine. The gift of this chakra is experiencing unity and the selfless realization that everything is connected at a fundamental level.Note that energetically, the seventh chakra has a connection with the first chakra, as they both are at the extremities of the chakra system. Blocked or overactive Crown Chakra can lead to various physical ailments such as depression, headaches, neurological issues etc. By balancing and strengthening the Seventh Chakra, we can connect with the higher power to receive its love which can then be shared with those around us.
How to Use in Meditation or Yoga: Focus your attention to the top of your head and clearly set your intention of balancing the Chakra, visualize the violet color and mentally repeat Chakra affirmation.
Ingredients: Distilled Water, Hamamelis Virginiana (Witch Hazel), Boswellia carterii (Frankincense) Essential Oil, Lavandula angustifolia (Lavender) Essential Oil and Commiphora myrrha (Myrrh) Essential Oil.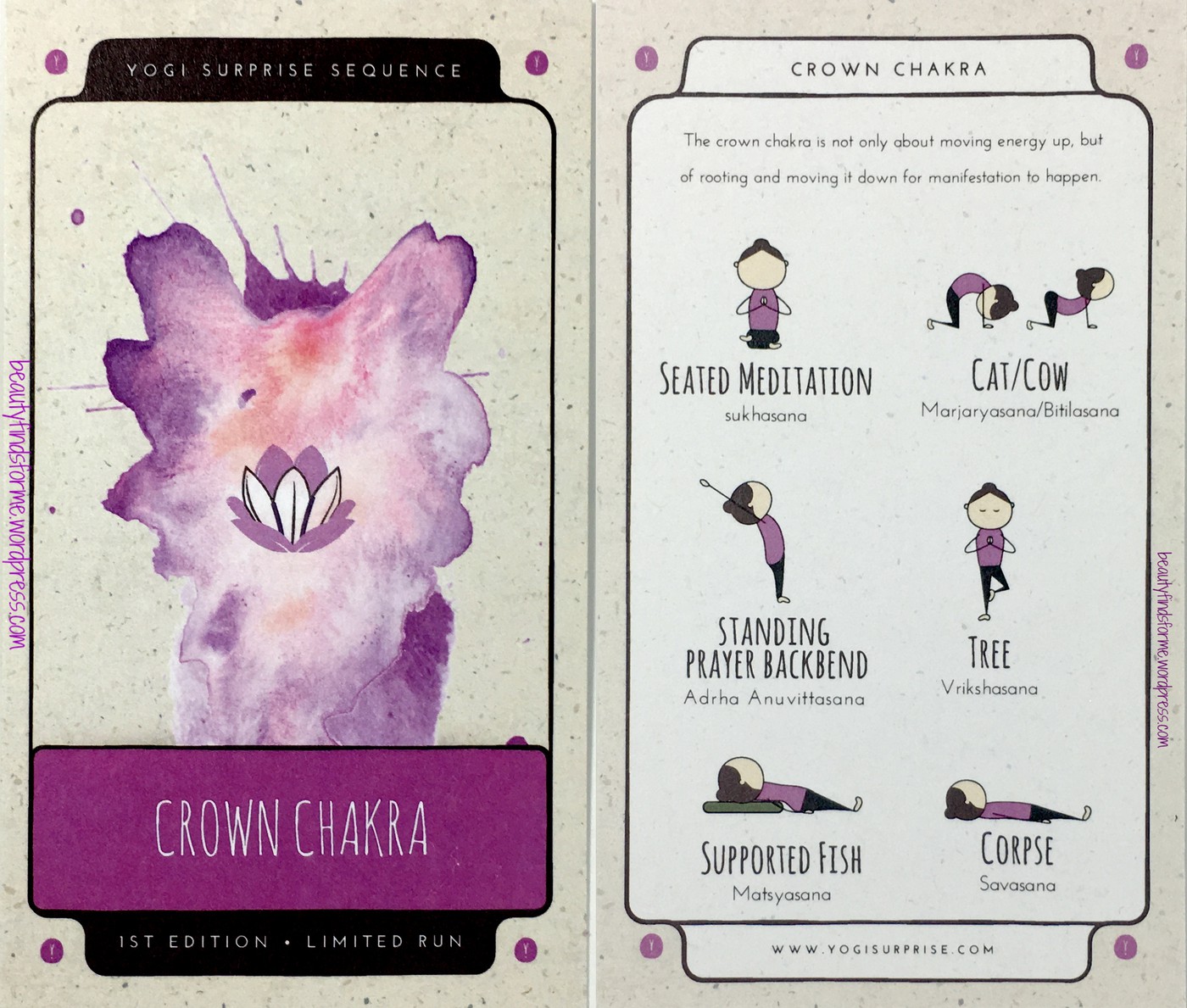 Bonus Item: Yogi Surprise Yoga Sequence Series Card: Crown Chakra "The crown chakra is not only about moving energy up, but of rooting and moving it down for mainifestation to happen"   Yogi Surprise always has a sequence card in every lifestyle box with poses and positions that reflect the theme of the box.

This box only has 4 brands in it, but it does pack a punch!  The bath ritual set has two amazing products ~ the bath salts and candles, plus it has the ritual intention items ~ chakra circle, pencil and intention paper.  I love that Buddha Teas makes another appearance ~ hopefully they will continue to add these amazing teas in the boxes.  The best items were the frankincense and lavender  items in the soap and the multi-purpose chakra spray.  This box has a retail value of $84.00 and it is worth it!  Do you subscribe to Yogi Surprise Lifestyle Box?  What was your favorite item this month?

If you are interested in signing up to Yogi Surprise for either their Lifestyle or Jewelry box, I would love it if you used my affiliate link  or save $10.00 of your first box with referral code REF3AQZHRS0OX.  Join and received free Chakra Healing Stones

Check out the spoilers for next month's boxes below!    If you sign up for the Lifestyle box, use YOGILOVE to get 15% off the life of your subscription! 
Next Month Spoilers
[ all descriptions in italics from linked website.  this blog post contains referral & affiliate links ]