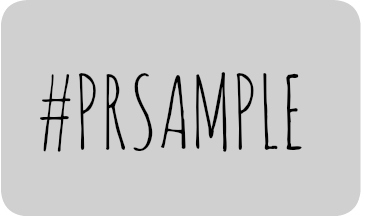 Tia'm is the sister company to cosRX and when Jolse was recruiting testers for a couple of their Aura 🥛Milk Face Peeling products, I was very interested and was thrilled to be selected ~ not only for the toner, but for the night-time cream as well
Skin Type/Concerns:  Oily, blemish prone, aging skin with hyper-pigmentation and fine lines/wrinkles.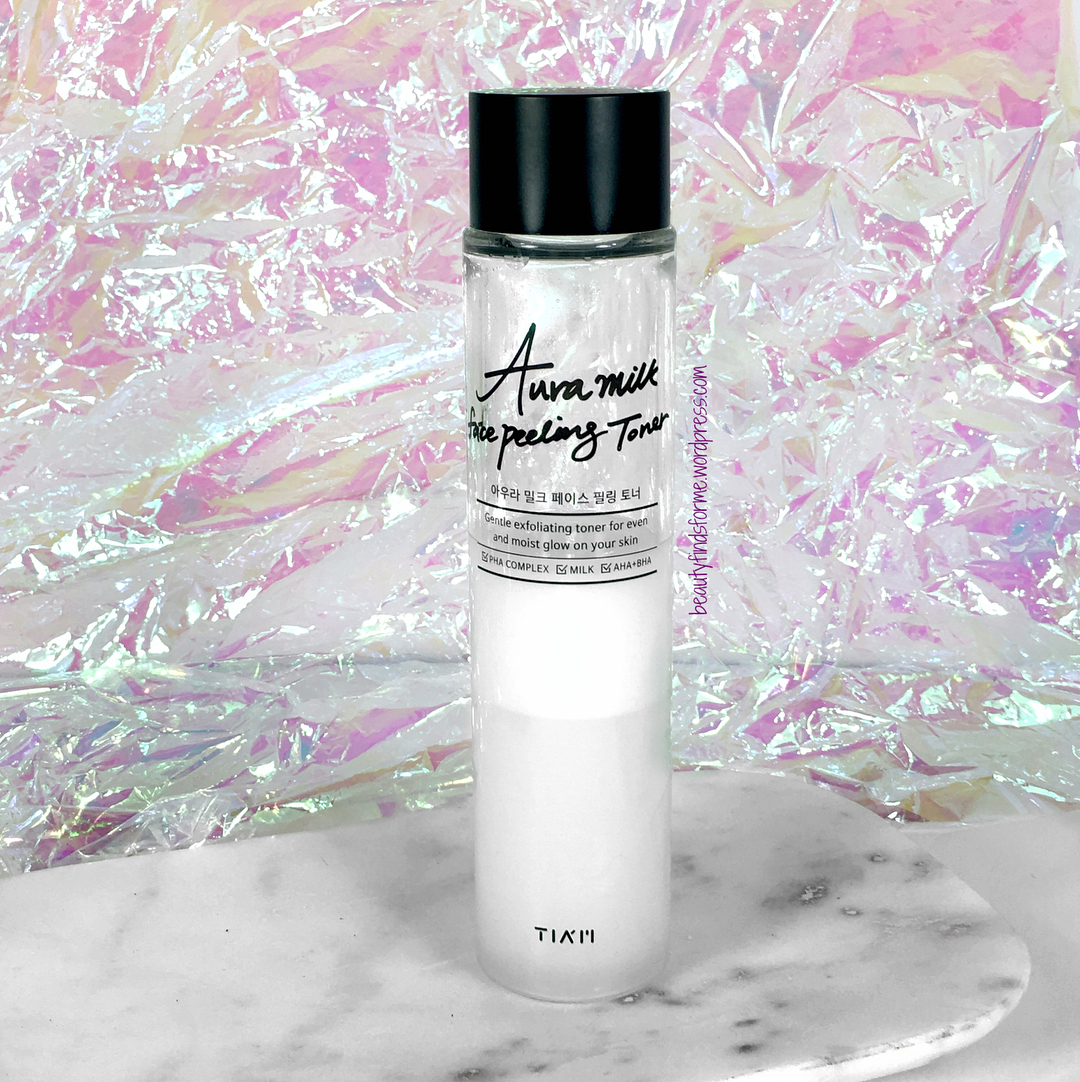 I have been using the Aura Milk Face Peeling Toner for about a month now and I have mixed feelings about this. First of all ~ you might be asking…what is this?  This is supposed to be a mild exfoliation toner, similar to Pixi Glow Tonic and By Wishtrend 5% Mandelic Prep Water.  Tia'm Aura Milk Face Peeling Toner contains 1000 ppm of milk to help soften and smooth your skin and several exfoliating ingredients: 2% PHA in lactobionic acid and gluconolactone ~ PHA's are milder and have larger molecules than AHA's and can be used in place of AHA's if you have sensitive skin; AHA's  ~ lactic acid, citric acid and glycolic acid ~ glycolic acid is the most harshest yet effective AHA out there, so I was surprised to see this in here ~ there is no percentage on the AHA and the AHA's are in the middle of the ingredient list, so they hopefully will not effect the "mild" claim of this toner.  BHA, as in salicylic acid, helps go deep into your pores to dissolve oil and dirt.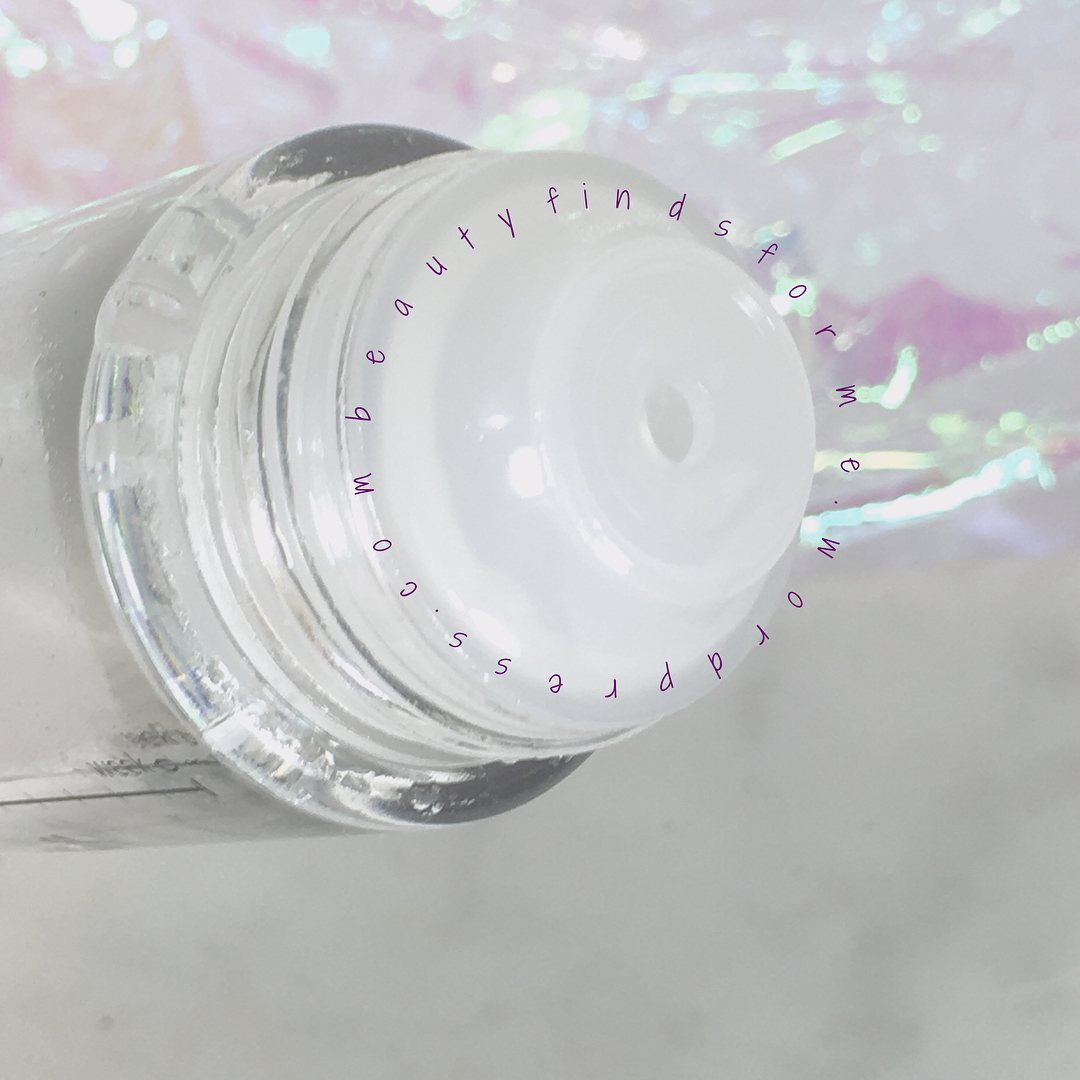 Probiotic bifida ferment is also in here ~ it is supposed to help with moisture, strengthen the skin barrier and reduce sensitivity. The packaging is really cool ~ I love the tall tube and on the side, it tells you how much you should be using (I never use that much!!). I love how the liquid itself looks like milk with cream rising to the top ~ when the liquid is settled, there is a thicker line of a more opaque white liquid ~ since water is more dense than oil, those are the oil ingredients floating to the top. Shake well before using and I use a cotton pad to apply this toner.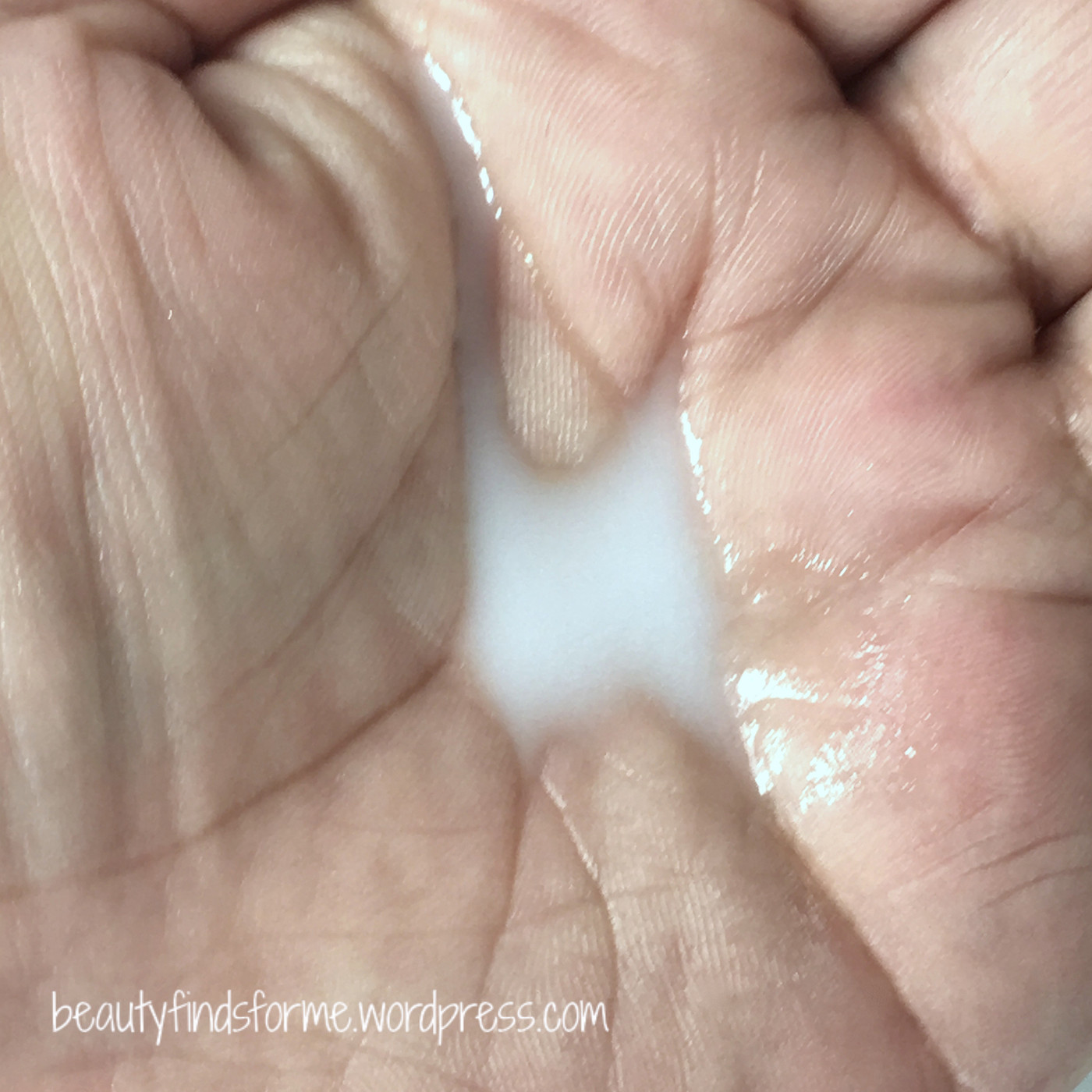 The scent is a bit off putting ~ to me, it smells like baby powder, and I dislike that scent. However, it fades quickly, so I can tolerate it. This is very moisturizing ~ out of all of the exfoliating toners I have tried, this one leaves my skin very dewy and moist. It increased my moisture levels by 30% and decreased my oil levels by 39%.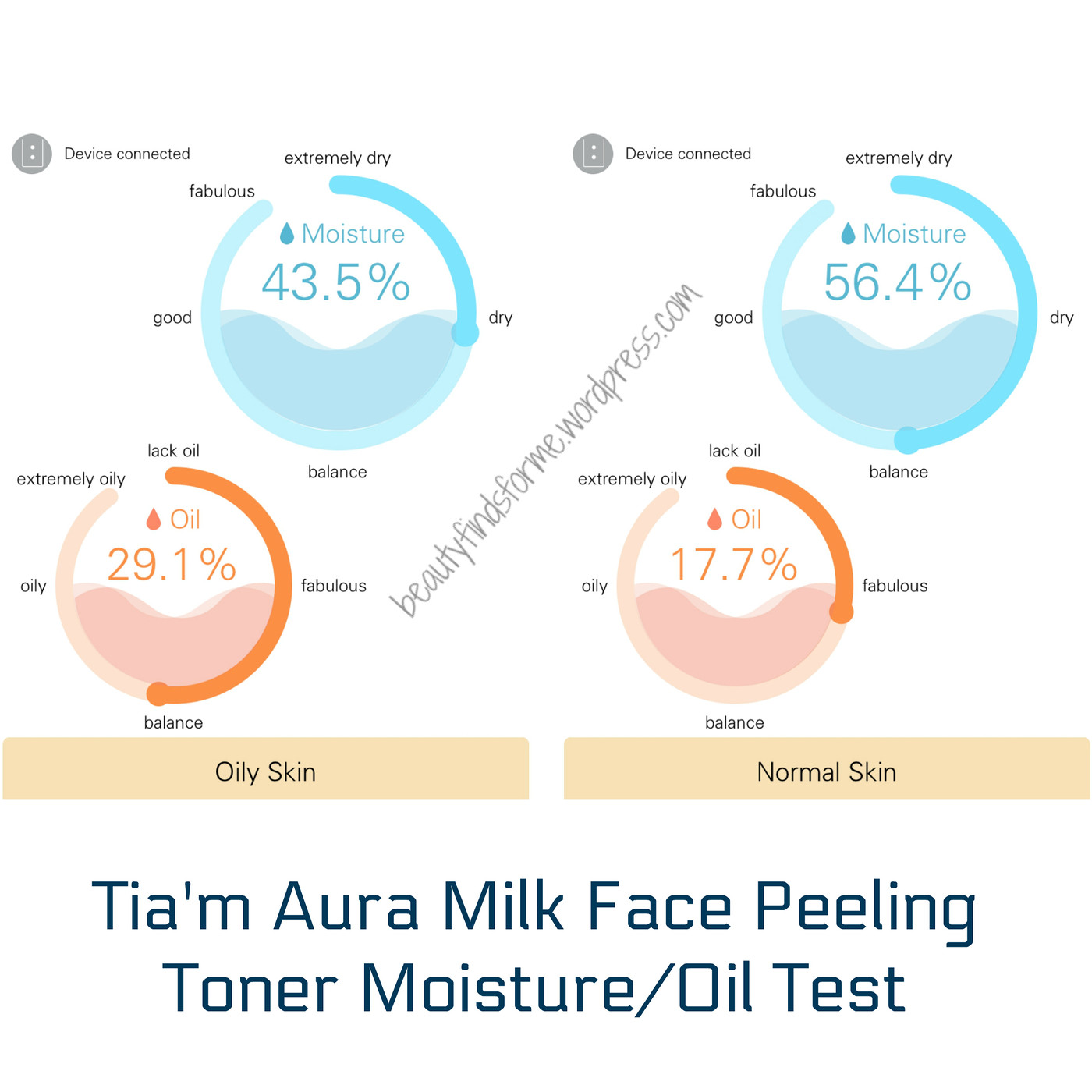 It has a pH level of 5.3, so with a 2% PHA, it doesn't have a lot of heavy duty exfoliation ~ however, using this on a regular basis over months, this will provide exfoliation to some degree ~ but its main goal is for moisturizing, imho.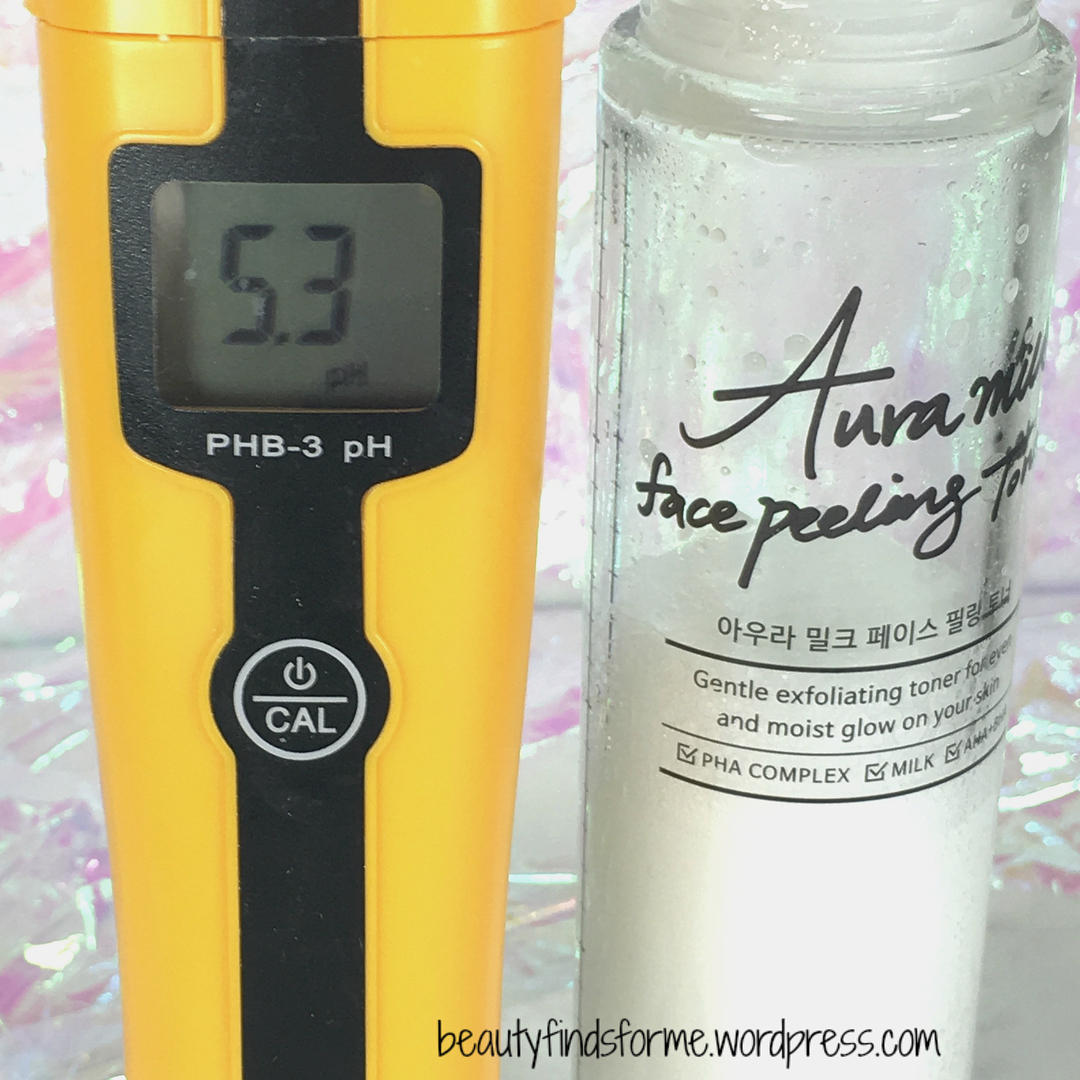 It is so moist on my oily skin type, that I use it at night time only, as it takes a long time to dry on my face ~ with the added bonus that my skin becomes VERY shiny and glow-y with this product, and with my skin type, that is not what I want during the daytime). I also noticed that something in this combination of ingredients is making my chin break out horribly. The rest of my skin is fine ~ no breakouts on my nose or forehead, but my chin has been a constant source of blemishes since I started using this ~ this plus holiday stress is causing my favorite zit hot spot to be out of control. I have stopped using it on my chin, but still use it on the rest of my face and my neck too ~ as it is quite nice and moisturizing on my skin. Just not on my chin. Would I purchase? No. I love By Wishtrend's 5% Mandalic Prep Water so much better.
I am confused why Tia'm put 3 types of AHA's and a BHA in here, when the PHA's should have been enough for a 'mild' toner. Peeling? Not immediate at all ~ but perhaps with long term usage, there might be some exfoliating benefits. I would say if you have drier skin than myself, this toner might be something you might like to try, as it is very moisturizing and dewy.

Ingredients: Water, Caprylic/Capric Triglyceride, Dipropylene Glycol, Cetyl Ethylhexanoate, Glycerin, Lactobionic Acid, PEG-40 Stearate, 1,2-Hexanediol, Sodium Citrate, Milk Extract (1000ppm), Gluconolactone, Lactic Acid, Glycolic Acid, Salicylic Acid, EthylAscorbyl Ether, Bifida Ferment Filtrate, Panthenol, PEG-40 Hydrogenated Castor Oil, Citric Acid, Disodium EDTA, Fragrance  cosDNA analysis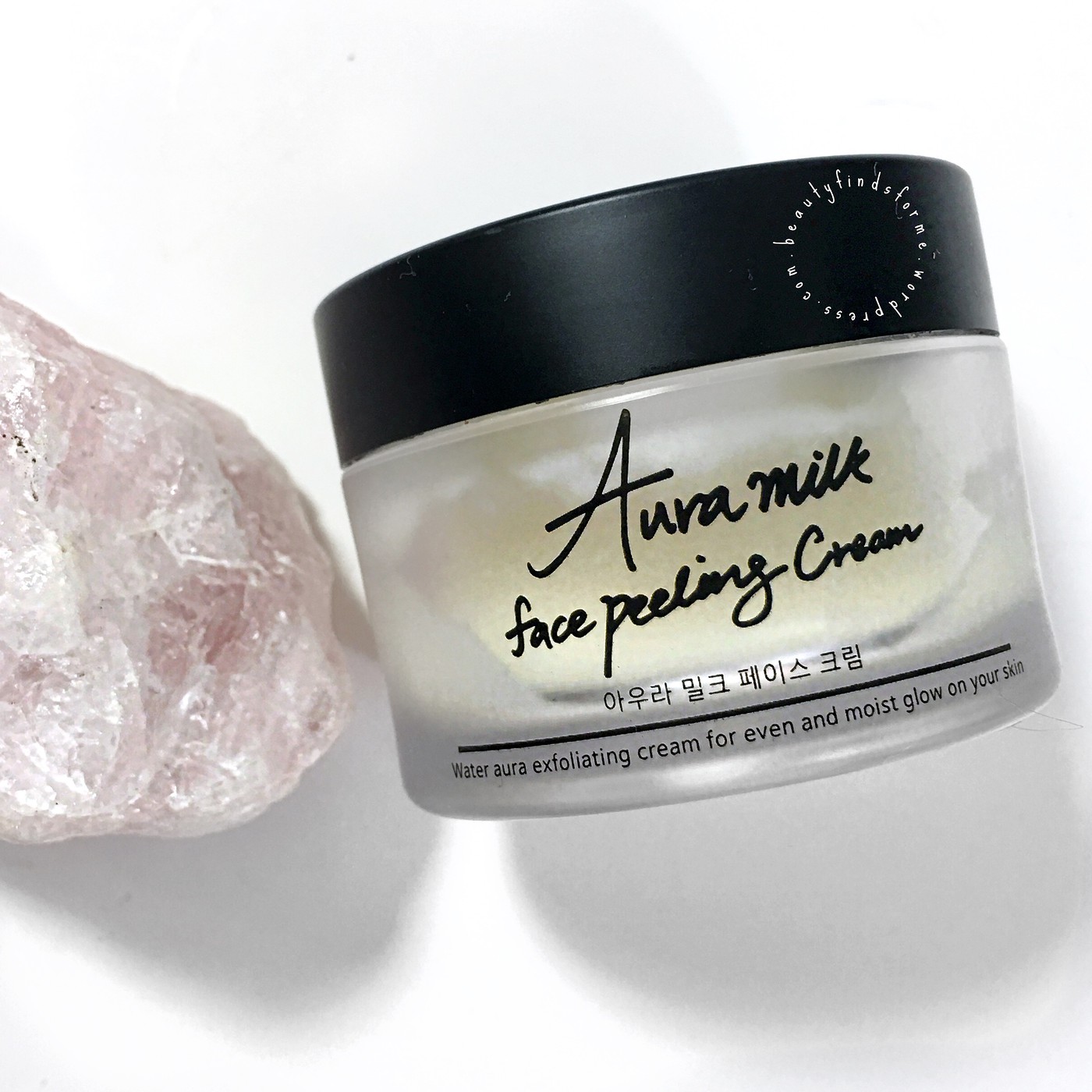 This is my fourth PHA cream that I have tried ~ I don't have sensitive skin and I can use AHA's with no issue, but sometimes it is nice to have a more gentle product on hand.  The other three products were Skinfood Freshmade Pineapple Mask (Peeling Cream) ~ unknown percentage of lactobionic acid, Swanicoco PHA 10% Coco Peeling Cream ~ 10% gluconolactone, unknown percentage of lactobionic acid and cosRX PHA Moisture Renewal Power Cream with 3% gluconolactone.  The clear winner of that battle was Swanicoco, but I am always eager to try new things! You can read my Battlez of the PHA Creams here and there are links to the full reviews as well.

Ingredients wise, this cream has 2 exfoliating PHA ~ PHA's are milder and have larger molecules than AHA's and can be used in place of AHA's if you have sensitive skin.  I read that this has 3% PHA and I not sure if it is the gluconolactone or lactobionic acid.  Probiotic bifida ferment is also in here ~ it is supposed to help with moisture, strengthen the skin barrier and reduce sensitivity. Vitamin B ingredients make an appearance:  Panthenol (vit B5) helps cellular renewal and is an effective anti-inflammatory moisturizer, while niacinamide (vit B3) is a powerful anti-inflammatory antioxidant that improves your skin elasticity but is best known as a skin brightener. There are 100 ppm of milk extracts to soften and smooth your skin  and some nice moisturizing oils in meadowfoam and squalane.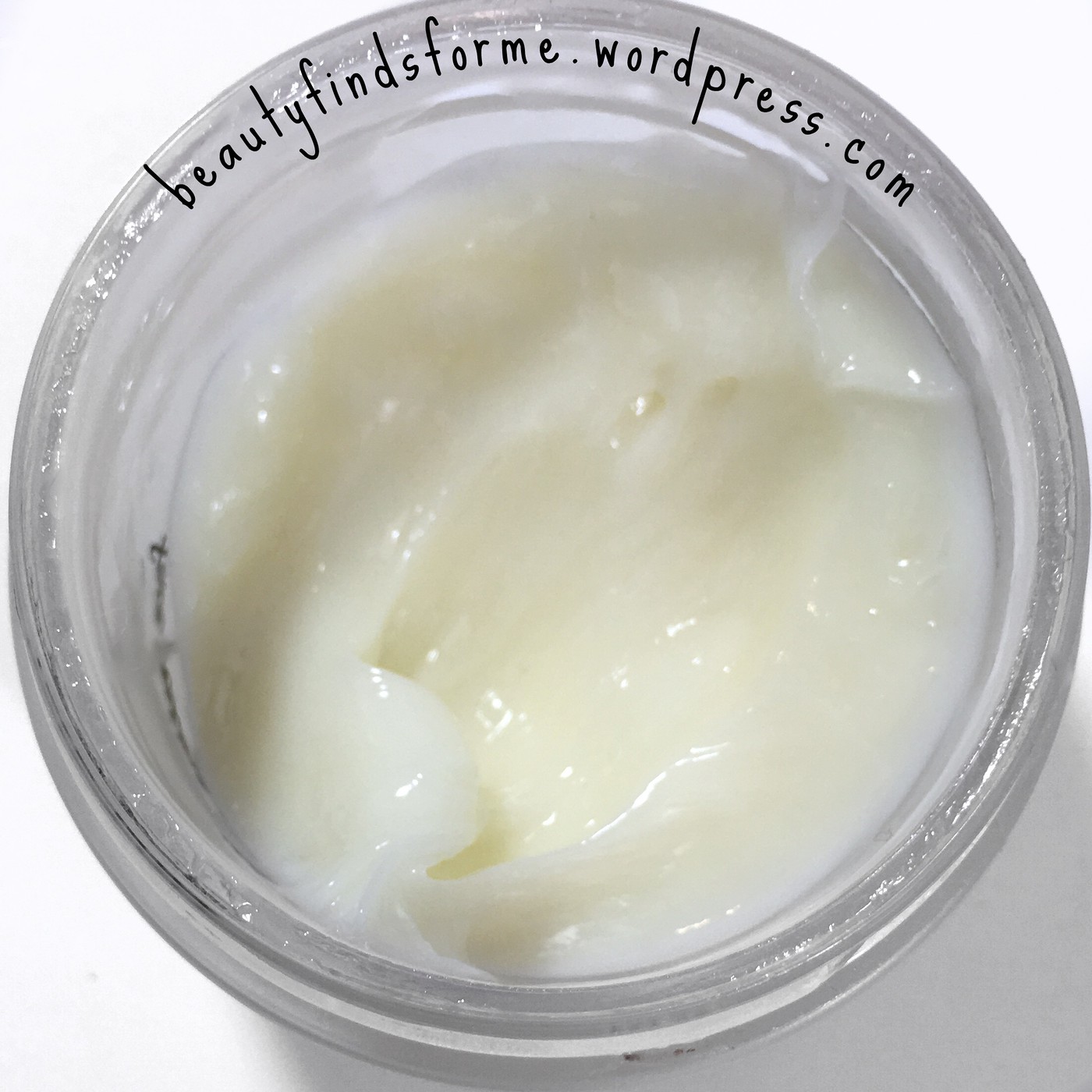 This cream is an off-white glutenous looking cream.  It looks like yogurt gone bad but it doesn't smell like it.  It has that same baby powder scent as the toner and woo-baby is it STRONG.  I have to say, I am not sensitive to scents that much but if it is a scent I dislike, my nose seems to amplify it.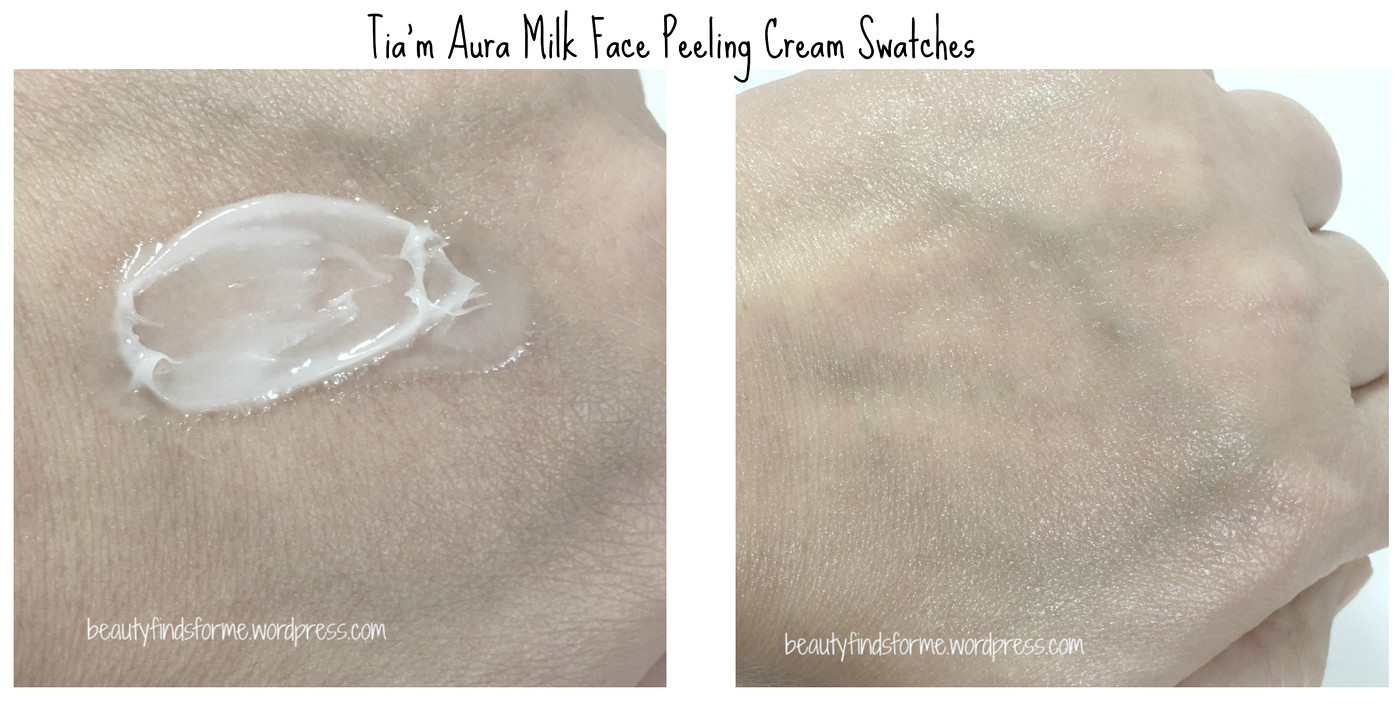 This really leaves a sticky tacky residue, so make sure to wait 20-30 minutes before applying any other products or going to bed.  The initial moisture/oil readings have an increase of 29% in my moisture levels and a decrease of 40% in the oils ~ I do have very oily skin, so that was a good  sign. Make no mistake however, this is one SHINY cream.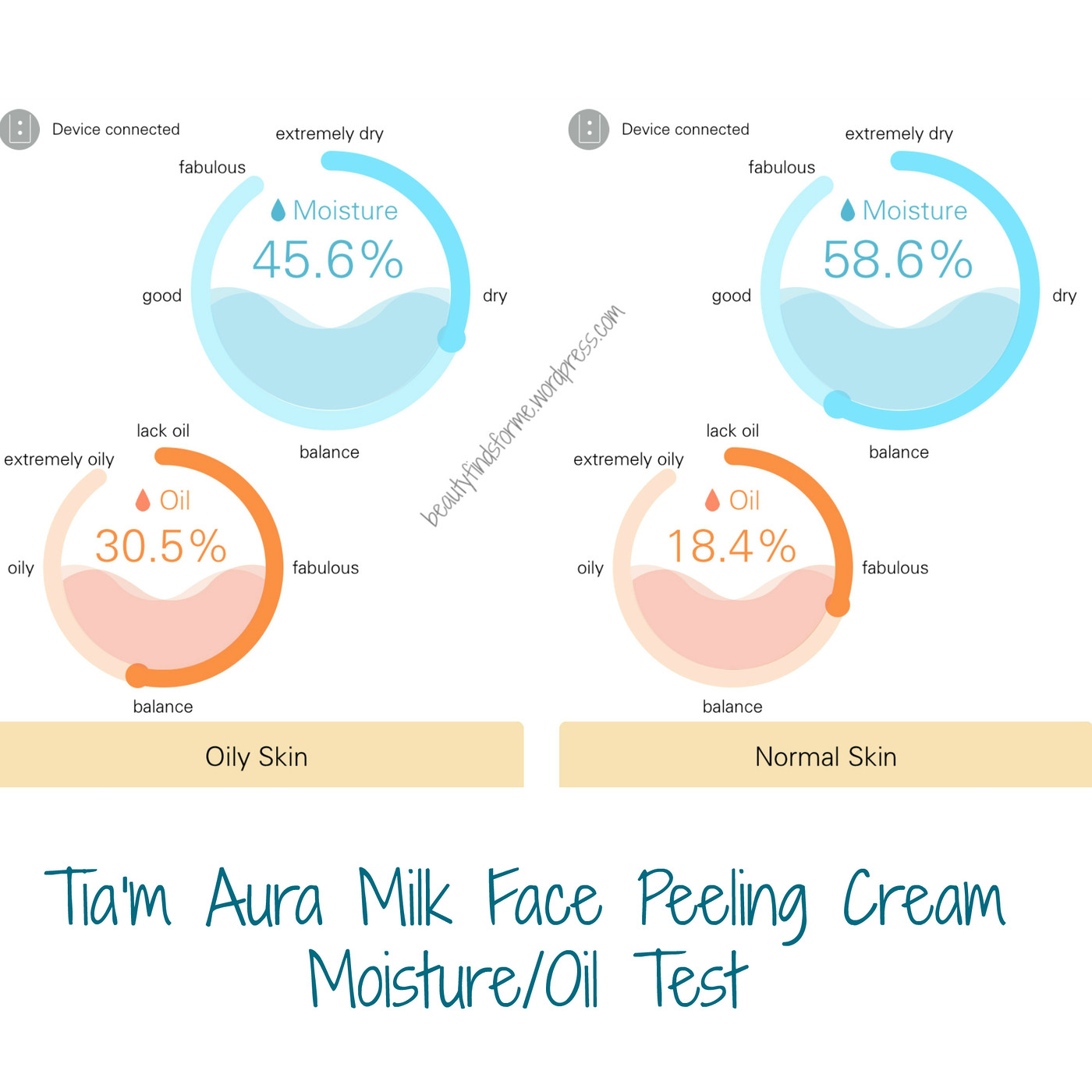 In the morning, I was very surprised to find out that this PHA cream did not dry out my skin!  All of the other ones did, which is why I really larded on moisturizers over it, but this one did not.  This cream did leave my skin feeling soft and smooth and my skin didn't feel greasy or oily.  However, I didn't notice any brightening. I think that if you have sensitive, very dry skin and don't mind baby powder scents, this one might be really good for you and I feel it is gentle enough for daily use.  For me, though, the combination of stickiness, the SCENT and results I can get from other products, it is not a product I would purchase myself.

Unboxing Beauty Tip: The directions state that you can use this during the day and night time, as PHA is an ingredient that is not sun sensitive ~ but I do recommend that you wear a sunscreen no matter what.  For my oily skin, this cream is too rich and leaves such a tacky residue that I cannot wear it during the daytime.  The directions also say that this should be the last step in your skin care, but I use it right after the watery products.  This is an acid product, even though it is weak at 3% and I have always known that acids should be as close to your skin as possible.  I top off with other lotions after I let this sit on my face for 20 ~ 30 minutes
Ingredients: Water, Glycerin, Dipropylene Glycol, Caprylyl Methicone, Cetyl Ethylhexanoate, Arachidyl Alcohol, Lactobionic Acid, Bifida Ferment Filtrate, Panthenol, Niacinamide, Cyclopentasiloxane, Behenyl Alcohol, Gluconolactone, Squalane, Tromethamine, Sodium Cetearyl Sulfate, Milk Extract(100ppm), Moringa Oleifera Leaf Extract, Cyclohexasiloxane, Limnanthes Alba (Meadowfoam) Seed Oil, Tocopheryl Acetate, Ubiquinone, PEG-240/HDI Copolymer Bis-Decyltetradeceth-20 Ether, Stearic Acid, Cetearyl Alcohol, PEG-10 Dimethicone, Hydrogenated Lecithin, C12-16 Alcohols, Palmitic Acid, Octanediol, Ethylhexylglycerin, Citrus Grandis (Grapefruit) Seed Extract, Artemisia Princeps Extract, Carbomer, Sodium Hyaluronate, Adenosine, Arachidyl Glucoside, Disodium EDTA, Fragrance cosDNA analysis
Where To Purchase
Both of these products are available at Jolse, a fantastic K-Beauty store with great deals, great shipping prices and lots of freebies.