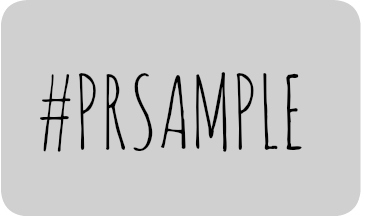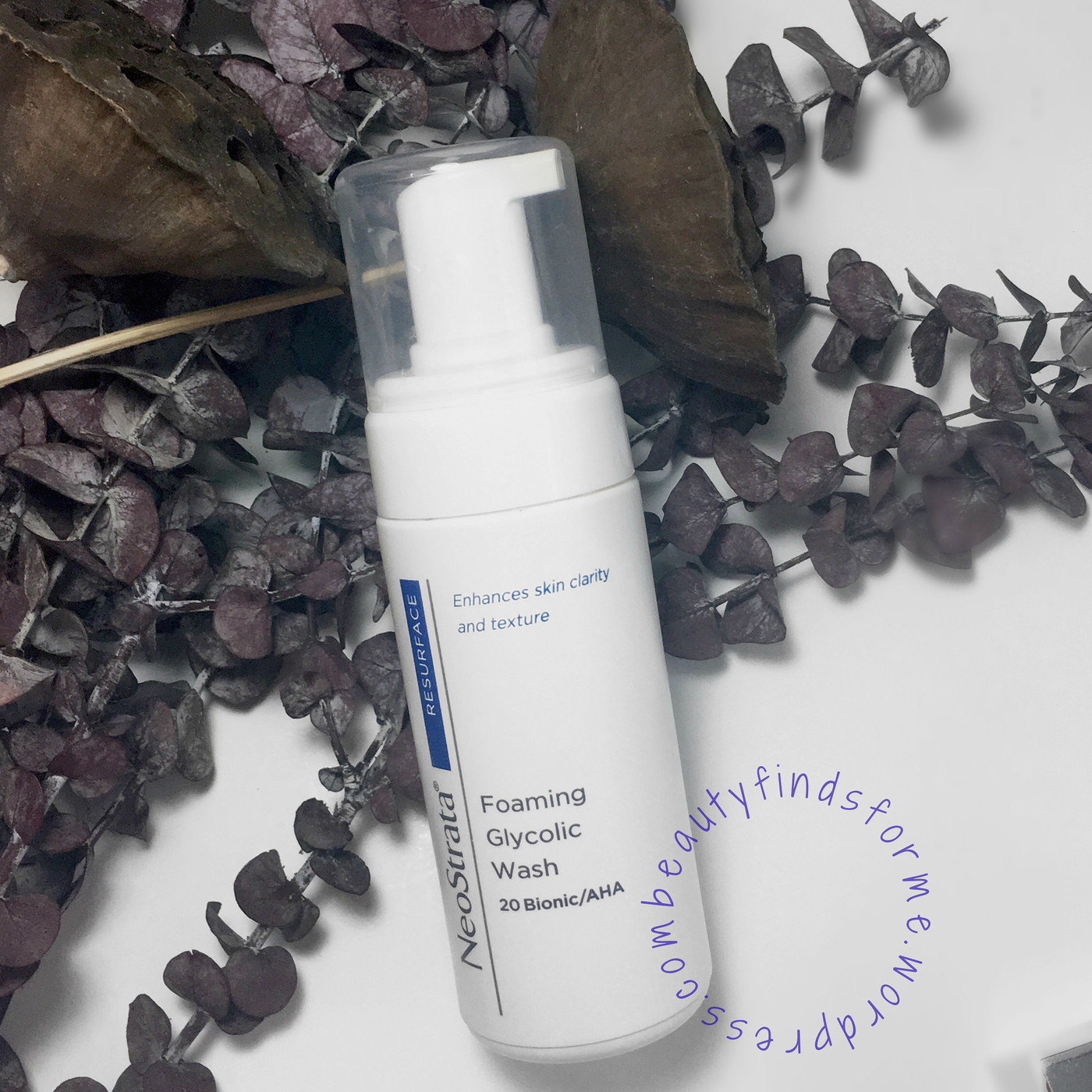 I have been testing out several AHA cleansers recently and one of them is NeoStrata Foaming Glycolic Wash with 18% glycolic acid and 2% lactobionic acid.  I have been on a mission to use more acids on my skin, to try and improve the uneven skin tone, refine my skins' texture and perhaps even soften the appearance of fine lines and wrinkles.  I received this cleanser complementary for review purposes from NeoStrata and Brandbacker
NeoStrata is a brand that I have heard a lot about and have used a few samples here and there, but have never tried a full sized product before.  They specialize in creating physician grade skincare that will help improve the signs of aging, treat skin issues such as blemishes, hyper-pigmentation, dryness while using advanced hydroxy acid technology, with ingredients such as Alpha Hydroxy Acids (AHAs), Polyhydroxy Acids (PHAs) and Polyhydroxy Bionic Acids.

Skin Type/Concerns:  Oily, blemish prone skin with aging concerns  ~ fine lines and wrinkles around the eyes, hyper-pigmentation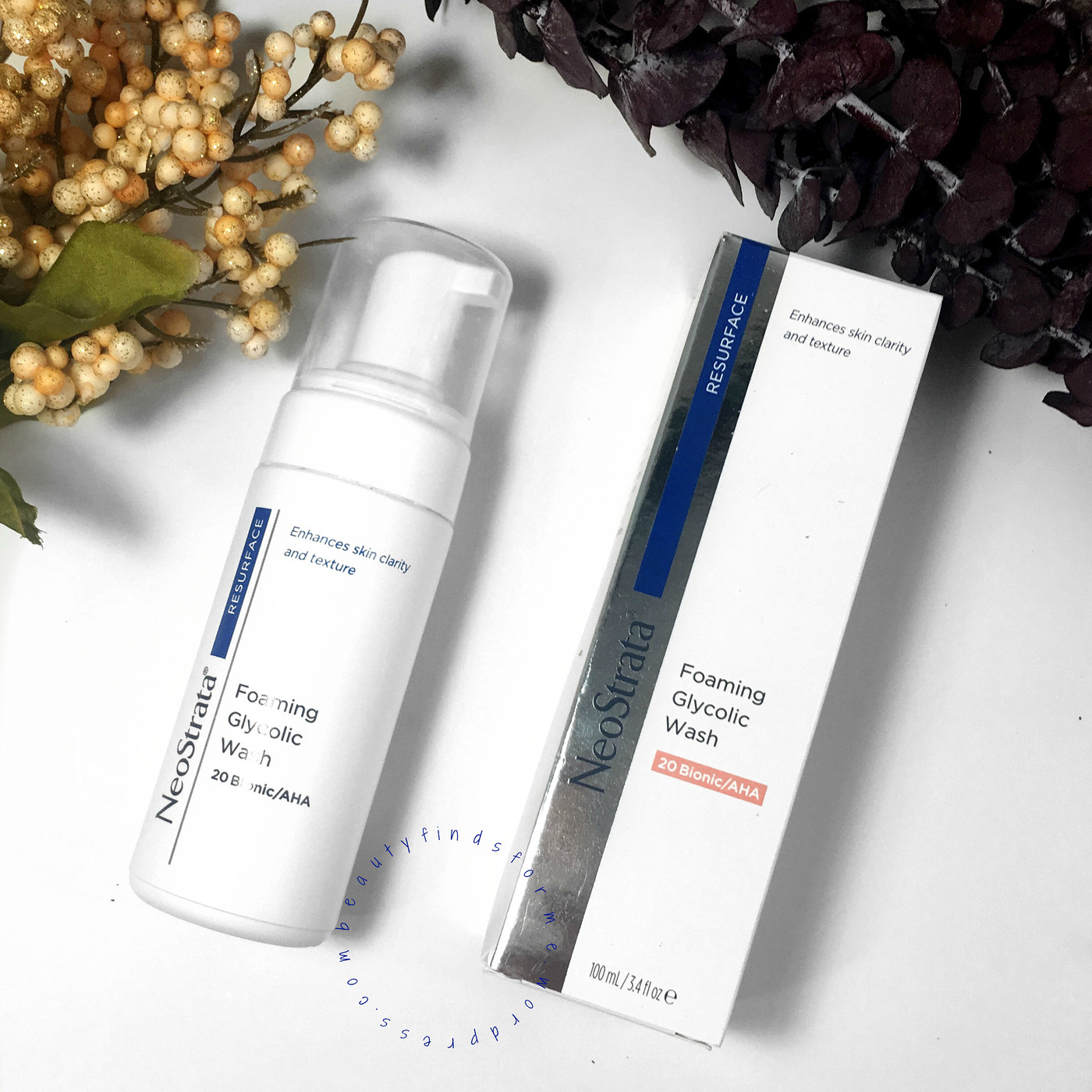 Due to the high content of AHAs in this cleanser ~ 20% in total ~ this cleanser is for those who are experienced with glycolic acid and do not experience any skin issues, irritation or rashes while using glycolic acid.  You should also be using a higher percentage of glycolic acid ~ if you have only use a 5% toner, for example, you should gradually increase your glycolic acid percentage before using this cleanser.  You must always use a sunscreen when you are using acids.  This cleanser is not recommended for sensitive skin.

Alpha Hydroxy Acids (AHA) are naturally occurring acids that gently remove the top layer of skin, removing dead skin cells by dissolving oils and the bonds that hold the cells together.  This cleanser contains 18% glycolic acid which is one of the more popular AHA exfoliators.  Sugar derived glycolic acid is extracted sugar cane, sugar beets and pineapple.  It helps clear up acne, moisturizes and reduces the appearance of fine lines and premature aging by increasing cellular turnover, revealing new skin. If your skin is sun-damaged, adding AHA to your skin care routine is beneficial, as it will help make your skin smoother and healthy, unclogging pores while hydrating your skin.  It might also fade hyper-pigmentation over time as well.  AHA's will help tone and firm skin, as they can stimulate collagen and elastic production in your skin.  Its molecules are small, so it can penetrate deep into your skin easily, which might make it irritating for some people.  You want an acidity of 3 to 4, with at least a 5 to 8 percent concentration of AHA.  The AHA ingredient should be one of the top 3 ingredients in the list and in this cleanser, it is the second ingredient.  
This also contains  2% sugar derived lactobionic acid, which is a PHA.   Poly Hydroxy Acids (PHA) are a third generation peeling/exfoliating ingredient, like AHA and BHA, but it is less irritating and helps with cell renewal.  It is just as effective as an AHA, but it is gentle and mild, as the molecules in PHA are larger and do not penetrate deeply into the skin.   PHA's take longer to show results, but if you use a product for about a month or so, you should see some skin tone and texture improvement.   PHA's also have hydrating and moisturizing benefits that can help strengthen your skin barrier function and they contain anti-oxidant properties, making it a good choice for anti-aging skincare products.  PHA's also can be used with other products such as retinol and skin lightening hydroquinone.  PHA products can be used on all skin tones as well and help reduce photo-aging
Arginine is an essential amino acid, that is an anti-oxidant, promoting collagen production to combat aging. Hydrating humectant glycerin helps with healing of wounds, maintaining the skin's water balance on an intercellular level, which makes the skin look healthy, moist, soft to touch and leaving your skin looking radiant and supple.  Grapefruit extracts are packed with vitamin C, it helps to cleanse and clear oily skin, while fighting blemishes and toning skin and tissues.
Ammonium hydroxide  is used to help maintain the AHA's acidity level.  This does have two trigger type ingredients, alcohol denat and sodium C14-16 olefin sulfonate ~ these ingredients can be potentially drying, but since it is in a wash off cleanser, I think that if you can handle 20% AHA, you can handle these two ingredients.  Sodium C14-16 olefin sulfonate will help produce lots of foaming action!   NeoStrata Foaming Glycolic Wash is free from soap, fragrance, dyes and parabens.
Ingredients:  Water, Glycolic Acid (18%), PEG-8, Alcohol Denat., Arginine, Sodium C14-16 Olefin Sulfonate, Ammonium Hydroxide, Lactobionic Acid (2%), Cocamidopropyl Betaine, Glycerin, Butylene Glycol, Polysorbate 20, Propylene Glycol, Citrus Paradisi (Grapefruit) Fruit Extract, Methylparaben, Chlorphenesin cosDNA analysis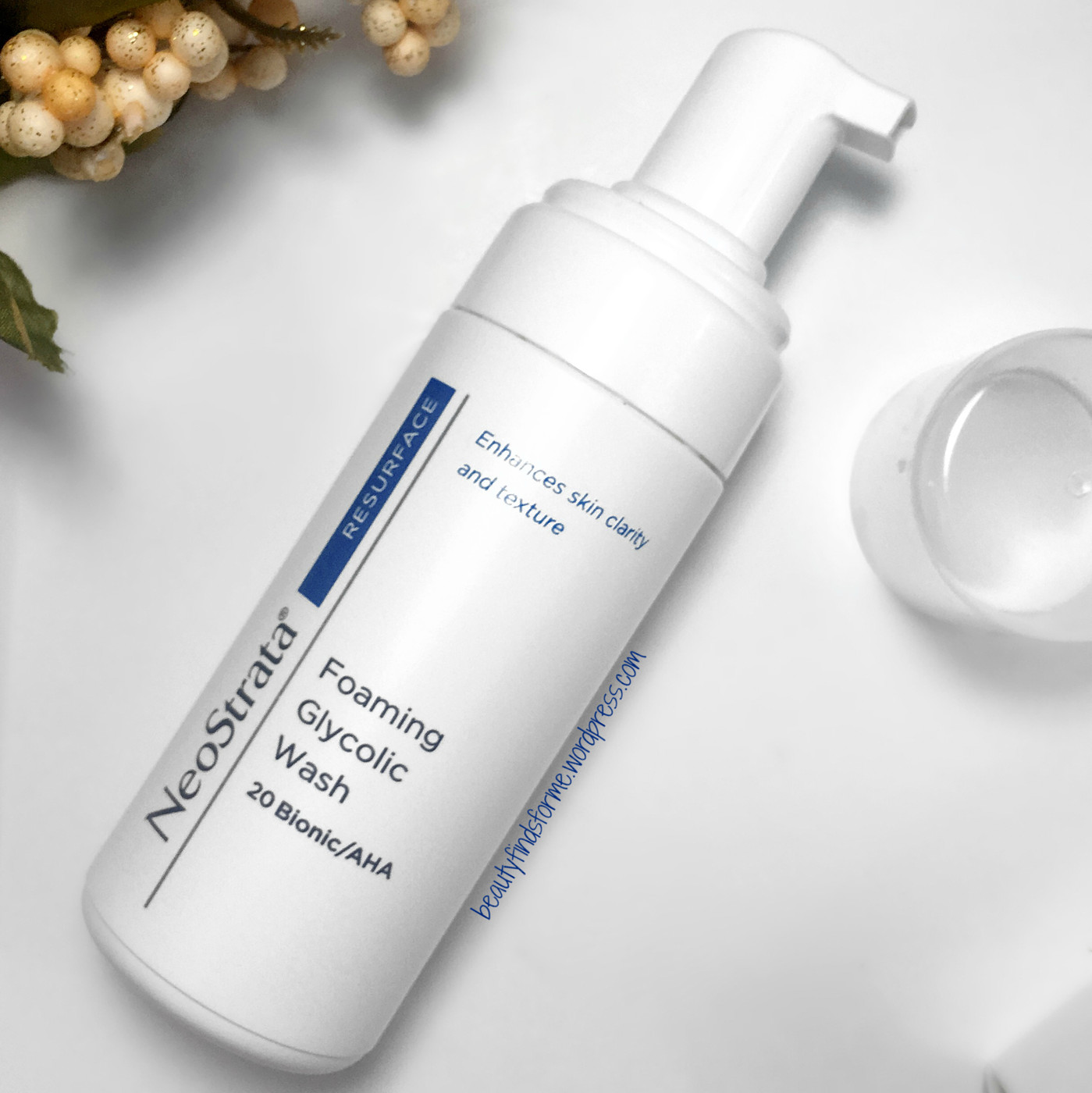 This comes in an plastic pump bottle and it is easy to dispense the foam.  A little goes a long way, so don't make the mistake I made and pump it twice!  You only need one pump of this super soft, rich dense foam cloud to cleanse your face.  This is so foamy that I don't even need to use a pore brush or cleansing tool to create bubbles.   When I massage this into my skin, it almost feels like it has oil in it, as it is so creamy smooth.  I don't recommend getting this in your mouth, as it does have a bitter taste, like most AHA products, but I am able to use this all over my face without any irritation.  This has a faint bitter chemical, slightly citrus scent to it, but I didn't find it unpleasant.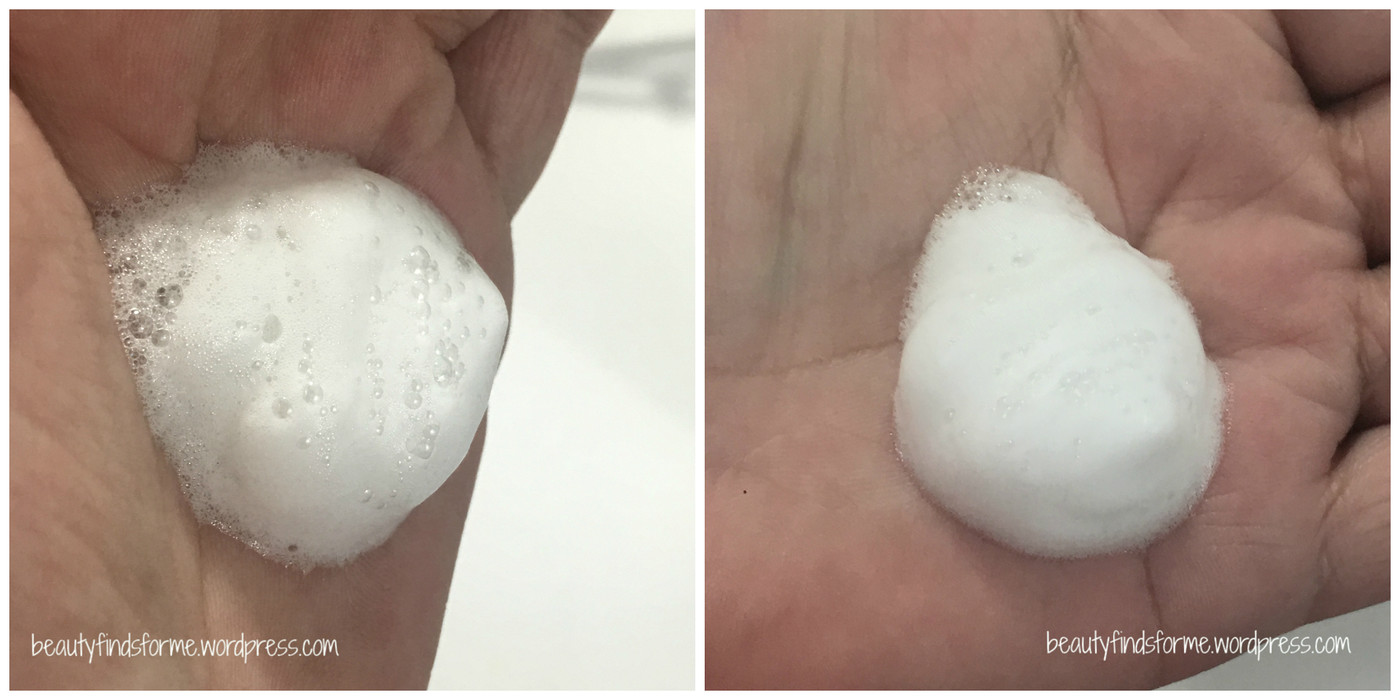 Sometimes, I leave it on for a few minutes before rinsing off, just to get some more of that AHA deep cleansing benefits.  After rinsing off, my skin immediate feels soft and supple, my skin's texture has been refined and my pores look cleaner and more tight in appearance.  It seems to help dry out my blemishes without drying out the rest of my skin ~ I do not experience any irritation with this cleanser, but then again, I am also used to a higher AHA percentage as well.

I haven't seen lightening of hyper-pigmentation yet, but since the dark spots took years of skin damage to create, I am sure it will take a while for an at home treatment to repair.   I have noticed that my skin looks more clear and feels more smooth.  My skin is very oily, so I have not experienced any drying out of my skin overall nor irritation and I have been using it daily during this testing period.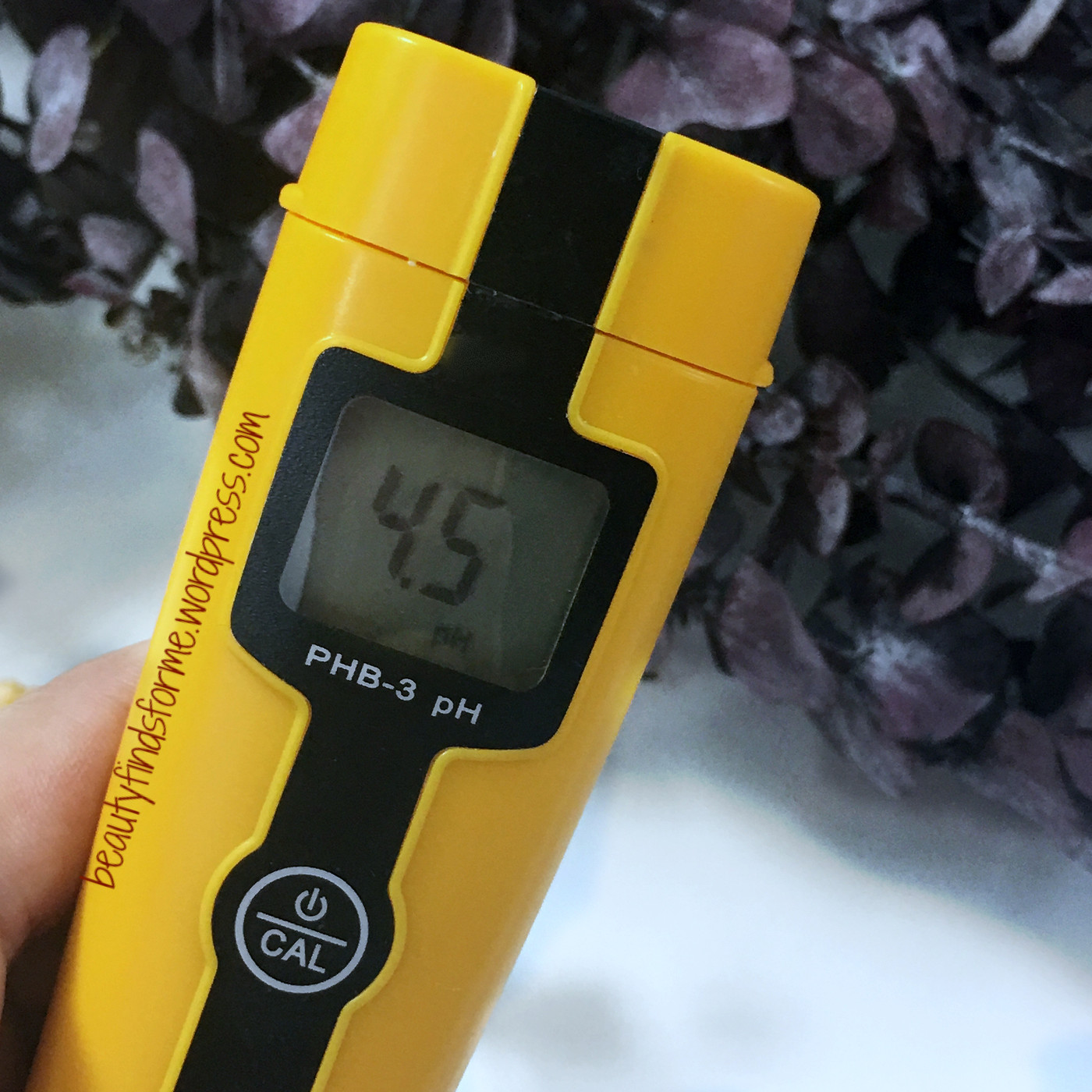 This has a pH level of 4.5, which is within range for an effective AHA product.   Since I discovered two lovely bloggers who really know their acids, Vanessa at IG  @goalstogetglowing (blog) and Michelle @labmuffinbeautyscience  (blog),  I have been using their charts and calculators  to figure out how effective my acids are.  Based on my pH testing and using the 18% glycolic acid percentage, as the calculator only handles one acid at a time, this has a free acid of 3.17%,  which according to Vanessa's chart, means this cleanser will result in soft, smooth skin with an even texture. It will also cause a moderate increase in glycosaminoglycans.  Glycosaminoglycans, or GAGs, increase hydration as it efficiently bind themselves to water, resulting in firm elastic skin.  Since there is an additional 2% of a PHA in here, that also ticks up the exfoliating benefits a bit more.

NeoStrata Foaming Glycolic Wash is marketed as a deep cleansing, refining and exfoliating cleanser and therefore, with a 3.17% free acid percentage, this product will provide those benefits.
Final Thoughts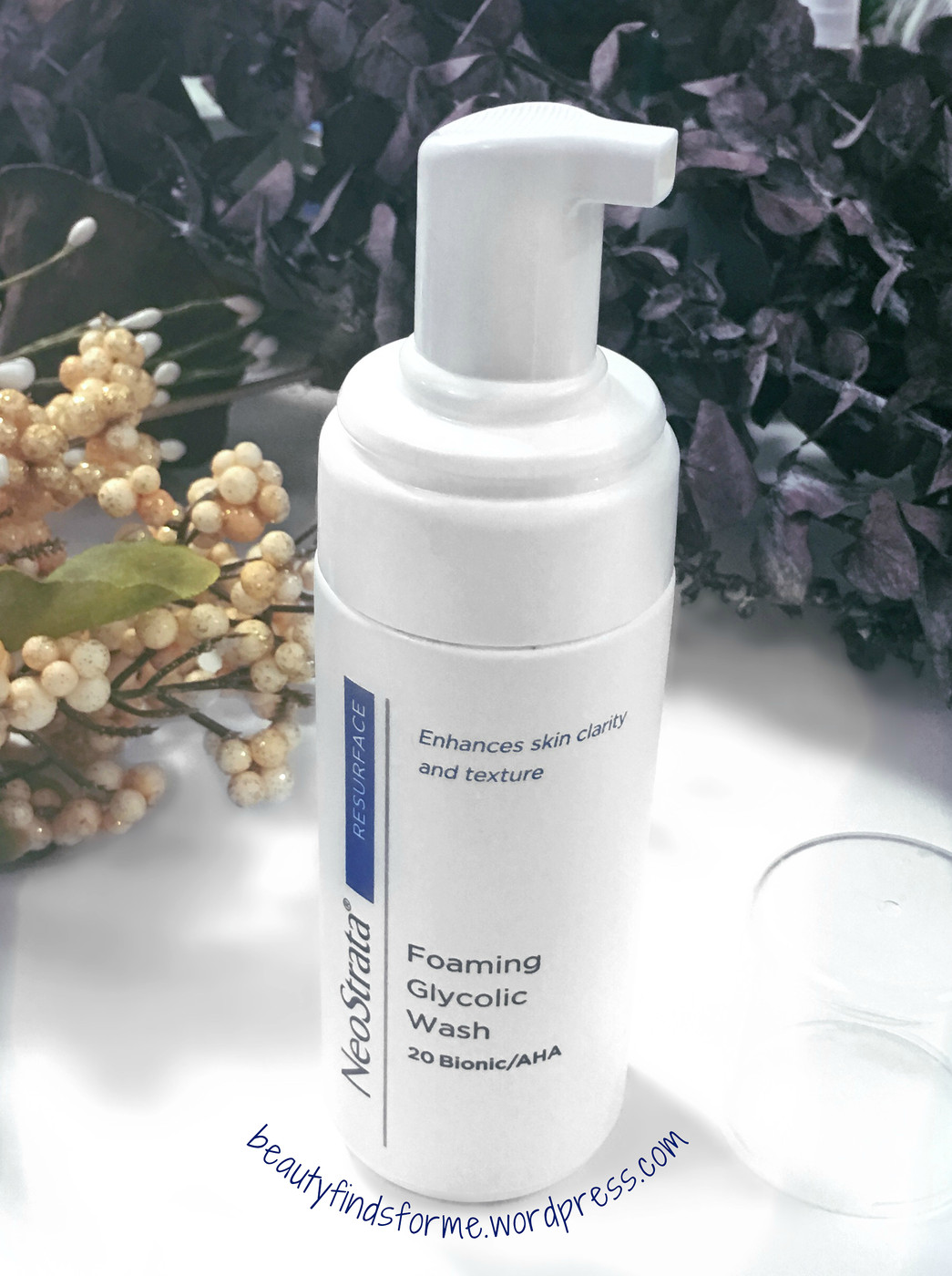 This is a great cleanser ~ as I stated in the beginning, I have been testing out some other AHA cleansers and will review those as well ~  but I have noticed that the more expensive AHA cleansers are a lot more effective than the inexpensive ones.  This does retail for $40.00 USD at Neostrata Online Store here, but you do get what you pay for.  You can find inexpensive AHA cleansers, some around the $8.00 to $20.00 range, but their acid percentage is much less ~ around 2 to 5 percent ~ if they tell you at all.  This is TWENTY percent ~ so you are getting a product that will quickly show results and really will help damaged skin.  Most of the AHA cleansers that are higher in AHA percentages are in this price range, so Neostrata is not overpricing their product.
If you are looking to step up your game with acids and are ready to use an AHA foaming cleanser, I do recommend Neostrata Foaming Glycolic Wash.  I am not surprised to learn that this is one of their #1 best selling products out of all of their skin care items!
 [ disclosure: product received complementary for review purposes ]

Powered by BrandBacker