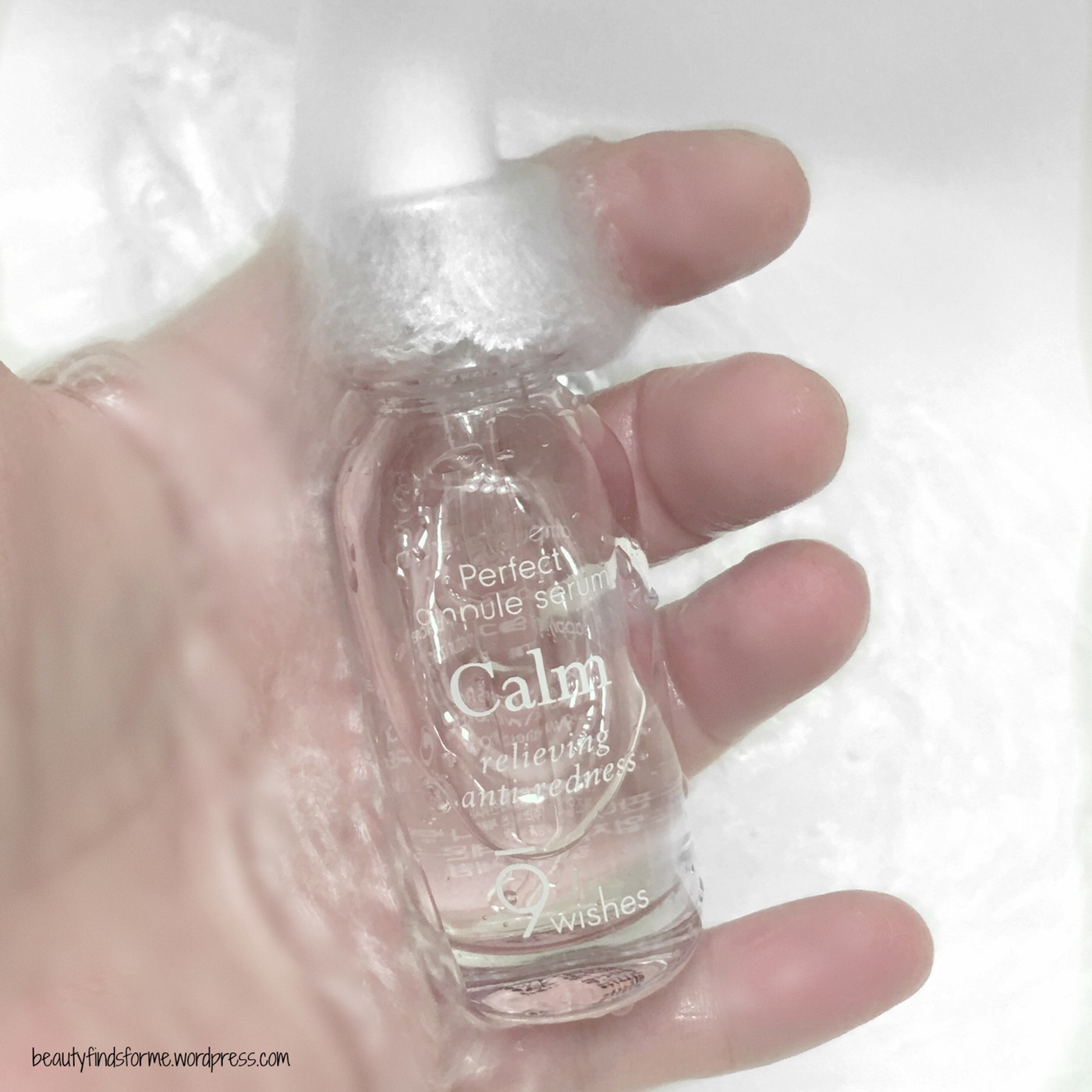 BB Cosmetic is an online K-Beauty store that carries a lot of popular brands, but also some unknown and new brands as well.   One new brand that I have been enjoying is 9Wishes and BB Cosmetic sent me three items to review.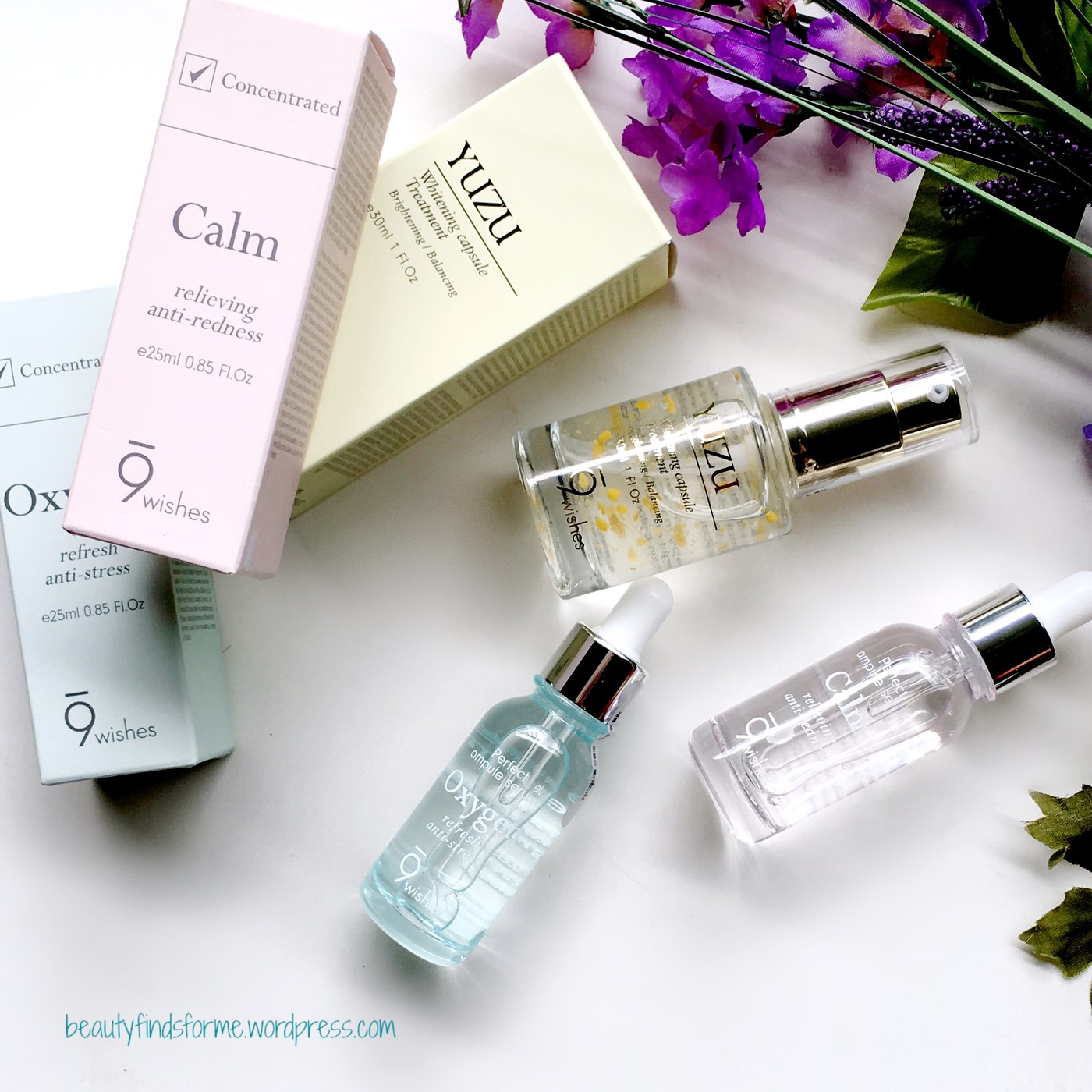 Updated to add additional reviews on the Perfect Ampoule Serum in Oxygen and Yuzu Whitening Capsule Essence
Skin Type/Concerns: Oily, blemish prone, aging, fine lines/wrinkles, hyper-pigmentation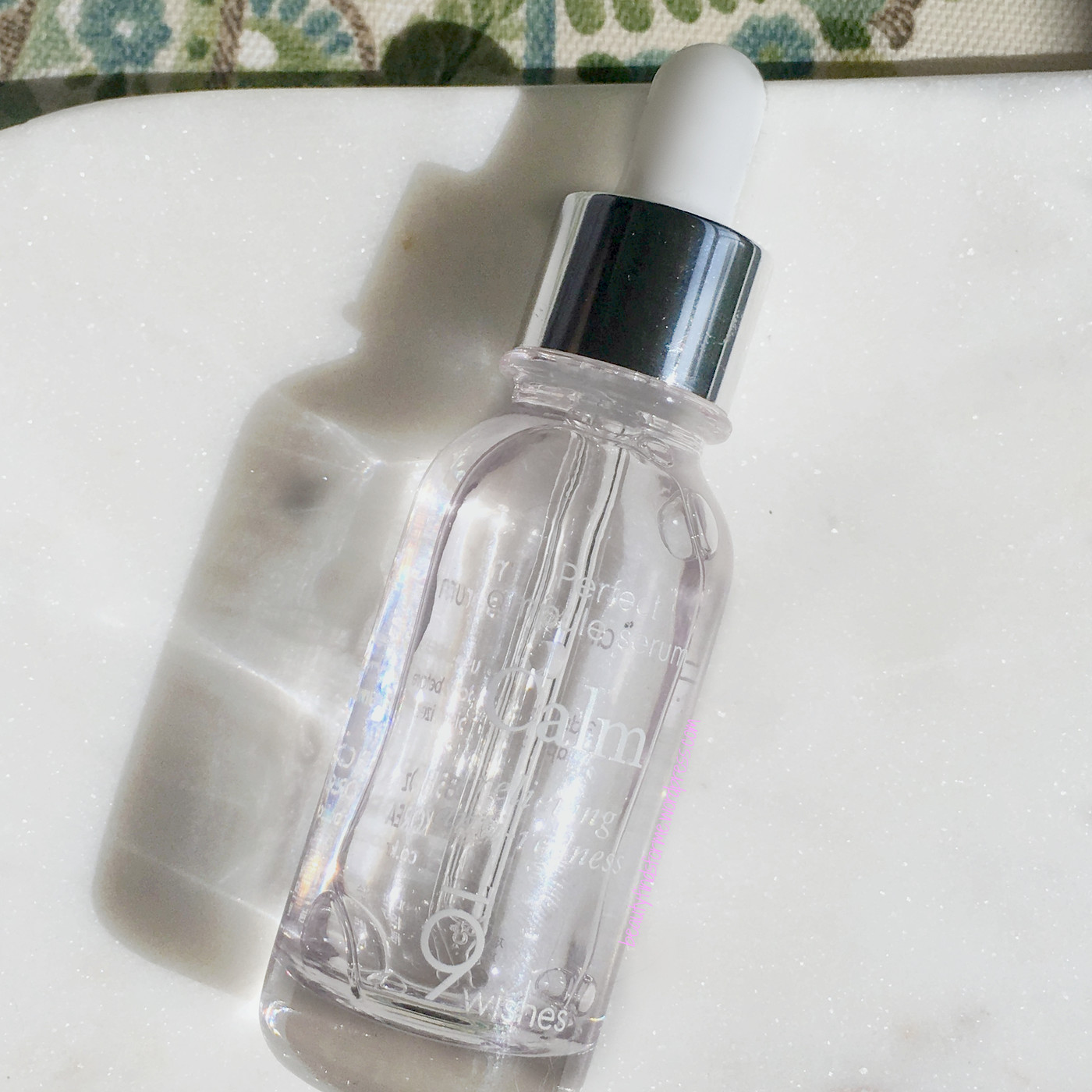 The six different types of ampule-serums
Calm:  Soothing, anti-inflammatory, relieving redness
Collagen: Lifting, anti-wrinkle
Hydra: Glowing, deep hydration
Oxygen: Refresh, anti-stress
Vitamin: Healthy, balancing
White: Brightening, reducing discoloration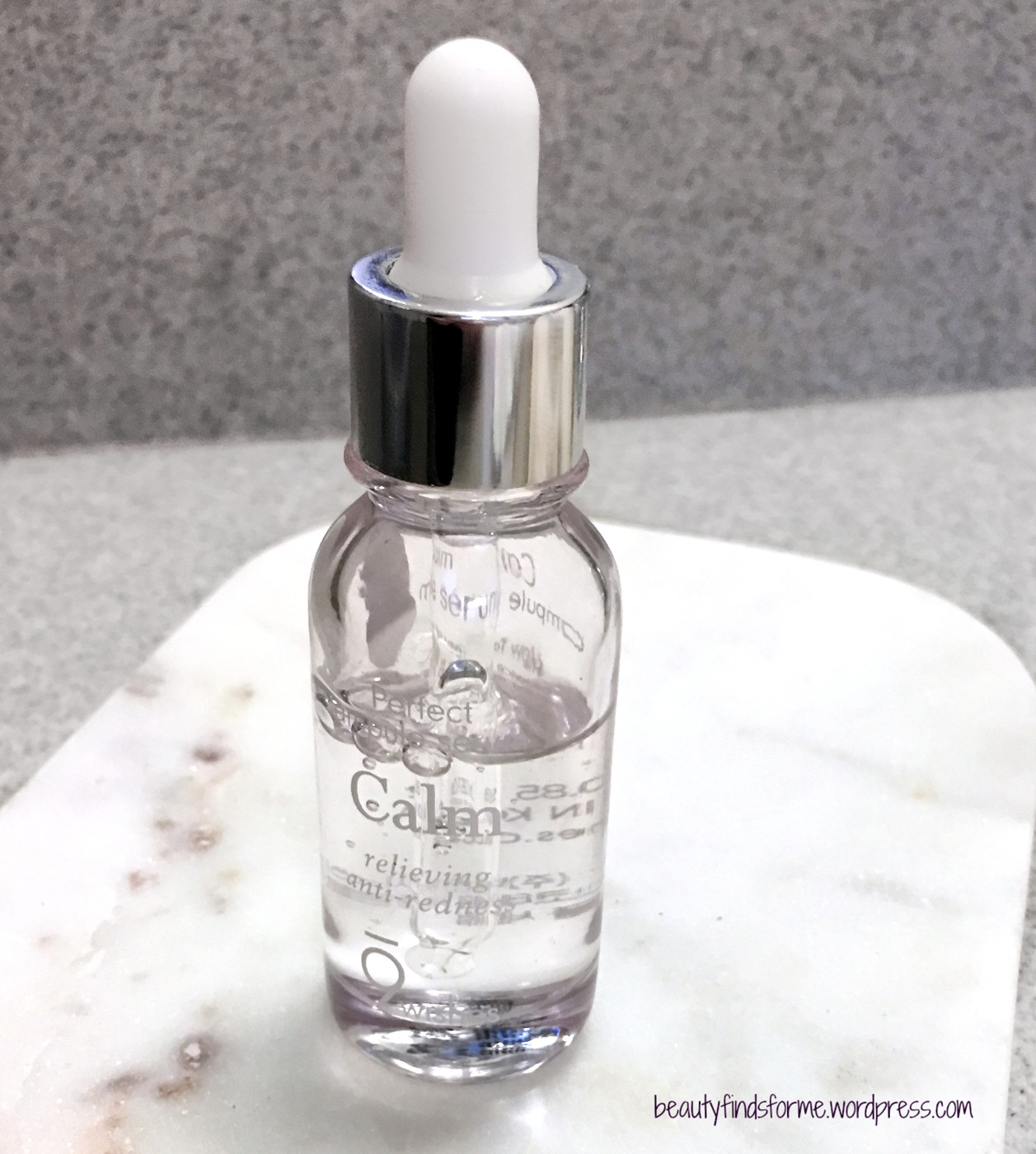 9Wishes Ampule Serums are a lightweight, hydrating ampule that are highly concentrated with ingredients to target your skin concerns.  Calm is designed for those who are blemish prone or suffer from other skin issues and it will help soothe and calm your skin, due to its high concentration of centella extracts. The two ingredients are 55,000 mg of centella asiatica water and 20,000 mg of centella extract.  Centella asiatica is a common herbal ingredient that is used medicinally to help speed up wound healing, such as blemishes and skin rashes. It also helps minimize the appearance of pores, and since it stimulates collagen production, it will make your skin more supple and firm.  It also contains 1000ppm of allantoin, which is known for healing, soothing and softening skin as well as helping to relieve cracked and chapped skin, leaving behind healthy looking skin.
More moisturizing and soothing ingredients can be found with panthenol, helping with cellular renewal and is an effective moisturizer. It is derived from plants and this ingredient comes from Vitamin B5. Panthenol is a natural humectant, which retains moisture and hydrates the skin. It also is a good lubricant on the skin, making skin look soft and smooth as well as being an anti-inflammatory.  Beta-Glucan helps stimulate the production of collagen, speeds up wound healing, soothes and calms skin due to its anti-irritant and strong anti-inflammatory properties, moisturizes, locks in natural moisture, anti-aging and anti-wrinkle due to its anti-oxidant properties and also helps repair your moisture barrier.
Some herbal remedies for blemish prone skin are found with oregano and white willow ~ oregano contains a compound called carvacrol and it helps treat skin issues such as acne and rashes. Carvacrol helps kill harmful microbes and has anti-bacterial, anti-fungal, anti-viral benefits.  Oregano also is an anti-inflammatory and an anti-oxidant ~ it has a higher ORAC (oxygen radical absorption capacity) than vitamin E, so it can heal the skin quicker. (source).  White willow bark extract (salix alba) is a beta hydroxy acid (BHA),  which helps exfoliate skin by removing dead skin cells and it contains salicylic acid to help combat acne. It is also high in anti-oxidants, which tone and reduce inflammation as well as being an astringent, to control oil. Salicylic acid is fat soluble, so it can really get to the oil that is inside your pores.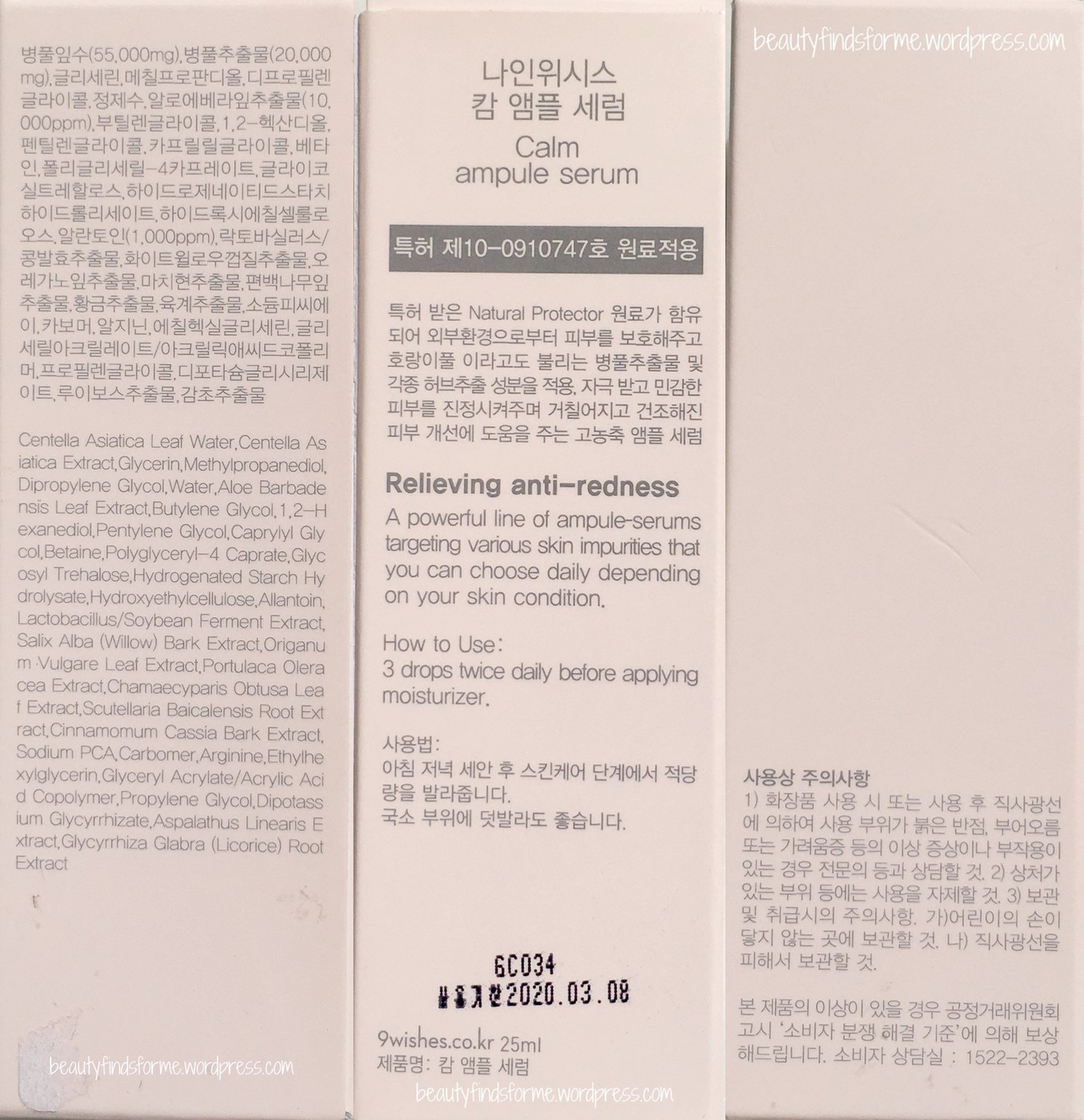 Ingredients: centella asiatica leaf water (55,000mg), centella asiatica extract (20,000mg), glycerin, methylpropanediol, dipropylene glycol, water, aloe barbadensis leaf extract, butylene glycol, 1,2-hexanediol, pentylene glycol,  caprylyl glycol, betaine, polyglyceryl-4 caprate, glycosyl trehalose, hydrogenated starch hydrolysate,  hydroxyethylcellusose, allantoin(1000ppm), lactobacillus/soybean ferment extract, salix alba (willow) bark extract, origanum vulgare leaf extract, portulaca oleracea extract, chamaecyparis obtusa leaf extract,  scutellaria baicalensis root extract, cinnamomum cassia bark extract, sodium PCA, carbomer, arginie, ethylhexlyglycerin,  glyceryl acrylate/acrylic acid copolymer, propylene glycol, dipotassium glycyrrhizate, aspalathus linearis extract, glycyrrhiza glabra (licorice) root extract  cosDNA analysis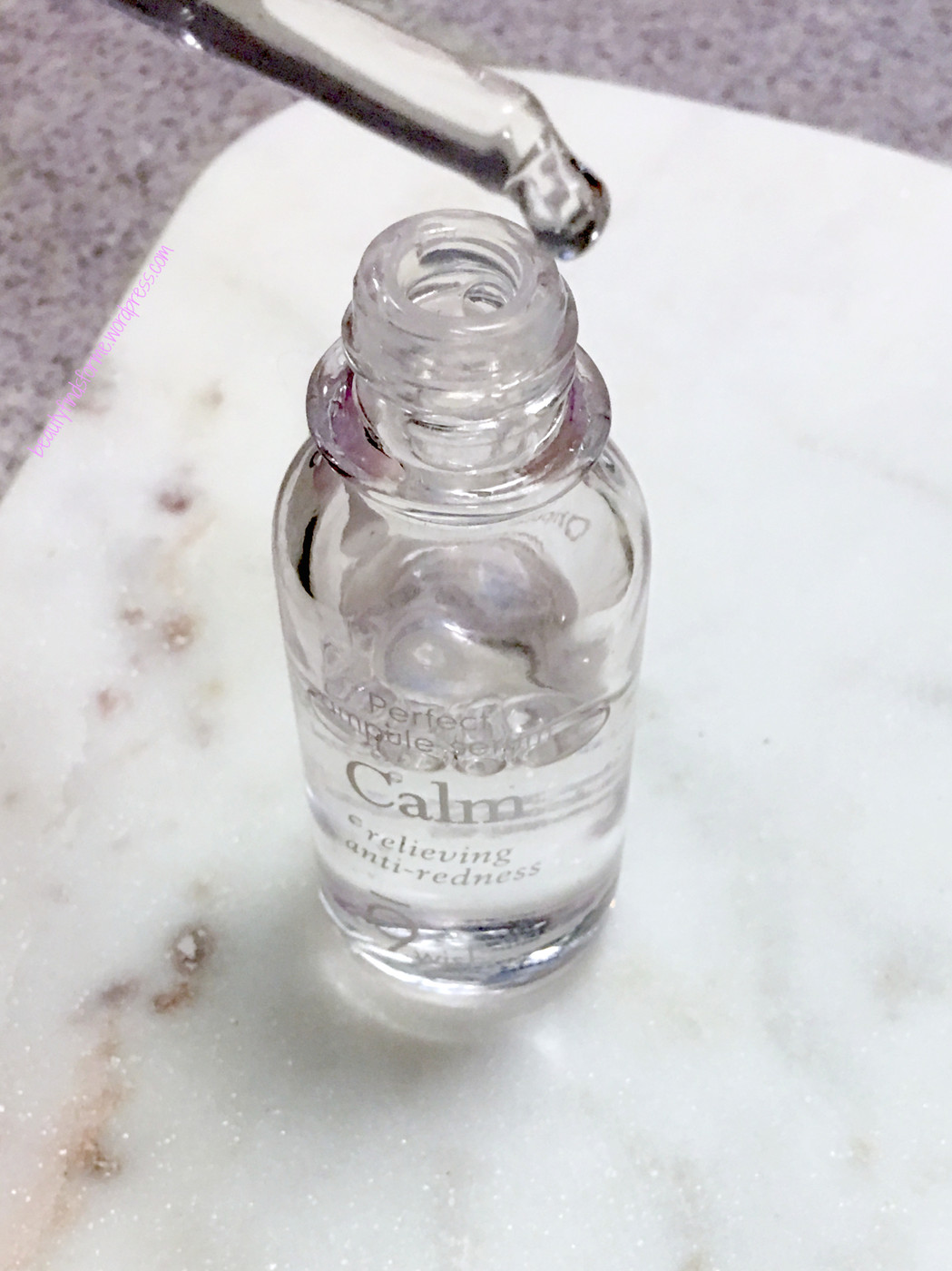 The clear 25 mL glass bottle has an eye drop applicator that is slightly slanted at the tip, making it is easy to deposit on my face.  The ampule serum is very runny and lightweight and despite its pale pink shade, this is a colorless and also scentless ampoule.  This ampule will help reduce redness, hydrate dry and rough skin and is good for sensitive skin.

I usually use 3 to 4 drops on my face and it absorbs quickly into my skin, without any sticky or oily residue ~ in fact, it is almost like I didn't apply anything on my skin, that is how well it hides its footprint!  My skin does feel cool, supple and hydrated.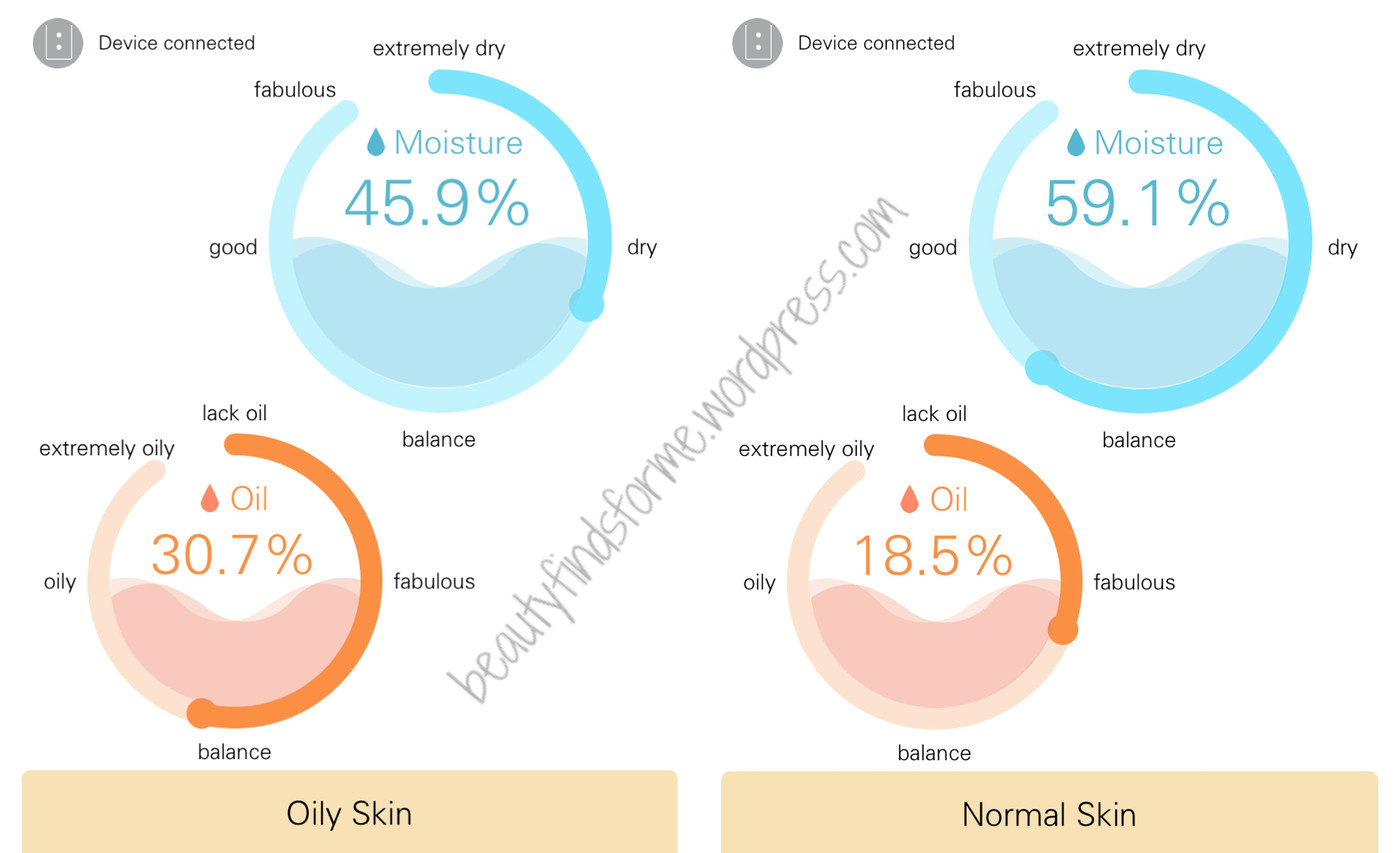 It increased my moisture levels by 29% and decreased my oil levels by 40%, which for oily skinned folks, this is very desirable ~ I want hydrated, balanced skin.  My skin also looks less red and my blemishes are soothed ~ sometimes I will get pimples that hurt, you know?  They are about to come to head, and they hurt as they push against my skin and this ampule-serum really helps calm my skin and reduces swelling and inflammation.
Final Thoughts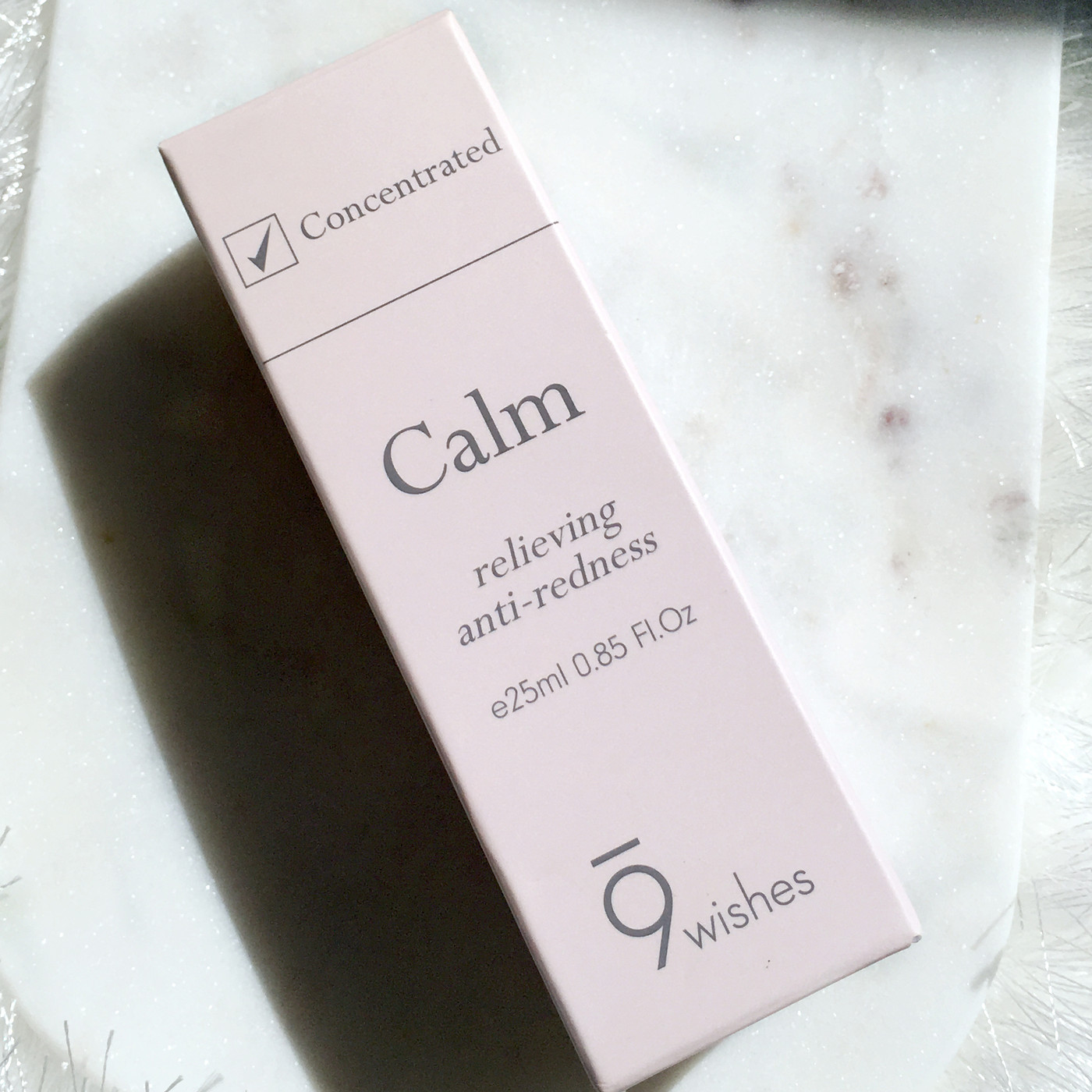 So far, I am liking 9Wishes!  The Calm Ampule is very soothing, yet lightweight and easy to layer with my other skincare products.  It has centella in it and not just stuffed at the end of the ingredient list, but the top two ingredients ~ it also has some nice brightening ingredients with licorice as well, so that will help with reducing redness and evening out skin tone too.  Centella has been a popular ingredient with me this year and I will have a mega post with some of my favorites (and duds!) in a month or so!  I am currently using the Oxygen Ampule and the Yuzu Capsule Essence and so far, they are both quite nice ~ the Yuzu is perfect as a night time essence and I find them quite hydrating.  I did purchase another 9Wishes product, the Sage Capsule Essence, but I won't start using that until later this year ~ I need to finish off my other 9Wishes products first!  Have you tried anything from 9Wishes? What was it and what did you think of the brand?
9Wishes Perfect Ampule Serums (25mL)  are $10.99 USD each at BB Cosmetic, making them very affordable.  The price point is amazing considering how well the Calm works for me and it has no added fragrance or coloring.  In this case, price does not mean inferior product ~ the Calm Ampule Serum gives fantastic results and lives up to its claims. BB Cosmetic ships internationally as well as the USA ~ they have a USA warehouse, so if you live in the US, you could get your items a lot quicker if they stock the items there.   You save 8% on your purchases at BB Cosmetic using promo code YW36SVN21HU  
Update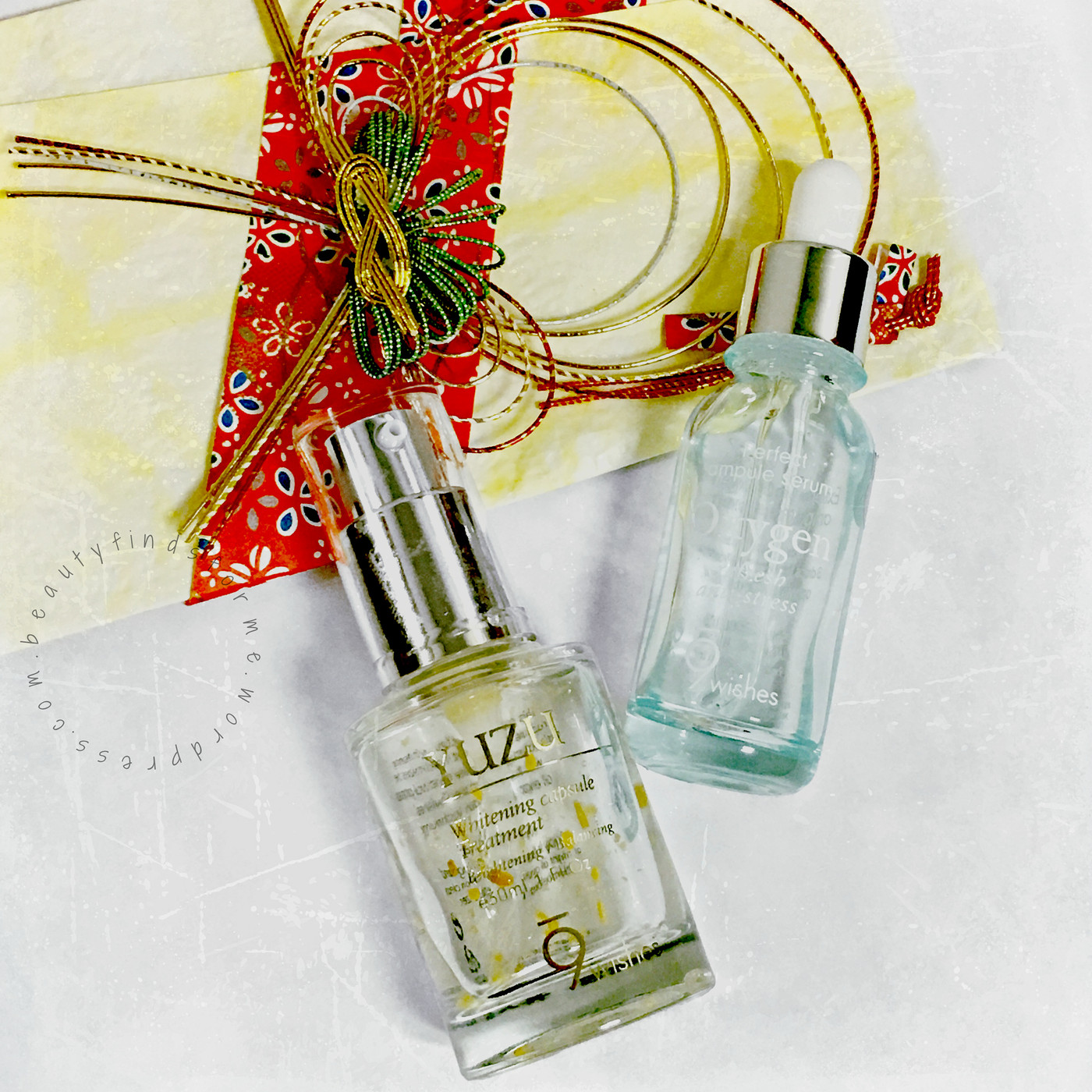 You ever use something & you ask … is that all there is?  I have been so uninspired with these 2 products from 9 Wishes that I have been dragging my feet on a review. I have been using these two items since summer and honestly, have not noticed anything different  about my skin, other than they hydrate.  First up, this looks SO pretty in the bottle ~ Yuzu Whitening Capsule Essence, a brightening treatment that is supposed to help maximize your skin's natural renewal process.  It contains 3000ppm of Yuzu, a citrus full of vitamin C, along with other vitamin C powerhouses ~ grapefruit and sea buckthorn and it also has niacinamide, licorice and mulberry bark as well for brightening and evening out skin tone.  There are 5 different types of hyaluornic acid in here ~ sodium hyaluronate, hydrolyzed glycosaminoglycans, hydrolyzed hyaluronic acid, sodium hyaluronate crosspolymer & hyaluronic acid.  Resmelin H, a botanical extract that is naturally derived from thuja orientalis (cypress family),  zanthoxylum schinifolium (Sichuan pepper tree) and polygonum cuspidatum (Japanese knotweed)  ~ these three ingredients help fight free radicals, protect your skin, stimulate collagen growth, brightens and helps prevent fine lines and wrinkles, while soothing, firming and moisturizing your skin with its anti-oxidant and anti-inflammation benefits.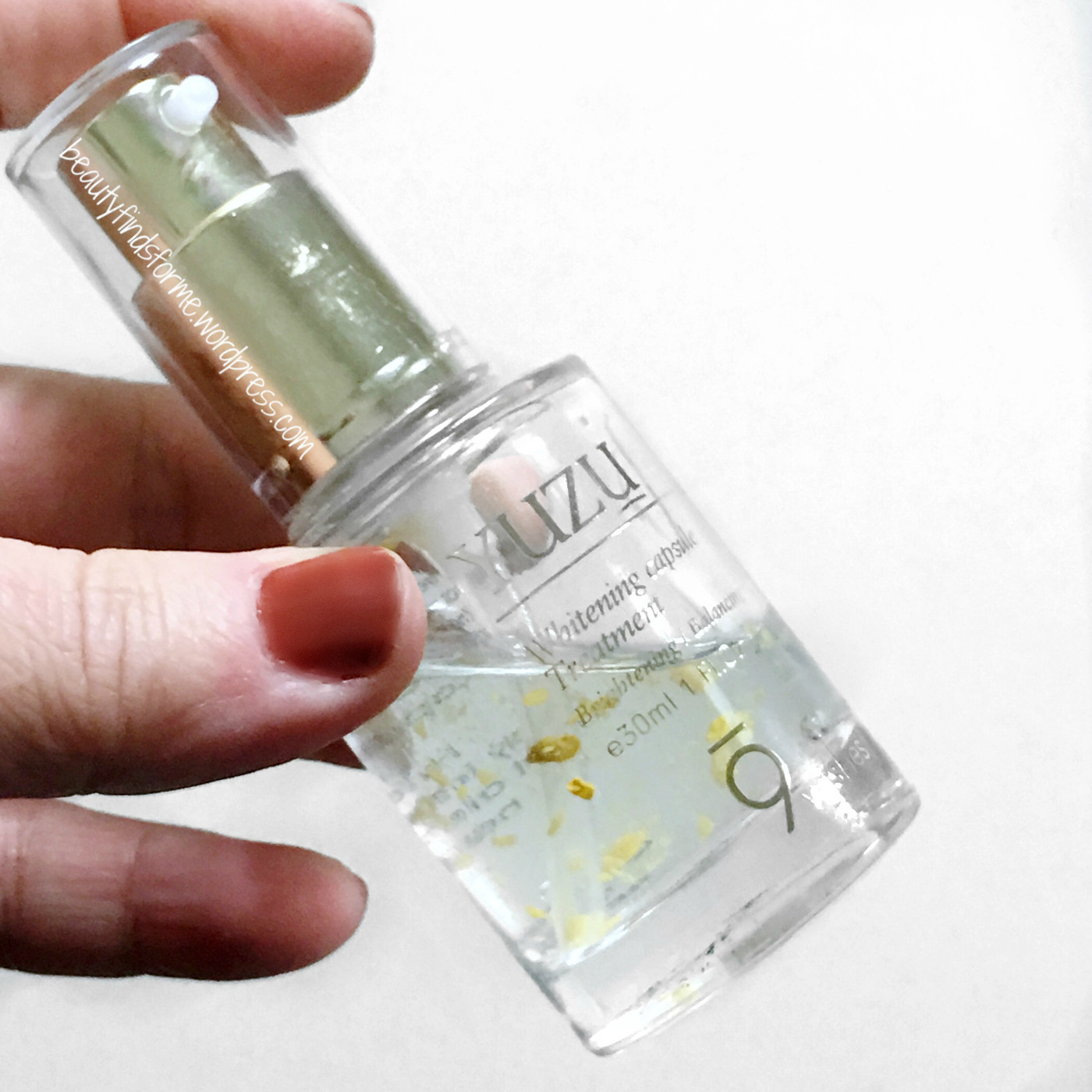 This looks so cool in the bottle too ~ those bits of yellow capsules are the yuzu encapsulated in a pure macadamia seed oil and it will burst as it is pumped out of the bottle.  This essence is a light, watery-gel texture and has a light citrus scent ~ it absorbs very quickly into my skin, leaving it quite hydrated  and moist ~ it increased my moisture levels by 47% & decreased my oil levels by 31% ~ and my skin feels smooth.  But that is it ~ I have not seen any brightening effects at all with this. They have a Rose for Hydration and Sage for repairing and restoring skin barrier. These are currently $18.00 at BB Cosmetic and I will admit, they do like nice on the bathroom counter.  I purchased the Sage but I haven't tried it yet ~ I have higher hopes for that essence and will do a review here once I do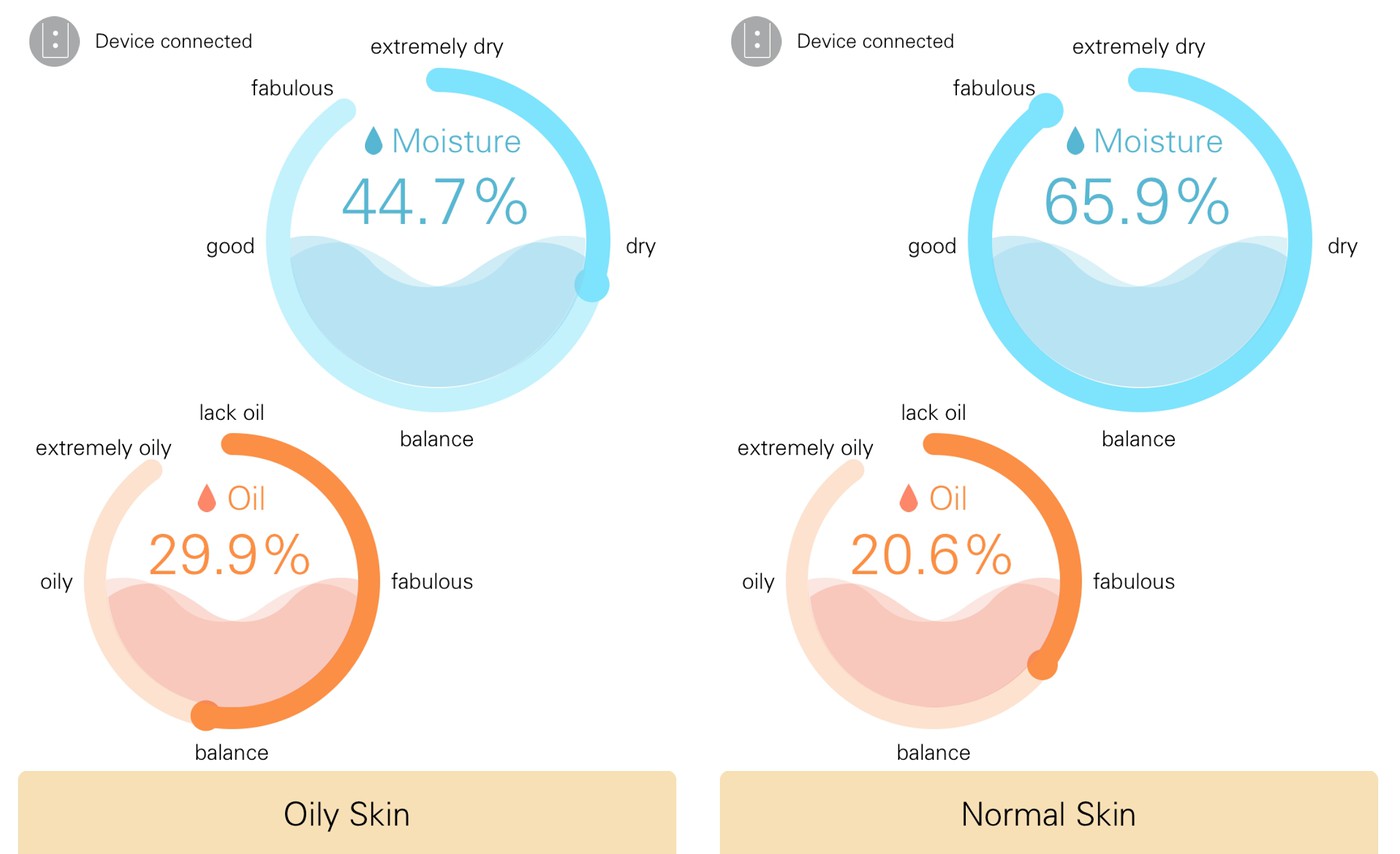 Yuzu Whitening Capsule Essence Ingredients: citrus grandis (grapefruit) fruit water, citrus junos fruit extract (3000ppm), water, metylpropanediol, niacinamide, 1,2-hexanediol, thuja orientalis leaf extract, macadamia ternifolia seed oil, acrylates/C10-30 alkyl acrylate crosspolymer, arginine, polyglyceryl-4 caprate, zanthoxylum schinifolium extract, caprylyl glycol, citrus juno seed oil, oryza sativa (rice) callus culture extract, beeswax, propanediol, hippophae rhamnoides fruit extract, scaidopitys verticillata root extract, camellia japonica seed oil, polygonum cuspidatum root extract, tremella fuciformis (mushroom) extract, glutathione, saussurea involucrata extract, allantoin, glycerin, punica granatum fruit extract, ficus carica (fig) fruit extract, morus alba fruit extract, ginkgo biloba nut extract, aloe barbadeniss leaf powder, citrus aurantim bergamia (bergamot) fruit oil, ethylhexylglycerin, butylene glycol, dipotassium gllcyrrhizate, sodium hyaluronate, hydrolyzed glycosaminoglycans, hydrolyzed hyaluronic acid,  pentylene glycol, aspalathus linearis extract, glycyrrhiza glabra (licorice) root extract,  sodium hyaluronate crosspolymer, hyaluronic acid, CI 77492 cosDNA analysis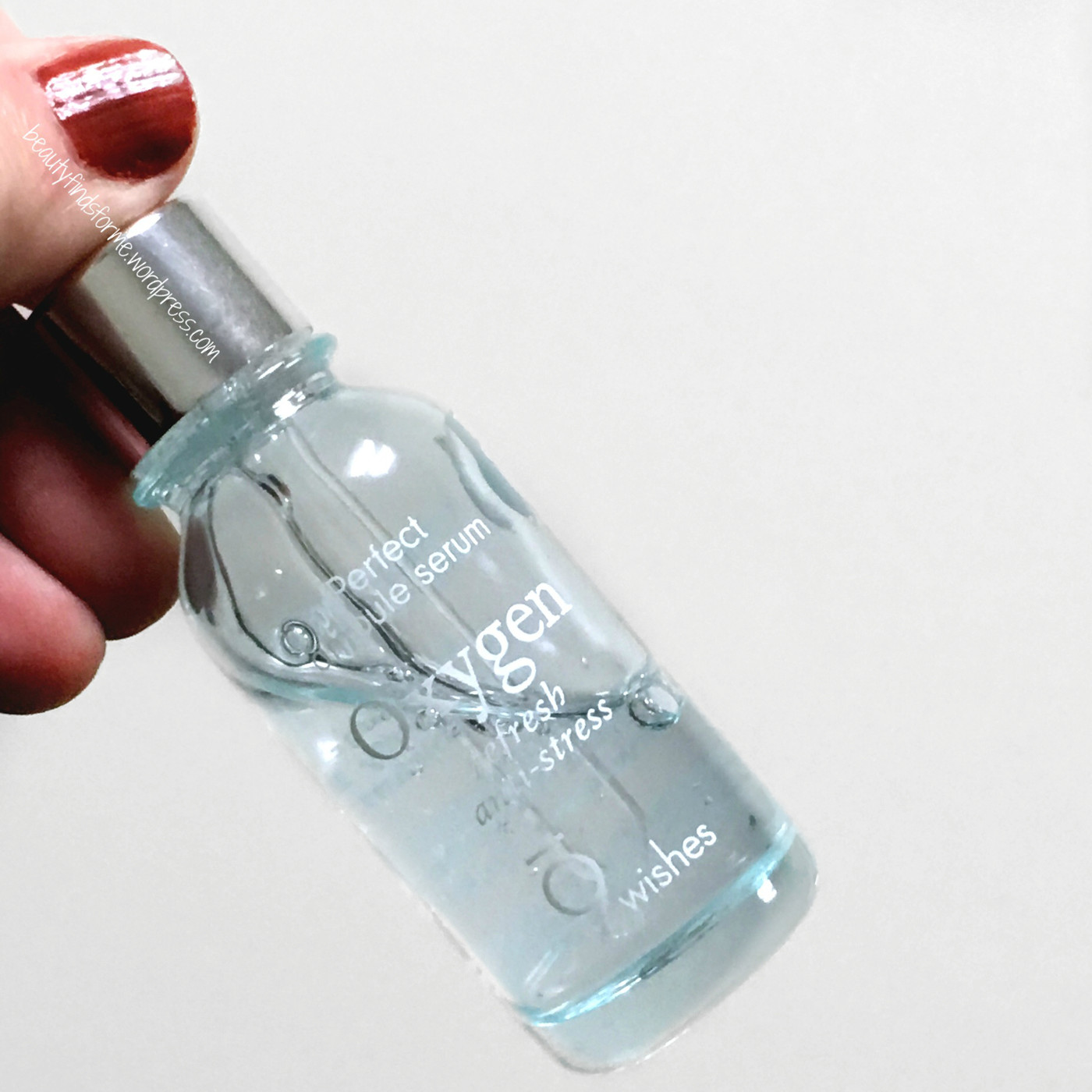 The Perfect Ampoule Serum in Oxygen is supposed to help with external stressors and refreshes the skin. This serum contains  77,000 mg of mineral-rich carbonated water, which I guess is supposed to be a big woop-de-ding-dang in skincare (I honestly am not sure what to make of it ~ but I am a sucker for sparking H20) ~ its replenishes hydration to the skin, but doesn't water do that in general (outside of salt water..)  What interests me is not the carbonated water, but the soothing, healing ingredients of galactomyces (5000ppm),  beta glucan (5000ppm), bifida  (2000ppm) and snail slime 2000ppm) ~ all which work well on my skin type.   This also contains Patent No 10-0812596 BSAM Complex ~  a skin protecting compound that consists of natural botanicals to help repair damaged skin, acting as an anti-inflammatory and moisturizer 
It looks like a blue serum in the bottle, but comes out clear ~ again, 9 Wishes products do make for a pretty picture and bathroom counter!  The serum is odorless and is very watery gel, very similar to the Yuzu Essence, but it has a viscosity to it, due to the beta glucan and snail slime.  It feels slick on my skin ~ but it does absorb quickly and without any stickiness. This ampoule increased my moisture levels by 33% and decreased my oil levels by 37% and my skin did feel smooth and hydrated. However, that is it. Not sure what else it is supposed to do other than hydration, which is fine, but they already have a Hydrate serum that does the same function. Unlike the Calm version, which actually did help calm down my redness and blemishes, this one is just like why bother with it.  These are $10.99 each at BB Cosmetic.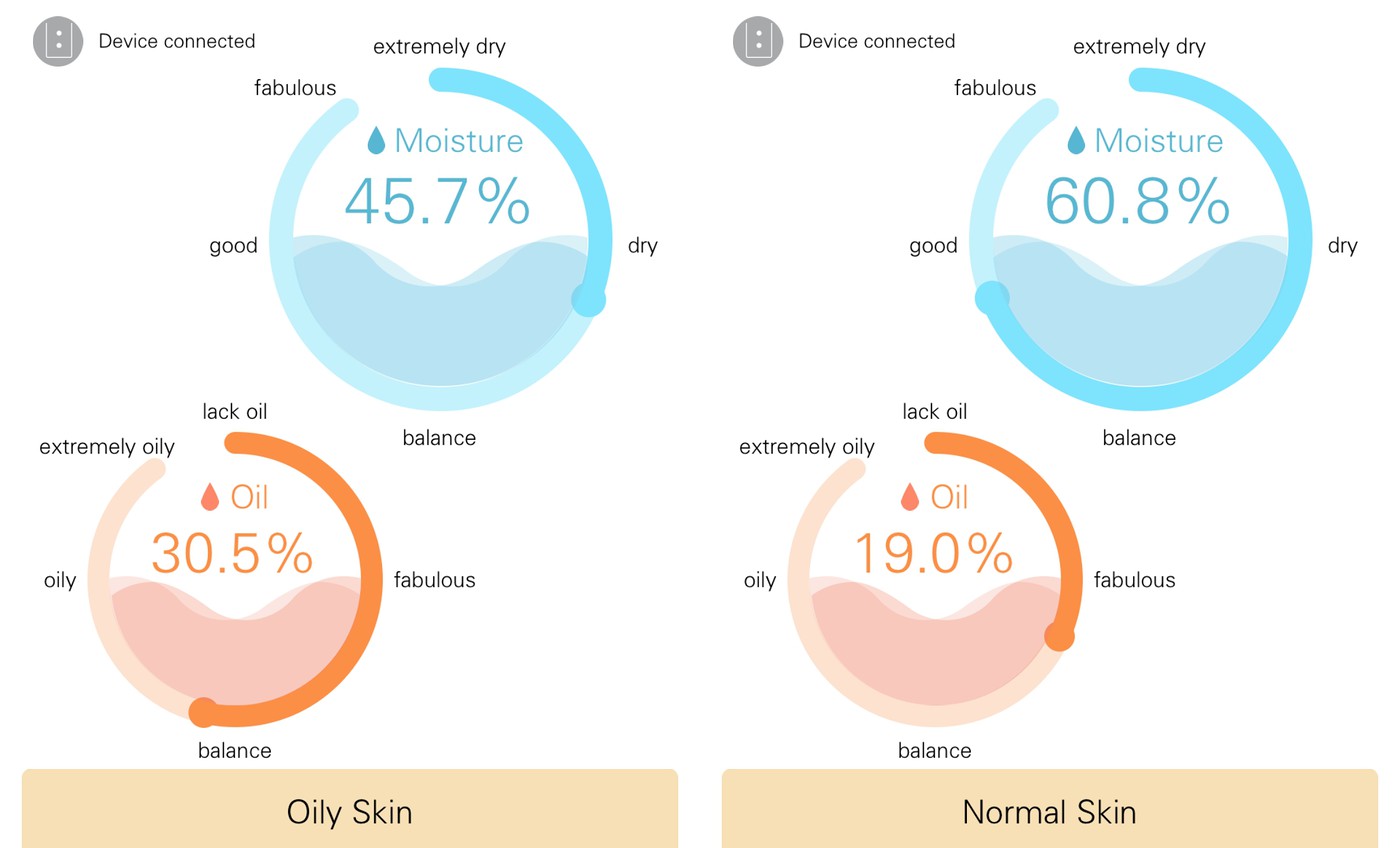 Perfect Ampoule Oxygen Ingredients:  carbonated water (77,000mg),  water, glycerin, butylene glycol, methylpropanediol, dipropylene glycon, 1,2-hexanediol, galactomyces ferment filtrate (5000ppm),  beta glucan (5000ppm),  pentylene glycol, polyglyceryl-4 caprate, caprylyl glycol, glycosyl trehalose, betaine, bifida ferment filtrate (2000ppm), snail secretion filtrate (2000ppm), hydrogenated starch hydrolysate,  carbomer, argininie, allantoin, sambucus nigra flower extract, hydroxyethylcellulose, centella asiatica extract, ethylhexylglycerin, dipotassium glycyrrhizate, polygonum cuspidatum root extract, scutellaria baicalensis root extract, glycyrrhiza glabra (licorice) root extract, camellia sinensis leaf extract, chamomilla recutita (matricaria) flower extract, rosmarinus officinalis (rosemary) leaf extract, aspalathus linearis extract cosDNA analysis
Both of these products ARE nice, inexpensive (well, so long the capsule essence is on sale, as it is normally $31.00) and they both hydrate my skin.  However, the Yuzu product did not brighten and I have other hydrating products I can use.  However, I am excited to try out the Sage Capsule Essence and will be putting that in my skin care rotation soon.  9 Wishes has some hits and misses and these two are neither that ~ they are nice, but nothing special. 
[ disclaimer: product received complementary for an unbiased and honest review ]