[ disclosure: product received for review purposes. contains affiliate links ]

I actually got my December Peaches & Petals box a couple of days before the end of December!  Maybe this means that P&P is back on track with the shipping.   December's Peaches & Petals theme is "Let's Get Cozy"  and let's see if they improved this month ~ the last month was pretty sad and they haven't been consistent with the quality of their curation.    Peaches & Petals is a subscription service that is focused on lifestyle and beauty products.  From their website  "Love trying new experiences? So do we. At Peaches & Petals, we thrive on trying new things, therefore our boxes are curated to maximize your experience with interesting products hinted by a monthly theme. We are adventurous at heart, and love hand-selecting products that help you enjoy every moment."  This box was sent to me for review purposes from Peaches & Petals and I thank them for their generosity as always 🙂  I am always appreciative of companies who look for honest feedback on their services.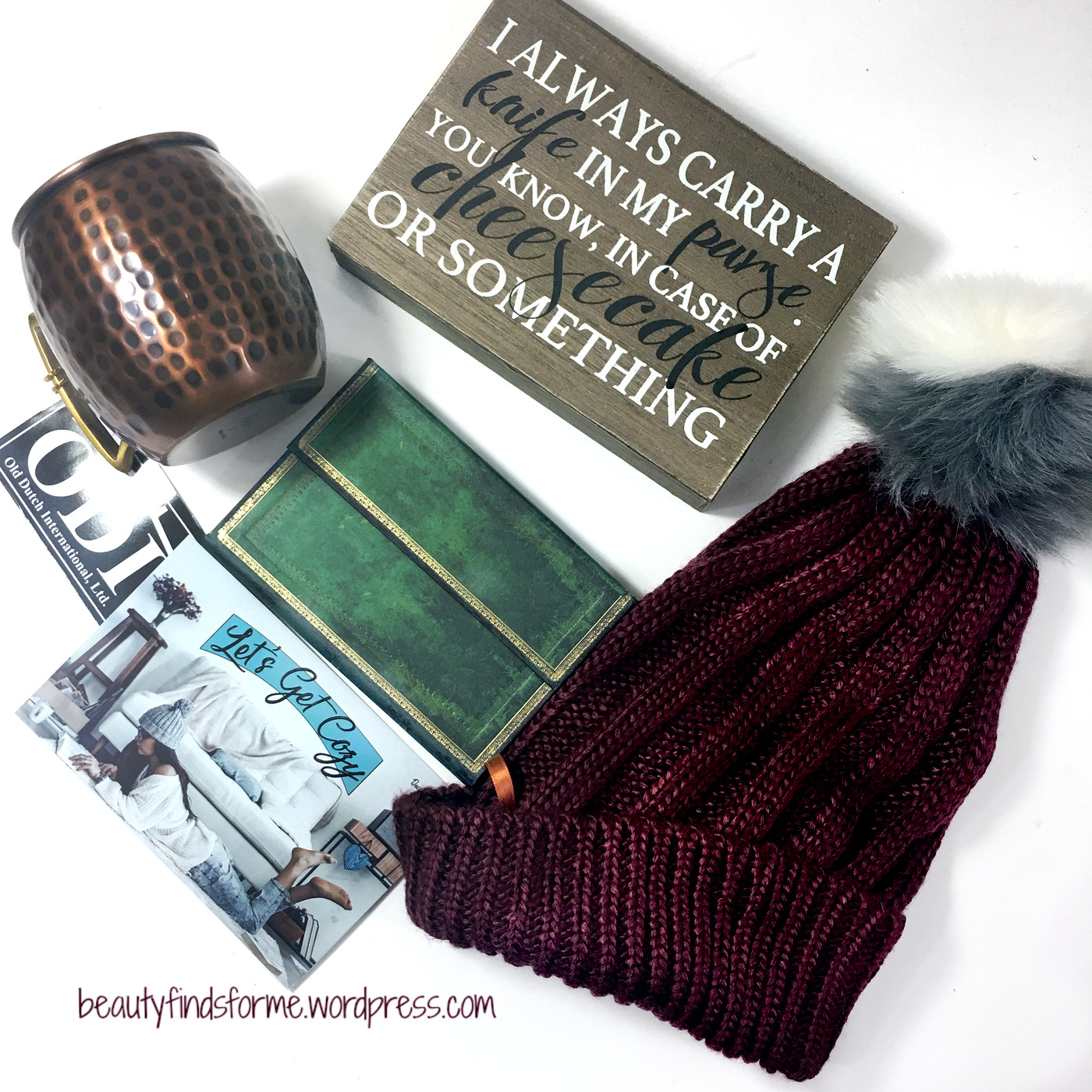 Informational Card
Explanation on valuing products:  Since Peaches & Petals does not give a value on their products,  I normally will use the Retail Value from the vendor's site or an average if I find the product on multiple sites with varying prices.  Subscription boxes are usually basing their value on Retail Value, not Markdown or Sale Values.  With that in mind, you can usually find products for less, just like anything else in the marketplace.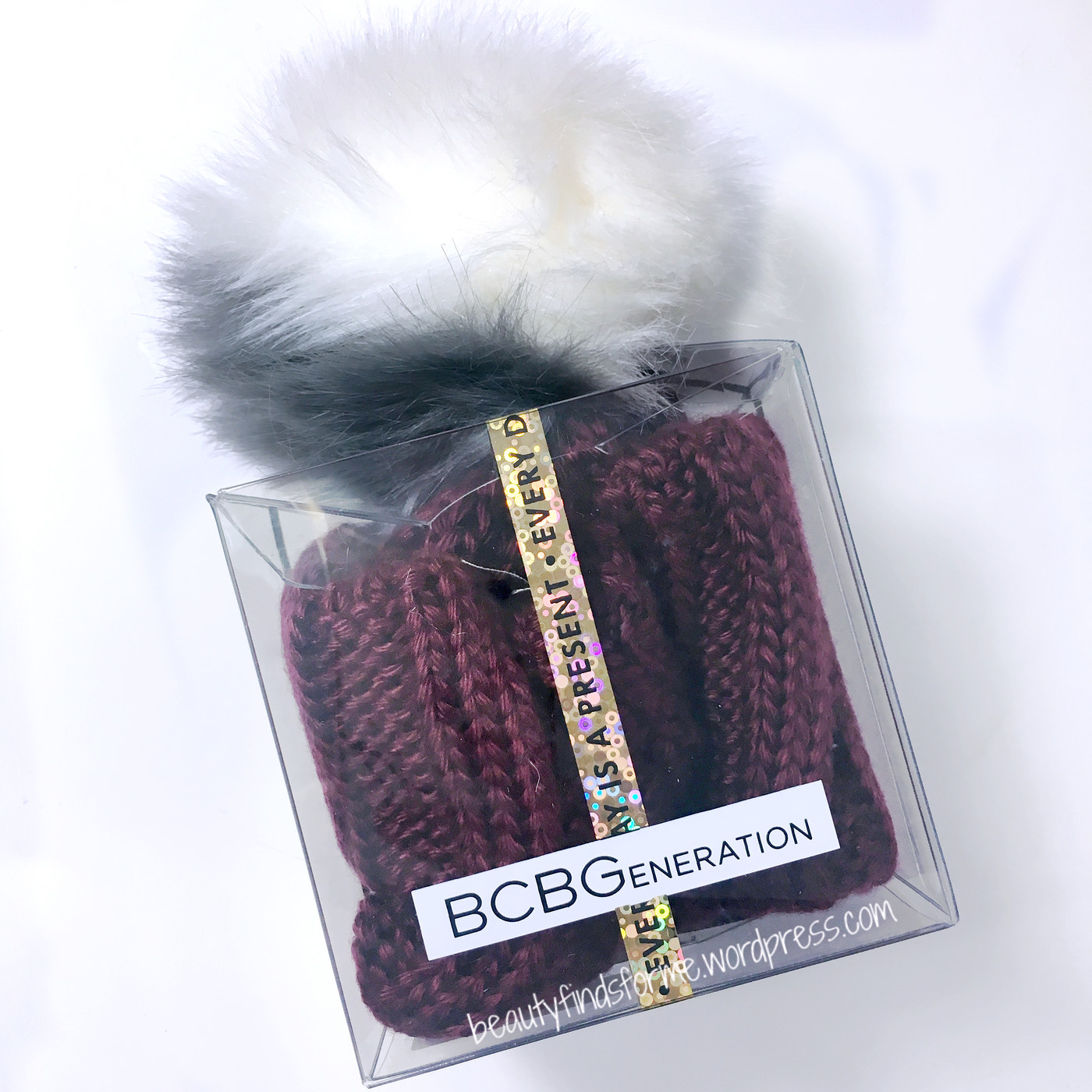 BCBGeneration Two-Tone Pom Pom Beanie I love this!  BCBG can be pretty pricey and it so cute!! Mine is in Wineberry, a rich mulberry shade, cable knit style with a two tone faux fur pom pom on top ~ in cream and grey.  I normally don't wear hats as "hat-hair" always is an issue, but when it is cold outside, I give up vanity and will wear them ~ at least I have one that is a beautiful color with a cute pom pom.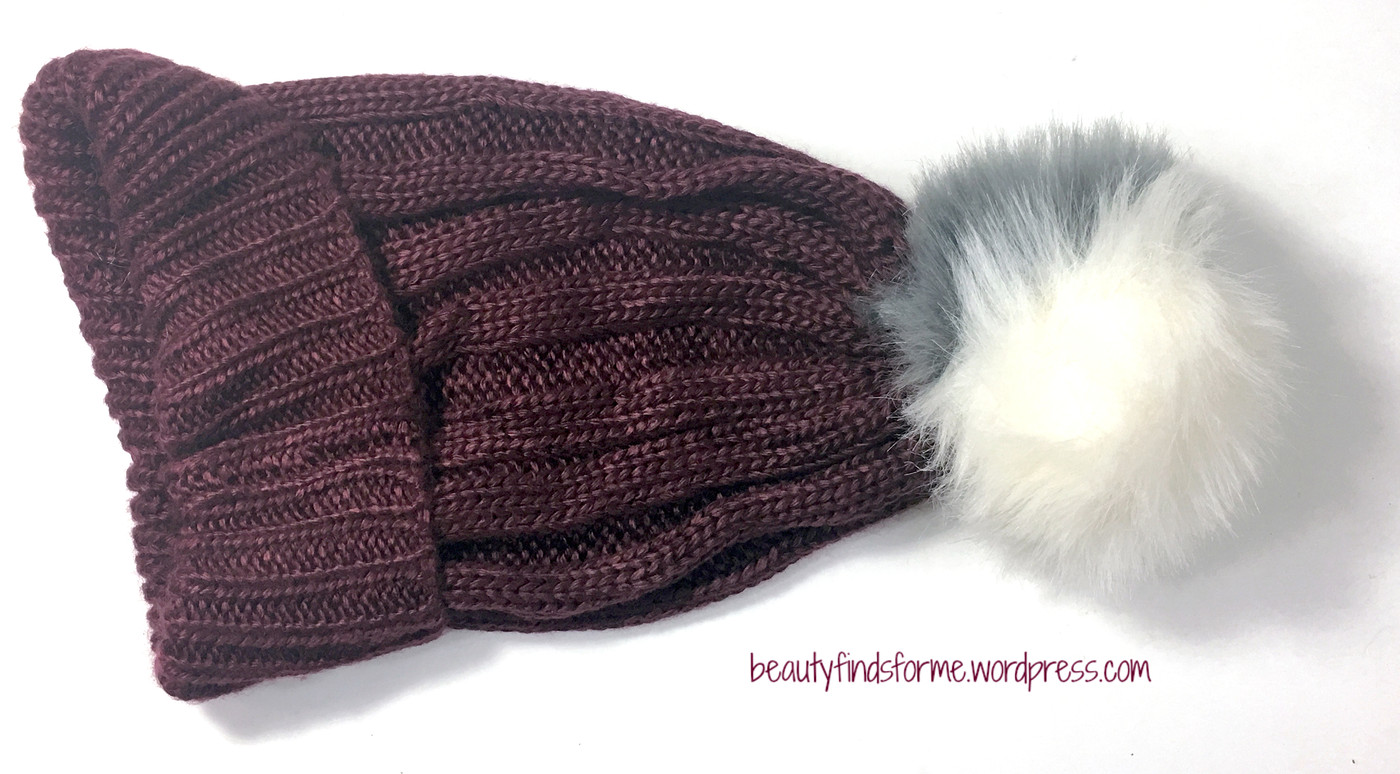 The hat has a wide, turned up cuff and is made of 100% aryclic and the faux fur pom pom is 72% acrylic, 17% modacrylic and 11% polyester.  It is hand wash and dry flat.  The retail value is $36.00, but you can find it around $25.00 due to sales.  This hat was a variation in the boxes ~ you could have gotten a different design or brand.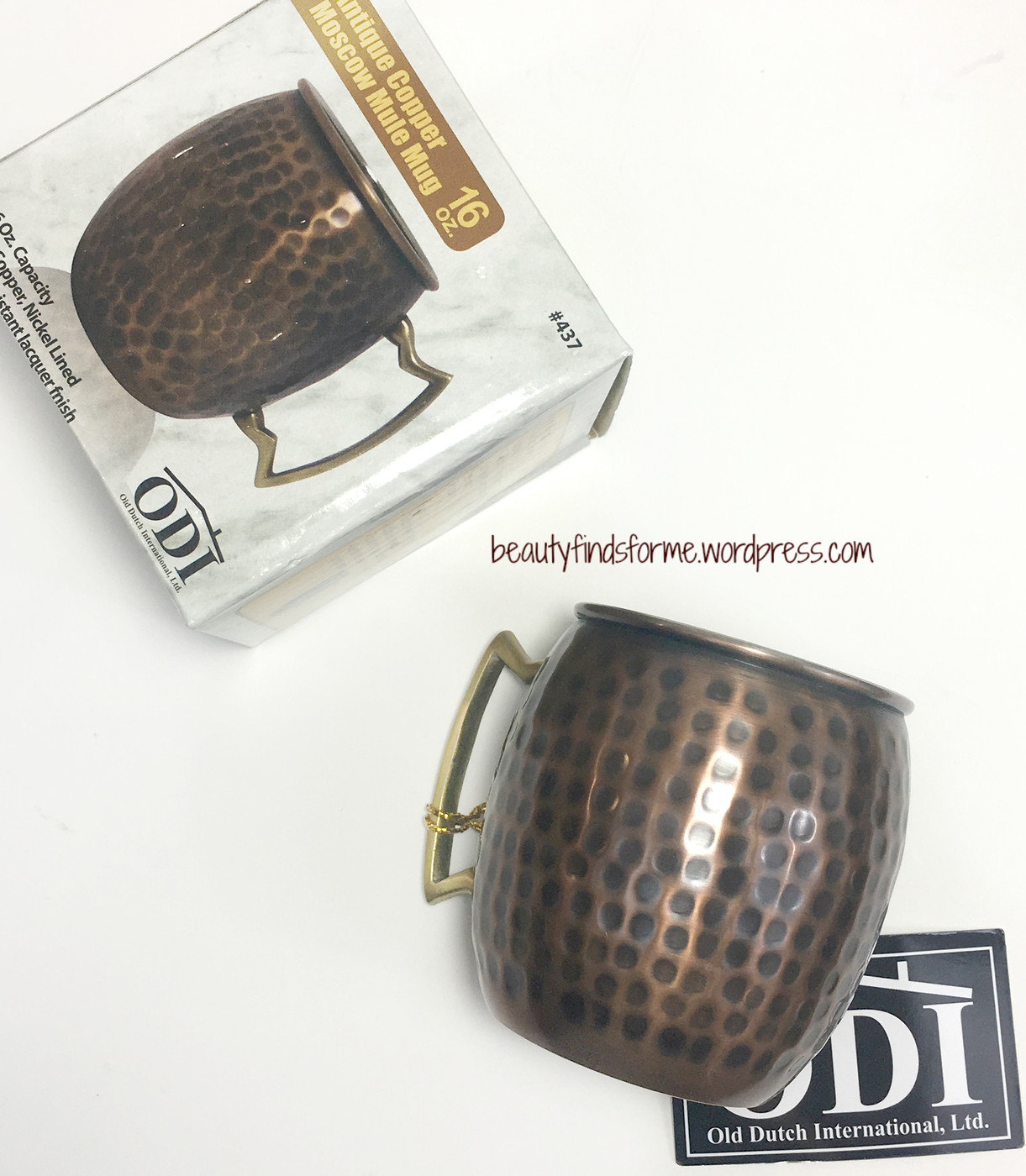 ODI Hammered Antique Copper Moscow Mule Mug  Old Dutch International has been making copper kitchenware and accessories since 1950.  I always think of them when I think of Moscow Mule mugs, as they have a huge variety of them. Normally, you serve cold drinks in your Moscow Mule mug, but it can be used for hot drinks too!  This one is solid copper that has been hammered and then given an antique blackened patina.  It has a solid cast brass handle and is lined with nickle, measuring 4 3/4 inches x 3 1/4 inches x 3 3/4 inches and holds 16 ounces.  This is not dishwasher, microwavable or oven safe ~ just wash by hand and air dry.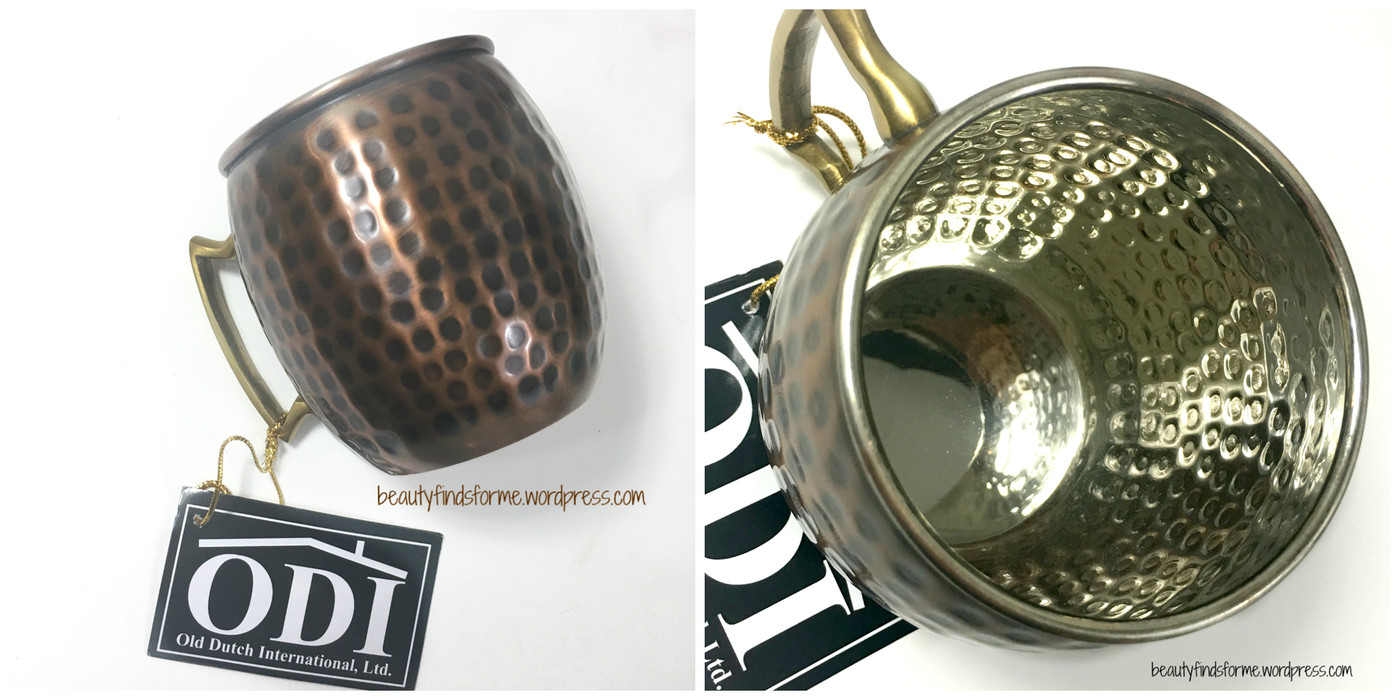 I love the look of this mug and this is a happy surprise!!  ODI included the traditional Moscow Mule recipe on the box  RV $28.99 (on sale currently at ODI for $14.99)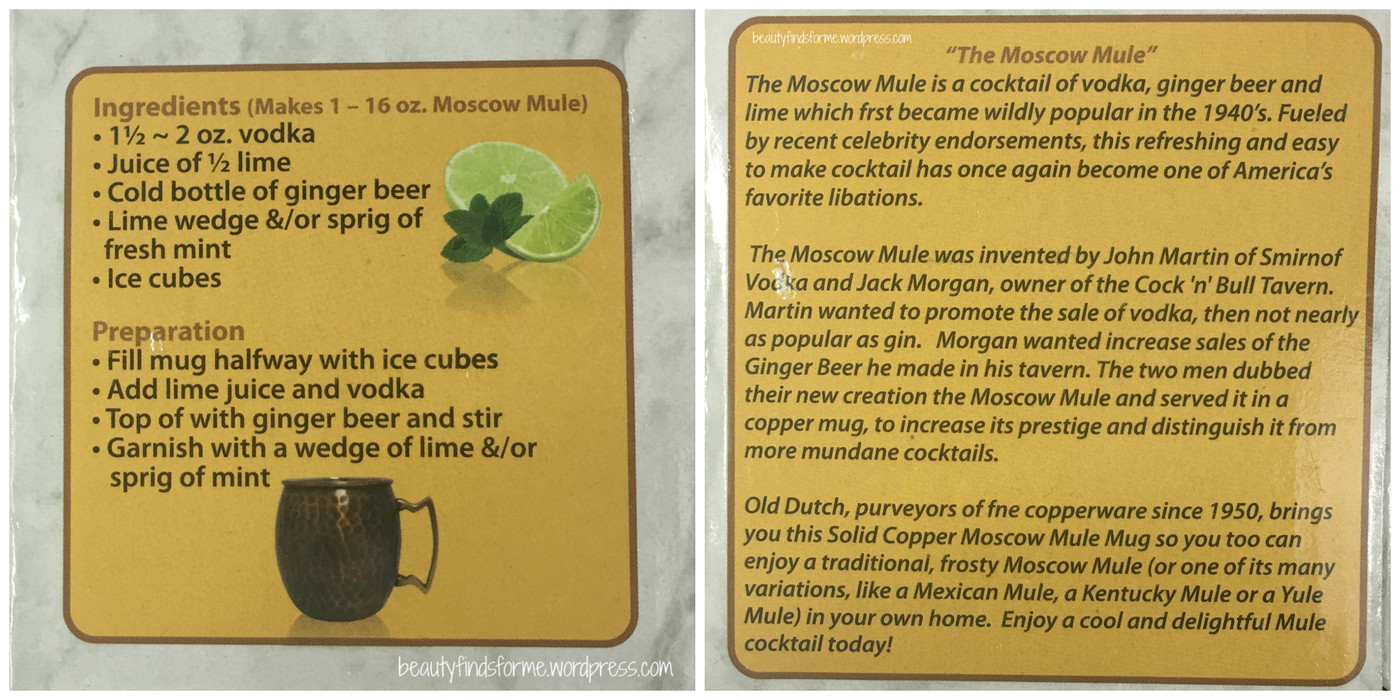 Did you know that there are a ton of variations to the Moscow Mule?  I found a lot of recipes at Bevvy and other sources
Mexican Mule: Muddle cilantro, jalapeño with a bit of crushed ice in a cocktail shaker.  Add vodka, orange liqueur, ginger liqueur, lemon juice, some ice.  Shake well.  Pour into copper mug over ice.

London Mule:  1.5 oz Gin, 1 oz lime juice, ginger beer ~ serve over ice.
Kentucky Mule: 2 oz bourbon, 1/2 lime juice, ginger beer ~ serve over ice and garnish with mint sprigs.
Hawaiian Mule: Vodka, pineapple juice, lime juice, ginger beer. Serve over ice and garnish with candied ginger, pineapple and mint springs
Garden Mule: Muddle 4 slices of cucumber, 8 blueberries, 6 mint leaves in a cocktail shaker with some ice.  Add 2 oz of vodka, 1 oz lime juice, ice  and shake.  Pour over ice in mug and then add 4 oz ginger beer, 4 blueberries. Get fancy with a toothpick threaded with blueberries and candied ginger, top with mint. 
Lavender Mule: Combine 1 oz lemon juice, 2 oz vodka, 1 oz elderflower syrup, 2 oz ginger beer, lavender syrup to taste in mixing glass with ice.  Strain and serve over lavender ice cubes.

Lavender Syrup: Add 1/2 cup sugar, 2 tablespoons of dried culinary lavender to bowl and pour 1 cup of boiling water over it.  Stir until sugar is dissolved.  Let steep for 10 -15 minutes, remove lavender and store in frig once syrup comes to room temperature.
Lavender Ice Cubes:  Add a few pinches of dried culinary lavender in ice cube tray, cover with water, freeze.

Strawberry Mule: Muddle 3 strawberries in mug, add 1.5 oz vodka,  1/2 oz lime juice, 5 oz ginger beer and 1 cup crushed ice.  Top with a strawberry.
Dragonfruit Mule: Add 1/2 oz dragonfruit purée and  1/2 lime juice to an ice filled mug.  Top with 2 oz of vodka, 4 oz ginger beer and stir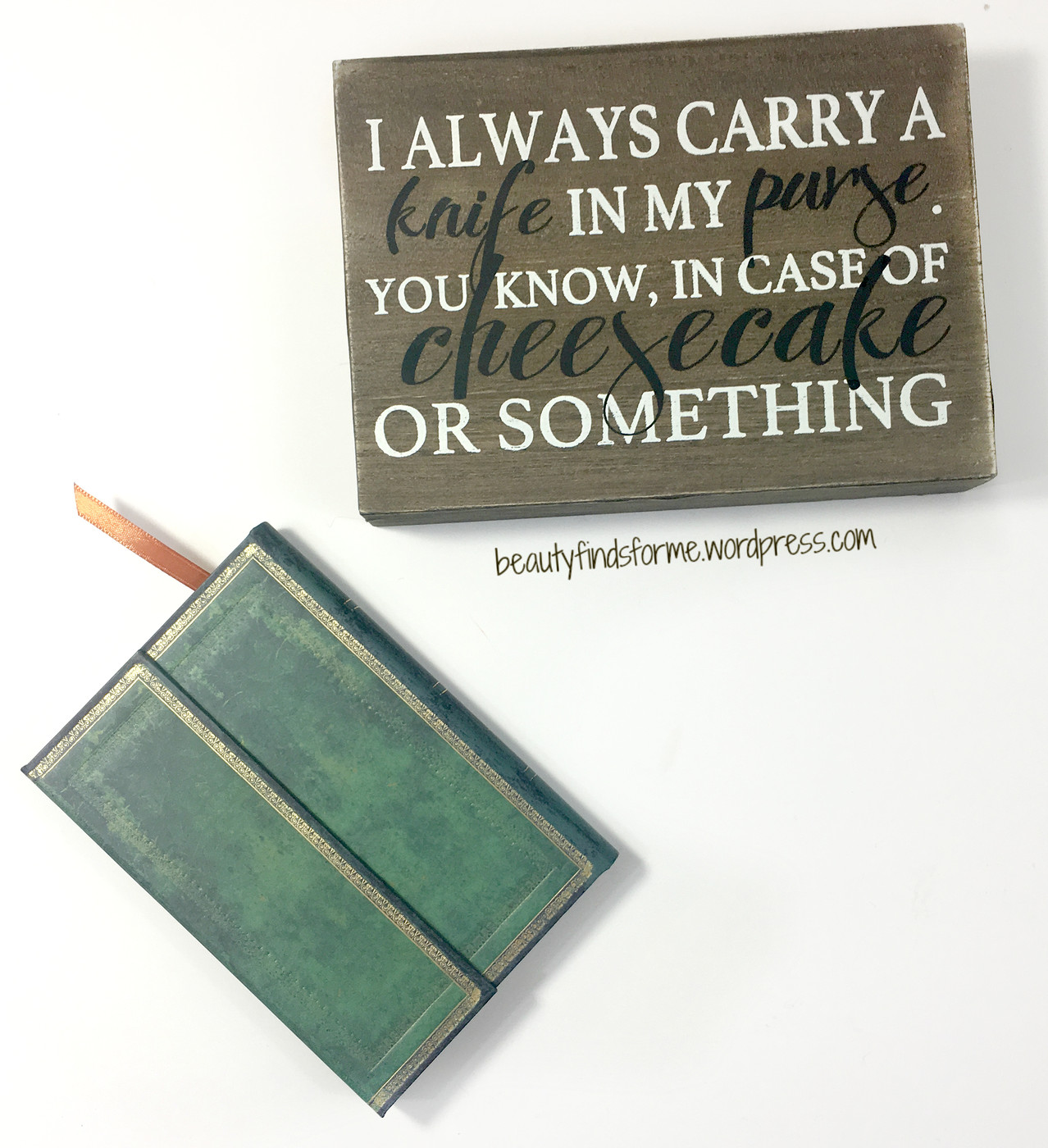 Cafe-Quality Wall Home Decor Wooden Sign  This is probably the dud in the box for me. I love wooden signs, but not ones with cutesy sayings like this ~ I would rather see some beautiful simple designs ~ like a Japanese plum blossoms or something.  However, I know that lots of people like these type of signs!  This one has a saying of  "I always carry a knife in my purse. You know, in case of cheesecake or something" and measures 6 x 8 x 1 inches and has a slot in the back so you can hang it if you would like.  RV $18.99 (no way!!)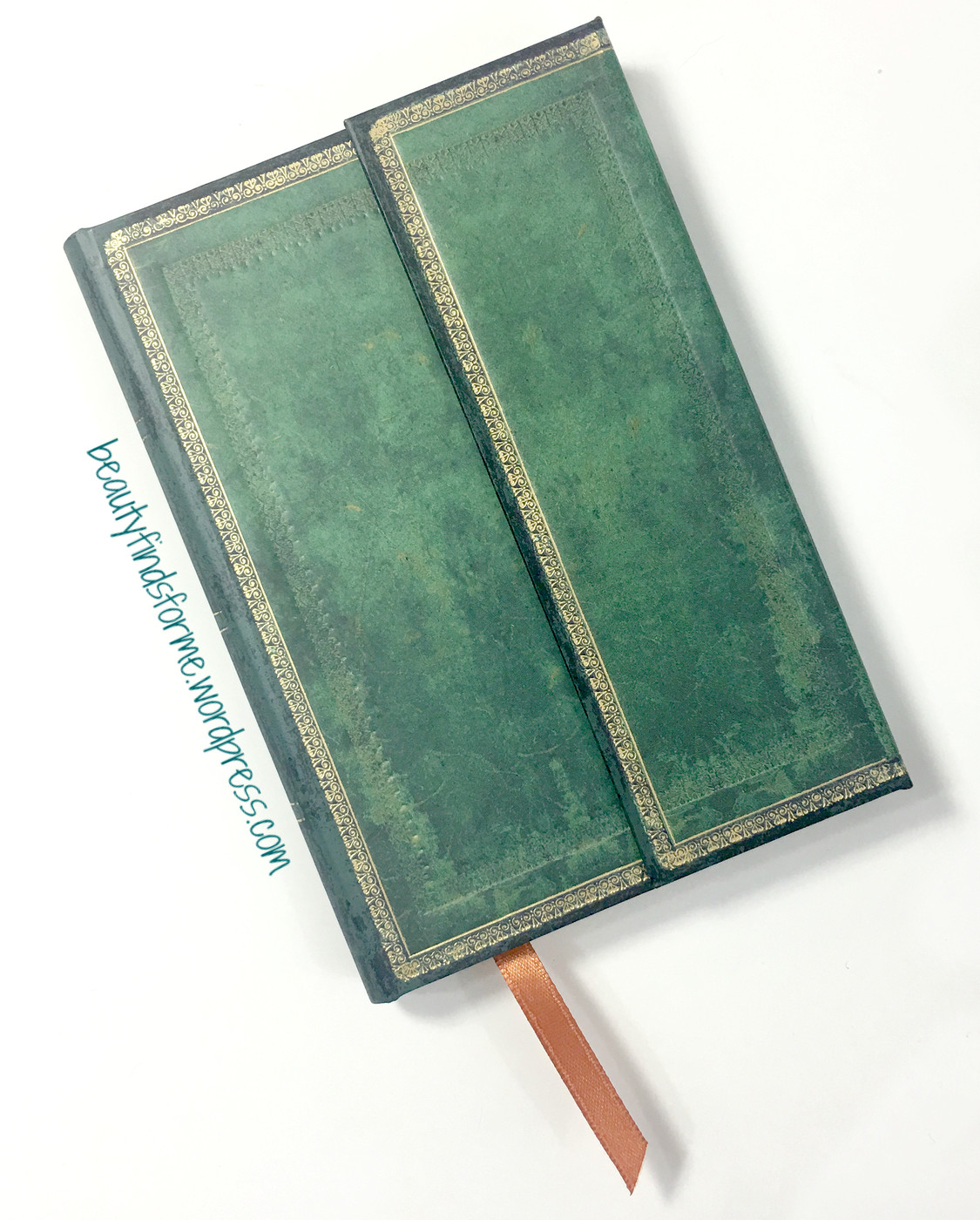 Paperblanks Old Leather Jade Mini Journal  This is my favorite item in the whole box! I love the look of this beautiful little journal ~ its description says it captures the flavor of finely wrought Renaissance-Style leather binding, with embellished delicate gold tooling, which was brought to Europe via the Far Eastern trade routes.  This isn't made of leather, although it looks like it! It is the product of advanced printing and debossing process that creates this leather look and feel alike.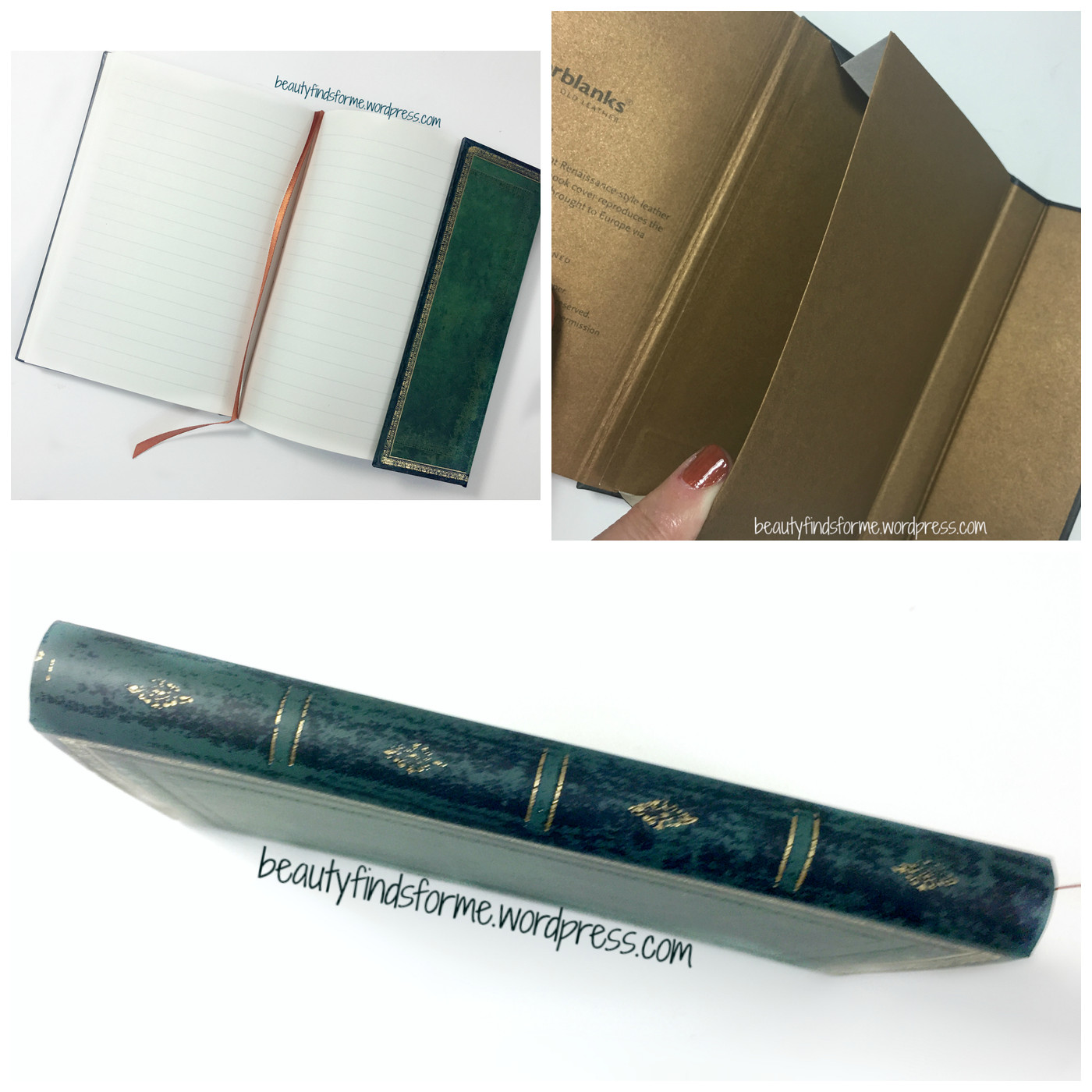 This has 176 lined pages, made from acid free sustainable forest paper with Smythe sewn binding, so the book will open flat.  It is hard cover with a beautiful distressed jade green cover and a magnetic front flap, so it stays shut. Inside, there is a copper satin ribbon marker and in the back, a memento pouch, to store things like leaves, receipts, tickets, flowers.  This beautiful little journal measures 5 1/2 x 4 x 1/2 inches.  I think I might need to get more of these!  This was a variation in our box and I am SO happy I got my favorite color ~ green.  RV $11.95
Final Thoughts
YEAH! Peaches and Petals hit a triple with the December Box!  I totally love my new beanie hat and I actually made Moscow Mules over New Years, experimenting with cucumber vodka!  The "funny" sign was okay, not my style, but again, can't love every item in a box.  The Paperblanks Journal is a WOW for me.  I hope to see more from this brand, as they have some beautiful journals, very old world feel and just lovely designs.  That is my favorite item in the box and it is just amazing.  I cannot stop touching it and opening it up as it is that nice.  I love how the two variation items ~ the beanie and journal ~ are in colors that are my top 2 favorites!

Peaches & Petals monthly subscription boxes are $19.99 a month and that includes shipping.   This month, the box looks to be of  a retail value around $71.00, based on the retail value of the items and they did a fantastic job ~ it was like getting some really nice gifts this month  Many thanks to Peaches & Petals to sending this me for review purposes ~ I always look forward to seeing what P&P puts in their boxes! Did you receive this month's Peaches & Petals box?  What was your favorite item and what do you think of it?

If you would like to subscribe to Peaches and Petals, I would love it if you used my referral links!

[ products were received complementary for review purposes.  All opinions are my own and are unbiased.   ]
[ Blog post contains affiliate links and referral links. Descriptions in italics from linked site ]
Save
Save
Save
Save