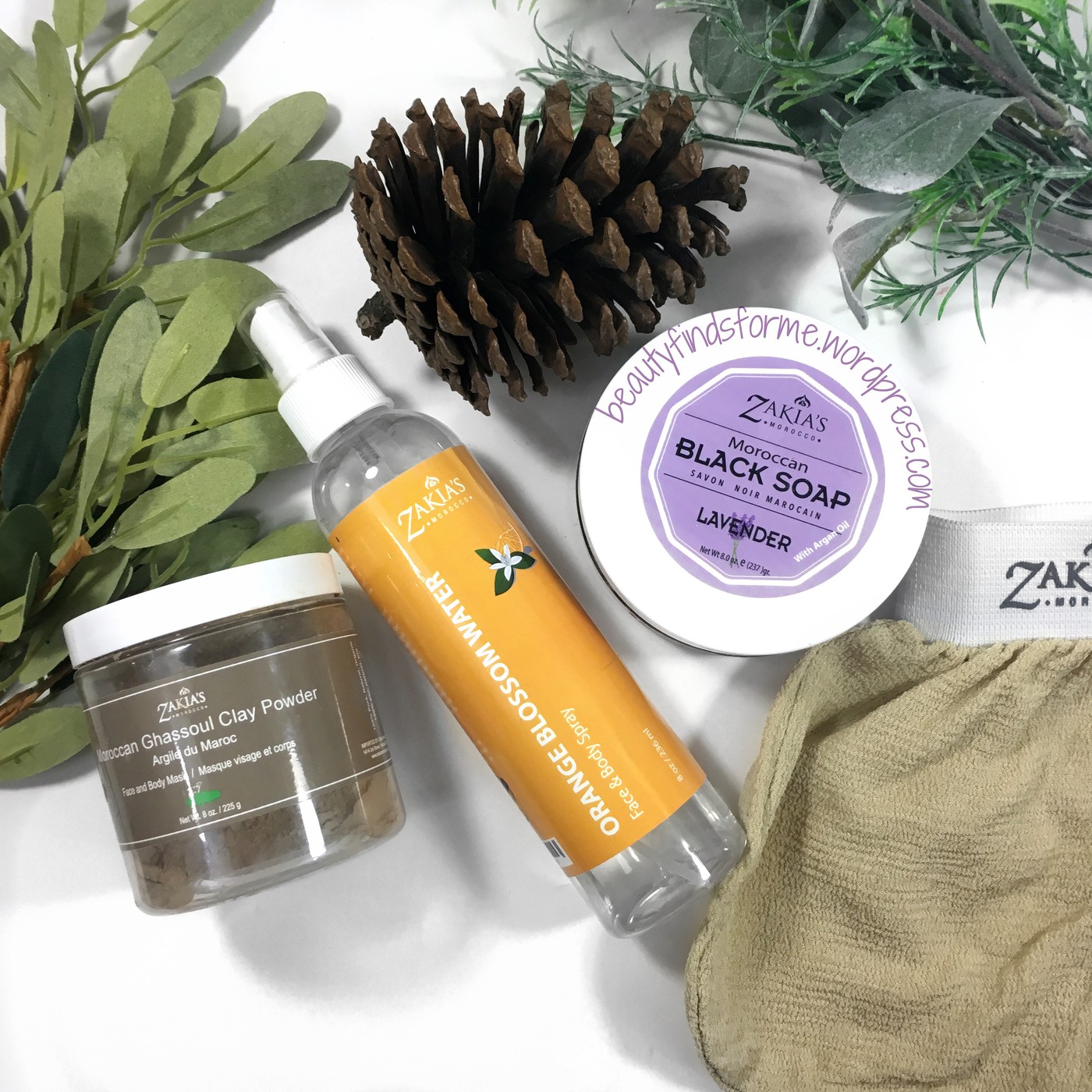 Zakia's Morocco reached out to me to see if I would be interested in trying some of their products and I carefully reviewed their online shop.  I get a lot of offers to review products and I do not take on every brand who asks ~ I am pleased that I decided to accept their generous offer as I really enjoyed their products.  Zakia's Morocco is a family owned business started back in 2009, privately majority women owned and managed with business operations in the United States, France and of course, Morocco!  They look for natural and organic ingredients that are of superior quality, safe to use and environmentally friendly .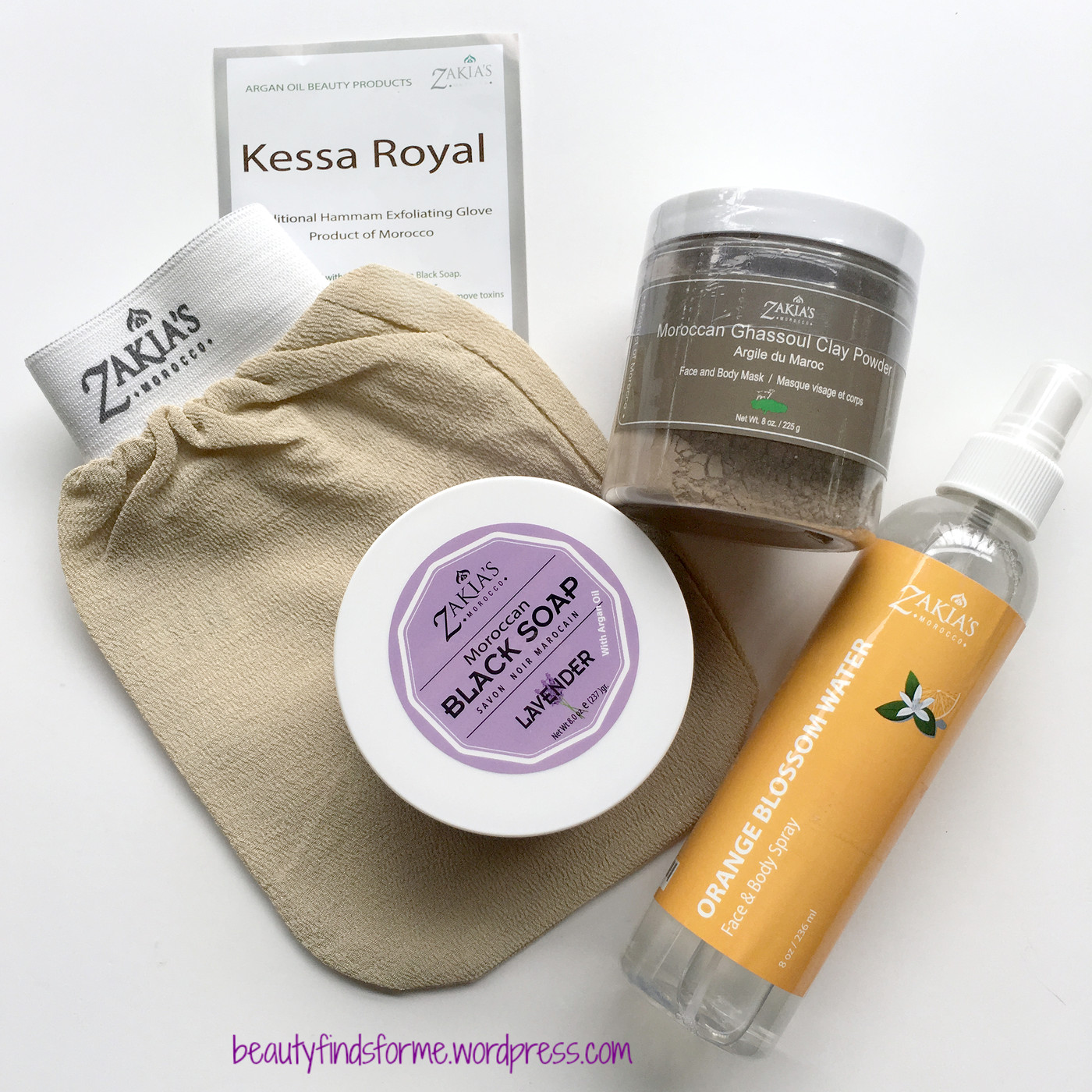 Zakia's Morocco has several lines, consisting of argan oil, hand made soaps, ghassoul clay treatments, moisturizers and exfoliators.  I chose Ghassoul Clay Powder, Orange Blossom Face & Body Spray, Beldi Black Soap in Lavender and a Kessa Exfoliating Mitt.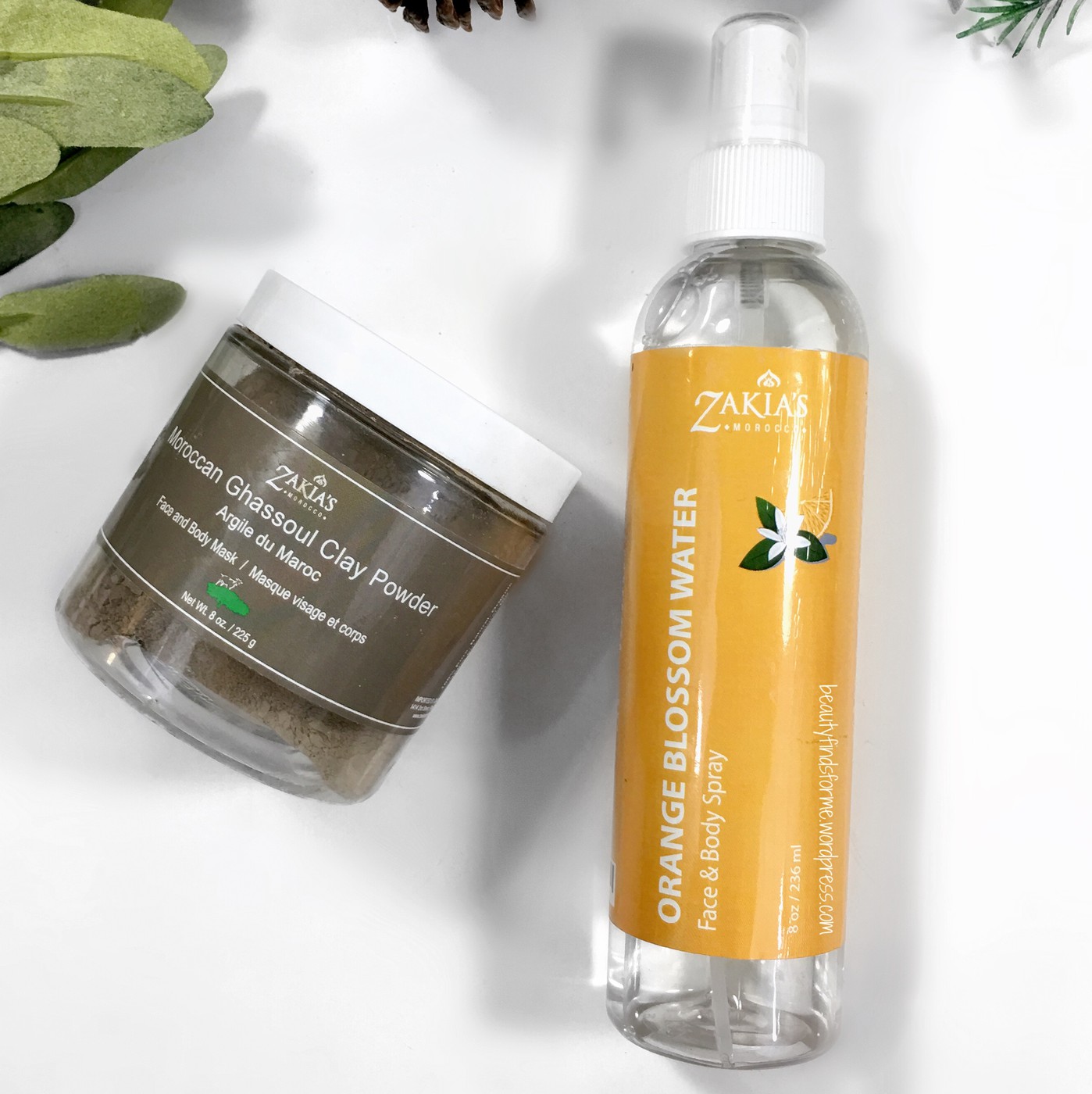 Ghassoul "Rhassoul" Clay Beautifying Mask (Powder)  (8 oz/$11.99 ~ 16 oz/ $17.99)  I went with this big tub of dry clay ~ just 100% organic, pure spa-grade Ghassoul, which is fragrance and dye free and cosmetic, dermatological grade clay.
A weekly mask with natural and organic clay from deep inside the Ancient Atlas Mountains of Morocco are the perfect skin treatment for cleaning, detoxifying, toning and rejuvenating. A facial mask treatment made from Ghassoul clay can be relaxing and give your skin a new healthy glow. Rhassoul clay's most impressive properties in skin improvement are its capacity of absorption and adsorption due to its high level of ion exchange. Rhassoul is a mineral rich, light brown clay that blends extremely well with water making its application to the face and skin a smooth and delightful experience. 
This is the mask clay of choice in Morocco as it is known for its deep pore facial benefits.  It is mined from mineral-rich deposits in the Atlas Mountains and it an organic detox clay to help deep clean, absorb excess oil and remove dirt and debris from your pores and skin. It is good for blemish prone skin, oily skin and clogged pores. You can also use this as a hair treatment too, as this is a 'soapy' clay ~ it has been used for centuries in North African and parts of the Middle East and its name comes from the Arabic verb "rassala", meaning "to wash". I love DIY masks, as they give me the freedom to create a mask tailored for my needs and issues at that time.  From r/SkincareAddiction, I found the pH levels of certain clays
Calcium Bentonite (aka Aztec Secret): 8 – 9.7

French Green (aka Illite Clay or Sea Clay): 7.75

Fuller's Earth: 7.5

Rhassoul (aka Red Moroccan or Red Clay): 7 – 7.5

Dead Sea Mud: 7

Kaolin (all colors): 6

Moor Mud: 4.5 – 5.5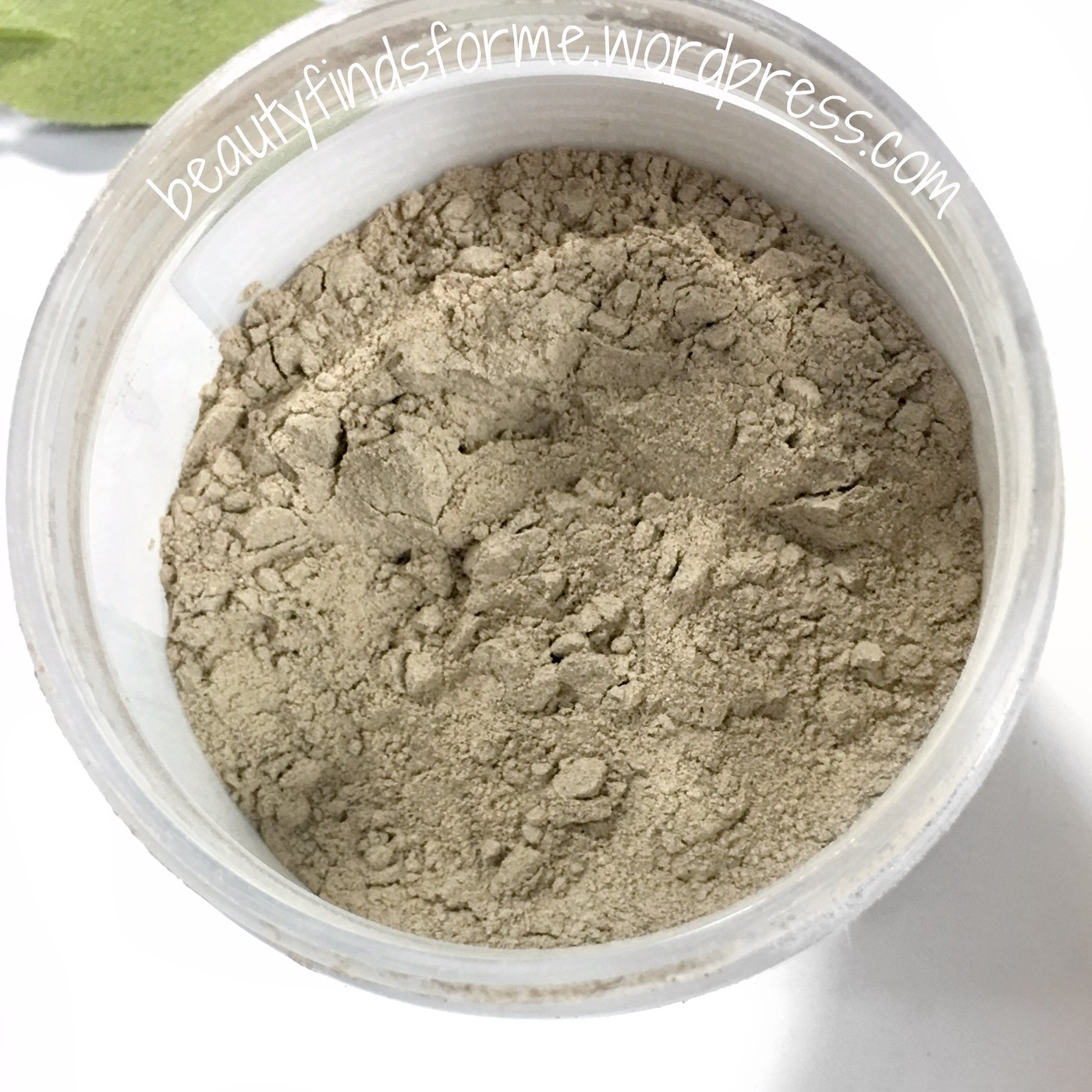 So, Rhassoul is about a 7 to 7.5, and when I added Zakia's Morocco Orange Blossom Water, which is goo for reducing inflammation of the skin,  it was about an 8. Adding water seems to kick it up a bit, but wow, this mask smells great with the orange blossom water! When I used the mask only with the floral water, my skin began to itch and it was red around my forehead and cheeks after rinsing off.  This is a common problem for me when I use the higher pH clay only products, dry or wet,  so I decided to try adding Bragg's Apple Cider Vinegar to the mixture. I eyeballed it, so I would say I added about 2/3 ACV to 1/3 orange blossom floral water and then enough clay to make a thin paste. This brought the pH level down to a 5.2 and the texture is amazing ~ the ACV causes the clay to become a nice silky mousse, as it foams up a bit. ACV is also fantastic for oily skin folks, but if you want a different acid, you can mix in other acids. I was reading that if you use ACV, you should stick to Bragg's because it has a nice pH level of 4.25 -5 and other ACV are too acidic at less than 3.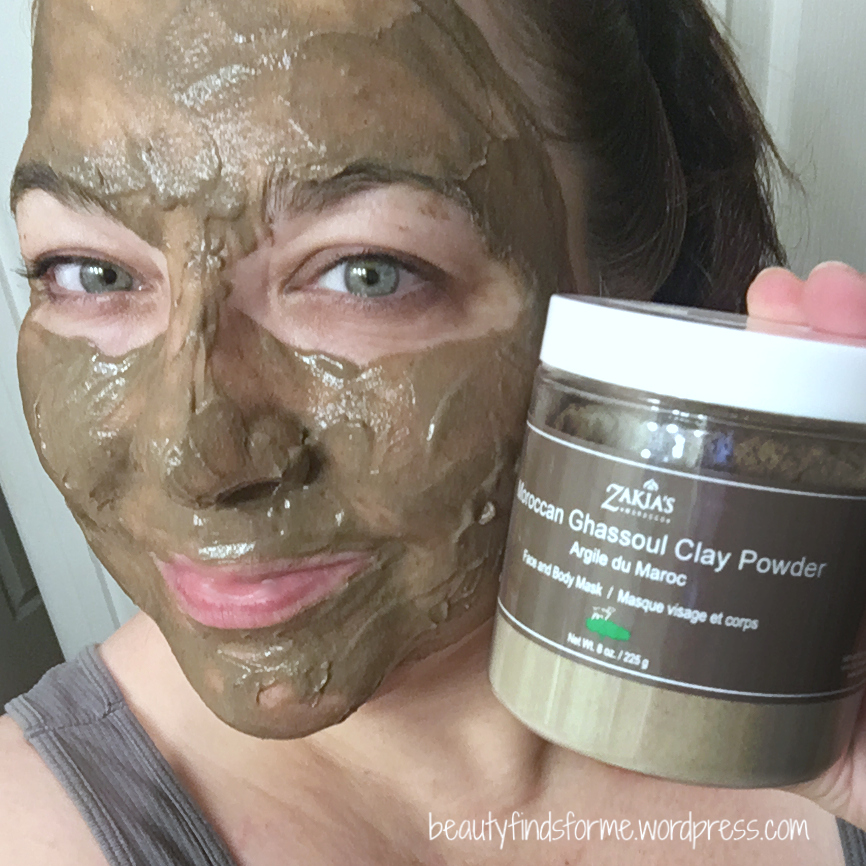 I still get that pulling feeling from the mask, as it draws out the excess oil, but it doesn't itch anymore! I wait until the mask is almost dry and then rinse off ~ my skin isn't red in certain parts by using the ACV. My skin is also smooth, mattified and looks nice ~ my pores are clean and tighter in appearance. I follow up with some more the Orange Blossom Water on my face and then continue on with my skincare routine. I always have left over mask stuff when I DIY, so waste not, want not. I saved that leftover mask and I use it as a detox and cleanser for my hair the next day as you can use clay on your scalp and hair!  ACV is also good for the scalp, so I didn't mind that it has that in there. I do have oily hair and scalp and Ghassoul clay is great for removing grease  and dirt from both your scalp and hair.  I add some shampoo to the mask, mix together and apply to my hair, lathering up and leaving on for 5 minutes. You can also just apply the mask without the shampoo and leave on as hair mask pack and then rinse – both techniques requiring rinsing REALLY well to get the mud out of your hair. Whenever I use hair mud mask packs, my hair is softer, looks thicker and has more volume, which for my straight, fine, limp hair is a positive!
Zakia's also recommends using this on the bottoms of your feet too, to help relax, refresh and also remove dead skin cells from your soles, while softening your feet.  Here are some recipes for your mask from Zakia
Ghassoul used in its natural state can be mixed with other natural ingredients in order to perfume or soften body, face and hair. Here are some natural ingredients that are traditionally mixed with Ghassoul. · Orange Blossom water · Rose Blossom water · Argan oil · Any favorite Essential Oils
Home-made recipes Cleansing facial mask · .50 ml (1.7oz) Ghassoul · .10 ml (0.35oz) honey · .10 ml (0.35 0z) lemon juice · A few drops of milk · A few drops of almond oil Blend all ingredients together to obtain a soft homogenized paste. Apply layer and leave to nearly dry. Rinse with warm water. Skin will become softer, silky and fragrant
Hair mask · .50 ml (1.7 oz) of Ghassoul powder · A few drips of warm water · 1 egg yolk Add water to Ghassoul and mix to form a smooth paste. Add egg yolk and mix. Apply preparation to your hair starting with your scalp and spreading it to the hair tips. Let dry and rinse abundantly. Your hair becomes healthier, suppler and shiner.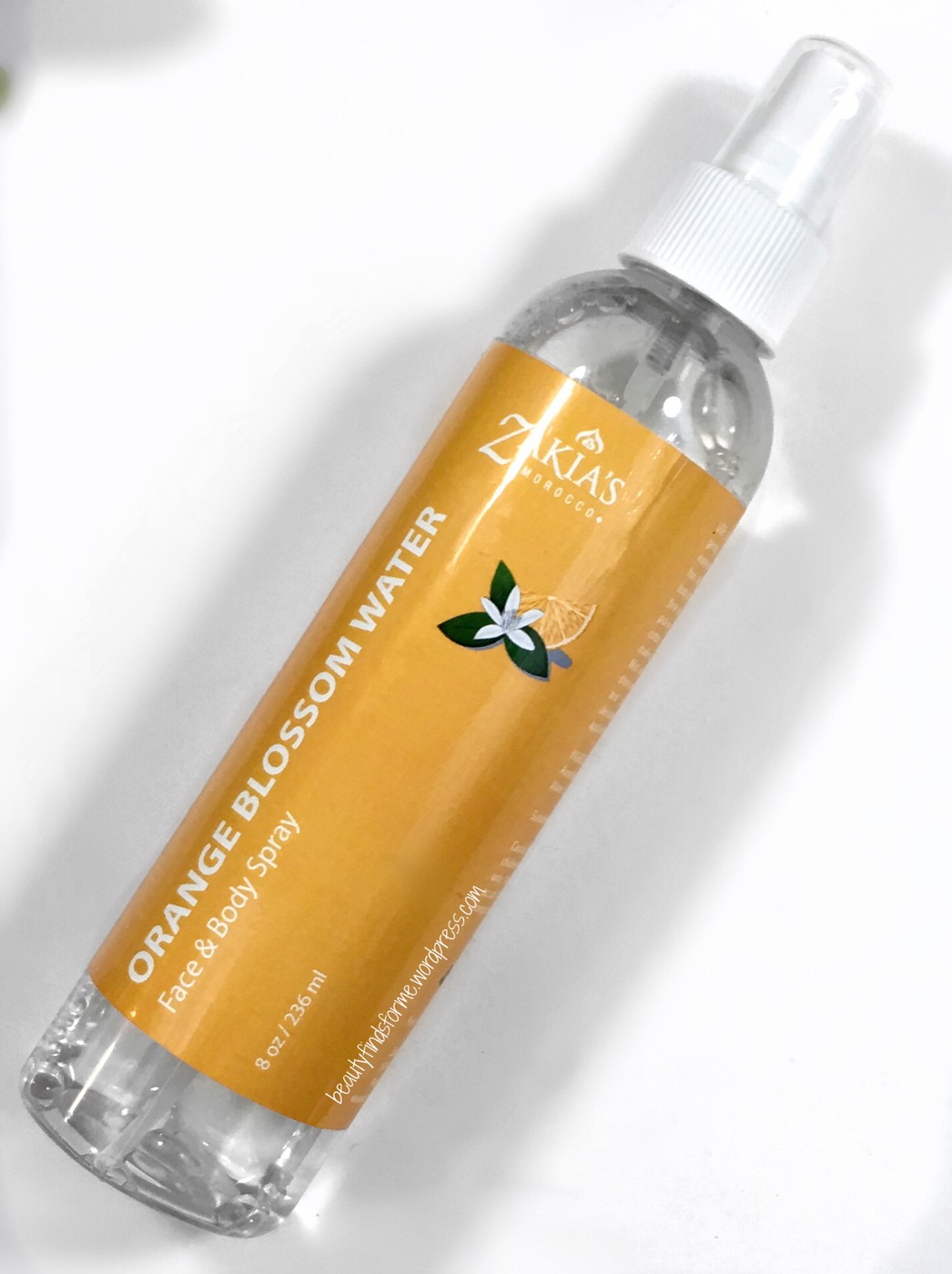 Orange Blossom Water – Face and Body Spray (8 oz/$19.99)  Zakia's makes a trio of these floral waters ~ in rose, lavender and orange blossom.  I normally gravitate towards lavender, but I also love orange blossom, as it is so good for oily skin. This hydrosol of special grade orange blossoms contains no parabens, silicons, mineral oils and is cruelty free.  Orange blossoms, aka neroli,  do not come from sweet orange trees but bitter orange bushes, which originally came from India but have been imported all over the Mediterranean region, including Morocco.  Thru steam distillation, the water and oils are extracted ~ and this water helps moisturize and soothes your skin, brightens your skin tone and is great for blemish prone, oily skin.  It is an anti-bacterial, so it helps provide purifying, healing and preventing of blemishes, while balancing the moisture in oily skin.   Orange Blossom also acts as an astringent and will not clog pores.
A deliciously delicate steam-distilled toning spray from fresh orange blossoms. Morocco is famous for its oranges.   Visit any square and you will have fresh orange juice ready at hand.  Moroccans love Oranges.  Our Orange Blossom water is a lovely, sensuous and refreshing mist that will lift you up any time day or night. Orange Blossom water tones and hydrates your skin whether you are at the beach, at work, out on the town or before bed. The therapeutic, cleansing and detoxifying properties of rose water will make you feel fresh and alive.
I use it to add in my clay masks, spritz on my face and also on my body as it has a lovely delicate, slight bitter floral scent ~ that classic neroli smell!  I also use it on my hair too ~ as it helps soften and bring shine back to my hair quickly. This has a pH level of a 7 and only contains 3 ingredients: Citrus Aurantium Amara Blossom Distillated Water, Eugenol, Linalool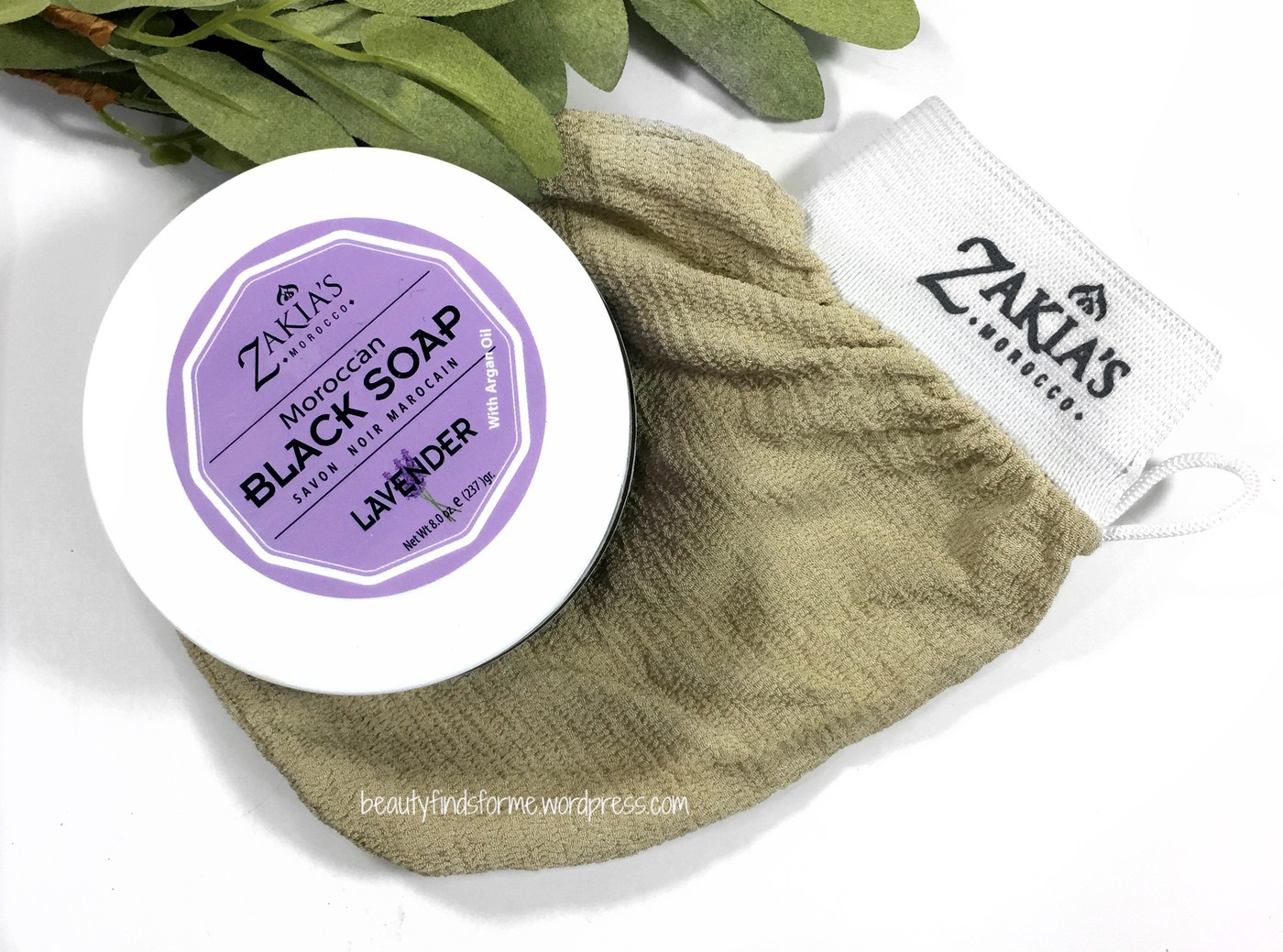 Moroccan "Beldi" Black Soap in Lavender (8 oz/$15.99 ~ 16 oz/$25.99) I am familiar with African Black Soap, which I originally thought this was ~ WRONG.  Moroccan black soap, Beldi, is totally different. It is made with argan oil, which is famous for its moisturizing, anti-aging benefits and rich in vitamin E, along with olive oil.  Zakia's carries several scents ~ lavender, eucalyptus, argan, orange blossom, amber musk, Moroccan rose and Tahitian vanilla, as well as original.  Lots of scents!
The soap Beldi  is a 100% natural plant product. Consisting of the base product – olives (olive oil and olive paste) it is extremely rich in vitamin E. It is a great emollient and moisturizer. It cleanses the skin  leaving the skin soft and silky to the touch. Thanks to this high content of vitamin E, it helps to revitalize the skin, acting against dryness, dehydration and aging skin. This soap lathers modestly and you will love the richness of its texture. The color may vary between a deliciously dark chocolatey brown to a classic, bright olive green.  Beldi  soap is suitable for all skin types and particularly enjoyable for dry and mature skin.
This is a spa treatment, not for daily use.  Moroccan Spas use this soap along with the Kessa Mitt, which I will talk about below.  This contains no PEG's, mineral oils, silicons, additives, alcohol, parabens and is cruelty free.  This is a natural detox soap that will leave skin healthy, smooth and glowing.

Its texture is so weird ~ they describe it like a soft butter, but to me, it is more like snot! lol. I know that sounds gross, but it feels pretty cool under the fingers but it is so slipper.  You just need a pinch of this soap and use a loofah or sponge puff to lather up ~ it won't just lather up on your skin without these types of bathing tools.  I tried to lather with just my hands and the soap just smeared around on my skin and fell off with a plop and down the drain it went.  However, once on the puff or loofah, it foams up beautifully ~ this has a argan/olive and lavender scent to it, which smells wonderful.  In a hot shower, it just makes my bathroom smell like a spa!  You leave on your skin for about 3 to 5 minutes and then you rinse off.   You can also use this as  a facial soap too, as it will deep cleanse your pores.   Another use is as an alternative to shaving cream ~ lather up and shave away!
Ingredients: Olea (Olive Oil and Macerated Olives), Aqua, Potassium Hydroxyde, Argania Spinosa Kernel Oil (Argan Oil), Lavandula Angustifilla (Lavender Essential Oil and fragrance oil)
After lathering up and rinsing off with the Beldi soap, use the famous Moroccan Kessa Exfoliating Mitt ($9.99) to exfoliate and remove dead skin cells, smoothing your skin.  Kessa mitts have been used in  traditional Hammam and Moroccan spas for hundreds of years. This mitt or glove is made from 100% viscose crepe material and it reminds me a lot of the Korean Italy Towels ~ those are also made with viscose. I actually like this one better, as it big and I can put my whole hand in it ~ usually the Italy Towels are tiny and I only can get 1/2 of my hand in the mitt ~ and this one follows the shape of my hand, in a long oval, whereas Italy Towels are little squares.
Using a rubbing motion of back and forth, not circular, increase pressure on your clean, wet skin bit by bit ~ this will help remove the dead skin cells and dirt that your soap couldn't remove.  It helps unclog pores, stimulates blood circulation, which will aid in the increase of collagen production.  I really like this for the back of my arms and legs, as I get really rough bumpy skin there with ingrown hairs ~ this really smooths and helps remove the ingrown hairs.  This is great for scrubbing feet too ~ especially if you just did a peeling foot mask pack.  To care for this,  just rinse off and let air dry ~ this has a handy loop to hang up in your shower.  Do not machine wash and dry at all. Do not use if you have thin, delicate or sensitive skin, sun-damaged skin, open wounds and do not use on skin areas that are delicate, like around your eyes. 
What it Does: A Moroccan Kessa work wonders! Forget all those harmful and less effective chemical wraps, pastes and fake muds. Discover the vibrant healthy glow of your skin the natural way. These gloves are far superior to your typical exfoliating gloves, the Kessa glove delivers powerful full body exfoliation to uncover healthier-looking, more radiant, and noticeably younger skin for an immediate smoothness and glow. The glove's unique crepe fabric quickly and gently gets rid of surface layer dead skin, impurities, toxins and excess oil so necessary for healthy vibrant skin. The energetic massage will leave your skin rejuvenated and refreshed. An essential part of our Moroccan skincare routine it essential to exfoliate at least twice per month. These gloves are inexpensive and will last for many, many sessions. A natural and more effective way to exfoliate. For the complete traditional Moroccan Hammam/Spa experience, follow your Kessa glove exfoliation session with our authentic Moroccan Rhassoul Clay Mask, and best-selling 100% Pure Organic Argan Oil.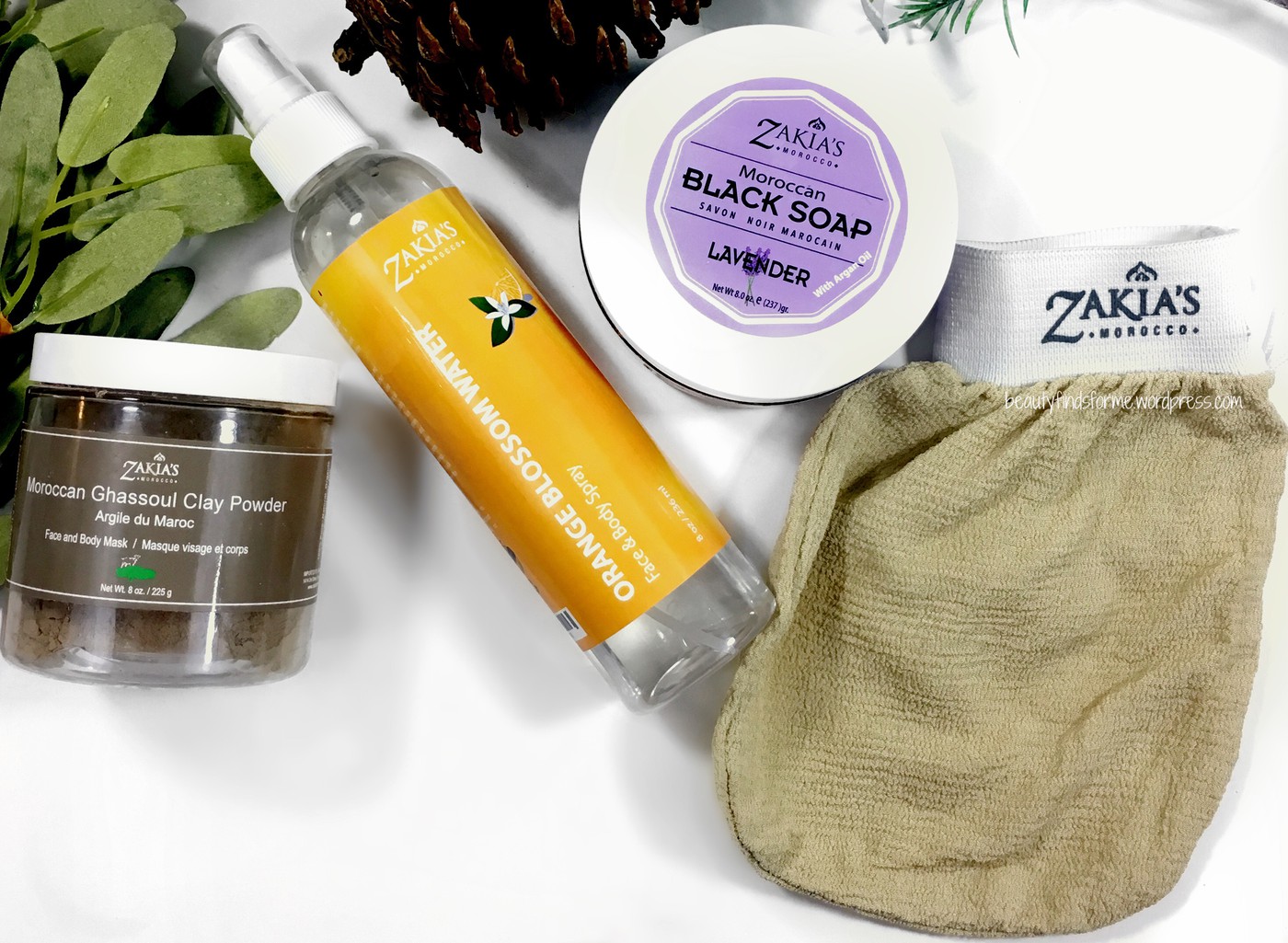 I hope you will check out Zaika's Moroccan online shop here and they also are on Amazon USA and has prime shipping.  If you order from their online shop, they do Zaika's Moroccan ships internationally as well as in the USA.  You can get free shipping with USA orders over $30.00 with promo code FREESHIPPING at their online shop.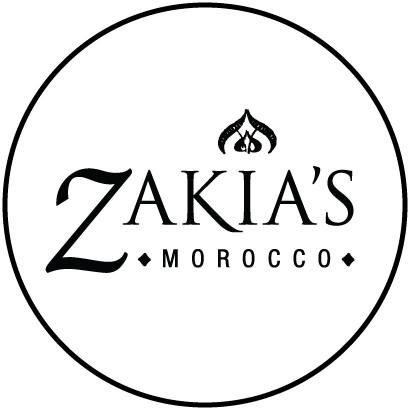 [ disclaimer: products received for review purposes.  contains affiliate link. descriptions in italics from zakia's morocco website ]