[ this blog post contains referral & affiliate links ]
Time is just passing by so quickly ~ It is almost November and I am just getting around to posting my October Yogi Surprise Lifestyle box!  I always enjoy getting my Yogi Surprise Lifestyle box ~ even if you do not practice Yoga, this is a great eco-friendly, green lifestyle subscription box.  What is Yogi Surprise?   

Yogi Surprise Lifestyle Box
6-8 full-size yoga lifestyle items

Vegetarian and GMO-Free

$70+ retail value in every box

$44.95/month + free shipping
This month's theme is "Finding Balance"  This month's box will help inspire you to create your own personal spa, relax and rejuvenate, using nature's healing properties. Restoring balance is what you need to prepare yourself for future growth.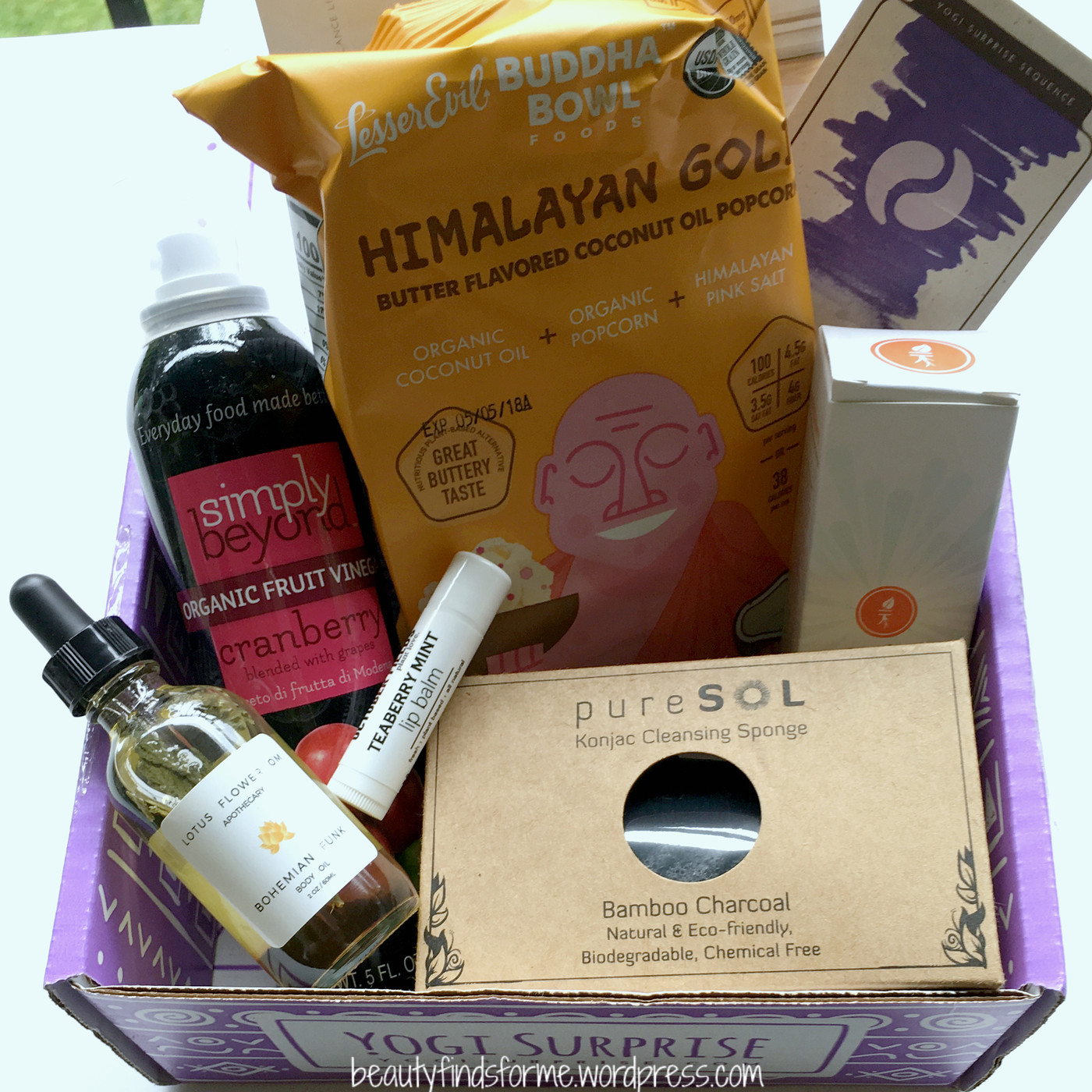 Informational Card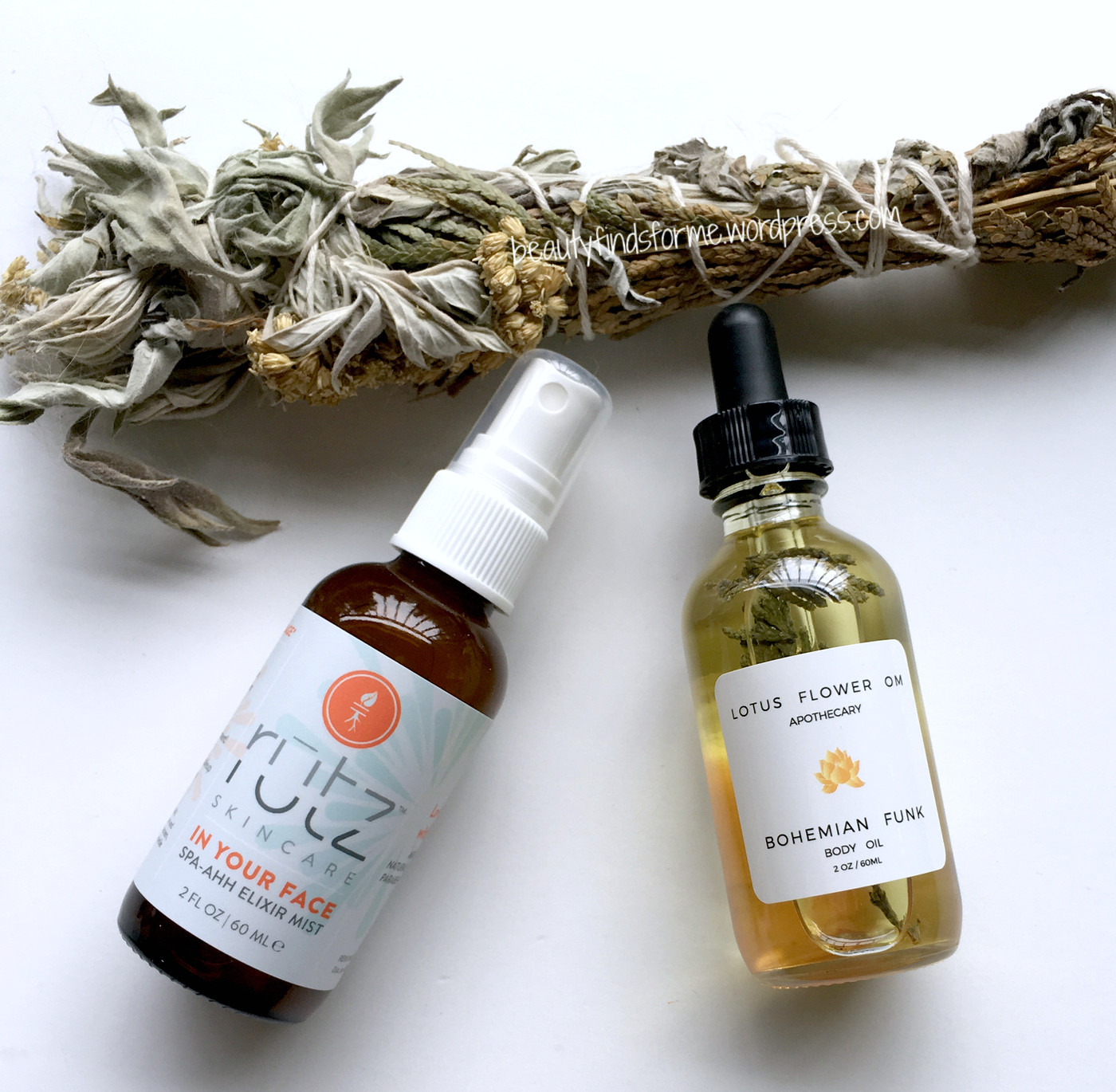 Rutz Naturals "In Your Face" Elixir Mist  I love toners and mists ~ I use them all the time ~ this is a 95% organic mist, made with omega 3 and omaga 6 fatty acids.  This contains some nice skin smoothing enzyme ingredients, such as papain (papaya) and bromelain (pineapple) as well as AHA glycolic acid.  It looks perfect for those us of with blemish prone skin, as it an anti-bacterial and it reduces inflammation and irritation, while helping reduce oil.  In Your Face also contains silver, helps reduce and heal blemishes, due to its antimicrobial properties. I had to look up "structured electrolyzed water" and basically this is water where  the electrolysis of tap water  and sodium chloride produces a water that is a disinfectant and cleanser.  Electrolysis will break up the water, so it is smaller and can penetrate into your skin and cells for faster absorption.  This spray is light moisturizing mist that covers evenly and the scent is herbal lavender and does not leave any tacky residue.  I love that this can also be used as a makeup-setting spray as well. This spray is natural, paraben free, phthalte free, cruelty free and made with organic ingredients.   Full Size 2 oz RV $28.00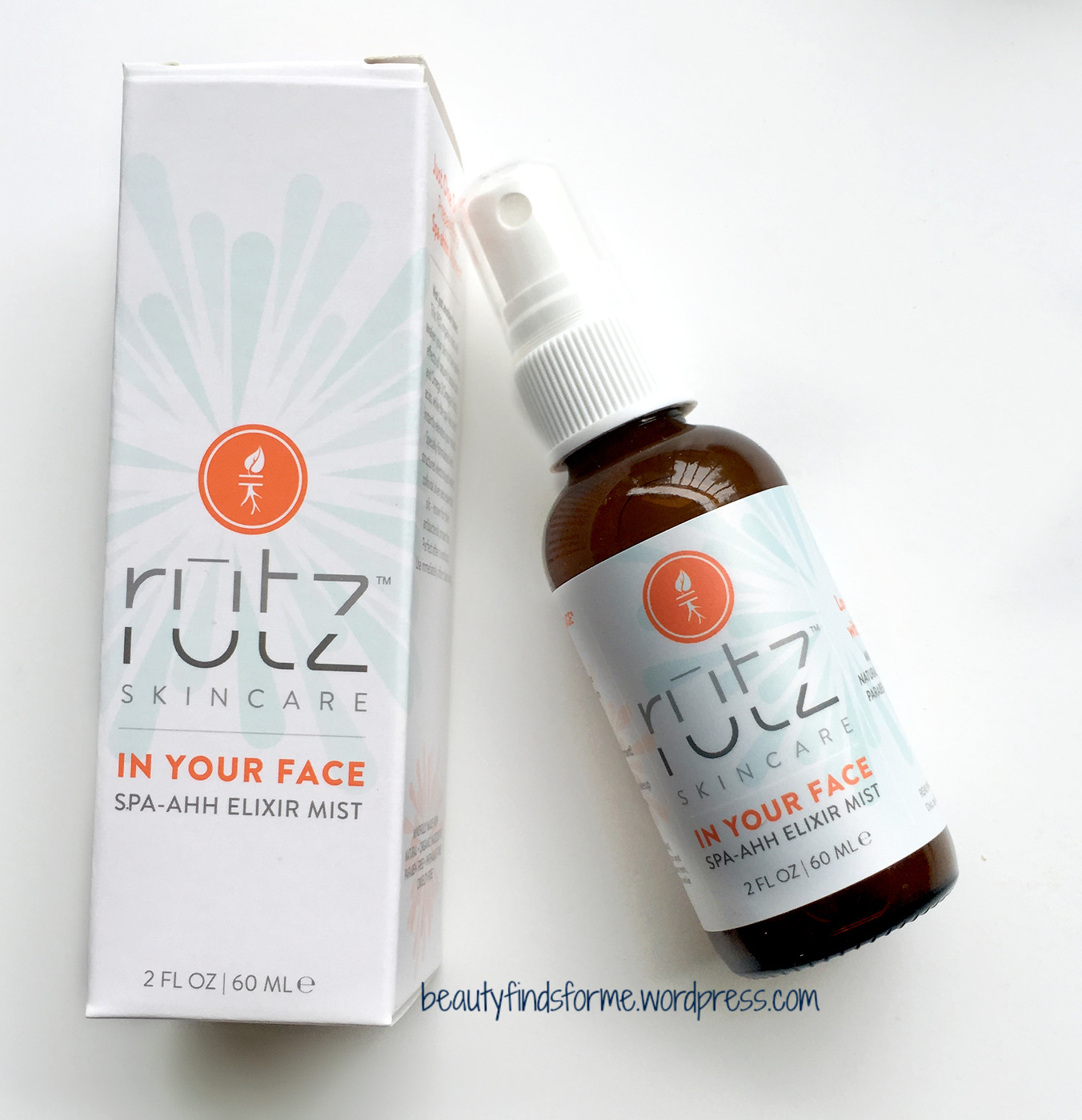 Ingredients: Structured Electrolyzed Water, Caprylyl/Capryl Glucoside, Colloidal Silver, MSM, Lavender Hydrosol, Raspberry Seed Oil, Tamanu Oil, Carrot Oil, Geranium Essential Oil, Vitamin C, Aloe Leaf Juice, Silica, Potassium Carbonate, Magnesium Carbonate, Oleic Acid, Papain Beta-Glucan, Bromelain, Camu Camu Extract, Grapefruit Seed Extract, Sodium Lactate, Glycolic Acid, Noni Extract, Maltodextrin, Phenoxyethanol, Ethylhexylglycerin  cosDNA analysis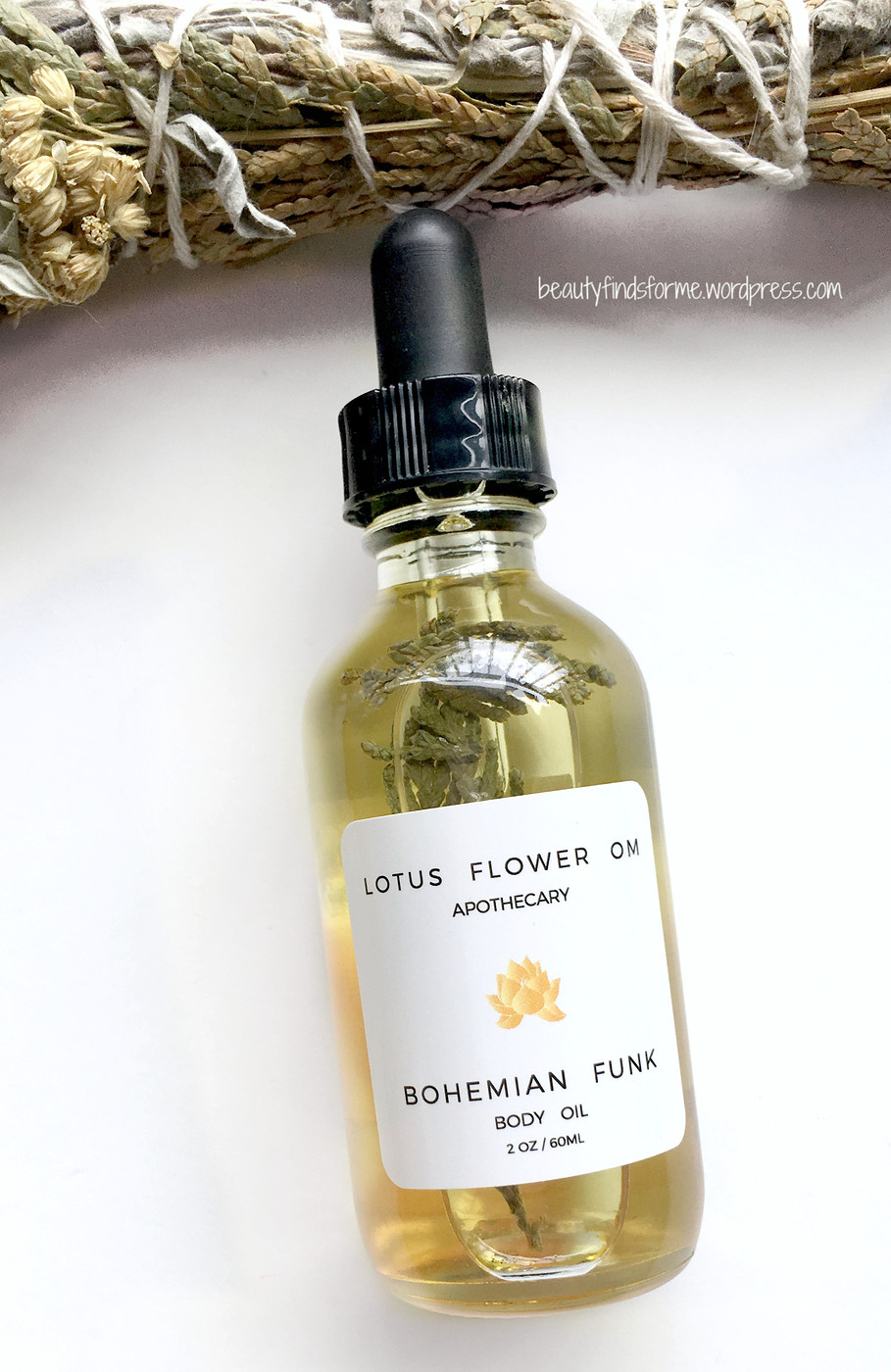 Lotus Flower OM Massage Oil in Bohemian Funk  It is time for body oil!  This is a good size too ~ I use oils like this in the winter time ~ other than my face, my skin is not oily and can get quite dry.  This oil is in the scent "Bohemian Funk" (love the name)  Now this has patchouli in it, which I love, but it is very light and not overpowering as some patchouli scents can be ~ I can smell the woodsy scents of cedar and sandalwood as well.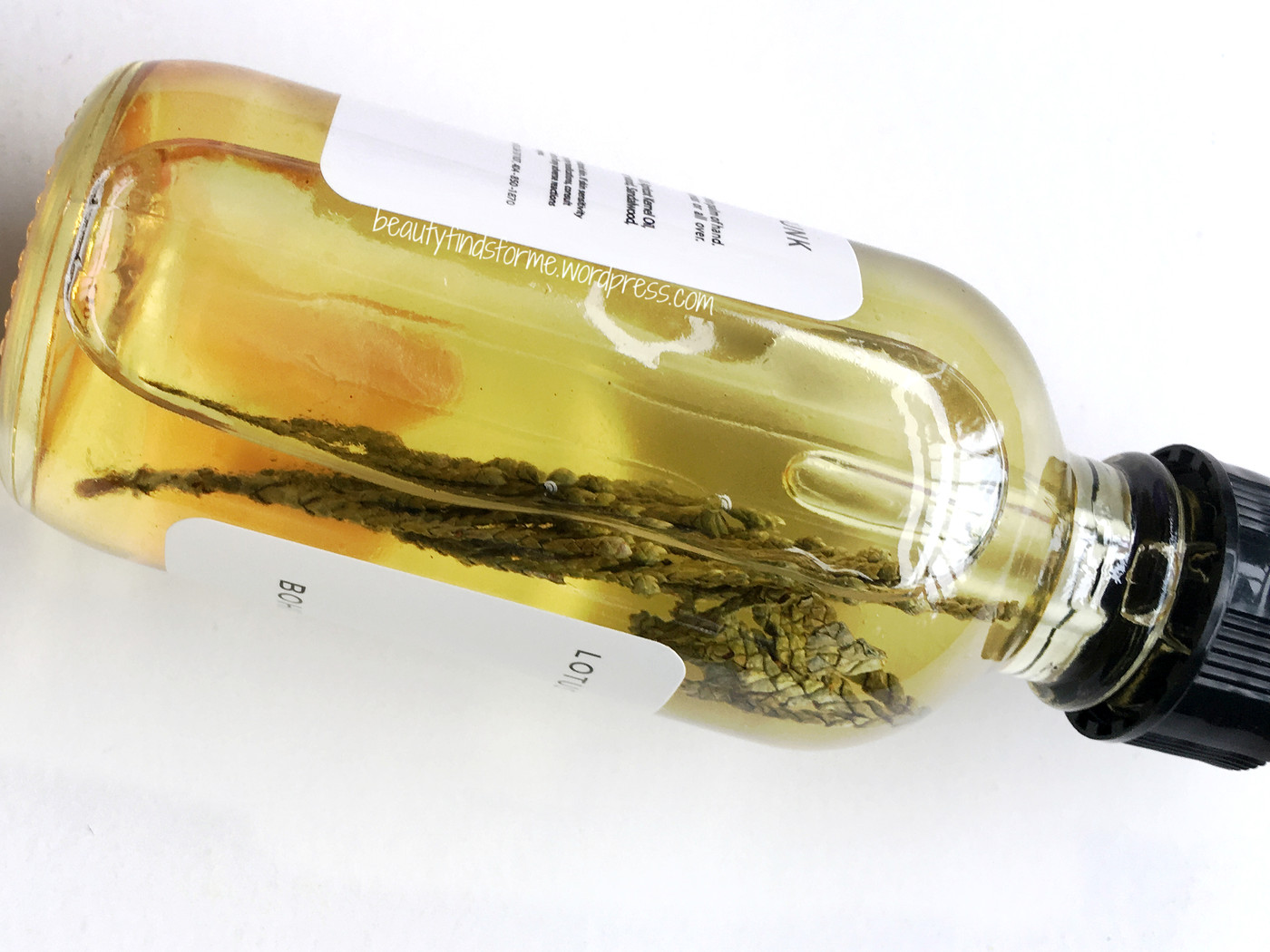 I love that this oil has a piece of cedar frond in it!  It is lightweight but very nourishing and can be used on your skin, as a nail oil and hair oil.   This is handcrafted in Atlanta, GA.  2oz RV $35.00  Promo Code: Save 30% off your purchases at Lotus Flower OM with promo code YOGISURPRISE
Description: Take the power of massage to a whole new level. This massage oil blend has the power to restore a sense of balance to mind, body, and spirit. Infused with the woodsy scent of cedar wood it has a unique musky overtone with notes of musk, amber, and vanilla.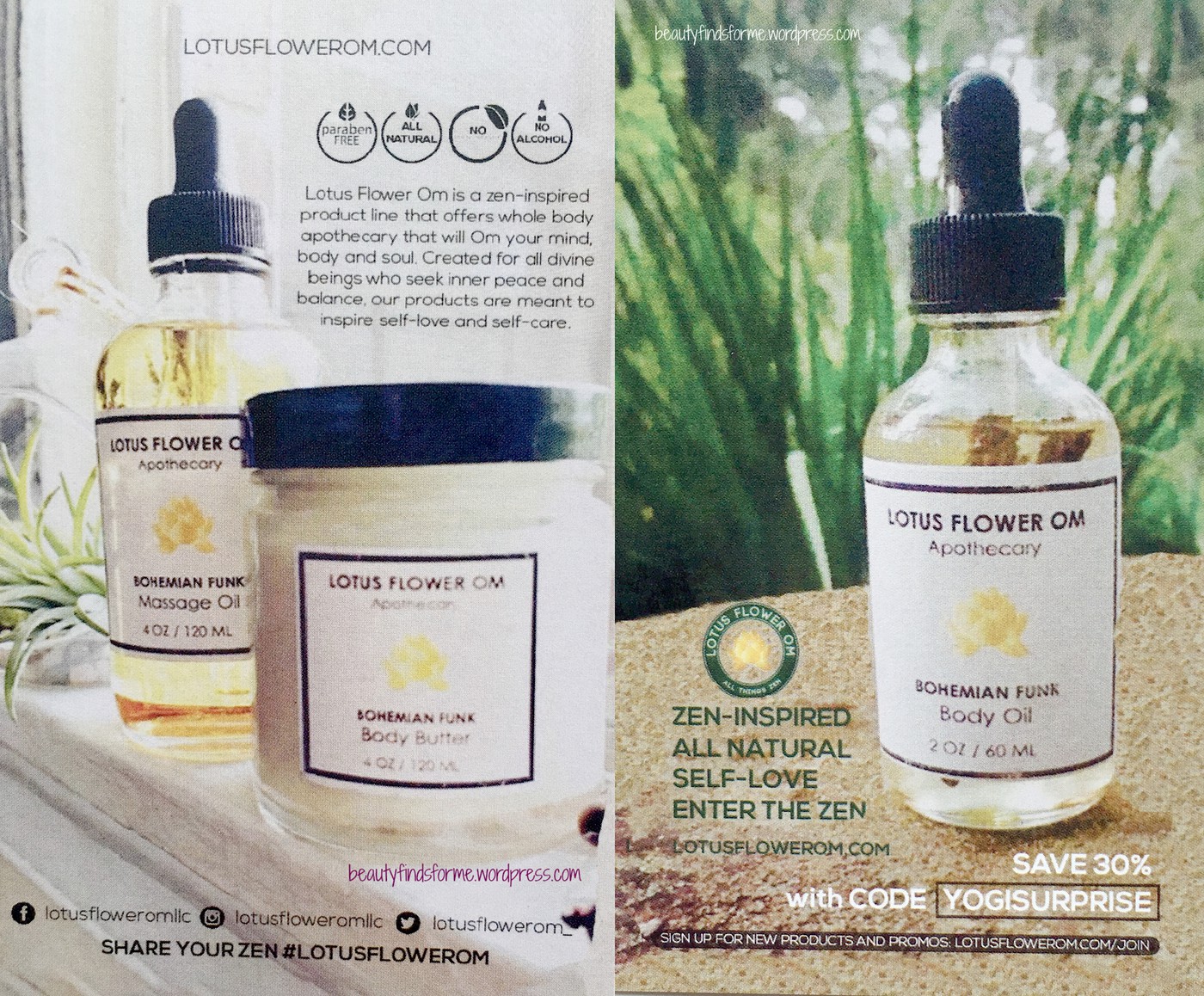 Ingredients: grapeseed oil, sweet almond oil, apricot kernel oil, avocado oil, vitamin E, essential oil blend (cedar wood, sandalwood, patchouli), fragrance, cedar tip botanical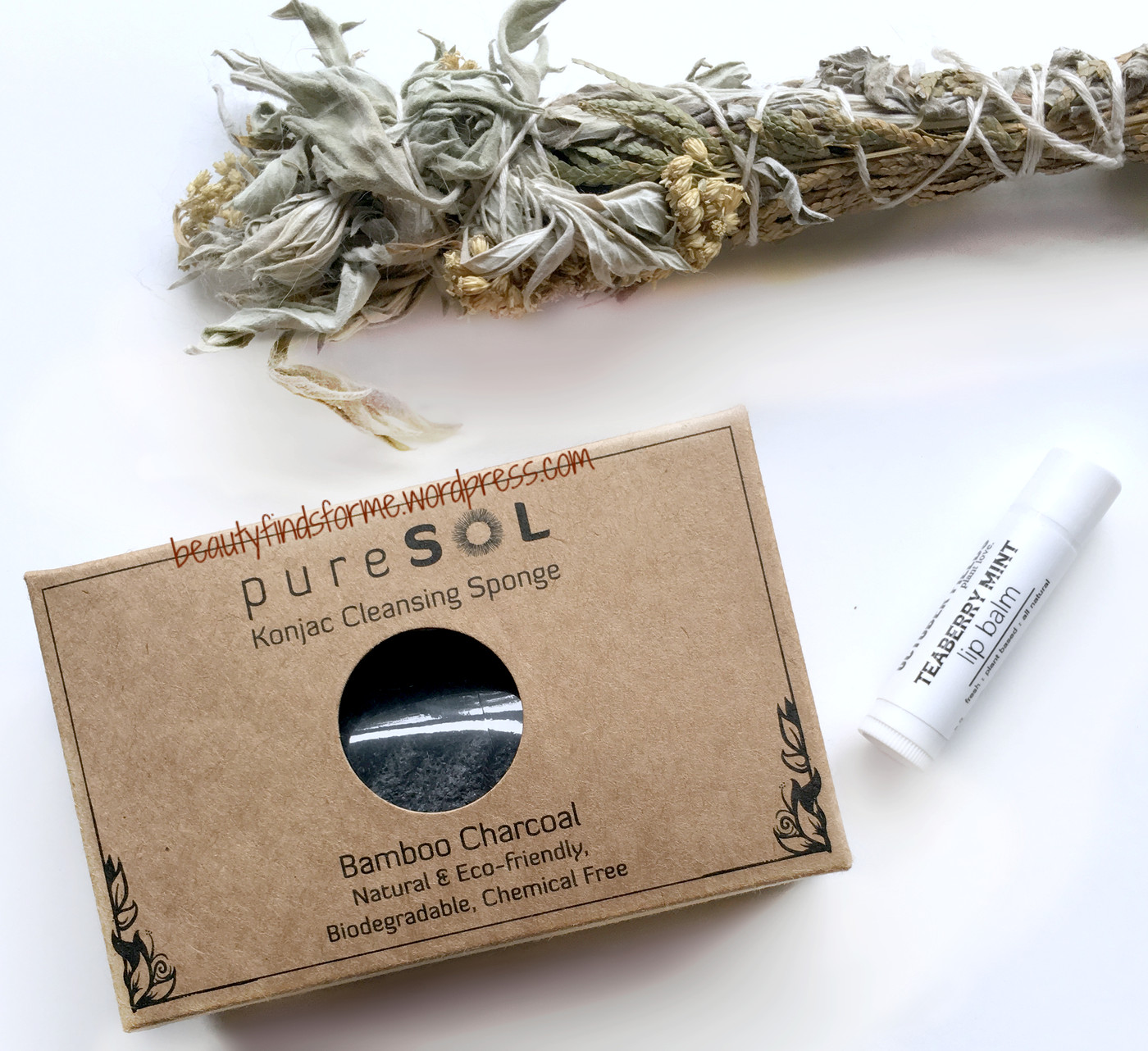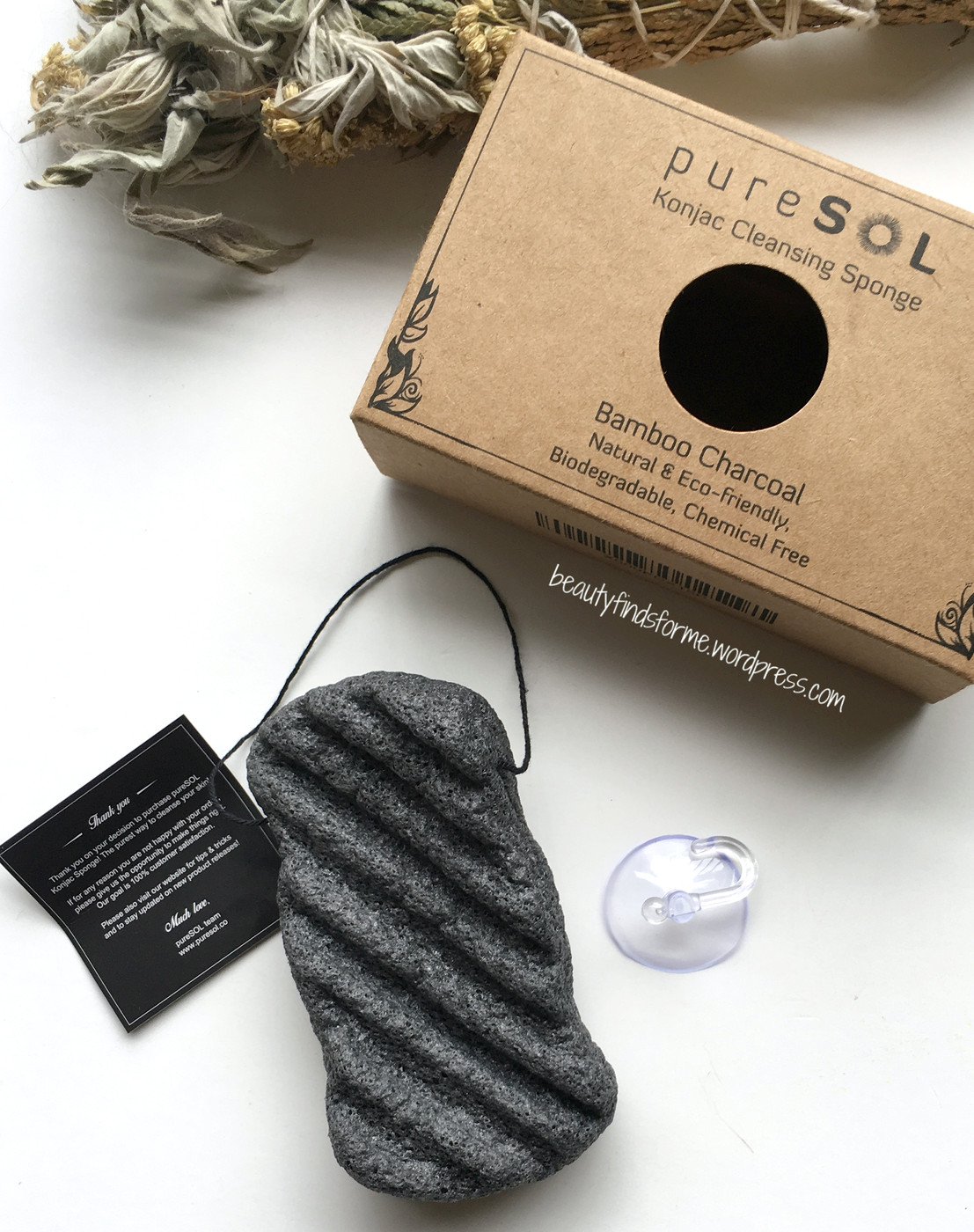 PureSOL Konjac Body Sponge in Charcoal Yes PureSOL is made in China, but they make some of the best Konjac sponges I have tried ~ I love their Tumeric Facial Sponge ~ and now they are making body sponges! This is not the round shape of facial sponges, but a long rectangle shape with a wave pattern.  This comes with a little plastic suction cup and hook so you can hang your sponge up in the shower. This might look small and hard, but once you get this sponge good and wet, it will expand 2-3 times its size and become super soft, spongy and it will have a gelatinous feel to it.  Konjac is highly fibrous, which is why is it an excellent material for exfoliation. With pureSOL's sponge, you can use with or without cleanser ~ I like to use cleanser, but it is not necessary. 
This is made with activated charcoal, so it will help remove toxins and impurities from your skin.  Konjac fibers, despite having that gelatinous feel, is actually exfoliating and will help smooth your skin as well, while massaging and stimulating blood flow.   This is 100% natural, vegan and eco friendly, free of parabens, sulphates and chemicals ~ Now, pureSOL claims they are cruelty free, but these are made in China, and we know that China has animal testing requirements.  I know if you sell the product in China, you have to animal test, but am not sure what the regulations are if you just make the item in China for sale elsewhere.
Every 2 to 3 weeks, sanitize by boiling the sponge for 1 minute. Make sure that after each use, you rinse it and press it gently between your hands until the water is removed and hang up to dry in a well ventilated area. It should last 2 to 3 months with proper care. The sponge can be composed after you are done with it and 90% of pureSOL's packaging is biodegradable.  RV $13.00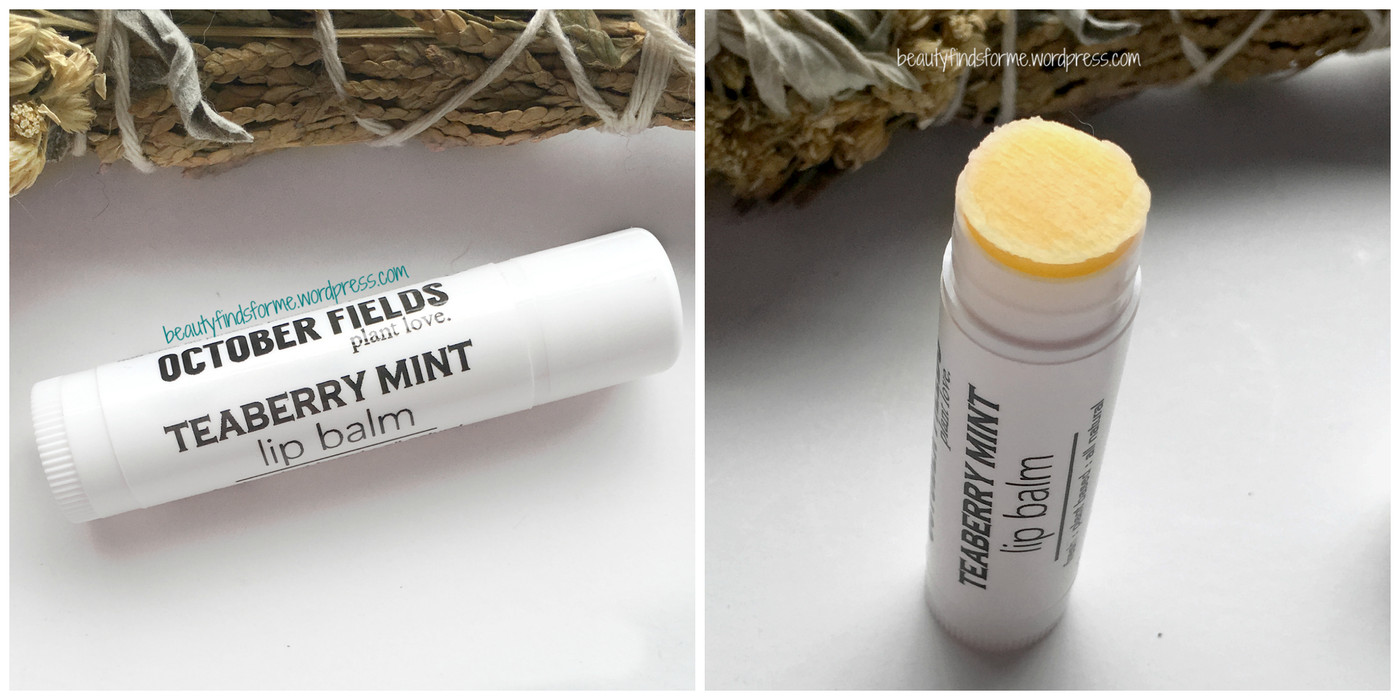 October Fields Lip Balm in TeaBerry Mint Made in Maine, this is an organic vegan lip balm and I was thinking ANOTHER lip balm?  I guess this is the season now to get my share of lip balms, so I shouldn't complain.  I honestly do not ever need to purchase a lip balm so long I have beauty subscription boxes! lol  This one is really nice, however..  For a lip balm, October Fields HAS A LOT to say about it ~ This lip balm is a super rich without being sticky and it really moisturizers ~ plus it has a very zingy peppermint scent and taste ~ my lips do tingle with the minty goodness. My lips FEEL moisturized and soft too, not just coated with a waxy substance.  Their TeaBerry Mint is made with plant based ingredients to provide intense moisturizing benefits to your lips.
Organic, Raw, Unrefined Cocoa Butter (theobroma cacao): an extract of the cocoa bean (hence the mild scent of chocolate) which is readily absorbed into the skin, yet creates a barrier from the environment to protect sensitive skin.
Organic Cold Pressed Pumpkin Seed Oil (Cucurbita pepo l) : deep green in color, naturally high in chlorophyll, provides the skin with essential fatty acids, is a rich source of antioxidants and polyunsaturated fatty acids, moisturizes and nourishes the skin.
Organic Cold Pressed, Unrefined Jojoba Oil (simmondsia chinensis): similar to our natural sebum production, it increases natural production of collagen, is a natural antibacterial and anti-inflammatory, is non-toxic and non-comedogenic, has a non-greasy texture, absorbs quickly into the skin and seals in moisture.
Organic Cold Pressed Sweet Almond Oil (prunus dulcis): a light moisturizer, suitable of all skin types, rich in fatty acids and absorbs quickly to soften and soothe skin.
Sea Buckthorn Berry Oil (Hippophae)
A proprietary blend of emollient rich oils and butters in a vegan vegetable wax base.
This is made without GMO ingredients, dyes, phthalate, parabens, fragrance and preservatives and is cruelty free, non toxic and vegan.  They also have two other "flavors" ~ Citrus Rose and their original Blend.   Free . Cruelty Free . Handmade in Maine USA, using oils infused with their own farm-grown organic herbs and flowers.  This is a great stocking stuffer as it is great for the wintertime!  It is not glossy so it can be used as a base before lipsticks and glosses and it is unisex, safe for all ages.  .15 oz RV $3.50
Ingredients: Euphorbia antisyphillitica (vegetable wax), *Theobroma cacao (cocoa butter), *Oils of Simmondsia chinensis (jojoba), Prunus dulcis (sweet almond), Cucurbita pepo I (pumpkin seed), Gaultheria precumbens (wintergreen) & Hippophae (sea buckthorn berry) and *Mentha x piperita (peppermint eo)   * = organic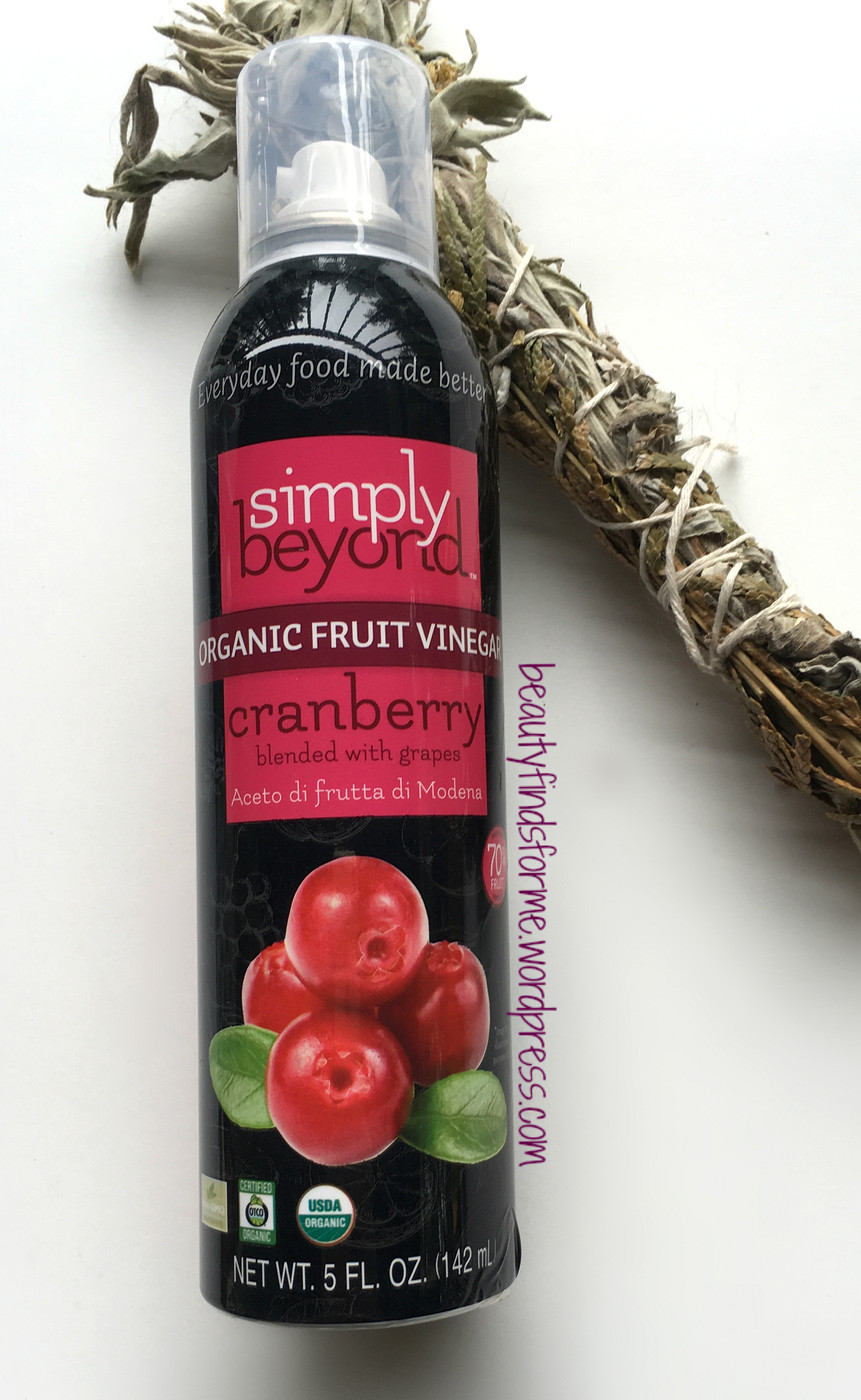 Simply Beyond Products Organic Spray on Herbs Cranberry Vinegar This is great – it has a great tart and sweet taste to it, very fruity ~ I can taste the cranberries, but also the vinegar lurking behind it.  I am in love with this item ~ it is a rich cranberry red color as well, so it is also a pretty vinegar.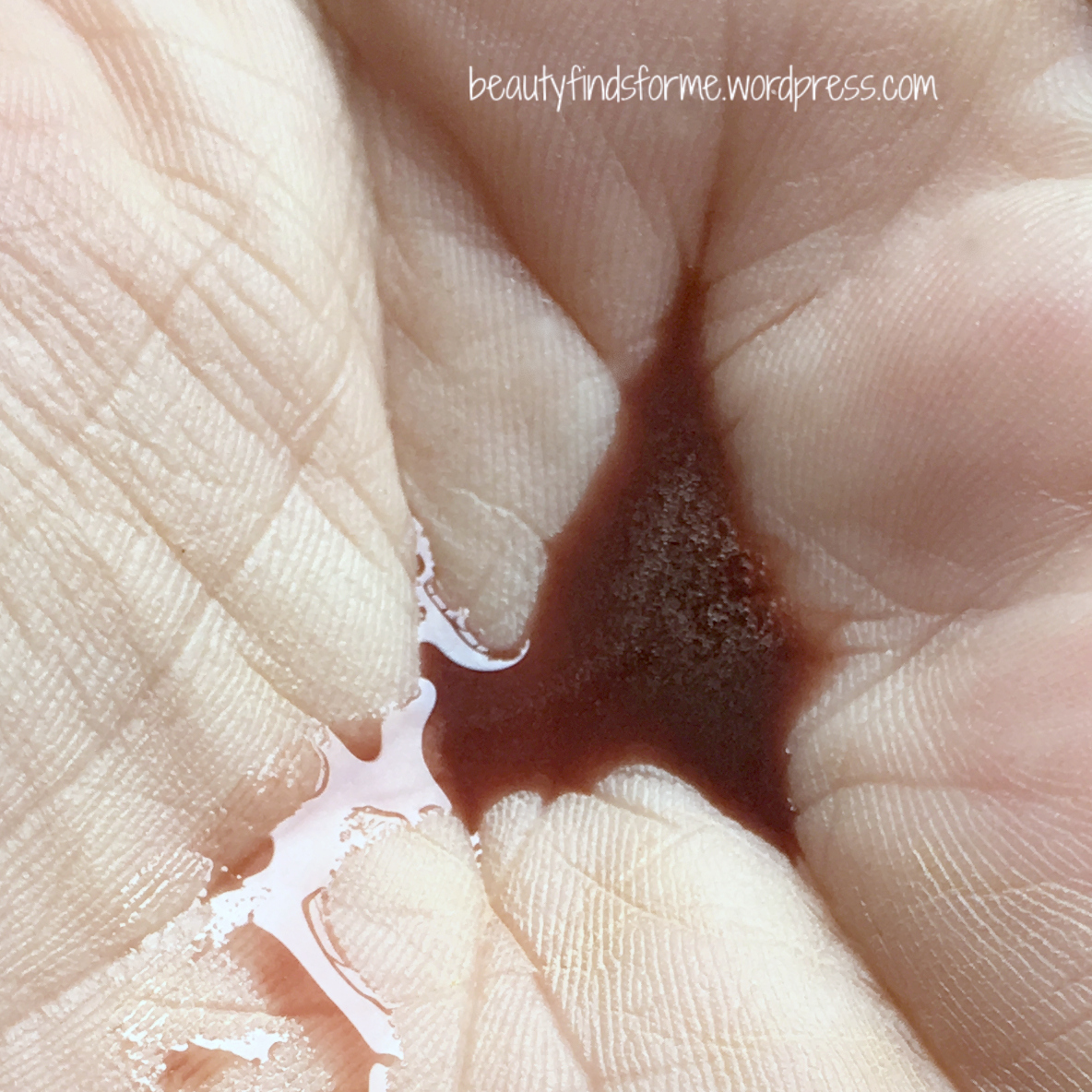 At first, I thought, wow, vinegar in a can?  But then I tasted it and decided that they did a great job here.  This is not an aerosol spray, but an eco-friendly compressed air system
You just spray the amount you want on your salads, veggies, use it to marinate meats, drizzle on ice cream (yep!) or use in an ice cold glass of water ~ drinking vinegar is great for your health ~ it helps with your digestive system.  This is made with 70%+ organic fruit and contains no sugar, coloring, malic acid, citric acid, ascorbic acid or pectin. This made in Italy and contains 40 calories per serving, zero fat, sodium and protein with 9 grams of carbohydrates all coming from sugar,with an acidity of 4%.. It is certified organic by Oregon Tilth.  I think this is going to be great for turkey day here in the USA ~ not only for the salads, but leftovers afterwards ~ drizzle this over turkey sandwiches!  Simply Beyond has a slew of recipes using their sprays, so check it out for inspiration.

They have other fruit sprays, plus herbal and spice sprays ~ I am going to stock up ~ this is such a great idea.  5 oz can RV $11.00   Promo Codes: Save 10% on your purchases at Simply Beyond Foods with code YogiSurprise Expires 12/31/2017.   Buy 3 or more sprays, add a Pomegranate Vinegar for FREE ($12.99 value) + FREE Shipping with code B3G1PF
Description: Our organic fruit vinegars are crafted by the best, with the purest, organic ingredients. Modena is an Italian province renowned for its prized, old-world balsamic vinegars. It is there that our vinegar is crafted in small batches, using the time-tested skill of cooking down organic grape juice until syrupy and complex in flavor. We mix this with just enough organic red wine vinegar and organic pomegranate or cranberry juice to strike the perfect balance of sugar and acidity. Our innovative non-aerosol spray design uses no chemicals, preservatives or even air contact, for a perfectly fresh taste.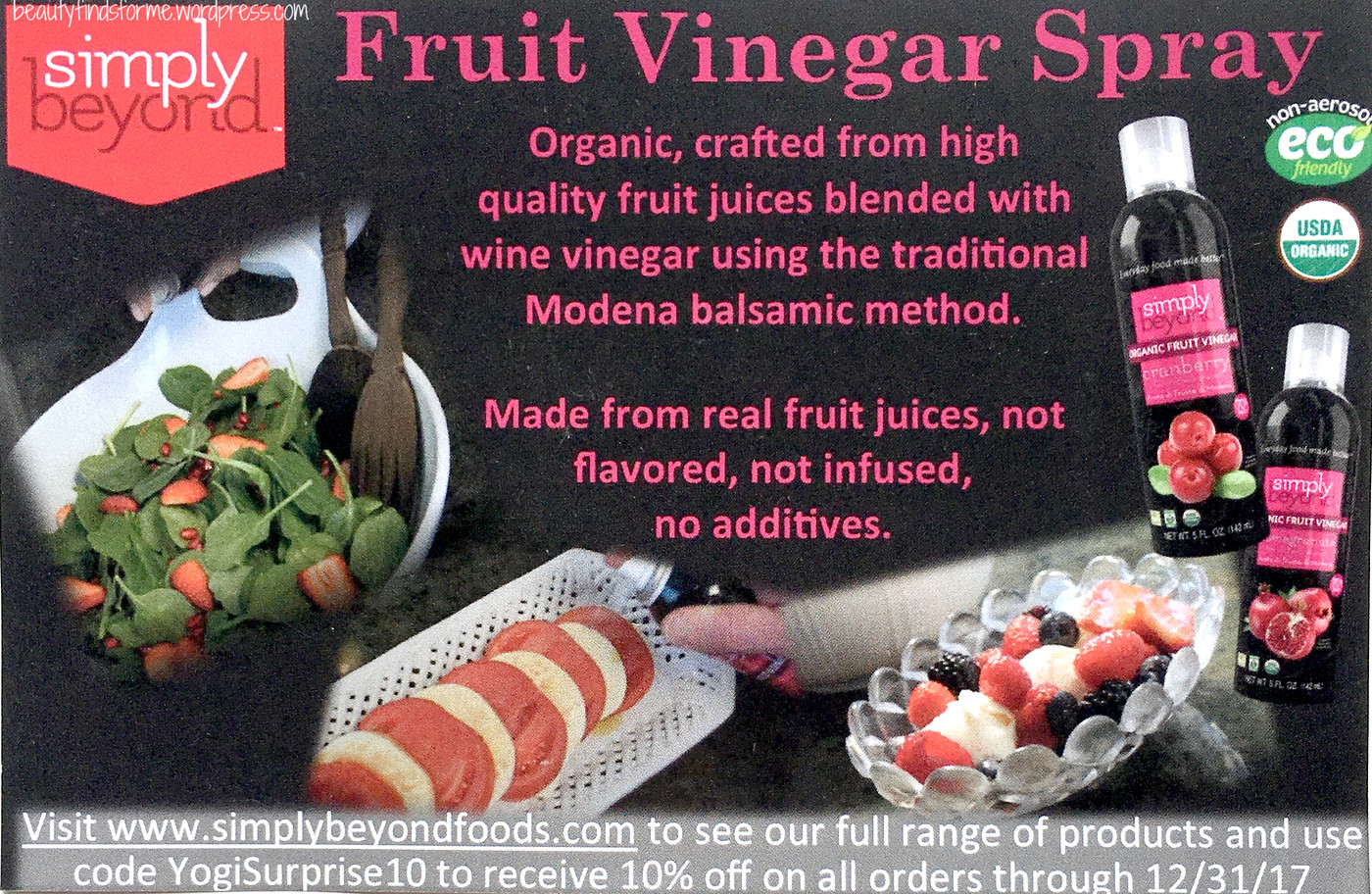 Ingredients:  Organic Concentrated Grape Juice, Organic Concentrated Cranberry Juice, Organic Red Wine Vinegar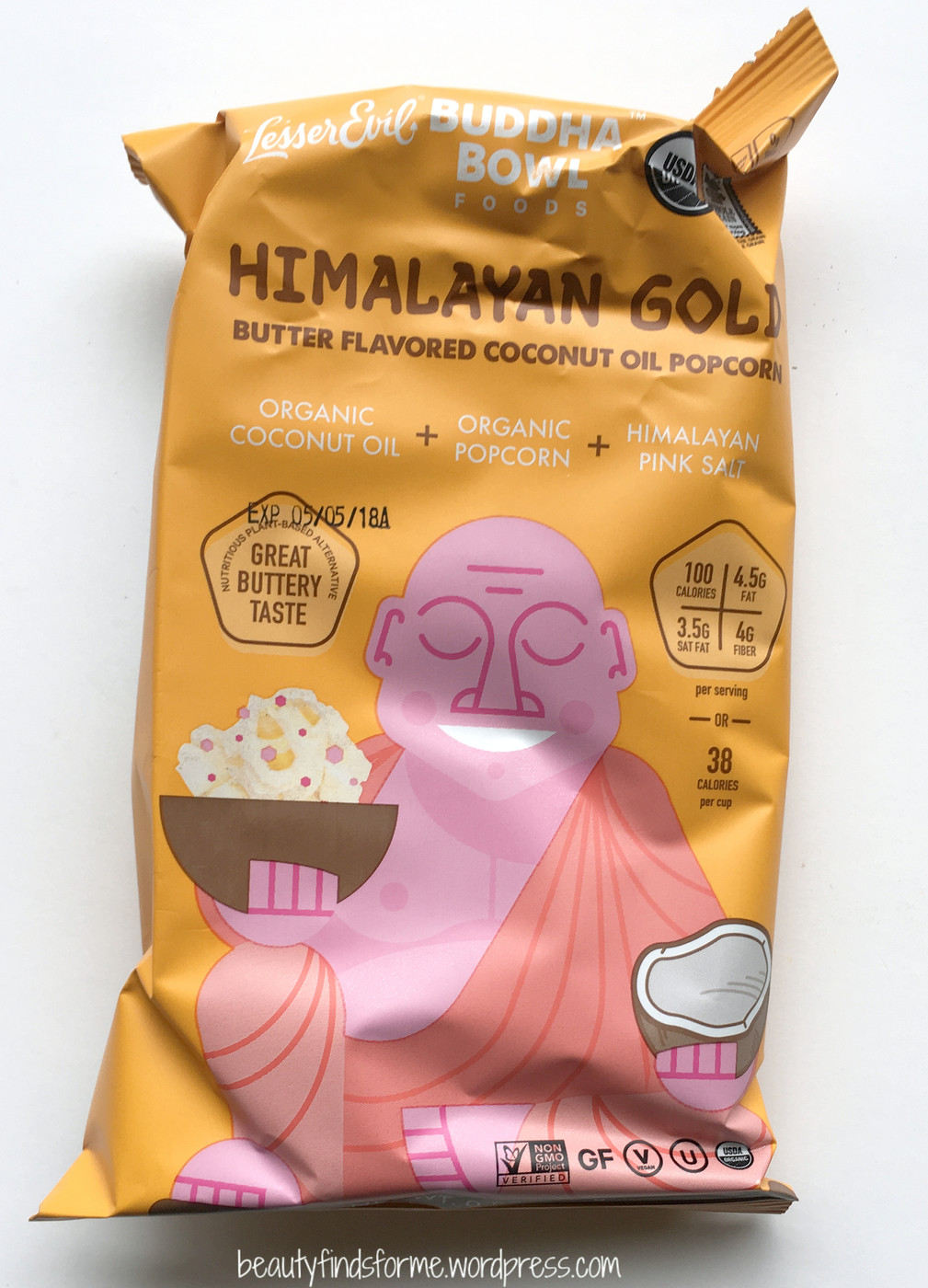 LesserEvil Healthy Brands Buddha Bowl in Himalayan Gold  I originally thought this was a bag of unpopped popcorn and you toss it in the microwave to freshly make your popcorn.  This is not that, but pre-popped popcorn that has been made with coconut and sunflower oil to create a buttery taste without butter!  It contains Himalayan salt and made with corn from organic farms in Nebraska and Indiana with cold pressed oils. 
Alas, this is not a crunchy popcorn but chewy.  It isn't a stale bag, the expiration date was in the future, but the popcorn was chewy and felt soft to me, as well as tasteless.  I was expecting a buttery salty treat and it was bland. However, my cats LOVED it.  I had put the bag down as I didn't care for it, and my cats tore into it ~ lol. Cat approved, but not human approved.  I am not sure what happened with this bag, but mine was pretty bland and stale tasting.  5 oz RV $1.00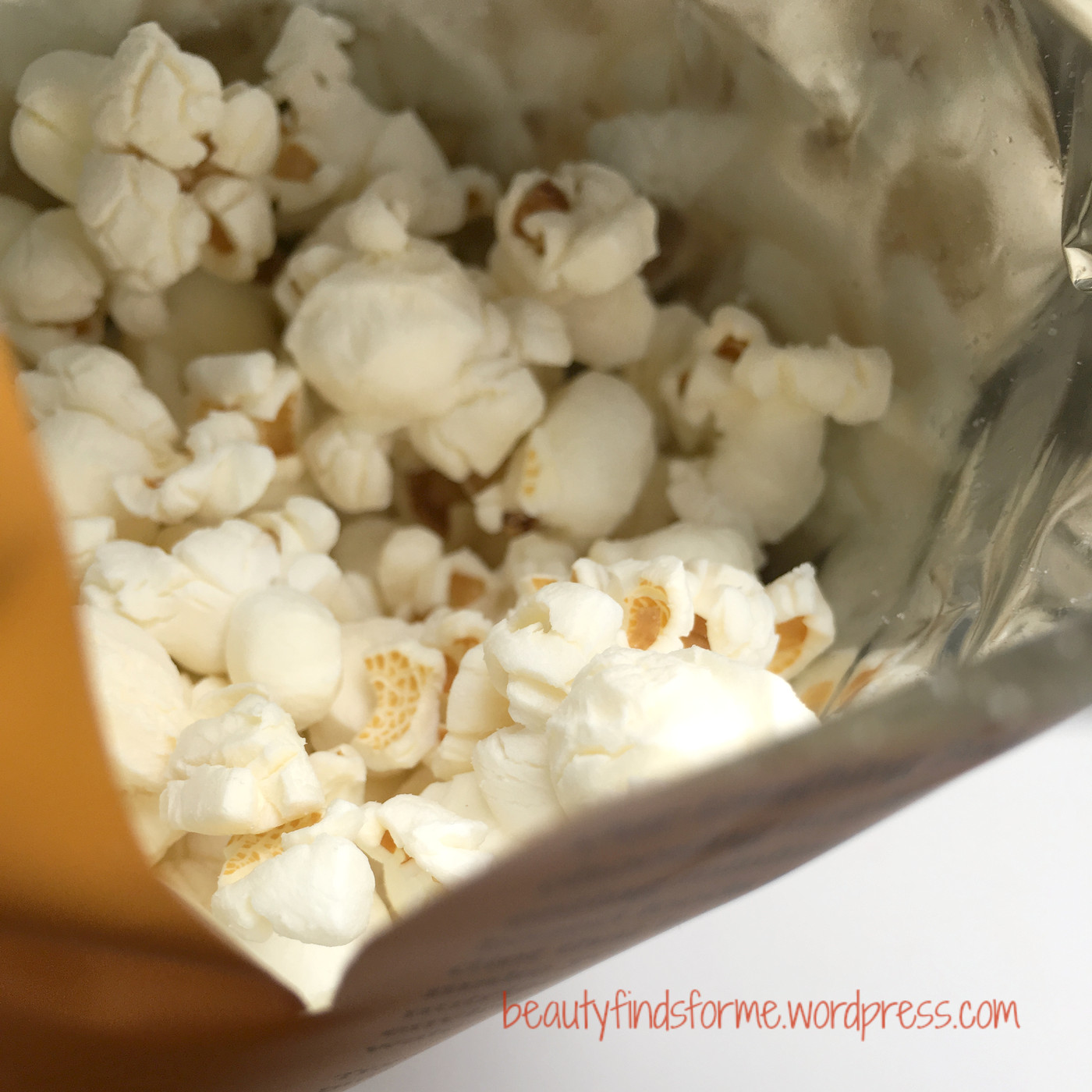 Description:  Himalayan Gold is pure gold. It's delicious, non-dairy, buttery popcorn. Made with organic coconut oil and a blend of organic botanical extracts to mimic a butter flavor this organic popcorn is the perfect alternative for anyone looking to limit or avoid dairy products without sacrificing any of the flavor. Non-GMO certified, gluten-free, dairy-free, kosher and vegan, packing in a full serving of whole grains per serving. This is another unique popcorn that is sure to delight the most discerning butter lover. Organic when possible. No G.M.O's. No refined sugars. No refined salt. Only organic dairy. No antibiotics and or hormones. No preservatives. No artificial colors or flavors. No hydrogenated oils. All herbs have not been irradiated are Prop 65 complaint and FDA Gras.
Ingredients: Organic non-GMO popcorn, organic coconut oil, Himalayan salt, organic sunflower oil, natural flavor (derived from botanical extracts)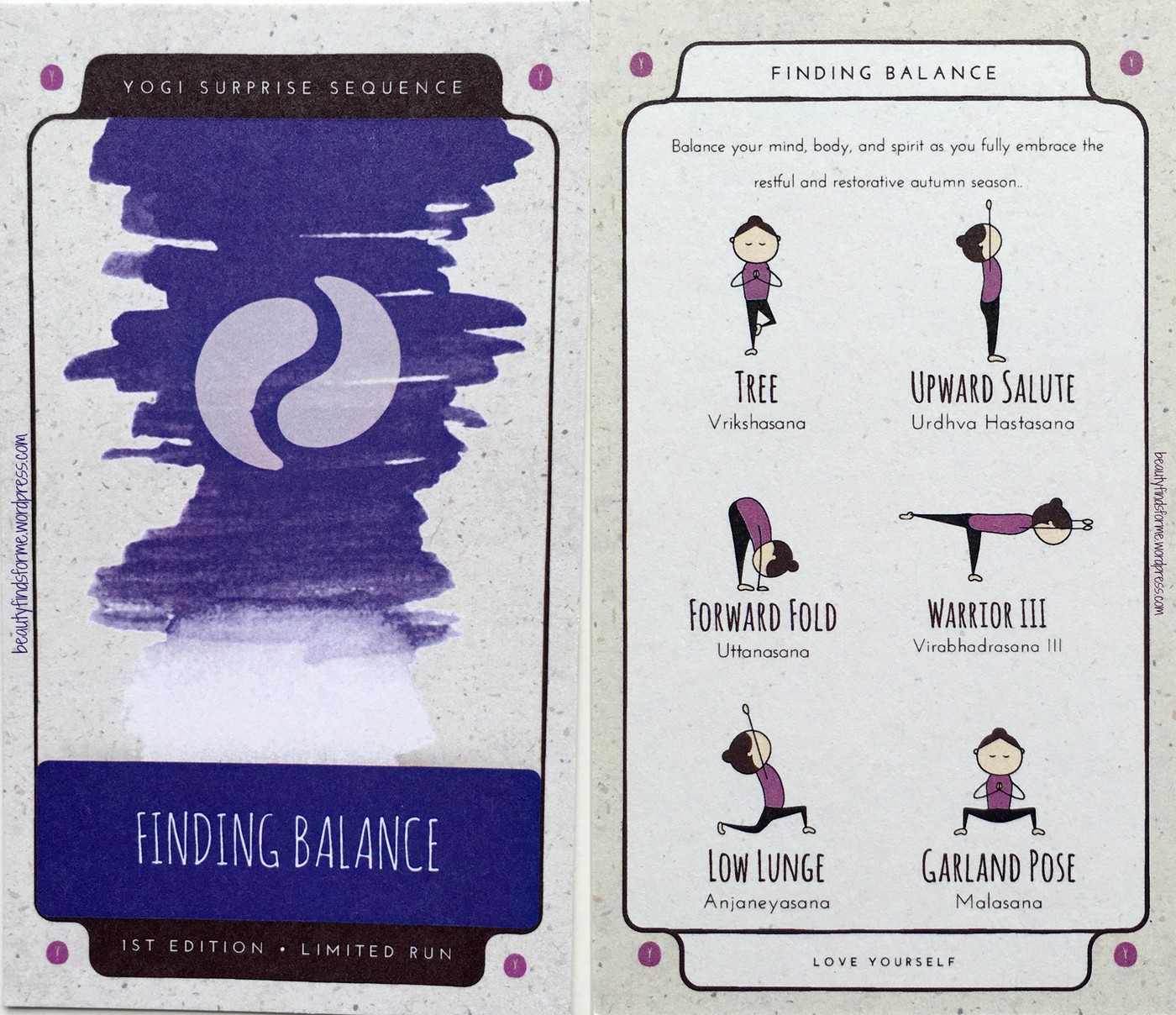 Bonus Item: Yogi Surprise Yoga Sequence Series Card: Finding Balance Balance your mind, body and spirit as you fully embrace the restful and restorative autumn season.  Yogi Surprise always has a sequence card in every lifestyle box with poses and positions that reflect the theme of the box.

Outside of the popcorn, I loved this month's box!  I got a variety of skincare products, ranging from cleansing to lip care, body care and facial along with two foodie products, with the best find this month ~ that vinegar spray!  I am really happy with the body  oil ~ it is so relaxing and perfect for my night time routine too.   This box has a retail value of $91.50. Do you subscribe to Yogi Surprise Lifestyle Box?  What was your favorite item this month?

If you are interested in signing up to Yogi Surprise for either their Lifestyle or Jewelry box, I would love it if you used my affiliate link    Check out the spoilers for next month's boxes below!    If you sign up for the Lifestyle box, use YOGILOVE to get 15% off the life of your subscription!
Next Month Spoilers
[ all descriptions in italics from linked website.  this blog post contains referral & affiliate links ]