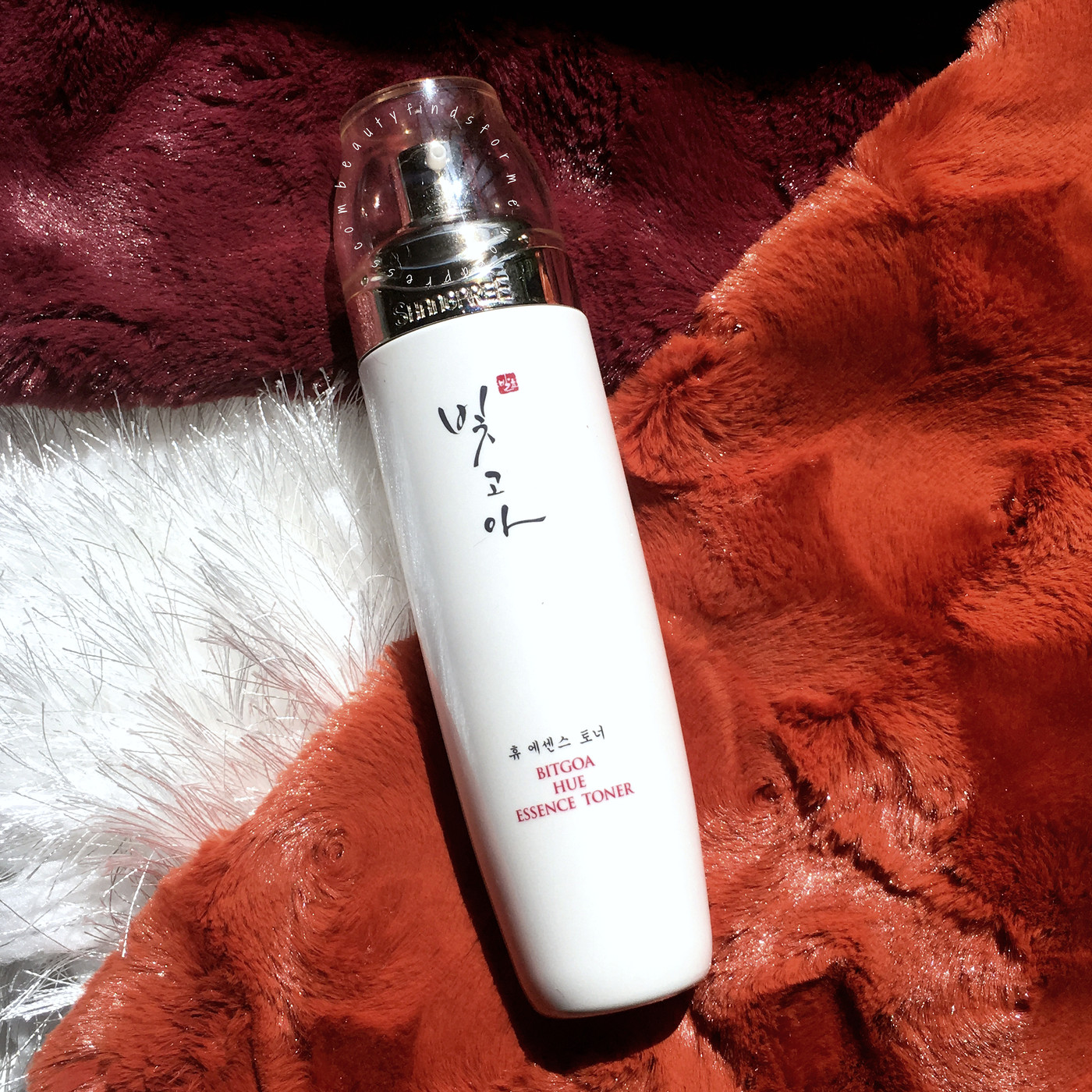 I had received a lovely Shangpree PR package several months ago and this is the last item that they sent me ~ this review is WAY overdue, as I finished testing it well over two months ago!!  You can read my other Shangpree reviews here.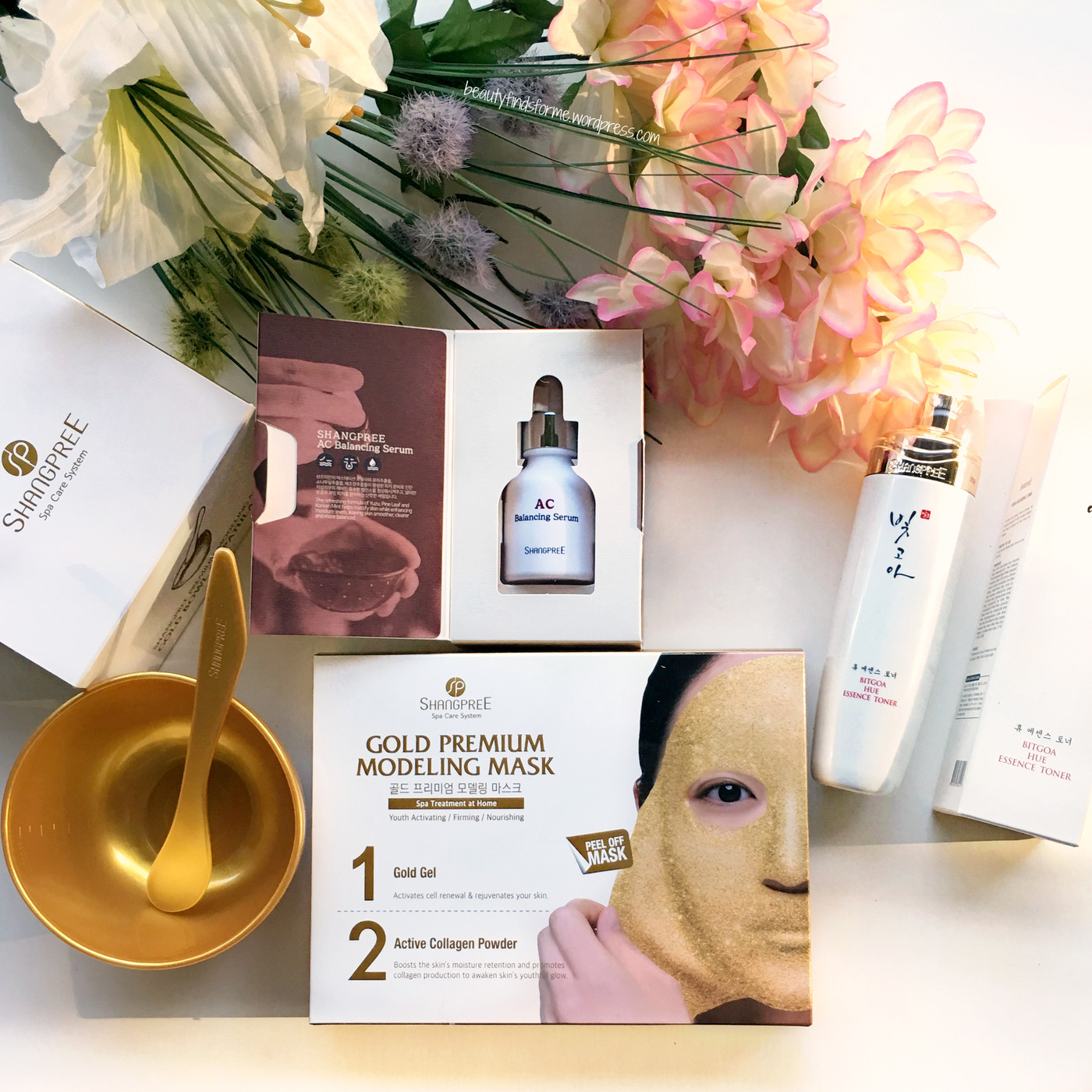 Shangpree is an internationally renowned  spa in Seoul, South Korea and has been around since 1990. All of their estheticians must complete Shangpree's training process which is a 3 year long ordeal!  It doesn't matter if you have 20 years experience or 2 years ~ they all have to be trained the Shangpree-way before they can offer client services.  Shangpree started their own skincare line and that same attention to detail and offer some of their most popular products to customers all around the world.  A portion of proceeds from Shangpree sales is donated to the Korea Green Foundation to assist climate change refugees.

Skin Type/Concerns:  Oily, blemish prone, aging with fine lines/wrinkles and hyper-pigmentation.
image shangpree source
Shangpree Bitgoa Hue Essence Toner Shangpree recommended this essence toner for me, as I have hyper pigmentation issues and oily skin. This essence + toner product claims it will soothe your skin, making it clear and healthy as it will balancing moisture and oil.  It also is a brightening and rejuvenating product as well.  Now, I know that it is a "Essence Toner", but honestly, based on the ingredients list and how it worked on my skin, I used this as a First Essence Treatment. I didn't see it marketed as such, but it really worked that way for me and Shangpree even stated that this product goes on your skin as the first step after you cleanse.  I have used FTE's before and this what I wrote about them in the past: A First Treatment Essence (FTE), also known as First Essence, Treatment Essence  and/or Treatment Toners, are very watery concentrated formulas with fermented ingredients, very nutrient-enriched and it preps your skin, while providing benefits that will help reduce/prevent fine lines and wrinkles, dull and uneven skin tones.    These are boosters and provide an instant shot of hydration and nutrients to your skin and prep your skin to accept your other skincare products.  I also feel this is a FTE because it reminds me so much of a another First Serum (another name for FTE) by Hanyul ~ Optimizing Serum (review here)
Description: Using a total of seven natural fermented extracts from lotus, soybean, pomegranate, rice, pumpkin, milk, and rye, plus ginseng root, the Bitgoa formula boosts overall skin health. By harvesting the power of fermentation, beneficial nutrients are broken down so that they can penetrate more deeply into the skin. The ingredients in this toner specifically help soothe and restore the pH balance of the skin and help to smooth your complexion.
For brightening, Bitgoa Hue Essence Toner contains niacinamide, a powerful antioxidant that acts as an anti-inflammatory, improves your skin elasticity, enhance the skin barrier function and also it helps to even out skin tone and reduce post-inflammatory hyper-pigmentation.  This has several moisturizing and hydrating ingredients, that contribute to soft, silky and smooth skin, while soothing and calming your skin ~ humectants glycerin, sodium hyaluronate and amino acid betaine;  moisturizing raffinose and polysaccaride biosaccharide gum-1, which is made from fermented plant materials.  This essence toner does contain alcohol as the 4th ingredient.
The star ingredients, however, are ginseng and 7 fermented ingredients ~ Ginseng's herbal properties and usage dates back over 5000 years ~ ginseng is used in anti-aging skin care products, as it is can stimulate the skin and activate the blood flow, which will increase toning and production of new skin cells. It also has anti-oxidant and anti-inflammatory properties, due to natural carbohydrate called saponin, and will help reverse damage caused by free radicals, such as hyper-pigmentation and also combat free radicals to prevent new skin damage of fine lines and wrinkles. Ginseng detoxes your skin and leaves it radiant and glowing. When you apply ginseng topically, it helps stimulate collagen production to promote cellular renewal.  
There are, as mentioned, seven fermented ingredients in here ~ Fermented ingredients have been slowly processed over weeks, months and sometimes years in a controlled and oxygen-free environment. This helps preserve the ingredients, removes toxic and harmful bacteria, while breaking down the ingredients into smaller, but more nutrient-dense particles.  Fermenting ingredients also enhance amino acids and peptides.  All of these ingredients are then more easily absorbed into your skin, as they are smaller and can penetrate deeper as well ~ hydrating, nourishing and repairing.  Fermented ingredients are a more nourishing concentrated version of the original and provide anti-inflammatory and anti-bacterial benefits to your skin as well. I have been a huge fan of fermented ingredients for going on 3 years now, ever since I used the now discontinued Goodal Waterest Tone Up First Essence (review here)
image shangpree source
Shangpree has a nice diagram and some more information, which I roughly translated here~ fermented ingredients are decomposing due to a microorganism that is using its own enzymes.  The fermented raw materials have a high concentration of nutrients due to the decomposition of them and new nutritive compounds are enhanced or created due to the result of the metabolism of microorganisms. Due to the fermentation process, it has a lower molecular weight and therefore, a higher absorption rate into your skin.  The following is a list of fermented ingredient benefits that are found in this product.
Nelumbo nucifera (lotus) is full of antioxidants to help with aging ~ antioxidants help combat free radicals and reverse some of the damage caused by it, such as hyper-pigmentation, fine lines and wrinkles. Lotus is fantastic for those who are struggling with oily, blemish prone or clogged/large pores, as it purifies your skin ~ your pores will look smaller and tighter and since lotus contains AHA (alpha hydroxy acids), it will help gently exfoliate your skin, removing excess dirt, debris and oil, unclogging pores and stimulating cellular renewal. Lotus not only hydrates your skin and refines the texture to a more smoother finish, it makes your skin feel refreshed.  Lotus has multi-purpose benefits ~ it is an astringent, an emollient, with anti-bacterial, anti-inflammatory, antimicrobial and anti-fungal proprieties, so it will keep your skin clean, moisturized and healthy.     ¹NCBI  research  ²NCBI research
Fermented soybean extracts are full of antioxidants, soybeans moisturize, help reduce the appearance of fine lines and wrinkles, helps firm skin and can reverse UV sun damage over time. It has anti-inflammatory properties so it helps reduce blemish swelling and redness. The power of soybeans contain amino acid glycine, which helps repair damaged tissue and to speed up healing, which means it is great for blemish prone skin as well. Polypeptides are found in fermented soybeans and are very moisturizing and help "plump up" your fine lines and wrinkles. Genistein is so important as it is an anti-aging ingredient and soybeans can also boost elasticity in your skin as it can stimulate and aid in the production of collagen.
Lactobacillus/Rye Flour Ferment Filtrate is a new one to me ~ this yeasty grain contains 8 essential amino acids which help with maintaining your skin barrier, as they are naturally a NMF (Natural Moisturizing Factor).  Amino acids help retain moisture in your skin, but provide protection against skin damaging free radicals.  This has a high concentration of glutamic and aspartic acids, which are skin exfoliating amino acids that also hydrate your skin.  This also has high concentrations of pantothenic acid (aka panthenol) and nicotinamide (niacinamide) acids.   [ source ] 
Lactobacillus/Rice Flour Ferment Filtrate provides anti-oxidant protection and combats free radicals, while helping heal the damage that it caused.  Also, fermented rice contains flavonoid kaempferol,  which reduces tyrosinase enzymes.  Tyrosinase is an enzyme that enhances and speeds up the production of melanin, resulting in hyper-pigmentation, so fermented rice will help suppress that enzyme.  There is a study that shows that non fermented rice does not inhibit this activity, so this is a benefit you only get when rice is fermented.  MDPI research
Fermented pomegranate will help promote collagen production to help skin become firm and hydrated. Pomegranate also is an antioxidant with a rice source of vitamin C, which also aids in collagen production, while brightening and evening out skin tones. Fermented pumpkin has enzymes that break down proteins and provides gentle skin exfoliation, removing dead skin cells and excess dirt and oil, while helping with fine lines and wrinkles.  Fermented milk contains lactic acid, another gentle AHA skin exfoliating ingredient and helps brighten your skin, while refining the texture of your skin.  
Ingredients:Water, Butylene Glycol, Glycerin, Alcohol Denat., Niacinamide,  Biosaccharide Gum-1, Phenyl Trimethicone, PEG-60 Hydrogenated Castor Oil,  Polysorbate 60, Betaine, Tromethamine, Carbomer, Raffinose, Zanthoxylum Piperitum Fruit Extract, Usnea Barbata (Lichen) Extract, Pulsatilla Koreana Extract, Xanthan Gum,  Saccharomyces/Nelumbo Nucifera Ferment Extract Filtrate, Panax Ginseng Root Extract, Lactobacillus/Soybean Ferment Extract, Lactobacillus/Rye Flour Ferment Filtrate, Lactobacillus/Rice Flour Ferment Filtrate, Lactobacillus/Punica Granatum (pomegranate) Fruit Ferment Extract, Lactobacillus/Pumpkin Ferment Extract, Lactobacillus/Milk Ferment Filtrate, Fragrance, Disodium EDTA, Sodium Hyaluronate, CI 19140, CI 16185, CI 42090  cosDNA analysis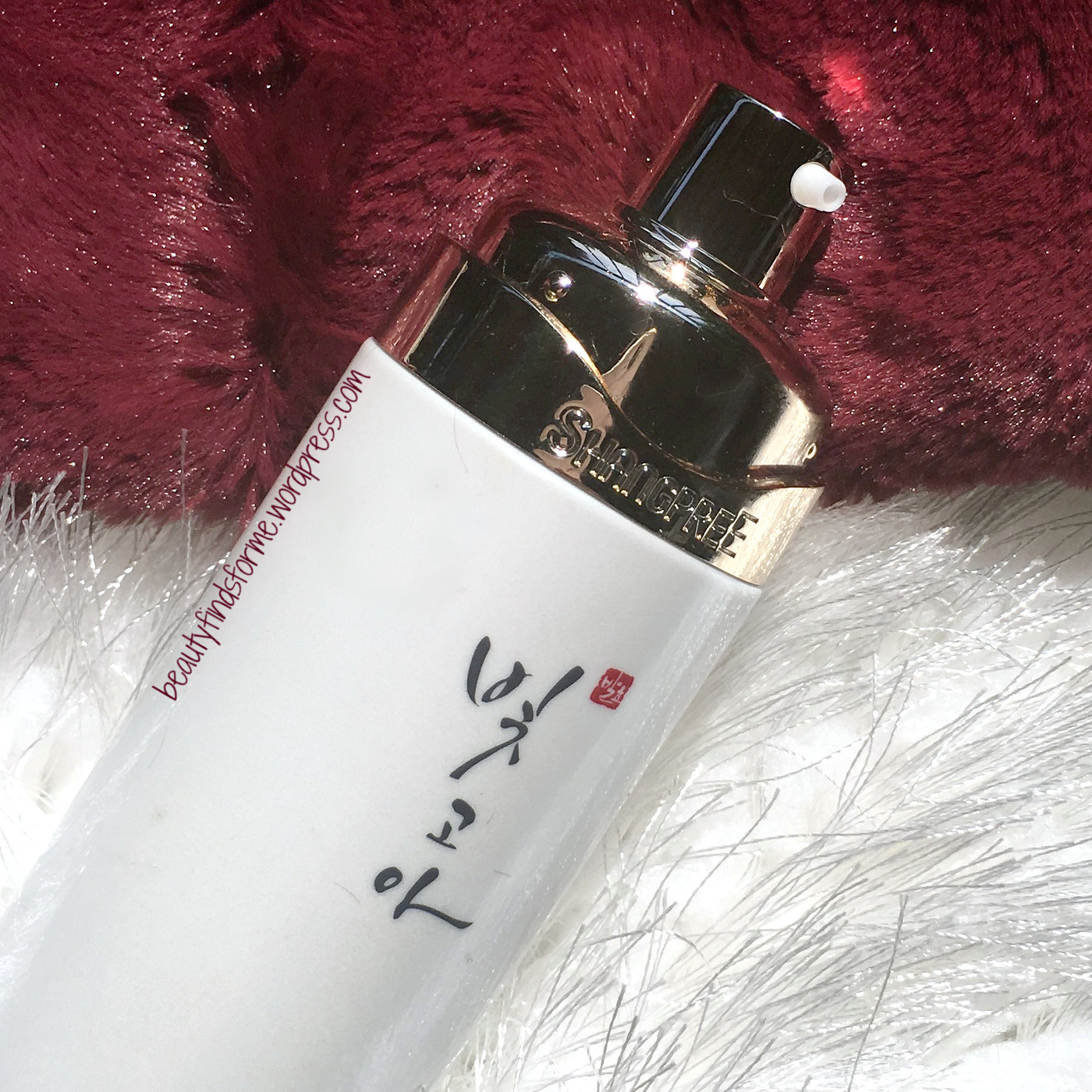 The Bitgoa Hue Essence Toner comes in a elegant-looking, tall 140 mL plastic white bottle with Korean lettering, a bright gold band around the cap and the clear lid is in a nice curved shape.  This is a pump bottle applicator and it doesn't over squirt the product ~ which is nice!  No waste here.  The essence/toner is a very watery, milky-looking toner, that is quite perfumed.  Its fragrance is an artificial floral, which does fade away after initial application. It is not horrible, but if you are sensitive to scents, especially heavily perfumed ones, you should know that about this product.  It does have a bit of a faint trace of an alcohol scent as well to it.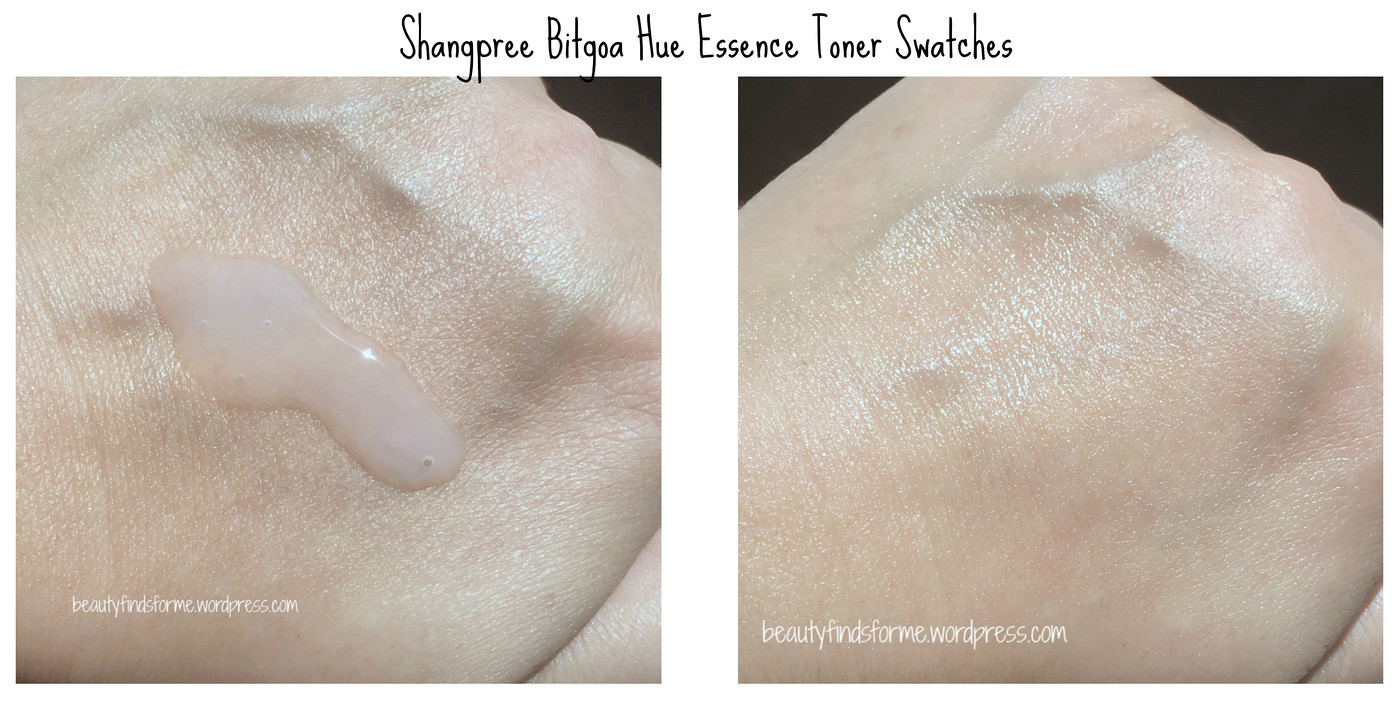 I use this toner essence right after cleansing ~ it is very lightweight and it does absorb nicely, without any sticky or tacky residue.  There is no trace it was ever on my skin once it dries down, other than my skin feels more refreshed and soft.  This increased my moisture level by 47% and reduced my oil by 31% ~ you can see I had both dry AND oily skin when I took this particular test ~ oily skin can be dehydrated and that was the case with my skin. After applying the Bitgoa Hue Essence Toner, my skin was balanced and hydrated, with a nice reduction of oil.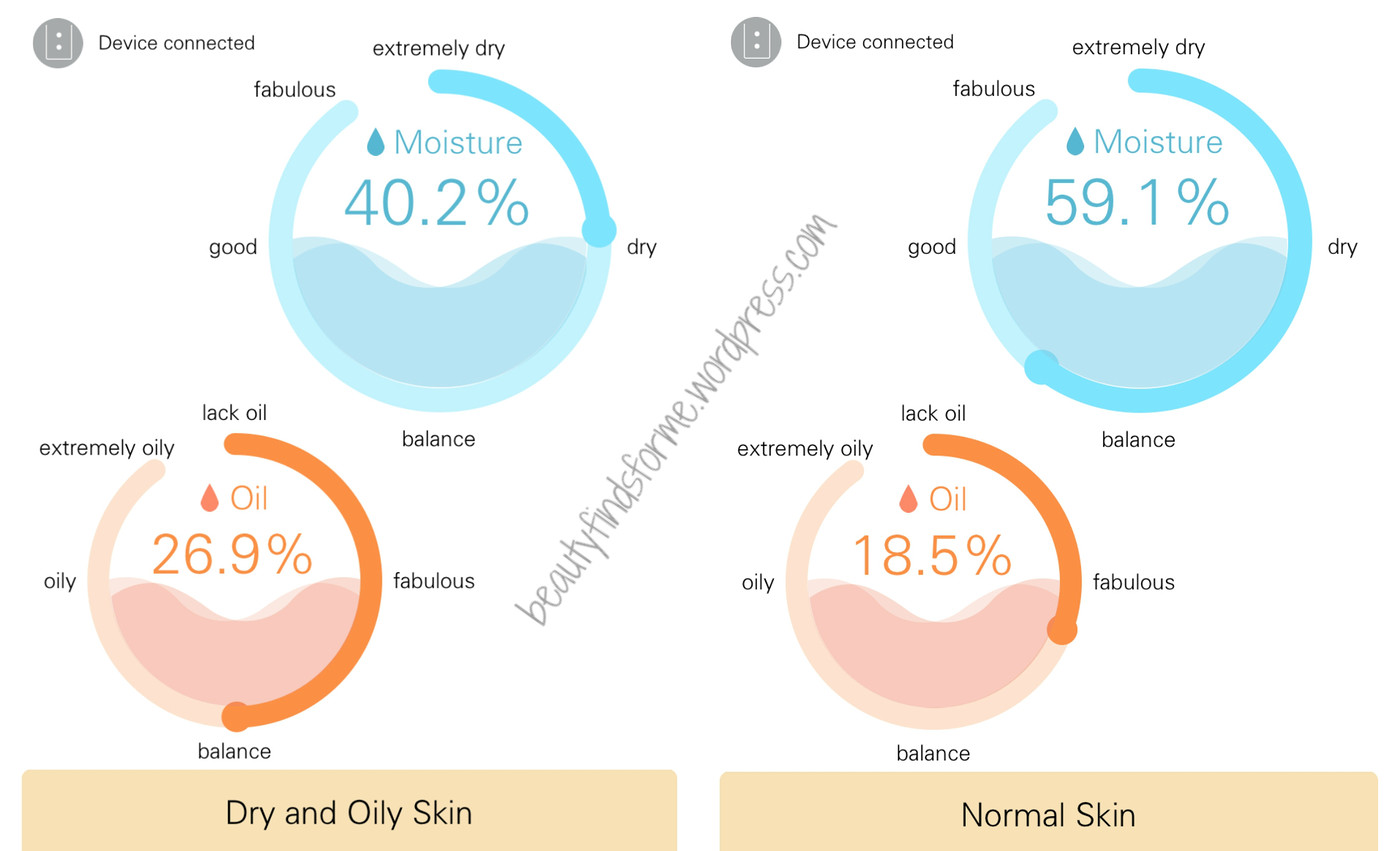 This has a pH level of around 5.5 and that is mildly acidic, so it does have exfoliating properties, but it is more of a hydration product than exfoliator, in my opinion. I say this because even with a lower pH, I do not know the percentages of the different acids in here.  It can be a low pH with a low concentration of acids ~ as this is not marketed as a peeling product, but a rejuvenating, refreshing skin smoothing essence/toner, I have no issues with this!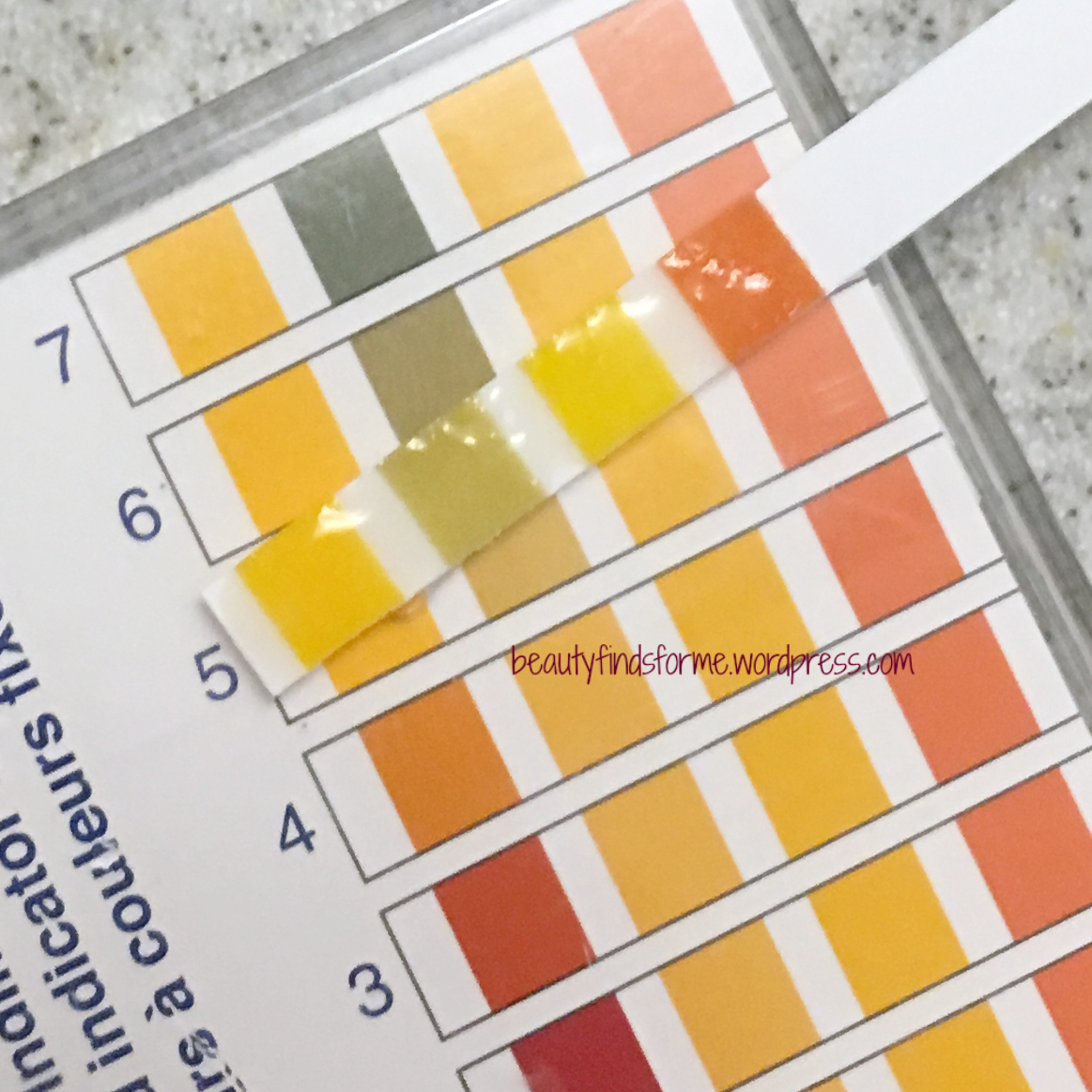 Final Thoughts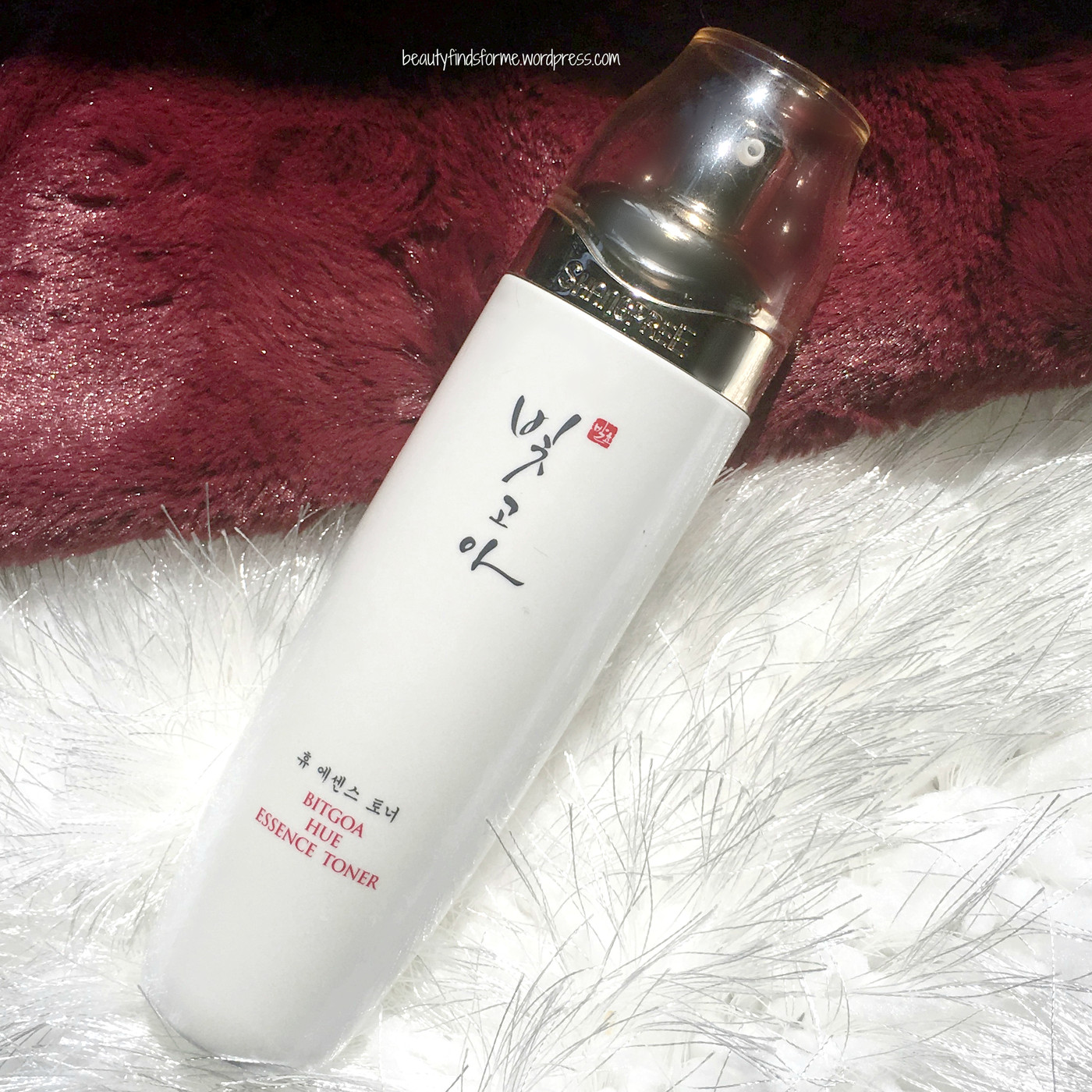 Honestly, this product worked so similarly to my beloved Hanyul First Serum, that other than the scent, I didn't notice that much of a difference between the two in terms of performance ~ it helps prepare my skin for subsequent skincare steps and helps them absorb better into my skin, restores hydration while calming my skin.  It absorbs fairly quickly and helped clear up existing blemishes, while making my skin soft and smooth.  I didn't notice any lightening of my hyper-pigmentation, but I felt my skin looked more rested after using this. I would say, and I could be wrong, that this is a good alternative to Hanuyl's Optimizing Serum as it is much less expensive ~ Hanyul can vary between $50.00 to $70.00 USD for a 70 mL bottle, whereas Shangpree's Bitgoa Hue is $57.00 USD for a 140 mL bottle.  I personally prefer Hanyul, however, as I feel that Shangpree's Bitgoa Hue is too strongly perfumed and I like Hanyul's scent better. However, if you do not mind the scent, which does fade away, Shangpree Bitgoa Hue Essence Toner is a fine product to use!   Is this the end of my Shangpree reviews?  No!  I actually have purchased their Ginseng Berry Eye Hydrogels and S-Energy Repair Eye Cream ~ I will be using those and reviewing later on in the winter! 
Where to Purchase

Peach & Lily $57.00 USD  USA + International Shipping.  Free USA shipping for orders over $50.00.  First time customer?  Use my referral link (click here) and save $10.00 off your order of $50.00 or more.

Shangpree Online Korea Shopping Mall
They do not ship Internationally, but I use a shipping service ~ Korean Buddy.  I have used them many times at different stores with no issues.  You can save 50% off the handler fee with Korean Buddy  by using my blog url as a referral https://beautyfindsforme.wordpress.com 
BONUS Review
When I purchased some items at Shangpree's  online Korean store, they included several great sample foils and a couple of sheet masks that I did not see anywhere on their site or Peach & Lily's site. I have learned that Shangpree sells additional items in their spa store than they offer online, so if you are in Korea near their spa, maybe check them out to see what other products they have!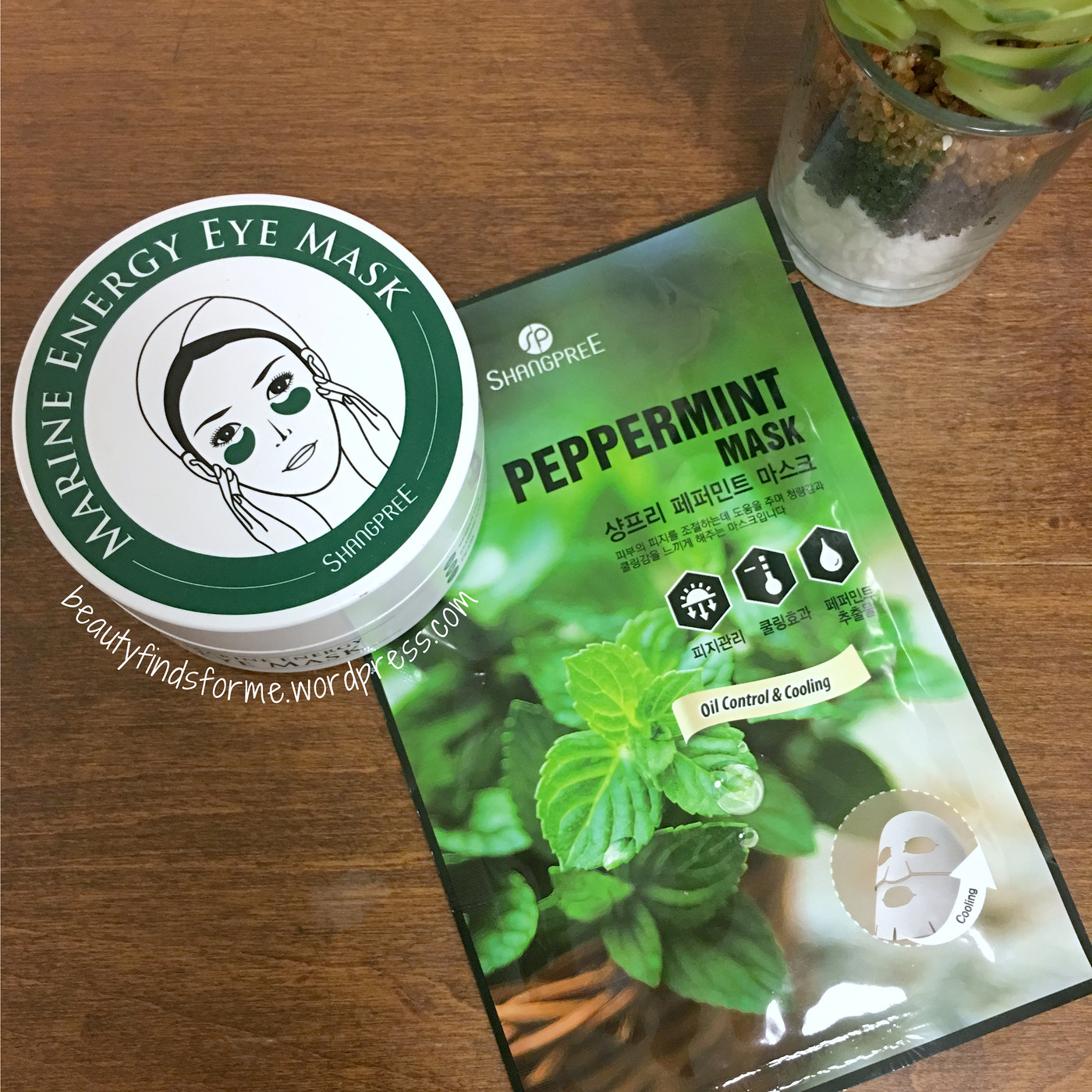 I love and adore Shangpree's Marine Energy Eye Masks (review) and these really help depuff and reduce the appearance of fine lines and wrinkles. When I sheet mask, I try to put these on as well.  I also have a 🌱🌱Peppermint Mask which is a cooling, oil control mask ~ I got this when I did a Korean Buddy haul ~ I do use a shipping service for brands or specials that are only for Korean stores, and I received this mask as a freebie when I did some shopping at Shangpree's Korean online store. This mask is a thin (but not too thin) cotton mask with a lot of watery essence that smells of peppermint with a soupçon of alcohol. I am not scared of either ingredient, as I have tough oily skin ~ peppermint is fantastic as an astringent.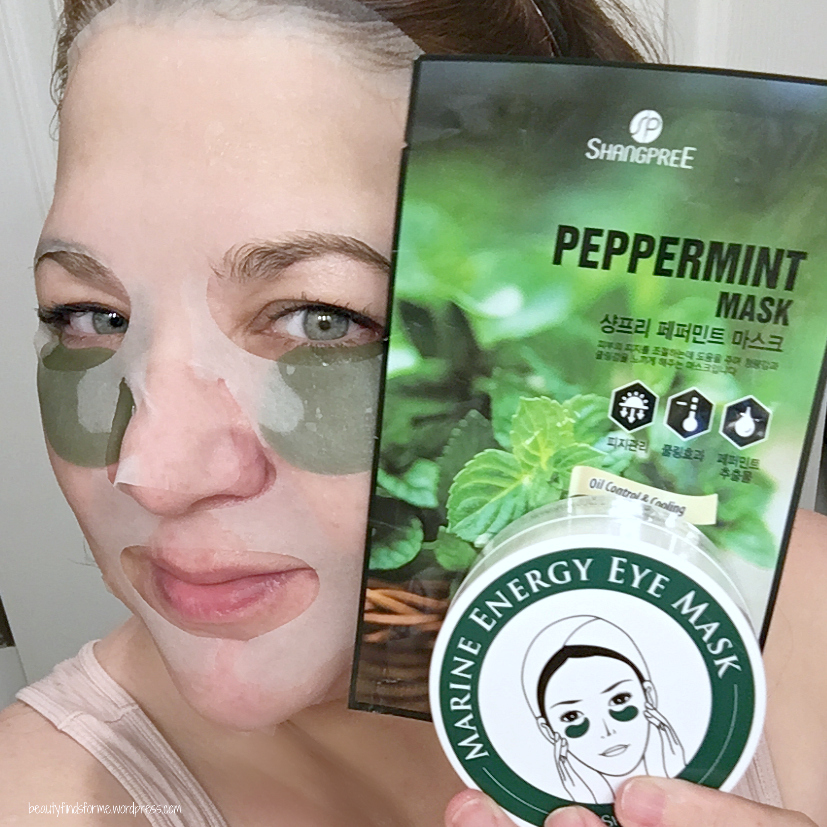 The fit was really good ~ it had a ton of forehead space ~ so much that it went on my hairline! The adherence was good and it did not pull away or fall off as it dried and I got a slight cooling sensation, but I have had better cooling masks. I left this on for 30 minutes ~ the nose area was starting to dry out but the rest of the mask was still moist. This is not a mattifying mask at all, but it did tamper down my oily shine, leaving only a satin finish. My pores were also smaller in appearance ~ No tacky residue, but I did feel a bit of a film on my skin ~ it isn't unpleasant, as it makes my skin feel smooth and velvety, but it is there and I believe this is the collagen ingredient, as collagen does have a tendency to do this to my skin. This would be a night time mask for me, due to that filmy feeling as I think it would lock in moisture.
Peppermint Mask Ingredients: water, butylene glycol, glycerin, alcohol, betaine, mentha pipenta (peppermint) extract (1%), hydrolyzed collagen, sodium hyaluronate, PEG-60 hydrogenated castor oil, xanthan gum, sodium polyacrylate, disodium EDTA, methylparaben, phenoxyethanol, propylparben, fragrance  cosDNA analysis

[ disclosure: contains referral & affiliate links. some products were complementary for review purposes ]