October is breast cancer awareness month and Kloverbox chose some brands that will give proceeds to breast cancer research funds and/or created products specifically in the pink for this month!  Ladies (and gents!), it is so easy to detect breast cancer and you can nip it in the bud (see what I did there?) by giving yourself a breast exam monthly ~ it is simple and it does save lives (check it out here if you don't know how to do one yourself)  Kloverbox is a subscription box that not only is natural and has a focus on indie brands, but they also find unique and interesting products as well.
Kloverbox is an eco-friendly, organic lifestyle box and I love how they introduce new, unique and innovative products each month.  Kloverbox delivers deluxe and full size products and I have been impressed with their packaging and curating of their boxes. You can subscribe to Kloverbox  either as a month-to-month at $25/monthly, 3 month subscription at $23.75/monthly or a 6 month subscription at $22.50/monthly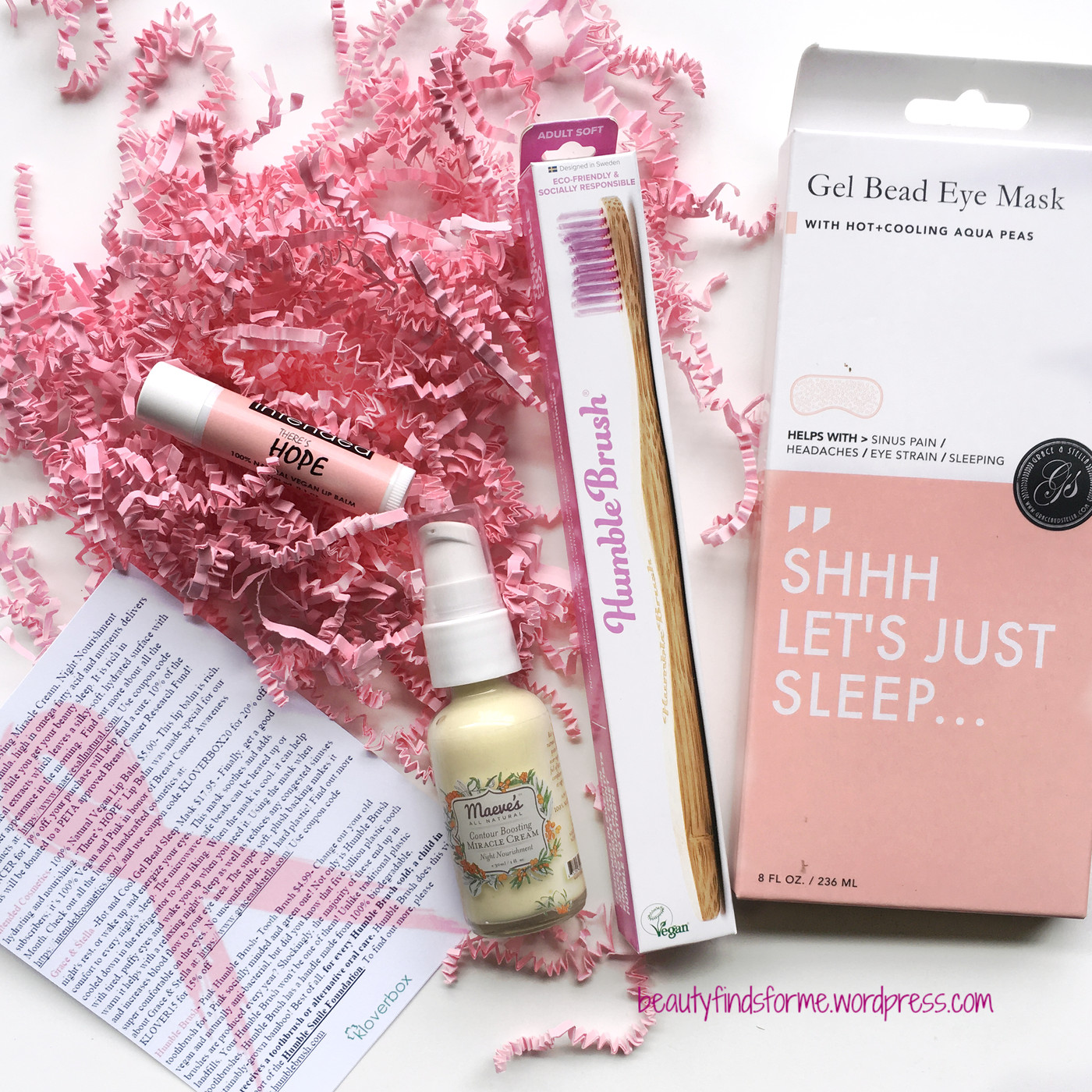 Informational Card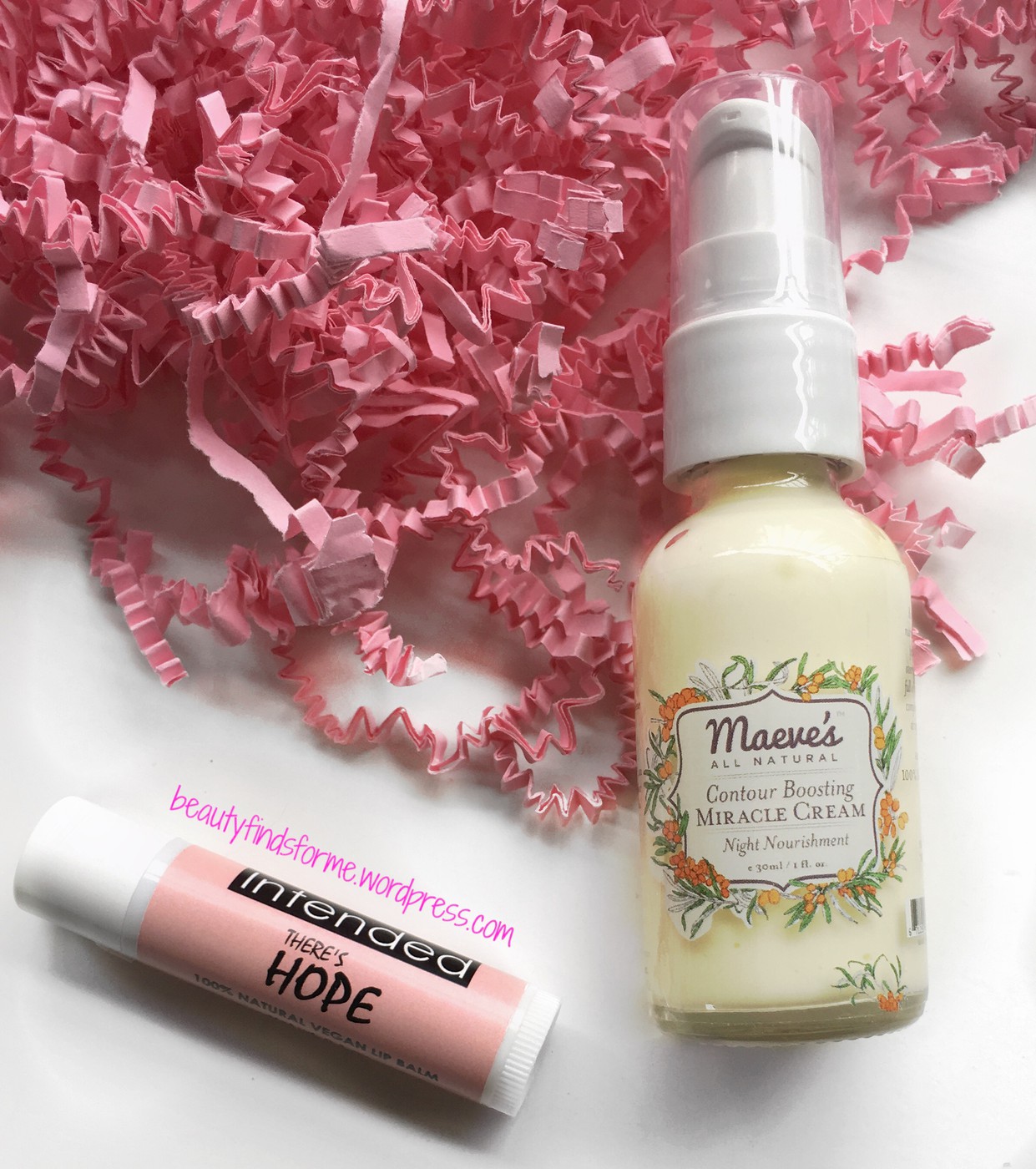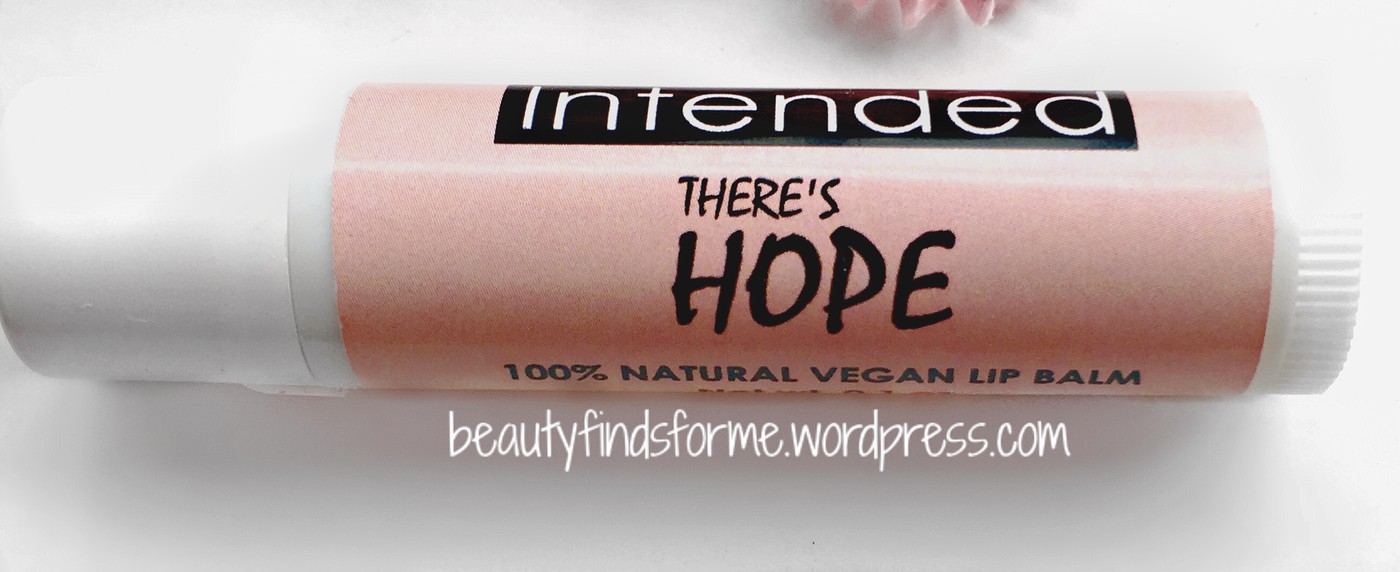 Intended Cosmetics 100% Natural Vegan Lip Balm This is so great ~ This lip balm, "There's HOPE", was create  especially for Kloverbox and it is 100% vegan and it is PINK! It isn't a tinted balm, it just looks pink ~ or if it is a tinted balm, it is so light, I cannot tell the difference.  There is no beewax in here ~ so vegan friendly and 100% natural ~ and this lip balm has a great citrus taste and scent.   . 15 oz   RV $5.00 Promo Code:  Save 20% off  at Intended Cosmetics  ~ Use code kloverbox20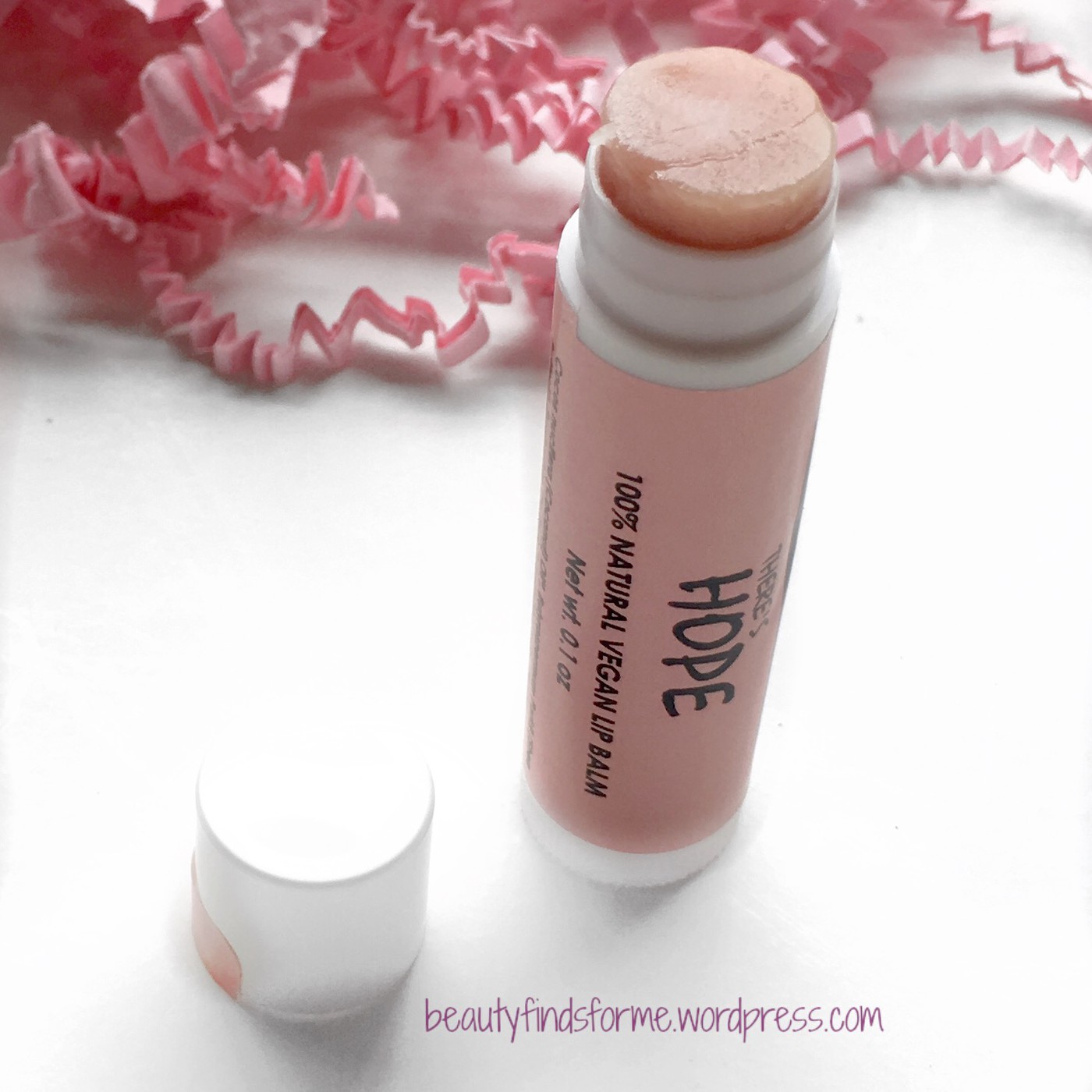 Ingredients: Cocos nucifera (Coconut) Oil*,  Butyrospermum Parkii (Shea Butter)*, Euphorbia Cerifera (candelilla) Wax, Persea Gratissima (Avocado) Oil, Ricinus Communis (Castor) Seed Oil,  Prunus Amygdalus Dulcis (Sweet Almond) Oil, Citrus Sinensis (Sweet Orange) Oil, Eucalyptus Globulus (Eucalyptus) Leaf Oil, Tocopherol. *Certified Organic.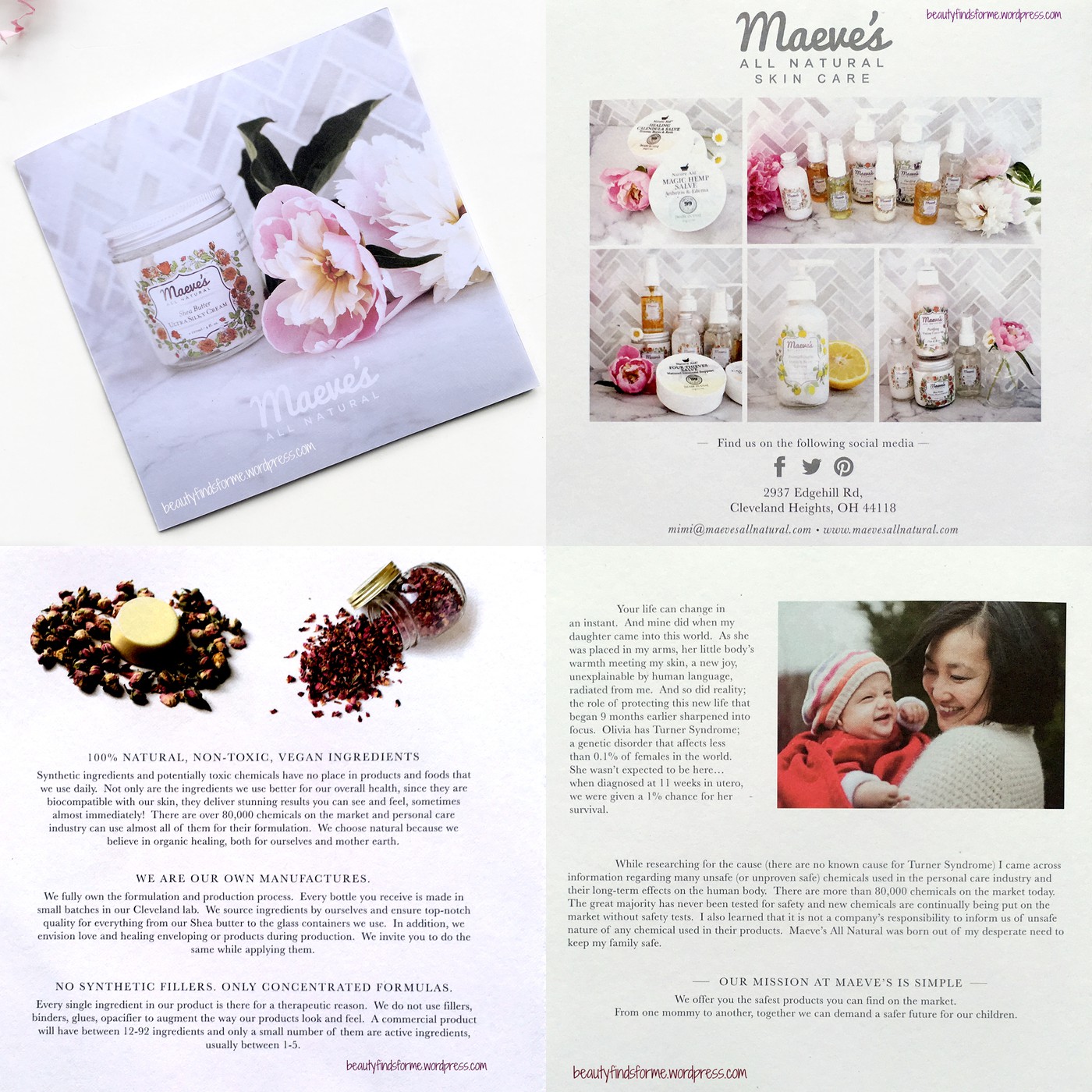 Maeve's All Natural Contour Boosting Miracle Cream Night Nourishment This looks to be amazing and it contains ingredients that are moisturizing  ~ such as jojoba oil, shea and mango butter, vitamin E, sea buckthorn ~   rich in omega fatty acids and will help rejuvenate your skin while you sleep.  Extracts of willow bark, calendula, chamomile, gotu kola (centella) and green tea are full of soothing and healing antioxidants.  Alas, the first ingredient is rose, so this will go in a giveaway. Maeve's All Naturals has some nice products ~ very eco-friendly, green beauty and I will be taking a long look at their website.   1 oz RV $42.00  Promo Code:  Save 10% off  at Maeve's All Natural ~ Use code CURECANCER and 10% of your proceeds are donated to a PETA approved Breast Cancer Fund.
Ingredients: *Rose Hydrosol, *Aloe Vera Juice, Distilled Water, *Jojoba Oil, Hydrolyzed Oats, Squalane, *Shea Butter, *Mango Seed Butter, Panthenol, *Tamanu Oil, *Glycerin, Tocopherol (vitamin E), *Willow Bark Extract, *Calendula Extract, *Chamomile Extract, *Elderberry Extract, *Gotu Kola Extract, Jasmine Extract, *Linden Extract, *Alfalfa Extract, *Green Tea Extract, *Sea Buckthorn Oil, Cetearyl Olivate (emulsifier, derived from Olive), Sorbitan Olivate (emulsifier, derived from Olive), P-Anistic Acid, Sodium Phytate, Radish Root Ferment Filtrate, Essential Oil of Chamomile, Palmarosa, Ylang Ylang, Sweet Orange, Lemon, Mandarin and Rose.  cosDNA analysis  *Organic Farming 65% USDA Certified Organic Ingredients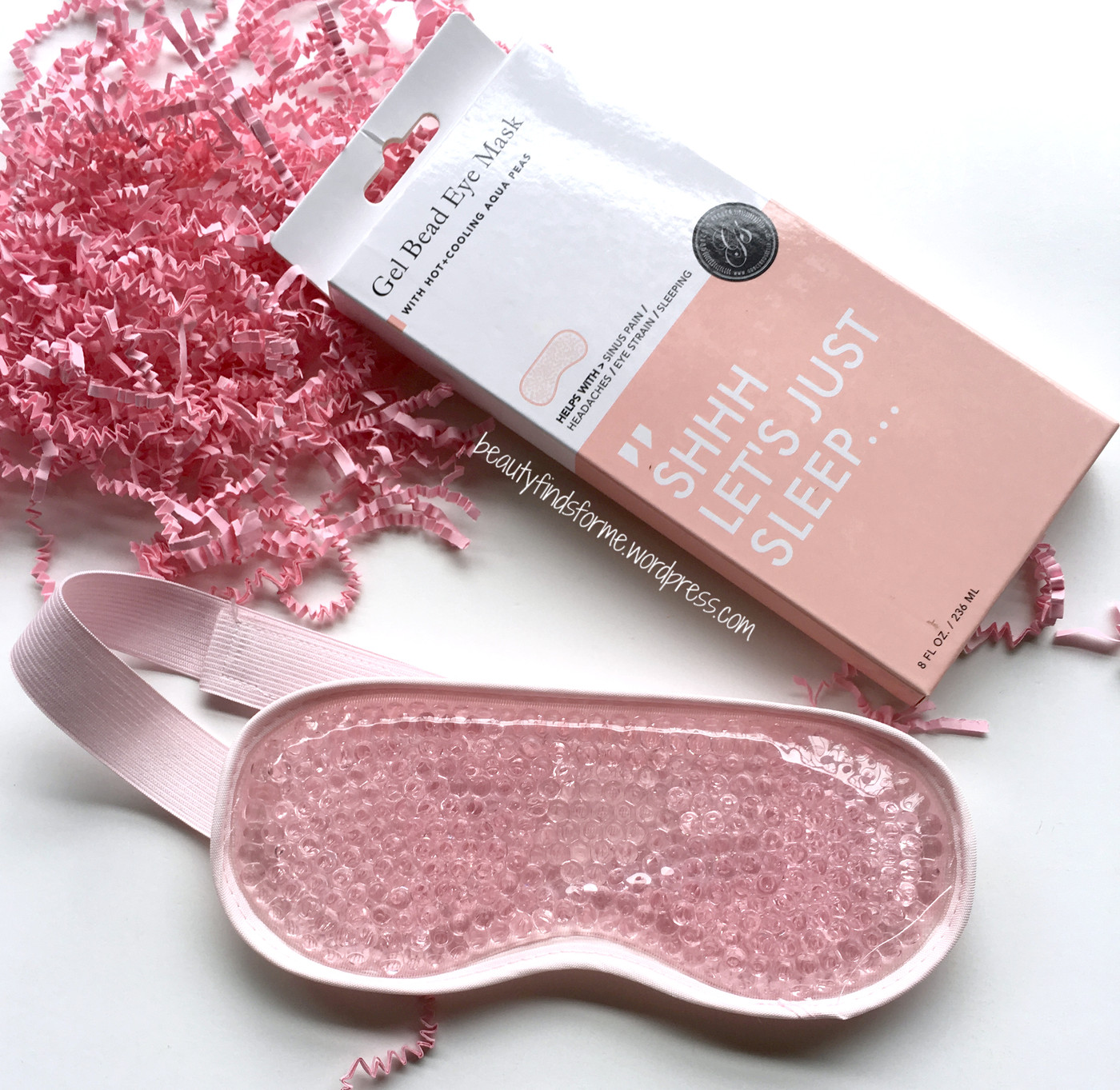 Grace & Stella Hot and Cool Gel Bead Sleep Mask This is my favorite item in the box! I love eye things and this can be put in the microwave to heat up or cooled in the frig ~ A cool mask will help soothe tired, puffy eyes and wake you up! When the mask is warm, it helps calm and relax, reduce congestion and helps increase blood flow towards your eye area. The back of this mask  is soft and plush and the gel beads are so squishy! I love the pink color and it is adjustable with a velco strap. This is great for dry eyes, allergies, headaches, sinuses and puffy eyes ~ it is reusable and non-toxic as it is BPA free and made without phthalates. Use it when traveling, meditation, yoga or just for relaxation and it can be used  on your head, back, neck, wrist, elbow, knee, ankle and just about anywhere else!  RV $17.95  Promo Code:  Save 15% off  at Grace & Stella ~ Use code klover15  
To use warm ~ microwave for 10 to 15 seconds, testing the warmth on the inside of your wrist before applying to your eyes.
To use cool ~ freeze for 10 to 15 minutes, testing the coolness on the inside of your wrist before applying to your eyes.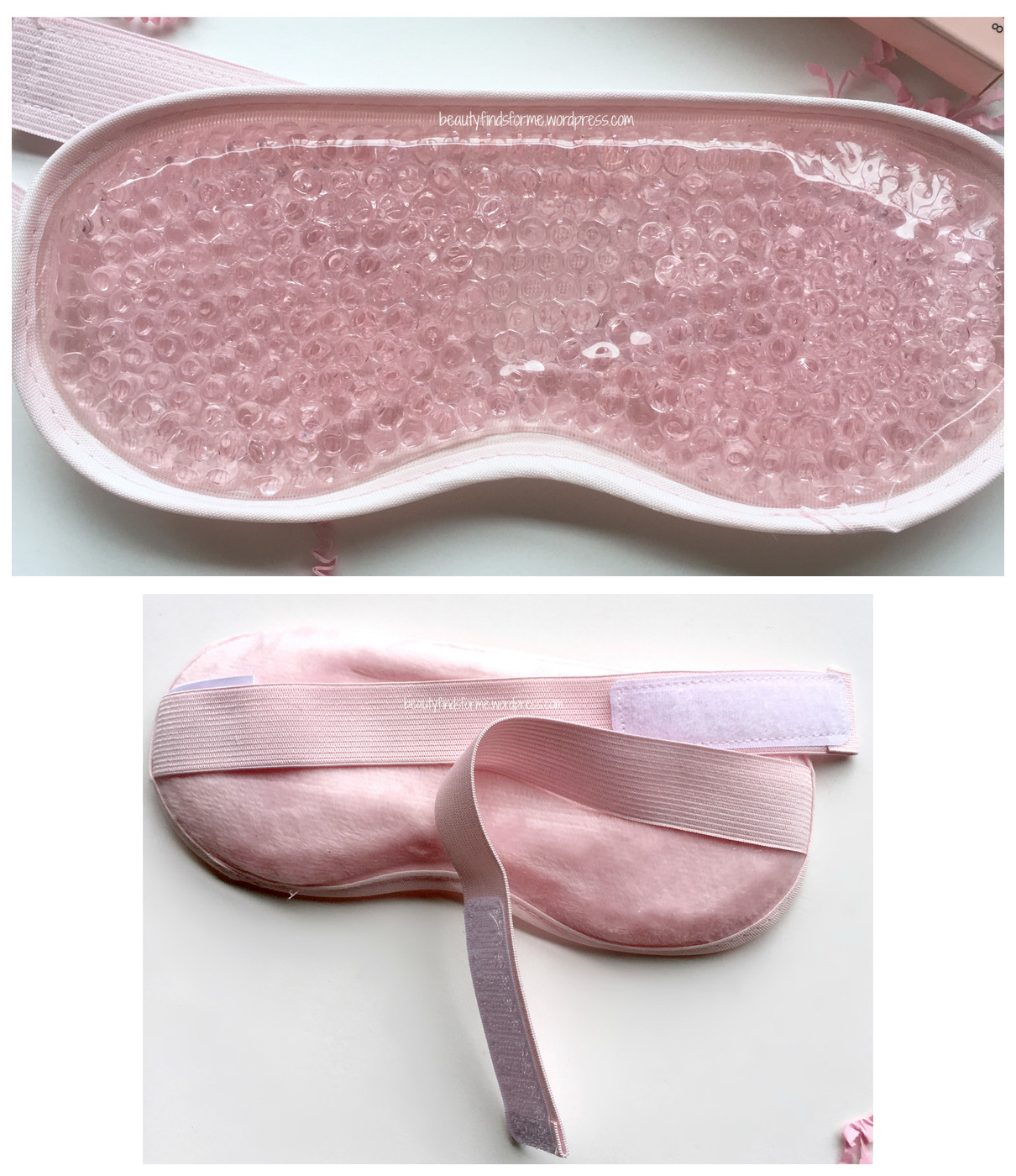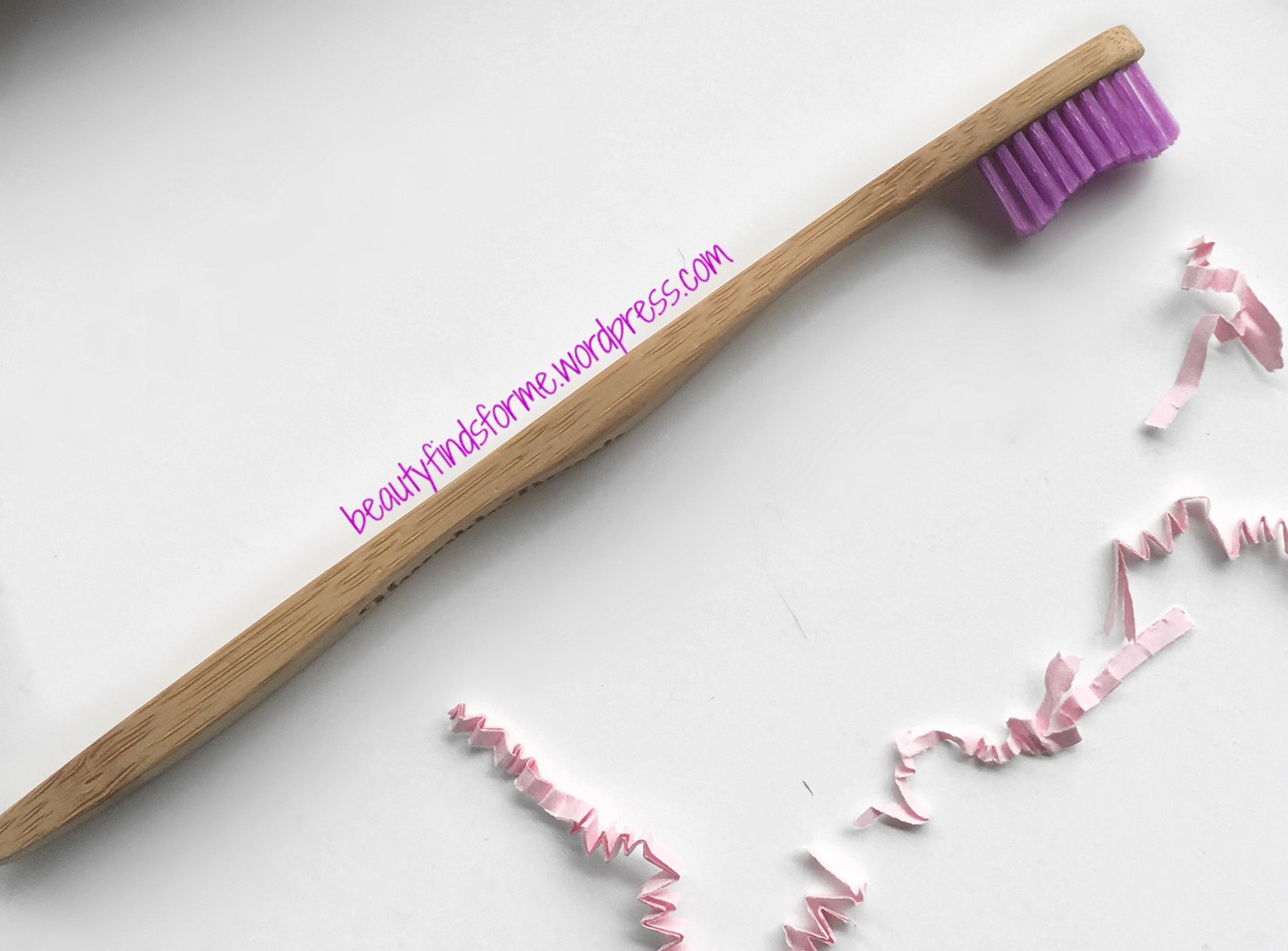 Humble Brush in Pink (Ecö thinking from Sweden)  I have gotten these before in my Kloverbox and I love Humble Brushes! This looks more like a purple color than pink, but I am not complaining!  Last month, Kloverbox sent us UJJAYI Boutique Charcoal Whitening Tooth Powder and I had recommended using a different toothbrush than your normal one when using that ~ a nice soft one and this one fits the bill!   This is cool, handcrafted toothbrush made from 100% biodegradable bamboo, sustainably-grown and has a non-slip surface with a ergonomic grip. Its bristle are made from soft, DuPont BPA-Free Nylon-6 and this toothbrush will last about 3 months ~ since my last toothbrush like this was back in January, I was overdue for another Humble Brush!  This is toothbrush is designed in Sweden and developed by dentists, who are fighting against plastic toothbrushes.  Over 3.6 billion plastic toothbrushes are dumped into landfills and oceans yearly, which poisons our environment. Humble Brush is an eco-friendly alternative, as it is bio-degradable.  Humble Brush will also donate one toothbrush to a child in need for every brush sold.   Humble Brush has won several awards, including Best Product in 2015 and 2016 and recently was voted "Best New Product in Asia 2016" at last year's Hong Kong Natural Products Expo. It is vegan certified by the Vegan Society. RV  $4.99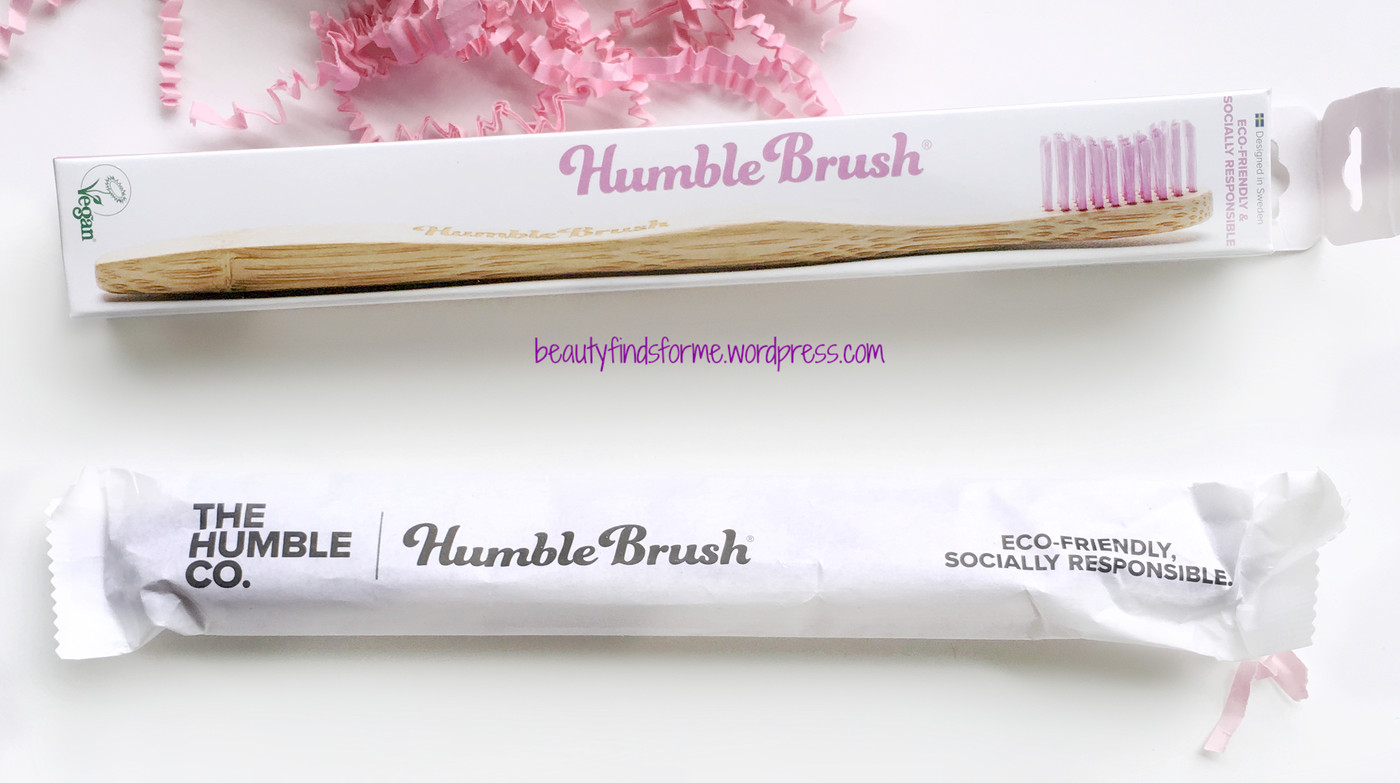 Another great month from Kloverbox ~ I love this month ~ despite the fact I cannot use the most expensive item in the box, I really like the other 3 products ~ the citrus lip balm, Humble Brush and the eye mask ~ that one is the best thing in this box for me!  This really was curated beautifully with the Breast Cancer Awareness theme as well.  I paid $15.00 due to a Black Friday promo code + renewing 3 month subscription and received a value of almost $70.00.  Do you subscribe to Kloverbox?  What was your favorite product this month?

Current Promo:  Want to save 10% off your subscription?  Use my referral link here    One and three month terms automatically renew, the six month is a one time purchase.   The monthly subscription has an option to skip a month!

[ descriptions in italics from linked website.  contains referral link and affiliate links ]