disclosure: contains affiliate links
October is here and wow, this month is wonderful for Yogi Surprise Jewelry!  What is Yogi Surprise?   

Yogi Surprise Jewelry Box
2 handmade pieces + 1 organic treat

Handcrafted in Bali. Fair Trade

$65+ retail value in every box

$24.95/month + free shipping
The Jewelry box will contain two handcrafted yoga inspired jewelry pieces, that are fair trade, sustainably harvested materials, nickle-free, lead-free and cadmium free.  These are made in Bali, Indonesia and 10% of all proceeds will be given to education the Balinese families to make these beautiful pieces.  It also contains an organic treat.

This month's theme is "Balance" ~ In the midst of the autumn season, Mother Nature reminds us that the abundance of light, warmth and growth must be balanced with a period of darkness, coolness and rest. All living things are affected by this shift – from the trees that lose  their leaves and the plants that retreat into the ground, to the squirrels that gather their stocks of food and the birds that begin their migration. This October, we want to encourage you to bring balance to your practice and to your life with two unique jewelry pieces that mark this necessary seasonal transition. We've paired calming pearl beads with protective hematite to signify the dance that takes place between dark and light. Red tiger eye and other autumn colored beads will  also promote grounding among nature. Let these pieces guide you on your journey towards harmonizing your energies.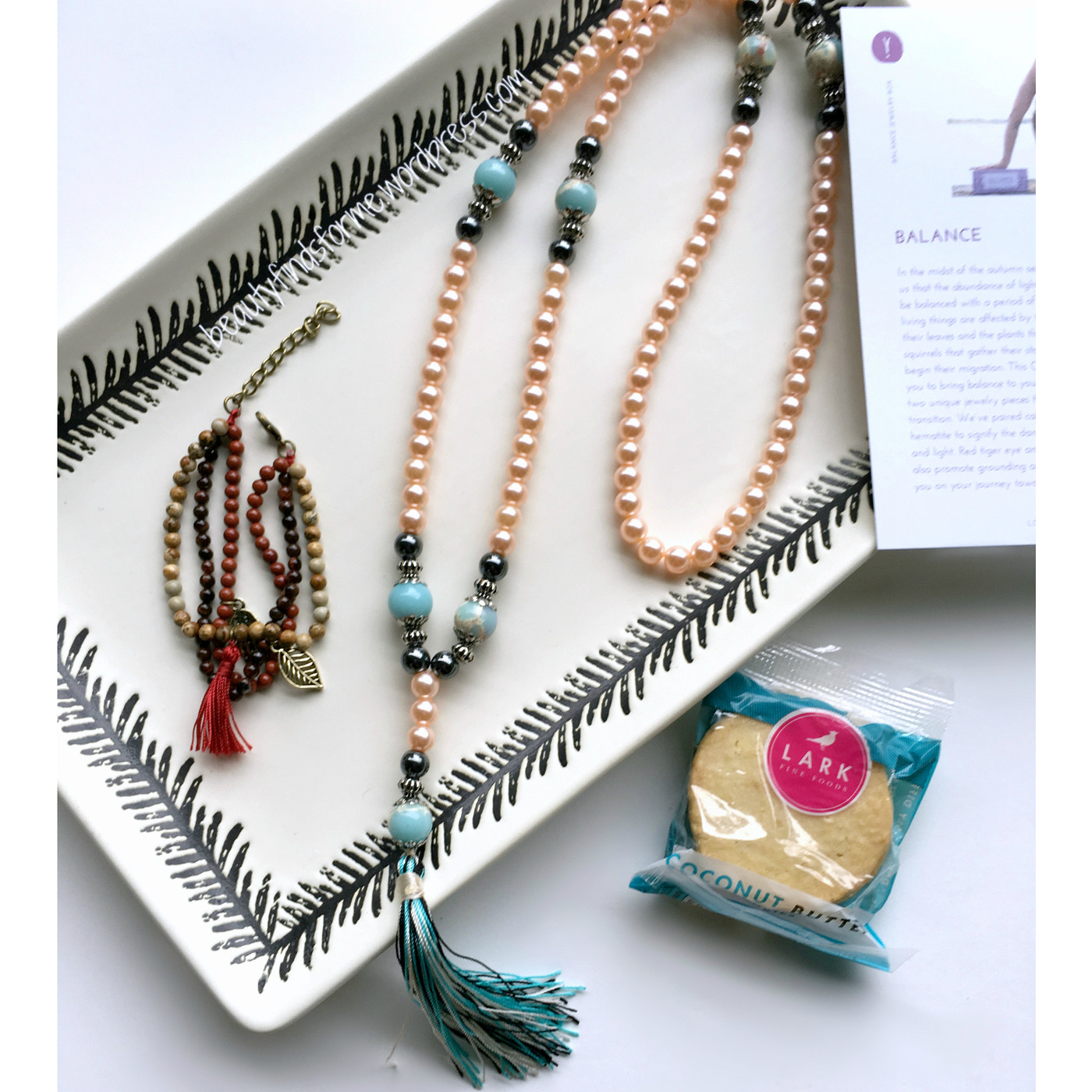 Informational Card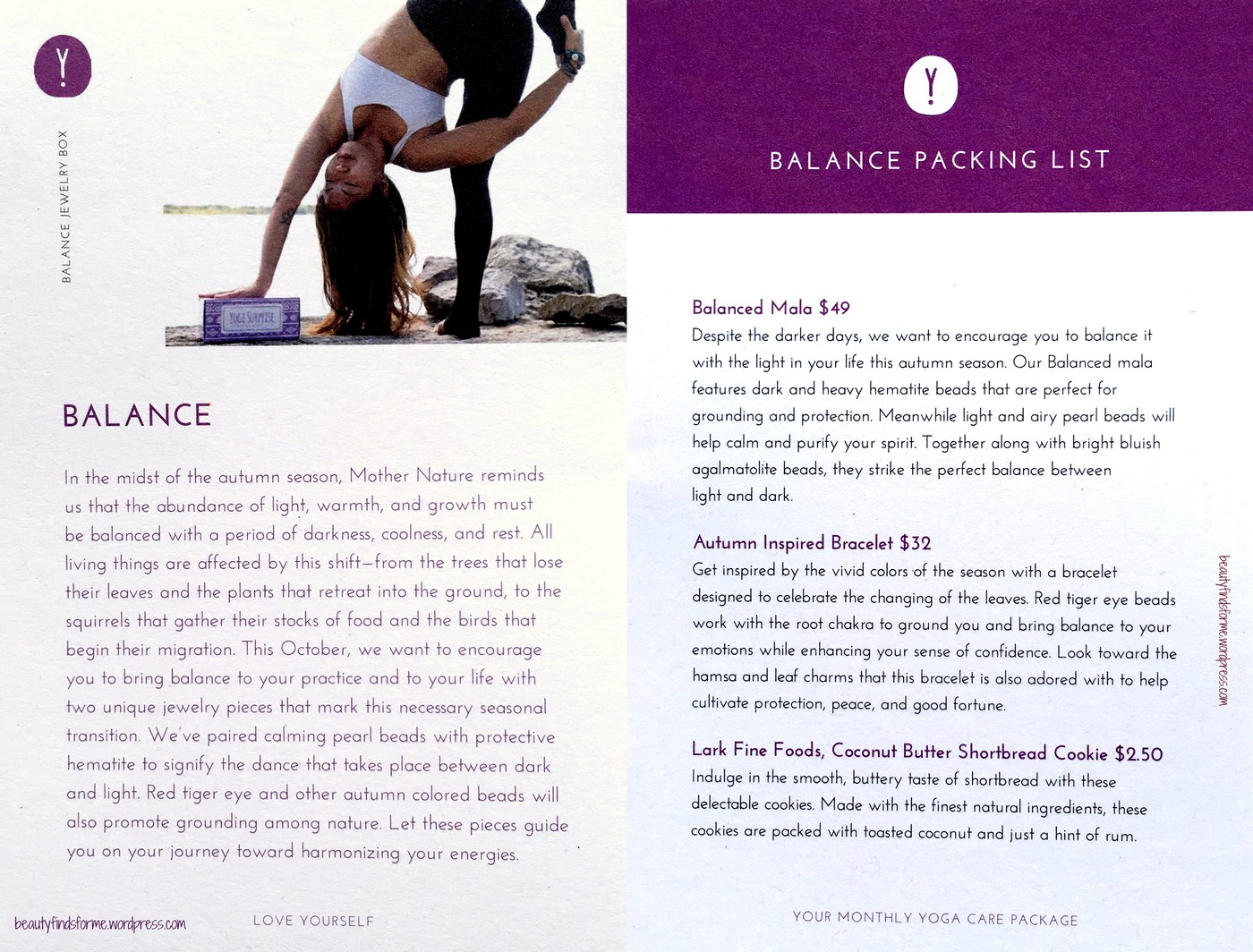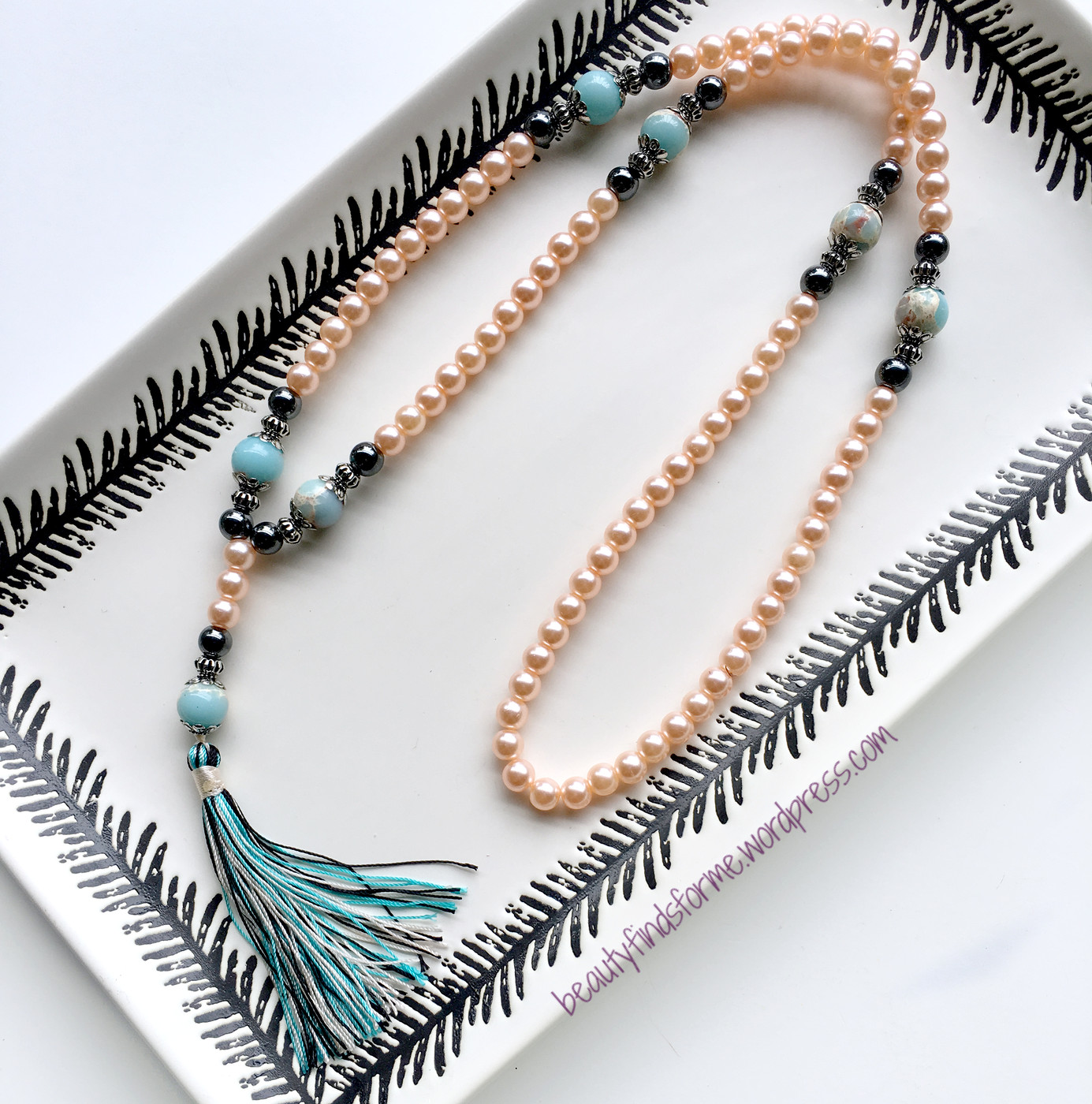 Balanced Mala  This is a stunning necklace that is one of the more "dressy" mala's that I have seen from Yogi Surprise.  This combines champagne peach pearl beads ~ please note, these are beads, not real pearls ~ with dark gunmetal toned hematite beads, silver toned spacers and then these beautiful sky-blue agalmatolite beads that almost have a lacy look to them.   This is a 32 inch mala that has an additional 5 inches with the "pendant" ~ two inches with the 3 pearl beads, one hematite bead and one agalmatolite bead dangle and then two inches with the black, cream and aqua tassel. So, this mala comes in at 37 inches in length.   This might not be to everyone's taste, but I can see this being perfect for a winter party paired with a cream colored turtleneck or little black sweater dress and boots.  This is just really a classy piece and has a good weight to it. RV $49.00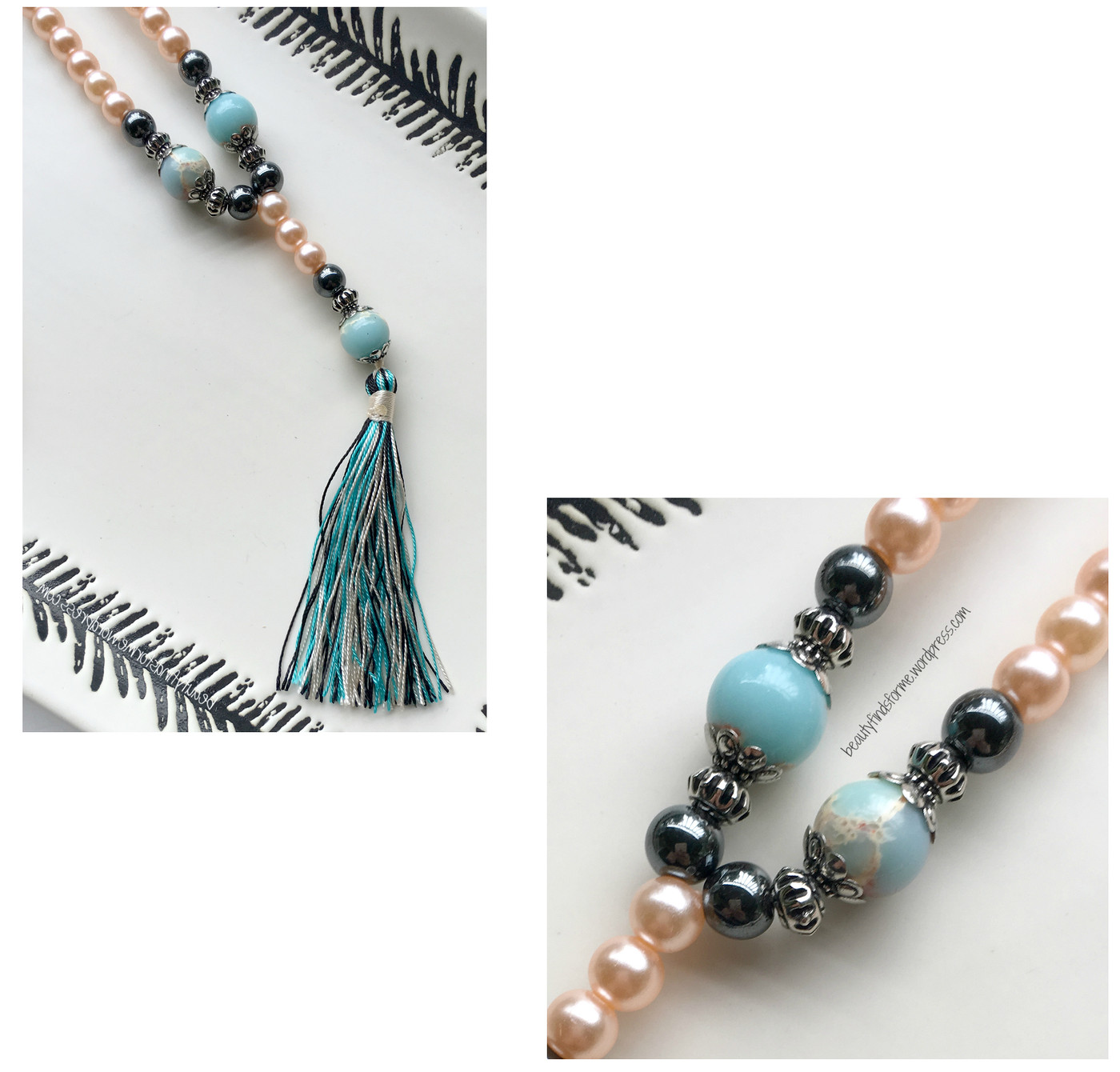 Champagne Peach Pearl Beads will provide calming and purifying of your spirit.  Hematite ~ First Root Chakra ~  is mostly made of iron, giving it that dark gunmetal mirror-line shine, but hematite means blood stone in Latin, because when hematite is found, the iron content of the stone has rusted, therefore, covering the stone with a dark blood red color. Hematite helps ground you and rids you of negative energy, balancing self esteem. 
Agalmatolite is powerful metaphysical and healing stone ~ Aligns all of the chakras automatically as well as balancing of energies and removing blockages.  It is excellent for meditation and provides comfort when in distress. 
Mala are an ancient tool to help focus when you meditate and pray.   This is a symbol of the never ending cycle, and each bead is a Sanskrit prayer or mantra in sets.   You move the beads in rhythm with your breathing and it will help you center and quiet your mind, focusing on the mantra.    Mala beads can be used regardless of your religious beliefs as a mediation tool and will help you relax and calm your mind, body and spirit.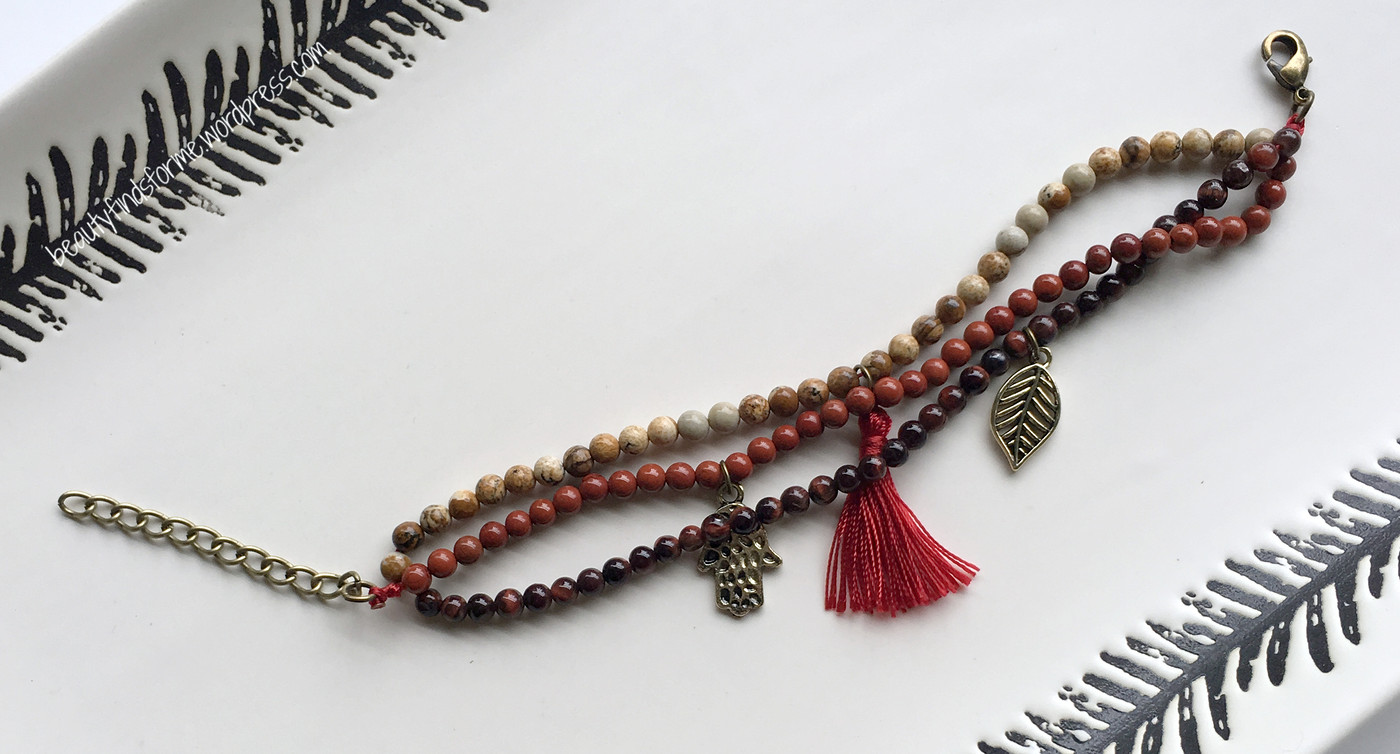 Autumn Inspired Bracelet This is another great item in the box ~ a triple strand of small round beads ~ one is red tiger's eyes and the other two look to be jasper ~ the beige brown looks to be picture jasper and the reddish-brown looks to be red jasper.  This bracelet has a lobster claw clasp (yes!) that is in an antique bronze tone.  Hanging from the strands, there are 2 bronze tone charms ~ hamsa and a Bodhi leaf ~ and there is also a red tassel as well.  I love this bracelet!   My only complaint is that after a few days of wearing this, the red tassel fell apart ~ I just removed it fully, but that tassel was not well made.  I plan on attaching another red tassel later on, as I do love the look of all of the charms together.  The bracelet measures a full 9 inches in length with the extender taking up 2 inches, so this is adjustable between 7 and 9 inches.   RV $32.00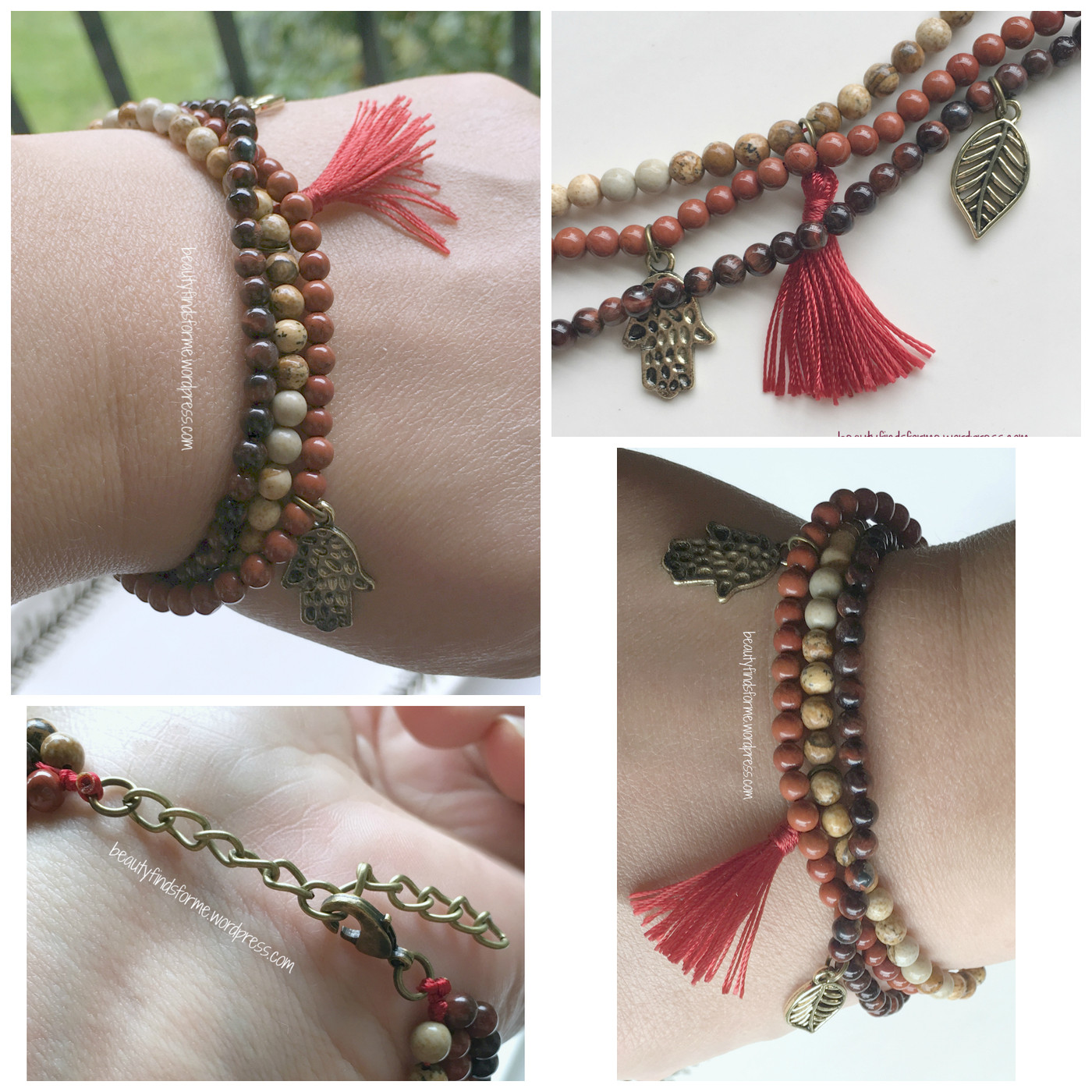 Jasper: The Supreme Nurturer, Base & Sacral Chakras  Jasper is considered a Power Stone and a stone that accepts intense responsibility as a Protection Stone. Jasper gives one the courage to speak out and have personal independence.  Its a stone of the earth, and therefore a very "grounding" stone.  All Jaspers  have excellent protective energies. Jasper helps to re-align all chakras, in integrate those energies for our greatest good.  source  
Tiger Eye ~ Base, Sacral, Solar Plexus Chakras ~  This history of the Tiger Eye quartz goes back to the ancient Roman empire, when this stone was made into talismans worn by the soldiers, to help keep calm, focused and brave.   Tiger Eye helps bring balance and harmony , giving off good will.  It will help you be grounded and focus, while pulling in all of the energies together. It can help you realize your deepest desires and will boost your creative energy.  
Hamsa Hand is a palm shaped amulet which is popular in the Middle East and North Africa, as well as many religions around the world, from Hindu, Judaism, Islam and Christianity.   The open right hand is a sign of protection, going back centuries and the Hamsa is used for protection, to represent God and Divine femininity.
Bodhi Leaf is a symbol of Buddha's enlightenment, a symbol of peace and the potential that lies within all of us.  Buddha was sitting under a tree at the time of his enlightenment, so the Bodhi Tree has now become known as "being awake, enlightened, supreme knowledge".   These trees are found in Buddists centers globally.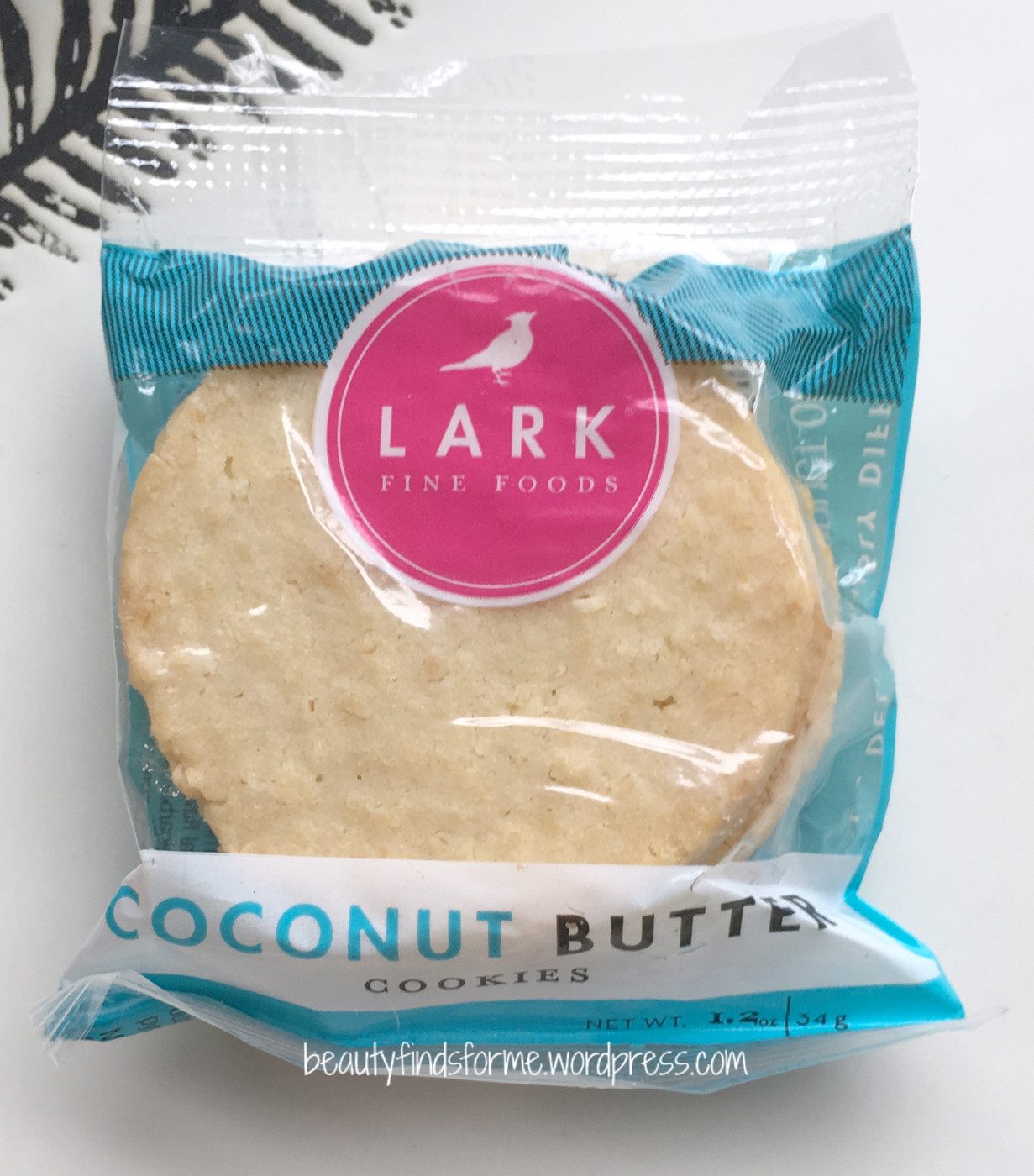 Lark Fine Foods Coconut Butter Shortbread Cookies   I guess we aren't getting a chocolate treat this month, but a coconut one!  This is a change, but it is okay because I love coconut!  This butter cookie has smooth rum, pure cane sugar and toasted coconut ~ yum!  And they were ~ I ate these in record time ~ very buttery and crumbly with a good coconut taste to them.  Lark has some really interesting cookies  ~ salted rosemary shortbread, burnt sugar & fennel shortbread, crisp oat cookies,  Russian tea cakes, an olive and sea salt shortbread cookie called Scourtins and a Mexican chocolate cookie ~ ChaCha's. Well, guess what?  Lark thoughtfully gave us a promo code for 20% off at their site ~ use Yogi20.  Expires 12/8/2017.  RV $2.50
Ingredients: Enriched flour (wheat flour, malted barley flour, niacin, reduced iron, thiamine mononitrate, riboflavin, folic acid), pure cane sugar, butter (milk) with natural flavoring, eggs, organic coconut, baking powder (monocalcium phosphate, baking soda, cornstarch), rum, salt.  Made on equipment that processes nuts, tree nuts, soy. Contains wheat, milk, eggs.

Another fantastic month from Yogi Surprise and I hope they continue to send us adjustable bracelets, because the stretch ones lately have been too small.  I love the pearl bead mala ~ I am going to call it my winter holiday mala and the autumn bracelet is just so fun ~ perfect for all of the neutrals I love to wear right now!  The Coconut shortbread was yummy and I am glad that Yogi Surprise changed it up a bit with the treats.  This box has a Yogi Surprise retail value of  $83.50  ~ I go by the value of the pieces to me and this month, these items are worth it!   Part of the proceeds from this box will go back to the local artisans that made these items and help educate their community.

Do you subscribe to Yogi Surprise?  Which box do you get and what was your favorite item this month?  Let me know in the comments below, I would love to read them 🙂
If you are interested in signing up to Yogi Surprise for either their Lifestyle or Jewelry box, I would love it if you used my affiliate link    Check out the spoilers for next month's boxes below!    If you sign up for the Lifestyle box, use YOGILOVE to get 15% off the life of your subscription!

Next Month Spoilers



[ all descriptions in italics from linked website.  this blog post contains referral & affiliate links ]