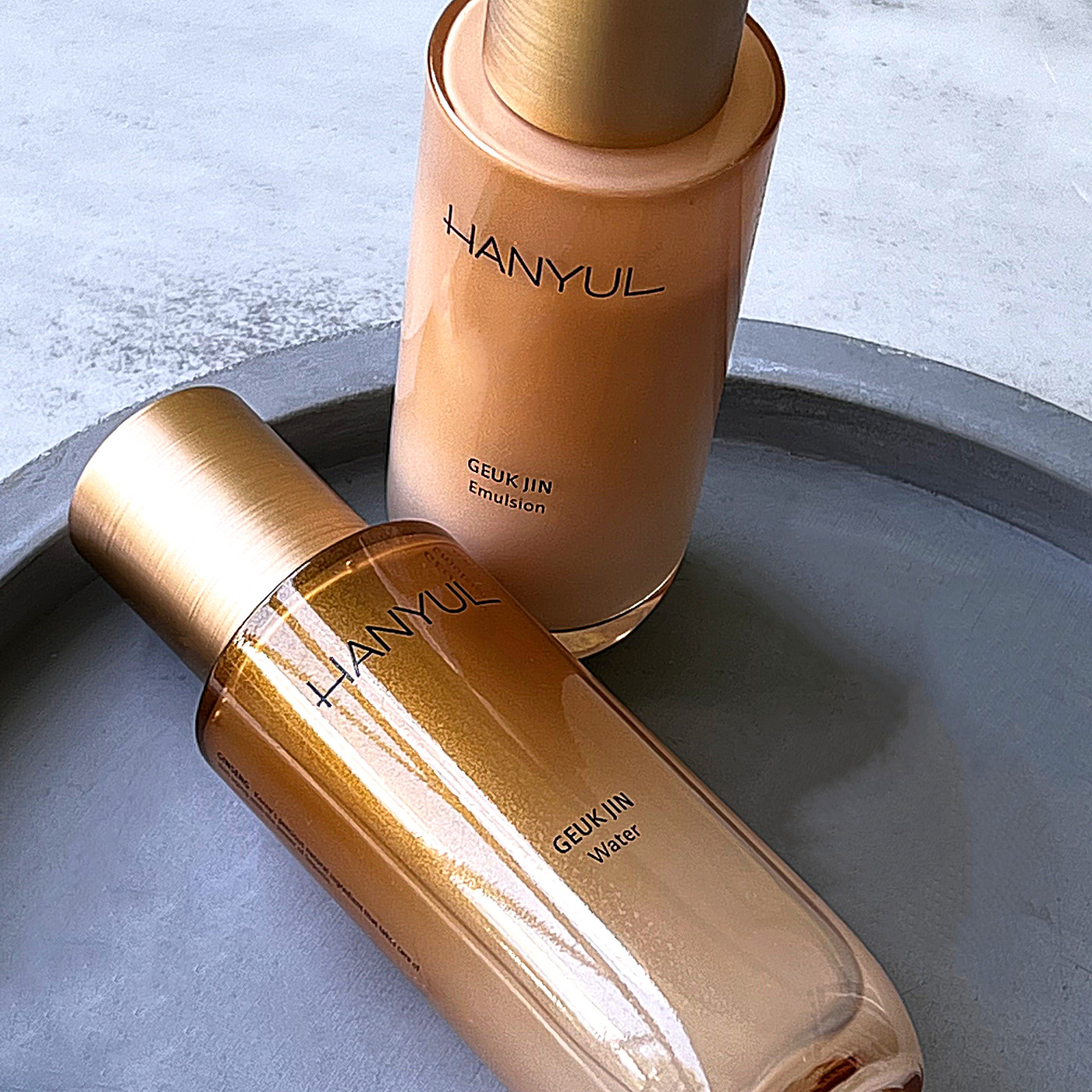 I still have oily skin despite being older, but it is dehydrated as well.  Finding skincare that helps with older, dehydrated, oily skin that is still prone to pimples is difficult.  Every year, I look to Hanyul to see what skincare lines they might have to help with my skin's growing list of concerns ~ I have reviewed many Hanyul products in the past, including their Optimizing series, Artemisia series and  Mentha Trouble series.   Hanyul is part of the Amore Pacific family and focuses on  traditional Korean medicine (hanbang) in skincare.  Jolse  Cosmetic, a premier K-Beauty online store,  sent me Hanyul's Geuk Jin Water and Emulsion for review purposes.
Skin Type/Concerns: oily, blemish prone, dehydrated, aging concerns, pores, fine lines/wrinkles, hyper-pigmentation
I received these products complementary to review and was not paid.  All reviews are my own honest opinion and  I never have been asked to write copy for a brand.  This blog post might contain promo codes, affiliate and referral links, which using my links will help generate a small commission that helps support my blog at no extra cost to you.
Key Ingredients
The ingredients in both of these products are very similar and the differences come down to thickening agents and emollients.   The Geuk Jin line has been re-formulated so it has seven times more ginseng content and is thicker than the previous Geuk Jin line.
Patented fresh ginseng capsules containing 100% Korean red ginseng, containing not only 26 kinds of saponins but also amino acids and polysaccharides.  Without using any artificial additives,  ginseng oil, ginseng water and ginseng powder are aged for 4 days and salt-fermented 3 days through Amore Pacific's Patented Ginseng Fermentation Technology Green Collision (Patent 10-1583558)  and produce highly enriched, nutrient-rich ginseng microcapsules are  extracted without any artificial additives.  Delivers optimal efficacy to the skin with better absorption and skin elasticity, reducing scars and faster skin healing.
The enzyme treated ginseng saponin and naturally fermented, aged ginseng extract helps deliver optimal efficacy to the skin with better absorption and skin elasticity, reducing scars and enabling faster skin healing.    Ginseng provides soothing hydrating, smoothing out your skin's texture that has gotten rough due to skin damage or aging.
Niacinamide is powerful antioxidant that acts as an anti-inflammatory, improves your skin elasticity, enhance the skin barrier function and also it helps to even out skin tone and reduce post-inflammatory hyper-pigmentation.  There are a several other hanbang ingredients in here ~ antioxidant angelica root has been used for centuries in traditional asian medicine and it will help heal blemishes and increase your skin circulation, which in turn will make your skin look more radiant.  Cnidium officinale has also been used for thousands of years and topically, it can help clear up skin issues, such as blemishes, rashes and eczema while acting as an antioxidant.
Adenosine is a yeast derived, amino acid and it became popular after it was found to help improve the reduction of wrinkles, smoothing your skin and anti-inflammatory. Adenosine is safe to use day and night, unlike vitamin C and retinol. Vitamin E tocopherol is an antioxidant, anti-aging vitamin that helps combat free radicals and heals the scars and other skin issues.  
Theobroma cacao is rich in triglycerides and is very nourishing and protects skin from exposure, providing relief to a damaged skin barrier.   Cocoa maintains the skin's moisture balance by forming a barrier on the skin and  slowing down the loss of water  
Glycerin helps with healing of wounds, is an humectant, sealing in moisture, maintains the skin's water balance on an intercellular level, which makes the skin look healthy, moist, soft to touch, and is also an emollient, leaving your skin looking radiant and supple. Phytosphingosines are a lipid that naturally occurs in our skin cells, supporting the skin's barrier function.  It has anti-inflammatory and antimicrobial benefits, so it is good for blemishes and other skin issues.   
Full of antioxidants, soybeans moisturize, help reduce the appearance of fine lines and wrinkles, helps firm skin and can reverse UV sun damage over time. It has anti-inflammatory properties so  it helps reduce blemish swelling and redness.  The power of soybeans contain amino acid glycine, which helps repair damaged tissue and to speed up healing, which means it is great for blemish prone skin as well.  Genistein is so important as it is an anti-aging ingredient and soybeans can also boost elasticity in your skin as it can stimulate and aid in the production of collagen.
Packaging
The Geuk Jin packing design is based on Korean hand-forged bronzeware called Bangjja Yugi, which dates back to the Bronze Age.  Bangiia Yugi is used to serve special guests, so the idea is that Geuk Jin is a precious skincare, reserved for the very best.  You can really see the inspiration with the jars in this line of skincare
The Water and Emulsion bottles are tall, glass and heavy.   The cap has that brushed "metal" effect that makes it look so more expensive.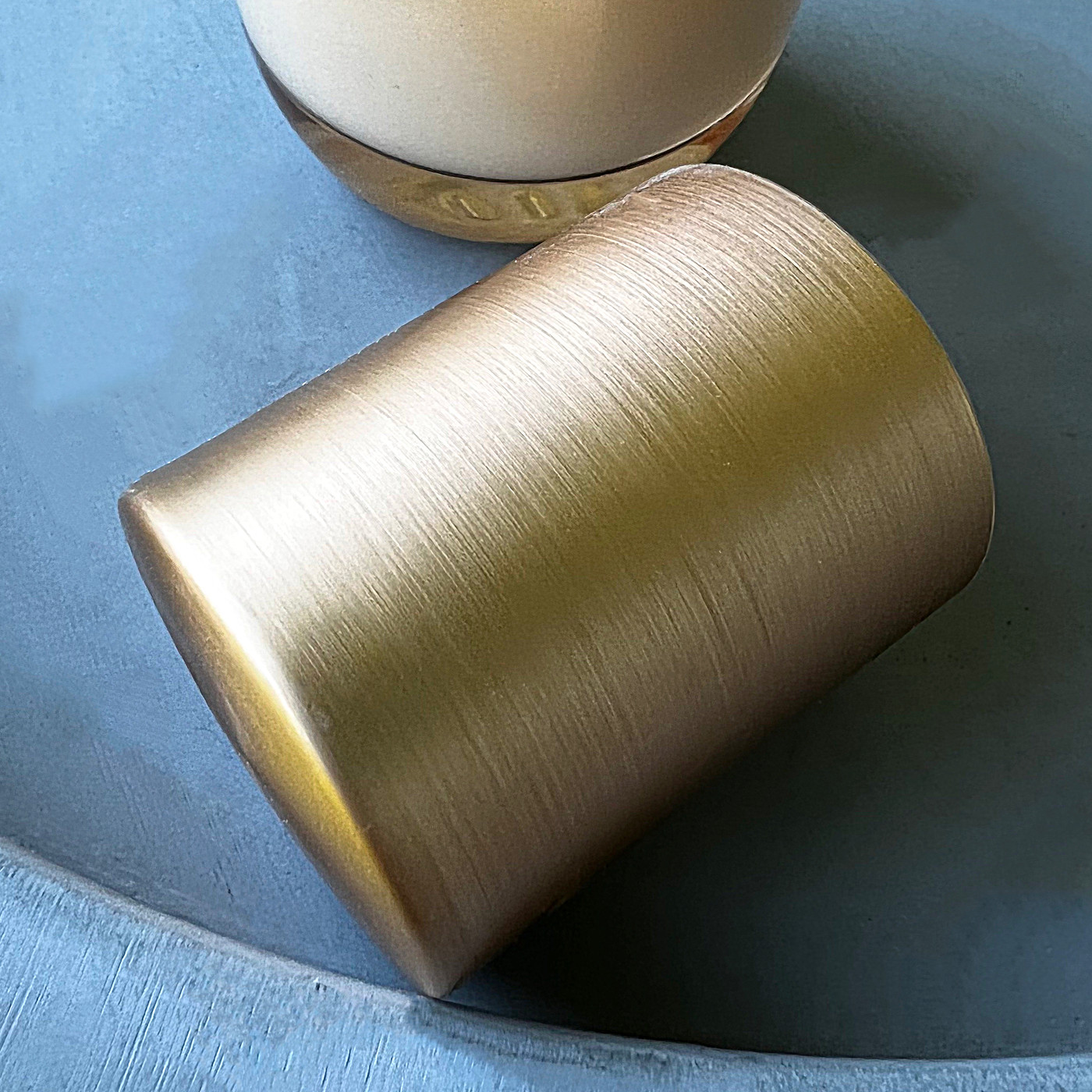 The Water is more translucent than the Emulsion bottle, and they both have this bronze-gold ombré effect, shading down to a neutral beige.  It's hard to capture in photos, but the bottles have a   sparkle finish as well ~ it's not garish, but very subtle.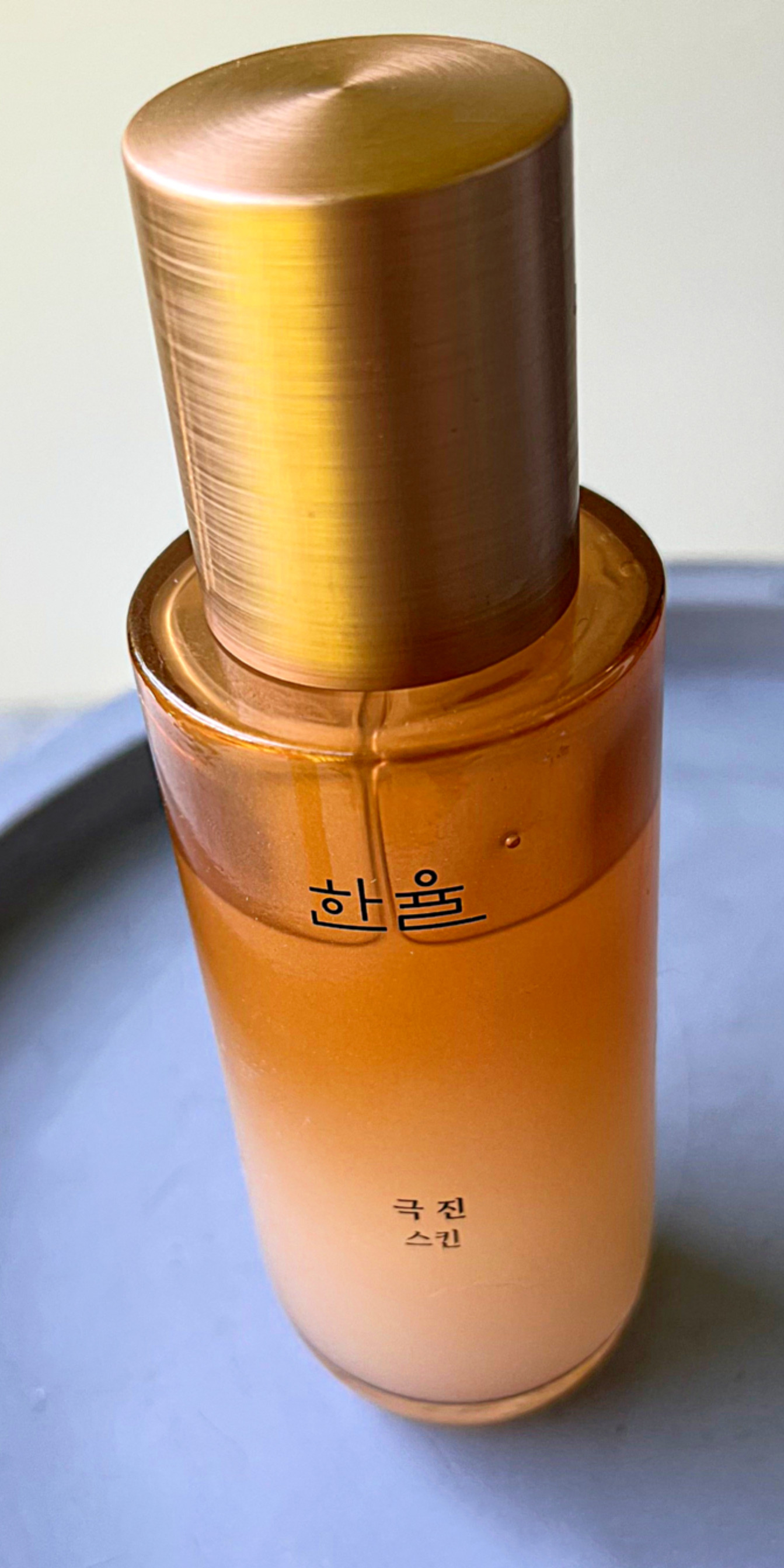 Geuk Jin Water or Skin (aka Toner) also contains sugar-derived, hydrating mannitol, which doesn't attract moisture from the air, but traps any moisture on the skin and binds it to the skin. Another notable ingredient is antibacterial, moisturizing canola honey.  Honey can speed up healing in your skin and prevent additional infection.  The wonderful texture of honey will keep moisture close to your skin, which makes for a glowing and radiant complexion.  Not only does honey keep moisture in your skin, but it is humectant, which means it attracts moisture too.  Honey is also an antioxidant, which means it helps repair and combat any damage caused by free radicals and prevents premature wrinkling.   
Ingredients: purified water, glycerin, glycereth-26, butylene glycol, denatured alcohol, glyceryl polymethacrylate, niacinamide, bis-PEG-18 methyl ether dimethylsilane, 1,2-hexanediol, panax ginseng water, mannitol, hydroxyethyl acrylate/sodium acryloyldimethyl taurate copolymer, caprylic/capric triglyceride, behenyl alcohol, carbomer, polyglyceryl-10 pentastearate, glyceryl caprylate , cetearyl alcohol, fragrance, tromethamine, ethylhexylglycerin, disodium EDTA, cnidium officinale root water, angelica gigas root  water, adenosine, sodium stearoyllactylate, cetearyl glucoside, cellulose gum, propanediol , hydrogenated lecithin, sorbitan isostearate, polysorbate 60, caprylyl glycol, dextrin, theobroma cacao (cocoa) extract, honey extract, phytosphingosine, hydrolyzed panax ginseng saponin, sodium polyaspartate, panax ginseng extract , tocopherol, panax ginseng seed oil, phenoxyethanol, sodium methyl stearoyl taurate, panax ginseng powder, soybean leaf extract, aspergillus ferment cosDNA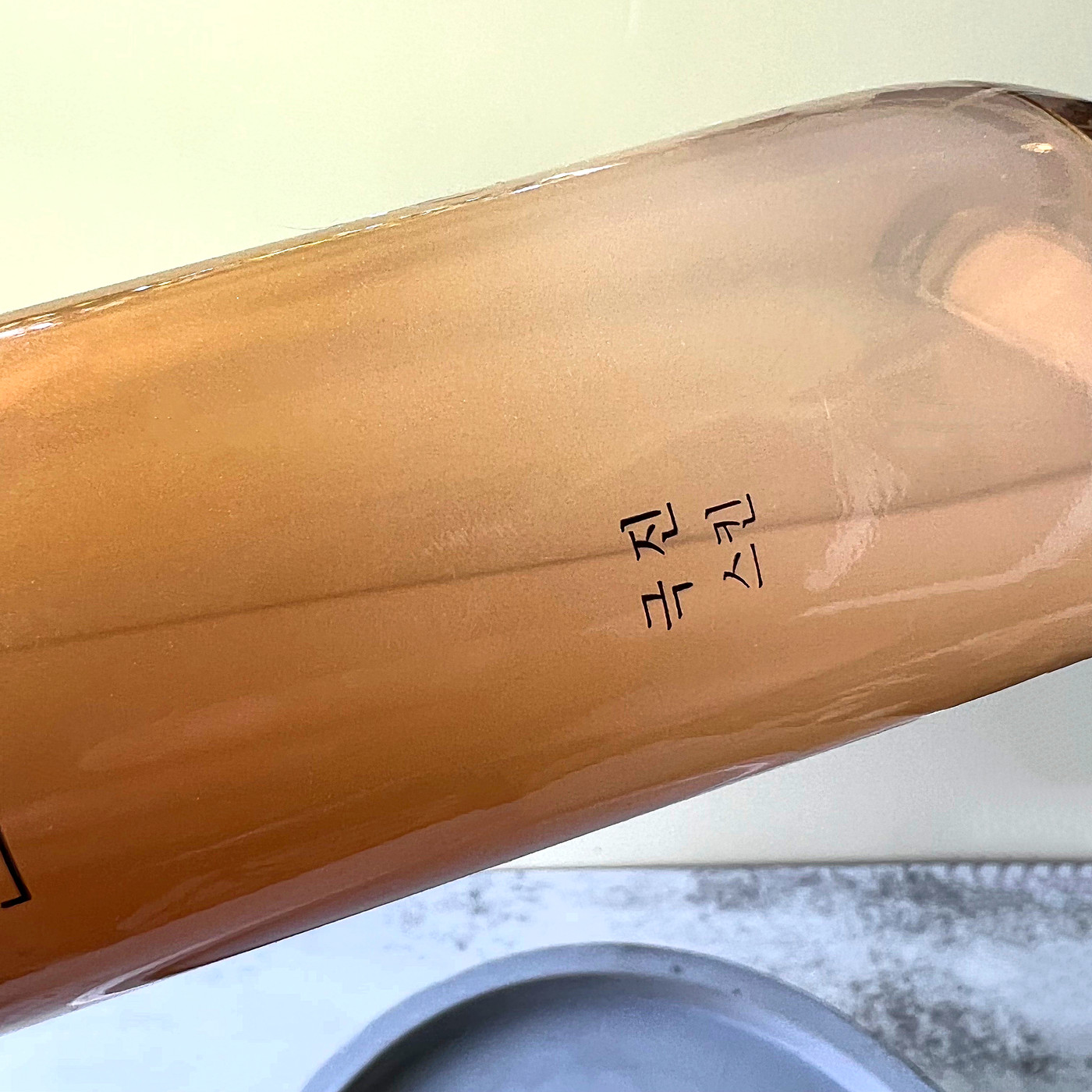 This is not a thin, watery toner ~ oh no.  This toner has a thick, luxurious feel to it and feels like a serum to me.   Its fragrance reminds me so much of Hanyul's Optimizing Serum (review here) ~ it has that same fresh wildflower scent, which I know now is ginseng flowers, according to Hanyul. It isn't overpowering and fades fairly quickly.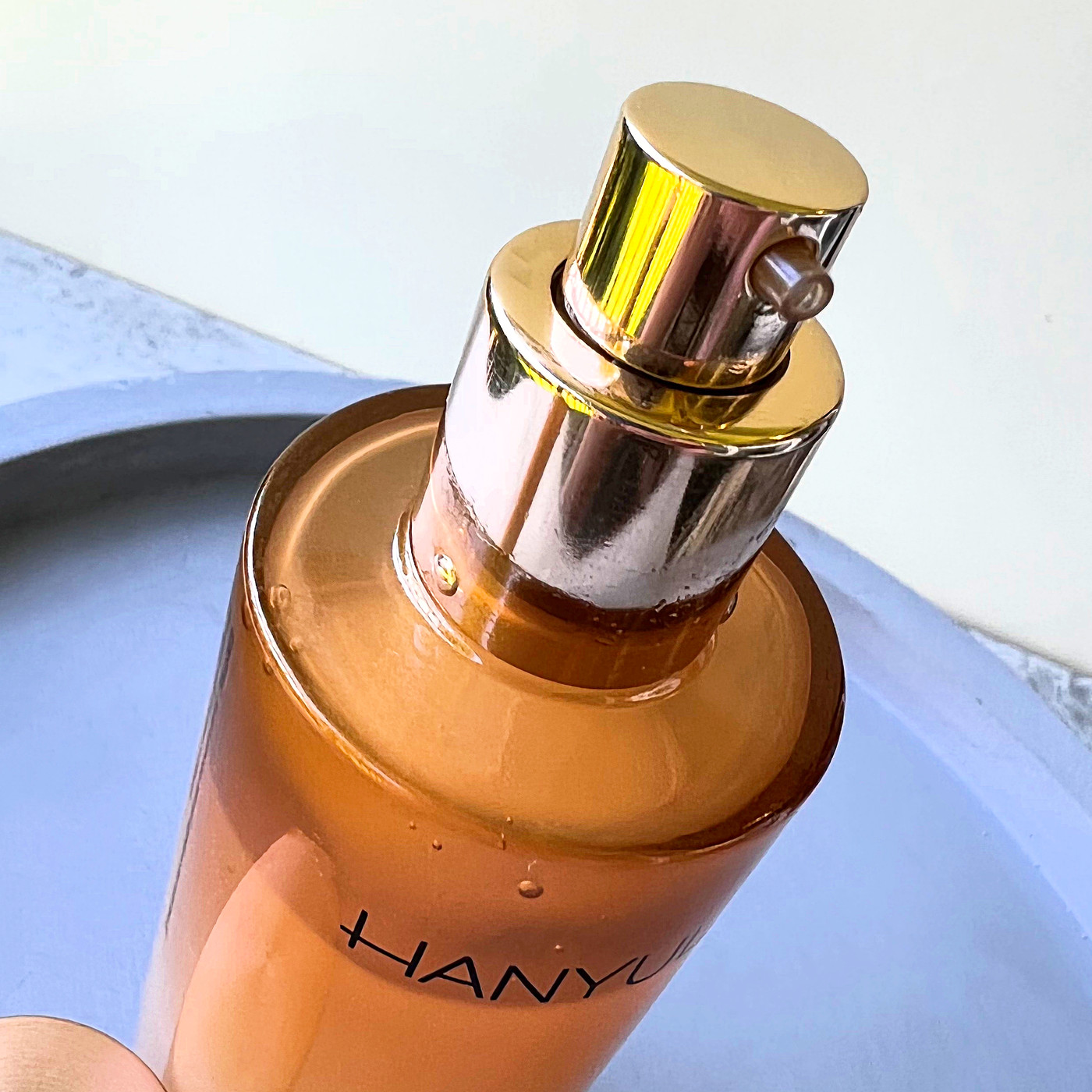 Hanyul Geuk Jin toner has a pH level of 5, so it is mildly acidic, being very skin friendly. This is so hydrating and so WET.   It does take a minute to dry down on my skin type, but after it dries down, my skin feels really SUPPLE and hydrated.  Smoother too.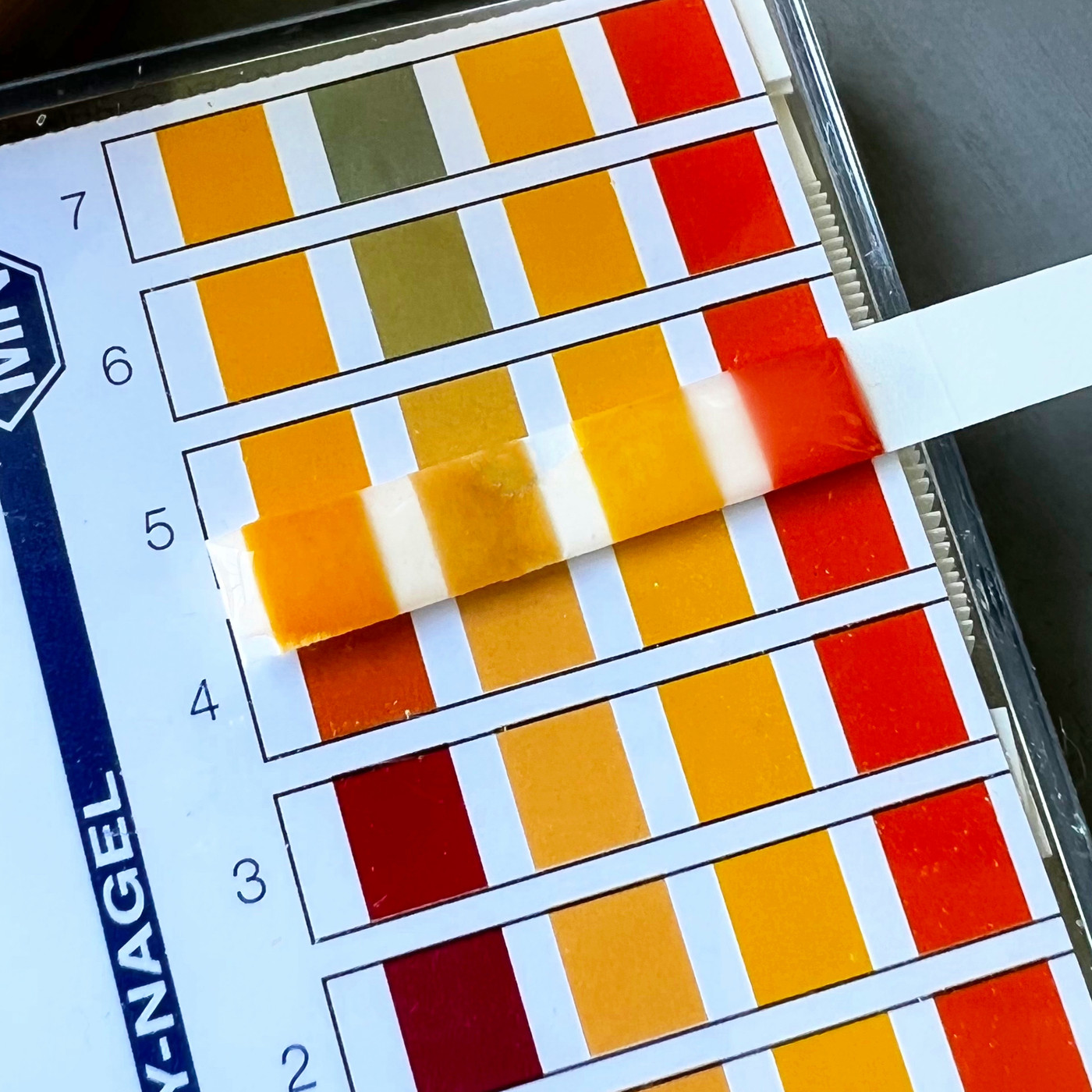 There is no sticky or tacky residue, which I was worried about with the texture being so thick.  Just like any luxurious product, Hanyul even has instructions on how best to apply this to the skin, so you get the optimal benefits from it.  It's a lovely little ritual that I like to do every time I use this.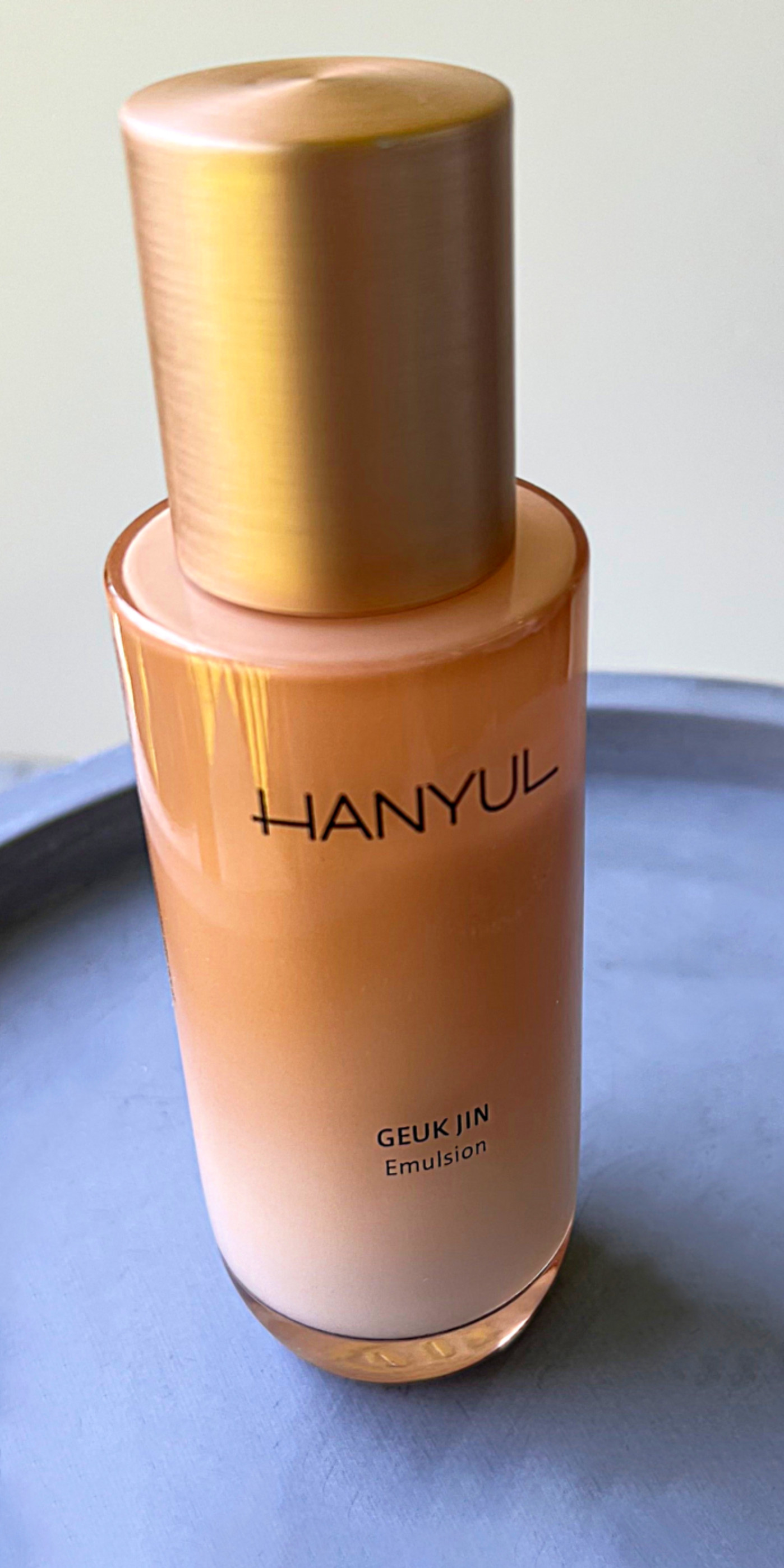 Geuk Jin Emulsion is the perfect companion to the Toner. Notable ingredients in here, other than the key ingredients, include shea butter, a rich source of concentrated natural vitamins and fatty acids ~ oleic, stearic, palmitic, linolenic ~ and is highly moisturizing and nourishing.  It helps repair your skin, as well as reduce skin inflammation due to its lupeol cinnamate compound.  It also smooths your skin to protect it from drying and it strengthens your skin over time as it helps aid in the collagen production.
Beta-glucan helps to stimulate the production of collagen, speeds up wound healing, soothes and calms skin due to its anti-irritant and strong anti-inflammatory properties, moisturizes, locks in natural moisture, anti-aging and anti-wrinkle due to its anti-oxidant properties and also helps repair your moisture barrier.  Fatty acid palmitic acid is an emollient, helping to soften skin and retain moisture by forming a film that slows down the loss of moisture from the skin. 
Ingredients: purified water, butylene glycol, hydrogenated poly(C6-14 olefin), glycerin, dicaprylyl ether, octyldodecyl myristate, glyceryl stearate citrate, dimethicone, niacinamide, shea butter, 1,2-hexanediol, panax ginseng water, propanediol, glyceryl stearate, cetearyl alcohol, hydrogenated vegetable oil, stearic acid, fragrance, carbomer, tromethamine, palmitic acid, glyceryl caprylate, ethylhexylglycerin, disodium EDTA, cnidium officinale root water, angelica gigas root water, adenosine, beta-glucan, hydrogenated lecithin, dextrin, theobroma cacao (cocoa) extract, tocopherol, phytosphingosine, hydrolyzed panax ginseng saponin , sodium polyaspartate, panax ginseng extract, panax ginseng seed oil, sodium methyl stearoyl taurate, panax ginseng powder, soybean leaf extract, aspergillus ferment cosDNA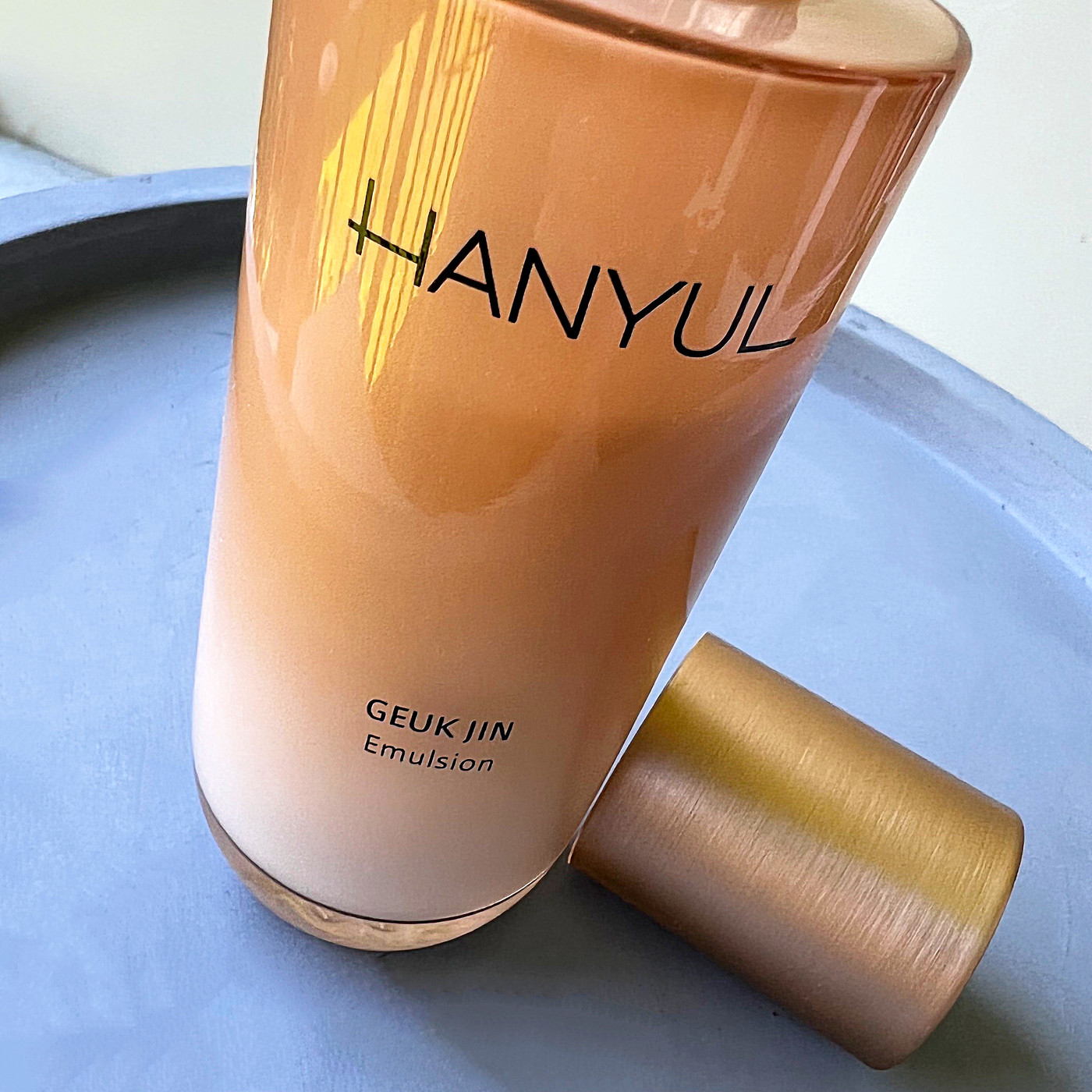 I should clarify why I love emulsions and use them over any anti-aging creams ~ I have very oily skin and creams usually are too thick for me to use during the day time on my face.  I will use creams at night, as I don't really care if my skin is shiny while I sleep, but during the day, I like products that are more lotion or gel-like in their texture.  In my way of thinking, emulsions are just the lighter, liquid version of the cream and I can get similar, if not the same,  benefits as the cream without the heavy, sticky, oily feeling of a cream.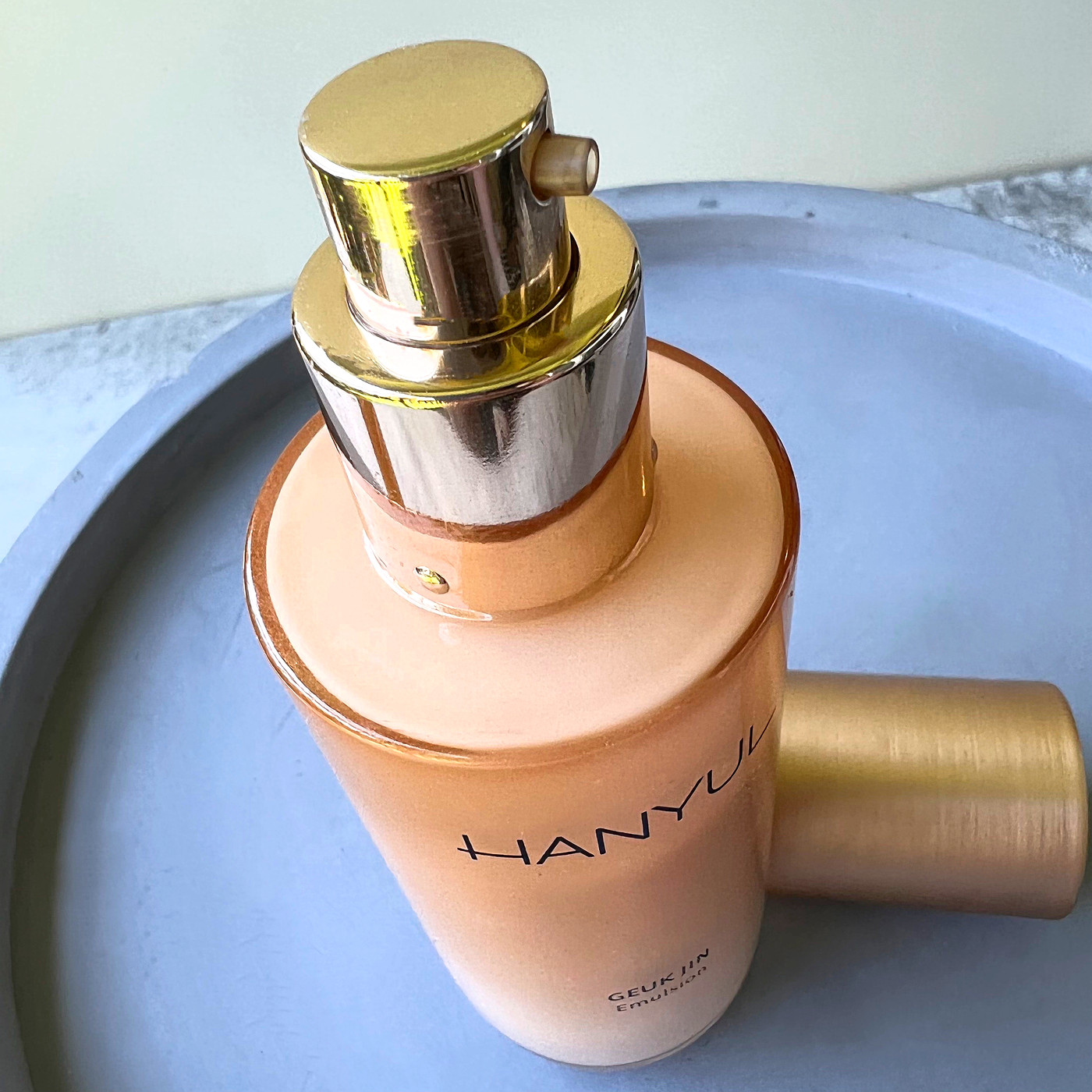 Geuk Jin Emulsion has a silky, smooth liquid texture ~ think of liquid cream.  It is excellent for oily, dehydrated skin types and if you have dry skin, this is also fantastic.  Dry skin types would use a cream over this while oily skin types would just then apply a sunscreen, as this is the. moisturizing "cream" step. It has that same ginseng flower scent as the toner and it feels so rich, but it isn't heavy or pore clogging, nor is it sticky or greasy.

Just the the toner, Hanyul has some instructions on how to apply this emulsion to maximize the benefits of the ingredients
What I love about using these the Water and Emulsion together is that my skin really is super soft.  It doesn't feel rough at all.  A lot of hydrating products plump up my skin, but the Geuk Jin line goes beyond that, deeply moisturizing.  My skin feels more bouncy and firmer than before, while my wrinkles and fine lines have been softened.   I have a few more Hanyul items to review ~ I had purchased the Limited Edition Year of the Tiger Red Rice Set, which includes the Red Rice Essential Toner and Red Rice Essential Emulsion, and also the Pink Plum Vinegar Resetting Essence, which is an FTE.  
Where to Purchase
Jolse carries the newly reformuated Geuk Jin Water/Toner and Emulsion.  
All prices are in USD ~   Jolse offers free global shipping plus gives a lot of samples out ~ the more you purchase, the more samples you get! Please note that the prices do fluctuate a little bit due to the WON to USD exchange rates. Make sure to check your coupon zone (click here) for money saving discounts. You need to log into Jolse first, then download the coupons before you use them.  Their coupon savings has recently changed and your savings is now tied into how much you spend there, so make sure to check it  out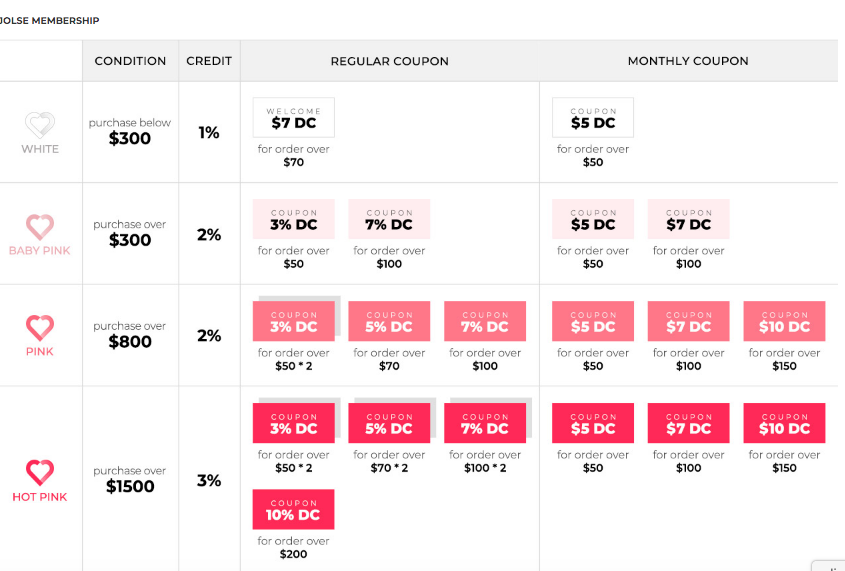 [ products received for review purposes.  blog post contains affiliate links ]