Last month, I was on the search for a new beauty box to subscribe too, as I am very unhappy with NMNL and also Sephora Beauty Boxes.  I found Nourish Beauty Box, which is an eco-friendly and organic products with some bold makeup items as well as skincare!   I was really happy with my September box and have decided that I will stay with this one for a while and put NMNL and Sephora on hold.

Nourish Beauty Box will contain four full sized eco-friendly, vegan, paraben free, cruelty free and organic bio-natural skincare and makeup products monthly.  The boxes start out at $29.95 and can be as low as $26.65/monthly for a 6 month subscription.  I recommend for USA addresses to use this link here for the $29.95 as it includes shipping.  For International readers, use this link instead, as it is less expensive that on their main site ~ free International shipping at $34.95/monthly.  I am not sure why they have two different price settings, but hey, you save a couple of dollars using that alternate link.
Informational Card
Seraphine Botanicals Pear + Agave Luminizer & Blush   Seraphine Botanicals looks to be known for using fruits and veggie extracts in their makeup. This blush and highlighter set contains pear and agave extracts to create a beautiful shimmery and intensely pigmented illuminator in a golden shade and a sweet, matte finish coral blush ~ which isn't as pigmented as the highlighter (a shame). The illuminator is almost creamy whereas the blush is a bit more powdery.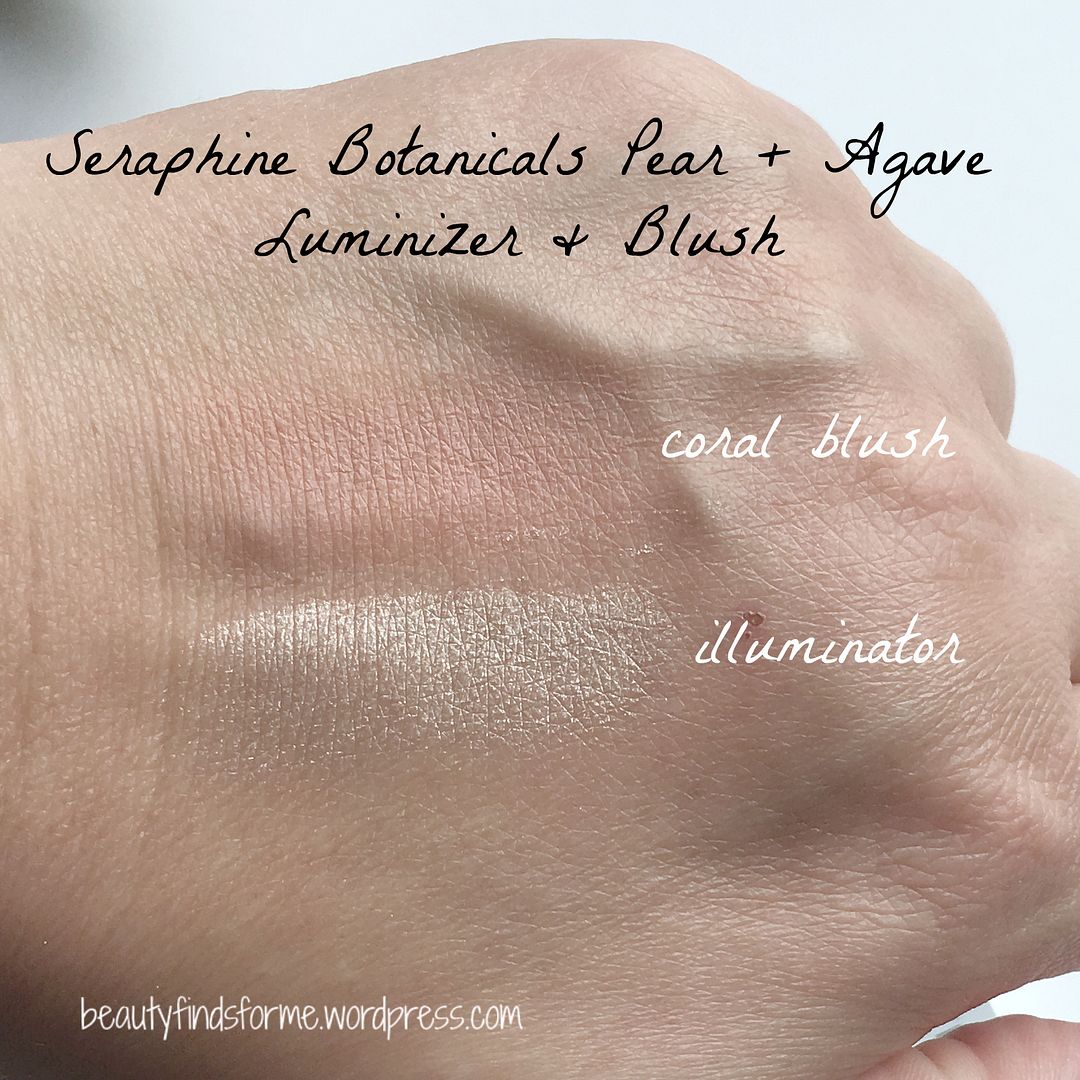 You can use this on your face, temples and décolletage for a nice natural glow. Pear extracts hydrate your skin, so even though this is a powder, it won't be drying.  It also has anti-aging benefits, so even your makeup can be good for your skin!  Agave has natural amino sugars which help lock moisture in your skin and it is also an anti-inflammatory and anti-aging ingredient.   This is talc-free and contains no mineral oil, parabens, phthalates or gluten.  It is vegan, GMO-free and 99% natural with no animal testing ~ cruelty-free.   .11 oz RV $16.00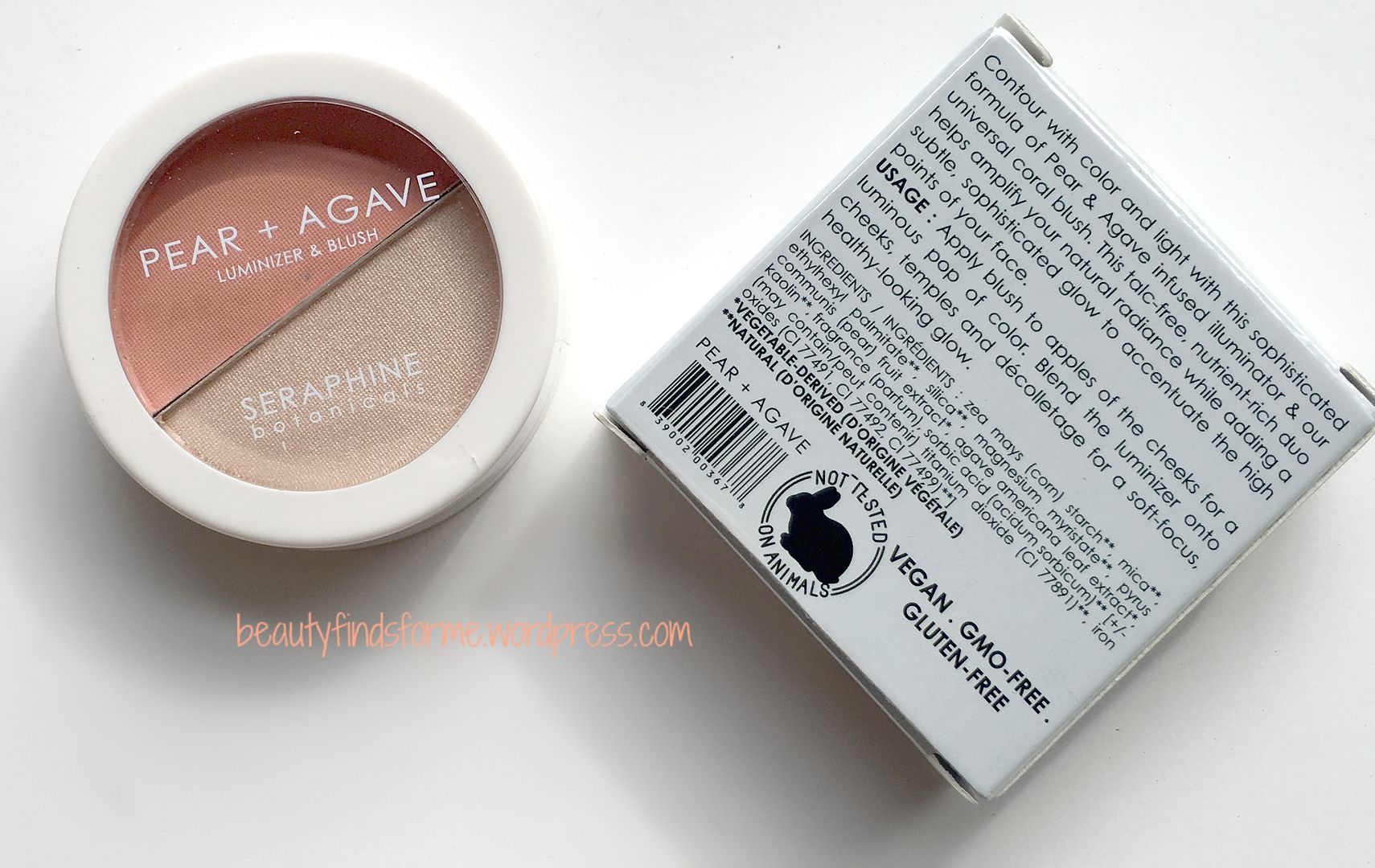 Vegetable-Derived  Natural 
Ingredients: zea mays (corn) starch, mica, ethylhexyl palmitate, silica, magnesium myristate, pyrus communis (pear) fruit extract, agave americana leaf extract, kaolin, fragrance, sorbic acid  [+/- (may contain) titanium dioxide (CI 77891), iron oxides (CI 77491, CI 77492, CI 77499)]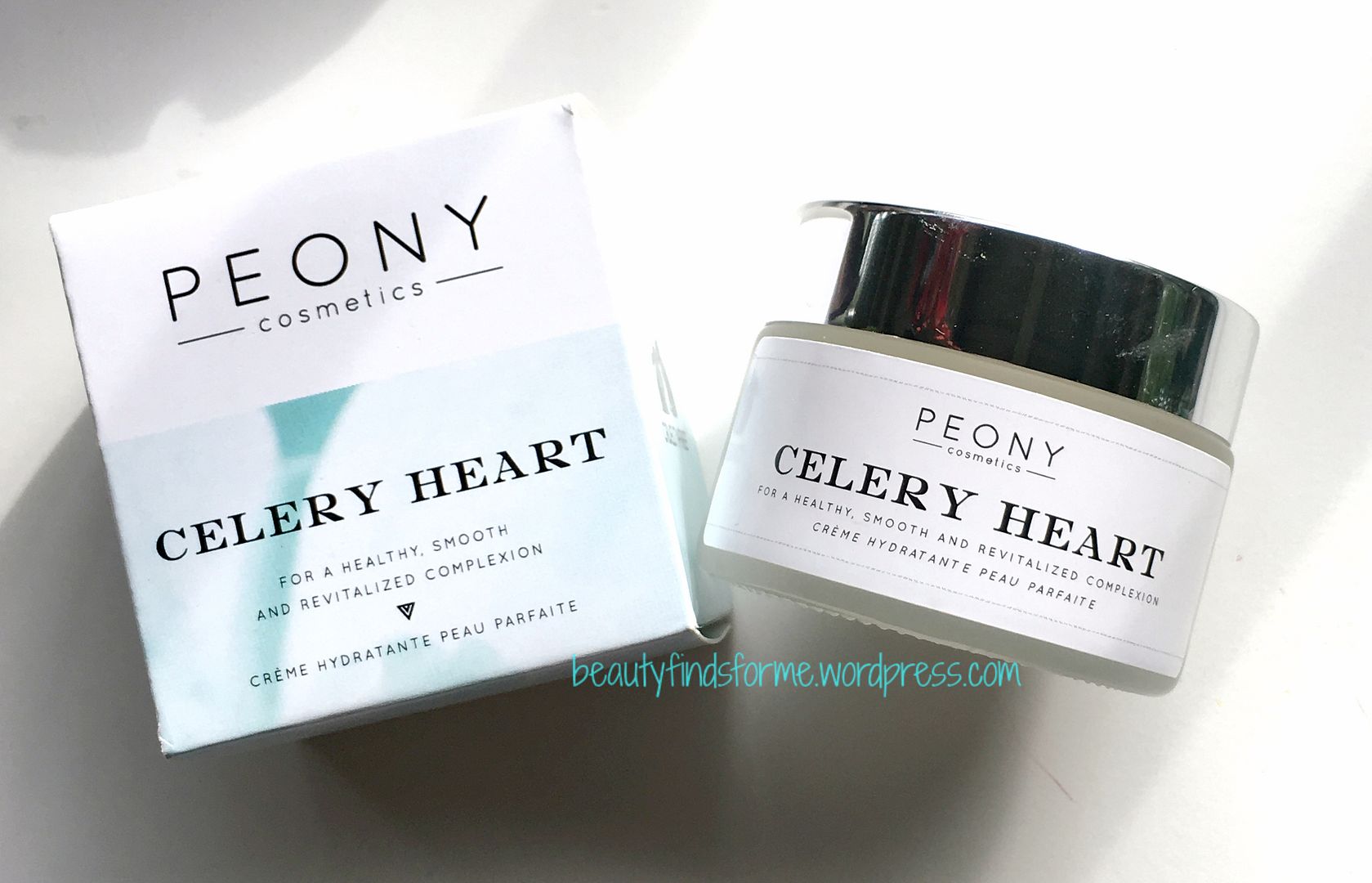 Peony Cosmetics Celery Heart Cream  This is a really nice moisturizer that I am a bit confused about ~ either it is for the chin, neck and décolleté or it is a facial moisturizer too.  I don't know why the CHIN would be singled out for a neck cream, but maybe they mean the skin right under the chin area?  Also, it states that this is for a "healthy, smooth and revitalized complexion", which means a facial cream, right? I guess it doesn't matter ~ what is good for your neck is good for your face and this is a really nice moisturizer as I stated.  It is very smooth and creamy, not heavy at all.  It has a lovely, almost sweet warm scent to it, which is the scent of the celery seed oil.  It just is lovely ~ quite frankly, it smells like peaches or apricots to me ~  and this has no added fragrance, and will help soothe skin irritations.
As stated, the star ingredient is Indian celery seed oil, which is rich in vitamins A, C and E, helping to protect your skin against free radical damage, while repairing your skin. It has anti-aging properties and can help smooth and soften your skin.  It is a good detox ingredient for your skin, so it helps treat blemishes and hydrates your skin as well.  This also has a slew of moisturizing and nourishing oils ~ sweet almond, coconut and vitamin E, along with cocoa butter, but this is not heavy or thick on my skin. This is very lightweight and absorbs quickly into my skin, leaving it very soft and supple with almost a matte finish.  I really like this moisturizer! I think it is perfect for the evening time, due to its amazing aroma or peaches/apricots, but its matte finish is also great for the daytime.  This is vegan, gluten-free and is 100% cruelty-free with no parabens.  30 mL RV $30.00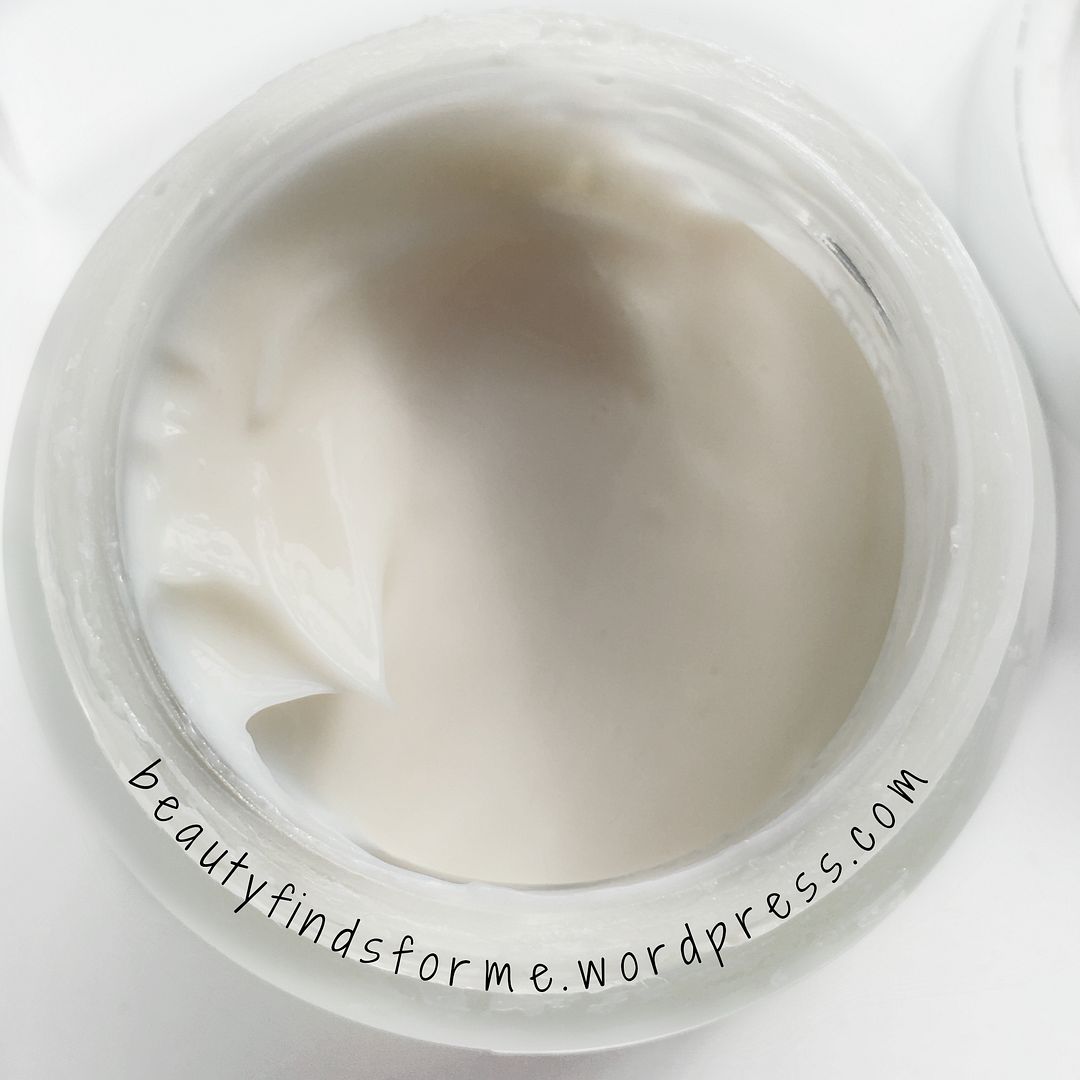 Vegetable-Derived  Natural 
Ingredients: water, cetearyl alcohol, glycerin, caprylic/capric triglyceride, apium graveolens (celery seed) oil, prunus dulcis (sweet almond) oil, glyceryl stearate, theobrom cacao (cocoa) butter, cocos nucifera (coconut) oil, cetearyl glucoside, xanthan gum, tocopherol, benzyl alcohol, dehydroacetic acid, benzoic acid, sorbic acid  [+/- (may contain) mica, titanium dioxide (CI 77891), iron oxides (CI 77491, CI 77492, CI 7499)]  cosDNA analysis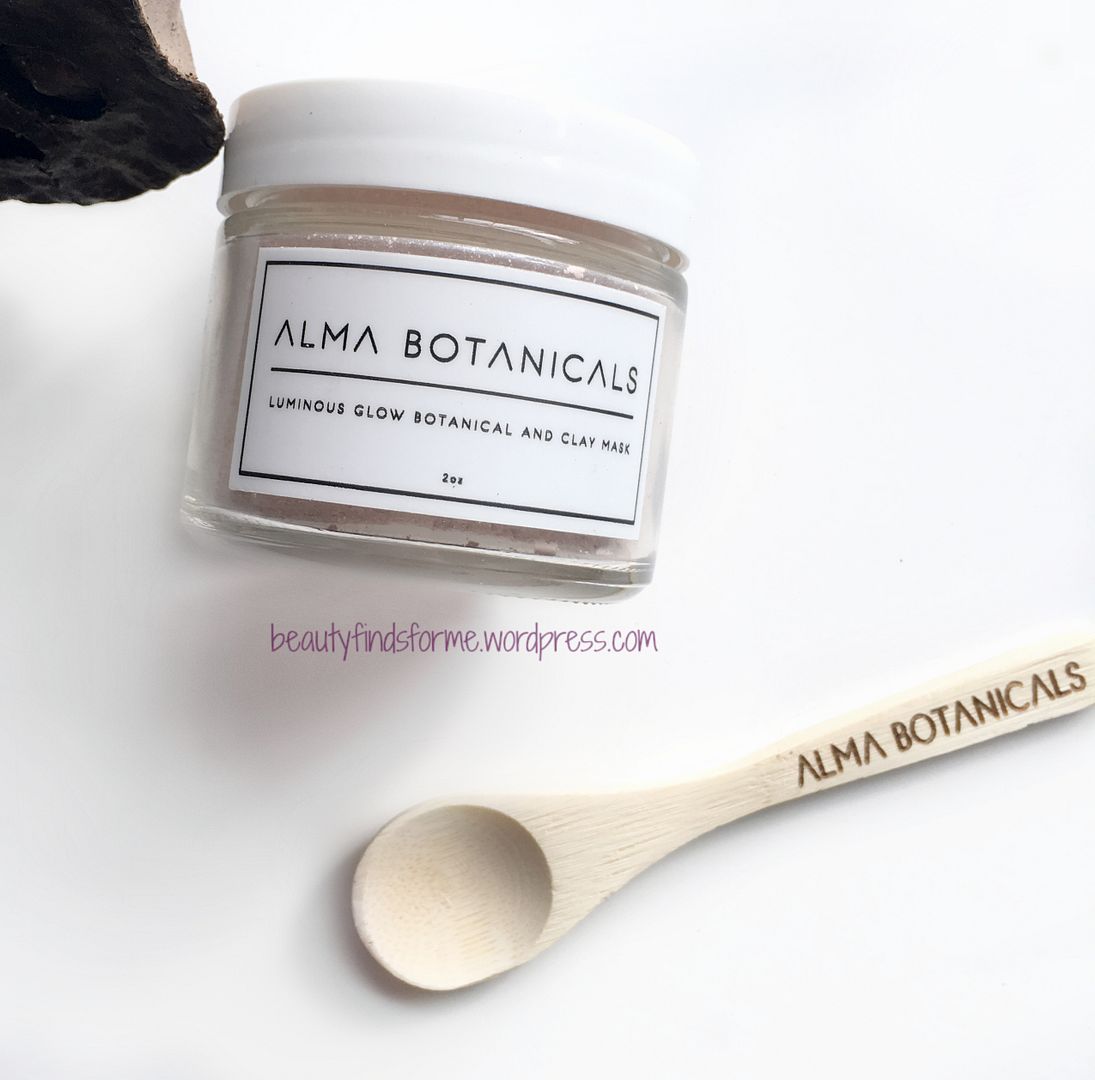 Alma Botanicals Fresh Bloom Mask  A clay mask!  With its own cute wooden spoon 🙂  This mask is a skin softening, detox and illuminating clay mask that you add your own liquids to and mix!   It is made with 5 ingredients:
French Rose Clay:  high in iron oxide and silica, which help to regenerate skin tissue, and is an excellent for skin rejuvenation and improving elasticity. A good balance for those with sensitive skin that needs a bit of oil-vacuuming and gentle exfoliation.  Its name comes from the beautiful natural rose shade of the clay and it is from France.  French rose clay is known for its hydrating benefits and won't dry out your skin.
Kaolin: a white clay also known as China Clay and is naturally occurring.  It helps detox, remove excess oil and dirt and reduces shine on your skin.  Best for oily, blemished skin. 
Rosehip Powder: comes from the fruit of the wild rose plant, it has more Vitamin C than an orange! Naturally rich in essential fatty acids that regenerate skin cells, and known for its high level of antioxidant and anti-inflammatory properties. Rosehip is also high in trans-retinoic acid which aids in preventing premature aging. This is the fruit of the plant and has no scent to it.
Hibiscus Flowers:  nicknamed the "Botox plant", Hibiscus has a magical reputation for increasing skin elasticity to give a stunning natural youth-boost. Naturally rich in antioxidant and mucilage, a fantastic natural skin moisturizer.  Contains vitamin C, phosphorous, riboflavin, calcium and carotene, making this an anti-aging ingredient. 
Chamomile: has antioxidant, antibacterial and anti-inflammatory properties. It helps to relieve skin issues and irritations because it soothes and lessens swelling and redness, while healing skin and stimulating cellular renewal.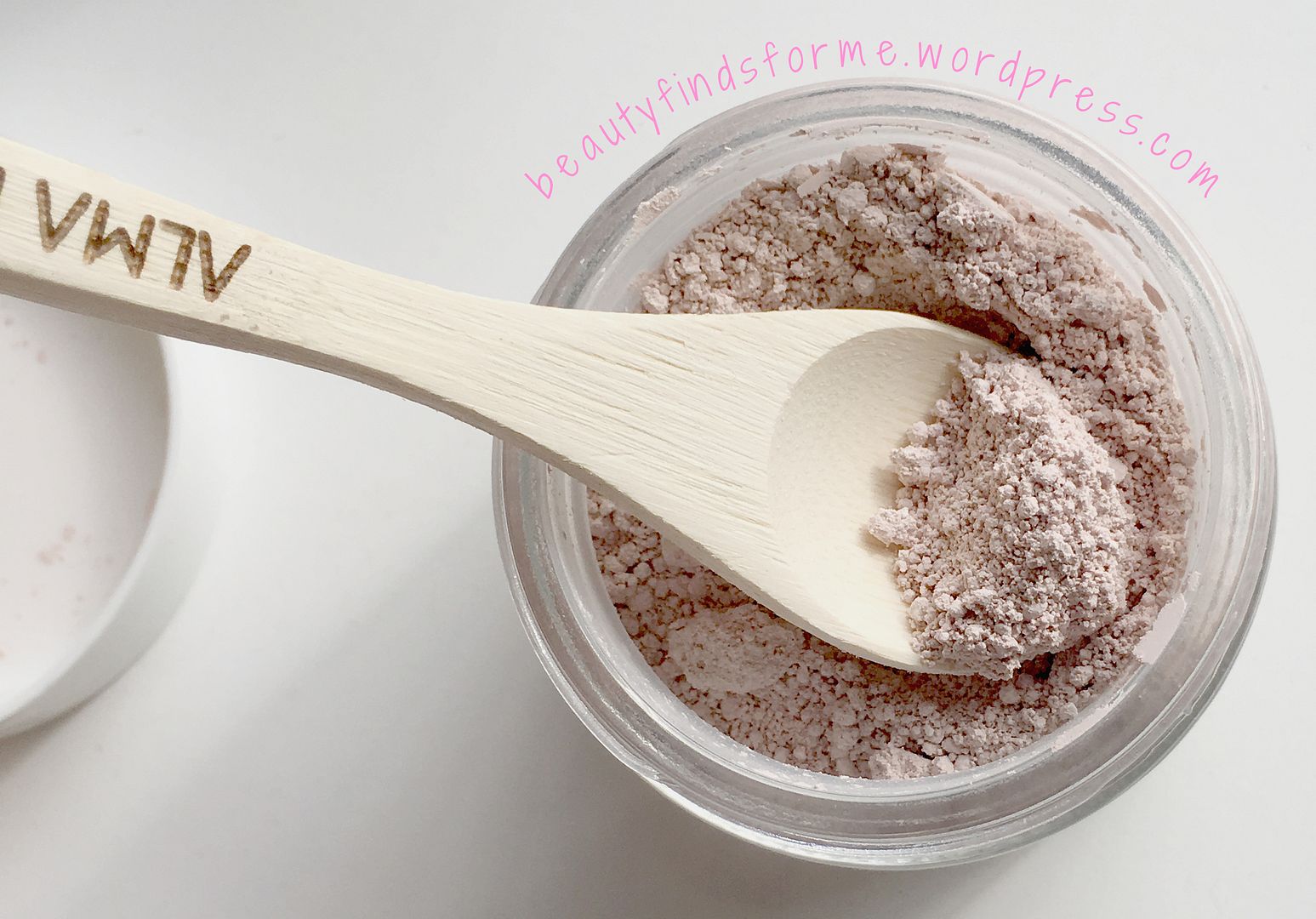 You just mix with the liquid of your choice ~ water, toners, hydrosols, yogurt, honey ~ and make a paste. The thicker you make the paste, the better this will work to absorb the oil from your skin.  Leave on for 15 to 20 minutes or until the mask is dry, then rinse with warm water.  If you have sensitive skin, leave on only for 5 minutes.  Use nightly for the first 3 nights and then 2 to 3 times per week.  I love a good DIY mask and cannot wait to try this one out!  Look for my review on Instagram soon.   2 oz RV $22.00
About Alma Botanicals:  Our products are made with the purest natural ingredients, with an emphasis on ingredients that are plant-based, organic and food-grade. Sourced from partners we know and trust, all of our oils are cold-pressed or steam distilled. These are the best extraction methods available and lead to premium quality. All products are made in small batches in the USA.
Ingredients: Kaolin (White Clay), Kaolin (French Rose) Clay, Organic Rosa Canina (Rosehip) Powder, Organic Matricaria Chamomilla (Chamomile) Powder, Organic Hibiscus Sabdariffa (Hibiscus) Powder cosDNA analysis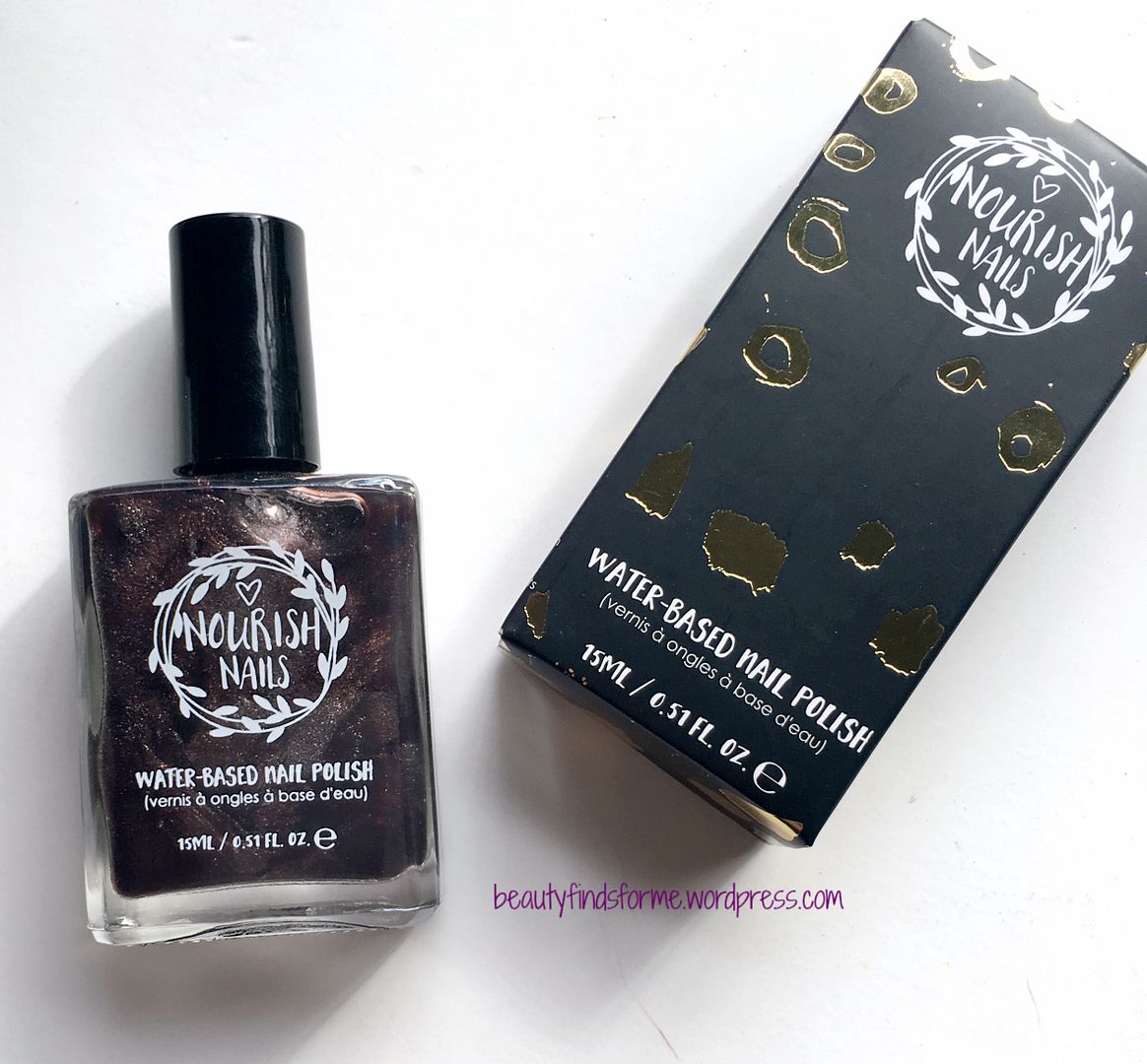 Nourish Nails in "Kindness Is King"  Every month, Nourish Beauty Box will include one of their own products  ~ Nourish Nails Polish.  Nourish Nails is an eco-friendly, vegan and natural water-based nail polish, formulated free of   formaldehyde, toluene, DBP, formaldehyde resin, parabens, xylene, camphor, mineral oil, phthalates, sodium lauryl sulfates, gluten, phenoxyethanol, lead, nitrocellulose, GMOs and animal-derived ingredients. One of the down sides  with water based nail polishes is that they tend to peel off my nails quickly.  I usually use both a base coat and top coat to handle that, but they do not last as long as other polishes.  I normally use water based polishes on my fingers, because I am a nail polish peeler and my manicures usually do not last that long normally.  I do not recommend water based nail polish for your toe nails.

This is a beautiful metallic gunmetal color ~ icy and dramatic with swirls of a deep purple-black and silver shimmers ~ perfect for the Witching Hour during Halloween! The swatch above is with two coats and my photo does not do this shade justice.  It is much more dimensional in real life.   15 mL  RV $12.50
Description: The ultimate, ultra gentle nail varnish formulation with a revolutionary water-based resin that creates a high shine coating that is both air and water permeable. This allows for oxygen and water to reach the nail bed to help nails stay healthy, stronger and to help reduce discoloration. The unique nourishing formulation provides a super high-shine coat, long-lasting color and a fast-drying finish.
Vegetable-Derived  Natural  
Ingredients: water, styrene/acrylates copolymer, acrylates copolymer, PPG-2 butyl ether, sorbic acid   [+/- (may contain) mica, titanium dioxide (CI 77891), iron oxides (CI 77491, CI 77492, CI 77499), manganese violet (CI 77742), blue 1 lake (Cl 42090), red 6 lake (Cl 15850), red 7 lake (Cl 15850), red 33 lake (Cl 17200), red 28 (CI 45410), yellow 5 lake (Cl 19140), yellow 6 lake (Cl 15985), red 40 lake (Cl 16035)]
Final Thoughts
Another great box from Nourish Beauty!  I was a bit sad to see the lack of pigmentation with the coral blush, but it can be built up ~ the highlighter is really a glow-getter!  I never had any skin product with celery seed oil in it and this cream is just beautifully formulated.  A DIY clay mask with hibiscus and chamomile in a pretty pink rose shade and a deep mysterious silver-black nail polish rounds off this box.  I paid $29.95 and received a retail value of $79.50.  Now, I mentioned it before but I will say it again ~ This box is a bit more expensive than other beauty boxes, but it contains all full sized products and the quality is amazing.  Sometimes, it isn't about quantity, but quality and I also love that these items are new to me. I believe October's box is still available here  They do not have coupon or promo codes, alas, but I think that if you are looking for organic, eco-friendly products, I think this might be the box for you.