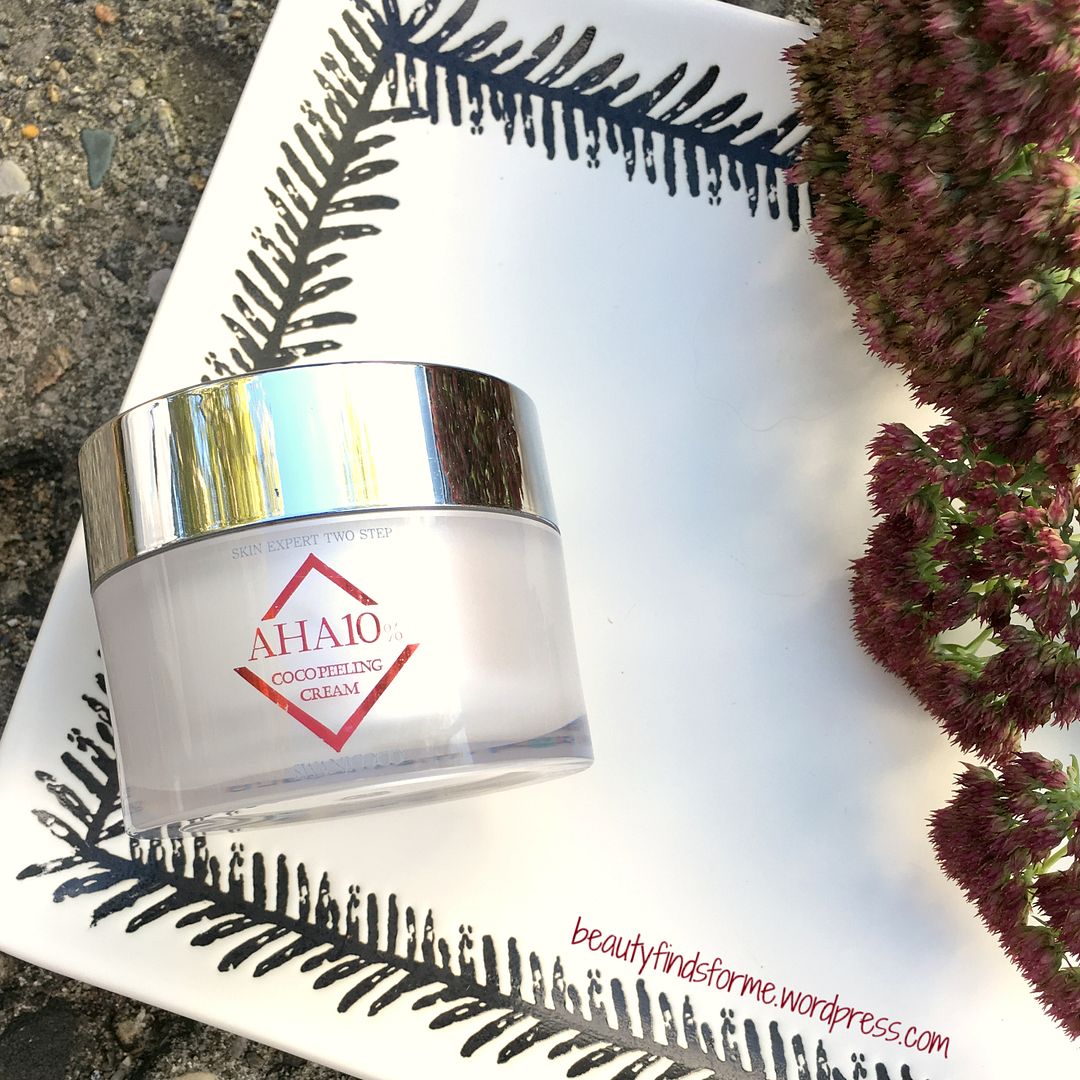 I have been serious about using acids in my skincare lately ~ in the past, I think the most I ever did was use a toner that had AHA/BHA in it, but as I age, I want to make sure I can keep my skin healthy and glowing for as long as possible!  I have been using this product from Swanicoco for the last 3 months, along with some other acid treatments and I am now ready to review it fully.
Swanicoco is a South Korean cosmetics company that began making naturally fermented soaps back in 2005.  They have been producing eco-friendly skincare, makeup and body care products, using their trademarked anti-aging fermentation process.  Swanicoco uses organic herbal and botanticals from all over the world ~ Korea, Europe, Australia and United States, and these ingredients are selected to create their products, which range from Pore Care to Anti-Aging Care lines.  The brand name combines elegance ~ swan ~ with natural botanical ingredients ~ coco.    
Disclaimer: I received several items from Swanicoco, tailored to my skin type and my issues.  Many thanks to Kevin, who patiently worked with me to come up with a routine and answering all of my questions and I have already reviewed many of the Swanicoco products (click here) sent to me.

Skin Type/Concerns:  Oily, blemish prone skin with aging concerns  ~ fine lines and wrinkles around the eyes, hyper-pigmentation
I have tried their PHA 10% Coco Soft Peeling Cream (review here) and whereas it was the best PHA cream I have used ~ I have tried cosRX PHA Moisture Renewal Power Cream (review) and Skinfood Freshmate Pineapple Peeling Cream (review), I felt I needed something stronger as I do not have dry or sensitive skin, but tough oily skin.  I upgraded to the AHA version, which is more stronger and effective in exfoliation and softening your skin.  Many people cannot use glycolic acid, so I would recommend looking into the PHA cream by Swanicoco instead. 
Ingredients of Note

Alpha Hydroxy Acids (AHA) are naturally occurring acids that gently remove the top layer of skin, removing dead skin cells by dissolving oils and the bonds that hold the cells together.  Swanicoco AHA 10% Coco Impact Peeling Cream contains 10% glycolic acid which  is one of the more popular AHA exfoliators. Glycolic acid is derived from sugar cane, sugar beets, pineapple (it is sugar derived).   It helps clear up acne, moisturizes and reduces the appearance of fine lines and premature aging by increasing cellular turnover, revealing new skin. If your skin is sun-damaged, adding AHA to your skin care routine is beneficial, as it will help make your skin smoother, firmer and healthy, unclogging pores while hydrating your skin.  It might also fade hyper-pigmentation over time as well.  Its molecules are small, so it can penetrate deep into your skin easily, which might make it irritating for some people.  You must always use a sunscreen when you are using acids.
Superfood blueberries are rich in antioxidant anthocyanin and will help product your skin against oxidation and skin damage caused by UV light.   Blueberries have powerhouse compounds, such as vitamin A and C and flavonoids.  Non-greasy dipentaerythrityl hexa C5-9 acid esters is a rich, protective emollient that helps provide moisture as well as preventing moisture from leaving your skin.  This ester is used in skincare products as a substitute for protective oils like mineral oil or lanolin, but without the greasy, oily feel.  It is very stable, even with a strong acid concentration and this ingredient contributes to the heavy but soft texture of this cream.  Caprylic/Capric triglyceride is a compound made from coconut oil and glycerin, with a smooth, silky dense texture and this emollient helps with the spreadability of the cream.
This also has some soothing anti-oxidant skincare ingredients in vitamin E, portulaca oleracea, centella asiatica and green tea, as well as brightening with niacinamide.  Along with AHA's, allantoin will moisturize, exfoliate and soften skin, making it look smooth and refined, while reducing and relieving irritation.  Shea butter contains a rich source of concentrated natural vitamins and fatty acids ~ oleic, stearic, palmitic, linolenic ~ and is highly moisturizing and nourishing. It helps repair your skin, a s well as reduce skin inflammation; Smooths your skin to protect it from drying and it strengthens your skin over time as it helps aid in the collagen production.  Hydrolyzed hyaluronic acid helps supply nutrition and strengthen your cell barrier and will penetrate deep into your skin, while retaining moisture. Betaine is an amino acid that is a humectant and anti-irritant, providing silky smooth skin while soothing and calming your skin. This also has a lot of emollients and emulsifers in here, making this a rich creamy skincare product.  However, just like the PHA cream, despite all of the moisturizing ingredients, this cream is not that moisturizing the day after and will dry out your skin.
This is free from artificial pigments, artificial scent, chemical preservatives, phenoxyethanol, alcohol, mineral oil, parabens and benzophenone.
Ingredients: Vaccinium Angustifolium (Blueberry) Fruit Extract, Glycolic Acid (10%), Caprylic/Capric Triglyceride, Glycerin, Butylene Glycol, Dipentaerythrityl Hexa C5-9 Acid Esters, Glyceryl Stearate/PEG-100 Stearate, Niacinamide, 1,2-Hexanediol, Potassium Hydroxide, Cetyl Alcohol, Glyceryl Stearate, Shea Butter, Betaine, Stearic Acid, Behenyl Alcohol, Polysorbate 60, Aloe Barbadensis Leaf Extract, Centella Asiatica Extract, Camellia Sinensis Leaf Extract, Portulaca Oleracea Extract, Allantoin, Hydrolyzed Hyaluronic Acid, Tocopherol, Polyacrylate-13, Polyisobutene, Polysorbate 20, Polyacrylamide, C13-14 Isoparaffin, Laureth-7 cosDNA analysis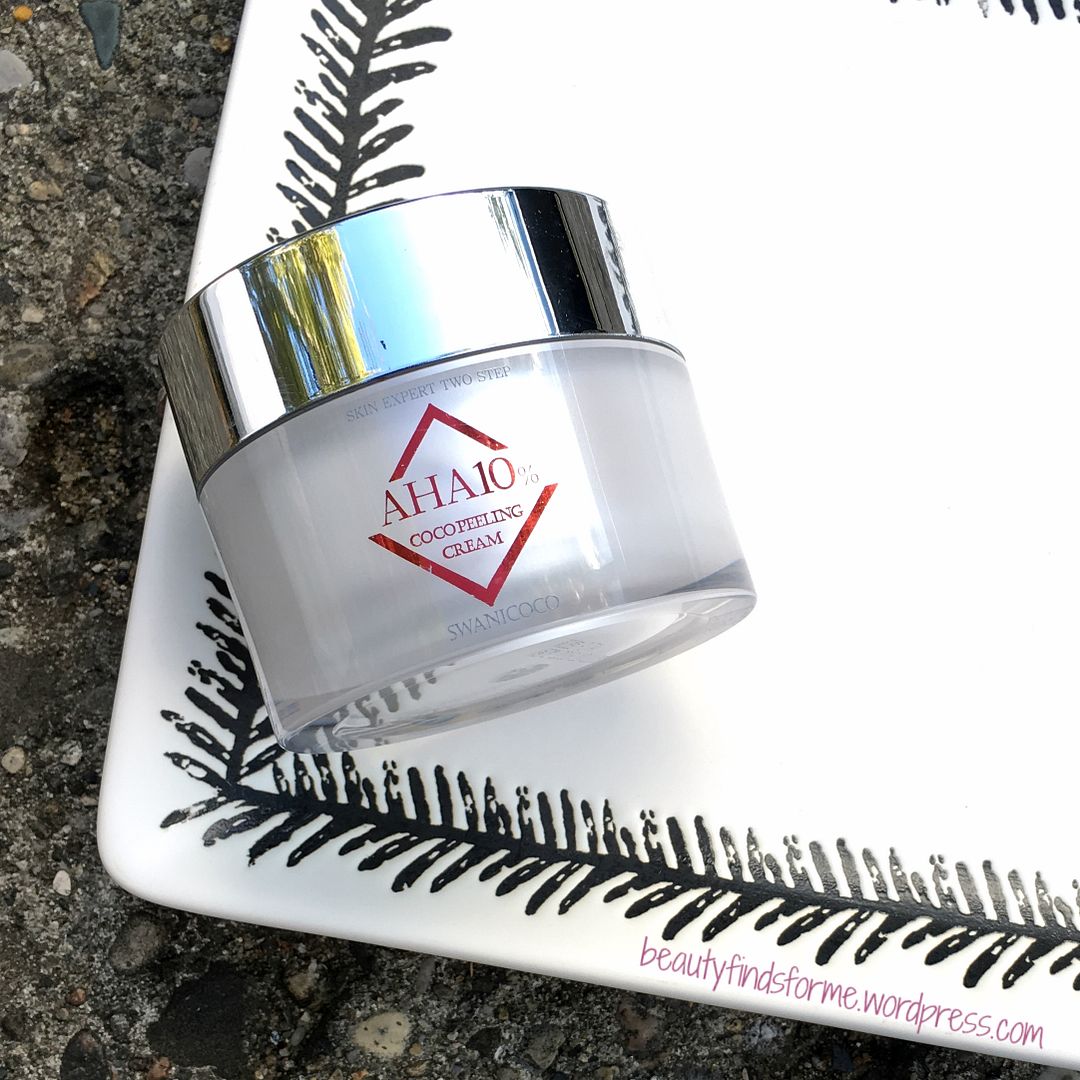 This comes in a clear 50 mL glass jar that has a metallic red diamond logo with the name of the cream, its a twin to its PHA cousin!  It has a silver top and comes with both an inner lid and a spatula (which I lose quickly).   This white cream is thicker than the Swanicoco PHA cream and has that slick feeling under my fingers.  It forms stiff peaks and doesn't lose its shape quickly either ~ this is very dense! There is that "bitter" medicinal scent that I associate with AHA products, but it is disappears quickly.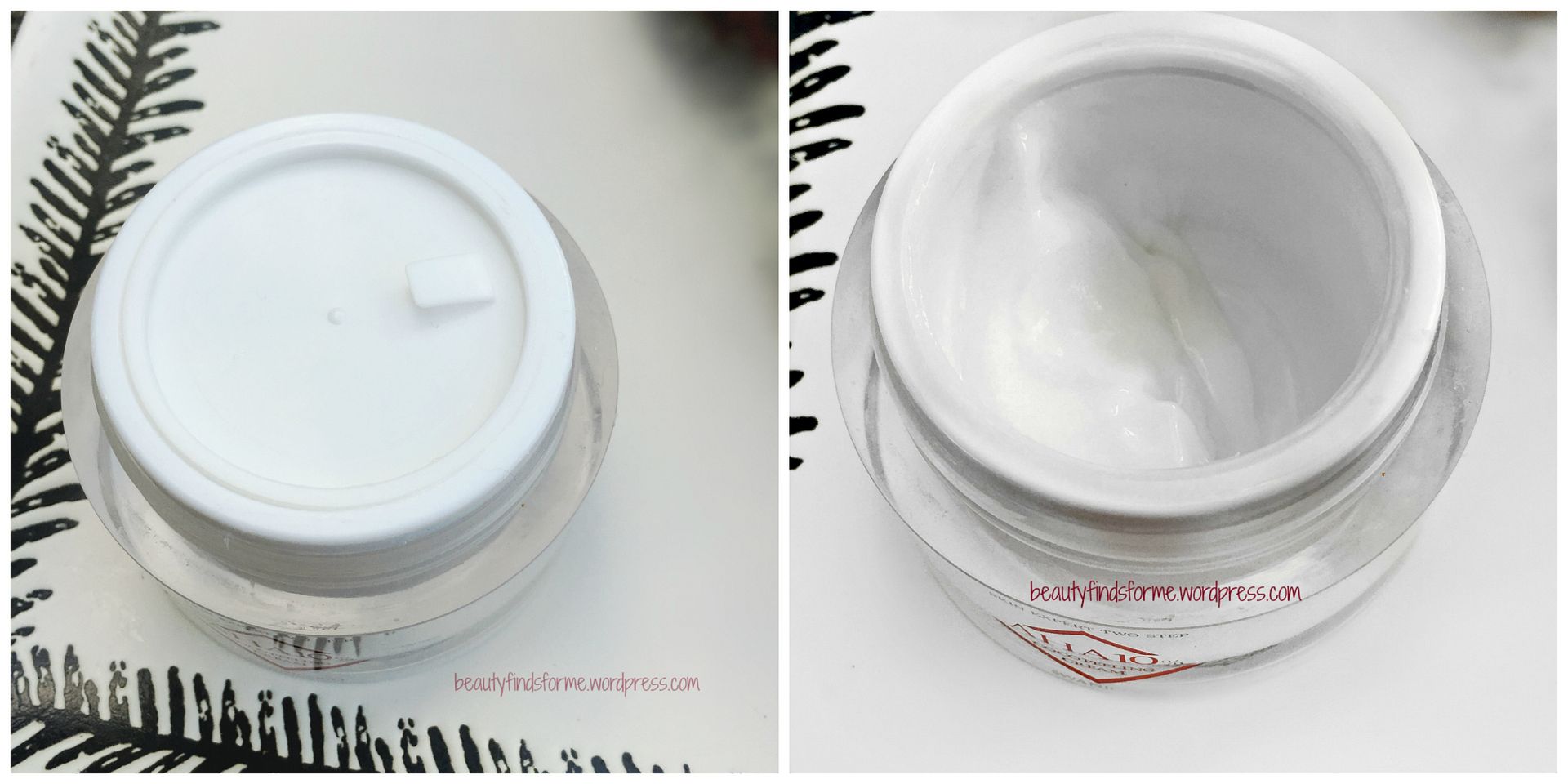 Like with all acid products, I want to apply this as closely to my skin as possible without having thicker lotions between it and my skin.   This is a drying product for me, so I do apply my lightweight watery hydrating products first and then apply this AHA cream.  I do have to massage this cream into my skin as it just wants to "sit" on my skin without absorption.  The first few times I used it, my skin did sting a bit but after that, I didn't experience any stinging while applying it to my face.  However, in the morning, I do find that my skin is more sensitive to products and I do experience a stinging sensation.  I make sure that I use gentle, soothing bouncy hydrating products and skip any blemish or oil control products.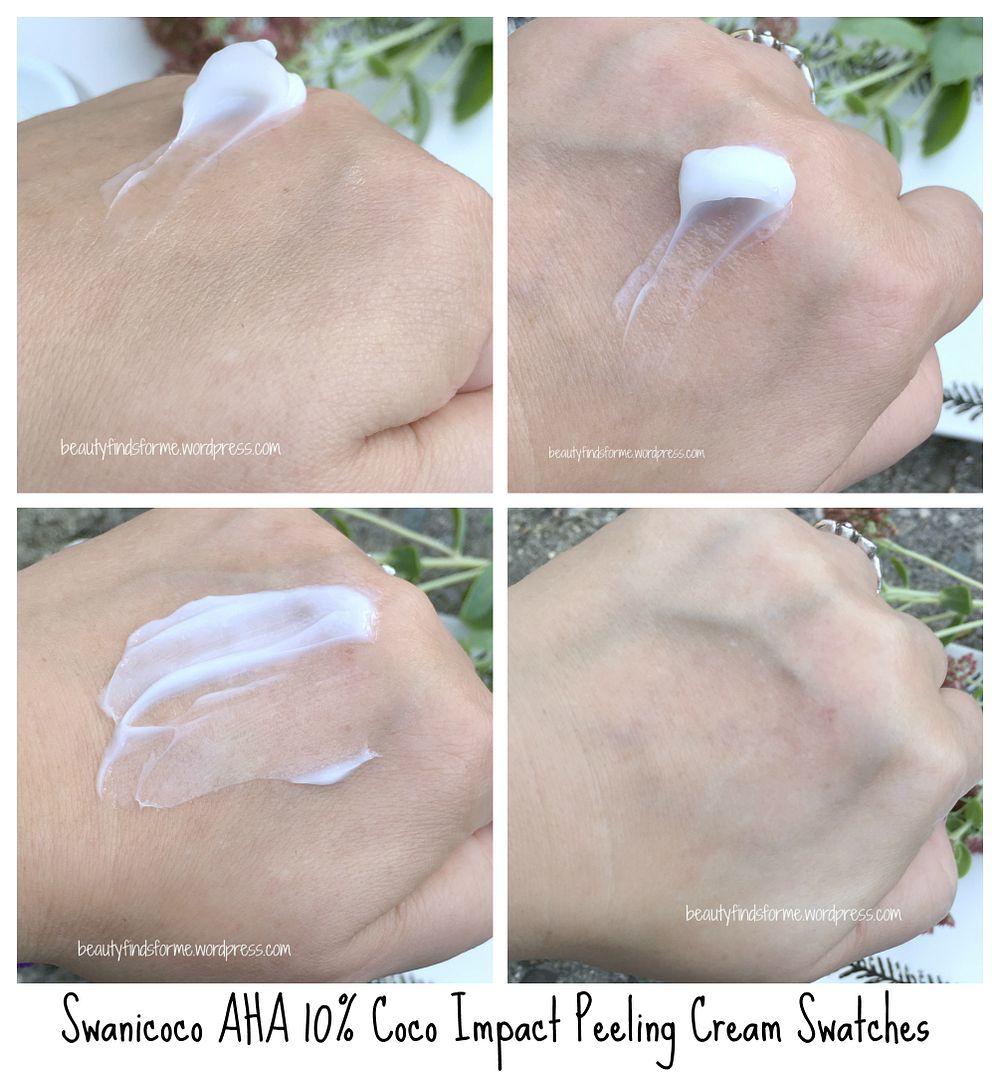 I then wait about 20 minutes before applying the remaining skincare products, such as a sleep pack and spot treatments.  It does take a while to dry down and the initial moisture test shows this is not a moisturizing product for me (only increased by 6%)  ~ to be fair, my skin was already nicely hydrated when I took this test, so it could be that my skin had absorbed all it could at this point. 
However, this cream should not be the last step in your routine, as it will not only be a bit sticky and tacky, your skin will not be hydrated in the morning.  I read the little user manual that came with the cream and since this contains both AHA and salts, it can be irritating and drying.  Swanicoco recommends that you should start out with a small amount and gradually increase until you find the correct amount suitable for your skin type and use a moisturizing cream on top of it and this will help calm and improve your skin tone.
 I also did a pH test, as this is an acid. I tested this to have a pH level of 3.6 and with 10% glycolic acid, that means that it has a free acid content of 6.29%.  To learn more about free acid content and to calculate the amount, the lovely bloggers at Vanessa at IG @goalstogetglowing (blog) and Michelle @labmuffinbeautyscience  (blog) were very helpful and they have some great charts and calculators.   Free acid content of 6.29% means that this will have a moderate increase of cellular turnover and an increase in glycosaminoglcans, which is an ingredient that increases hydration as it effectively bind itself to water, resulting in firm elastic skin. It can also reduce the appearance of fine lines and wrinkles by plumping up your skin.  For an effective peeling product, you do need at least 4% of free acid content and this product is well above 6%.   It can also reduce the appearance of fine lines and wrinkles by plumping up your skin. 
Final Thoughts
Swanicoco AHA 10% Coco Impact Peeling Cream is quite the skin renewal product!  I find that it really left my skin smooth and refined.  The texture of my skin feels supple and firm.  I do not really notice an improvement in pore size or lightening of sun damaged hyper-pigmentation but overall skin tone is more brighter and even.  It helps heal my blemishes too which is a win-win for oily, blemish prone people like myself.  I do think that this dries out my skin unless I use a moisturizer over it, so if you have drier skin than myself, make sure that you really use a good occlusive moisturizer as your last step.  This is a night cream only ~ it will make your skin very shiny looking, but since I am going to bed, I don't really care!!  This product didn't cause any bumps or rashes, just a slight sensitivity in the morning after I used it ~ and I only used this cream twice a week, as I feel that it is one of my stronger acid treatments out there.  I am 3/4 of the way thru my 50 mL jar, as a little of this cream goes a long way, but I did purchase another one at W2Beauty recently, as I will keep this in my night time routine for the time being.  Many thanks to Swanicoco sending me this product to test and review.

Can you use AHA creams? Which ones have you tried and what did you think about it?  Let me know in the comments below as I would love to read your thoughts!
Where to Purchase
W2Beauty is the authorized retailer for Swanicoco products and they do ship internationally.  They carry a huge line of Swanicoco ~ not just the skincare lines, but body and makeup lines as well.
I have some additional promo codes (affiliate based) with W2Beauty and these are good thru the end of October 2017.  One coupon per cart and each coupon can be used once per customer.
[ disclaimer: products received for review purposes. contains affiliate links. all opinions are my own & unbiased.  ]