[ products received complementary for review purposes blog post contains affiliate and referral links ]
This is the 2nd part to my two part review of all of the amazing skincare products that 107 One O Seven sent me for review purposes.  You can read my first part here where I review the White Premium Soap and Snow Essential Mask Pack.   This Korean family operated company uses naturally fermented vinegar as their key ingredient ~ don't worry ~ none of their skincare products smell like vinegar!  I am totally thankful for One O Seven's generosity, as there were so many skincare items.  I did write about One O Seven in my first part, but I will repeat it again here.
One O Seven  A bit of history ~ One O Seven is a family owned business and they also run Korea's largest naturally  fermented vinegar brand~ Hanega.  Ohk Ran Chung, a pharmacist,  developed a specially aged vinegar with 20 oriental herbs which will produce essential amino acids, which helps rejuvenate and purify your skin.
About 107 Secret Formulas (source)
The company's name '107' derives from one hundred seven secret formulas. The company has one hundred seven different secret formulas that have been kept for 35  generations which has helped to improve healthier body and skin. All of the one hundred seven formulas are experimented and collected by the most prestigious family as traditional folk remedies. One hundred seven secret formulas began many centuries ago at a vinegar brewery. This vinegar itself is one of the secret formulas. The formulas vary from medical instructions to healthy food recipes which help to maintain both youthful look and healthy body. Extraordinary fine skin secret is shared by elders at the vinegar brewery for decades. The secret is finally revealed through the company 107 skincare lines. 107  features crystal clear skincare supported by high quality natural ingredients. 107 combines traditional secret formulas with modern innovation to give radiance and firmness to the skin. 107 also enforces hydration, nourishment and revitalization to the skin. 107 believes that the beauty of skin comes from cleansing, using fine water, and applying right treatments. And 107 has the perfect formulas to match these elements. This is the essence of the 107 secret formulas.
There are 7 essential amino acids in the One O Seven fermented vinegar and they are all natural and organic.  Our body will easily absorb natural nutrients and these essential amino acids are anti-aging, increase the skin's tone and elasticity, while healing and strengthening your skin.

One O Seven works with UHIC to help children in Tanzania, Africa.  They donate office space to the 20 child care facilities, which work to help prevent the spreading of diseases. One O Seven also donates part of their proceeds to UHIC every month while supporting the volunteer and events sponsored by UHIC.  One O Seven's philosophy is to make the world a better place for all of us.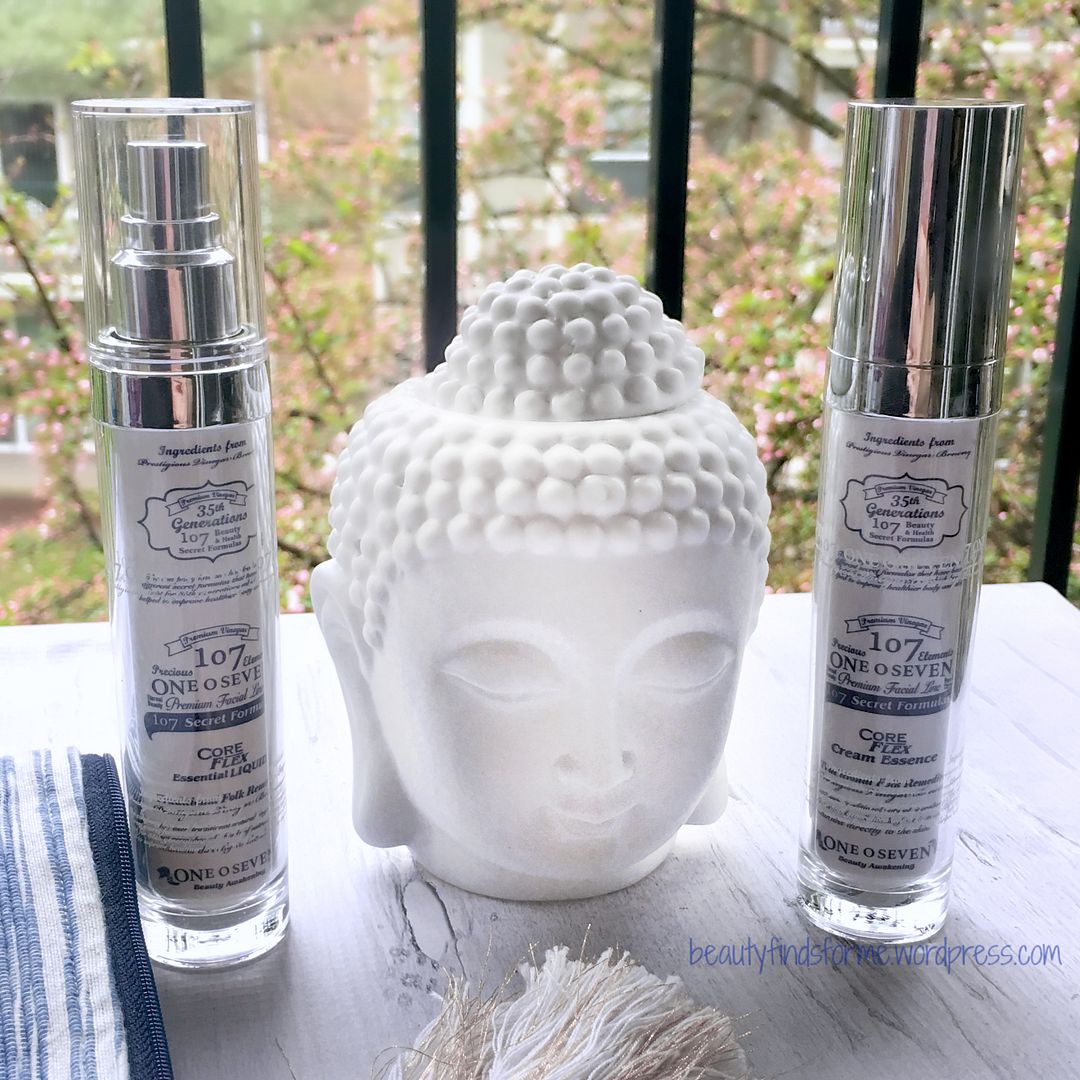 Key Ingredient
Vinegar, of course!!  This is made with cosmetic grade vinegar that has been naturally fermented 🏺 for over 5 years and contains 7 essential amino acids. Vinegar is a natural anti fungal, antibacterial, and anti-inflammatory and it will help restore the pH balance to your skin. It contains acetic acid and is known to kill off bacteria and reduce acne. By restoring pH balance to your skin, it will help make your skin inhospitable for bacteria as well, while helping your skin create essential proteins and fatty acids.  The fermented vinegar helps with skin problems such as atopic dermatitis and is also an anti-aging ingredient.  It not only contains the 7 essential amino acids, but other organic compounds, such as saccharomyces and lactobacillus ~ which are fantastic anti-aging, highly moisturizing and contain anti-bacterial properties.  The vinegar used in these products are from wheat grown in the Gurye region in Korea ~ why is this interesting? The Gurye region grows its wheat completely free of agricultural chemicals and it is processed free from preservatives and bleaches.
I have a new toy!!  I purchased this off eBay ~ the Susee Nano Spray.   I saw fellow (but more famous) blogger SkinfullOfSeoul use this and it really appealed to me.  I will have a blog post about this and other handy tools I use, but this is a mister for your face and body ~ you put your choice of watery, non alcohol liquid in the back and you can mist away.  What is really cool is that it hooks up via Bluetooth to an app ~ and those two little buttons at the bottom of the spray device are actually moisture/oil level sensors.  The app will take your readings, let you know how dry or oily your skin is ~ plus it will save that information so you can see it track across days, weeks, months.  It is really cool!
Skin Type and Concerns:  I have oily, blemish prone skin, with aging concerns, hyper-pigmentation,  fine lines and wrinkles.
107 Core Flex Essential Liquid  This is the toner of their skincare line and it comes in a beautiful tall, slim white bottle with blue lettering.  The cap is clear plastic, which is great, as this bottle looks the same as their Essence Cream, with the only difference being the cap!   The spray mist applicator is simple to use and it doesn't stick or get clogged ~ I've been using this mist daily, several times a day in fact, and I haven't had any issues with this spray applicator. 
The scent for all of the Core Flex products is very light and reminds me of a fresh, powdery soap.  It is not unpleasant at all.  This watery, slightly milky liquid/toner contains some great products besides the vinegar
Aspergillus/Saccharomyces/Rice Ferment Filtrate is full of amino acids and over a 100, organic acids, saccharides, vitamins, nucleic acids and esters. Fermented rice water helps keep your skin clear and moisturized, while helping to even out your skin tone by reducing hyper-pigmentation. Due to its own natural alcohol content, it is an astringent and also contains antibacterial properties to help control blemishes.
Arbutin is known for its  brightening properties and will help in reducing the appearance of spots caused by hyper-pigmentation.
Adenosine is a yeast derived amino acid and it became popular after it was found to help improve the reduction of wrinkles.
Lactobacillus/Soymilk Ferment Filtrate  I love lactobacillus or any ferment for that matter. Fermented ingredients in skin care products are highly moisturizing and also have antibacterial properties, which is why my blemish-prone skin loves it so much.  It not only hydrates, but nourishes and protects your skin.
This has a pH level of a bit under a 6, so it is mildly acidic.  It isn't going to exfoliate your skin, but it also doesn't claim it will either. Now, at first I was ~ okay, this is a nice toner and all of that ~ my skin feels hydrated and all of that.  I also noticed I was using it more during the day, just lightly spraying over my makeup at work.  Then I used my Susee to get a reading and I found out why I was reaching for this liquid all of the time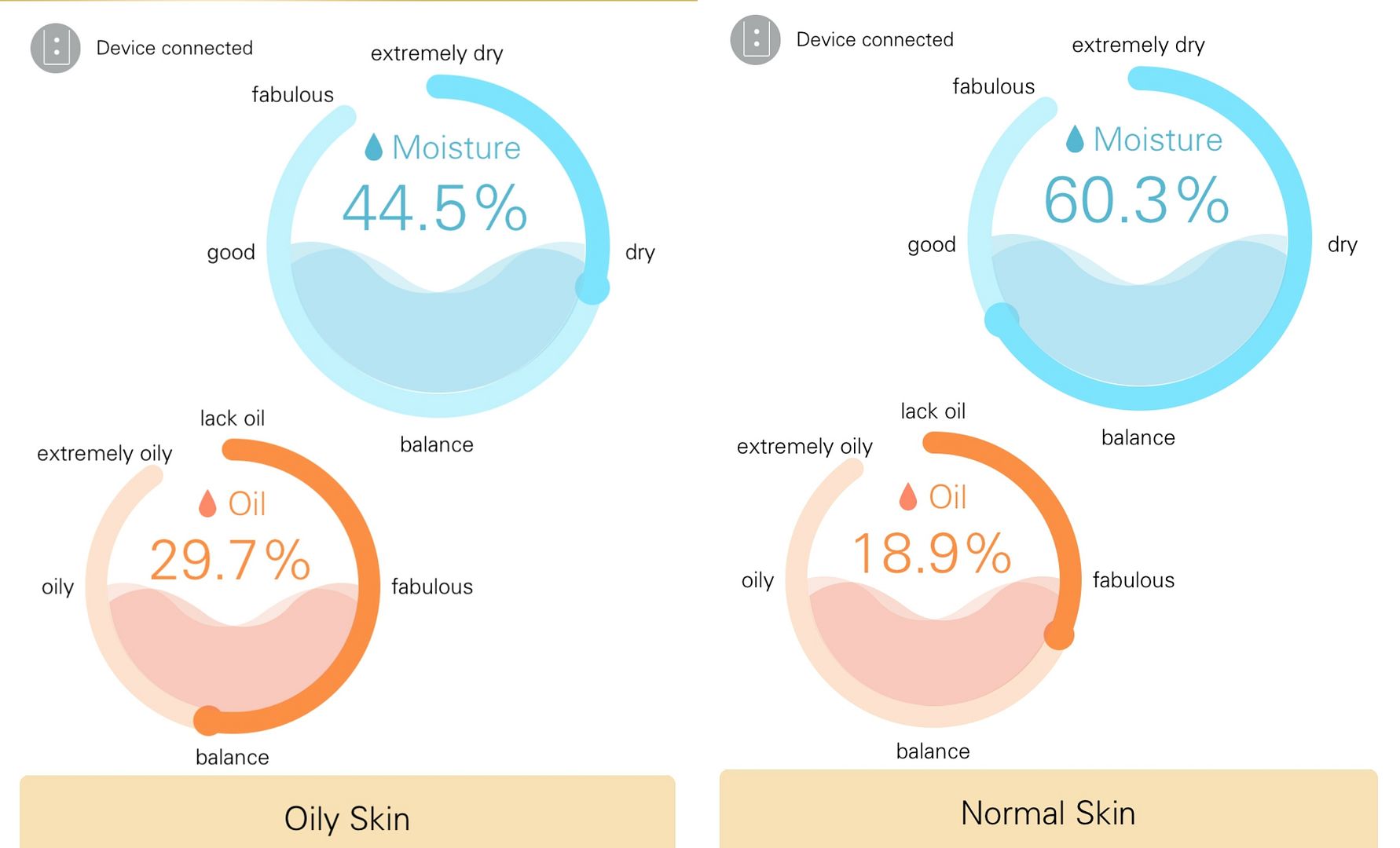 See that?  I know I sound like a broken record here, but I DO have very oily skin.  The left side is before I used the Core Flex Liquid and the right side is AFTER.  This increased my moisture level by only 36% BUT it turned my OILY SKIN ~ my skin was very unbalanced here when I did this test ~  to NORMAL skin.   That is all I have to say.  Well, it isn't.  This toner, I repeat, took my oily skin type and balanced it to a normal skin type.
Description: 107 Core Flex Essential Liquid will refresh and push the skin to its maximum beauty. Rich amount of amino nutrients from 5 years naturally aged vinegar permeates the skin and helps the skin cells regenerate and prevent aging. Can be used throughout the day as a facial mist to keep skin nicely hydrated.
Ingredients: Aspergillus/Saccharomyces/Rice Ferment Filtrate, 1,3 Butylene Glycol, 1,2-Hexanediol, Butylene Glycol, Arbutin, Water, PEG/PPG-18/4 Copolymer, Pentylene Glycol, Vinegar, Adenosine, Lactobacillus/Soymilk Ferment Filtrate, PEG-60 Hydrogenated Castor Oil, Allantoin, Carthamus Tinctorius (Safflower) Flower Extract, Phenoxyethanol, Fragrance  cosDNA analysis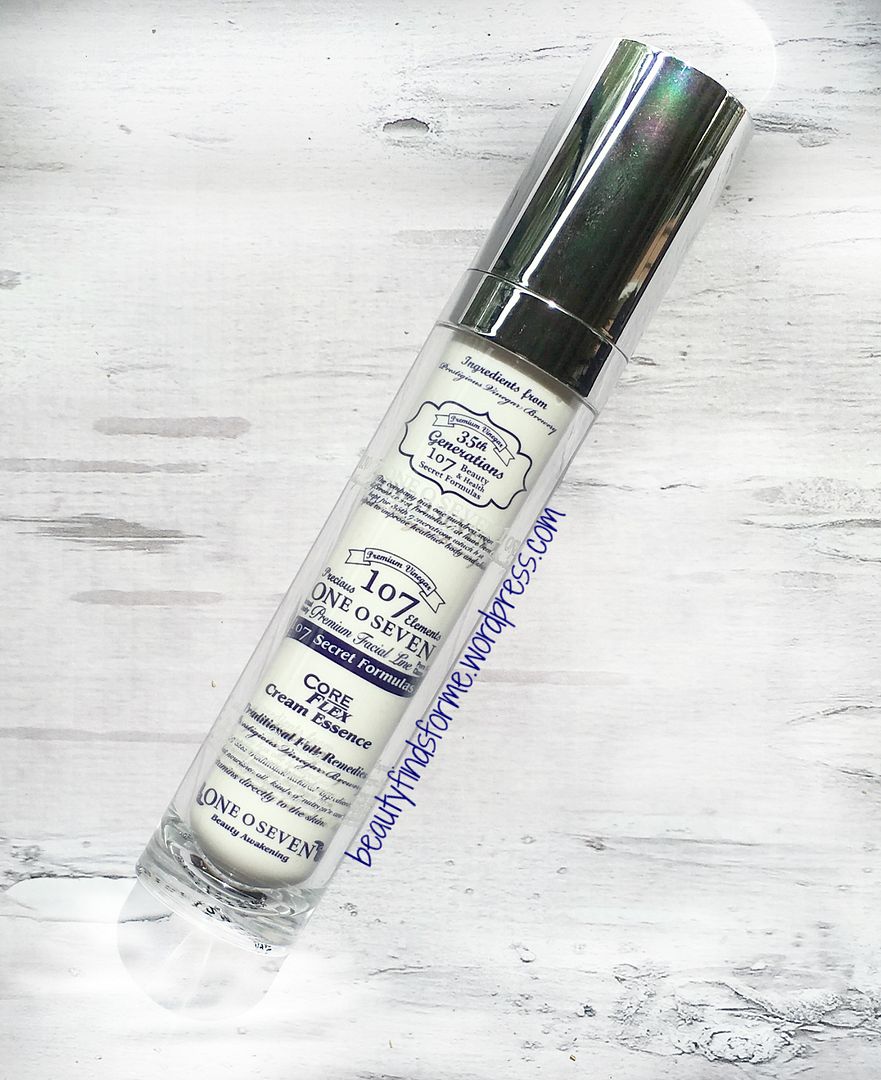 107 Core Flex Cream Essence  TWINS!! haha It looks just like the Liquid bottle, but its cap is a bright shiny silver metal one.   This has a pump applicator and I need only a couple of pumps of this essence to apply on my face. The pump doesn't squirt out, but gently deposits the creamy colored lotion onto my skin.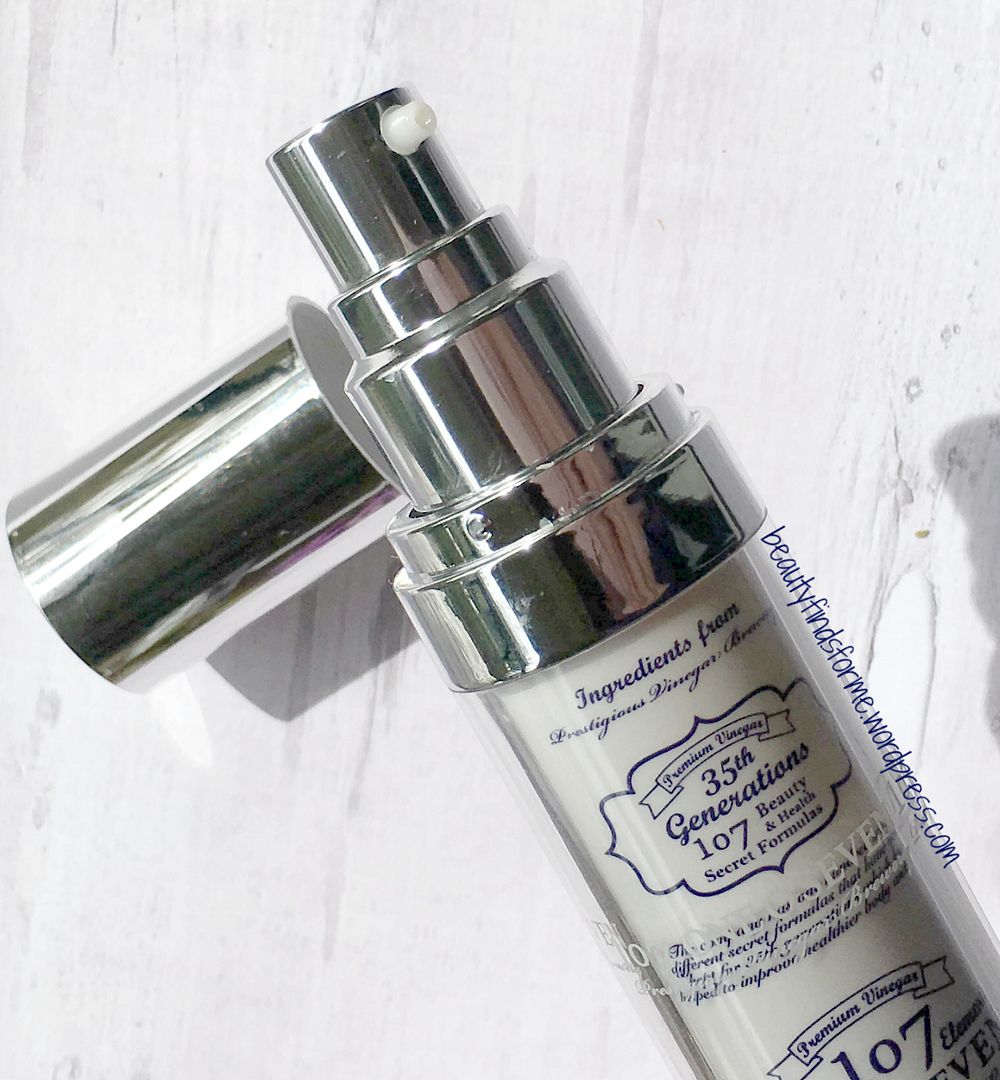 Besides vinegar, what other ingredients are in here that I think you should know about?
Squalane penetrates and absorbs rapidly into your skin and has anti-oxidant properties, helping prevent UV damage and hyper-pigmentation age spots, helps cellular growth and is an anti-bacterial. This is an excellent moisturizing ingredient. This ingredient also helps extend the shelf life of other oils, so this product is very stable.
Polyglutamic acid is made from fermented soybeans (natto) and helps moisturize and exfoliate old skin cells. It can penetrate to the deepest layers in your skin, locks in moisture and helps increase the production of NMF (Natural Moisturizing Factor)
Retinyl palmitate (derivative of Vitamin A) is a gentle form of retinol and since it isn't as irritating, it is good for sensitive skin types. Retinyl palmitate helps aid in the communicating between your cells so they will renew, regenerate elastin and collagen for firmer skin and prevent some of the damages found with aging skin ~ wrinkles and fine lines.  It also acts as an exfoliator, helping to remove dead skin cells and brighten your skin tone. However, because it is gentler, it takes longer for these effects to be noticed
Arachidyl alcohol is derived from peanut oil and it acts as an emulsion.  It is a fatty alcohol and will not dry your skin.
I usually use creamy light weight products, like emulsions and lotions, as my final moisturizing step for my day time routine.  With this essence, because it is so creamy, I was able to use this as my last step.  This cream is so lovely ~ it is so silky, smooth and leaves a velvety texture on my skin.  It doesn't leave a sticky or tacky residue and just locks in all of my hydrating products that I applied before it. 

My skin was already pretty normal at this point as I had used the toner, but you can see it didn't make it oily and increased my moisture level by 7%, which is fine for a product that I want to use to lock in my hydrating layers.  I think that at 62.2% moisture level, my skin is doing fabulous!!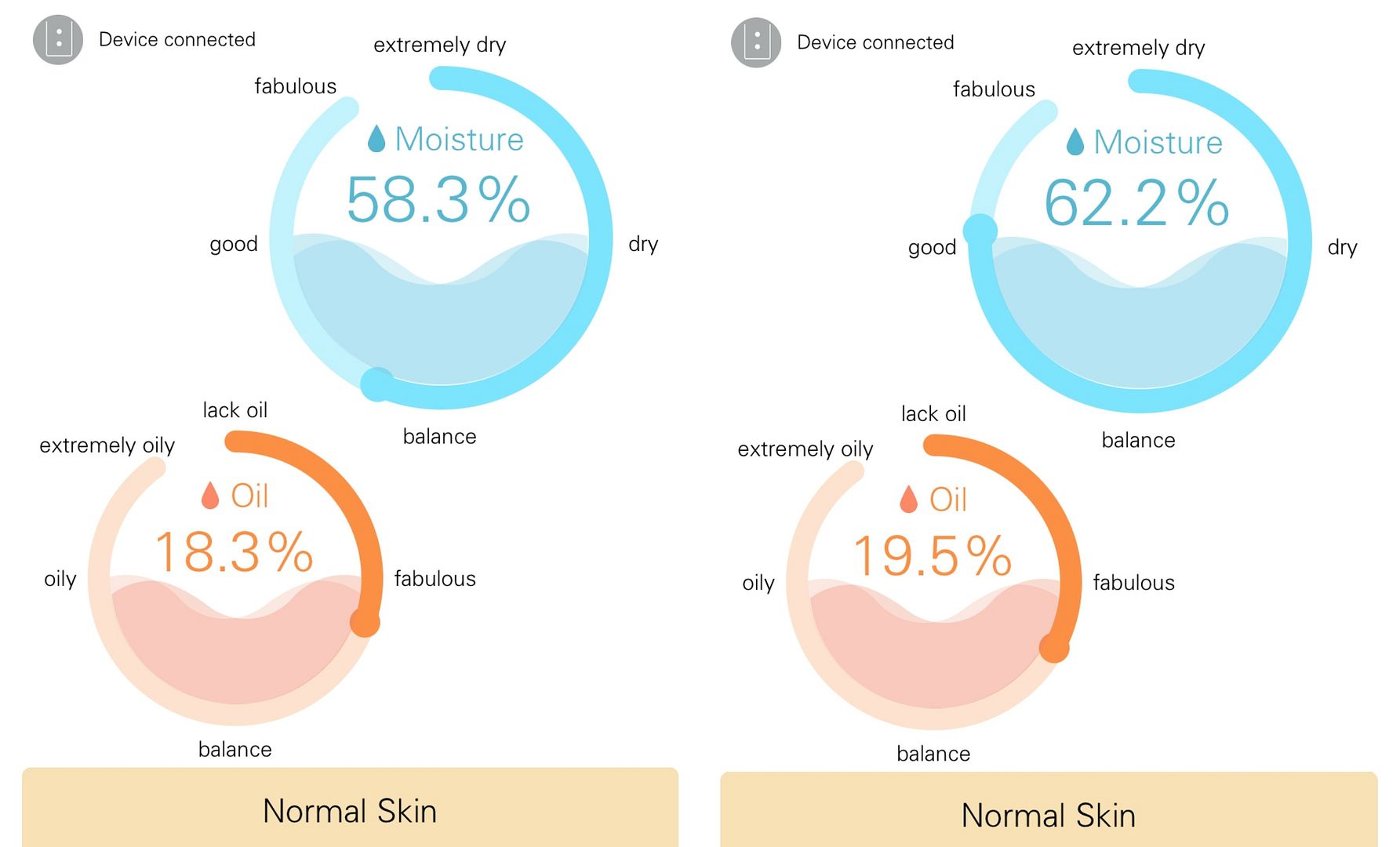 I really love this light weight creamy essence ~ it makes my skin so soft and smooth.  When I was using it, I thought ~ why doesn't 107 have an eye cream, because this is such a great product?  I asked Chloe, my contact at 107, if the brand was thinking about creating an eye cream and she said yes, they are but they don't have a production go-live date yet.  However, she let me in on this tip ~ use this essence as an eye cream!  It is that nourishing and safe enough for your delicate skin area.  I have been using this as my eye cream this spring so far and I am loving it!
Description: 107 Core Flex Cream Essence will provide powerful tightening and brightening effects to the skin. It will also provide younger and healthier appearance by giving skin deep moisturizing and natural vitality. The Cream Essence is actually formulated similar to eye cream, but can be used for the whole face for lifting and anti-aging effects.
Ingredients: Water, Squalane, Butylene Glycol, Cetearyl Alcohol, 1,2-Hexanediol, Arbutin, Dimethicone, Arachidyl Alcohol, Polyglyceryl-3 Methylglucose Distearate, Polysorbate 60, Polyglutamic Acid, Polyacrylate-13, Cetearyl Glucoside, Behenyl Alcohol, Cetearyl Olivate, Hydrogenated Lecithin, Tocopheryl Acetate, Rosa Canina Seed Extract, Sorbitan Olivate, Ethylhexylglycerin, Arachidyl Glucoside, Retinyl Palmitate, Polyisobutene, Xanthan Gum, Allantoin, Caprylyl Glycol, Scutellaria Baicalensis Root Extract, Hydrolyzed Hibiscus Esculentus Extract, Polysorbate 20, Panthenol, Dextrin, Adenosine, Sorbitan Isostearate, Caprylhydroxamic Acid, Glycerin, Fragrance, Sodium Metabisulfite, Vinegar  cosDNA analysis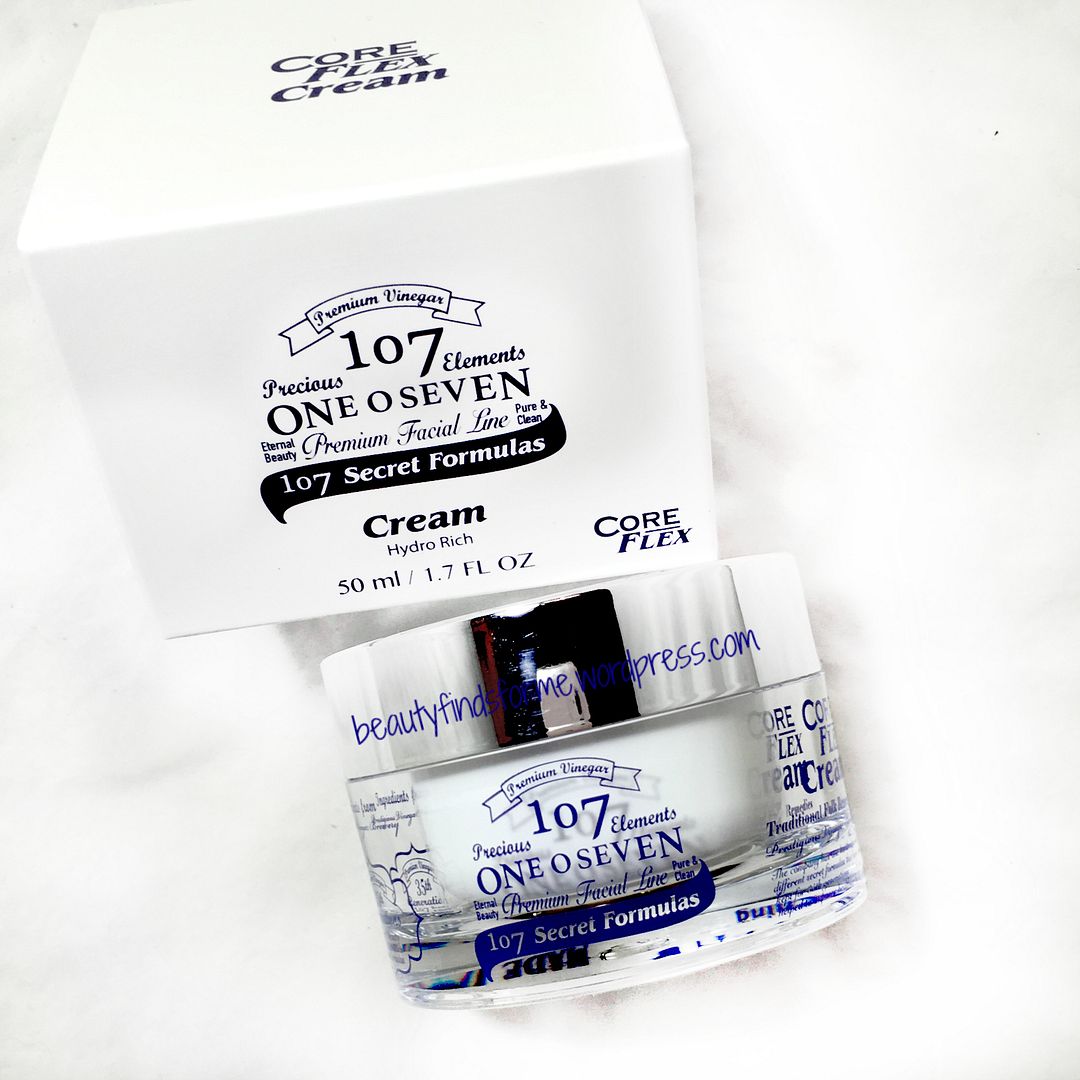 107 Core Flex Hydro Rich Cream   This is a very rich, super buttery cream.   I am reviewing it, but I will say that if you have very oily skin like myself, this cream is probably not the best item for your face.  For oily skin types, I recommend that this be used for your neck and maybe as a night cream when it is really dry and cold.   This cream comes in a heavy glass jar with blue lettering and when you open it up, you see the rich, thick cream inside.  It holds its peaks too ~ this cream is not for the faint hearted!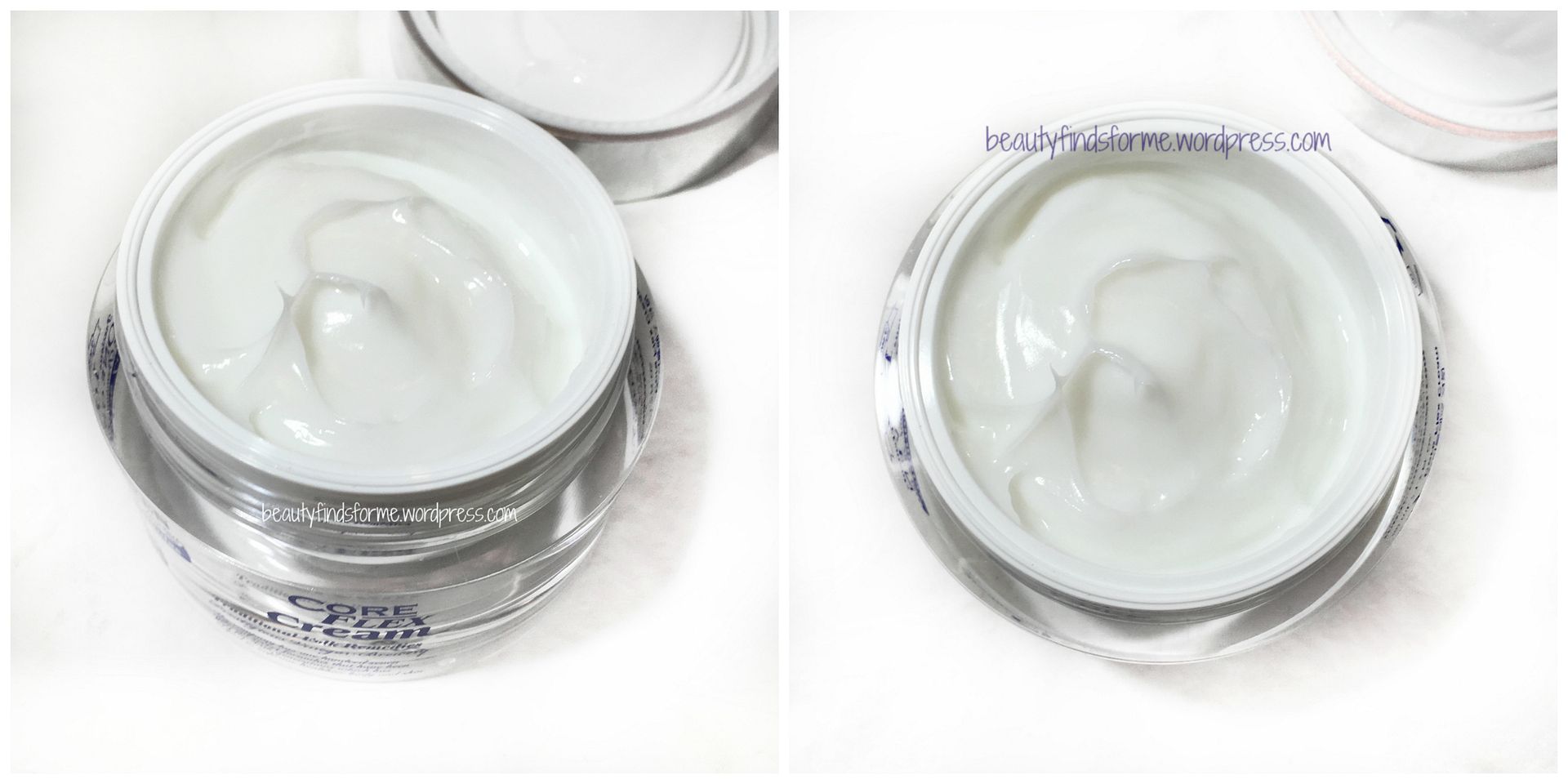 What other ingredients are in here that I haven't mentioned before in the Core Flex line?
Helianthus Annuus (Sunflower) Seed Oil is a lightweight oil that has a high concentration of Vitamin E, which is a powerful anti-oxidant and may also help protect the skin from UV rays. It is known for its hydrating and moisturizing properties and it contains omaga-6 fatty acids.
Bacillus/Corchorus Olitorius (Moroheiya ) Leaf Ferment Filtrate is rich in antioxidants, such as vitamin A, C and E as well as fatty acids and mucilaginous polysaccharides, which explains its thick, almost gluey texture.  These antioxidants help combat free radicals and the damage they do to our skin.  They will work together to increase cellular turnover, stimulate skin cell production and remove oxidizing agents which are so damaging to our skin.  It helps keep your skin soft and smooth. 
Niacinamide (Vitamin B3) is a powerful antioxidant that acts as an anti-inflammatory, improves your skin elasticity, enhance the skin barrier function and also it helps to even out skin tone and reduce post-inflammatory hyper-pigmentation.
Lactobacillus/Panax Ginseng Root Ferment Filtrate is used in anti-aging skin care products, as it is can stimulate the skin and activate the blood flow, which will increase toning and production of new skin cells. It also has anti-oxidant and anti-inflammatory properties, due to natural carbohydrate called saponin, and will help reverse damage caused by free radicals, such as hyper-pigmentation and also combat free radicals to prevent new skin damage of fine lines and wrinkles. Ginseng detoxes your skin and leaves it radiant and glowing. Applied topically, it helps stimulate collagen production to promote cellular renewal. Its herbal properties and usage dates back over 5,000 years.
Lactobacillus/Punica Granatum Fruit Ferment Extract contains female hormones estrogen and estradiol and will help promote collagen production to help skin become firm and hydrated. Pomegranate also is an antioxidant with a rich source of vitamin C, which also aids in collagen production, while brightening and evening out skin tones.
Jojoba Oil (simmondsia chinensis)  is both a moisturizing and skin softening emollient oil and is used in many skin care products. It helps skin cells attract and keep moisturize and it helps penetrate your skin easily, aiding in your skin's increased flexibility and elasticity.
Panthenol helps cellular renewal and is an effective moisturizer. It is derived from plants and this ingredient comes from Vitamin B5. Panthenol is a natural humectant, which retains moisture and hydrates the skin. It also is a good lubricant on the skin, making skin look soft and smooth. It is also an anti-inflammatory
Trehalose will help supply moisture and balance your skin.
Beta-Glucan helps stimulate the production of collagen, speeds up wound healing, soothes and calms skin due to its anti-irritant and strong anti-inflammatory properties, moisturizes, locks in natural moisture, anti-aging and anti-wrinkle due to its anti-oxidant properties and also helps repair your moisture barrier.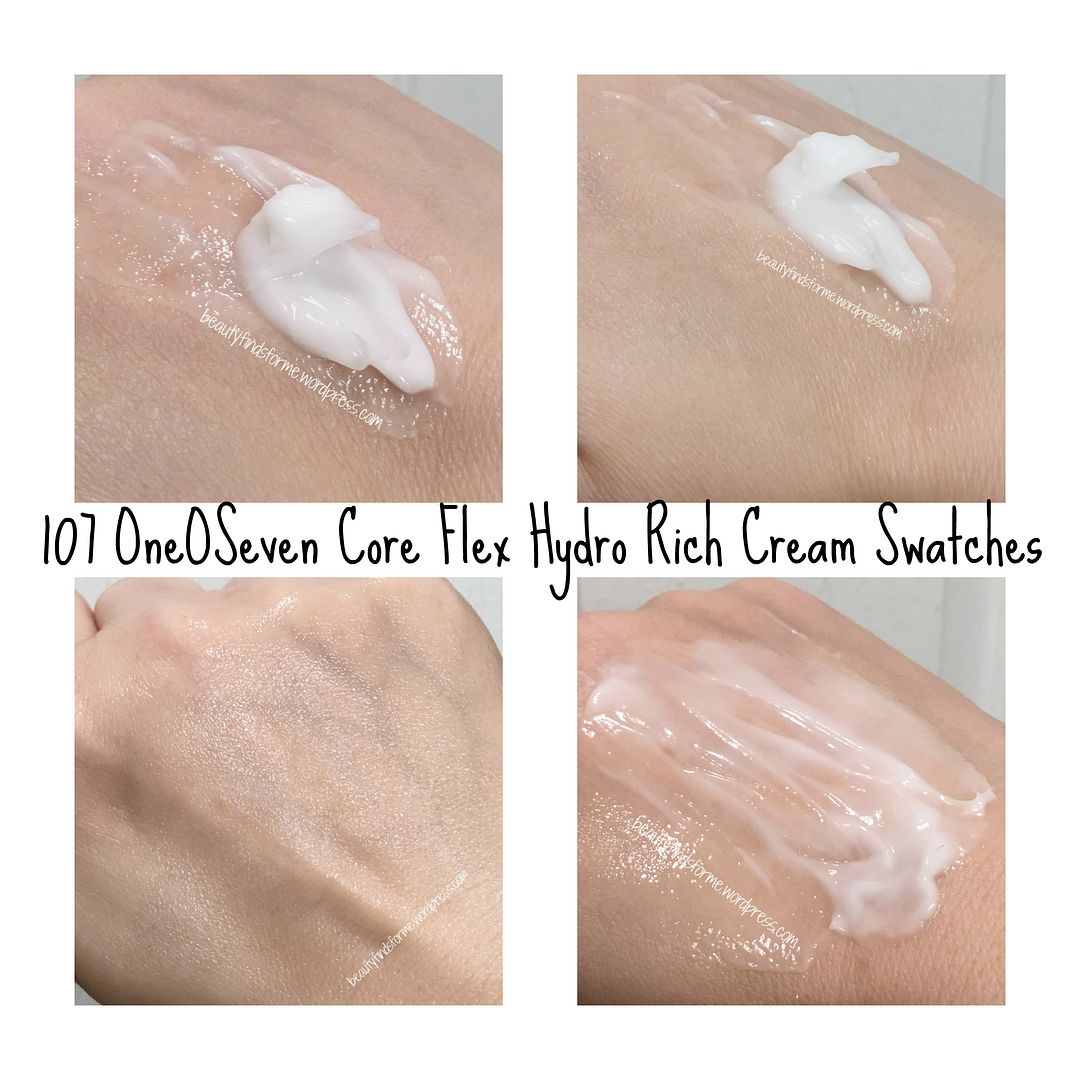 You can see in the swatches above how the cream just holds its peaks on my hand.  It won't flop over, it is that thick.  Also, when applied on my very dry hand, there is a very moist sheen on my skin.  It is tacky as if my skin cannot absorb anymore of this product.  It does "dry" down in about 30 minutes for me, but you can see that would be too long of a wait in a morning routine.  This works so much better as a neck cream for me.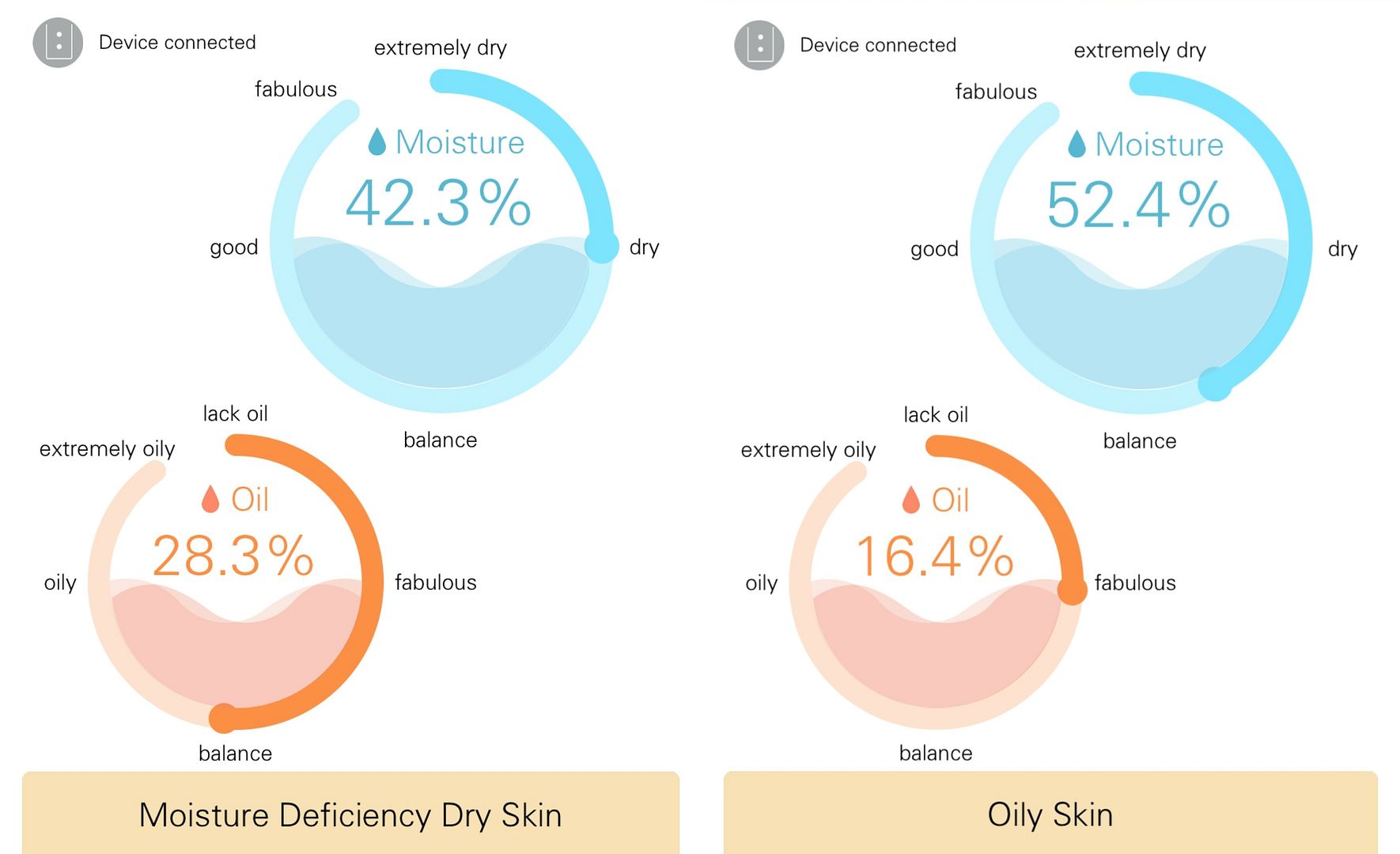 In case you don't believe that this is way too rich for my skin, I did a moisture test on my extremely dry hand.  You can see on the left, side how dry my skin is.  After applying this cream to my hand, my skin went from moisture deficiency dry skin to oily skin, according to my Susee.  It is strange that my oil levels went down and my moisture levels went up, but I guess the percentages and the combination caused my device to render an oily skin verdict. 
Description: 107 Core Flex Cream has Moroheiya which has Hyaluronic B that calms and delivers intensive hydration. It is formulated with squalane and natural oil that recharges and moisturizes the skin. It also has natural fermented vinegar, red ginseng, pomegranate, and soy milk ingredients that will make skin look and feel healthier, both inside and out.
Ingredients: Water, Butylene Glycol, Glycerin, Cyclopentasiloxane, Helianthus Annuus (Sunflower) Seed Oil, Squalane, PEG/PPG-18/4 Copolymer, Isostearyl Isostearate, Bacillus/Corchorus Olitorius Leaf Ferment Filtrate, Niacinamide, 1,2-Hexanediol, Cetyl Alcohol, Aluminum Starch Octenylsuccinate, Cyclohexasiloxane, Polysorbate 60, Dimethiconol, Glyceryl Stearate, PEG-100 Stearate, Phenoxyethanol, Sorbitan Stearate, Arginine, Acrylates/C10-30 Alkyl Acrylate Crosspolymer, Lactobacillus/Soymilk Ferment Filtrate, Lactobacillus/Panax Ginseng Root Ferment Filtrate, Lactobacillus/Punica Granatum Fruit Ferment Extract, Simmondsia Chinensis (Jojoba) Seed Oil, Panthenol, Trehalose, Allantoin, Adenosine, Sodium Hyaluronate, Fragrance, Polyglutamic Acid, Beta-Glucan, Vinegar cosDNA analysis

Final Thoughts
TWINZ
The 107 One O Seven Core Flex line was the 2016 Anti-Aging Expo Grand Prize Winner and I can see why!!  Although I cannot use the Hydro Rich Cream, I believe it would be fantastic for those who have drier skin than myself.  The star products are the liquid and essence in this trio for me ~ the liquid toner actually balanced my oily skin and made it normal!!  The essence is so soft and smooth and leaves my skin feeling the same way ~ and it can be used as an eye cream too.  Honestly, this cream essence is going on my purchase list as it is just a wonderful product for me.  It doesn't break me out and keeps moisture in all day long.  In fact, the cream essence, the masks and soaps are or will be repeat purchases for me ~ that is how quick I took to liking this brand! Fermented vinegar seems to really help my skin type a lot, keeping it in balance, soft, hydrated and firm.   Many thanks to Chloe and 107 One O Seven for giving me the opportunity to try so many of their products ~ this was a generous gift!
Extra
107 One O Seven latest product is not skincare, but a tool for your skincare!  I was lucky enough to receive this beautiful item. My photos do not do it justice as it was an overcast day when I took these photos.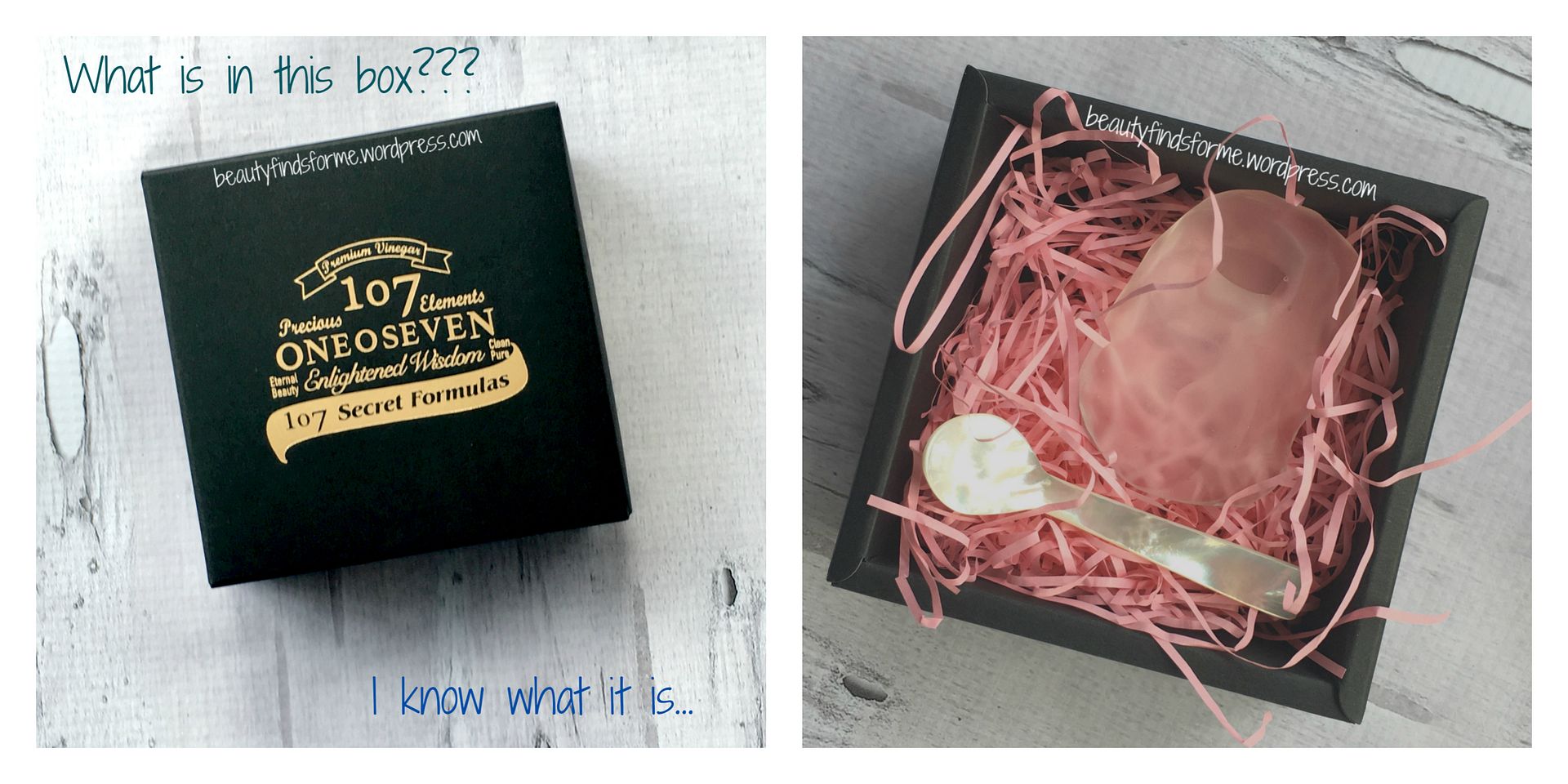 I joke all the time about how I lose all of my spatulas that I get with creams. Well, not with this one! This is a beautiful golden Mother of Pearl spatula ~ it just shimmers and shines ~ it looks delicate, but it is very sturdy.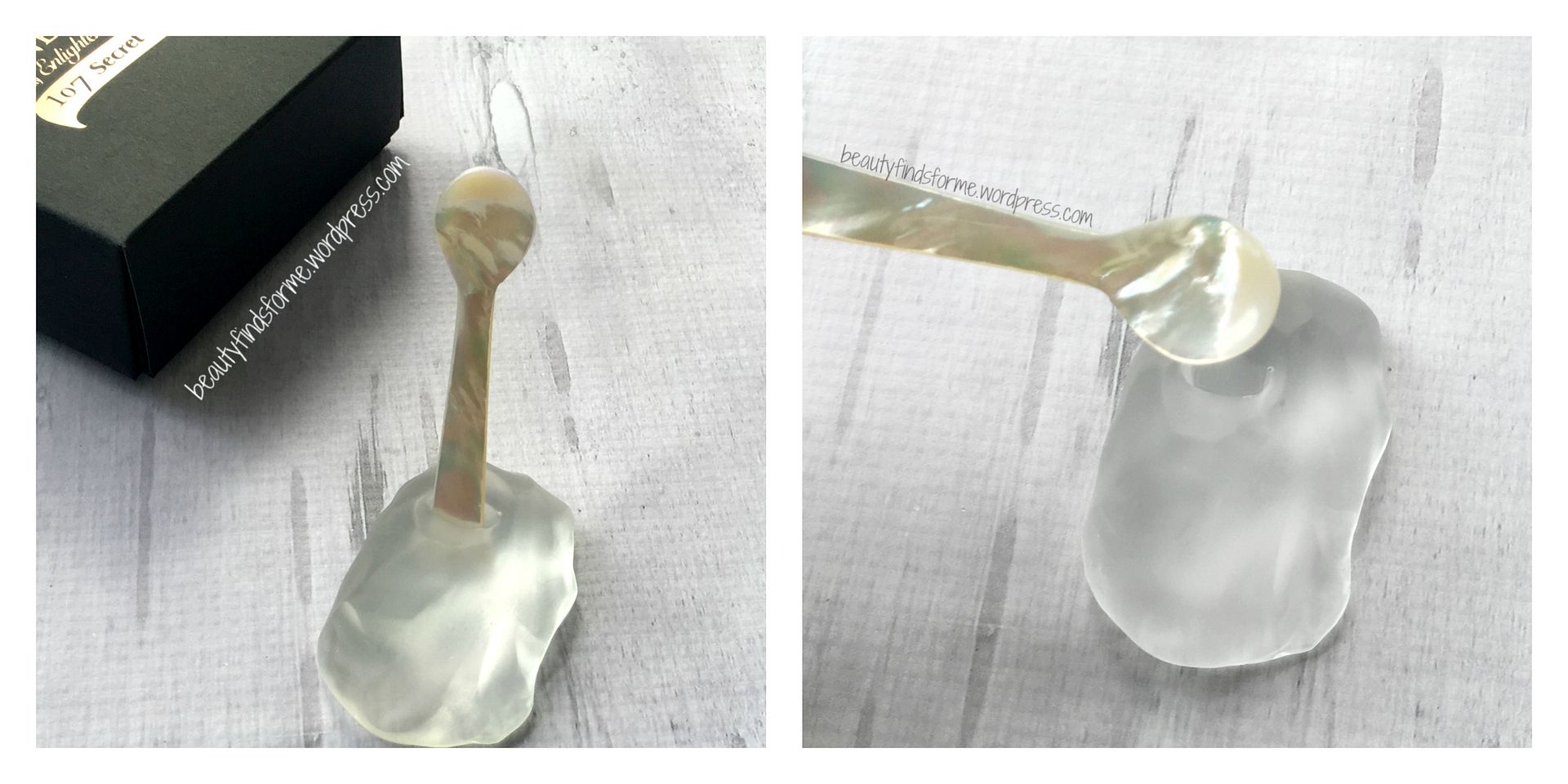 This beauty has its own stand too!  It is a beautifully crafted resin holder, made by a favorite potter of theirs ~ Dou ~ who specializes in ceramic crafts.  This holder reminds me of a stone, with its dips and curves.  I asked Chloe about the idea behind the spatula  ~ Even though they include a plastic spatula with their creams, they want to have an alternative out there for their customers, as we use plastic too much.  At One O Seven, they use their own mugs instead of plastic or paper cups  ~ my job does that too!!  The spatula holder was created as she never knew where to put the spatula or lost the spatula, which is something I always do!  In fact, it seems that the minute I open a box with a spatula, it is missing within minutes. 
I know I won't lose this beauty!  My friend Madalyn @littlehauls, gave me some suggestions for a name and I am going with Excalibur ~ pulling my sword spatula out of a rock!
Where to Purchase
The Core Flex line isn't inexpensive but it isn't out of a normal price range for quality skincare products.  The Core Flex Line ranges from $48.00 to $69.00. Beautibi carries quite a bit of their skincare line (click here).  If you have never shopped at Beautibi before, use my referral link (here)  and get a coupon to receive $5.00 off your first purchase.  Jen, the owner at Beautibi is great and gives out lots of samples and confetti 🙂
Update: Nordstrom is carrying One O Seven now (here)!  
https://www.instagram.com/p/BXwRf5CAWpy/?taken-by=107oneoseven
One O Seven has teamed up with Nordstrom's for a special event ~ for a limited time only. Purchase one or more of the following items
And One O Seven will give you a special gift ~ their new Rose Vinegar Water Mist + other special goodies from Korea!  To received this gift
You must purchase any one of the Coreflex items above from Nordstrom's online store


Post a review of your product on Instagram and tag @107oneoseven

DM @107oneoseven  or email them (they have their email in IG) with the review
And you will get that special gift!  This event ends on September 30th, 2017, so get moving!  I finished my  Cream Essence, so I just made a purchase myself!
You can also purchase them directly from One O Seven (click here).  I shopped here to purchase items that Beautibi doesn't carry, plus they ship internationally as well.  One O Seven also sells them in a set, all together as well

The mother of pearl spatula looks like it will be sold at Beautibi as Jen has been teasing us with this in her stories!
[ products received complementary for review purposes  blog post contains affiliate and referral links ]