A couple of months ago, the Canadian K-Beauty Shop, Daint, released a beauty box that contained this AMAZING facial mist, by a brand called URANG, the Neroli pH Balancing Mist.  I was intrigued by the brand, so I was thrilled when I was able to pick out some products from their natural and organic line of skincare products.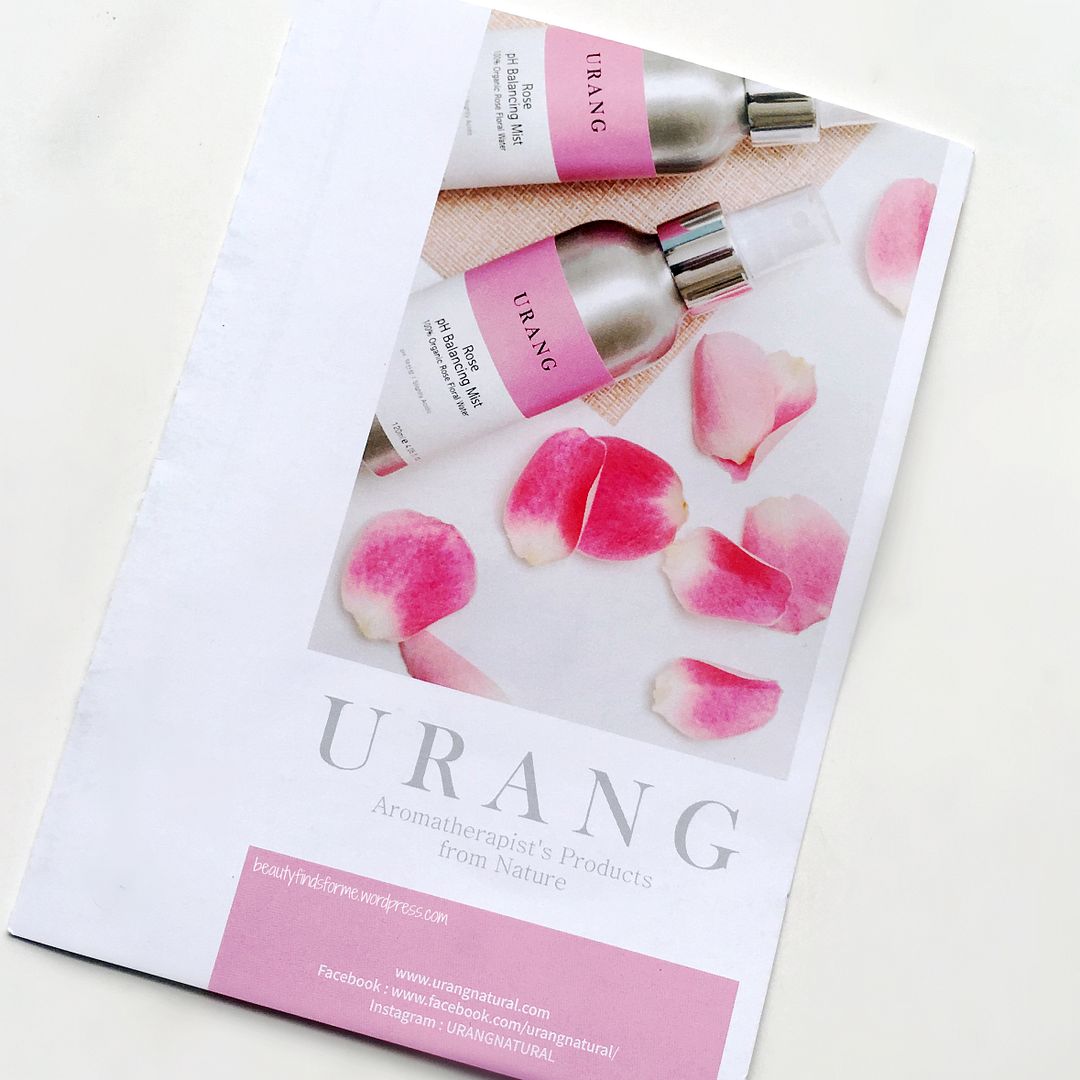 URANG is a mix of natural, organic and aromatherapy, which just warms my hippie heart to no end.  They contain safe ingredients suitable for all ages and use a unique blend of proven botanticals and natural sources.  URANG skincare line contains an average of 88% of organic ingredients and 99.89% of natural ingredients. Organic is a specific term in the industry and it was grown without synthetic fertilizers, pesticides, antibiotics, irradiation, genetic engineering and so on. Organic means that the farms involved use systems that will help enhance the soil, biodiversity and other criteria and the organic term must certified as such.  Natural means they are minimally processed ingredients and do not contain any hormones, antibiotics or artificial flavors.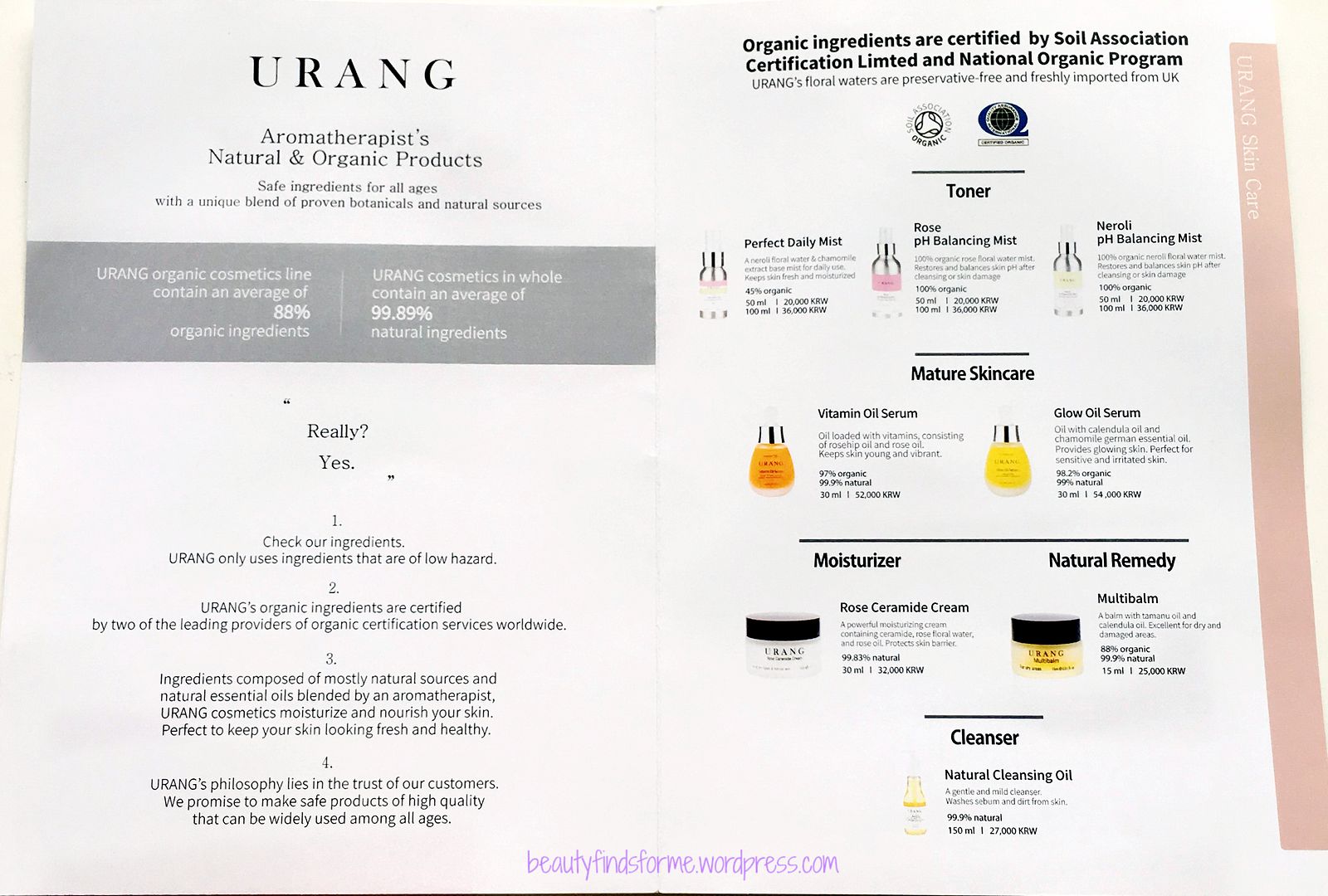 URANG only uses ingredients that are low hazard, according to EWG and their organic ingredients are certified by two of the leading providers of organic services,  the Certified by Soil Association Certification Limited and National Organic Program.  URANG's floral waters are preservative free and imported from the UK.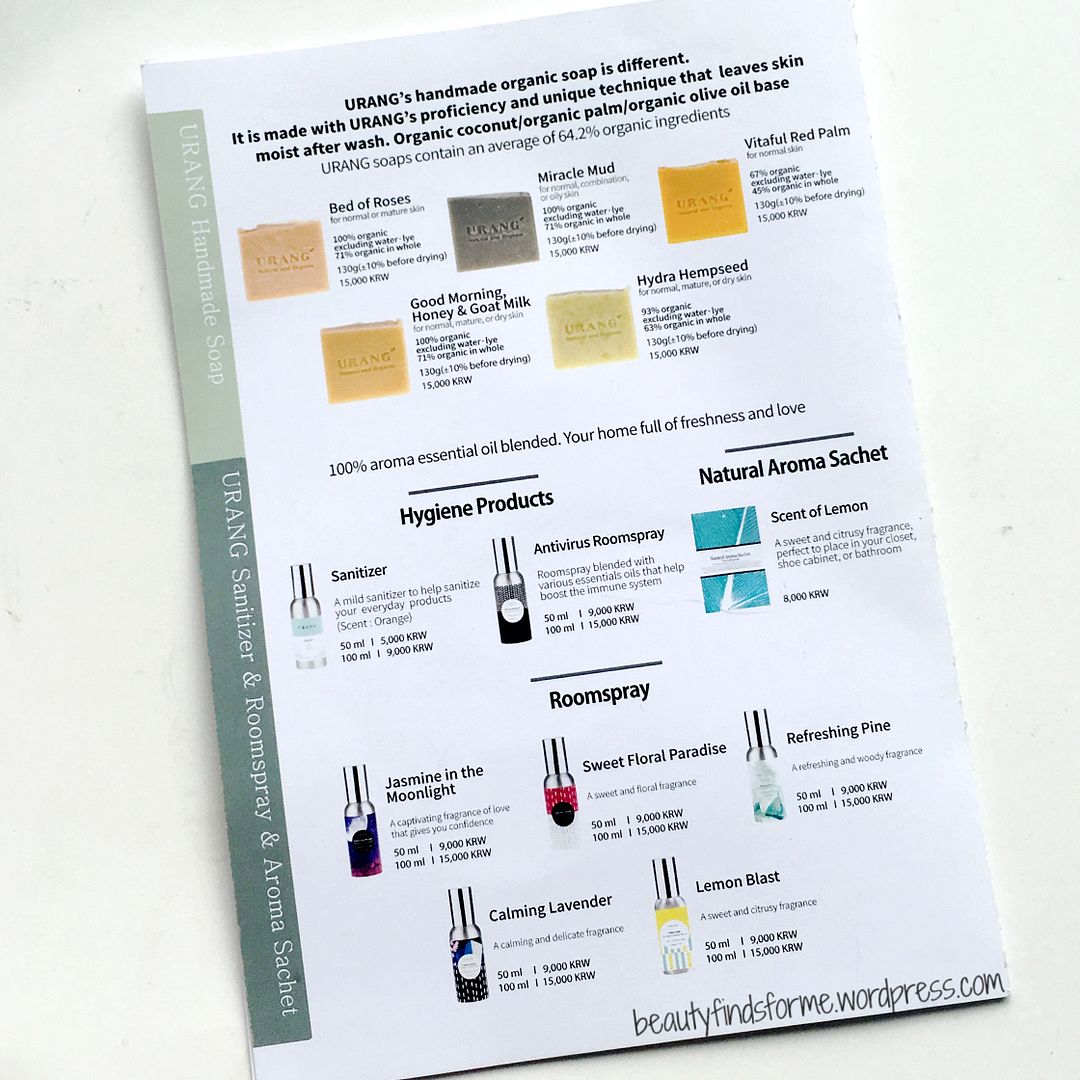 URANG uses natural, high quality ingredients from mostly natural sources and essential oils blended by an aromatherapist, so their skincare products will help moisturize and nourish your skin, keeping it fresh and healthy.  I received the following PR package from them, which included Miracle Mud Soap, Creamy Bubble Foam Cleanser, Natural Cleansing Oil, Intensive Care Glow Oil Serum and Perfect Daily Mist with Neroli and Chamomile.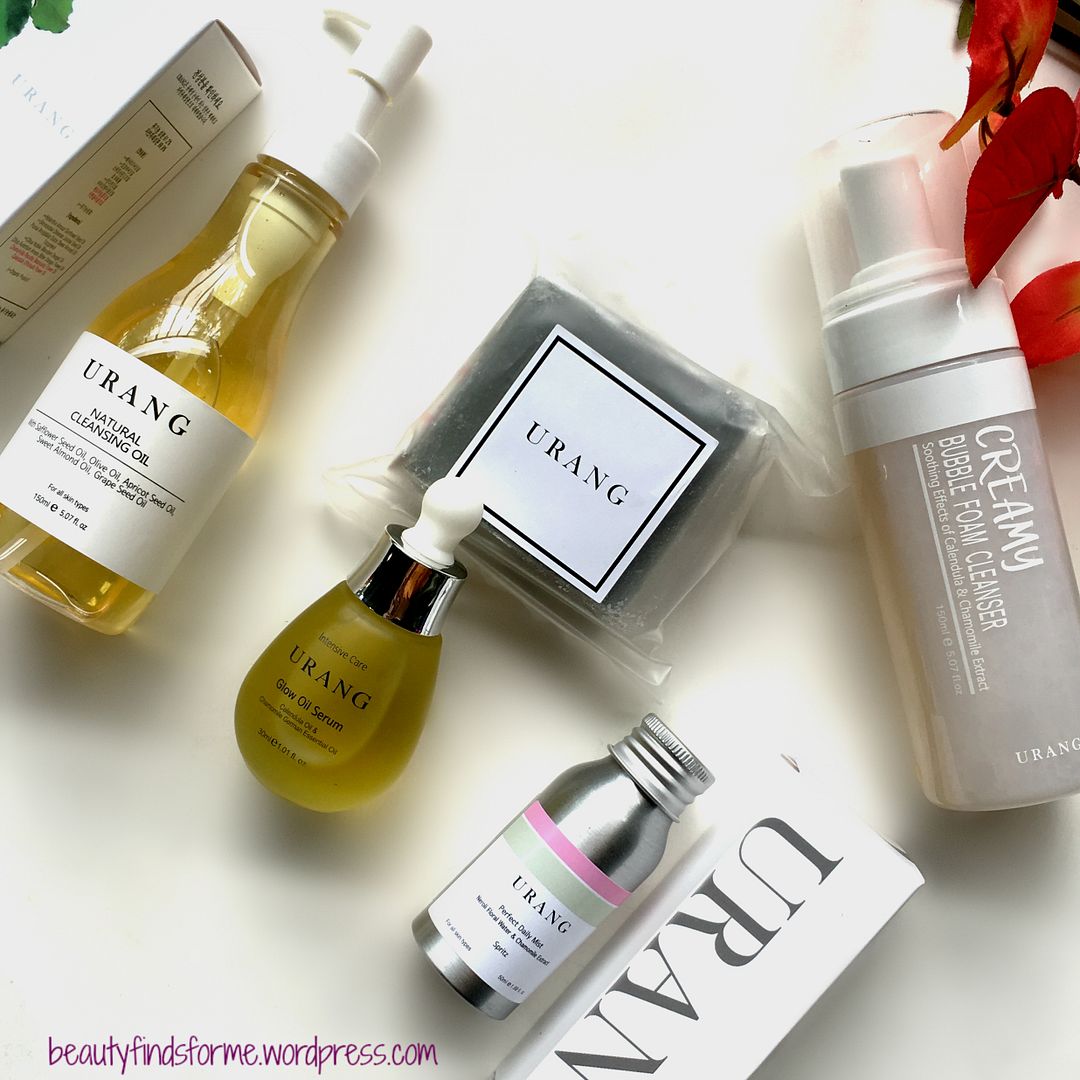 Skin Type/Concerns: Oily, blemish prone, aging, hyper-pigmentation, fine lines/wrinkles
I am focusing on two of the cleansing products in this review ~ which ties into a method called double cleansing.  What is Double Cleansing?  I have spoken of it before and many of my readers know what this is ~ but for those who are new to this term ~ Double Cleansing is a method where you first use an oil cleanser to remove all of your makeup and dirt.   Don't be afraid of oil!  I have oily skin and I use an oil cleanser daily to remove my stubborn and long wearing makeup.   You apply the oil cleanser to your dry face and massage it in gently and it will loosen up and remove surface makeup, dirt, bacteria and debris on your face.  Then rinse off with warm water and prepare to do the 2nd step in double cleansing ~ a foam based cleanser.  Using a foam cleanser ensures that all of the oil residue that could be left on your face is removed and it also deep cleans into your pores and depending on the type of foaming cleanser you use, it can contain ingredients to help exfoliate dead skin cells as well.   The result is a fresh, clean face that is ready for your skin care products. 
Natural Cleansing Oil  This 99.9% natural cleansing oil is like a precious jewel ~ and you might be wondering why I have oranges in the photos.  It is because this smells just like a beautiful freshly cut orange ~ the grapefruit peel oil URANG uses for fragrance must be so sweet, because I do not smell grapefruit, but orange.  It contains a lot of nourishing and moisturizing oils ~ safflower oil is an ancient medicinal remedy and contains oleic and linoleic acids, helping protect and moisture your skin, as well as containing  anti-inflammatory benefits ~ protecting your skin from high level of toxins and bacteria.  Jojoba contains oil in its leaves and seeds. It is both a moisturizing and skin softening, which is an emollient, oil and is used in many skin care products. It helps skin cells attract and keep moisturize and it helps penetrate your skin easily, aiding in your skin's increased flexibility and elasticity.  Sweet almond oil lubricants your skin, leaving a soft, smooth and glowing appearance. It is very mild and your skin will absorb it quickly, protecting your skin from drying out, due to its high content of fatty acids ~ it will also strengthen your skin barrier function as well.  This also contains sunflower, olive and grape seed oil.
Made from 100% plant materials, polyglyceryl-10 caprylate/caprate is an excellent surfactant, polyglyceryl-2 sesquioleate is a glycerol and oleic acid compound that acts as an emulsifier and caprylic/capric triglyceride is made from coconut oil and glycerin and works as an emollient.   This cleansing oil is rated low hazard from the EWG (Enviroment Working Group) and is NOP Certified ~ Organic USDA regulated.
Ingredients: Carthamus Tinctorius (safflower) Seed Oil, Polyglyceryl-2 Sesquioleate, Polyglyceryl-10 Caprylate/Caprate, Polyglyceryl-10 Decaolaeate, Simmondsia Chinensis (jojoba) Seed Oil *, Helianthus Annuus (sunflower) Seed Oil*, Caprylic/Capric Triglyceride, Olea Europaea (olive) Fruit Oil, Prunus Armeniaca (Apricot) Kernel Oil, Prunus Amygdalus Dulcis (sweet almond) Oil, Vitis Vinifera (grape) Seed Oil, Citrus Paradisi (grapefruit) Peel Oil   cosDNA analysis * Organic Product
The oil comes in a nice shapely 150 mL bottle with a pump applicator that doesn't squirt all over the place, but gently deposits the product in my hand. The oil is very thin and almost watery, with that delicious freshly squeezed orange scent ~ I feel like I should be drinking my cleansing oil!!  It does a fairly decent job removing makeup ~ my makeup cleansing tests are pretty brutal.  I use the most stubborn and long lasting makeup items I have, so it might look like the product doesn't cleanse well.  In fact, if a cleansing product only leaves behind a few traces of makeup, I am pretty pleased with the results, as that means my normal daily makeup will be removed fully. 
As you can see, it only had some issues with a few matte lipsticks, but even then, it removed 99% of the makeup on my hand.  My only complaint about this oil is that I want the bottle to come in a larger size!  Maybe 200 or 250 mL!
Creamy Bubble Foam Cleanser  So, whasup with the bread?  Well, once again URANG has provided a scent that invokes the gourmand in me. This cleanser smells like freshly baked bread to me ~ which is strange, because there is nothing in the ingredients list that would trigger this scent.  But it is what it is.  After using an oil cleanser, you want to follow up with either a foaming or cream cleanser, depending on your skin needs.  I normally choose a foaming cleanser, due to my oily skin type.  
This contains lauryl glucoside, which combines an essential fatty acid derived from coconut with glucose.  This is a non-drying, mild cleanser that is gentle and won't strip your skin.  Sodium cocoyl apple amino acids, also known as apple surfactant, is a non-irritating surfactant that won't strip your skin of its natural oils, and glycerin is a humectant, moisturizing and hydrating the skin, leaving your face feeling smooth and soft.  This also has some soothing and healing plant extracts ~ chamomile can calm down the skin and relieve redness effectively as it has antioxidant, antibacterial and anti-inflammatory properties. It helps to relieve skin issues and irritations because it soothes and lessens swelling and redness, while healing skin and stimulating cellular renewal.  Calendula (pot marigold) has one of the longest histories of usage of any herb in skin care. This herb, not to be confused with the flower marigold, helps heal chapped and irritated skin. It stimulates wound and burn healing and it helps reduce dermatitits.  Calendula gets much of its healing properties from its high levels of carotenoids (similar to Vitamin A).
Betaine is superior for its intense moisturization and hydration properties, without the stickiness, and also reduces the appearance of fine lines and wrinkles, while attracting moisture (humectant) and relieving skin irritation. Panthenol helps cellular renewal and is an effective moisturizer. It is derived from plants and this ingredient comes from Vitamin B5. Panthenol is a natural humectant, which retains moisture and hydrates the skin. It also is a good lubricant on the skin, making skin look soft and smooth, while also providing anti-inflammatory benefits.. This also contains Japanese pepper, Korean pasqueflower and lichen ingredients.
Ingredients: Water, Lauryl Glucoside, Sodium Cocoyl Apple Amino Acids, Potassium Cocoate, Glycerin, Chamomilla Recutita(Matricaria) Extract, Calendula Officinalis Extract, Panthenol, Betaine, Zanthoxylum Piperitum Fruit Extract, Pulsatilla Koreana Extract, Usnea Barbata (Lichen) Extract cosDNA analysis
The cleanser comes in a liquid form in the bottle but once you pump it out, it deposits a cloud of silky smooth foam.  It feels just wonderful and I can tell it is highly moisturizing on my skin.  This does have a pH level of around a 7 to 7.5,  but this does not dry or strip my skin of its natural oils at all, nor does it irritate my skin.  
Since this contains 99.9% natural ingredients, it does mean that there is a minimum amount of preservatives in here ~ so I did expect the pH level to be a bit higher.  Why?  To prevent bacteria and other microbes growing in your cleansers, you need to either keep the cleanser just into the alkaline range so they cannot grow OR you have to add more preservatives in your cleanser.  Skincare and skin types are so personal and whereas I, with my naturally oily and healthy skin that is prone to hormonal acne, can use a high pH level without any fear, others cannot.  Those with dry skin, sensitive skin or skin that has been compromised so badly that it is apparent that you shouldn't go near it.  The lovely Sample Hime had a great blog post a year ago that discussed this and the amazing Japanese skincare blogger Ratzilla tweeted out a study (found here) that showed that the skin's pH level was not significantly raised by with cleansers, regardless of the cleansers pH level.
There are times when I love a cleanser that by chance is low pH (Ciracle TeaTree Anti-Blemish) and hate it when it is low pH (cosRX Good Morning).  Same with high pH cleansers ~ some I love ~ Missha Fermentation Cleansing Foam in Citron and others I loathe ~ the reasons were not "high pH ~ curses!", but for other reasons that made the cleanser a loser.  There will be people who have tried everything to help with their skin concerns and they turned to low pH cleansers for help ~ that I will not deny ~ that is what worked for them based on their skin needs.  Everyone's skin care needs are different and I do not subscribe to "high pH is automatically bad".  I also think, like any research, you can find articles that support both sides of the argument with higher pH cleansers and we should be honest about that. That is just my opinion, based on what I have used and works for me, plus my own research into this topic.  Reviews are to help you decide if this is a product that you wish to use or not.  It's all copacetic and I don't profess to be a skincare expert at all.

How did this perform with my cleansing test?  As you can see in the photo above, it removed every bit of stubborn, long lasting makeup on my hand.  And it did it without making my skin feel like I spent a week in the desert without water too!
Final Thoughts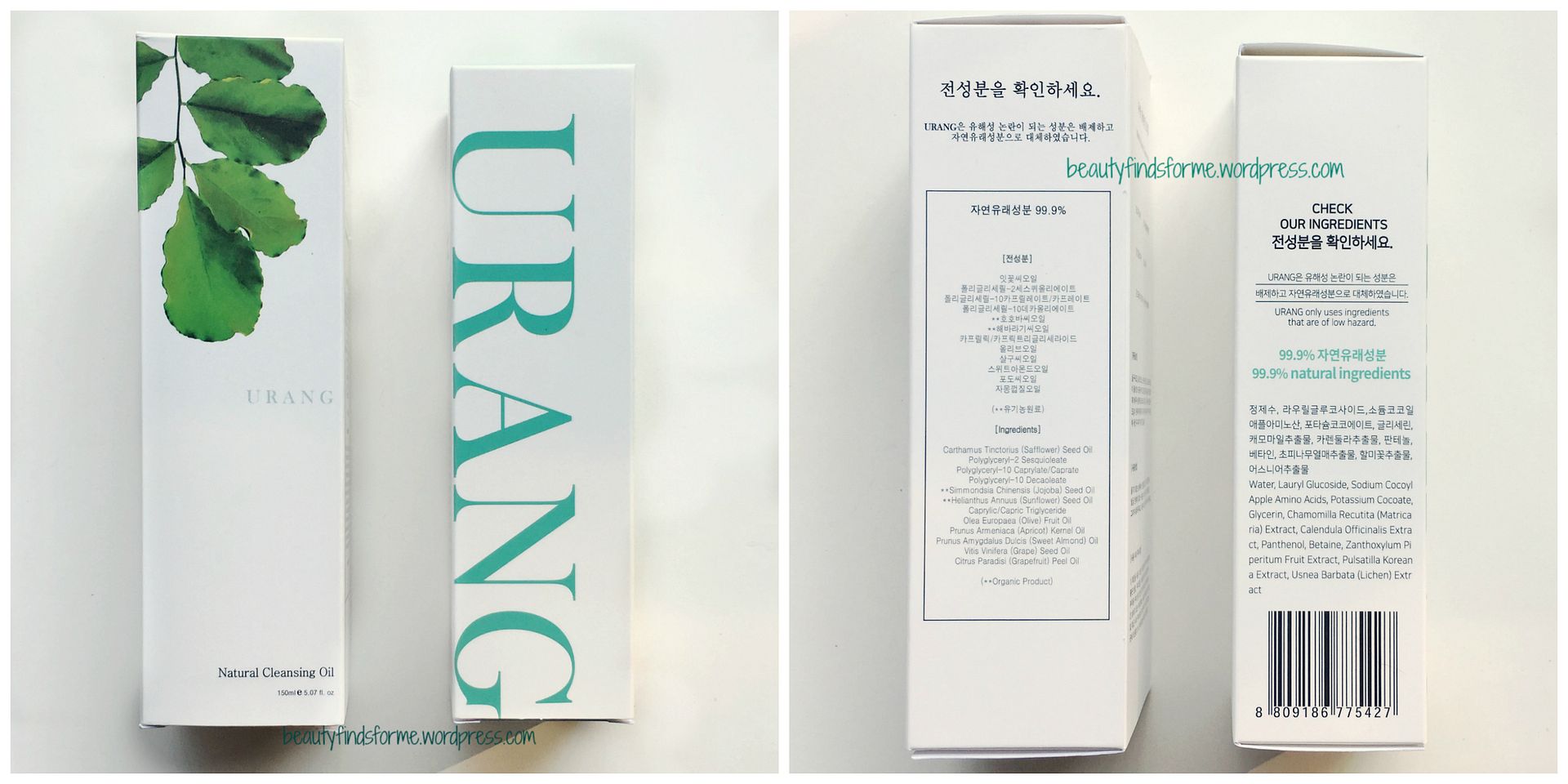 I am pretty much a magpie when it comes to cleansers.  I do have some cleansers that I put on my repeat purchase list and out of these two items, I really love the cleansing oil ~ the scent of it is enough to make me want to get it again once it is gone ~ the fact that it cleanses well is a bonus (shouldn't it be the other way around ~ lol)   I don't have an orange scented cleansing oil!!   The foaming cleanser can also be used as a body wash and a shampoo, according to URANG, so it is a nice multi-purpose cleanser with some fantastic ingredients.  I actually am really happy about this brand, as there aren't a lot of natural and organic brands from Korea that also use aromatherapy.  I hope that is the next big trend to come out of Korea, but I won't hold my breath on that!   My next review will be on the two facial mists ~ the original one I purchased from Daint and the new Perfect Daily Mist.  After that, the Glow Oil Serum and Miracle Mud Soap are on my list for the cooler months.  I am so excited to try out the Glow Oil Serum, as that is packed full of citrus goodies ~ one of my favorite facial oils is from The Face Shop and it is the Jeju Tangerine Dry Oil ~ I love a citrus!  Have you tried anything from URANG yet?  What was it and what did you think of it?

Where To Purchase
Update:  Oh Lolly just started to carry URANG ~ click here ~ and they do have the Natural Cleansing Oil for $32.00.  They offer free USA shipping for orders over $50.00 and have a rewards program where you can earn points and convert to store credit. 
There are some products available on eBay (click here)  by URANG ~ I can find the Natural Cleansing Oil and Creamy Bubble Foam Cleanser as well as a couple of other items.   The Natural Cleansing Oil is under $25.00 USD and the Creamy Bubble Foam Cleanser is under $26.00 USD, with free shipping from Korea.  These prices are about right when you compare them to the prices on URANG's online store. 
If you want to purchase more than what is offered on eBay, I suggest using a shipping service and ordering from their website ~ if you are in Korea, you obviously can order directly from their site, www.urangnatural.com.   I recommend Korean Buddy (click here) ~ I have used them many times in the past and have always been pleased with their service.  All you have to do is send them the links and they will come up with the product total.  You pay them, they get the products, weigh it and then give you the shipping costs.  If you have never used Korean Buddy before, you can save 50% off the handling fee by using my blog as a referral https://beautyfindsforme.wordpress.com  

[ disclosure: products received complementary for review purposes.  contains affiliate and referral links ]