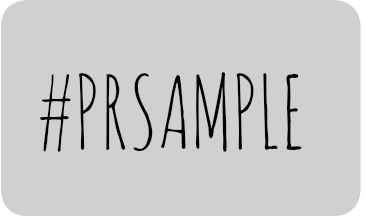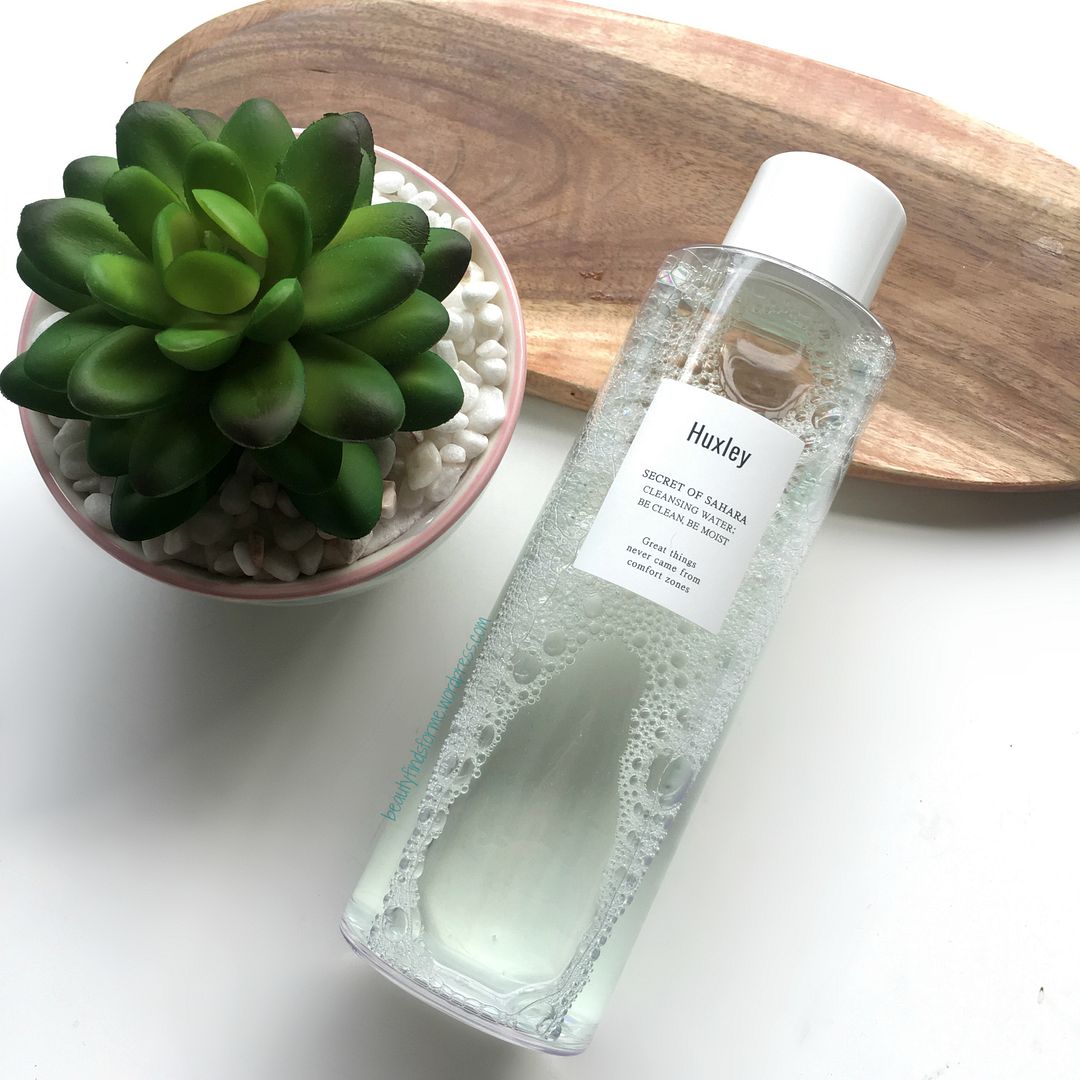 Huxley is a brand that seems to be gathering a cult following and it is very popular.  The pretty bottles, the pale aqua cool tones, the mystique of the "Secret of the Sahara" and the perfumed scent of this brand seem to be crowd pleasers.   I really wanted to give Huxley a try and I have used some samples in the past.  Jolse,  one of my favorite K-Beauty online store, offers me a chance to review products that I find interesting, brand new or cult favorites and I decided to choose a Huxley item and see if the buzz is real.

So, Huxley's big Secret of the Sahara is using prickly pear cactus, which is already a staple ingredient in Innisfree products ~ part of their green complex compound.  You will see several references to Innisfree here, as I do think this is SO similar to a specific product in the Innisfree lineup, their Green Tea Cleansing Water, which I reviewed the other year here.  Opuntia ficus-indica (prickly pear) helps moisturize, soften, soothes and protect your skin against dryness and irritates caused by pollution.  It helps exfoliate and remove dead skin cells, revealing brighter, clearer and smoother skin.  Supposedly, it is an alternative to Botox because it has firming properties, but I doubt a cleansing water is going to firm up your skin; however, prickly pear extracts really help bind water to your skin, keeping it nice and moisturized.  And this water cleanser is very moist! 
It also contains sodium hyaluronate, which is another water-bonding ingredient, keeping your skin hydrated.  Several citrus ingredients are found ~ orange, lemon, grapefruit and lime ~ which contain natural AHA, but since this is so mild, I would say this should not be treated as an AHA treatment.  Centella asiatica, white birch and hazel bud extracts have healing, purifying and the latter have astringent properties as well.
Ingredients:  Opuntia Ficus-Indica (Prickly Pear) Stem Extract, Glycerin, PEG-6 Caprylic/Capric Glycerides, 1,2-Hexanediol, Opuntia Ficus-Indica Seed Oil, Sodium Hyaluronate, Citrus Aurantium Dulcis (Orange) Fruit Extract, Citrus Medica Limonum (Lemon) Fruit Extract, Citrus Paradisi (Grapefruit) Fruit Extract, Citrus Aurantifolia (Lime) Fruit Extract, Centella Asiatica Extract, Betula Alba (White Birch) Bud Extract, Corylus Avellana (Hazel) Bud Extract, Olea Europaea (Olive) Bud Extract, Juglans Regia (Walnut) Leaf Extract, Melia Azadirachta Leaf Extract, Melia Azadirachta Flower Extract, Ethylhexylglycerin, Water, Propanediol, Alcohol, Butylene Glycol, Disodium EDTA, Fragrance   cosDNA analysis
The cleansing water is much less stimulating than other water type cleansing waters with the cactus extract contained instead of purified water. Contains orange and lemon extract rich of AHA ingredient, helping with dead skin cell elimination, tending the skin smooth and clean. The cleansing water with cactus extract base and hyaluronic acid has superb moisturizing effect.

It looks really nice!  I love the pale aqua green shade ~ don't worry, it is colorless when you actually use it.  It has a pin hole applicator ~ mine was a bit temperamental ~ it keep leaking from the sides when I tipped the liquid into my cotton pad.  I am not sure if I got a defective one or if this is how they all are.  Since I used a cotton pad, any leakage just went into the pad anyway.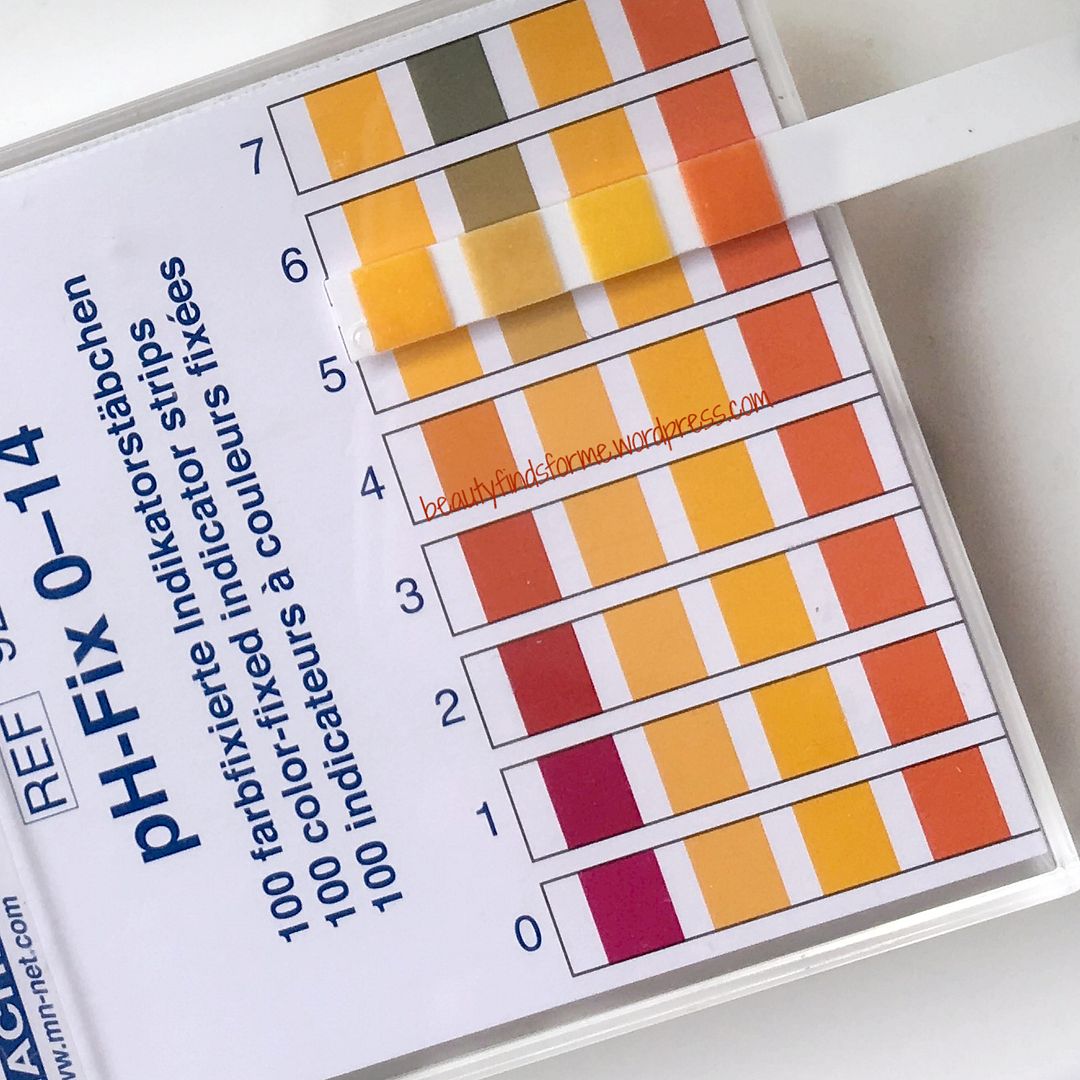 This has a pH level of 5, so it is mildly acidic. Now, let's talk about the Huxley Scent… Now I tried samples of other Huxley products and I knew this was going to be scented, but whoa mama, this WAS SCENTED.  I am not sure if it the cleansing water is just more powerful than the other products or not, but it does have a very strong perfumed scent ~ I happen to love the notes as it smells like freshly cut sweet grass (your lawn, not the other botanical ~ lol), but it is overpowering.  For comparison, Innisfree Green Tea Cleansing Water has a fresh floral-herbal green scent, which does disappear quickly.  I found that the Huxley scent had some more staying power here. 
The texture is watery, but it has a dewy, moist finish on my skin, with an initial tackiness, just like Innisfree's Cleansing Water.  In fact, the finish is just like Innisfree's product, so this cleansing water is ideal for those with dry or compromised skin or in harsh dry weather.   Alas, I have oily skin during the hot, humid summer, so this was really sticky on my skin.  I did find a solution, however.  I kept bottle in my refrigerator ~ it cools it down, which for some reason, my skin seems to absorbs this product better when chilled and there is also a bonus ~ the scent isn't as strong when the water is ice cold.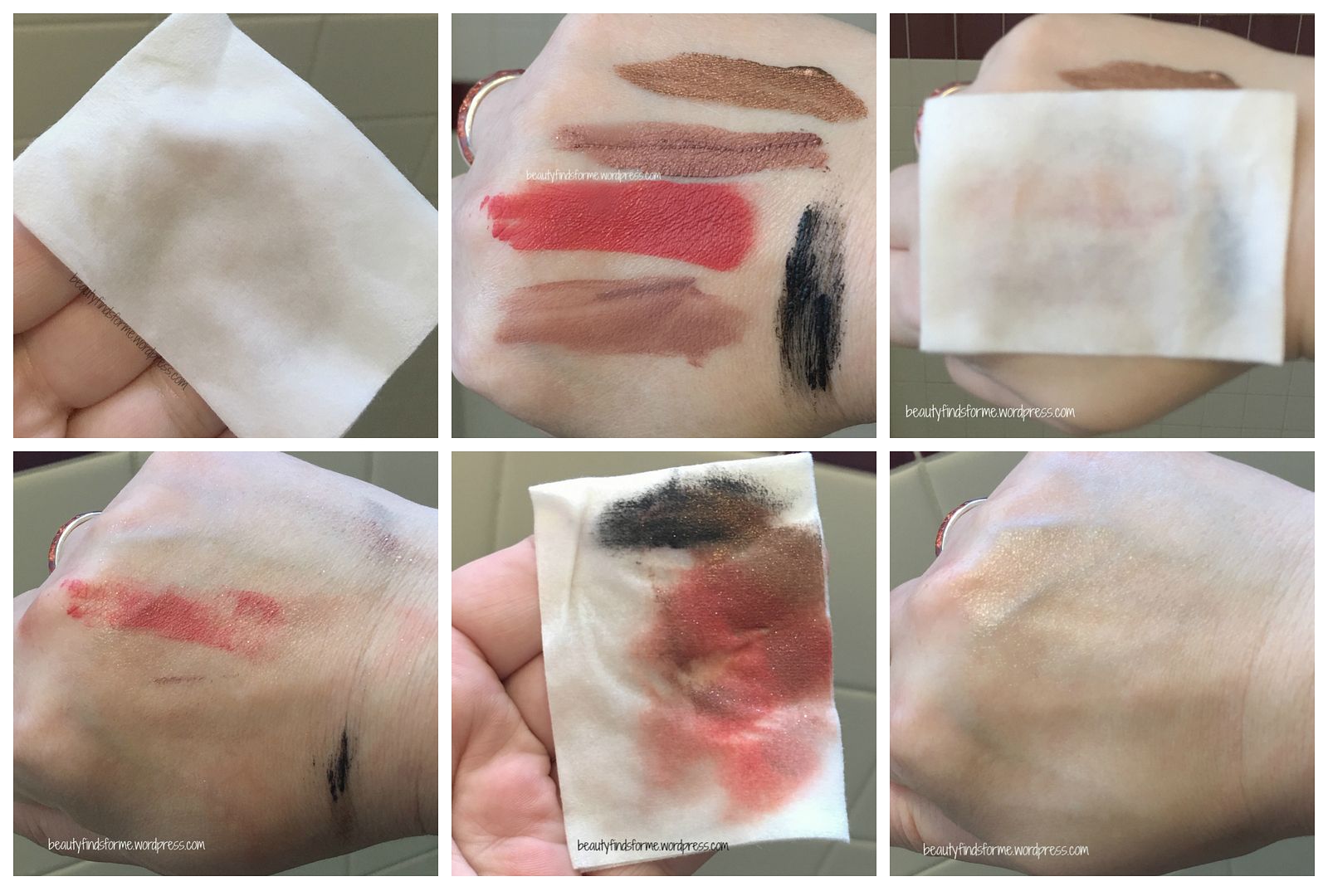 How does this perform?  Very well for a cleansing water!  I soaked a pad and with one swipe, removed most of the makeup on my hand.  I flipped the pad over and then was able to remove the rest of the makeup.  If you do not like the sticky residue, you can then rinse your face with water.  I don't know if you can tell, but on the last photo on the bottom in the above image, if you look at my knuckles, you can see how it is glistening ~ that is this cleansing water!  It is VERY moist.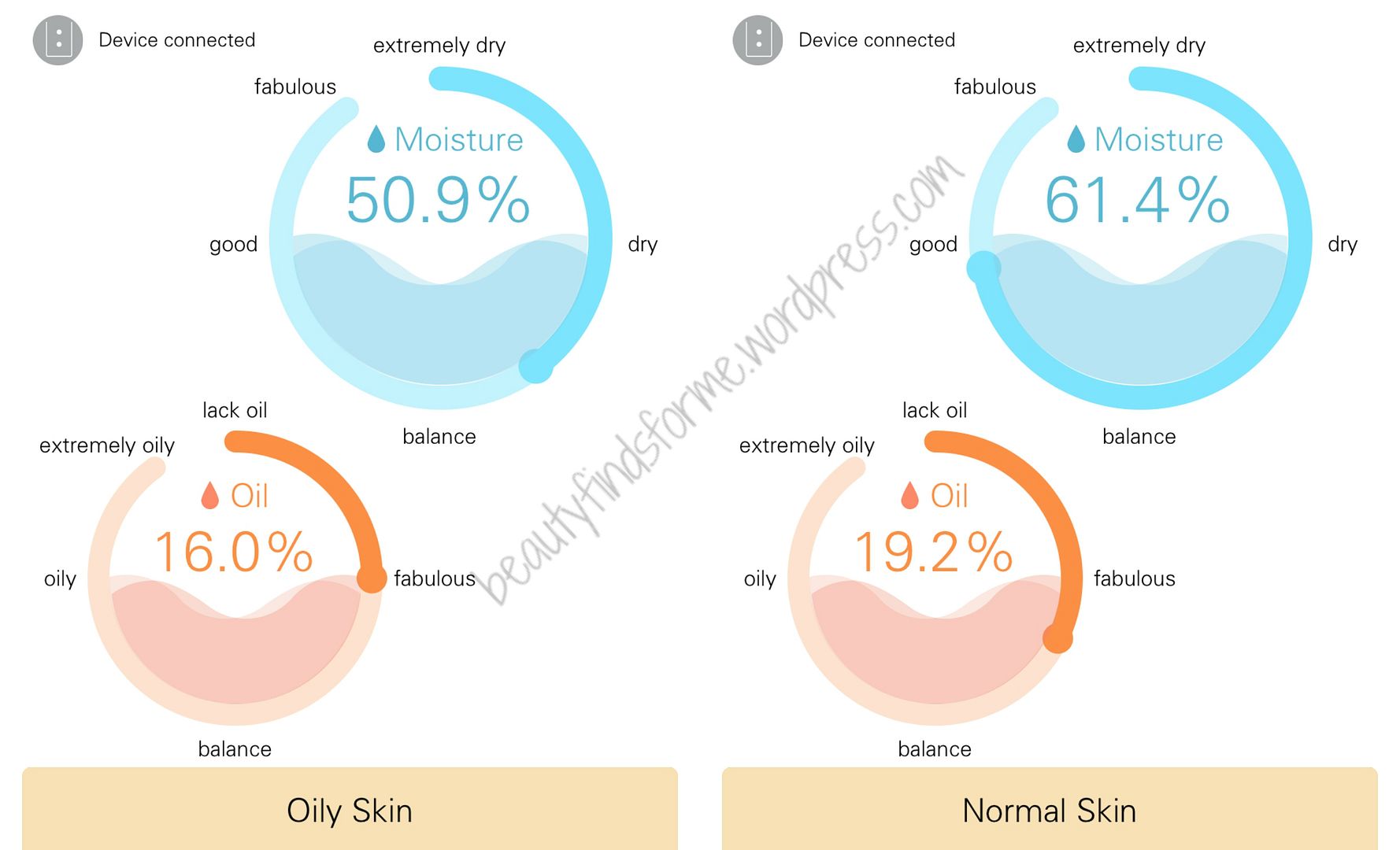 This did increase the water levels on my skin by about 21%, so it is pretty moisturizing ~ I do not rinse off my face after using this, as I only use this at night time and therefore, I am not worry about a sticky finish.  I want the extra hydration. 
Final Thoughts
Hmmm, I think that this product is good for very dry skin or during the cooler months for other skin types, due to the really dewy, sticky moisturizing film that is left behind.  Personally, I think that Innisfree Green Tea Cleansing Water is better than Huxley's Cleansing Water and it provides a dewy, moisturizing layer, plus it cleans very well (review here), it is less expensive and you get more (300 mL).  Innisfree also has a strong scent and their ingredients list, despite different main ingredients, are similar in concept.  I think that I bought into the hype of this brand ~ and yes, I did purchase the Water Grab Essence ~ something I purchased before trying the Cleansing Water.  Unless you REALLY love this scent, which is quite strong, I recommend getting the Innisfree Green Tea Cleansing Water, made with 85% green tea water, if you want an intensive moisturizing cleansing water.  Neither of these are good for those who are sensitive to scents and I think I would have liked the Huxley's Cleansing Water a bit better if they had toned down their perfumed scent.  I mean, I love the scent, but not on my face!  I would love to have this scent as a perfume, and I am seriously considering making my cleansing water into a body mist spray ~ I would have to cut it more with witch hazel so it isn't so sticky.  I think that will be my project next week ~ I have a spray bottle and witch hazel! Have you tried any products from Huxley?  How did they work for you?

Where to Purchase

You can purchase this 200 mL bottle of Huxley's Secret of the Sahara Cleansing Water at Jolse  (click here) for under $24.00 USD. However, you can purchase the 300 mL bottle of Innisfree's Greeen Tea Cleaning Water also at Jolse (click here)  for under $15.00 and it has the same benefits, moist and dewy (sticky) finish and a strong scent!  Jolse offers free International shipping for orders $40.00 or more  ~ plus they give lots of free samples with each purchase!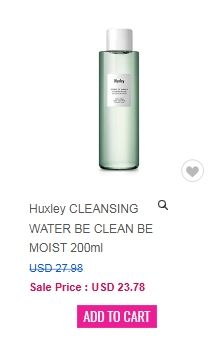 [  product provided for review purposes ]