I received a lovely press sample package from a new up-and-coming brand, Natural Pacific.  I first noticed this brand with their "damn" serum, which is the Fresh Herb Origin Serum.  I was so honored that they felt I could introduce these products on Instagram and here at my blog.   The following are initial impressions and were originally posted on my Instagram account, but I really wanted to give you more information about the product here and where to purchase.
Search for Beauty in Nature
Healthy Ingredients make for Strong Skin
Natural Pacific was established back in 2016 and they pride themselves on using natural ingredients to create products that will bring back health and purity to your skin.  Natural Pacific is aiming to produce naturalistic goods for healthy skin using valuable ingredients from pure nature on the basis of scientific proof.  They have won several awards in South Korea, including customer brand trust, small and medium distribution star and Korean brand preference.  They have a whole range of skincare products with cleansers, toners, serums and creams, using ingredients like green tea, calendula, aloe vera, tea tree, chamomile, centella and other herbs and flowers.
Skin Type/Concerns: Oily, blemish, aging with fine lines/wrinkles and hyper-pigmentation
Fresh Herb Origin Serum  This serum is supposed to help strengthen your skin, improve your skin's health and minimizes pores, by enhancing dermal elasticity and combating free radicals. It is an anti-wrinkle, pore controlling, brightening, smoothing, skin balancing and acne healing serum made with 90% natural ingredients. This product reminds me of Manyo Factory Active Refresh Herb Treatment Oil ~ not so much with the ingredients, but more of what the product is supposed to do as well the mix of oily/acne skin friendly oils and herbal botanical ingredients. This is called the "stinging serum" or "damn serum" as supposedly if you have compromised skin, such as an open blemish or damaged skin, it stings initially. I guess this is due to the Gamma Aminobutyric Acid, which causes the stingy reaction on your skin. This serum has natural plant based preservatives too ~ Japanese pepper, Korean pasque rlower and usnea ~  all which will help to minimize irritation on your skin.
The oil and water ingredients are separated in the bottle and you need to shake the glass bottle to mix  and there is a long glass eye dropper applicator that picks up this very watery orange-golden serum.  It smells wonderful with its warm citrus scent, due to the lemon and orange oil extracts in here.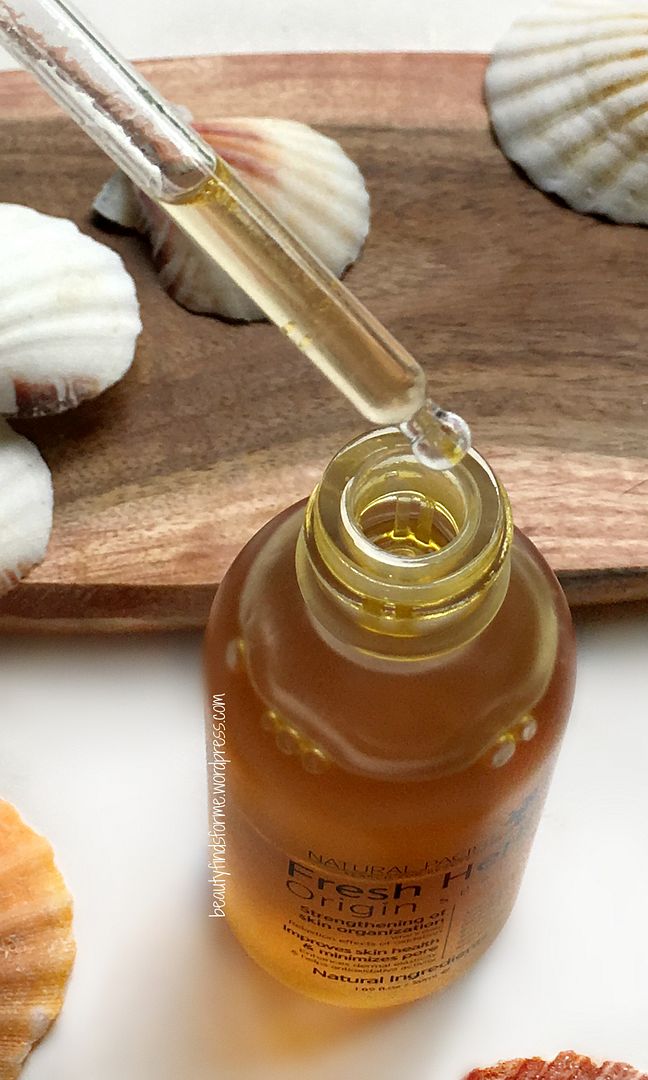 The first ingredient is aloe leaf water and aloe soothes and heals sun burns, tones skin, shrinks pores, and is a rich source of silicon to help the skin regenerate.  It also contains some nice oils ~ sunflower, palm, jojoba, sea buckthorne and argan oils, which are rich in vitamins C and E. However, this isn't that oily after I shake up the bottle. It is very watery and fine and unless I add too much to my skin, my skin absorbs it nicely with out any greasiness. It leaves behind a nice glow and my skin feels soft, smooth and moisturized.
I like using this at night time and I hope it will help reduce my blemishes and heal my skin quickly. Some quick stats ~ pH level is around a 5, so it is mildly acidic.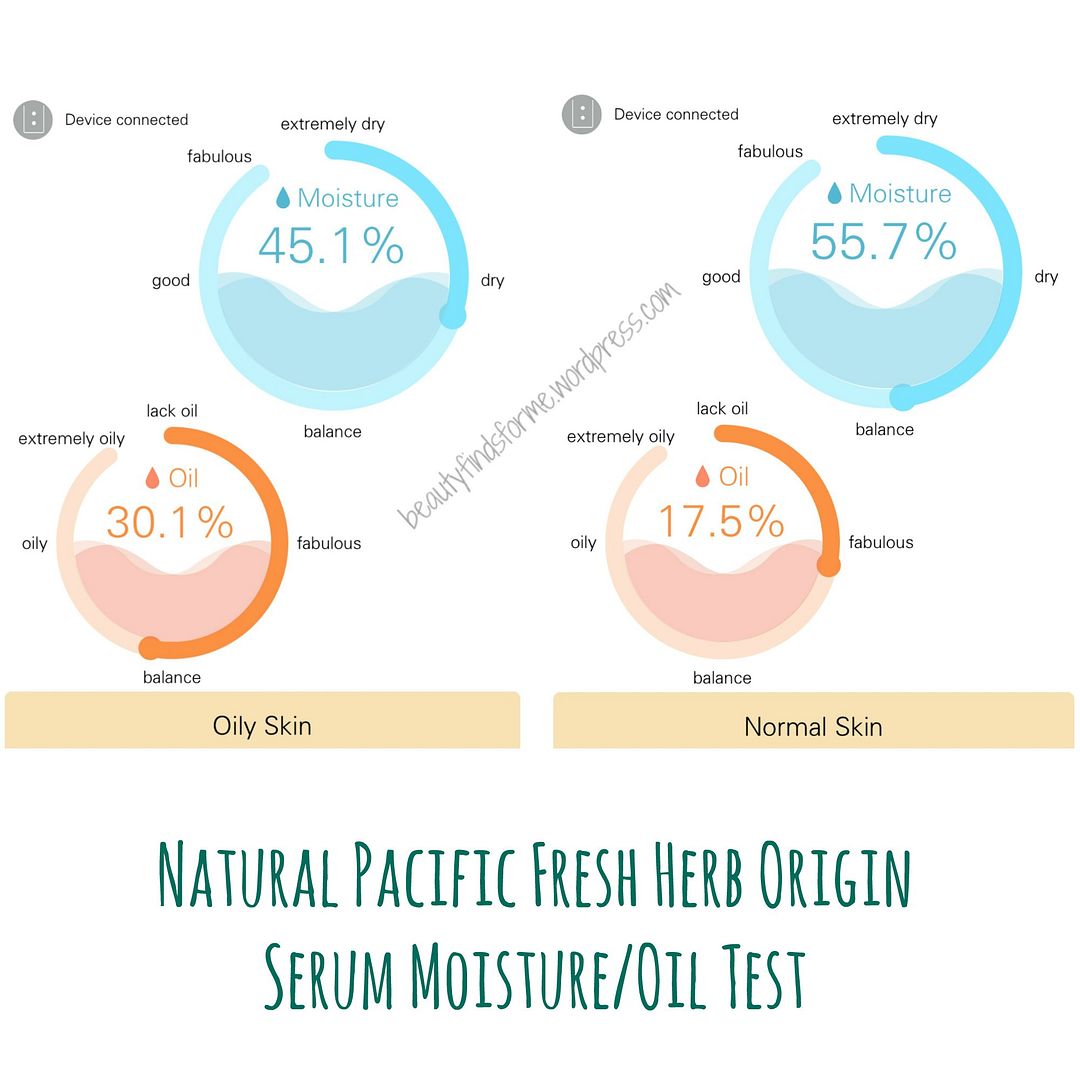 My moisture/oil test ~ increased moisture by 24% and decreased oil by 42%, and that was a test that I did 6 minutes apart, so the moisture is lasting!
Description: This beauty must-have is famously known as Jun Ji-Hyun's serum after it was revealed to be her go to skincare product. It is now fondly called the "damn serum" due to the tingling sensation it creates when applied onto damaged, oxidized skin – the greater the damage, the more it tingles. Over time, this diminishes as your skin heals. This anti-oxidant enriched serum enhances elasticity, prevents premature wrinkling, balances oil and moisture and tones. It also helps relax the skin by using Aloe Vera in place of purified water and vegetable components instead of synthetic preservatives. Recommended for those with the following concerns:
Ingredients: Aloe Barbadensis Leaf Water, Aspalathus Linearis Extract, Glycerin, Helianthus Annuus (Sunflower) Seed Oil, Hydrogenated Palm Oil, Simmondsia Chinensis (Jojoba) Seed Oil, Punica Granatum Fruit Extract, Ficus Carica (Fig) Fruit Extract, Morus Alba Fruit Extract, Ginkgo Biloba Nut Extract, Hippophae Rhamnoides Oil, Argania Spinosa Kernel Oil, Camellia Sinensis Leaf Extract, Vitis Vinifera (Grape) Fruit Extract, Citrus Aurantium Dulcis (Orange) Fruit Extract, Pyrus Malus (Apple) Fruit Extract, Citrus Limon (Lemon) Fruit Extract, Citrus Aurantifolia (Lime) Fruit Extract, Citric Acid, Aminobutyric Acid, Zanthoxylum Piperitum Fruit Extract, Pulsatilla Koreana Extract, Usnea Barbata (Lichen) Extract, Sodium Chloride, Tocopheryl Acetate, Adenosine  cosDNA analysis

Fresh Herb Calendula Tincture Toner (Toner Wash)  This Calendula Tincture Toner can double up as a toner wash and is made up of 90% of calendula, both in flower water and extracts.  Calendula (aka pot marigold) has one of the longest histories of usage of any herb in skin care. This is herb helps heal chapped and irritated skin. It stimulates wound and burn healing and it helps reduce dermatitits. Calendula gets much of its healing properties from its high levels of carotenoids, which are similar to Vitamin A, and it is also very moisturizing.  This is a tincture, which is different from a regular toner ~ A tincture contains concentrated medicinal herbs and flowers that have been steeped in alcohol for 4 to 6 weeks and will enhance the botanical benefits to your skin. This toner also contains papaya enzymes (papaya proteinase), which is an anti-inflammatory and anti-bacterial ingredient.  These enzymes will exfoliate your skin without irritation by gently loosening dead skin cells and removing them from your skin.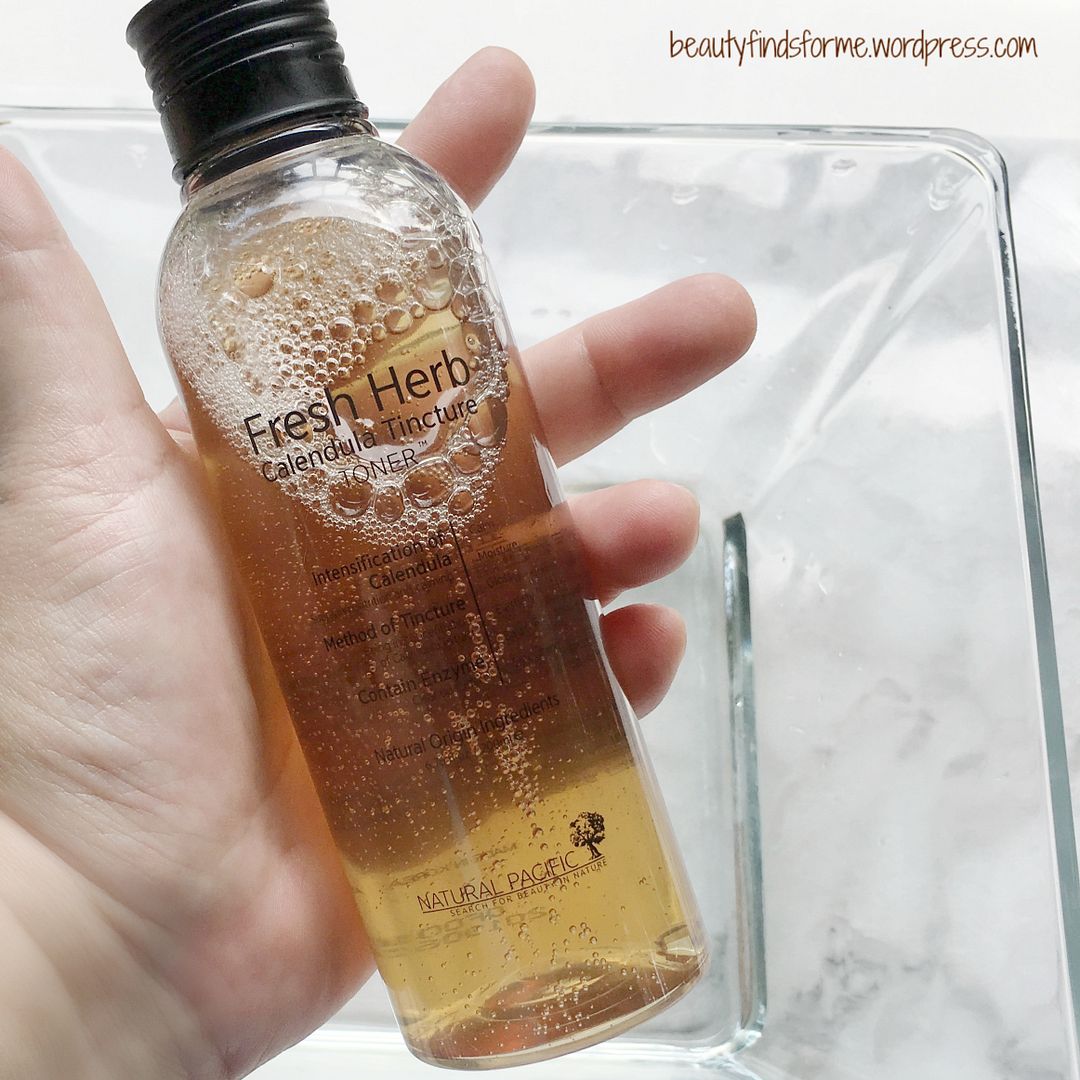 I normally like to use this as a traditional toner, where I would either use a cotton pad to apply or pat into my skin. If I pat this directly onto my skin, I do notice that it is more moisturizing than if I swipe a pad over my face. The toner has a thicker consistency than most, but it is still watery ~ it looks really nice in the bottle, as it has almost gelatinous bubbles in the amber colored liquid. This has a nice light and warm herbal citrus scent to it, which is probably not the calendula ~ as calendula is not really that pleasant smelling ~ but more from the bergamot oil.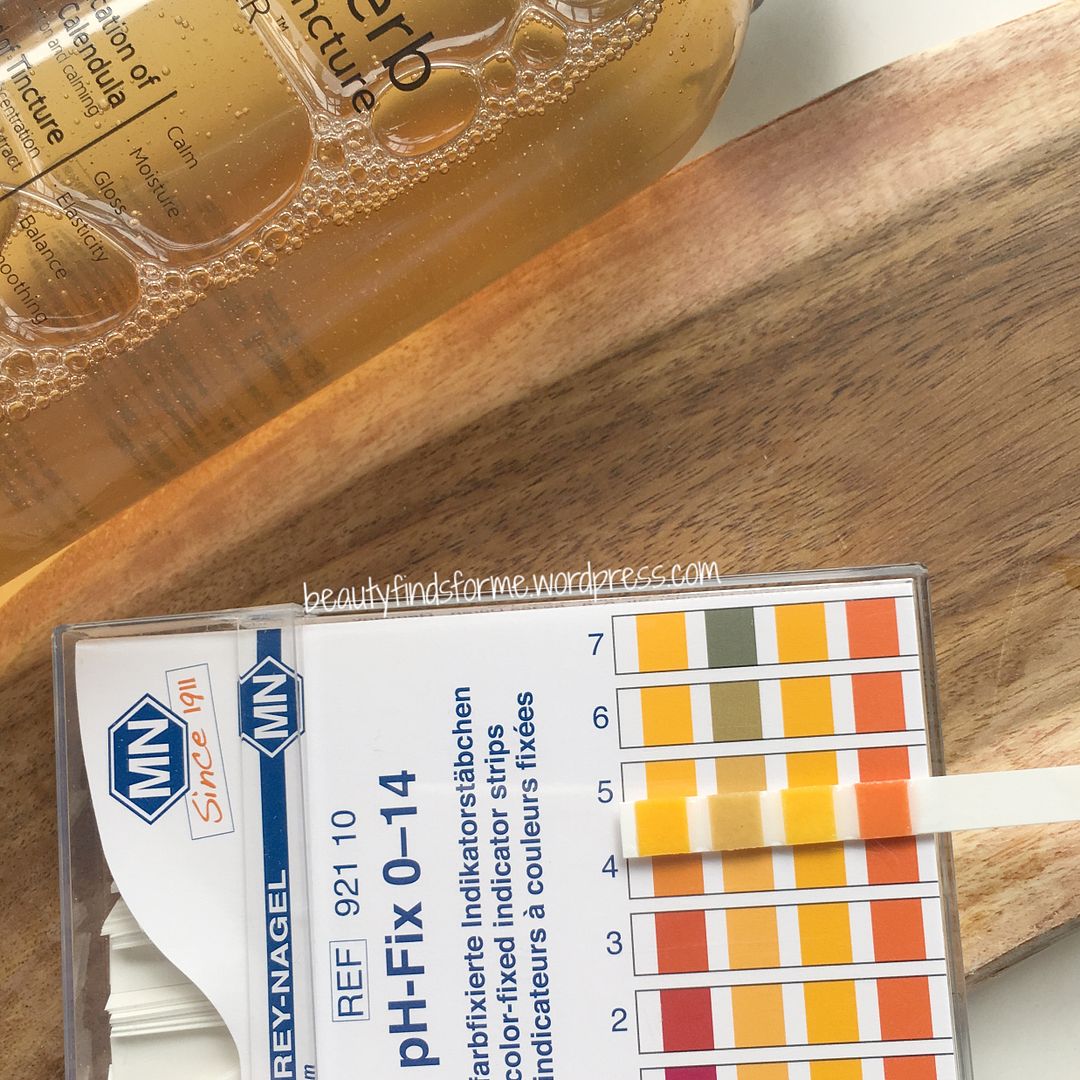 This has a pH level of around 5, so it is mildly acidic and it increased the moisture by 32% and reduced my oil levels by 38%.
The other way to use this toner is as a wash. I do this on the weekends, as I have more time to commit to it ~ You first wash and dry your face. Then add 2 cupfuls of the toner to 2 cups of cool water and then splash this toner wash all over your face. You don't need to rinse it off, just pat dry or let air dry and there is no sticky residue at all. This feels SO refreshing and calming, while hydrating my skin. I actually do apply it on my neck, front and back and arms as well ~ as it has cooling properties on my skin. This wash would be fantastic to help soothe and cool down sun-burned skin and skin that has bug bites and rashes. I am going to create a mixture of the toner and water and put in a spray bottle for a custom mist during the day. I want to continue to use this for a longer period of time, but my initial impressions of this toner is very positive! So far, I am loving the products from Natural Pacific!

Description: Wipe away impurities and dull skin! This calendula extract toner is made by tincture to enhance its benefits to your skin all the while maintaining a high concentration of beneficial components and safety. As flower water and calendula extract comprises 90% of the toner, it has a potent moisturizing effect. It is perfect for all skin types including for those with sensitive skin. It is helpful in the suppression, moisturizing and nutrition of skin.  Papaya enzyme and malt extract removes unnecessary dead skin cells and other wastes to leave your skin smooth and youthful
Ingredients: Calendula Officinalis Flower Water, Butylene Glycol, Glycerin, Betaine, 1,2-hexanediol, Calendula Officinalis Flower Extract, Calendula Officinalis Extract, Hedera Helix (Ivy) Leaf/Stem Extract, Hedera Helix (Ivy) Extract, Arctium Lappa Root Extract, Althaea Officinalis Root Extract, Malt Extract, Opuntia Ficus-Indica Extract, Centella Asiatica Extract, Paeonia Albiflora Flower Extract, Convallaria Majalis Bulb/Root Extract, Magnolia Liliflora Flower Extract, Lilium Candidum Flower Extract, Ipomoea Purpurea Extract, Portulaca Oleracea Extract, Lactococcus/Leuconostoc//Lactobacillus/Zygosaccharomyces/Milk Ferment, Citrus Aurantium Bergamia (Bergamot) Peel Oil, Maltodextrin, Benzophenone-5, Sodium Metabisulfite, Arginine, Alcohol, Xanthan Gum, Water, Tocopheryl Acetate, Protease, PEG-60 Hydrogenated Castor Oil, Hydrolyzed Collagen, Allantoin, Disodium EDTA  cosDNA analysis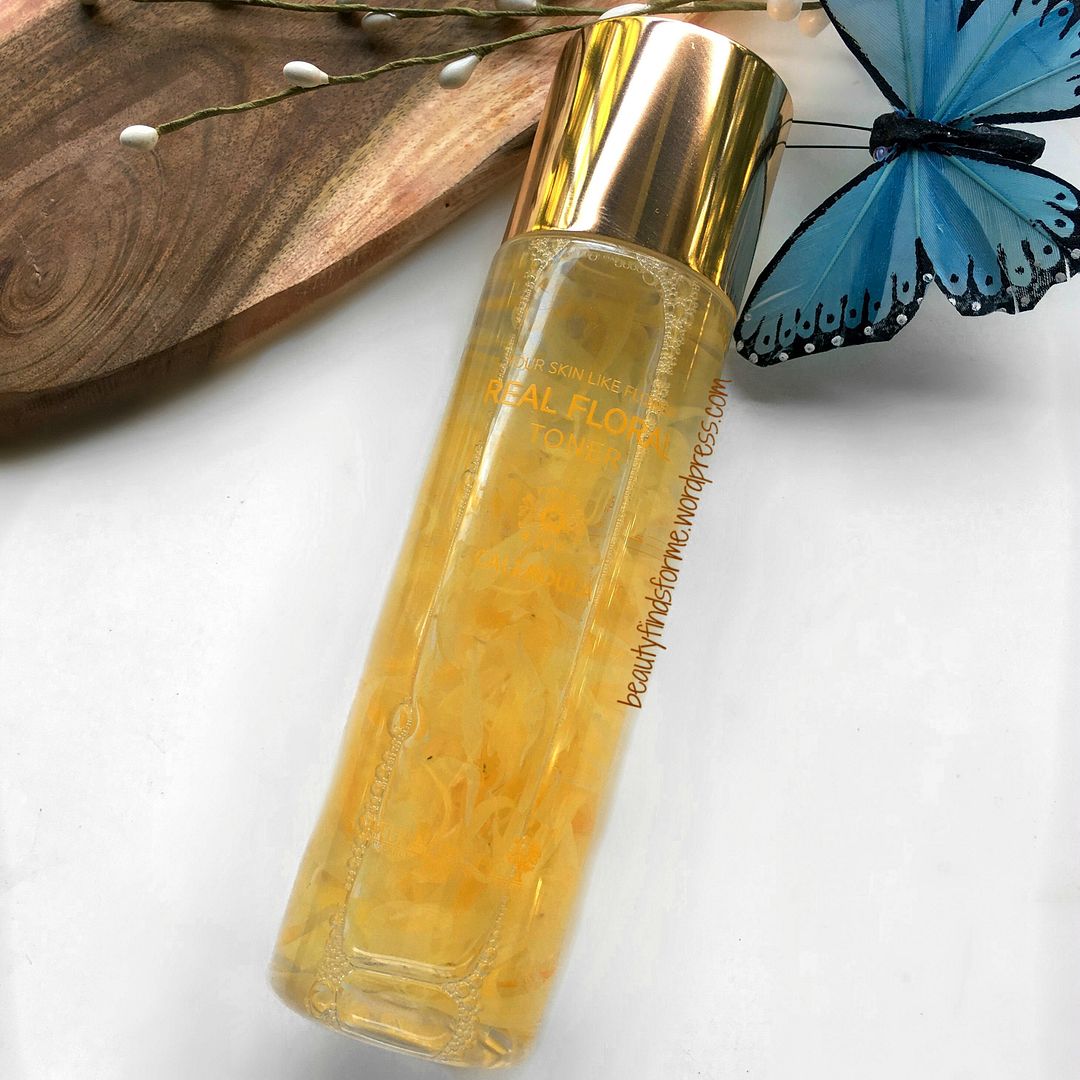 Real Calendula Energy Toner  Unlike the very moisturizing Fresh Herb Calendula Tincture Toner that I talked about last week, this is more of a blemish control toner. I have been using this product for a couple of weeks now, and I think that I can safely say this is another winner from Natural Pacific! This contains 91% of calendula 🌼flower water,  which helps heal chapped and irritated skin. This also contains beta glucan, which stimulates the production of collagen, speeds up wound healing, soothes and calms skin due to its anti-irritant and strong anti-inflammatory properties, moisturizes, locks in natural moisture, anti-aging and anti-wrinkle due to its anti-oxidant properties and also helps repair your moisture barrier.  Sodium hyaluronate is also found here and this intensive moisturizing ingredient helps bonds water to keep skin hydrated. It is a natural substance found in the human body and it made up of amino and uronic acids, and helps retain 100 to 1,000 times its own water weight in our skin cells.

This also contains some ingredients that are for those who suffer from oily and/or blemish prone skin ~ tea tree, lavender, rosemary, peppermint, lemongrass and chamomile help soothe, repair, heal and provide antiseptic and antibacterial relief to your skin.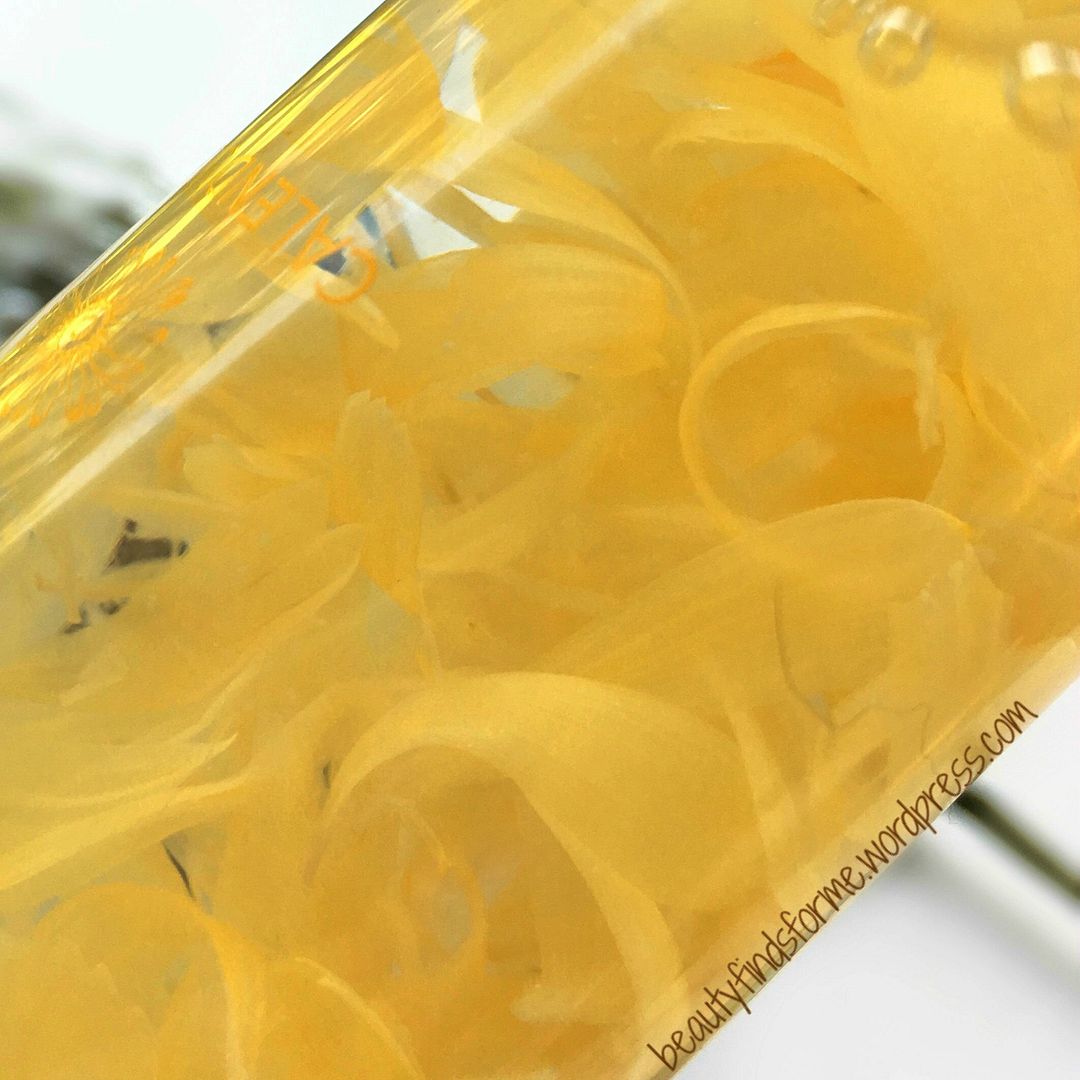 I think this is more of a gentle AC Control toner, due to its ingredients and while it does provide a bit of hydration, it seems to be tailored more for healing acne and other skin issues. It doesn't control oil, but it does normalize and bring balance to my skin, as my moisture oil level tests show that it increased my moisture and oil levels by 16%, balancing my skin. 
I have noticed that my skin really likes this toner a lot, and it does act like an astringent around my pores. I also tested this with my pH meter, coming out to 4.8. When I used a strip, it looked to be around a 5, so I believe this is mildly acidic.

This is a very light, watery toner and it doesn't have much of a scent, but it is impressive, as it is full of calendula petals! It is quite mesmerizing to watch and I think, along with its bright gold cap and gold lettering, it is very classy and unusual looking. I really like this toner a lot ~ it keeps my skin refreshed and clean, while providing healing, soothing properties to my skin. Have you tried this toner yet? What did you think of it?
Description: Calendula Flower Water 91% ~ "Floating" Mild Petals. No hazardous ingredients. Minimize skin irritation. Fresh cleansing. Cleanse makeup residue. Cleanse residue in the pores
Ingredients: Calendula officinalis flower water(91%), Butylene Glycol, 1,2-Hexanediol, Beta-Glucan, Sodium Hyaluronate, Calendula Officinalis Flower, Calendula Officinalis Flower Extract, Melaleuca Alternifolia (Tea Tree) Extract, Rosmarinus Officinalis Extract, Mentha Piperita (Peppermint) Leaf Extract, Cymbopogon Schoenanthus Extract, Lavandula Angustifolia (Lavender) Flower Extract, Chamomilla Recutita (Matricaria) Flower Extract, Chrysanthellum Indicum Extract, Allantoin, Dipotassium Glycyrrhizate, Disodium EDTA cosDNA analysis

Phyto Niacin Whitening Essence  This is my last item that I received for review purposes from Natural Pacific. The claims behind this essence is that it is a whitening, moisture, shining, brightening, no-blemish and balancing skincare product. I always have issues with items that claim to whitening my skin, as I have yet to find a product that actually does lighten my sun and blemish damaged skin. I have found products that brighten and make my skin tone look more even, but never actually physically lighten my hyper-pigmentation. This product is no exception ~ it doesn't lightening/whiten my hyper-pigmentation, despite having 5% niacinamide as the 4th ingredient ~ a powerful antioxidant that acts as an anti-inflammatory, improves your skin elasticity, enhance the skin barrier function and also it helps to even out skin tone and reduce post-inflammatory hyper-pigmentation; 🍋Citric acid (AHA) will gently exfoliate and promote cellular turnover, so it will help brighten and smooth your skin and 3-O-Ethyl Ascorbic Acid ~ a vitamin C 🍊derivative that is an antioxidant essential for tissue growth, repair and collagen production. 
However, this waterless essence's first ingredient is 🎋bamboo extract and what it excels at is hydration. Bamboo contains over 70% of silica, which is a crucial item when it comes to your skin's connective tissue, collagen. By stimulating certain cells, silica helps strengthen your collagen and elastin, which in turn will help firm and tone your skin and plump up your skin, so fine lines and wrinkles are not as noticeable. Bamboo also is a very soothing ingredient that is good for sensitive skin, as it is an anti-irritant, retains moisture and helps combat free radicals as it does contain anti-oxidant proprieties as well. This also has two hydrating humectants 💦with glycerin and sodium hyaluronate, which will attract and retain moisture in your skin.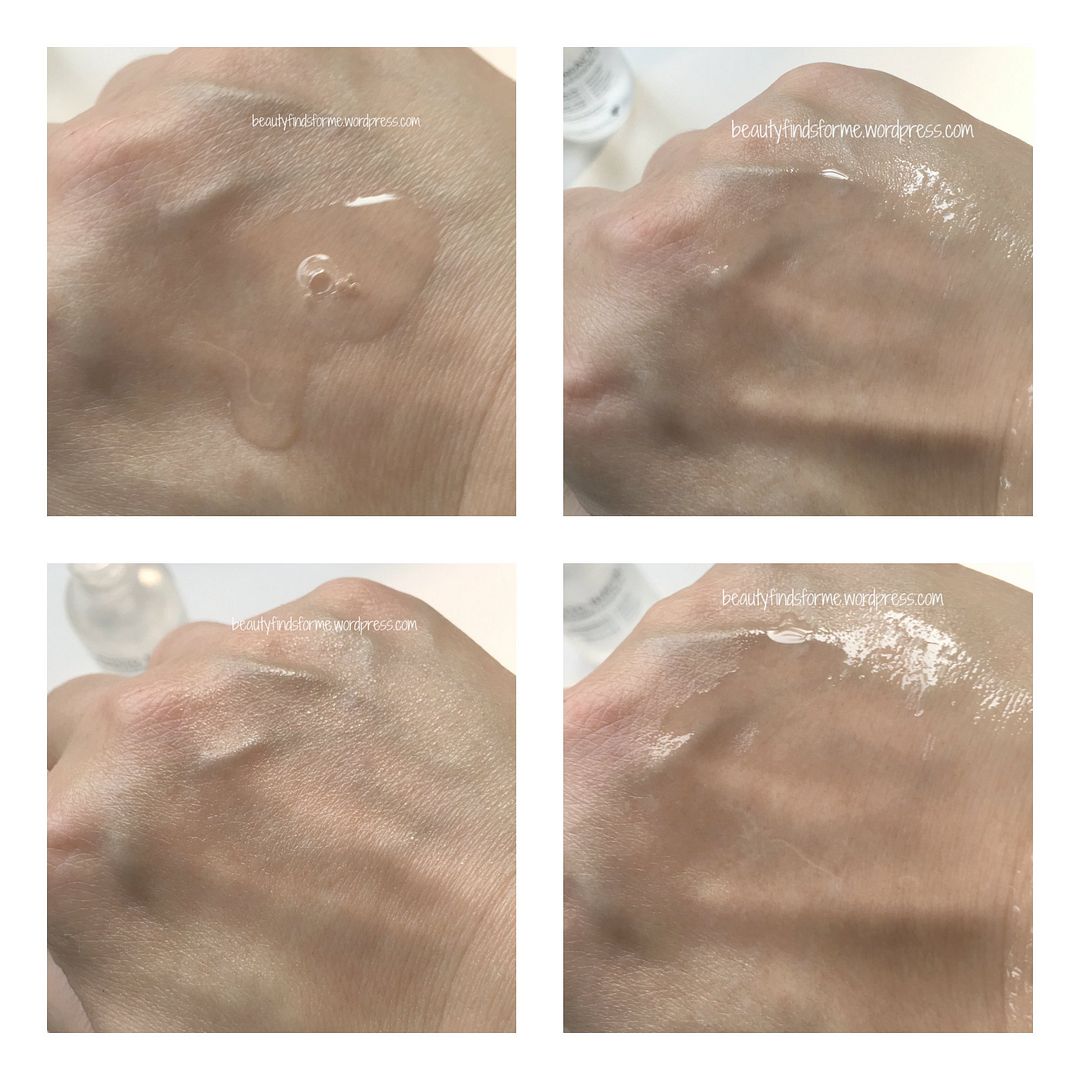 This clear essence has a slightly thicker than water texture with no scent that I can detect. I only need a dropper full to apply to my face, as a little goes a long way ~ this essence is very moisturizing and if I use too much of it, it will leave a tacky and sticky residue on my oily skin. Drier skin types than myself might not find that to be the case, but to be on the safe side, I use this at night time, as I don't care if my face is a bit sticky.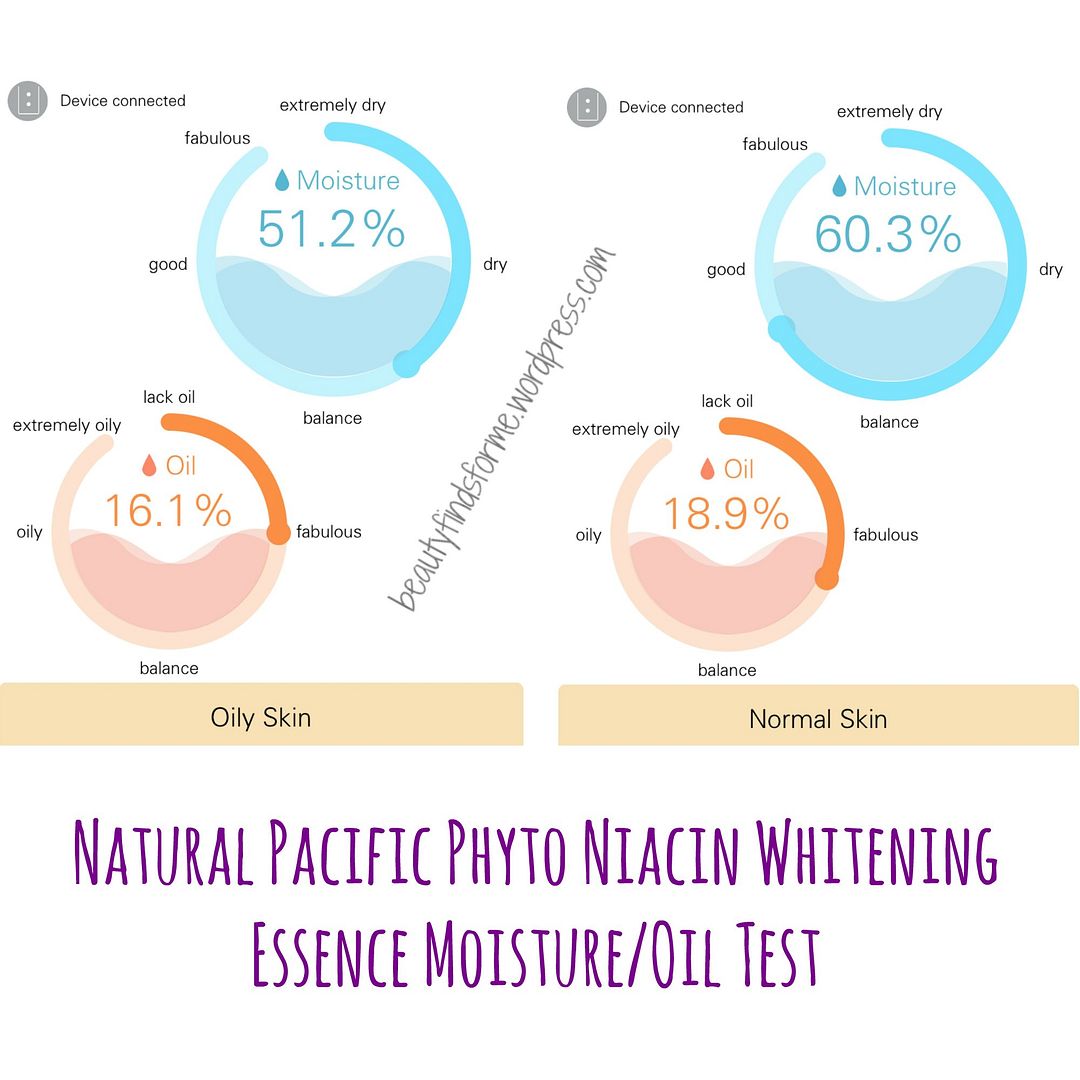 This increases my moisture/oil level about 17 to 18%, while balancing my skin. I was very surprised when I did the moisture level test, as I feel that this essence is more hydrating than the readings ~ my skin is very supple and soft after I use this, along with a glossy glowiness (another reason why I use it at nighttime!)  I did not experience any unusual blemish breakouts when using this, so in the end, the claims of moisture, shining, no-blemish and balancing rang true for me. Whitening and brightening? No. Maybe my skin is just too darn old and tough for these over-the-counter lightening remedies! 
Ingredients: Bambusa Vulgaris Extract, Butylene Glycol, Glycerin, Niacinamide (5%), 1,2-Hexanediol, Sodium Hyaluronate, Nelumbo Nucifera Flower Extract, Citrus Limon (Lemon) Fruit Extract, Morus Alba Bark Extract, 3-O-Ethyl Ascorbic Acid, Rosa Canina Fruit Extract, Leontopodium Alpinum Extract, Citric Acid, Sodium Benzoate, Potassium Sorbate, Arnica Montana Flower Extract, Achillea Millefolium Extract, Gentiana Lutea Root Extract, Artemisia Absinthium Extract, Alcohol, Acrylates/C10-30 Alkyl Acrylate Crosspolymer, Disodium EDTA, Potassium Hydroxide cosDNA analysis

Final Thoughts
I will say this.. I would have purchased 3 out of the 4 items on my own if Natural Pacific had not sent them to me!  I had been looking over this brand for a while and I will say that I love both Calendula toners ~ they serve different purposes and skin needs, so I do not think that there is any overlap there.  The Fresh Herb Origin Serum is one that I really am going to enjoy as a night treatment, as it does give my skin a nice radiant glow in the morning, while also repairing and healing my skin.  The only one I would not purchase is the Whitening Essence ~ it hydrates very well, but I have other hydrating products I can use.  It isn't a bad product, but I just didn't seen any lightening of my hyper-pigmentation.  I used this the longest ~ 4 weeks ~ as it was the last item I reviewed.   This will not be my last item with Natural Pacific, however.  I did a story recently on Instagram and if you caught that, you would have seen that I purchased a few items from this brand to try out ~ including a Tea Tree Toner, Fresh Herb Eye Cream and Calundala Facial Sheet Masks! I also have the Green Tea Serum on order as well. I think this is a fantastic up-and-coming brand, and I hope that more people will check them out as they are fairly inexpensive, really nice formulas and great ingredients.

Where to Purchase
The following links can be affiliate links, which just means if you like my content and click on them, I will make a small commission on sales at no extra cost to you. Your support helps keep my blog running, allowing me to purchase items to review and hold giveaways!
Style Korean carries a lot of Natural Pacific products
Amazon USA
Althea
Save $15.00 with your first order by using my referral link here
[ disclosure: some products received for review purposes.  contains commission affiliate links ]
[ descriptions from style korean ]