[ disclosure: product received in exchange for a review.  contains affiliate links for a small commission ]She tore the azure robe of night, And set the stars of glory there…
Joseph Rodman Drake
I love Klairs Midnight Blue Calming Cream (review here) ~ I love this little pot of calming azure blue cream that helps soothe and repair blemishes and other skin issues.  I am currently trying out the Mid-day Blue Sun Lotion SPF40/PA++, another product that has the blue guaiazulene ingredient, but it wasn't until a few months ago that Klairs came out with a third product in their Blue line ~ Klairs Midnight Blue Youth Activating Drop.  This is an anti-aging serum and when I saw the sneak peek on Wishtrend's feed, I had been waiting for it to come out.  I was lucky when Wishtrend  asked me to review this serum and I actually have used all but a few drops in this bottle by the time I wrote this review!! I have reviewed several Klairs products by now, and I have really enjoyed all of them ~ you can read my reviews here.

Skin Type/Concerns:  Oily, blemish prone, aging skin with hyper-pigmentation and fine lines/wrinkles.

On a deep blue night, only the sweetest dreams for your skin. The KLAIRS Midnight Blue Youth Activating Drop does exactly what it's named after. It is a night serum used before going to bed that has a blue tint due to guaiazulene in the formula. Made with EGF (rh-Oligopeptide-1), bFGF (RH-Polypeptide-1) and 95% raw materials for anti-aging effects, the EGF and bFGF activate the key factors in the skin to help improve the overall health and quality of the skin. Although the packaging may be small, it's only made with 10 core ingredients without the use of purified water as a high concentration/ high strength delay-aging serum.

This serum is an Epidermal Growth Factor (EGF ) and Fibroblast Growth Factor (bFGF)  anti-aging product.  Growth Factor ingredients help stimulates your skins growth and help repair, firm and strengthen your skin.  The description states this is a night time product, but watching Wishtrend live Instagram feeds and videos, it seems that this can be used in the day time as well.

Ingredients of Note
This blue drop serum only contains 10 ingredients!!  The first two listed are the growth factors ~ RH-Oligopeptide- 1 is an EFG and it is a Nobel Prize winning ingredient.  This anti-aging peptide is a single chain protein composed of 53 amino acids and it is found naturally in our bodies, but it does decrease as we get older.  Adding it to skincare products will help strengthen and repair the damaged skin barrier, while smoothing skin.  RH-Polypeptide-1 is the bFGF and it is a naturally occurring growth factor found in the dermis of our skin.  It helps enhance our skin's density, strengthening and repairing it.  It stimulates the cells in our connective tissue, called fibroblasts, that produces collagen, elastin and hyaluronic acid, improving your skin. Between these dual peptides, there is a total of 20 ppm and they keep your skin firm and smooth on both the uppermost and deeper layers of your skin.
In the mid-20s, the concentration of EGF in the body decreases rapidly, and the amount of collagen produced in the skin also drops to 50%. Ultraviolet light (UVA) that is inevitably absorbed every day penetrates deeply into the skin and destroys the essential elements of skin health, but skin with slowed production of EGF and bFGF can't respond at the same rate as before. As a result, a decrease in skin elasticity is felt starting in the mid-20s and is noticed more in the form of wrinkles or decrease in firmness in the 30s. The Midnight Blue Youth Activating Drop has been developed for this exact period.
I am a bit older than in my 30's but this serum can be used at any age, so don't let the sales pitch of your 20's and 30's throw you off.  It is never too late to use anti-aging skincare.  This also contains blueberry fruit extract, a powerful superfood antioxidant! Blueberries increase your skin's elasticity and they are rich in vitamins A, B and C.  The antioxidant phytochemicals will repair free radical damage, while preventing new damage from occurring.  Blueberries strengthen blood vessels, repair broken capillaries, tones and firms the skin, while also treating blemishes ~ sounds like a great ingredient to me!   Adenosine helps improve the reduction of wrinkles and is also an anti inflammatory. 
Why is this blue? Guaiazulene comes from one of my favorite soothing plants ~ chamomile.  "Guaiazulene, also azulon or 1,4-dimethyl-7-isopropylazulene, is a dark blue crystalline hydrocarbon. A derivative of azulene, guaiazulene is a bicyclic sesquiterpene that is a constituent of some essential oils, mainly oil of guaiac and chamomile oil" (wiki)   Guaiazulene has anti-microbial properties, so it will help prevent bacterial infections and it has anti-inflammatory benefits,  so it will help reduce redness and swelling on your skin.   Note that there is no water in this product ~ it is all pretty much concentrated anti-aging and soothing ingredients.

Ingredients: RH-Oligopeptide- 1, RH-Polypeptide- 1, Butylene Glycol, Vaccinium Angustifolium (Blueberry) Fruit Extract, Sorbitan Sesquioleate, PEG-60 Hydrogenated Castor Oil, Chlorphenesin, Guaiazulene, Ethylhexylglycerin, Adenosine cosDNA analysis

This serum comes in a dark brown glass 20mL bottle (so small!) with an eye dropper applicator.  Just like the cream, this looks to be a mini, but it is full sized!  The beautiful watery blue liquid has a very light herbal scent to it and it is quite runny.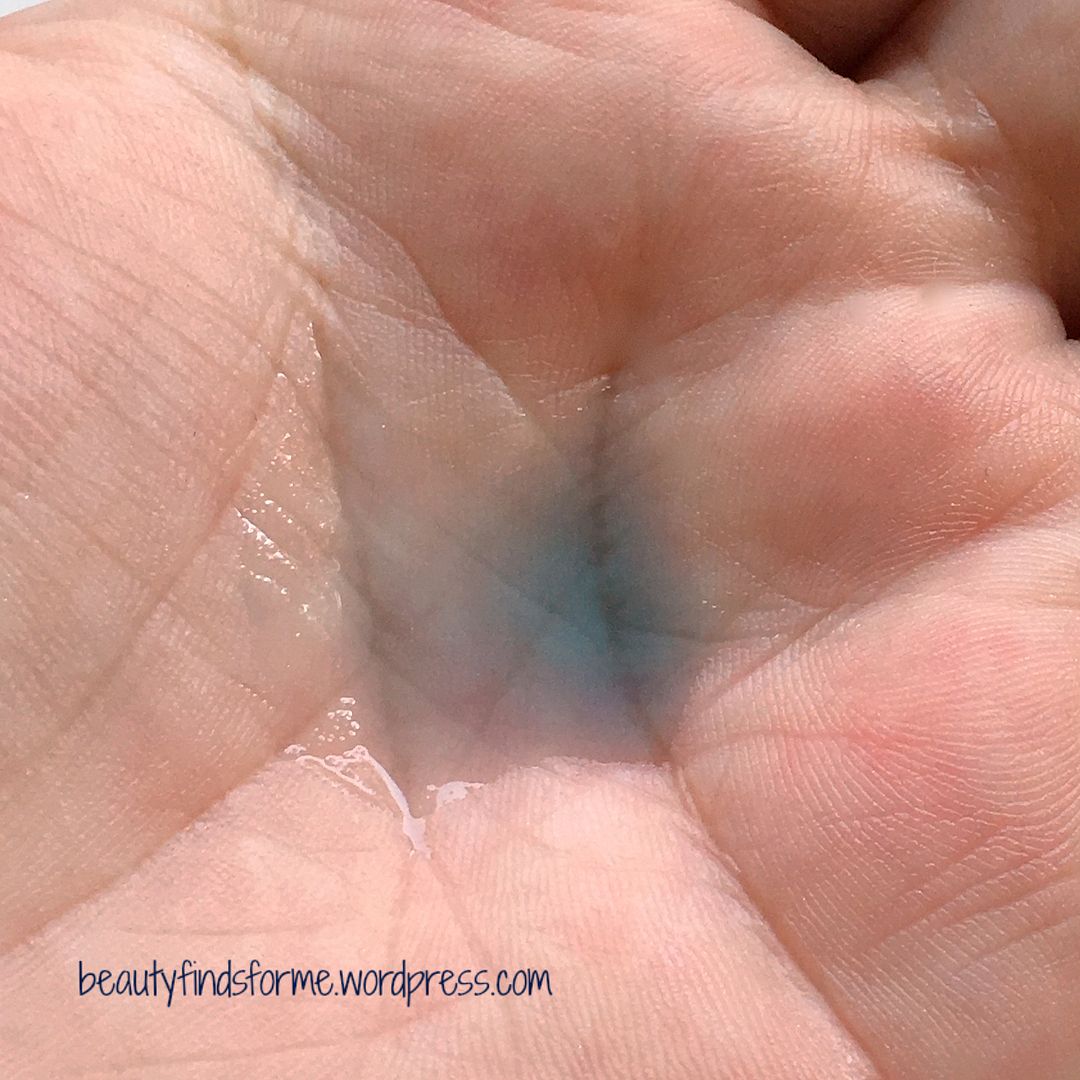 The liquid almost feels oily under my fingers as I tap it into my skin, but it doesn't leave an oily residue at all and is completely absorbed, with no tacky residue or dewy finish.  My skin feels instantly baby soft and smooth, as this plumped up my skin cells.  This does not leave my skin blue ~ it may look blue out of the bottle, but the color disappears into my skin.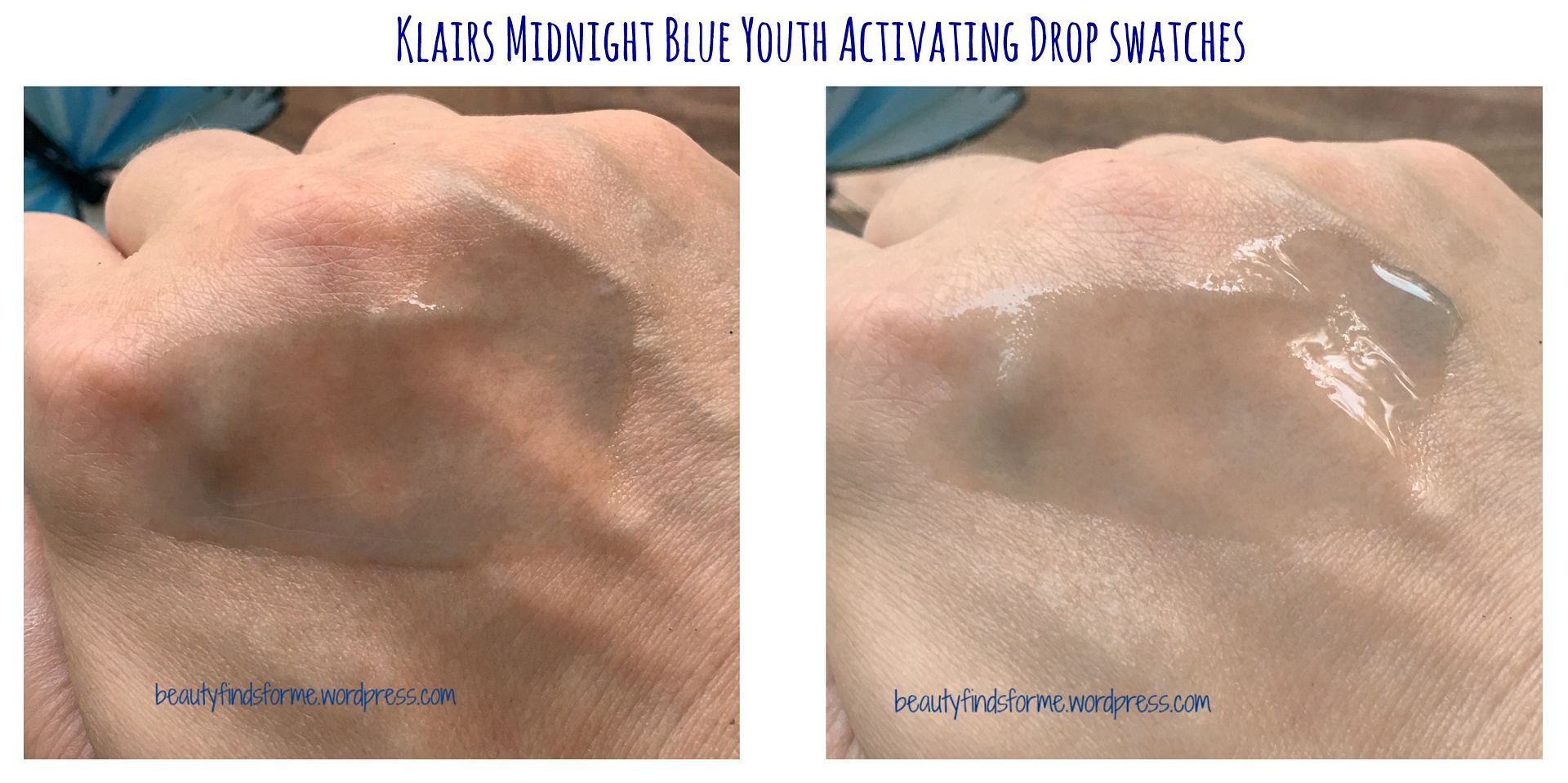 This is also quite hydrating as well for a watery serum ~ it increased my moisture and oil levels by  31%.  My skin is balanced where I apply this serum.
One of the reasons why this review TOOK me so long to write and the fact that I am down to the last drops in this bottle, is that I was so confused on how to use it.  The instructions were clear ~ after cleansing your skin at night, apply this 3 to 4 drops to your skin.  This serum is supposed to be as close to your skin as possible.
The blue drop should always come at the first step of your skincare routine, after cleansing. This is to prevent any other products from possibly interfering with all the goodness of the blue drop from full absorbing into the skin. However, it's important to note the following: If you use toner with a cotton pad to wipe the skin, do so before applying the blue drop. If you apply toner with your hands as you would a serum, apply the blue drop beforehand. It's key that you create as little of a barrier on the skin before using the blue drop.
If you want to use it during the day time, I think that is okay, but you should also use it at night time too ~ as your skin regenerates the most while you sleep.  You can also use your acids (AHA, BHA), retinoids and vitamin C skincare products afterwards.  I have been using acid treatments in my skincare routine and this product is very soothing on the skin.
Why was I confused?  Initially, I actually was wasting a lot of this product ~ I was placing the dropper on my face and letting the serum drip onto my skin, like I do with a lot of products that have an eye dropper applicator.  However, because this is so watery and runny, it would drip off my face before I could tap it in.  Someone mentioned to add it to your moisturizers, so I did that.  I did not see any results for a couple of  weeks, but then I watched Eunice on one of Wishtrend's Instagram Live Feeds.  For those who do not know, Eunice is the fantastic Wishtrend skincare guru and she has so many helpful tips and suggestions.   
She mentioned that she used this all over her face and then, after it had absorbed completely, applied some more on the areas that she wanted to target for specific aging skincare concerns.   So, I started to use it in this manner, but I went a step further.  Instead of applying it all over my face, I would first put a few drops on my hand ~ no longer using the applicator to face method ~ and then apply it all over my chin area.  This area was so damaged by blemishes and horrible acne skin care products (ProActive destroyed my skin) in my 20's and early 30's, that is "liney" ~ not wrinkled, but has fine lines that caused my makeup to cake up and be patchy on my chin.  If you see my BB Cushion reviews, you can see me without foundation and my chin is really RED due to this damage. 
Once the initial layer was dry ~ it only takes seconds ~ I would reapply more of the serum again.  I did this in both my day and night time routines.  I have been doing this routine for about 6 weeks now ~ I have had this serum for 2 months ~ and I will say this ~ my makeup goes on much more smoother on my chin, without caking up.  I believe that the blue drop serum is helping to repair and refine my skin texture around my chin. Because I really do believe this, I have purchased another bottle of this serum so I can continue using it;  I will expand the usage to the skin around the sides of my mouth and above my mouth as I would like to tighten and firm that area.
Final Thoughts
Honey, time marches on and eventually you realize it is marchin' across your face.. Truvy "Steel Magnolias"
Yeah, aging happens to us all.  You cannot escape it, but you can help repair the damage done to your skin and replenishing collagen and elastin to your skin, while protecting it from UV rays and pollution.  I am pretty hopeful that this serum will continue to repair my damaged chin area ~ I don't expect to regain my baby skin, but just the fact that my foundation goes on without caking around that area is a win for me.  I use to have to "dab" my foundation on my chin carefully and it would still cake up and look "gummy".  I think if you are in your late 20's and in your 30's, you might really see more dramatic results over time, as you got a head start on anti-aging.  For those over 40,  I think this product can only help, not hurt and will aid in my skincare goals to slow down the eventual aging progression.  If I sound a bit sad, my birthday is coming up!  Another year older…. That quote from Steel Magnolias has been my battle cry for a while now!!

Are you looking to repair your aging skin?  Or trying to find a preventative skincare product that you can add into your routine?   Have you tried Klairs Midnight Blue Youth Activating Drops yet?

Where to Purchase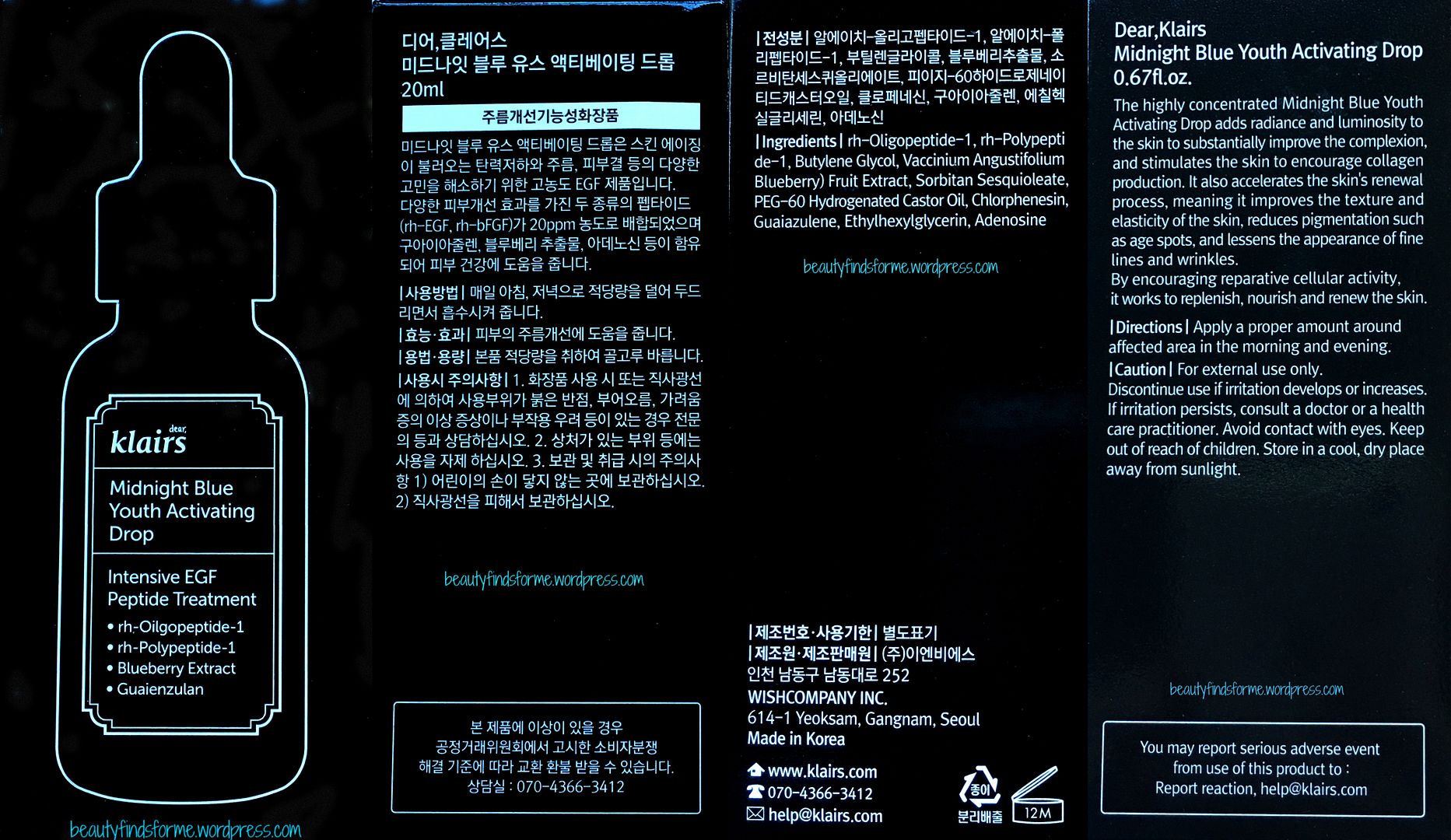 You can purchase the 20 mL pot of Klairs Midnight Blue Youth Activating Drop (click here) at Wishtrend for $30.00. This product doesn't have free shipping, but if you add on any item from their free shipping section, your shipping will be free!  This also comes in a few sets

Korean Ageless Skin Secret Box for Your 20s  + Free Shipping  $98.24 (save 25%).  This kit contains 
Klairs Gentle Black Sugar Facial Polish (review here)
Klairs Supple Preparation Facial Toner (review here)

Klairs Midnight Blue Youth Activating Drop

cosRX Holy Moly Snail Facial Mask (5x) (review here)

Skinmiso Pore Zero Night Cream

By Wishtrend The Crown Hair Band
I think this is a kit that can be used AT ANY age, not just your 20's. In fact, I use many of these products myself today!!
Delay Aging Night Care Recipe Set  $49.05  (save 10%)  I totally recommend this one! This contains Klairs Midnight Blue Youth Activating Drop and Klairs Midnight Blue Calming Cream (review here)
Check out my monthly Wishtrend specials for more deals and coupons ~ click here.  If this is your first time shopping with Wishtrend, you can save $5.00 off your purchase by using my friends referral number ~ 092847308  ~ and you will receive the coupon. Register first and enter the my code in the form labeled "friends invitation program" and wait for the coupon before you place your order.  Also, remember to save your welcome and any order emails from Wishtrend.  They usually have discount and free shipping codes just for your use in them, so you can save even more money on your next order!
You automatically receive Free Shipping with purchases $69.00 USD and over
Don't forget to check out Wishtrend's Free Shipping Product Selection

Wishtrend ships globally
[ product received in exchange for a review. contains affiliate links for a small commission ]
[ descriptions in italics from wishtrend ]