I fell in love with Naruko because of their Tea Tree Shine Control & Blemish line ~ their sheet masks, night jelly, BB cushion, sunscreen and body shower gel are all favorites of mine.  In fact, I reviewed quite a bit of them in my Tea Tree Mega-Blog post last year.   When the newest addition to this line came out last month ~ Tea Tree Blemish Clear Mattifying Toner, I was drooling all over it and Rachel at Naruko sent  this to me for review purposes, as she knows how much I love their tea tree line.  Did you know... Your oil production increases 10 to 20% for each degree the temperature of your skin rises?   Hot weather is not a friend to us oily skinned peeps and what I do is turn to some tea tree products to help keep my oily skin under control.

Skin Type/Concerns: Oily, blemish prone, aging skin with fine lines/wrinkles and hyper-pigmentation (both sun damage and PIH)
Naruko Tea Tree Blemish Clear Mattifying Toner  is a blemish-fighting, refreshing toner that will also help control oiliness, while unclogging pores and removing dirt and excess oil.  Of course, it contains tea tree oil, known to be used for many infections and diseases due to its healing and disinfectant properties ~ antibacterial, fungicide, antiseptic, antimicrobial, antiviral and can help speed up wound healing and reduce scarring, as it is a cicatrisant. It helps with preventing dry, flaky skin and because of its antibacterial properties, can help heal current blemishes while reducing future blemishes and control excess oil. It helps with rashes, allergic skin reactions and fungal infections.  The active ingredient is 1%  salicylic acid, helping to combat acne as it gently exfoliates your skin and removes dead skin cells and excess oil.  Salicylic acid is fat soluble, so it can really get to the oil that is inside your pores.
Phytoferulin is Naruko's blend of 11 concentrated herbal ingredients: kalanchoe spathulata, glycyrrhiza glabra (licorice) root, alpine skullcap (scutellaria alpina), masterwort (peucedanum ostruthium), ginkgo biloba, alps wormwood (artemisia umbelliformis), leontopodium alpinum , alpine willowherb (epilobium fleischeri) , calendula officinalis, chamomilla recutita (matricaria) and  camellia sinensis (green tea) extracts. This complex will help prevent hyper-pigmentation and environmental stress to your skin, while being a powerful antioxidant and brightening agent. This complex is very effective in hydrating your skin, while controlling oil.
Witch hazel is an blemish prone skin's best friend because it has antibacterial and antiseptic qualities which helps clear up acne and it removes excess oil from skin. It also helps shrinks blood vessels, which tightens our skin. Witch Hazel can speed up healing and is a powerful anti-inflammatory, which also helps soothes, refreshes and rejuvenates skin, refines the pores and seal in moisture.  These next ingredients are very popular in the Tea Tree series: Serenoa serrulata help control oil production, as it contains free fatty acids that block oil production; Lentil seeds are rich in oligonucleotides ~ minerals that are anti-inflammatory, anti-aging and antioxidants  ~ helping to firm skin by working with collagen production, refining pores and balancing oil production;  Pirotone olamine will help prevent blemishes from forming as it suppresses the bacterial growth; Zinc PCA reduces excess oil  and snow fungus helps deeply moisturize as it is rich in mucopolysaccharides, providing long lasting moisturizing.  
The mattifying powder stars are zinc oxide, helping to soothe and protect irritated skin, while drying  out excess oils; talc which helps absorb excess moisture and oil and magnesium aluminum silicate, which is a mineral derived from purified clay, helping to absorb excess oil.   This product contains 20% powder! This product is made without parabens, artificial dyes or preservatives and is cruelty free, with no animal testing.

Active Ingredients:  Salicylic Acid (1%)  Other Ingredients: Purified Water, Alcohol, Talc, Zinc Oxide, Propanediol, Witch Hazel (Hammamelis Virginiana) Water, Phenoxyethanol, Magnesium Aluminum Silicate, Melaleuca Alternifolia (Tea Tree) Leaf Oil, Fragrance, Propylene Glycol, Chlorphenesin,  Piroctone Olamine, Zinc PCA, Glycerin, Serenoa Serrulata Fruit Extract, Lens Esculenta (Lentil) Seed Extract, Butylene Glycol,  Kalanchoe Spathulata Extract*,  Alps Wormwood (Artemisia Umbelliformis) Extract*, Alpine Willowherb (Epilobium Fleischeri) Extract*,Leontopodium Alpinum Extract*,  Tremella Fuciformis Sporocarp Extract, MethylPropanediol, Potassium Sorbate, Sodium Benzoate, Calendula Officinalis Flower Extract*, Camellia Sinensis (Green Tea) Leaf Extract*, Chamolmilla Recutita (Matricaria) Flower Extract*, Citric Acid, Ginkgo Biloba Leaf Extract*, Glycyrrhiza Glabra (Licorice) Root Extract*, Masterwort (Peucedanum Ostruthium) Leaf Extract*, Alpine Skullcap (Scutellaria Alpina) Flower/Leaf/Stem Extract*,  Ethylhexylglycerin, Pentylene Glycol   cosDNA analysis *Phytoferulin® Extract  
This toner comes in a tall transparent bottle so you can see the clear liquid (80%) and white powder (20%) clearly.  It has a pin hole applicator, so you just tip the bottle and the watery, very tea tree scented  toner comes out.  Now, because it has so much powder, the applicator and cap will accumulate white powder and it will look messy. I just take a moistened pad to it to clean off the excess powder.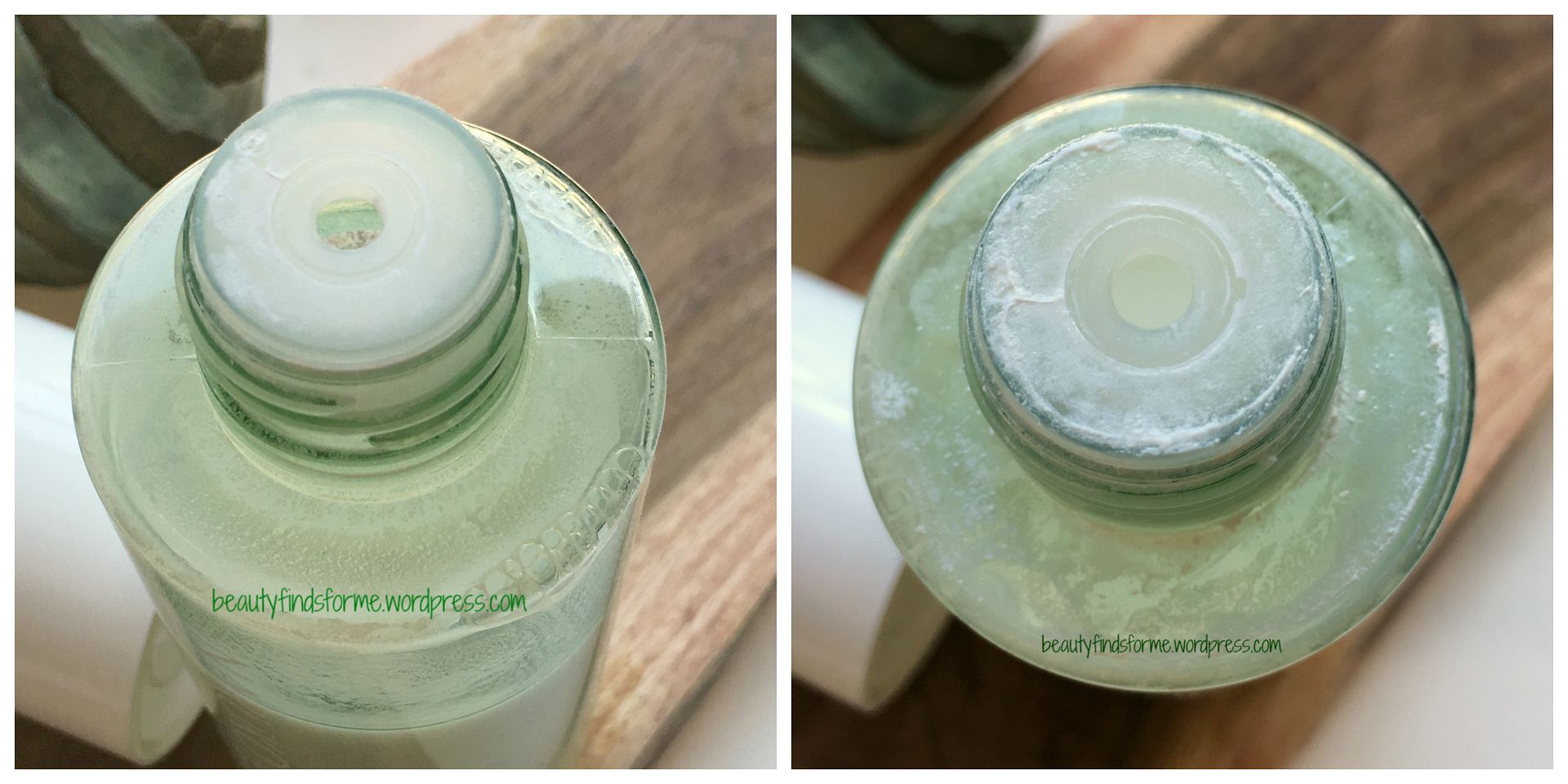 Its claims are
Reduces oil and shine
Tones and smooths skin
Unclog pores and sloughs off dead skin cells
Kills acne-causing bacteria and prevents breakouts
Tightens and shrinks large pores
Replenishes and maintains a good moisture balance
Soothes, calms and reduces acne-related irritation
The powder settles to the bottom of the bottle and you have to shake it up before applying this to your face or even body, if you have body acne.  Once shaken, the product turns milky color as the powder is now mixed in with the liquid. 
This is a watery toner that has a ton of powder in it.  You can see the powder in the liquid and it does dry down quickly and with a matte finish.   The circled areas show some powder specks, even though I had patted the toner into my skin.  What I did then was to flick the little specks of powder off and move on ~ lol.

Now, if you are a bit careless in your routine,  you will see more than just a few little grains of powder. Now, don't think that more powder means that you have to suffer with that white cast on your skin ~ if you were careless or put too much toner on your skin ~ just gently brush away the excess powder.  You will still get a mattifying effect.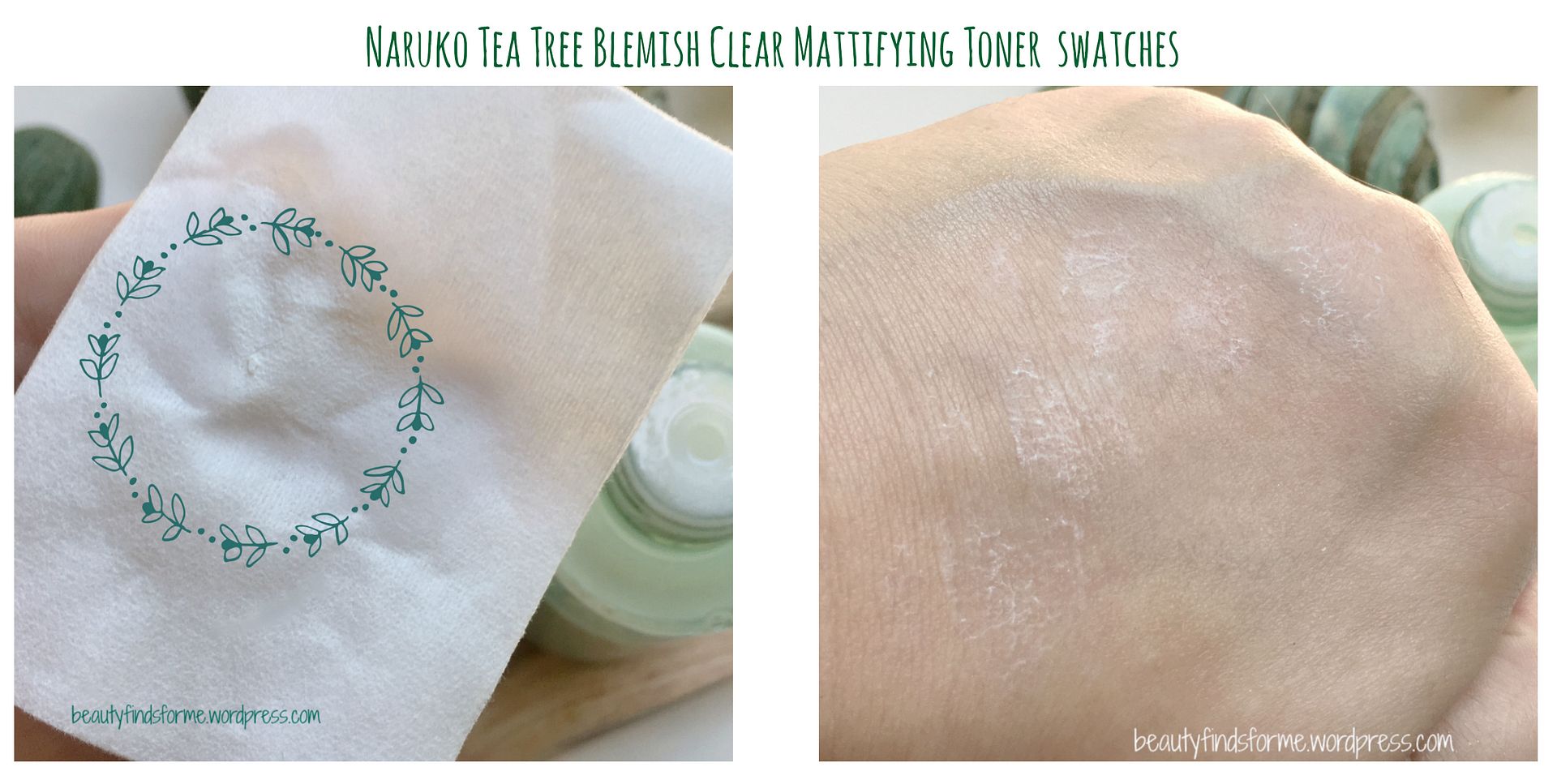 You can use this product 3 ways ~ as the last step before your moisturizer, a DIY mask or a massage toner.
 Regular Toner: It is recommended that this astringent and mattifying toner be used as the last step before your moisturizer.  This way, the mattifying benefits will be more apparent.  Apply product to a cotton pad and then wipe and pat the cotton pad on your face.  You will have to pat the cotton pad, as there will be powder residue and you want to make sure any powder is completely patted in, so it doesn't appear on your face. 
Toner Facial Masks:  Saturate split cotton sheets (Tip: how to DIY mask)  with toner  and apply on face.  Wait 3 to 5 minutes before removing and this will have helped exfoliate and mattifying your skin.
Toner Massage:  Apply toner to cotton pad and then massage in  a circular motion, beginning with the cheeks.  Massage forehead, chin and nose.  Repeat 1-2 times.  Pat face for 30 seconds to ensure toner is absorbed and then take a moistened pad and press into your face for 3 to 5 seconds, focusing on the T-Zone. This will help reduce excess oil
I actually have just used this as a regular toner and as the last step before my moisturizer and I have used it with a variety of lotions, emulsions and lightweight creams.  I found that this really had a great one-two punch when I used this right before Ryor Mattifying Cream with Powder-Effect (see review here) ~ my skin really held back the oil for about 5 hours, which is pretty good. Even then, once the oil began to break through, it didn't look oily ~ but more of a natural glow.   I am interested in trying this out as a DIY facial mask, concentrating on my T-Zone.   
This will sting a little bit if you use facial acids or open blemishes ~ I know that after I use Swanicoco 10% AHA cream, I cannot use this product the next morning, as my skin is too sensitive to most of my skin care products.  The ingredient composition of this astringent, mattifying toner can be too drying for normal to dry skin, so I only recommend this for oily and normal/oily combo skin types.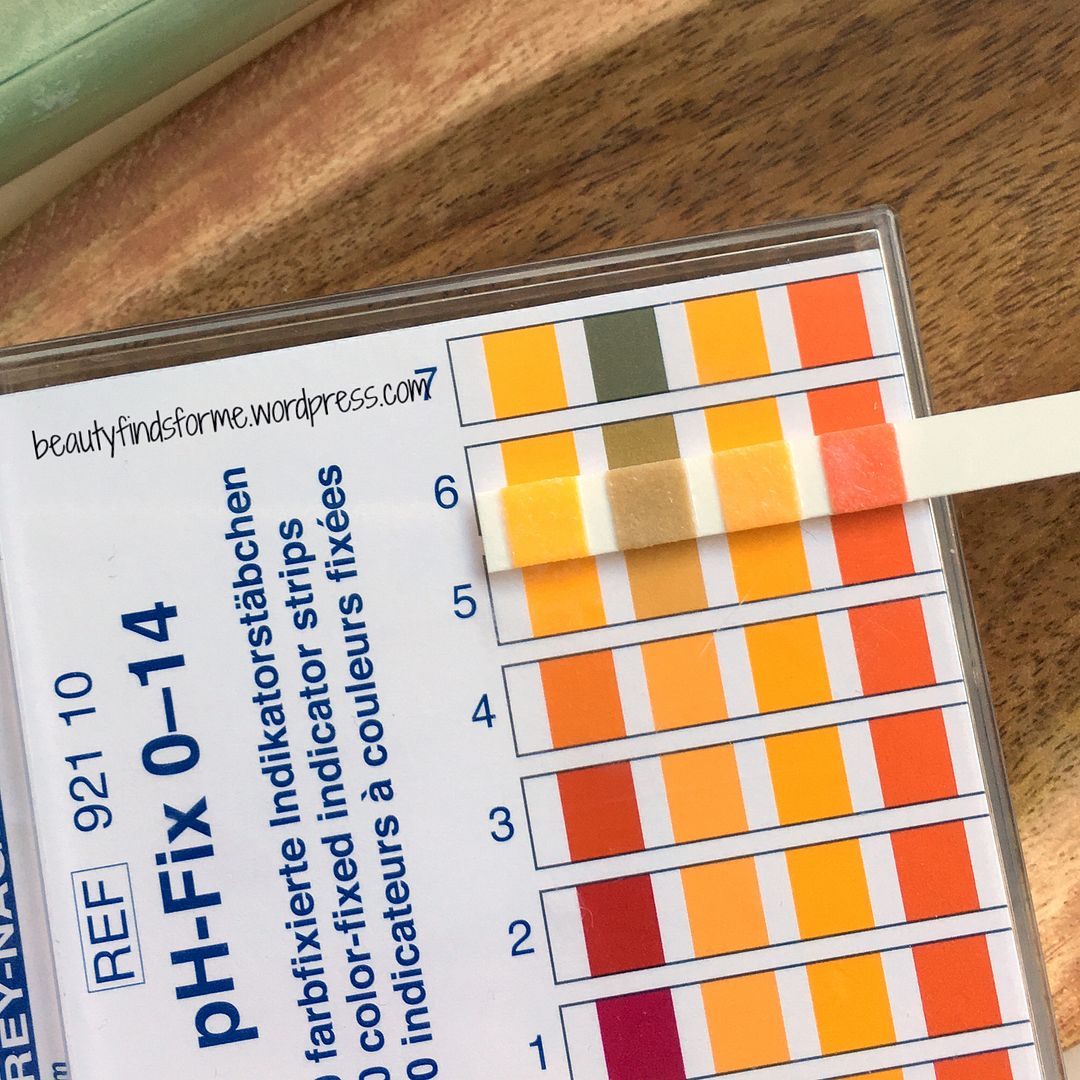 This has a pH level of 5.5 to 6, which is high for a product with a BHA in it (salicylic acid), but it does seem to help unclog and clean my pores, while giving them the appearance of smaller pores. Despite being an oil absorbing, mattifying astringent toner, it is not drying on my oily skin ~ this toner was MADE for oily skin, so the formula is one that balances, reduces oil and hydrates.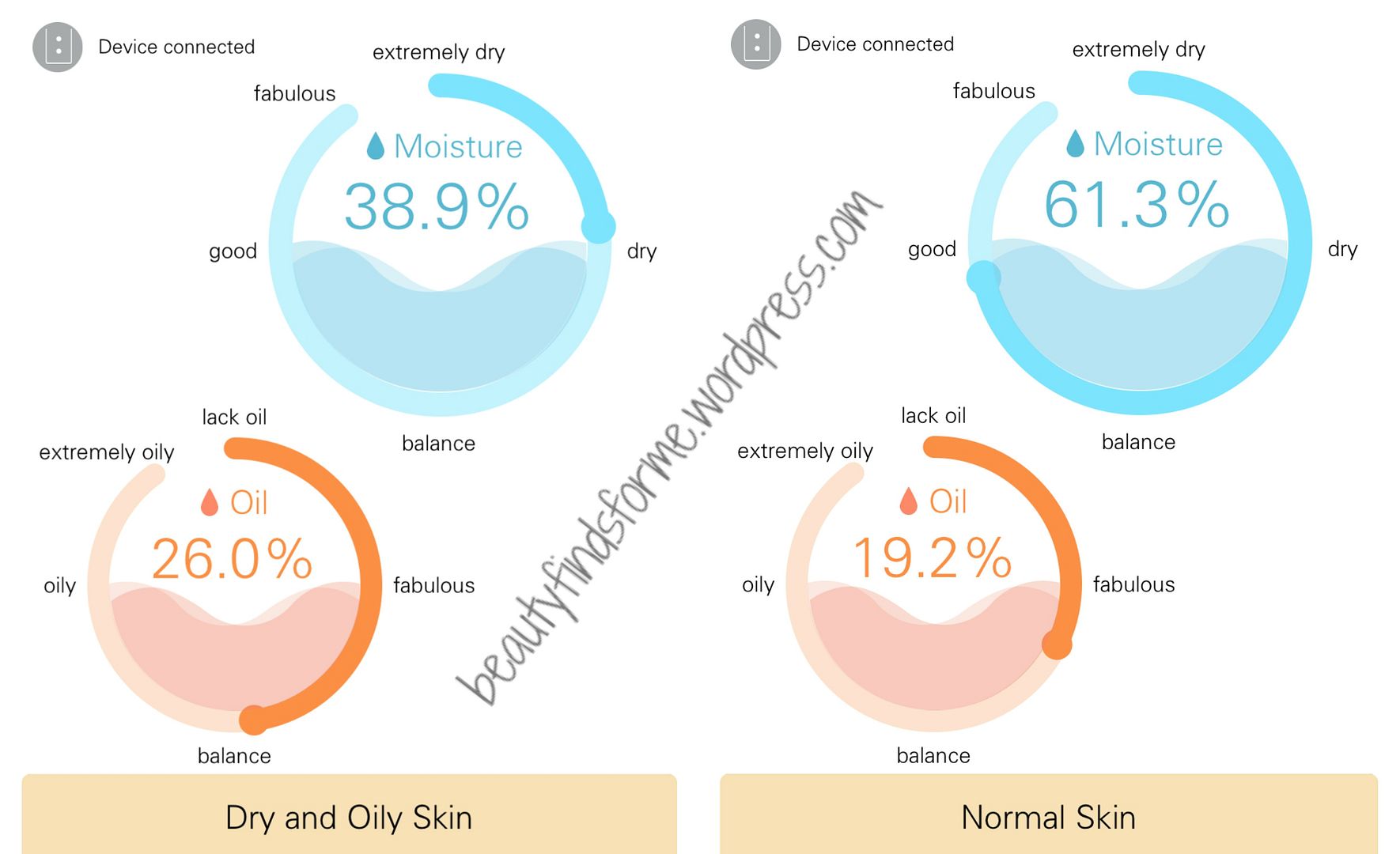 This increased my moisture by 58% ~ amazing!  It reduced my oil by 26% and normalized my skin.  The day I took this test, my skin was very dehydrated but still oily.  Oily skin types can be very dehydrated, but also oily at the same time ~ your skin will try to overcompensate for the dryness by producing more oil ~ so that is why it is SO important to hydrate your skin! 
Final Thoughts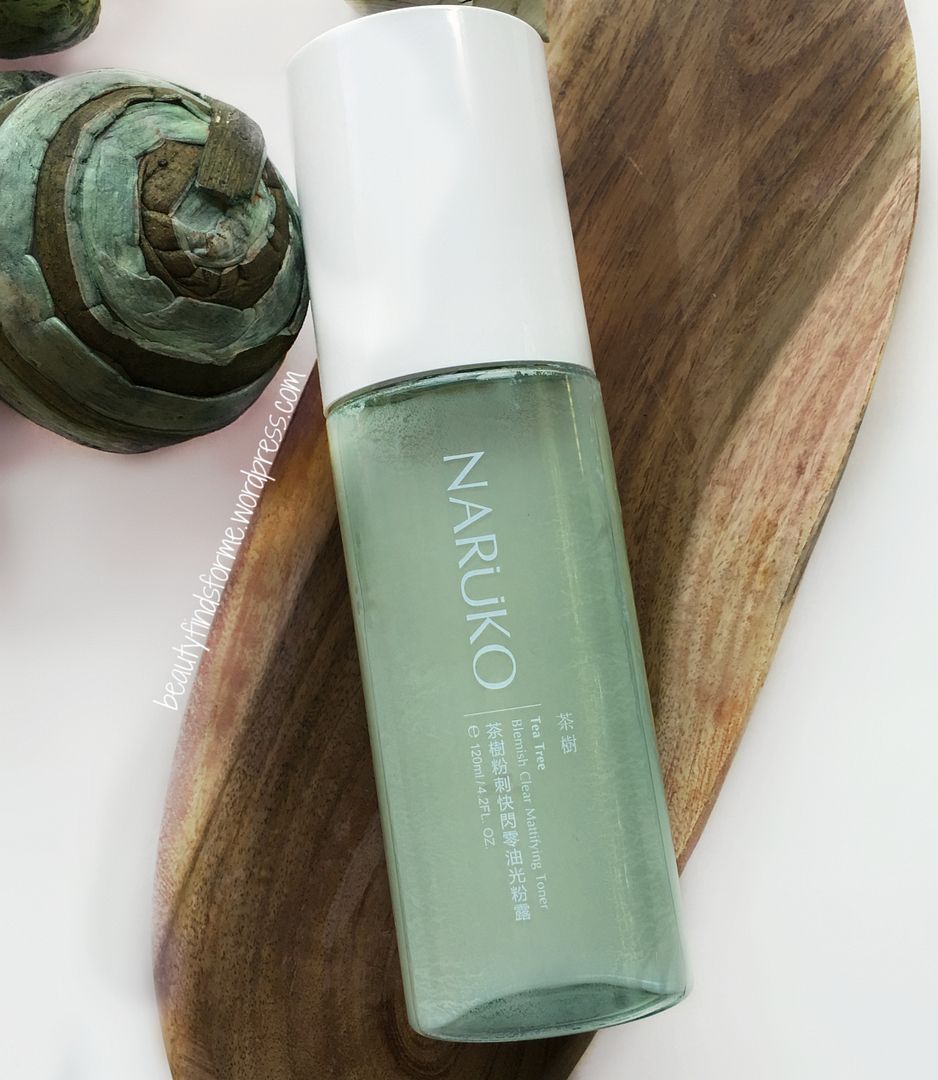 Well, surprise, surprise ~ another Naruko Tea Tree product I love!  Naruko Tea Tree Blemish Clear Mattifying Toner reminds me of Dewytree Teatree Porest Powder in Toner (review here), which had green clay in it and also mattified my skin.  I loved the results from Dewytree, but I hated the floral perfumy scent ~ not to mention finding Dewytree in shops that ship globally are hard to come by.  This toner has a very strong and pungent tea tree scent, but I happen to love the scent of tea tree, so it doesn't bother me.  I found that this toner's best claim ~ mattifying ~ is true.  This toner really did dampen down my oily skin, while cleaning my skin, unclogging pores and making my pores look smaller and tighter.  This toner will be a repeat purchase for the warmer months, as it really excels at keeping my shine at bay for several hours.  I also like that this product did not dry out my skin ~ mattifying in skincare doesn't mean  your skin should be dry as sand ~ it just means to help get your oil under control.  This also helped heal my blemishes and make them look less red and swollen.   This is a fantastic product ~  Great job, Naruko ~ another winner in the Tea Tree line!  Have you tried the latest in Naruko's Tea Tree line?  What is your favorite item in their Tea Tree line or one that you really want to try out?
Where to Purchase
Naruko, of course!  Naruko has several different stores around the world too
Naruko USA  Naruko USA will also give free gifts and you earn points when you purchase at their store.  These reward points then can be converted to spend on any product you want. For USA orders, if you order $40.00 or more, you automatically get free shipping.  Naruko USA will ship internationally, so check here for more information.

I recommend the following items as well
Also, check out Beauty and the Cat's excellent review here on the Tea Tree Overnight Blemish Clear Powder.  Angela uses it as a  loose powder as a pre-step before her mineral powder.  This will be in my next haul with Naruko!!
[ complementary product received for review purposes. contains affiliate links ]