This month's theme is Beat the Summer Heat ~ How to stay cool and refreshed in this muggy, humid heat.  Herb Stop has made a lot of positive improvements over the last few months ~ oil-resistant labels, new box packaging and they are changing the caps on the oils, as they can pop off and leak. What is Herb Stop?

Herb Stop is located in Pine, AZ and has been recognized by the community and the state of Arizona  with a variety of awards.  They only use ingredients from  reliable and ethical sources and all of their essential oils are 100% pure, with the exception of their precious oils ~ such as Jasmine, Rose, Neroli, Sandalwood ~ and those will be blended with jojoba oil.    You will receive a box of 4 bottles, either 1/6 oz or 1/3 oz)  that can be essential oils, essential oil blends and/or roll-on essential oil blends.  You will also receive information about your oils and how to use them, including safety information.   Each box is $19.99 which includes shipping, USA only and Herb Stop will start mailing them out during the 10th thru 17th of every month.   Herb Stop has over 200 varieties essential oils alone, which means the boxes will be very different each month ~ as there are also custom-made blends as well.   You can auto subscribe here.   Use Promo Code BFFM15  and receive 15% off your first box!
What's In Your Aroma Box?
All of the essential oils, unless otherwise noted, have a screw top lid and there is a plastic lid inside that has a tube, so that you don't spill out all of your oil if you drop the bottle (and it doesn't break).  I also like that the oils are in dark cobalt blue glass bottles to help protect them from UV rays and light.  Unless noted otherwise, all of the pure essential oils are 100% natural, pure essential oils, vegan and vegetarian safe, non-GMO and no additives. Bottled in the USA.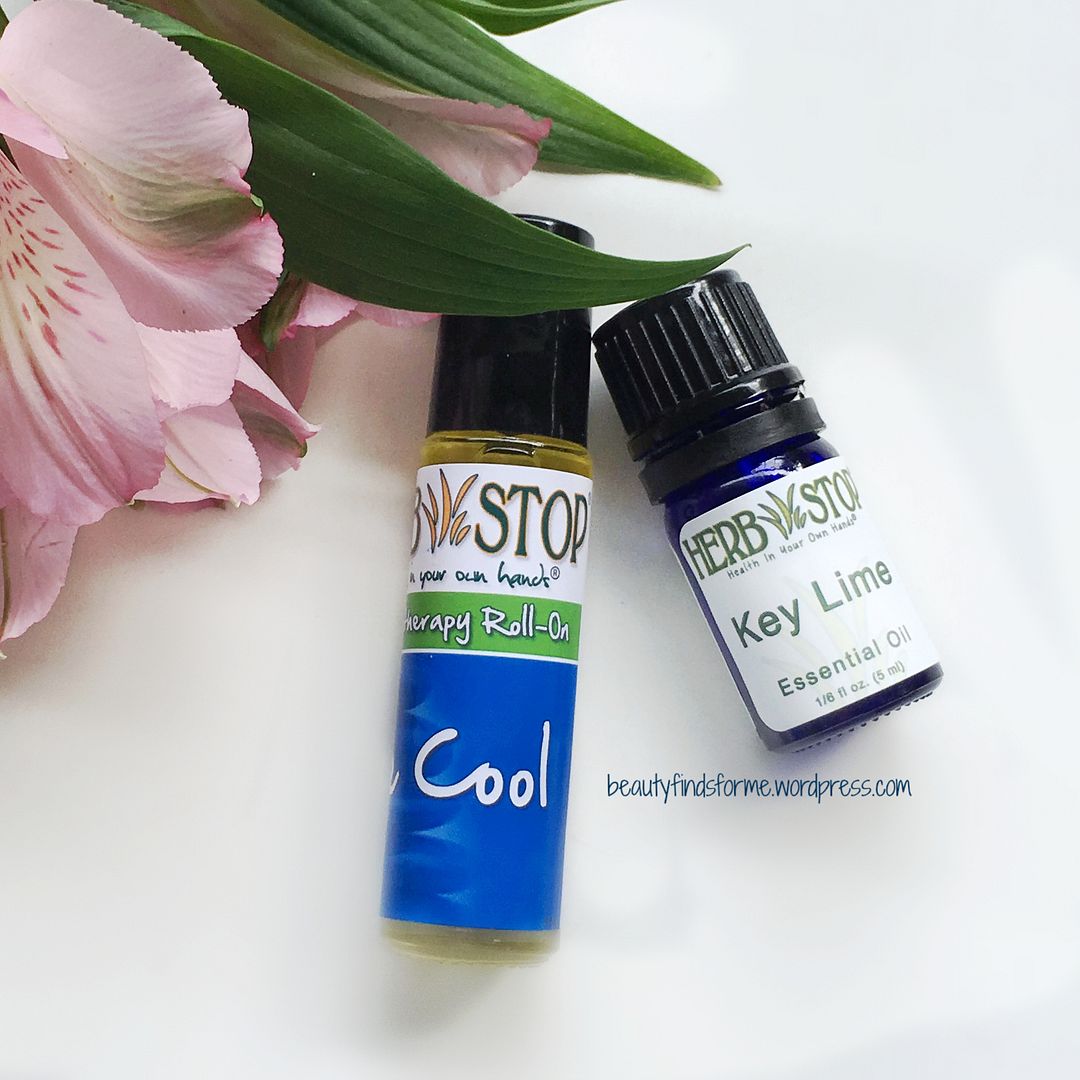 Be Cool Aromatherapy Roll On  This has to be one of my favorite roll on aromatherapy oils from Herb Stop.  It really has refreshing scents that make you think fresh and cool ~ and it is cooling on my skin as well!  I can really pick up the tart lime and wintry peppermint in this oil.   This is 100% natural and vegan  RV $16.95
Description: Be Cool Roll-On was created to help you stay cool during the hot summer months. The carefully selected essential oils are known to keep the body cool, act as deodorants and to reduce perspiration. As a bonus, this blend makes an effect deodorant! 
Ingredients: 100% Pure Essential Oils of Lime, Lavender, Organic Peppermint and Sage, in a base of Pure Golden Jojoba Oil.

Key Lime (citrus aurantifolia) Essential Oil  This is quintessentially lime!  Tart, tangy yet also a sweetness in this scent, this is a brisk wake-up for your senses.  This will be great as an air freshener anywhere in the home.   Since this is food safe, you can add this to drinks to really add a nice tart taste to them ~ just a drop in 24 oz of water, lemonade, ice tea or any other beverage, for a refreshing lime taste. I think I will make lime ice cubes to really jazz things up!  This contains no additives, non-GMO and vegan safe. 5mL RV $2.77

Description:  Traditionally used for colds, flu, fevers infection, digestion and cellulite. Herbalists use Lime combined with other citrus oils to freshen up a sickroom, remove cooking odors or create a festive mood. Emotionally, Key Lime is uplifting, stimulating and refreshing.
Ingredients: 100% Pure Citrus aurantifolia (Key Lime) Essential Oil.
Origin: Peru
Parts Used: Peel
Extraction Method:  Cold Pressed then Steam Distilled
Food Chemical Codex:  Yes
Peppermint (mentha piperita) Certified Organic Essential Oil  Can't have a cool down box without the sharp, arctic scent of peppermint.  Peppermint is more sharp and stronger in its menthol scent than spearmint and is just reminds me of the cold.  Add a drop or two to some lotion and massage it into your temples when you get a headache ~ this will help relieve the pain.  You can also add a drop or two to cold water, along with lavender. Soak a washcloth in this water, wring out well and apply to your neck and forehead, avoiding your eyes to help with headaches.  This oil is certified organic and is also food safe too, with no additives, non-GMO and vegan, so if you love to make minty cookies and candies, you can use this oil in your recipes.  5 mL RV $3.90
Description:  Cooling, refreshing, and stimulating. Traditionally used for digestive disorders, nausea, motion sickness, colds, flus, bronchitis, coughs, easing congestion and fighting infection. Herbalists suggest to apply Peppermint Oil on the back of the neck and temples for headaches. Emotionally, Peppermint is used for poor memory, depression, melancholy, confusion and indecision

Ingredients:  100% Pure Mentha piperita (Organic Peppermint) Essential Oil

Origin:  India

Parts Used:  Leaf

Extraction Method: Steam Distilled
Food Chemical Codex: Yes

Dalmatian Sage (Salvia officinalis) Essential Oil This is such an intense sage scent ~ it is warm and has that fuzzy pungent herbal note that I associate with sage (yeah, fuzzy ~ cause the leaves are fuzzy..lol)  It is so brisk and biting ~ sage has menthol and camphor in it and it also triggers the same cooling sensation as if you would if you smell mint.  This is a powerful oil, so it should be used in very small quantities. This is non-GMO, vegan and contains no additives and it is NOT food safe. 5 ml RV $6.19
Description:Traditionally known to be cleansing and purifying, mucolytic and anti-catarrhal. Herbalists use Sage to activate the nervous system and the adrenal cortex, making it useful both for asthma and to regulate hot flashes. Commonly used for balancing women's hormones, reducing breast milk, reducing perspiration and oiliness of skin, excessive sweating and encouraging hair growth. Sage is also know to be excellent in foot baths for tired, aching and sweaty feet. 
Ingredients: 100% Pure Salvia officinalis (Dalmatian Sage) Essential Oil

Origin: Greece

Parts Used: Leaves

Extraction Method: Steam Distilled
Food Chemical Codex: NO

Herb Stop also included a "Cooling Foot Soak" ~ Blend 60 drops of key lime, 20 drops of sage and 10 drops of peppermint in a glass bottle. Add 5 to 10 drops to 1/2 cup of Epson salt and 1/2 cup of baking soda. Add this blend to a foot bath to relieve and cool your feet. Adjust the scent as desired by adding or removing essential oils. They also have included a promo code to save 10% off any of their full sized oils and roll-on's in their shop  ~ use ABJY17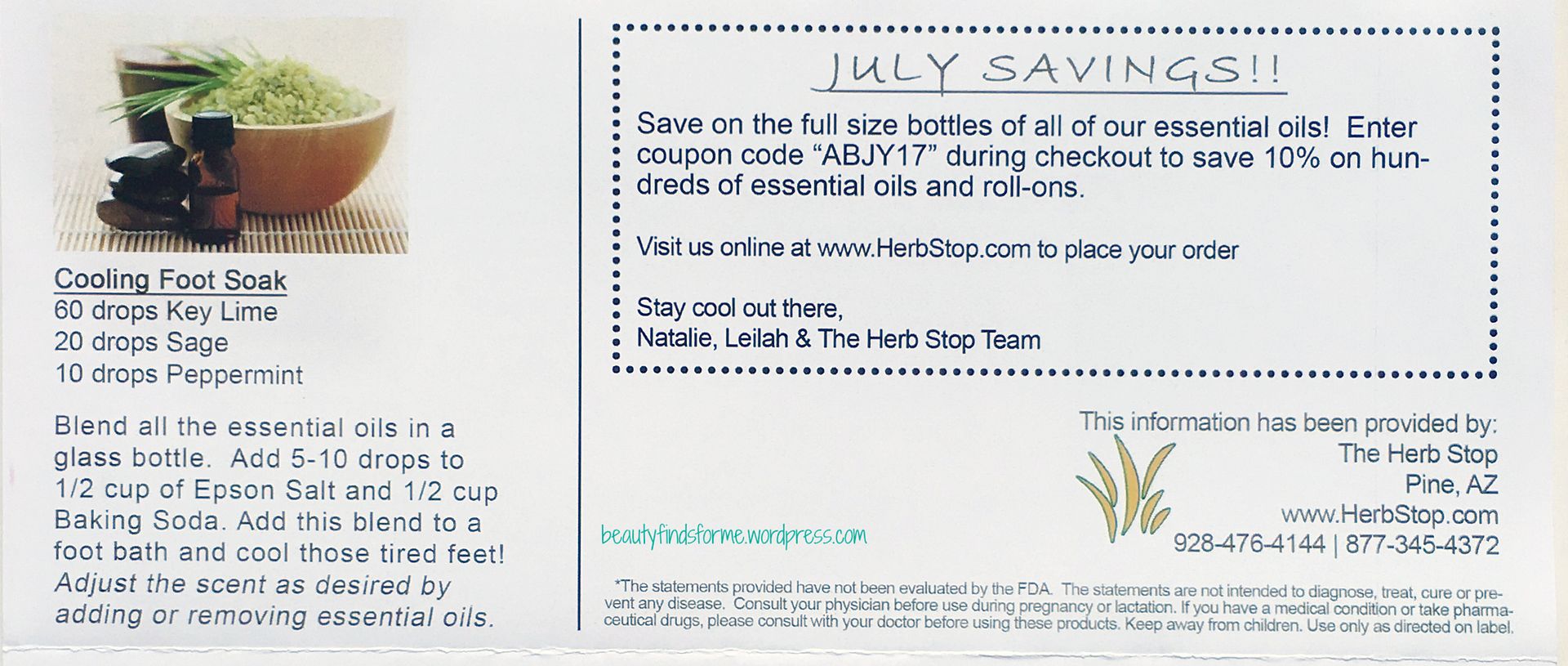 Love this cooling, invigorating and brisk oil box this month.  Not only are the lime and peppermint good for refreshing drinks, they all will help cool down and beat that summer heat.  I paid $19.99 for this and received a value of almost $30.00.  If you are interested in subscribing, you can do so here and use promo code BFFM15  to receive 15% off your first box!
Please note, essentials oils are not to replace seeing a doctor if you have serious ailments or issues.  However, aromatherapy, scents and herbal tinctures/oils have been used for centuries with great success.   I would never state that this should replace seeing your doctor, but if you know your body and you have discussed this with your doctor, you should be able to use essential oils for minor treatments.

Have you signed up for Herb Stop's essential oil box?  Are you interested in doing so?

[ all descriptions in italics from Herb Stop. Blog post contains referral link ]
Save
Save
Save