Time for Spring to transition into Summer….What is Yogi Surprise?   

Yogi Surprise Jewelry Box
2 handmade pieces + 1 organic treat

Handcrafted in Bali. Fair Trade

$65+ retail value in every box

$24.95/month + free shipping
The Jewelry box will contain two handcrafted yoga inspired jewelry pieces, that are fair trade, sustainably harvested materials, nickle-free, lead-free and cadmium free.  These are made in Bali, Indonesia and 10% of all proceeds will be given to education the Balinese families to make these beautiful pieces.   It also contains an organic chocolate treat.

This month's theme is "Summer Solstice"~  Just as nature peaks in the summer, so do our spiritual energies. The Summer Solstice represents a time of energetic intensity and great potential, marked by the sun lingering the longest in the sky than any other day of the year. Connecting to the light and beauty of life flourishing all around us allows our hearts to sing, our energies to soar, and our passions to ignite. The  jewelry pieces we're giving this June have been designed to help you tap into your inner Goddess or God, adorned with a delicate lotus flower to promote a sense of purity and amethyst quartz stones for acquiring a deeper connection with your divine spirit. As you look forward to the bright and exciting summer months, trust that your growth will be as magnificent as ever.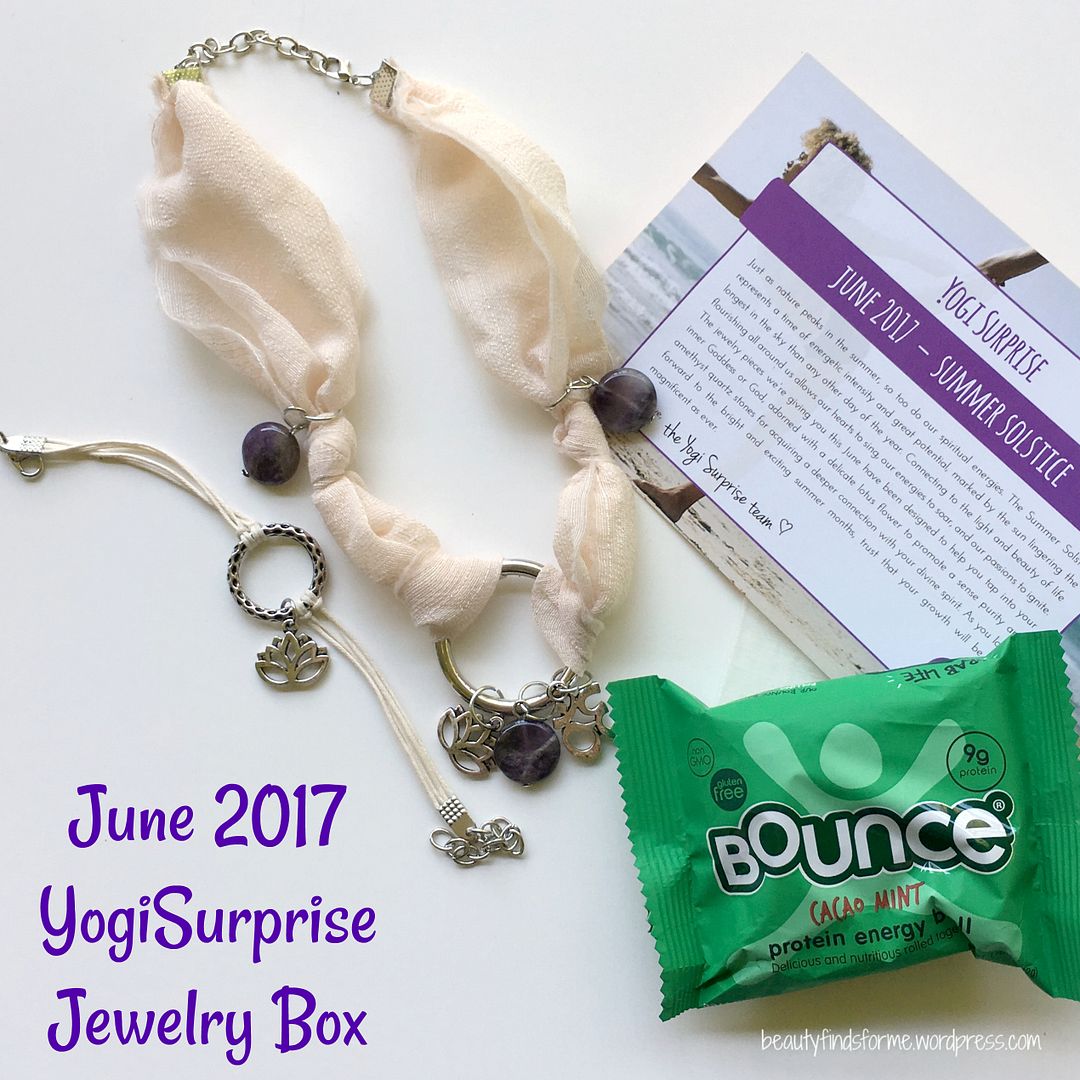 Informational Card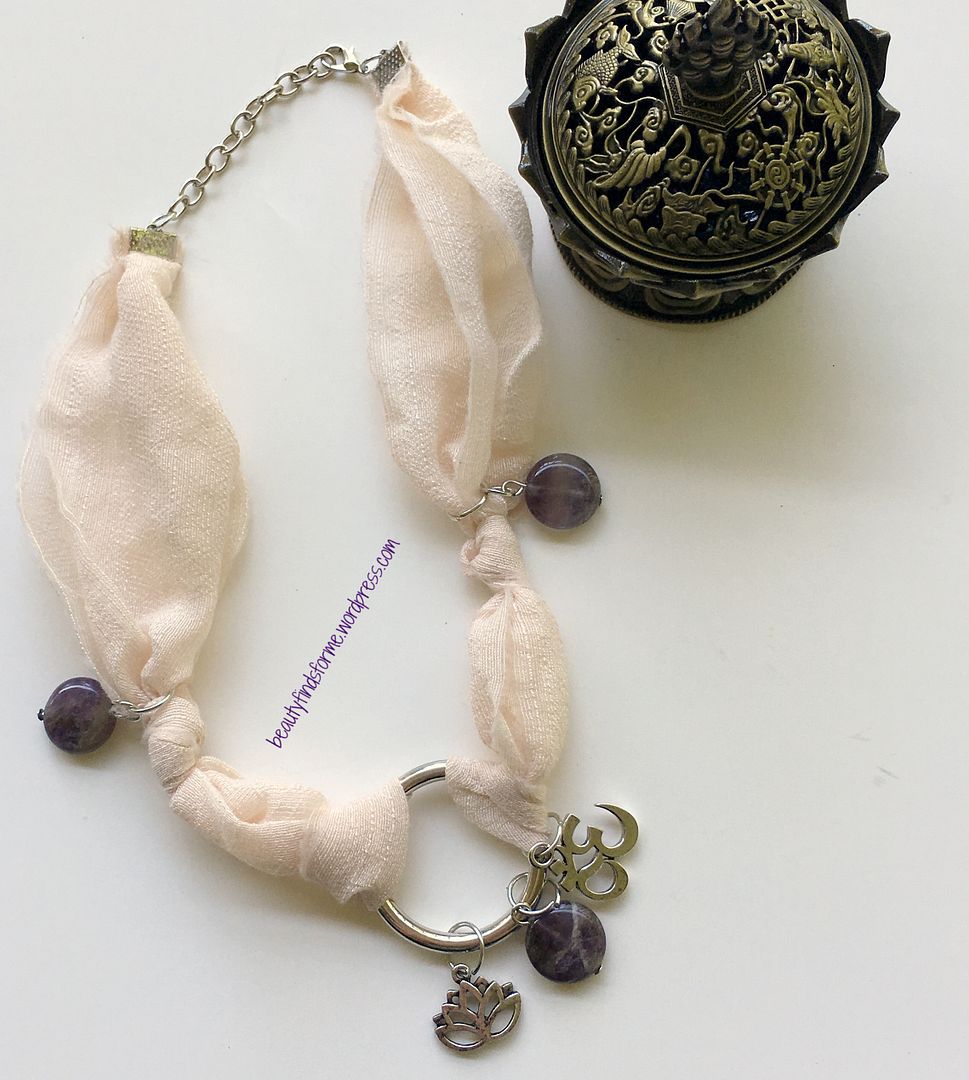 Summer Lotus OM Necklace  I wasn't sure about this one when I saw it as a sneak peek last month but now that I have it in person, it is so pretty.  The colors and fabric make it "delicate" looking, but it is a bold piece.  This necklace is strung on a gauzy off white fabric that has been knotted and hung with amethyst disks.  It has an end silver-toned ring which 3 charms dangle ~ OM charm, lotus charm and another amethyst disk.  It does have a lobster claw clasp and a silver tone extender chain, but it is quite the choker necklace on me.  It is 17 inch inches in length total, but due to how this is constructed, it bounces up and hugs my neck snugly.  I will add an extender chain to this so I can wear it lower.  I do not care for choker necklaces that much, but this is easy to extend.  RV $41.00
Amethyst:  Balancing the Crown Chakra, Third Eye and Crown Chakras and is the color of Spirituality
Amethyst promotes emotional centering.  Metaphysically amethyst encourages you to develop common sense and to become more emotionally centered and focused.  Amethyst is especially beneficial when worn over the throat or heart chakras and also can help with insomnia. If you place a piece of amethyst under your pillow at night it is said to help nightmares and assist in a more restful sleep. It is also said to help enhance prophetic dreams when placed under ones pillow at night or worn as a piece of jewelry while sleeping.  source
 OM ~ Known as "The Mother of All Mantras" and the four parts symbolize the four stages of consciousness ~ awake, sleep, dream and trance/transcendental state.   Before the beginning, the Brahman (absolute reality) was one and non-dual. It thought, "I am only one — may I become many." This caused a vibration which eventually became sound, and this sound was Om. Creation itself was set in motion by the vibration of Om. The closest approach to Brahman is that first sound, Om. Thus, this sacred symbol has become emblematic of Brahman just as images are emblematic of material objects….  the symbol Om written in Sanskrit also represents everything. The material world of the waking state is symbolized by the large lower curve. The deep sleep state is represented by the upper left curve.  The dream state, lying between the waking state below and the deep sleep state above, emanates from the confluence of the two. The point and semicircle are separate from the rest and rule the whole. The point represents the turiya state of absolute consciousness. The open semicircle is symbolic of the infinite and the fact that the meaning of the point can not be grasped if one limits oneself to finite thinking.  Source The Spirit Science
Summer Lotus Bracelet  I love this bracelet!  Simply strung on four cream colored, thick cotton strands with a textured silver tone ring in the middle, this also features a lotus dangle charm.  This bracelet has a lobster claw clasp and can fit from 6 1/4 to 8 inch wrist.   I really love the detail with the jump ring in the middle ~ it has a textured finish and it has been "oxidized" so the the crevices have been blackened.    RV $22.00
Lotus In Buddhism, the lotus flower represents purity, spiritual awaking and faithfulness.    The flower symbolizes purity, because it is clean, despite living in murky pond waters.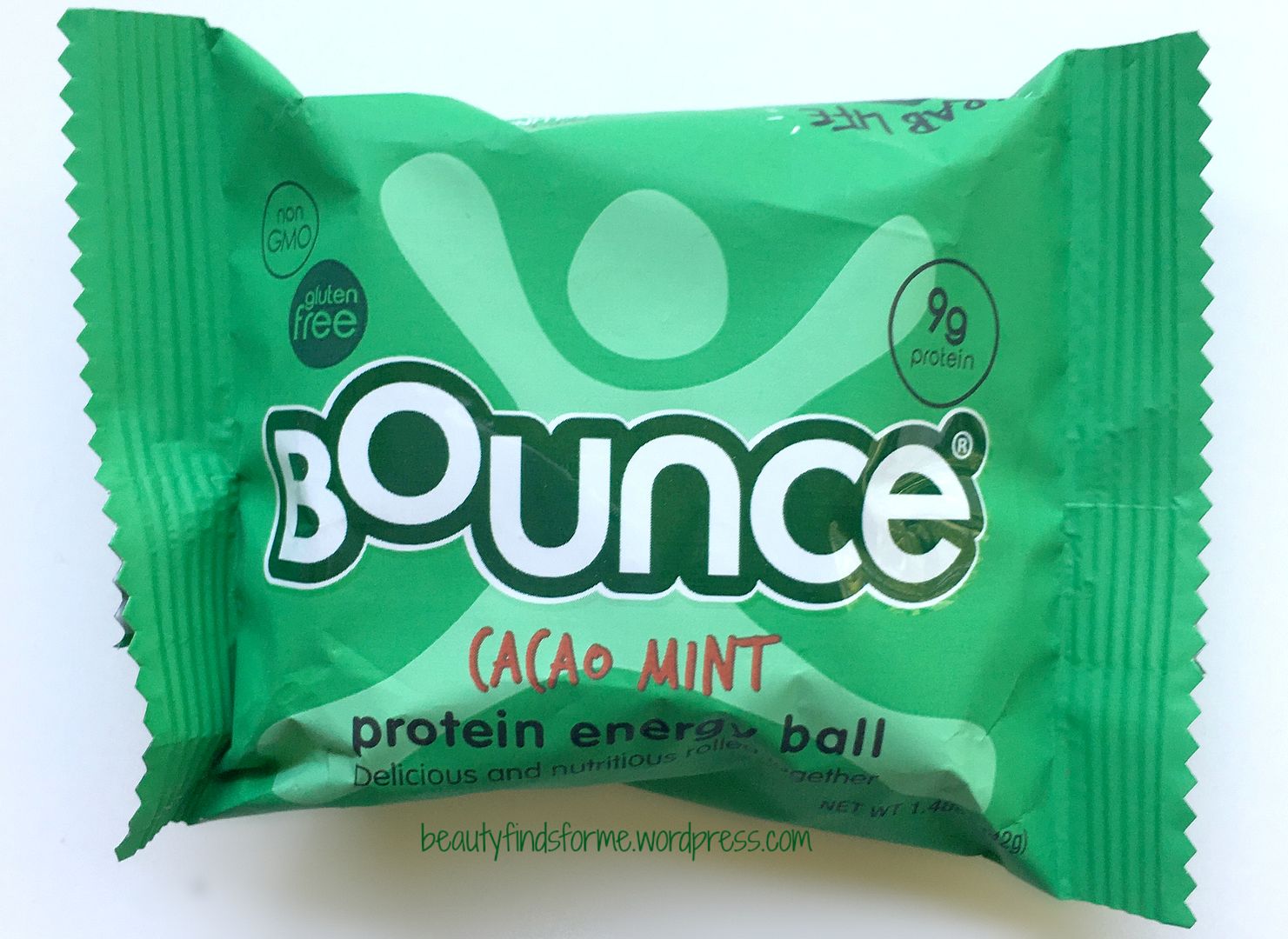 Bounce Cacao Mint Protein Energy Ball   I am one of the rare people that dislike mint and chocolate together and I will find someone who will love this.  This contains all sorts of good things that I don't want in my chocolate treat ~ lol ~ such as sunflower seeds, 9 grams of whey and pea proteins and rice bran, along with cacao nibs.  It is rich in fiber, ~ 3 grams ~  and vitamin E.  This is made from 100% natural ingredients that are cold-pressed and is gluten free, GMO free with no artificial preservatives. Bounce Cacao Mint is supposed to be a crunchy, reminding you of Girl Scouts Thin Mints 1.48 oz RV $2.99
Ingredients: sunflower seeds (19%), brown rice malts syrup, cacao nibs (14%), whey protein isolate (from milk) (10%), concentrated grape juice, gluten free grain dextrins (from brown rice), whey protein concentrate (from milk) (5%), rice bran, cocoa powder, gluten free oats, vanilla extract, pea protein concentrate, cocoa extract, stabiliser (guar gum), tapioca starch, sea salt, antioxidant (natural mixed tocopherols), stabiliser (calcium carbonate), emulsifier (sunflower lecithin), mint oil (0.2%).

Just like last month, I am pleasantly surprised!  I was so against this fabric necklace ~ the preview photo did not do it justice and even here, I don't think you can tell how nice this necklace is.  The bracelet is already a quick favorite of mine ~ I love the simplicity of it, but it has enough boldness to it with the middle textured ring.   This box has a Yogi Surprise retail value of almost $66.00~  I go by the value of the pieces to me and once again, I feel that this box is worth it!  Part of the proceeds from this box will go back to the local artisans that made these items and help educate their community.

Do you subscribe to Yogi Surprise?  Which box do you get and what was your favorite item this month?  Let me know in the comments below, I would love to read them 🙂
If you are interested in signing up to Yogi Surprise for either their Lifestyle or Jewelry box, I would love it if you used my referral link   They are currently running a 10% off special for the first month, no promo code needed.   Check out the spoilers for next month's boxes below!    If you sign up for the Lifestyle box, use YOGIFRIEND to get 20% off the life of your subscription!

Next Month Spoilers



If you sign up now, you get a free gift worth $20.00 ~ Chakra Healing Stones  (these came in the May box ~ see my unboxing here)
Jewelry Box  Summer inspiration necklace $48  To invigorate your spirit this July, we're bringing you our Summer Inspiration necklace for our upcoming "Freedom" theme. Healing blue jasper stones will encourage you to live freely like the fluid, flowing waves of the ocean while white jasper stones will leave you feeling positive in the present, hopeful for what's to come, and courageous enough to pursue your desires. Let the serene summer colors of this necklace gently wash you away in the direction toward a bright and brilliant future.

Lifestyle Box   Skinny Coconut Oil  $14  With over one hundred different ways to use it, Skinny & Co.'s 100% raw, cold-processed coconut oil is also the only type of coconut oil in the world that's 100% alkaline. Use it as a skin moisturizer, a hair conditioner, a healthy ingredient in your smoothies, or even a substitute for butter.
Mindful Anti-Aging Eye Serum $20  Mindful's Anti-Aging Serum is silky and gentle enough for use on the delicate skin around the eyes, yet powerful enough to combat the signs of aging. It targets fine lines and wrinkles while hydrating to deeply protect the delicate eye area. This serum is made with all organic materials and is outstanding for every skin type.
[ all descriptions in italics from linked website.  this blog post contains referral & affiliate links ]