[ disclaimer: products received complementary for an honest & unbiased review.  blog post contains affiliate links ]
This is the last of my Scinic products that I received from Memebox for review purposes.  I really wanted to try this big boy and Memebox was kind to send it along to me with some other Scinic products to try ~ I have reviewed them here.

I normally do not use or go out of my way to use All in One Ampoule products – I use a lot of layers of hydrating skincare and like doing that.  However, I also am aware that I am very lucky ~ I get skincare products to review and I am also able to afford skincare products on my own.  I love looking for a deal for those who are on a budget or only wish to use a couple of skincare products.   I have tried the Scinic Iceland Water AIO and I didn't care for it that much ~  it was floral scented plus it had a huge jam jar mouth opening and was just a pain to use.  I couldn't wait to finish that thing off and I ended up using it all over my body.  I swore I would not try another Scinic AIO product but I was seduced by the herbal greenery of their latest AIO releases ~ Centella Asiatica.  They also came out with Vitamin C and Ceramide AIO as well.

Description: This convenient and effective all-in-one ampoule acts as a toner, essence, and moisturizer. Enriched with 100% pure Centella Asiatica Extract, this multi-tasker soothes stressed skin while reducing irritations and skin troubles. Plus, it powerfully hydrates, helping to soften skin texture, brighten up dull skin, and target wrinkles. You can enjoy more radiant, elastic, and moisturized skin in just one step!
Skin Type and Issues:  Oily, blemish prone skin, aging concerns ~ hyper pigmentation (sun damage and acne scarring), fine lines and wrinkles
Ingredients of Note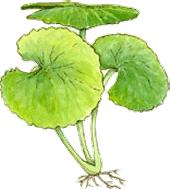 The star ingredient is Centella Asiatica and this AIO contains 10,000ppm of this herbal wonder.  Centella, also known as gotu kola and pennywort (it has a lot of other names too) , soothes and heals your skin and has been used for centuries in Traditional Chinese and Ayurvedic medicine.  It is rich in amino acids as well as essential fatty acids, beta carotene and other phytochemicals, which help with wound healing and stimulating new skin cell growth.  It not only just helps with healing, it helps reduce blemishes and skin rashes as it has anti-bacterial properties.  It will help minimize the  appearance of pores and it stimulates collagen production so it will make your skin more supple and firm while reducing scarring. It contains certain chemicals that also makes this herb an anti-inflammatory, so redness and swelling will be reduced.   The reason why this is so good for healing and soothing your skin, as it contain saponins: "The primary active constituent is triterpenoid compounds. Saponins (also called triterpenoids) known as asiaticoside, madecassoside, and madasiatic acid are the primary active constituents. These saponins beneficially affect collagen (the material that makes up connective tissue), for example, inhibiting its production in hyperactive scar tissue."  (source Herb Wisdom)
This also contains some really great ingredients for additional healing, soothing, hydration, anti-aging and brightening as well:  Aloe vera will soothe your skin, treats inflammation, helps speed up skin healing and also has a plethora of antioxidants ~ beta-carotene, Vitamin C and Vitamin E, which help improve your skin's firmness and keeps your skin moist and hydrated. It also contains over 75 different nutritious ingredients, including minerals, enzymes, amino acids, salicylic acid and much more.  Glycerin and sodium hyaluronate are the dynamic duo of humectants ~ glycerin will moisturize and hydrate the skin, leaving your face feeling smooth and soft. while sodium hyaluronate helps supply nutrition and strengthen your cell barrier and will penetrate deep into your skin, while retaining moisture.

Niacinamide is a powerful antioxidant that acts as an anti-inflammatory, improves your skin elasticity, enhances the skin barrier function and also it helps to even out skin tone and reduce post-inflammatory hyper-pigmentation.  Allantoin  is known for healing, soothing and softening skin, it also helps remove cracked and chapped skin, leaving behind healthy looking skin.  Adenosine is yeast derived and is an anti-wrinkle and anti-inflammatory ingredient.  Betaine is an amino acid that is a humectant and anti-irritant, providing silky smooth skin and soothes and calms skin.
Tea Tree is used for many infections and diseases due to its healing and disinfectant properties ~ antibacterial, fungicide, antiseptic, antimicrobial, antiviral and can help speed up wound healing and reduce scarring, as it is a cicatrisant. It also reduces oil and sebum production on your skin, while not disrupting the moisture level. It helps with preventing dry, flaky skin and because of its antibacterial properties, can help heal current blemishes while reducing future blemishes and control excess oil. It helps with rashes, allergic skin reactions and fungal infections . Rosemary has anti-septic properties, supports collagen growths and has anti-oxidant properties that will combat free radicals. Lemon is a natural source of Vitamin C and the antioxidants bioflavonoids and will brighten your skin.
Zanthoxylum piperitum (Japanese Pepper) contains anti-oxidant properties, protecting skin, stimulating cellular growth, combating free radicals, helping prevent fine lines & wrinkles ~ making this a popular anti-aging ingredient. Pulsatilla koreana (Korean pasqueflower) is an antimicrobial and will help kill and prevent infections. Usnea barbata (lichen) is a natural anti-bacterial and anti-fungal ingredient, helping to prevent infections, treat wounds and is also an anti-inflammatory, helping to heal and soothe. It is a natural preservative for skin care products.
Ingredients: Water, Glycerin, Alcohol, Xylitol, Glycereth-26, Niacinamide, Centella Asiatica Extract (10,000ppm), Aloe Barbadensis Leaf Extract, Portulaca Oleracea Extract, Zanthoxylum Piperitum Fruit Extract, Pulsatilla Koreana Extract, Usnea Barbata (Lichen) Extract, Rosmarinus Officinalis (Rosemary) Leaf Oil, Citrus Limon (Lemon) Peel Oil, Melaleuca Alternifolia (Tea Tree) Leaf Oil, Sclerotium Gum, Betaine, Allantoin, Sodium Hyaluronate, Carbomer, PPG-26-Buteth-26, PEG-40 Hydrogenated Castor Oil, Phenoxyethanol, Decylene Glycol, Ethylhexylglycerin, Hexylene Glycol, Butylene Glycol, Totarol, Triethanolamine, Zea Mays (Corn) Starch, Microcrystalline Cellulose, Mannitol, Sucrose, Chromium Oxide Greens, Tocopheryl Acetate, Adenosine, CI 19140, CI 42090 cosDNA analysis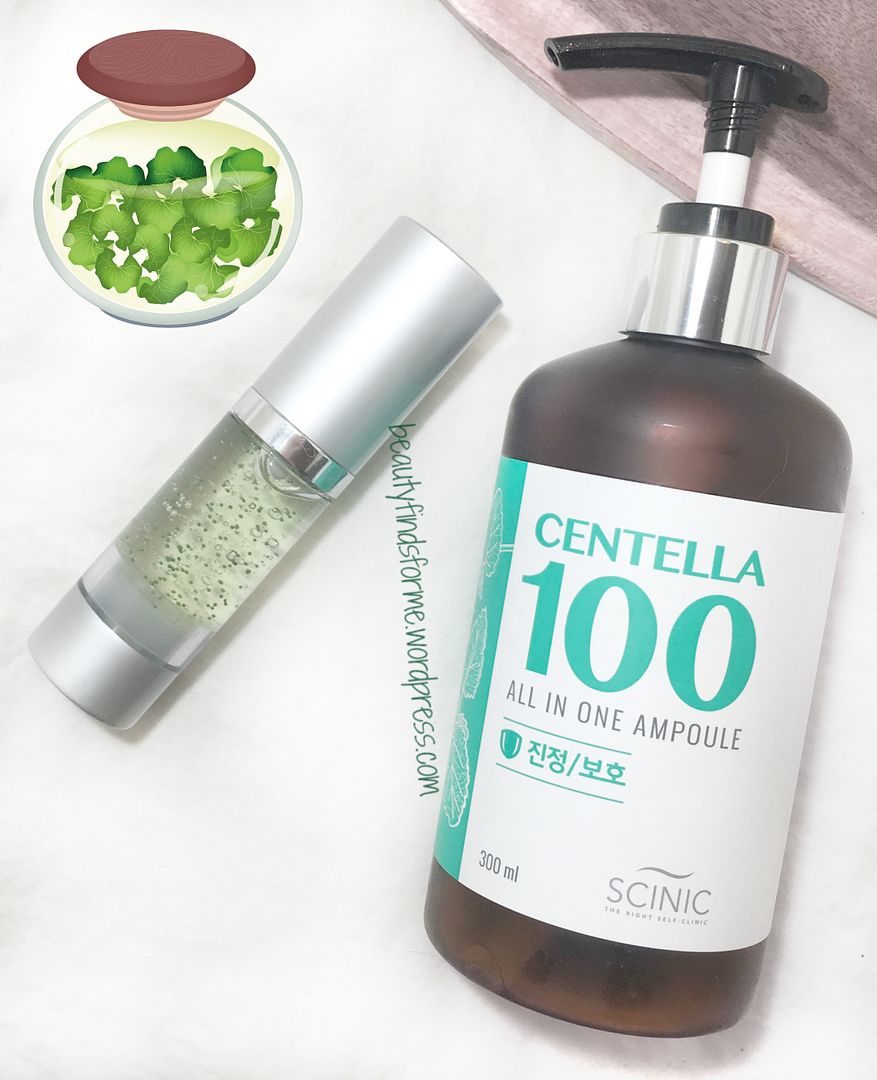 The premise of this product is that it will take the place of a toner, essence, and moisturizer ~ which will never happen in my household!  I will say this, the packaging is 110% better than the original AIO products from Scinic ~ they got rid of the wide mouth jam jar opening and went with a nice pump applicator!  They must have listened to the complaints from the customers as that was a big issue for many people.  This is a huge bottle at 300mL, however, and too big to keep out on my bathroom counter and too big to fit in my bathroom cupboard ~ my bathroom is SMALL ~ so I decanted the product into 1 oz  airless pump bottle ~ it is the perfect size and doesn't take up much room.  Amazon sells these in other sizes as well, and I do own the 1/2 oz version as well, which comes with a funnel.  If you are interested in these pumps, you can find the 1 oz here and the 1/2 oz here on Amazon.
This is a gel product, unlike the Iceland product, so it isn't a dripping mess when I apply it to my skin.  The color is a light pale green with darker green-blue specks in it, but it applies colorless, so you don't have to worry about turning green.  I think those specks are just for a "look" and part of the dyes in the product.   This has a strong medicinal, bitter scent to it and despite that it has a high alcohol content, it does not smell like alcohol. I happen to love this scent, as I know I was an apothecary in a previous life time ~ lol.  I like these bitter scents much better than soap or fresh floral.  So … the two reasons why I disliked the Scinic Iceland AIO have been fixed here with the Centella AIO ~ the jar now has a pump and the scent is vastly improved (for me, at least)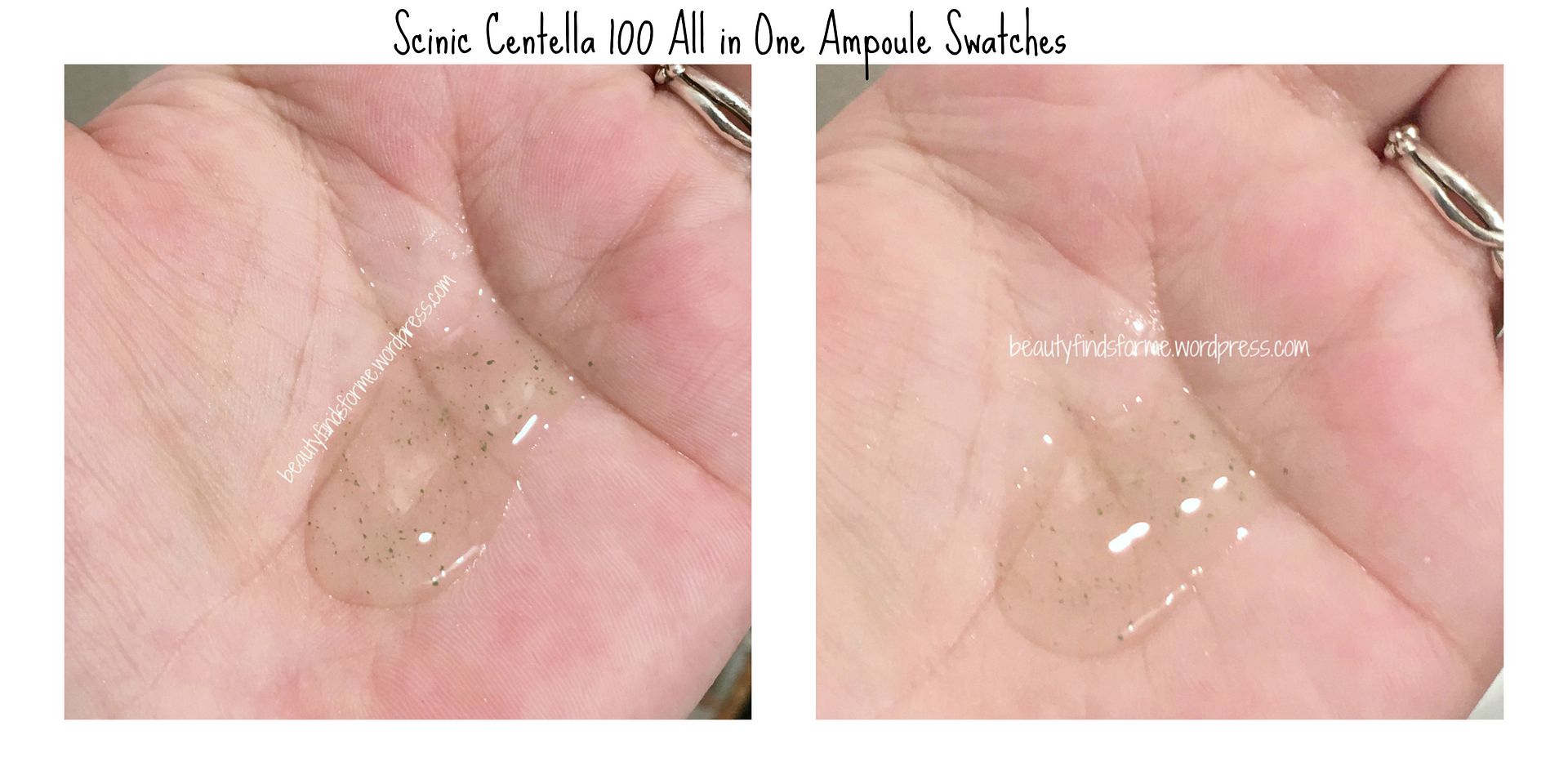 The green bits will disappear once this product is applied to your skin ~ but whoa ~ this stuff is tacky and sticky and takes a long time to dry down.  When I first used it, every time I moved my head, my hair was literally sticking to my face!   Even if I tap the product more on my skin, it still feels tacky, but the shine of the product is reduced.
I found a way to use this, however, without the sticky feeling.  I found this is a great product to MIX with other emulsions, lotions and essences.  As I rarely use a cream product, but stick to emulsions and lotions as my final step before sunscreen, this turns my lotions into a gel-lotion. For whatever reason, the other products I have used seem to neutralize the tacky residue on my skin.  I have successfully used this with Labiotte Lotus Total Recovery Emulsion ** (I will be reviewing that soon, as I am almost done with it), SanDaWha Multi Action Intensive Essence **  (review here), 107 OneOSeven Core Flex Cream Essence ** (just starting using this) and cosRX Oil-Free Ultra Moisturizing Lotion with Birch Sap  (review here)   ** Items received for review purposes.
I mix with a 2:1 ratio of my lotion of choice and the Scinic Centella AIO, to create a soothing and healing lotion.  This boosts my lotion's hydration and also gives me the benefits of the Centella AIO.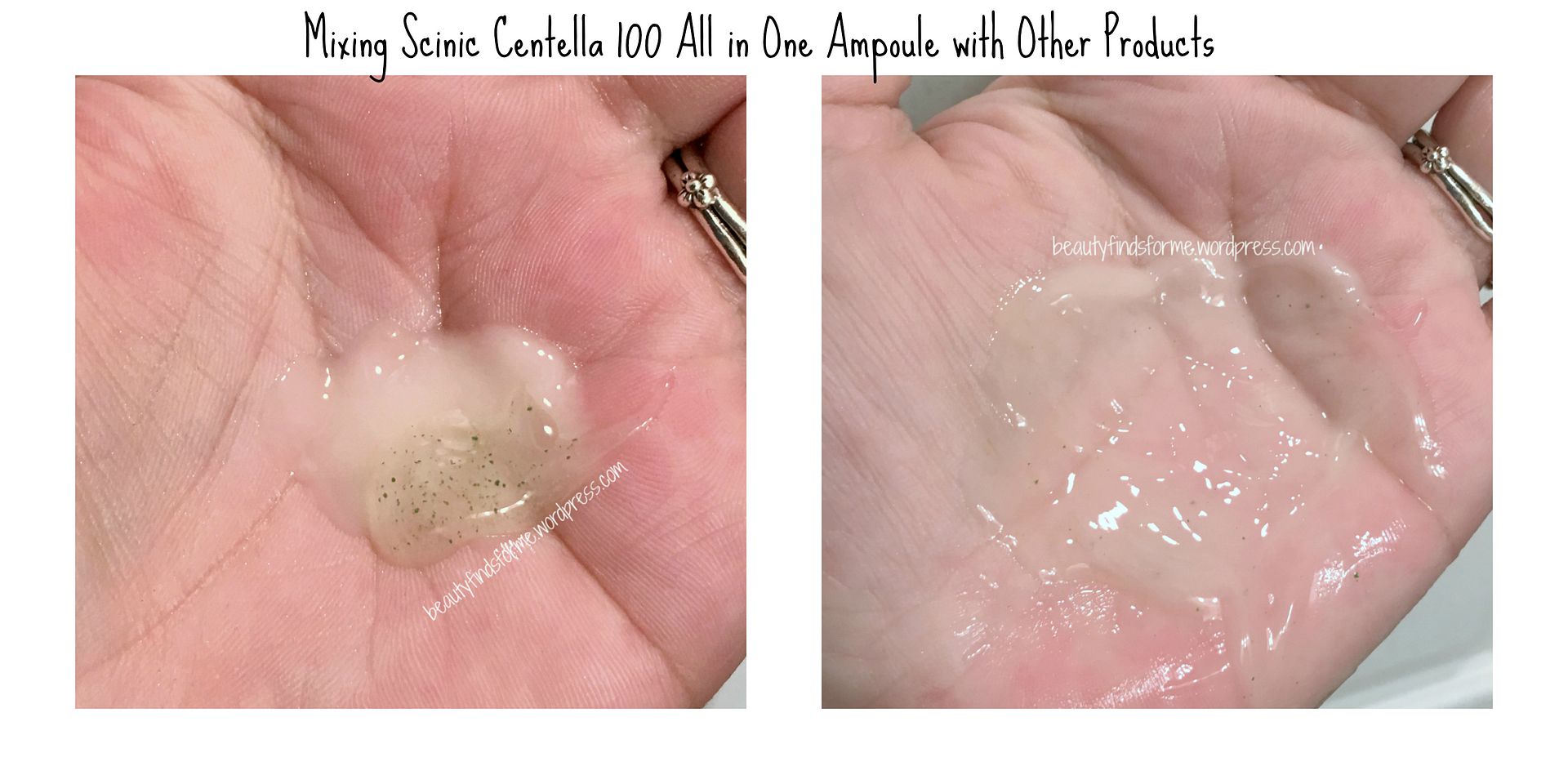 On its own, the Scinic Centella AIO is pretty darn hydrating ~ almost an increase of 59% of moisture levels on my skin.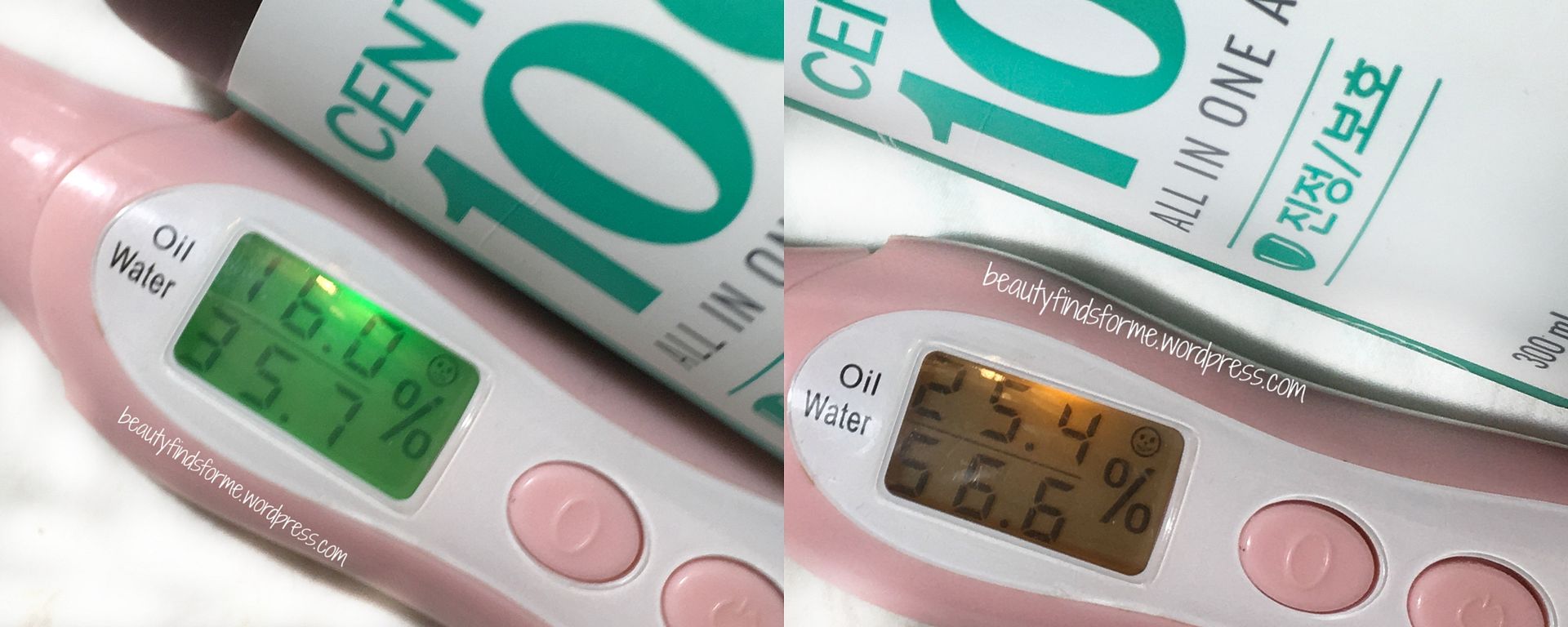 So, with all of that, what the heck does this do for my skin?  I have noticed that my skin is much more hydrated when I use this and it is quite soothing on my skin.  I haven't seen it prevent blemishes, but then again, since mid-January, my face has been breaking out, which I am attributing to stress and certain Twitter feeds. I think my face is in some weird cycle but lately, it has been healing up and my blemishes are going away.  I have been using several centella products, including this one, so I am sure that centella is helping heal my skin.   That said, this is why I love this product.  I posted this on IG after I used two Scinic products together ~ and this is just with one use!  I am repeating my findings again because I swear, this was amazing!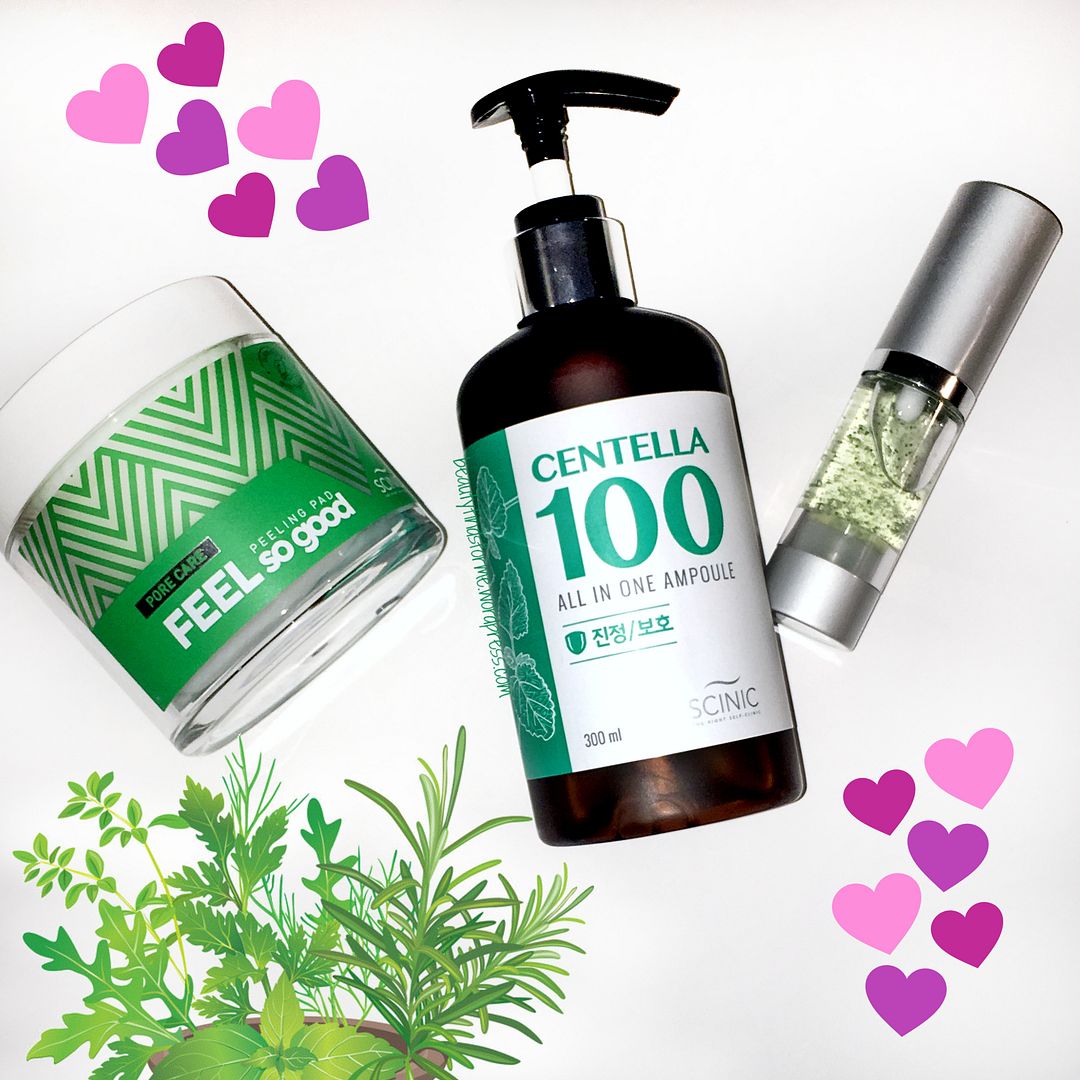 What magic is this? I had to talk about this as I never had a skincare product(s) do this before. Background: I have a small milia on my cheek for many months now ~ never goes away, small hard white bump that drives me bat-poo crazy-insane. Nothing will get rid of it. I received some Scinic products from Memebox to review and I am a bit cynical about Scinic (see what I did there?) due to their normally heavy floral scents. BUT, I wanted to try out a couple of items and they sent me four! I first used the Feel So Good Peeling Pads (pore care ~ review here). These BHA pads smell like tea tree 🍃🌿and the alcohol ingredient is dead last in a long list of lovely herbal ingredients. I found these to be skin soothing without any irritation at all ~ and very hydrating too! Then I slathered on the Centella 100 All in One Ampoule ~ this ampoule is really cool ~ it has little capsules that burst open as you apply it to your skin ~ I did decant it to a smaller pump bottle, because the lack of space in my bathroom is getting to be quite distressing!! So, I did this at night time and then off to sleep
THE NEXT MORNING:  I woke up and went to remove the remains of the night off my face. WHA? WHOA (in my best Keanu Reeves voice) That milia is GONE. Flattened out and disappeared or fell off, I don't know, but it is no longer on my face. What the whaty what what… Amazing. Was the combination of these two products or just one? I don't know but these items are fairly inexpensive for what you get ~ the ampoule is $25 for a huge 300 mL bottle and the pads are $19 for 70 pads.  I am going to get more of the pads, as the ampoule will last me a LONG time.
My milia is still gone and I do think the combination of the BHA and the AIO product really helped get rid of it. It could have been ready to fall off on its own ~ I do not know ~ all I know is that I wasn't looking to see if these two products would remove it but it did. It was an unexpected but happy result!

Final Thoughts
I actually do like this sticky Centella AIO ~ I don't use it as an all in one product, but I found it is great to boost hydration in my other lotions, which I need during this dry winter.  I do feel it is a clarifying product, as it doesn't clog my pores and it worked wonders on my milia.  If you are looking for an AIO product and you have blemish prone skin, you might want to try this if you don't mind waiting for the dry down.   I think if you have dry, blemish prone skin, this would absorb better into your skin than my oily skin.  For oily and normal skin types, you should mix it with a lotion.  Would I purchase, is the big question?  Probably not ~ not because it is a bad product as it isn't. It is a fantastic product!  It is JUST TOO MUCH product for how I use it ~ 300 mL is a lot and Scinic claims that this will last you 100 days if you use this as a replacement for your toner, essence and lotions.   Since I don't use it that way, it will last me 5 times as long ~ lol.  If I were to purchase this, I would have to go in with some friends and decant it. I would love to see this as a 100 mL bottle or less.
That said, this product is one I do recommend if you are looking for a AIO or plan to split up among friends. It is very inexpensive ~ $25.00 for a 300mL bottle and I would also recommend purchasing the Scinic BHA pads ~ those I have purchased 2 more of, as they really are fantastic.  Have you tried any of the Scinic products yet? Which ones and how did you like them?
Where To Purchase
In the USA ~ Memebox! Scinic is one of those brands that is very affordable and you should get this before it is gone. Memebox is changing how they will stock their store starting in May 2017..

If you are interested in the Airless Pump Bottles, I purchased mine from Amazon
Savings at Memebox
Save 20% off your first order at Memebox with my referral link 

I have some $10.00 off coupons as well ~ use this form if you want one ~ first come, first serve!!
The following form is for requesting a $10.00 Memebox coupon.  If you want to comment on the review, skip on down after this form and you will see the normal reply comment section.
[ disclaimer: products received complementary for an honest & unbiased review. blog post contains affiliate links ]