disclaimer: product received in exchange for an honest and unbiased review.  blog post contains affiliate links
Last summer, Wishtrend came out with a new line of hair and body care products called Jungle Botanics.  I was fortunate enough to have received the Forest Leaves Hair Care products (Cooling Shampoo review and Warming Treatment review) and now I am going to review the third product from the Jungle Botanics line, Natural Body Glow Nutshell Scrub, courtesy from Wishtrend. 
Jungle Botanics brings you the vitality of the green jungle amidst the jungle of concrete by combining advanced technologies with superb ingredients direct from Mother Nature. Our mission is to replenish natural energy and return balance to your skin by using revitalizing elements found in nature, and in turn restoring the natural, healthy state of your skin. We found our answer in the jungle.The "Natural Body Glow Nutshell Scrub" is a body scrub that contains finely ground walnut shell granules and various natural oils from the jungle.  The round-cut granules do not irritate your skin, but gently exfoliates and purifies, leaving your skin healthy, smooth, and glowing.
I love body scrubs and have done reviews on them in the past (reviews here)  ~ I find it very satisfying to remove dead skin and soften my skin with a good body scrub.  It is almost the end of a dreary winter and that means that my legs and arms will be exposed with the warmer spring and summer months.  The backs of my thighs and my arms are a bit rough as I do neglect them during the winter (if no one sees your skin, does that mean you have rough skin? lol), so this scrub came to me at the perfect time!    Just like the other items in the Jungle Botanics line,  this scrub is made with a variety of natural plant extracts, called Amazon Forest Complex.  
What makes this scrubby are the walnut shells granules, which are round cut and porous  ~ if you look at the scrub, they look like little grains.  These granules will help remove dead skin cells and unclog your hair follicles, so it will leave your skin silky smooth.  Walnut shells are 100% natural and are biodegradable ~ this makes it an eco-friendly product as it doesn't use microbeads, which cannot be used anyway here in the USA, due to the  ban of microbeads in 2015.  Jungle Botanics makes the claim it is good enough for sensitive skin too. 
Jungle Botanics does highlight its cacao seed butter ingredient, as that has been used by Amazonian tribes for thousands of years as it helped soften, smooth, protect and heal their skin.  This also has 10 specific oils that are extracted from different Amazonian plants, but this contains more than just 11 butters and oils ~ oh yes.  This contains, including the cacao seed butter, a total of 3 seed butters and 13 oils  This contains a slew of seed butters and oils:  kokum seed butter, murumuru seed butter, grape seed oil, peach kernel oil, avocado oil, macadamia seed oil, sea buckthorn oil, sunflower seed oil, cotton seed oil, açaí palm fruit oil, camellia seed oil, pracaxi seed oil,  castor oil, Brazil nut seed oil and argan kernel oil
A little information on some of these oils and butters:
Vitis Vinifera (grape) seed oil has been used since the 16th century and it contains moisturizing and nourishing compounds, such as linoleic acid (omega 6 essential fatty acid) and vitamins. It absorbs into your skin without an oily feeling and assists other ingredients to penetrate deeper into your skin
Prunus Armeniaca (apricot) Kernel oil is an emollient that is rich in essential fatty acids, thus providing a nourishing moisturizer to your skin.
This also contains Vitamin E, which is a potent antioxidant and an interesting fermented soybean + argan oil filtrate:  Pseudozyma Epicola/Soybean Flour/Argania Spinosa Kernel Oil Ferment Filtrate, also known as Fermentoil Argan ~ this is a non greasy ingredient that helps improve the absorption of other ingredients into the skin and contains beneficial essential fatty acids, such as oleic acid, while providing moisture.  The microbial fermented oil has all of the nutritional benefits as argan oil, however fermented ingredients can penetrate deeper and absorb faster into your skin as the molecules are much smaller.
Ingredients: Water, Juglans Regia (Walnut) Shell Powder, Sodium Laureth Sulfate, Glycerin, TEA-Lauryl Sulfate, Propylene Glycol Laurate, Cocamidopropyl Betaine, Fragrance, PEG-40 Hydrogenated Castor Oil, Oleyl Alcohol, Sodium Chloride, Cocamide DEA, Triethanolamine, PEG-7 Glyceryl Cocoate, Carbomer, Caprylic/Capric Triglyceride, Zea Mays (Corn) Starch, Sucrose, Microcrystalline Cellulose, Mannitol, Theobroma Cacao (Cocoa) Seed Butter, Pentaclethra Macroloba (Pracaxi) Seed Oil, Garcinia Indica (Kokum) Seed Butter, Bertholletia Excelsa (Brazil Nut) Seed Oil, Astrocaryum Murumuru Seed Butter, Tocopheryl Acetate, Titanium Dioxide, Mica, Butylene Glycol, Origanum Vulgare Leaf Extract, Ocimum Basilicum (Basil) Extract, Moringa Oleifera Leaf Extract, Malpighia Emarginata (Acerola) Fruit Extract, Gaultheria Procumbens (Wintergreen) Leaf Extract, Euterpe Oleracea Fruit Extract, Eucalyptus Globulus Leaf Extract, Crocus Sativus Flower Extract, Cocos Nucifera (Coconut) Fruit Extract, Citrus Aurantium Amara (Bitter Orange) Flower Extract, Achillea Millefolium Flower Extract, 1,2-Hexanediol, Vitis Vinifera (Grape) Seed Oil, Prunus Persica (Peach) Kernel Oil, Persea Gratissima (Avocado) Oil, Macadamia Integrifolia Seed Oil, Hippophae Rhamnoides (Sea Buckthorn) Oil, Helianthus Annuus (Sunflower) Seed Oil, Gossypium Herbaceum (Cotton) Seed Oil, Euterpe Oleracea (Açaí Palm) Fruit Oil, Camellia Japonica Seed Oil, Argania Spinosa Kernel Oil, Pseudozyma Epicola/Soybean Flour/Argania Spinosa Kernel Oil Ferment Filtrate, Tin Oxide, Ethylhexylglycerin, Phenoxyethanol, Sodium Benzoate, CI 77491  cosDNA analysis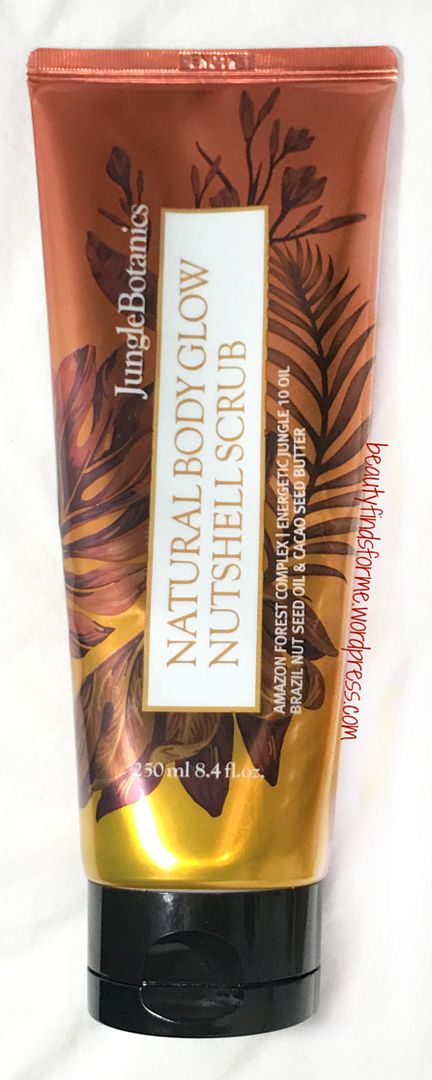 This comes in an amazing 250 mL metallic tube with colors of bronze, copper and gold with a leaf design  ~ it doesn't remind me of the Amazonian forest, but of an Arizona desert sunset!   This has a flip cap and you just squeeze out the product from the tube. 
The scrub is a golden dark honey colored gel-paste and you can see and feel the walnut shell granules in this product.   The scent is very disappointing to me.  I would have thought with all of these wonderful botanicals and nut products, it would be a warm and earthy scent.  Instead, it is a very sweet, perfume floral scent and I dislike it very much. However, many people seem to love the scent, so I guess it really is YMMV (your mileage may vary).   You should always wet your skin first before using this scrub.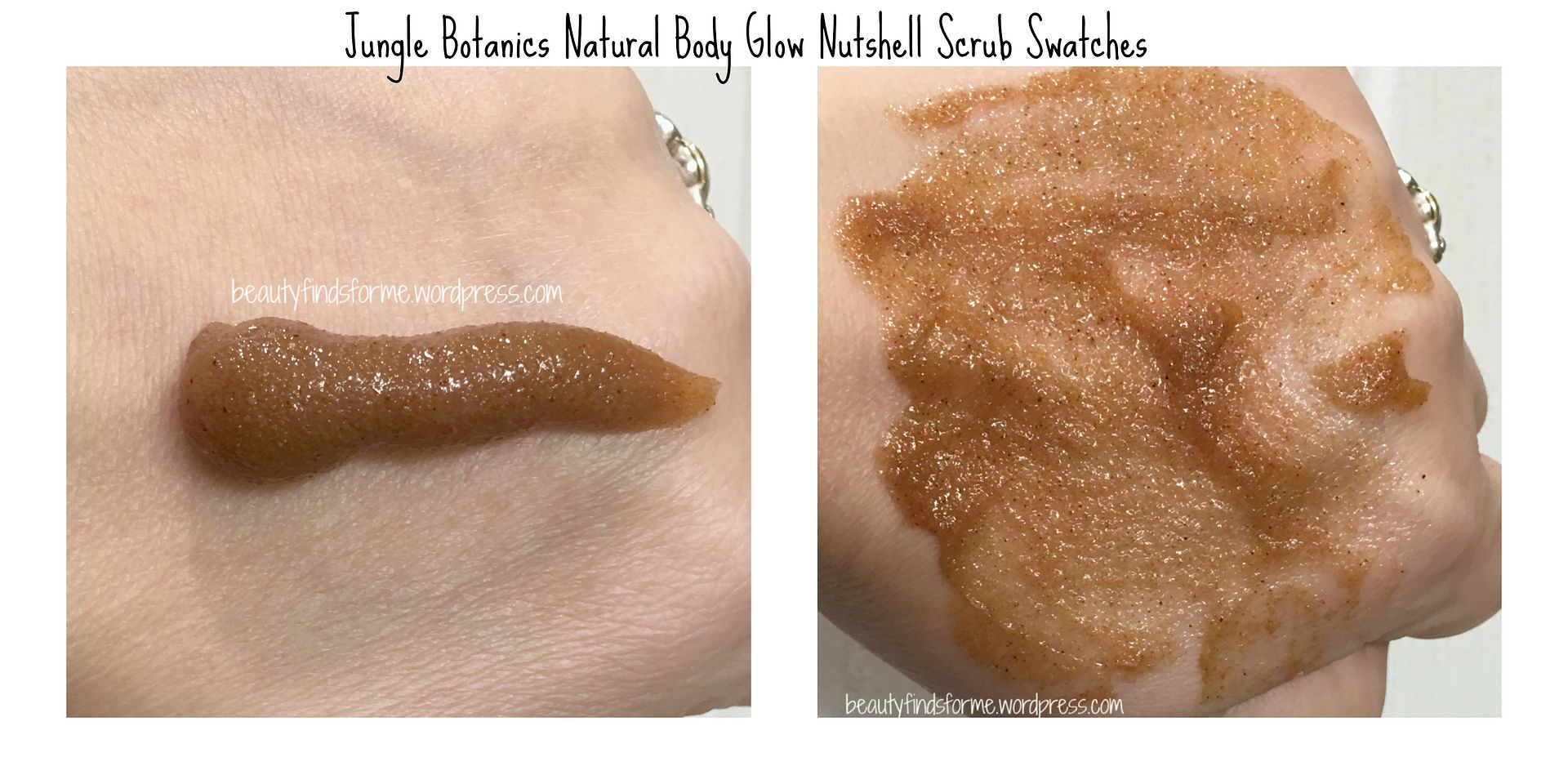 Now, I don't have sensitive skin, but the first time I used this on the back of my legs, I didn't moisten my legs first.  It wasn't painful to use the scrub but after I rinsed it off, my skin was a bit red and was a little sensitive for about 10 minutes.  When I moistened my skin first, then applied the scrub, I did not experience any redness or sensitivity.  Just a tip if you want to use this scrub!  One of the nice things about this scrub is that it foams up as you apply water to it and massage it around on your skin ~ so this also has a nice deep foaming cleansing action as well as scrubbing.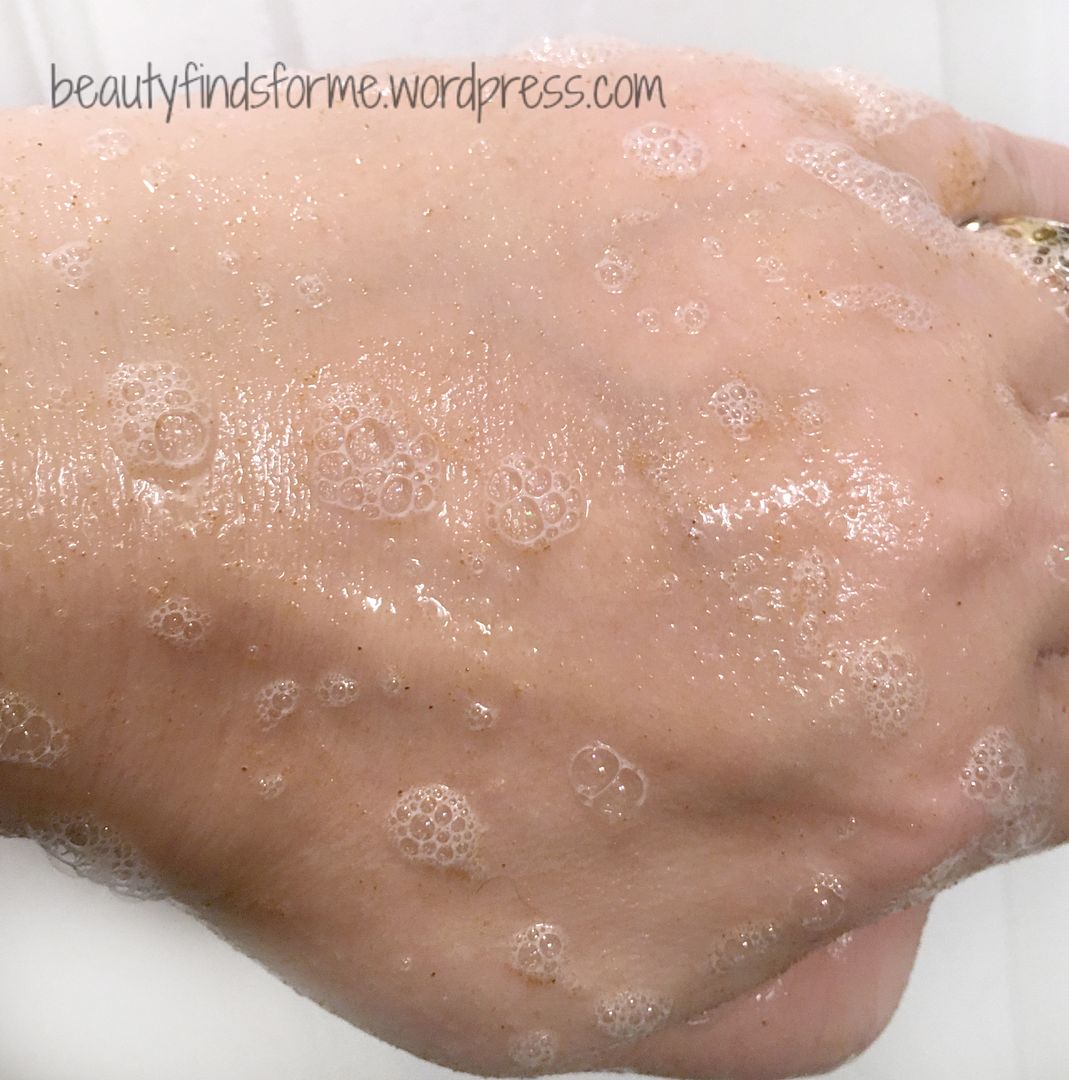 My skin does feel nice and smooth and the moisturizing oils in this product also helped give my skin much needed hydration, keeping my skin soft and supple.  I can feel that the little bumps on the back of my legs are going away, so that means I will be able to wear my shorter skirts soon! I hate wearing pantyhose and usually will go bare-legged, so in the spring and summer months, I use Jergens Natural Glow Daily Moisturizer on my legs as it gives it a nice smooth and natural looking color.  Exfoliating my legs first allows me to apply that self-tanner without any streaking or have patchy areas. 
Final Thoughts
This scrub has a lot going for it ~ the ingredients are stellar with all of the moisturizing and nourishing seed butters and oils and the eco-friendly walnut shell granules.  It really does leave my skin feeling soft and smooth, exfoliating away the dead skin cells and unclogging my hair follicles on my skin, so I can also achieve a closer shave on my legs.  The foaming action is great and so long I wet my legs first, it is not irritating.  However… The Scent.  I dislike it so much ~ I am not a fan of perfumed scents and that is what this smells like to me.  I would love it if Jungle Botanics came out with an unscented version of this, as I would purchase it in a nano-second.  It is a shame that I have to mark this down for the scent, but I also know that this scent is also very popular, based on reviews I  have read.  So, maybe it is just me!! I do think that as Wishtrend does make products with light or no scents, so perhaps they should look into creating an Unscented version of this Natural Body Glow Nutshell Scrub.  It would be worth it!    Have you tried any of the Jungle Botanics hair and body line yet?  What did you think of them?

Where To Purchase
Wishtrend is the only retailer that currently carries Jungle Botanics and they currently carry 3 products in this line.  All prices are in USD

If this is your first time shopping with Wishtrend, you can save $5.00 off your purchase by using my friends referral number ~ 092847308  ~ and you will receive the coupon. Register first and enter the my code in the form labeled "friends invitation program" and wait for the coupon before you place your order.  Also, remember to save your welcome and any order emails from Wishtrend.  They usually have discount and free shipping codes just for your use in them, so you can save even more money on your next order!
You automatically receive Free Shipping with purchases $69.00 USD and over
Don't forget to check out Wishtrend's Free Shipping Product Selection

Wishtrend ships globally
disclaimer: product received in exchange for an honest and unbiased review. blog post contains affiliate links
[ description in italics from wishtrend ]