Disclaimer:  This product was received complementary from W2Beauty.com, all opinions and thoughts are my own.

SanDaWha is a new brand that W2Beauty is now carrying. There have been some changes with W2Beauty recently and a new website look is coming soon!  Already new changes have occurred ~ a new logo, lower prices, new brands and a very informative newsletter than has monthly promos and product information.  As part of their rollout, I received two great items from SanDaWha, a brand that I was familiar with previously, but had a hard time finding shops that would ship to the USA.

I have already reviewed the SanDaWha Liposome Skin Softener here and now it is time for the SanDaWha Multi Action Intensive Essence review.  In my softener review, I talked at length about SanDaWah, so if you are interested in more information about this brand, you can read here.

In its nature-based skincare line, SanDaWha harnesses the purity and power of the camellia flower that thrives in the unique ecosystem of Jeju Island, considered Korea's Hawaii for its tropical climate and lush greenery. Camellia seed oil is rich in vitamins, omega-3, -6, and -9, and oleic acid; absorbs well without stickiness; and helps to deeply hydrate skin. Using a cold-pressing process to naturally extract unrefined camellia oil, thereby preserving its skin-nourishing properties, SanDaWha emphasizes high quality ingredients over fancy packaging. SanDaWha believes in skincare that is kind to your skin, your health, and the environment, and never uses harmful ingredients (source W2Beauty)

SanDaWha main concept is natural skincare with ingredients sourced from Jeju Island, focusing on camillia extracts. It is safe and eco-friendly, free from mineral oils, alcohol, synthetic pigments, fragrances, phthalates, dioxane, formaldehyde, PEGs, synthetic detergents, harmful chemicals and artificial preservatives. It uses hypoallergenic ingredients, with pure natural plant oils, plant based substances and using their patented multi-layered liposome formula.
My skin type and concerns:  oily, aging, blemish prone, hyper-pigmentation issues, clogged pores, fine lines and wrinkles around my eyes

Description: SanDaWha Multi Action Intensive Essence simultaneously smooths fine wrinkles, brightens dull skin tone and improves skin texture. Its fast absorbing formula helps to deliver noticeable results including a reduced appearance of wrinkles such as crow's feet, under eye and laugh lines. This is formulated specifically to address the needs of mature skin for days and nights. The essence is derived from herb based ingredients and enriched with vitamins, minerals, moisturizers and contains glabridin from licorice.
What Will It Do
It's called multi-action for a reason!
Smooths wrinkles and fine lines
Reduces the appearance of skin discoloration and even out skin tone
Supports and strengthens the skin's natural functions
Helps skin regulate moisture balance
Leaves skin feeling firm and refined
Soothes red, irritated and sensitive skin
One of the reasons why I am attracted to the SanDaWha line is that their star product ingredient is Camellia Japonica. Camellia flowers are an indigenous plant on Jeju Island and the extracts in this product are sourced from there.  The first two ingredients in this essence are 70.11% camellia flower extract and 4.78% camellia oil!  The oils extracted from the flower has long been used in skincare and traditional hair care treatments.   It contains essential fatty acids Omega 3,6 and 9, providing nourishment to your skin, as well as a rich source of oleic acid and anti-oxidant vitamins A, B, D and E.  Camellia oil has almost the same molecular weight as your skin, so it will absorb quickly and penetrate deeply into your skin, without being greasy or oily.  Its anti-aging and anti-inflammatory properties help aid in producing collagen, leaving your skin glowing and youthful in appearance, while calming and soothing your skin.  As camellia oils and extracts moisturize and hydrate, they reduce trans-epidermal water loss (TEWL)
Four key ingredients from fruits and vegetables that are nutritious for your skin
Broccoli is a superfood it not only contains antioxidants like beta-carotene and vitamin C, it also has vitamin B complex, vitamin E ~ which creates radiant skin and shiny hair as it revives skin tissue, vitamin A and K, Omega 3 fatty acids, amino acids and folic acid (Vitamin B9).  All of these vitamins help care for your skin and keep it glowing and healthy.  Broccoli also contains glucoraphanin, a phytonutrient, which has been reported in reversing sun damage on your skin.
Citrus Unshiu  (mandarin orange) helps tighten pores, brighten your skin's complexion, while controlling hyper pigmentation.
Vitis Vinifera (grape) has been used in wound healing for centuries ~ as it contains antioxidant, anti-inflammatory, anti-fungal, anti-microbial properties, as well as absorbing UV damaging rays.  It contains AHA malic acid, so it also helps gently exfoliate, locks moisture in your skin, while boosting other ingredients to better penetrate your dermal layer.
Pyrus Malus (apple) is a vitamin-rich, anti-aging ingredient that contains antioxidants, promote cell health, moisturizes and helps heal sun-damaged skin.
This also contains a formula called Phytrogen Plus™ , which consists of the following eight ingredients:

Equisetum Hyemale is rich in minerals and is used for skin conditioning
Soy Isoflavones aid in the production of collagen, helping to revitalize dull or aging skin.

Cimicifuga Racemosa (black cohosh) will help improve skin issues, such as blemishes and rashes. 
Polygonum Cuspidatum (Japanese knotweed)  is an antioxidant that contains polidatin  ~ a precursor to resveratrol (source), which has brightening and anti-wrinkle effects.  It also soothes, firms and moisturizes your skin.
Pueraria Lobata (kudzu) is a wandering and invasive weed that is full of flavonoids which are known for their antioxidant benefits, combating free radicals and reversing their damage to your skin.
Angelica Gigas will nourish your skin, making it look healthier and more balanced, without clogging pores.
Punica Granatum (pomegranate) contains female hormones estrogen and estradiol and will help promote collagen production to help skin become firm and hydrated. Pomegranate also is an antioxidant with a rice source of vitamin C, which also aids in collagen production, while brightening and evening out skin tones.
Trifolium Pratense (red clover) contains vitamins and minerals, such as A, B-complex. iron and also has isoflavones.  It has been used as a traditional healing ingredient for skin issues and irritations.
Wait, there's more!!  This also has some anti-aging peptides in soy peptide and copper tripeptide-1 as well as moisturizing botanical oils and butters: olive, mango, shea, soybean, palm kernel, babassu, coconut and dog rose.  Just as all of their items in the Liposome line, this incorporates liposome technology, allowing water-based ingredients to deeply penetrate your skin layers by encapsulating the water-based ingredients within an oil-based (phospholipids) bi-layer sphere. Oil and water don't mix as we know, but this structure is similar to our own skin and will help deliver the nourishing compounds ~ peptides, proteins, amino acids, vitamins ~ deep into your tissues.

Ingredients
Camellia Japonica Flower Extract (70.11%), Camellia Japonica Seed Oil (4.78%), Water, Glycerin, Propanediol (EcoCert®, Natural Origin),  Pentylene Glycol (EcoCert®, Natural Origin), Caprylic/Capric Triglyceride,  Sorbitan Caprylate, Hydrogenated Palm Kernel Oil, Olea Europaea (Olive) Fruit Oil, Bisabolol, Xanthan Gum, Magnolia Kobus Bark Extract, Levulinic Acid, Phosphatidylcholine, Mangifera Indica (Mango) Seed Butter, Phyosteryl Macadamiate, Tocopherol, Centella Asiatica Extract, Butyrospermum Parkii (Shea) Butter, Glycyrrhiza Glabra (Licorice) Root Extract, Glycine Soja (Soybean) Oil, Cocos Nucifera (Coconut) Oil, Panthenol, Chamomilla Recutita (Matricaria) Leaf Extract, Trehalose, Orbignya Oleifera (Babassu) Seed Oil, Squalane, Citric Acid, Polygonum Cuspidatum Root Extract, Camellia Sinensis Leaf Extract, Dipotassium Glycyrrhizate,  Carnitine, Glycine Soja (Soybean) Peptide, Dimethyl Sulfone, Adenosine, Punica Granatum Fruit Extract, Scutellaria Baicalensis Root Extract, Thujopsis Dolabrata Branch Extract, Rosa Canina Fruit Oil,  Salix Alba (Willow) Bark Extract, Betaine, Hydrolyzed Pea Protein, Pueraria Lobata Root Extract,  Rosmarinus Officinalis (Rosemary) Leaf Extract,  Pisum Sativum (Pea) Seed Extract, Trifolium Pratense (Red Clover) Flower Extract, Soy Isoflavones, Equisetum Hyemale Extract, Cimicifuga Racemosa Root Extract, Angelica Gigas Extract, Stearyl Glycyrrhetinate, Hizikia Fusitorme Extract,  Aloe Barbadensis Leaf Extract, Panax Ginseng Root Extract, Portulaca Oleracea Extract,  Bioflavonoids, Brassica Oleracea Italica (Broccoli) Extract,  Opuntia Ficus-Indica Fruit Extract, Houttuynia Cordata Extract, Yeast Beta-Glucan, Hyaluronic Acid,  Citrus Unshiu Peel Extract, Vitis Vinifera (Grape) Skin Extract, Copper Tripeptide-1, Glycine Soja (Soybean) Seed Extract, Vaccinium Angustifolium (Blueberry) Fruit Extract,  Pyrus Malus (Apple) Fruit Extract, Silybum Marianum Extract, Carnosine, Hydroxyproline,  Citrus Limon (Lemon) Peel Oil, Citrus Aurantium Bergamia (Bergamot) Fruit Oil, Lavandula Angustifolia (Lavender) Oil, Rosmarinus Officinalis (Rosemary) Leaf Oil cosDNA analysis 
This essence is packaged just like the softener, only it's a mini-me of the softener!  Nice light green, satin finish bottle with a pump applicator, along with the dark green and silver lettering.  SanDaWha Multi Action Intensive Essence is milky colored and it is a lightweight essence ~ it is not watery, but it is has a liquid-y texture ~ think of a lotion with water added to it and it is a bit runny. It has the same fragrance as the softener, very light herbal citrus, which is all natural as there is no added fragrance to this essence.  This is coming from the essential oils of lemon, bergamot, lavender and rosemary and the scent disappears quickly once you apply this essence to your skin.

When I start to spread it around my face, this essence just melts even more into a liquid and is absorbed into my skin easily.  I can feel the slickness of all of those nutritious oils as my fingers pat the essence into my face and my skin is initially a bit tacky.  However, after a minute of dry down, my skin is no longer tacky or sticky and it has a subtle glowing look to it ~ not moist or dewy, but just radiant.  My skin is plumped up and smooth ~ I can really tell on my hand when I did swatches.  The difference between the skin without and with this essence is night and day ~ without the essence, you can see the lines and feel the roughness on my hand. With the essence, those lines are blurred as they are full of moisture and my skin is so smooth and soft.  Just like the softener, this essence is formulated to hydrate without being too heavy or greasy.

This essence is not irritating to my skin either ~ during the winter months, my face can get chapped from the extreme cold and stressed as I move from the outside to the hot indoors.  There is no stinging or burning sensations with this essence and it is quite soothing and calming for my skin.


Other stuff
How is the oil/water balance with SanDaWhaMulti Action Intensive Essence?  From my tests, which are unscientific, I found that the my lipids (oils)  increased by 28% and my water (moisture) increased by 39%.   This is not a greasy product at all and if there is to be an imbalance between oil and water, I would much rather have more moisture than oils added to my already oily skin.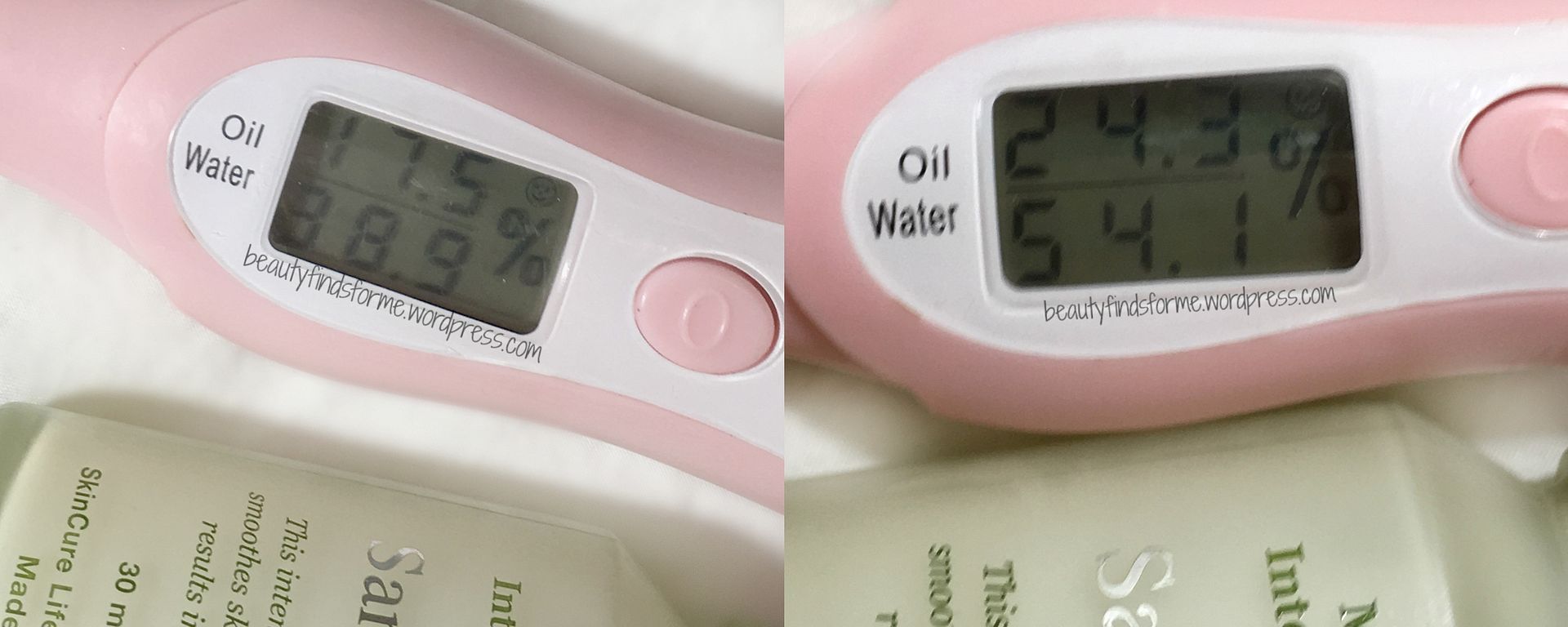 Final Thoughts
Just like the softener in the SanDaWha Liposome line, the Multi Action Intensive Essence is really lovely.  It is lightweight, but moisturizing and does not cause any irritations, clogged pores or blemish breakouts.   I haven't noticed any lightening of my hyper-pigmentation, but this essence does leave my skin glowing without looking oily and my skin is firmer, while being silky smooth and soft.  I am two-thirds of the way through this bottle as I use several pumps of it daily ~ it feels that good on my skin!  I wish the essence came in a larger bottle, as I will be done with this sometime in March. That said, I have been using it daily since the beginning of January, so look to have this last between 2 to 3 months, depending on your usage.  This essence is the perfect companion to the Liposome Skin Softener, which I reviewed here.

Have you tried any of SanDaWha products?  Which item have you tried and what did you think of it?  If you have any questions about this Essence, please ask me in the comments and I will do my best to answer it!

Where To Purchase

W2Beauty carries the SanDaWha line, including the 30 mL bottle of Multi Action Intensive Essence (click here to purchase) for $38.00.  Yeah, that is the part that made me gulp too ~ it is not inexpensive!!  W2Beauty is currently have a Discovery Promo Code for the month and you can save 25% off all SanDaWha products ~ use W2SANDAWHA25
W2Beauty has now implemented a flat rate shipping fee based on your country and if you purchase $60.00 or more, you will get free shipping as you get free samples.  Check out their shipping chances and rates here.  W2Beauty has a current deal for FREE shipping if you include any products from Benton (which is amazing, check out my reviews here), Klairs ~ the supple toner is fantastic ~ and Troiareuke.  So, if you add Klair's sheet mask to your cart and a SanDaWha item, you automatically get free shipping.

If you never ordered from W2Beauty before, use my referral link (click here) or use my sponsor code 0811226902 and get a $5.00 coupon for your first purchase.

[ this product was complementary for review purposes ~ all opinions are my own and are unbiased.  Blog post contains referral link. ]
[ descriptions in italics from product site ]