Disclaimer:  This product was received complementary from W2Beauty.com, all opinions and thoughts are my own.
W2Beauty is a K-Beauty online shop, where the attention to detail from the owner, Alice, is outstanding!  Alice is personally involved in her shop, recommends products, communicates with her customers about new items and any issues and always gives a lot of free items in your order.  I love shopping at W2Beauty, due to the personal touch that she brings to her store.  Recently, W2Beauty is undergoing some new changes, which means new and exciting brands, lower prices and more discounts. Already, W2Beauty has revamped their logo and started a newsletter which is very informative ~ highlighting new brands and offering discounts for the month on that brand. 
I was so excited to be chosen to review a couple of SanDaWha items from W2Beauty. I had tried their cleansing oil years ago and I loved it.  However, it became a struggle to find shops that carried this brand that shipped to the USA, so I forgot about it… Until Alice told me this one of the brands that they will be carrying!  Originally, I was offered three items, but one of them was a cream and I do not use facial creams that much, as I have oily skin.  I like to use lotions and emulsions as the final moisturizing step, which are lighter in texture.  However, I received two amazing products and I am going to review the SanDaWha Liposome Skin Softener and SanDaWha Multi Action Intensive Essence for you.


SanDaWha is made by Skincure, founded in 2004 and located in Yongin City. This company has three Research and Development centers ~ Jeju Island, Osan City, Yongin City ~ and they develop new cosmetics while discovering new natural ingredients to use in their products. They have 11 patents registered and 10 published, with a cGMP certified factory in Osan City. Their mission is to use only natural ingredients ~ including pigments, fragrances, preservatives, surfactants and plant-extracted oils ~ follow EWG standards and use only level 1-2 safe ingredients ~ formulate their products with innovative and scientifically proven complex ingredients ~ incorporating the One-Stop System: from soup to nuts, Skincure controls the entire scope from selecting ingredients, making the product and final sales.
SanDaWha is one of several brand lines Skincure produces and I was keenly interested in it, as its main concept is natural skincare with ingredients sourced from Jeju Island, focusing on camillia extracts. It is safe and eco-friendly, free from mineral oils, alcohol, synthetic pigments, fragrances, phthalates, dioxane, formaldehyde, PEGs, synthetic detergents, harmful chemicals and artificial preservatives. It uses hypoallergenic ingredients, with pure natural plant oils, plant based substances and using their patented multi-layered liposome formula.
My skin type and concerns:  oily, aging, blemish prone, hyper-pigmentation issues, clogged pores, fine lines and wrinkles around my eyes

What is a Skin Softener?  A skin softener is similar to a toner ~ they are both watery products that are designed to re-hydrate your skin and will aid in boosting the effectiveness of your other skincare products.  I find that skin softeners are better for those of us with aging skin, no matter what skin type you are.  If you have dry skin, this might be better for you, regardless of your age.  With skin softeners, I do feel an immediate difference in my skin's texture ~ very soft and silky. 
Description:  This skin softener with a gentle formula removes all traces of cleanser & impurities and prepares the skin for moisturizing. It refreshes and clarifies the complexion without irritation.  Apply after cleansing your face, this balancing softener for dry skin removes any lingering traces of make-up and other impurities from your pores. Thoroughly clean and toned, your skin is ready for your moisturizer. This softener is rich in herbal actives and nutrients that give your skin the extra antioxidants to fight the damage caused by free radicals every day to your skin. Any skin care line is not complete without either a softener or astringent as part of the skin care regimen. It is a critical step, often overlooked. This step closes the pores, adjusts the PH of the skin and removes any remaining cleanser or dirt from the skin. This product is clear and has a light inherent scent.
What Will It Do
According to the description, SanDaWha Liposome Skin Softener will
Immediately relaxes and moisturizes your skin
Efficiently energizes your skin – gives skin smooth, supple and more refreshed appearance
Helps protect your skin
The star ingredient in this softener is Camellia Japonica. Camellia flowers are an indigenous plant on Jeju Island and the extracts in this product are sourced from there.  The very first ingredient in SanDaWha's Softener is Camellia Japonica flower extracts, so already I know I am in for a treat! The oils extracted from the flower has long been used in skincare and traditional hair care treatments.  It has antioxidant benefits with  anti-aging and anti-inflammatory properties as well, helping to aid in producing collagen, leaving your skin glowing and youthful in appearance, while calming and soothing your skin.  As camellia oils and extracts moisturize and hydrate, they reduce trans-epidermal water loss (TEWL)
This also contains a formula called MoistMax™ , which consists of the following five ingredients:
Aloe Vera is a powerful moisturizer that doesn't leave your skin feeling oily or greasy. It soothes, treats inflammation, helps speed up skin healing and also has a plethora of antioxidants ~ beta-carotene, Vitamin C and Vitamin E, which help improve your skin's firmness and keeps your skin moist and hydrated. It also contains over 75 different nutritious ingredients, including minerals, enzymes, amino acids, salicylic acid and much more.
Trehalose supplies concentrated moisture to your skin and helps retain moisture, preventing your skin from drying out.  
Hyaluronic Acid is an intensive moisturizing ingredient which bonds water to keep skin hydrated. It is a natural substance found in the human body and it made up of amino and uronic acids, and helps retain 100 to 1,000 times its own water weight in our skin cells.
Beta Glucan is a compound that is naturally derived from mushrooms, oats, yeast and grains. It is 20% more effective than hyaluronic acid and it helps stimulate the production of collagen. It also speeds up wound healing, soothes and calms skin due to its anti-irritant and strong anti-inflammatory properties. Beta glucan will moisturize, locking in natural moisture and is an anti-aging and anti-wrinkle ingredient due to its anti-oxidant properties and also helps repair your moisture barrier.
Hizikia Fusiforme is a brown sea vegetable that grows wild along the rocky shores in Japan, Korea and China. It is rich in minerals ~ calcium, iron, magnesium ~ and helps maintain healthy skin

Levulinic Acid is a natural and safe preservative that is derived from corn extract and will help prevent microbial build up.  
Salix Alba (willow) Bark is a BHA (beta hydroxy acid) which helps exfoliate skin by removing dead skin cells, contains salicylic acid, to help combat acne. It is also high in anti-oxidants, which tone and reduce inflammation as well as being an astringent, to control oil. Salicylic acid is fat soluble, so it can really get to the oil that is inside your pores.
Phosphatidylcholine helps increase your skin's moisture level, conditions and smooths your skin, while helping aid in skin cellular turnover.  It contains choline and linoleic acids so it can help repair cell membranes and deliver Omega 3 essential fatty acids.  A 1999 study showed that the use of phosphatidylcholine works as an acne treatment ~ a reduction of 60% in comedones and a 70% decrease in acne scarring after 28 days of use (source, source)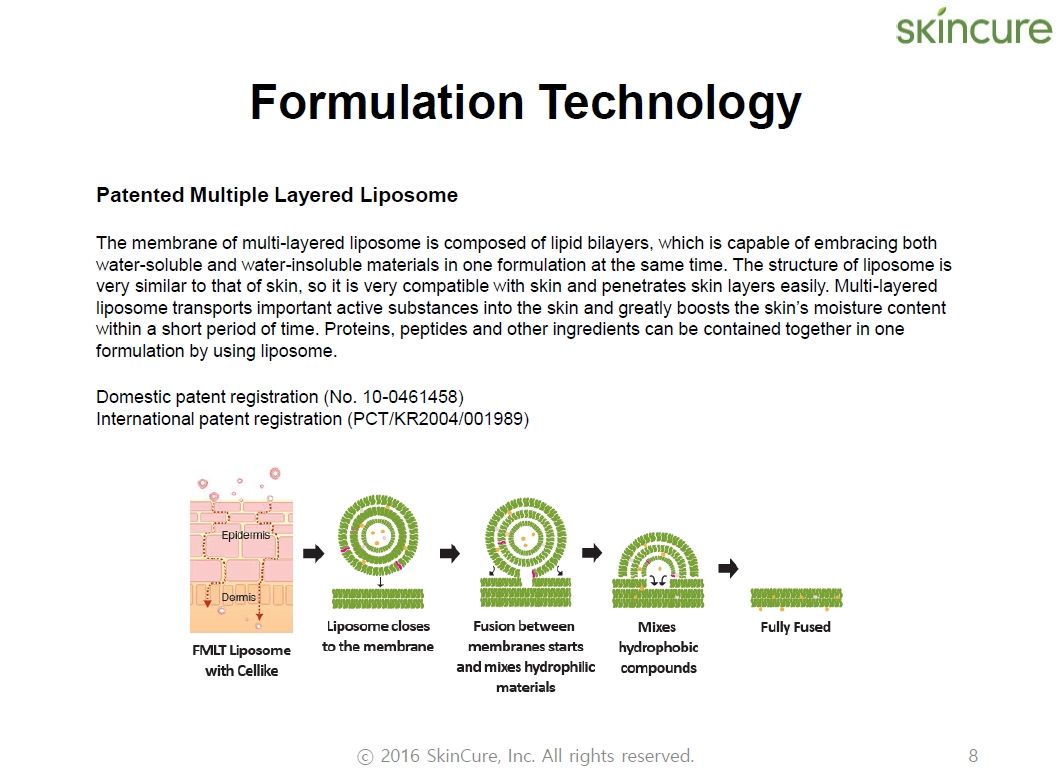 This incorporates liposome technology, allowing water-based ingredients to deeply penetrate your skin layers by encapsulating the water-based ingredients within an oil-based (phospholipids) bi-layer sphere. Oil and water don't mix as we know, but this structure is similar to our own skin and will help deliver the nourishing compounds ~ peptides, proteins, amino acids, vitamins ~ deep into your tissues.
There are a lot of great hydrating, anti-aging, anti-oxidant, anti-inflammatory ingredients to help moisturize, heal, soothe and brighten, while fighting off free radicals and reducing the appearance of fine lines and wrinkles:  bisabolol, adenosine, licorice root, chamomille, centella asisatica, houttuynia cordata, betaine and arginine.

Ingredients
Camellia Japonica Flower Extract, Water, Propanediol (EcoCert®, Natural Origin), Pentylene Glycol (EcoCert®, Natural Origin), Glycerin, Sorbitan Caprylate, Phosphatidylcholine, Camellia Japonica Seed Oil, Bisabolol, Magnolia Kobus Bark Extract, Levulinic Acid, Panthenol, Xanthan Gum, Trehalose, Glycyrrhiza Glabra (Licorice) Root Extract, Centella Asiatica Extract, Camellia Sinensis Leaf Extract, Betaine, Adenosine, Arginine,  Chamomilla Recutita (Matricaria) Leaf Extract, Hizikia Fusitorme Extract, Thujopsis Dolabrata Branch Extract, Salix Alba (Willow) Bark Extract, Dipotassium Glycyrrhizate, Dimethyl Sulfone, Opuntia Ficus-Indica Fruit Extract, Polygonum Cuspidatum Root Extract,  Scutellaria Baicalensis Root Extract, Stearyl Glycyrrhetinate,  Yeast Beta-Glucan, Aloe Barbadensis Leaf Extract, Hyaluronic Acid, Rosmarinus Officinalis (Rosemary) Leaf Extract,  Bioflavonoids, Brassica Oleracea Italica (Broccoli) Extract, Portulaca Oleracea Extract, Houttuynia Cordata Extract,  Olea Europaea (Olive) Fruit Oil, Citrus Unshiu Peel Extract, Vitis Vinifera (Grape) Skin Extract, Pueraria Lobata Root Extract, Glycine Soja (Soybean) Seed Extract,  Vaccinium Angustifolium (Blueberry) Fruit Extract, Pyrus Malus (Apple) Fruit Extract, Silybum Marianum Extract, Tocopherol, Rosa Canina Fruit Oil, Lavandula Angustifolia (Lavender) Oil, Citrus Limon (Lemon) Peel Oil, Rosmarinus  Officinalis (Rosemary) Leaf Oil, Citrus Aurantium Bergamia (Bergamot) Fruit Oil   cosDNA analysis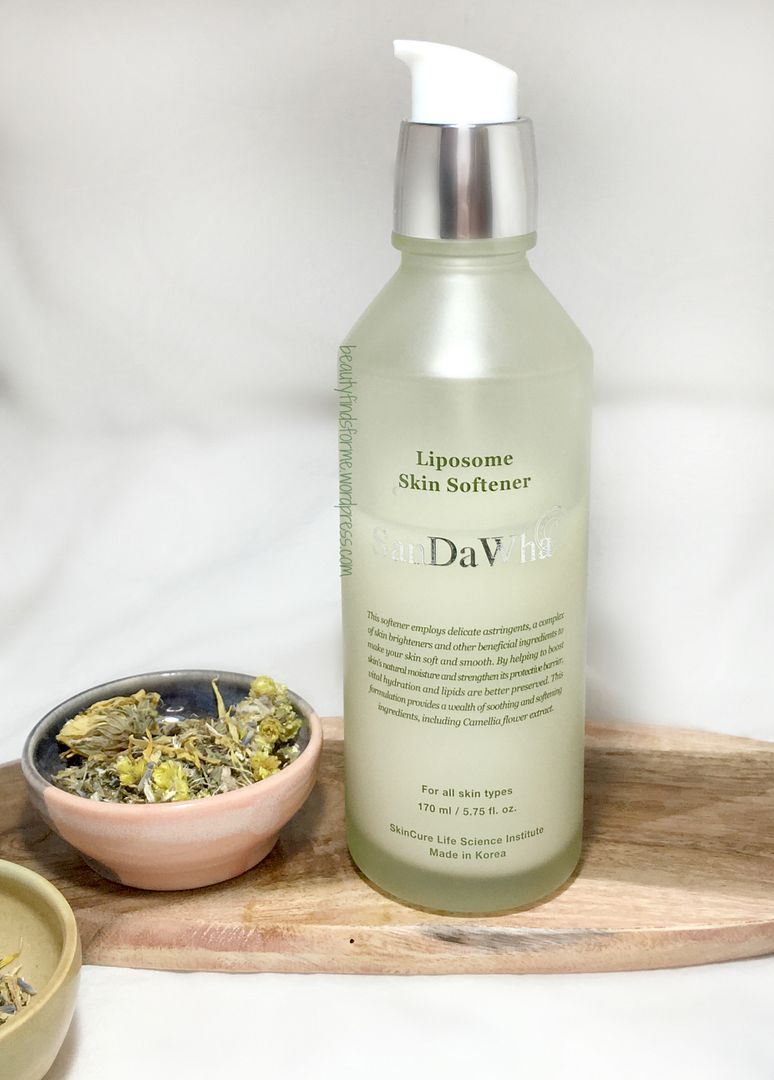 This softener comes in a tall light green, satin-finish glass bottle with a pump applicator.  The lettering is in dark green with the SanDaWha name and logo in bright silver lettering.  This is one beautiful and heavy bottle!  I don't use a cotton pad to apply this softener to my face ~ instead, I pump some into the palms of my hands and then pat onto my face ~ I find with hydrating watery products, I like to use this method as not to waste any product.  SanDaWha Liposome Skin Softener is milky colored and a bit thicker than water, but not a gel texture ~ it has a nice moisturizing slip and weight to it.  It has a lovely light fragrance ~ since this is made without any artificial perfumes, this is coming from the ingredients themselves.  It has a natural herbal-citrus scent and it is really nice ~ it does disappear quickly, for those who are sensitive to scents.

This absorbs quickly into my skin and immediately, I can feel the difference.  My skin is silky soft and smooth ~ running my fingers over my face, I can feel the difference.  I was amazed how quickly this worked to leave such a great texture on my skin.  It doesn't leave a moist, wet finish, but dries down nicely ~ no greasy or oily residue.  I also noticed that my pores looked smaller and tighter after application.  I was initially worried with the heavier texture of this softener that it might be too rich for my skin.  However, SanDaWha formulated this product beautifully ~ it not only richly hydrates my skin without any sticky or dewy residue, it helped refine my skin texture, so it looks smooth, soft and erases some skin imperfections. 
I had to label the photo below because Photobucket had removed it originally. I think someone there has a dirty mind…
I also love how soothing this softener is as well.  After exfoliating, sometimes my skin is a little "pink" and I worrying about products stinging my face as my skin could be a bit raw ~ I have never experienced any stinging or irritation with this softener on my skin.

Other stuff
How hydrating is SanDaWha Liposome Skin Softener?  This skin softener is very hydrating and it is balanced between oils (lipids) and water (moisture)  This increased by skin's moisture by 78% on average, which makes me very happy!  I know that the 7-layers of toners is a "thing" right now, but for many of us oily skinned people, we have been layering hydrating watery products for a long time.  SanDaWha's Softener is a great choice to add to your routine if you want watery layers of hydration! 
As this is a watery product, I did a pH test on it ~ this is a mildly acidic softener, coming slightly under pH level of 5. 
Final Thoughts

This is one amazing liquid ~ Winter has come, finally, to the Boston Metro area and along with it, the cold, frigid winds that chap my face.  There are high buildings in my area, which means wind tunnels ~ blasts of gusting winds come out of nowhere as you walk down the street, blowing arctic air into my already cold face. Winter is not my favorite season, as you can tell ~ its TOO COLD outside and then the forced dry heat indoors ~ this makes my oily skin very dehydrated and red. Splashing this softener on my skin feels so good and I wish I could fill a bathtub with this product!  It has such a great soothing feel to it, smells so nice and makes my skin feel bouncy and soft, while refining my pores.  SanDaWha Liposome Skin Softener is not irritating to my skin and leaves it feeling refreshed. I have used about 1/3 of this product and it should last me a couple of more months.  I have been using my SanDaWha products for almost two months now and I do highly recommend this Softener and it is one that I will purchase for the cooler months as it works so well on my skin type.  I have a review for the SanDaWha Multi Action Intensive Essence, which is also fantastic, which you can read here.

Have you tried any of SanDaWha products?  Which item have you tried and what did you think of it?  If you have any questions about this Softener, please ask me in the comments and I will do my best to answer it!

Where To Purchase
W2Beauty carries the SanDaWha line, including the 170 mL bottle of Liposome Skin Softener (click here to purchase) for $24.00.  W2Beauty is currently have a Discovery Promo Code for the month and you can save 25% off all SanDaWha products ~ use W2SANDAWHA25
W2Beauty has now implemented a flat rate shipping fee based on your country and if you purchase $60.00 or more, you will get free shipping as you get free samples. Check out their shipping chances and rates here.  W2Beauty has a current deal for FREE shipping if you include any products from Benton (which is amazing, check out my reviews here), Klairs ~ the supple toner is fantastic ~ and Troiareuke.  So, if you add Benton's Fermentation Eye Cream to your cart and a SanDaWha item, you automatically get free shipping.

If you never ordered from W2Beauty before, use my referral link (click here) or use my sponsor code 0811226902 and get a $5.00 coupon for your first purchase.

[ this product was complementary for review purposes ~ all opinions are my own and are unbiased.  Blog post contains referral link ]
[ descriptions in italics from product site ]