With February known as a Lover's month, this theme from Yogi Surprise should be, well, no surprise!  What is Yogi Surprise?   

Yogi Surprise Jewelry Box
2 handmade pieces + 1 organic treat

Handcrafted in Bali. Fair Trade

$65+ retail value in every box

$24.95/month + free shipping
The Jewelry box will contain two handcrafted yoga inspired jewelry pieces, that are fair trade, sustainably harvested materials, nickle-free, lead-free and cadmium free.  These are made in Bali, Indonesia and 10% of all proceeds will be given to education the Balinese families to make these beautiful pieces.   It also contains an organic chocolate treat.

This month's theme is "Self Love" ~ The journey towards unconditional self-love is a slow process that's constantly in flux, and it truly has no end. It's something we're not typically taught as we grow up, nor is it something anyone else can do for us. Learning to stop making self-love conditional starts with opening our hearts to  release negative emotions. The jewelry pieces we're offering you this month are embellished with powerful stones that help balance out emotions like jealousy, anger, and resentment while strengthening  all forms of love including self-love, friendship, family and romance. By accepting what must be felt and  dissolving those negative emotions you've been holding onto, we essentially make room in our hearts to generate more love from within and receive more back from everyone around us.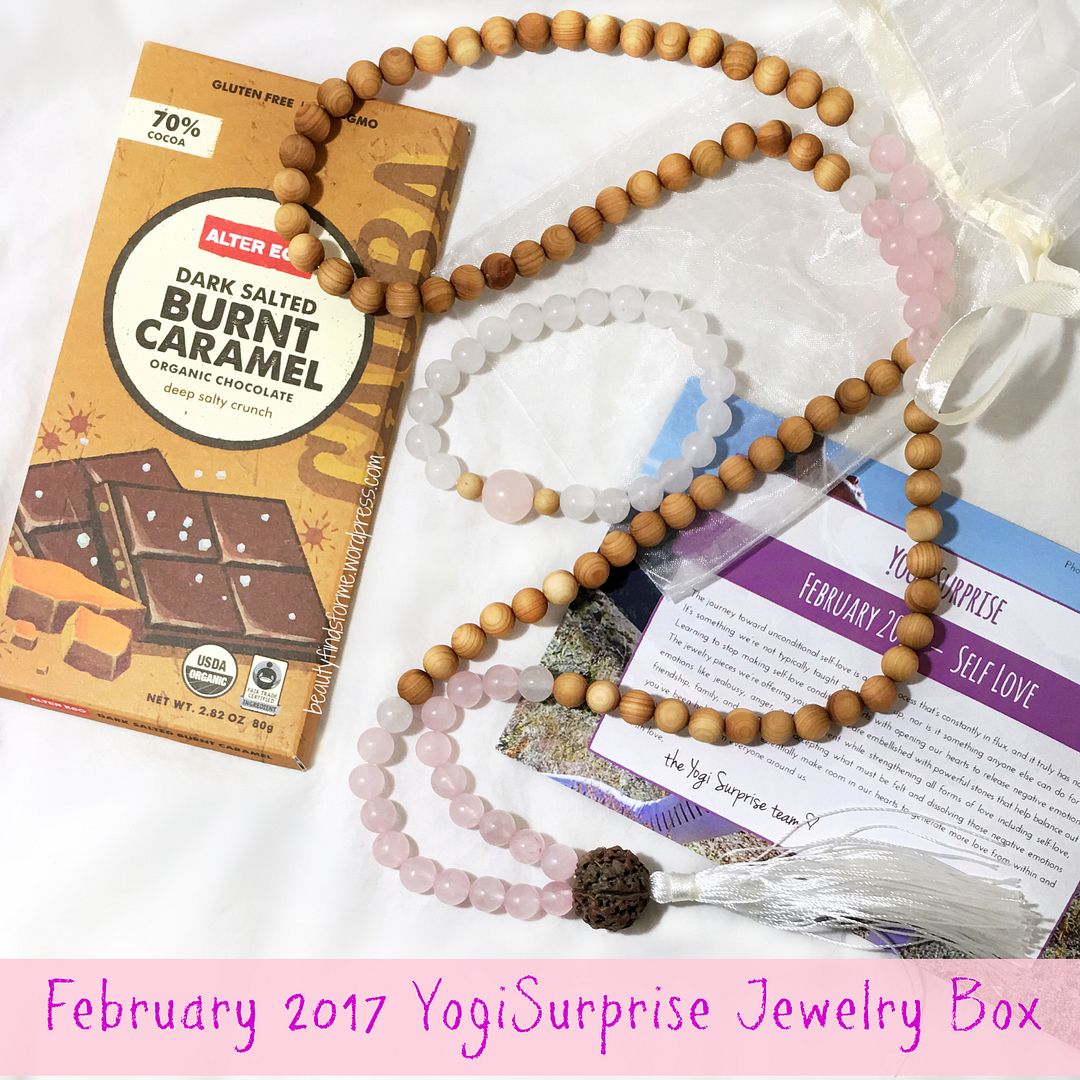 Informational Card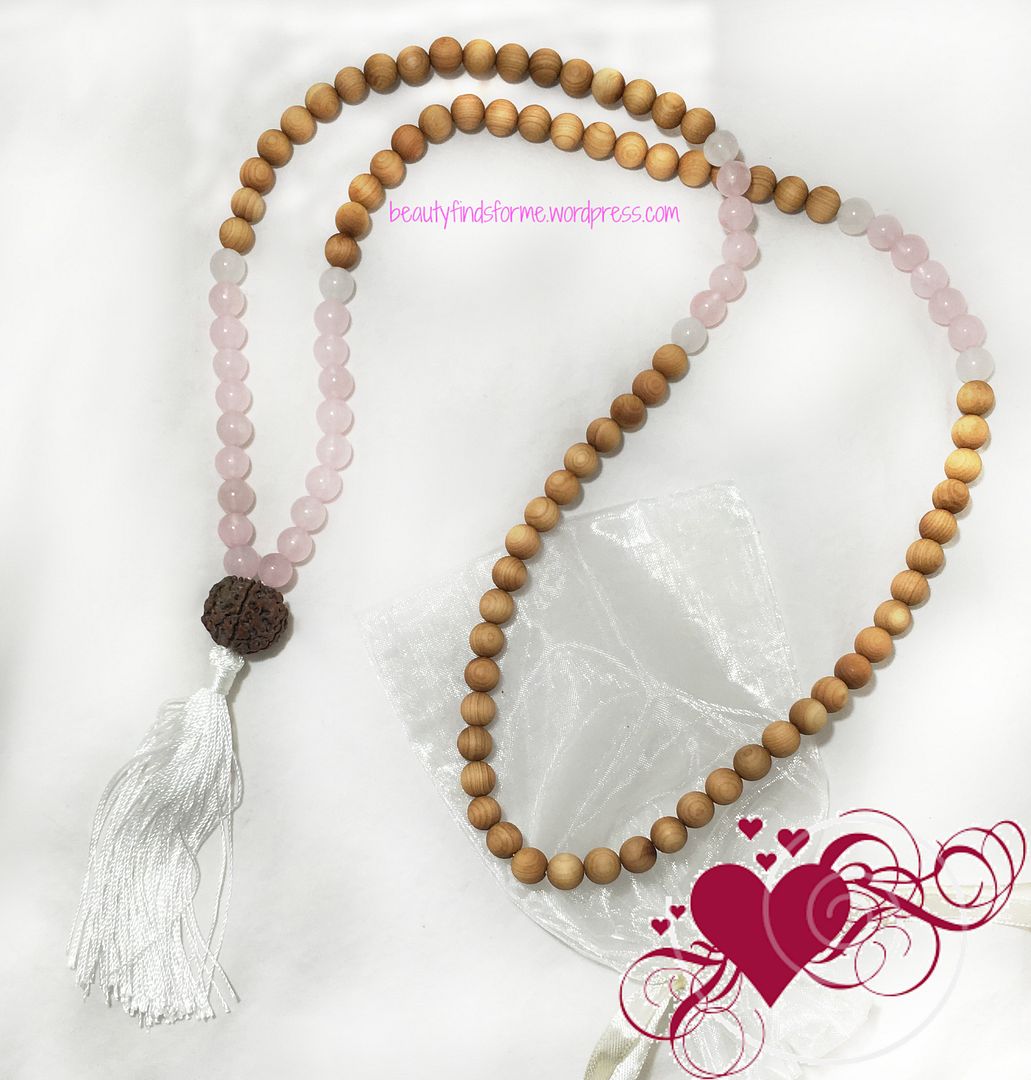 Rose Quartz & Jade "Love Yourself" Mala  This was our spoiler and it is exclusively created for this box for its' Love Yourself theme.  This is a lovely long mala with sandalwood beads and 28 rose quartz beads and 6 white jade beads.  The photo shows a flat stone bead between the necklace and silky white tassel, but in reality,this comes with a dark brown rudraksh seed bead ~ a nice large one too!  The necklace is 34 inches, with 1/2 rudraksh bead along with the 3 1/2 inch white tassel, making this necklace 38 inches in length.  It has a lovely sandalwood scent too and the soft pinks and whites, sandy wood tones and the dark chocolate brown of the seed bead all work beautifully together.  RV $98.00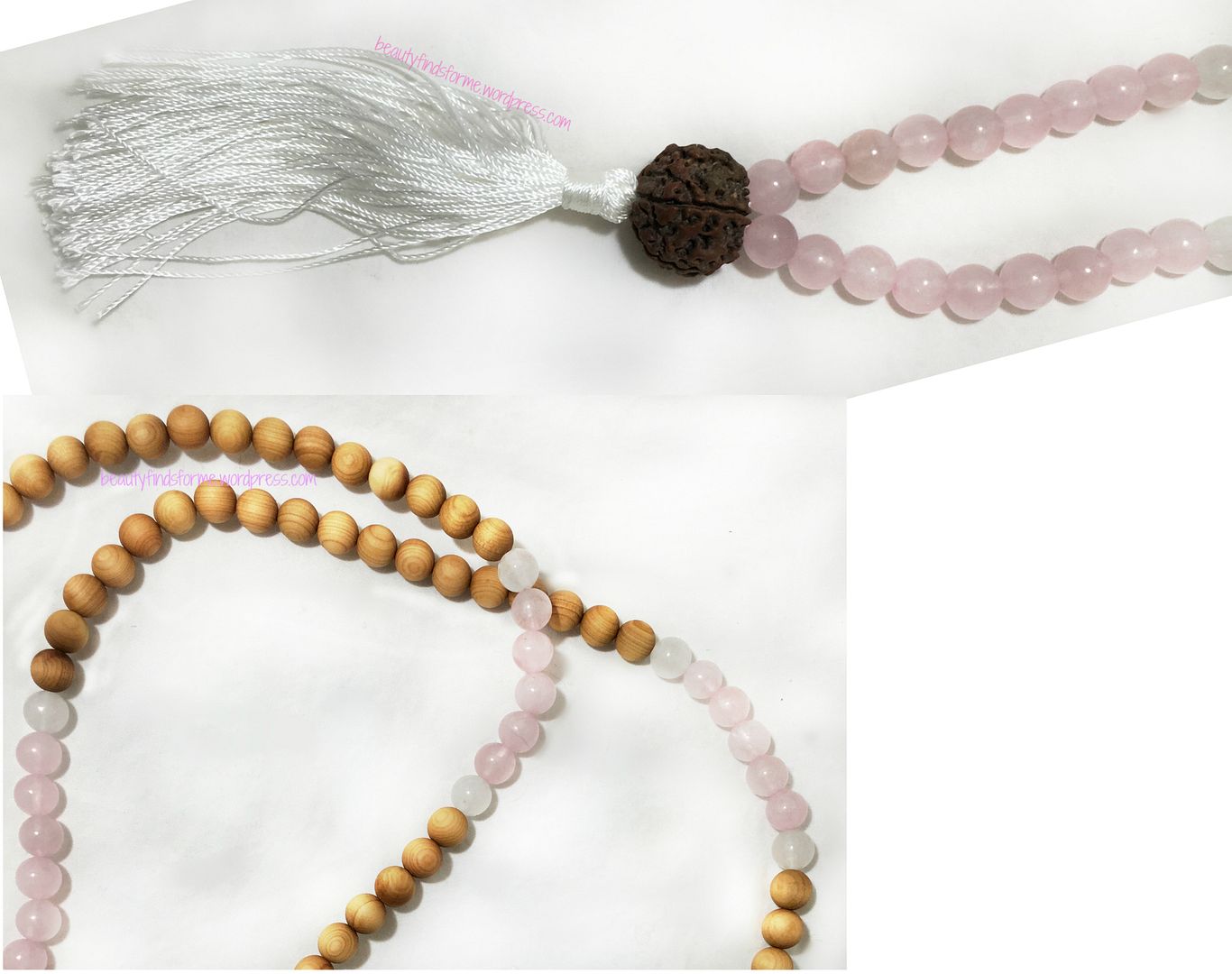 Rose Quartz ~ Primary Chakra: Heart-Chakra  Rose Quartz is the stone for unconditional love.  It helps open the heart to all love ~ self, family, friends, romantic.  Quartz stones have a high energy vibe, but it is also soothing and calming.   This energy helps bring about empathy, forgiveness, reconciliation and removes anger, envy and resentment.  It also us to heal and remove those negative emotions.   Rose Quartz also can attract romantic love, add loving energy into current relationships and can help soothe and heal a broken heart.  Learn more at Healing Crystals
Rudraksha is the seed from an evergreen tree and it is used for prayer beads in Hinduism.   They provide support for travelers and those who move around a lot, as they create a self-made energy bubble around the wearer.  As these beads are strung on a mala, they will ward off negative energy.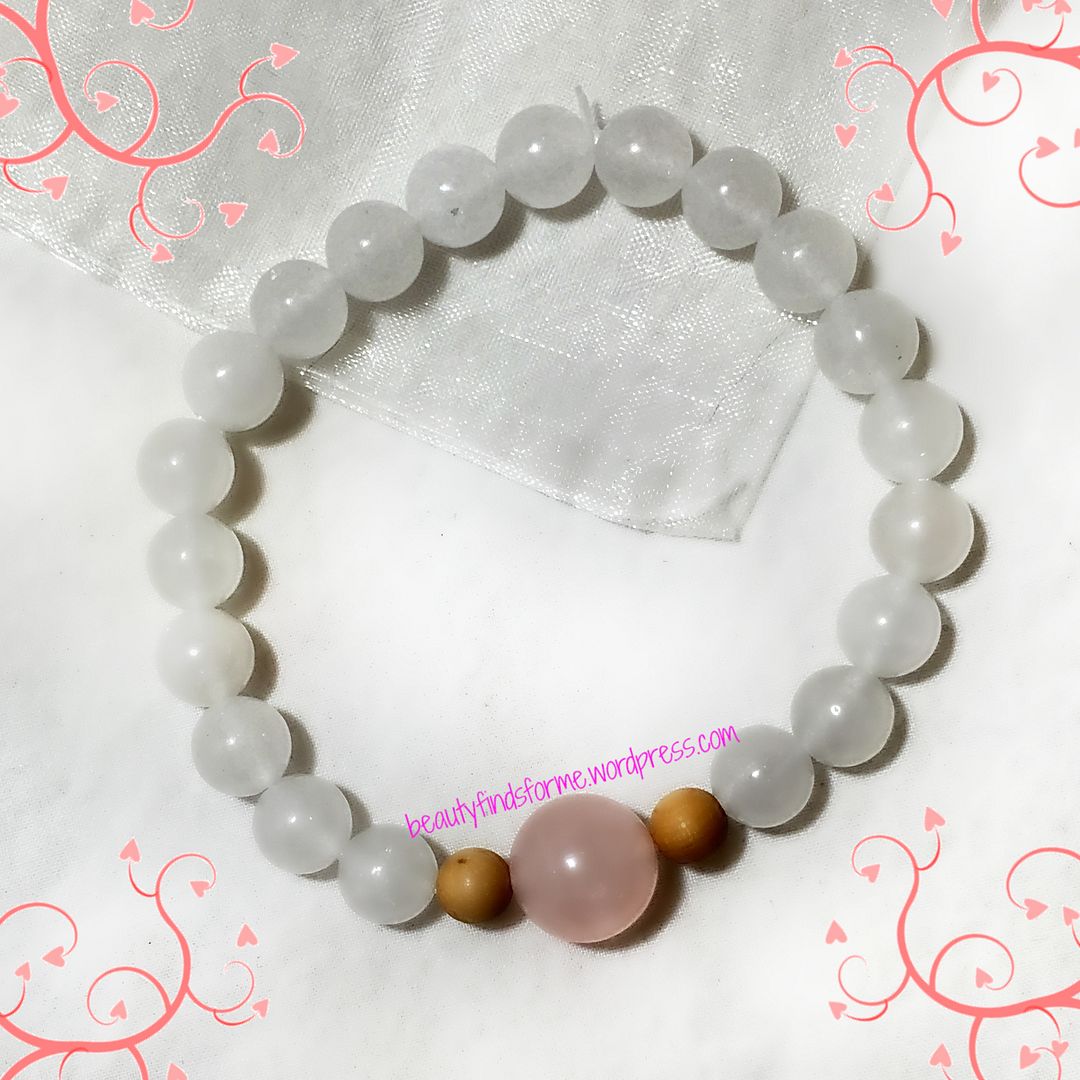 Rose Quartz & Jade "Love Yourself"  Bracelet   The second jewelry item is a white jade and rose quartz sandalwood bracelet. This time, the bracelet is made up of mainly white jade beads and in the middle of the bracelet, a huge rose quartz bead, flanked by two small sandalwood beads.  This is a lovely piece to match back to the necklace. This fits my wrist nicely, so it looks like it is 7 inches un-stretched.  RV $45
White Jade  Primary Chakra ~  Heart Chakra   Secondary Chakra ~  Crown Chakra  White Jade is a grounding stone that helps calm the wearer while protecting them from negative energies.  It will bring harmony, luck, peace and helps filter distractions, so you can make the proper decision.
Sandalwood For over 4,000 years, sandalwood has been used to help calm and clear the mind of negativity.  It helps bring deep states of relaxation and relaxes the heart and throat chakras.  It helps aid in mental clarity and opening the Third Eye, awaking intelligence and lifting depression.
Alter Eco Dark Salted Burnt Caramel Chocolate Bar  Made with the native cacao from Fortaleza rainforest in Ecuador, this made with 70% cocoa and 99.5% organic ingredients, with 90% being of Fair Trade Origin.  This does not contain soy, emulsifers, artificial flavors or GMO's and is gluten free. This has a deep chocolate taste that has a surprising sweetness with the crunchy caramel bits and a hint of saltiness.  This is very good, smooth and silky!   RV $4.00

Description: Deep salty crunch with lush organic cream and pastured heirloom butter. Single Origin: Ecuador. Our raw cane sugar, organic cream and pastured heirloom butter are simmered to the brink of burnt for a masterful caramel crunch. Our Swiss chocolatier drowns this golden alchemy in dark Ecuadorian chocolate with a sprinkle of Fleur de Sel de Guérande for mouth-watering good measure. Each malty-sweet crunch is deeply satisfying and impossible to resist.  The deep, intensity of Dark Salted Burnt Caramel reflects the rainforest from which it hails. Fortaleza sits at the edge of the Ecuadorian coast, where the world's richest soil and the shade of the forest canopy create an ideal environment for native cacao. 

Ingredients: Cacao beans, raw cane sugar, salted caramel granulates*, cocoa butter, butterfat, sea salt, natural flavor  *made with sugar, glucose syrup, butter, cream & salt
I am really pleased that the Mala I received had the lovely rudraksha bead instead of a flat quartz bead ~ it adds more texture and interest to a delicate piece.  The matching bracelet is lovely and the chocolate bar is amazing!  I am normally not a fan of salted caramel, but this is just delicious. This box has a Yogi Surprise retail value of $147.00, which I rarely pay attention to.  I go by the value of the pieces to me, and this box is worth what I spent on it!  Part of the proceeds from this box will go back to the local artisans that made these items and help educate their community.

Do you subscribe to Yogi Surprise?  Which box do you get and what was your favorite item this month?  Let me know in the comments below, I would love to read them 🙂
If you are interested in signing up to Yogi Surprise for either their Lifestyle or Jewelry box, I would love it if you used my referral link   They are currently running a 10% off special for the first month, no promo code needed.   Check out the spoilers for next month's boxes below!    If you sign up for the Lifestyle box, use BELOVE to get 20% off your first box!

Next Month Spoilers

Spring: Time to Blossom: Join us this March as we practice finding peace in the present moment by opening ourselves to welcome change and self-renewal.
If you sign up now, you get a free gift worth $20.00 ~ Chakra Healing Stones  (these came in the May box ~ see my unboxing here)
Jewelry Box:  Tiger Eye & Lava Rock Grounding Mala  March is another Mala month for us! This mala's main star is beautiful, earthy Lava Rock. This volcanic stone has long been coveted for it's extensive emotional & spiritual grounding properties. We've paired this Lava Rock with Tiger Eye for it's balancing and harmonious properties – together, this is a very earth centered and stabilizing mala. Perfect for extensive and highly concentrated meditation sessions.


Lifestyle Box:   Soul Flower Boho Headband and Jivana Body Butter: Let the peaceful, yet strong designs of Soul Flower's eco-friendly headband calm your mind and soothe your soul. Raw edges and a lightweight heathered fabric make this headband perfect for yoga, gardening, festivals, or any activity where you want your hair out of the way! Made in the USA. 50% organic cotton & 50% recycled plastic beverage bottles. Hand screen printed with love from Minnesota.  
Ayurveda states all matter has unique intelligence.  Our skin, in particular, is considered our second brain.   Using ancient methods, Jivana products are hand created according to Ayurvedic tradition using only real ingredients – matter with intelligence – found in nature.
[ all descriptions in italics from linked website.  this blog post contains referral & affiliate links ]