[ blog post contains affiliate links. Descriptions in italics from product site. Some products were received for review purposes and are marked as such ]
Yep, here we go again with Part 4 of my Wash Off Mask Pack digest.  To recap, I have many, many, many, many, many  samples (and full sizes) of wash off masks from sub boxes or purchases, as well as some full sized wash off mask packs that I need to get too.  All of these reviews originally appeared on my Instagram account. 
S.W.Basics Hibiscus Mask This is an organic powdered mask that you add your favorite liquid (I used water), mix and apply to your face! I received this free from S.W. Basics and my powder isn't a bright pink like they show at their website, which means that it wasn't going to be a bright burgundy shade when I applied it to my face (again, this was shown at their site). That is the thing with organic blends ~ they don't always have the same result in every batch. This does smell like a herbal-earthy hibiscus ~ I drink hibiscus tea and it has that same sharp, slightly bitter-in-a-good-way scent. This mask just contains 3 ingredients: Organic Hibiscus extracts are rich in anti-oxidants, so it is a great anti-aging ingredient, as well as being an AHA ~ gently exfoliating clogged pores, removing excess dirt & oil, increasing cellular turnover. It also has a mineral rich French green clay that will help detox your skin and absorb excess oils and finally, organic lavender which has healing and soothing properties. I mixed this up with water and applied to my face – the powder is a bit gritty, so that will help exfoliate my skin even more when I rinse it off. The color of the mask is a deep dark burgundy-plum shade as I didn't get the bright version. It feels good on and it didn't flake off my face as it dried. After 30 minutes, I rinsed off the mask, massaging it to help let the powder remove dead skin cells. My face felt smooth and soft and VERY CLEAN. This stuff cleanses my pores very well and removed a lot of gunk. I really liked this mask, despite that it didn't turn a bright magenta. Did you get your free sample from SW Basics? Have you tried it yet?
L'Oreal Pure-Clay Mask Purify & Mattify Treatment Mask This is the first of 3 new L'Oreal clay masks that I purchased. I was very interested as I love wash off masks, especially clay ones! They are all made with 3 different types of clays: kaolin, Moroccan lava and montmorillonite to help detox and remove dirt, excess oil and unclog pores. This version has eucalyptus extract to help soothe as it is an anti-inflammatory and it also helps prevent infections and speeds up wound healing as it has antiseptic and antibacterial properties. This mask is supposed to deep clean, clarify and mattify my skin. This mask is a pale green in color and is very smooth (like buttah!) to apply. It also is a bit sticky to work with as to me, it feels like elmers glue when I am applying it to my face. This has a STRONG perfumed floral scent with a faint scent of eucalyptus struggling to be smelled. That is saying something ~ eucalyptus usually is very dominant when it is added to products, but in this case, the artificial heavy floral scent over powered it. And it lingers, it doesn't go away. As this dried down, I could see the excess oil being drawn out, so that was a plus. This mask didn't burn or irritate my skin, there was no tingling feeling at all and the dry down wasn't uncomfortable or tight. After rinsing off, my face felt smooth, not matte ~ I could also see that this mask didn't do a good job at cleaning out clogged pores. I didn't like this mask at all ~ the gross scent (sorry, I loathe fake floral perfumed scents) and its performance on my skin are two major thumbs down. I still have 2 more masks to try, so I hope that they perform better. I can put up with the scent if a product works. Now, this product has gotten rave reviews on ulta and on L'Oreal's site, so obviously, YMMV
Description: L'Oréal Skin Expert/Paris Pure-Clay Masks are designed for all skin types including sensitive skin. Each Pure-Clay Mask is made with three sourced mineral clays from the Mountains in Morocco, the South of England, and the USA. Each mask is formulated with different ratios of clay ingredients that are specifically tailored for ideal absorption time:
Kaolinite is a fine, soft, particularly malleable, white clay with a high oil absorbing capacity. In cosmetology, kaolin is used in masks for its purifying effects on all types of skin.
Montmorillonite a green clay derived from igneous rocks of the smectite family, is creamy to the touch and swells up when it comes into contact with water. In cosmetology, it is known for its purifying and rebalancing properties.
Ghassoul also called rhassoul, is a red clay of volcanic origin. It is extracted in Morocco where the women use it in masks for the face and in bandages for the body. It softens the skin, eliminates dead cells on the surface which obstruct pores and regulates sebum secretion. Skin purified this way regains its clean-looking appearance.
Eucalyptus Leaf Extract: Our labs in Paris have extracted local French Eucalyptus leaves, known for possessing purifying and soothing actions beneficial for women with oily skin, prone to imperfection. As an antioxidant, it helps to limit oxidation of sebum responsible for aggravating imperfections on the surface of the skin.
Ingredients: Water, Kaolin, Montmorillonite, Silica, Lecithin, Polysorbate 20, Butylene Glycol, Propylene Glycol, Oryza Sativa (rice) Starch, Eucalyptus Globulus Leaf Extract, Glycerin, Moroccan Lava Clay, Caprylyl Glycol, Citric Acid, Xanthan Gum, Methylparaben, Sodium Benzoate, Sodium Methylparaben, Phenoxyethanol, Chlorphenesin, CI 61570/Green 5, CI 77492/Iron Oxides, Linalool, Geraniol, Coumarin, Citronellol, Fragrance.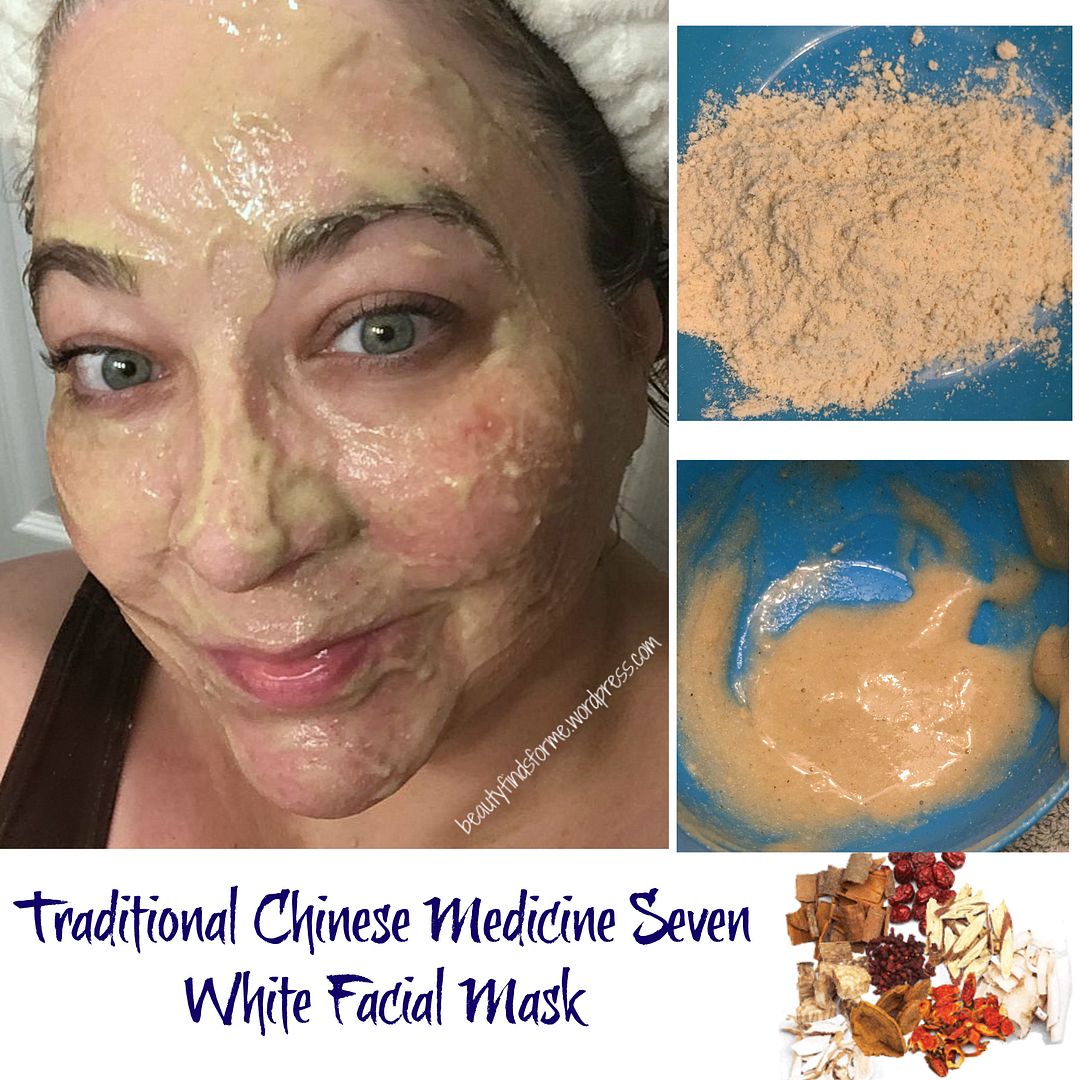 Traditional Chinese Medicine Seven White Facial Mask I received this DIY powder form mask in my August MaskGenie pouch (a winner!) and I have finally gotten around to using it. This is made with the following ingredients:
Atractylodes (Bai Zhu) This is part of the sunflower family and it contains essential oils and amino acids, such as aspartic acid, serine and glutamic acid, which will help brighten a dull skin tone

Angelica (Dong Quai) Also known as female Ginseng, this plant contains Vitamins A, E, B12, polysaccarides, carotene and ferulic acid, along with 19 amino acids ~ it will help your blood circulation, so that your skin will have a healthy radiance.
Baiji (Bletilla Striata) will act as an astringent and help heal wounds, while reducing swelling.
Ampelopsis (Bai Lian) will detox your skin, reduce swelling, heals wounds and reduces redness.
Pearl Powder (Zhen Zhu) is more than a gem to wear ~ it is beneficial to your skin, as it contains amino acids and more than 30 trace minerals to help hydrate and heal your skin and leave it glowing with health.
Poria (Fu Ling) is poria cocos, a fungi that is used for its anti-aging, anti-inflammatory and antioxidant properties, combating free radicals.
White Peony Root (Bai Shao Yao) is an anti-inflammatory and will help brighten a sallow complexion and overall brighten a dull complexion.

I have oily skin and the recommendation was to mix it with egg white, which I didn't have. But I love aloe vera and I have an all-natural aloe vera gel that I used to mix with this powder ~ aloe is great for oily skin as it will hydrate, soothe and reduce inflammation without being greasy. This mask has a very hanbang scent to it ~ very pungent, but I love these types of smells ~ I must have been a spice merchant in a previous life! Or a goose girl (I love ducks and geese…haha) I left this on for 30 minutes and it had dried down nicely without any pulling of my skin. When I rinsed it off with warm water, since it was a bit grainy, I used that to help further exfoliate my skin. What did I notice?  I noticed that this did tighten up my pores so they looked almost invisible and my face looked less red around my stress-post-vacation zits. I would love to try this long term, so I will see if I can find more of this powder on the 'net, as I only have one more use of it left in the sample.
Olivarrier Gentle Glow Seed Polishing Mask ~ I purchased this mask a month or so ago and I have used it a few times.  I am a huge fan of Olivarrier Dual Moist Toning Lotion and decided to give another item from their line a try.  This mask has big chunks of seeds in it, but they are smooth and flat, so I do not find them to exfoliate very well. This is made with white Amazonian clay and it never really dries down, so it stays creamy.  However, I do not like how my skin feels after I rinse the mask off.  It is almost like a film is left on my face ~ not oily, but just filmy and my skin feels like it does need to be washed with a cleanser.   I also felt that it didn't exfoliate well and it might have been too gentle for my oily skin.   I might have recommended this for dry skin types, except for that filmy feeling.   Anyone else try this mask?  How did you like it? 
Description:  This is a creamy, comfortable wash-off mask made from purifying Amazon white mud. Provides moisture while clarifying skin and clearing pores. Hypoallergenic scrub for sensitive skin . Helps create a smooth base for makeup through exfoliation. Perfect for those who hate mud masks that feel dry and tight as it dries (this one feels creamy and comfortable!) 
Ingredients: Water, Kaolin, Glycerin, Quaternium-18 Bentonite, Stearic Acid, Dipropylene Glycol, Cetyl Alcohol, Panthenol, Titanium Dioxide (CI 77891), Squalane, Sodium Hyalyronate, Olea Europaea (Olive) Fruit Oil, Persea Gratissima (Avocado) Oil, Vaccinium Macrocarpon (Cranberry) Seed Powder, Madecassoside, Magnesium Aluminum Silicate, Allantoin, Sodium Acrylate/Sodium Acryloyldimethyl Taurate Copolymer, Brassica Oleracea Italica (Broccoli) Extract, Isohexadecane, Xanthan Gum, Polysorbate 80, Butylene Glycol, Zanthoxylum Piperitum Fruit Extract, Pulsatilla Koreana Extract, Usnea Barbata (Lichen) Extract, Potassium Hydroxide, Dimethicone, Octyldodecanol  cosDNA analysis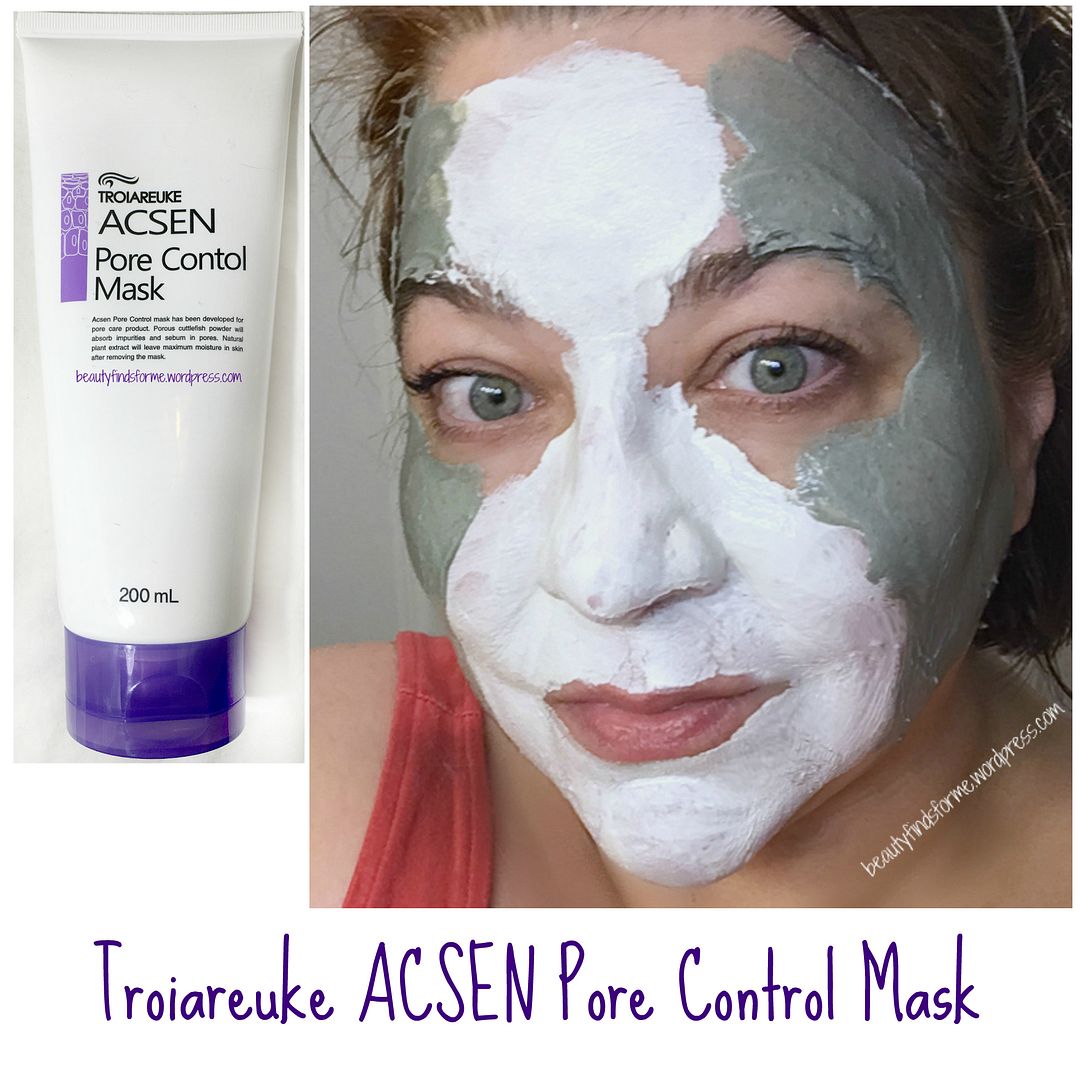 Troiareuke ACSEN Pore Control Mask ~ I am also masking with the amazing Manyo Factory Active Refresh Herb Pack Mask (the green mask ~ courtesy of Melody Cosmetics) as (a) it IS fantastic and (b) I need to finish it off!! If you are interested in that product, I have a full review here. I was debating if I was going to review the Troiareuke ACSEN mask at with a devoted blog post and as of now, I have decided not to. This product was hyped bigly and gushed about its performance and scent. As I am blemish prone and new ingredients are really cool to me (cuttlefish powder!!), I had been eyeing this item for a while, but couldn't justify its steep price tag ~ until W2Beauty had a 25% off sale on selected Troiareuke items. So I have used this twice now and several times as a spot treatment, so I am going to tell you how I feel about it. Meh. Okay. It is just okay ~ if it were a $10.00, it would be a great deal, but at $75.00, nope. It is a thick, creamy and sticky mask from a tube that does not smell beautiful to me ~ it is floral/baby powder and I gagged at the scent. But hey, if this product works as it claims too ~ skin toning, anti-inflammatory, pore tightening, cleans out pores and removes excess oil ~ I would be happy.
So, this mask does dry down but it is not uncomfortable, nor does it make my skin feel itchy (but it does stink of grandma perfume – no offense to grandma's) I rinsed it off with warm water. Welp. My pores did not look "tighter" or smaller and yes, I know that there isn't anything that will make your pores shrink in size, but it is the appearance, yes? I have had clay masks make my pores look invisible and this one did not do that. I did not think it cleaned out my pores that well either, because I saw a couple of pores look BIGGER with gunk in it. I was able to easily extract that gunk by just pressing down near the edge of the pore, so I will say that this mask brings the crap to the surface nicely and makes extraction easy. I have used this as a spot treatment on some blemishes overnight and it does seem to do that as well as reduce swelling and inflammation on pimples. So, in that case, this is a good product to bring your dirt and crap to the surface while reducing inflammation. BUT… damn, this is a pricey product for doing that. I didn't feel that my skin felt different (the texture wasn't smoother ~ maybe my skin is already smooth?) nor did I feel that it did any "skin toning".
I will use this as it is so expensive, but I will not repurchase. For my skin type ~ oily, blemish prone, not sensitive ~ I didn't feel it did a good job for its price point. Maybe this is better for drier or sensitive skin. Have you tried the Troiareuke ACSEN Pore Control Mask? What did you think of it? I am glad that W2Beauty had that promo code, as I would have been lusting over this product for a long time and would have paid full price for it, instead of the $50.00 odd dollars I did purchase this for.
Description: Absorb sebum + calm sensitivity + calcium = silky smooth skin.  Skin lifting & pore tightening mask for acne and sensitive skin. Porosity powder thoroughly removes sebum and dirt in pores. This mask has a skin toning effect.  Anti-inflammatory effect with moisturized feeling after use.   Troiareuke ACSEN Pore Control Mask is a skin lifting and pore tightening mask for acne and sensitive skin. It helps remove impurities like sebum and dirt in pores. It also has skin toning effect, anti-inflammation effect together with moisturized feeling.   TROIAREUKE ACSEN line has been developed for skin professionals to improve the sensitive and acne prone skin.
Making pores super tight ~ Lifting effect due to the small pores ~ Immediate skin brightening ~ Minimize inflammation ~  Reducing skin trouble ~ Protecting allergic skin.
"Professional V-line Mask" ~ Through cleansing and Purification of the pores from impurities and excessive sebum. Pore cell turn over to have tight pores to win over gravitational pull with natural wrinkles.
"Botox-like V-line mask"  ~ Tightening pores, giving gravitational pull to wrinkles! Reshaping pores to oval shape, making skin look younger 3-5 years!
Ingredients: water, kaolin, propanediol, bentonite, butylene glycol, titanium dioxide, 1,2-hexanediol, magnesium aluminum silicate,dimethyl sufone, sepia esculenta bone (cuttlefish) powder, xanthan gum, dipotassium glycyrrhizate, betaine, allantoin, glycerin, octyldocecanol, poncirus trifoliata fruit extract, sophora flavescens root extract,citrus junos fruit extract, eucalyptus globulus leaf extract, citrus paradisi (grapefruit) fruit extract,eugenia caryophyllus (clove) flower extract, disodium EDTA, portulaca oleracea extract, echium plantagineum seed oil, helianthus annuus (sunflower) seed oil, cardiospermum halicacabum flower/leaf/vine extract, fragrance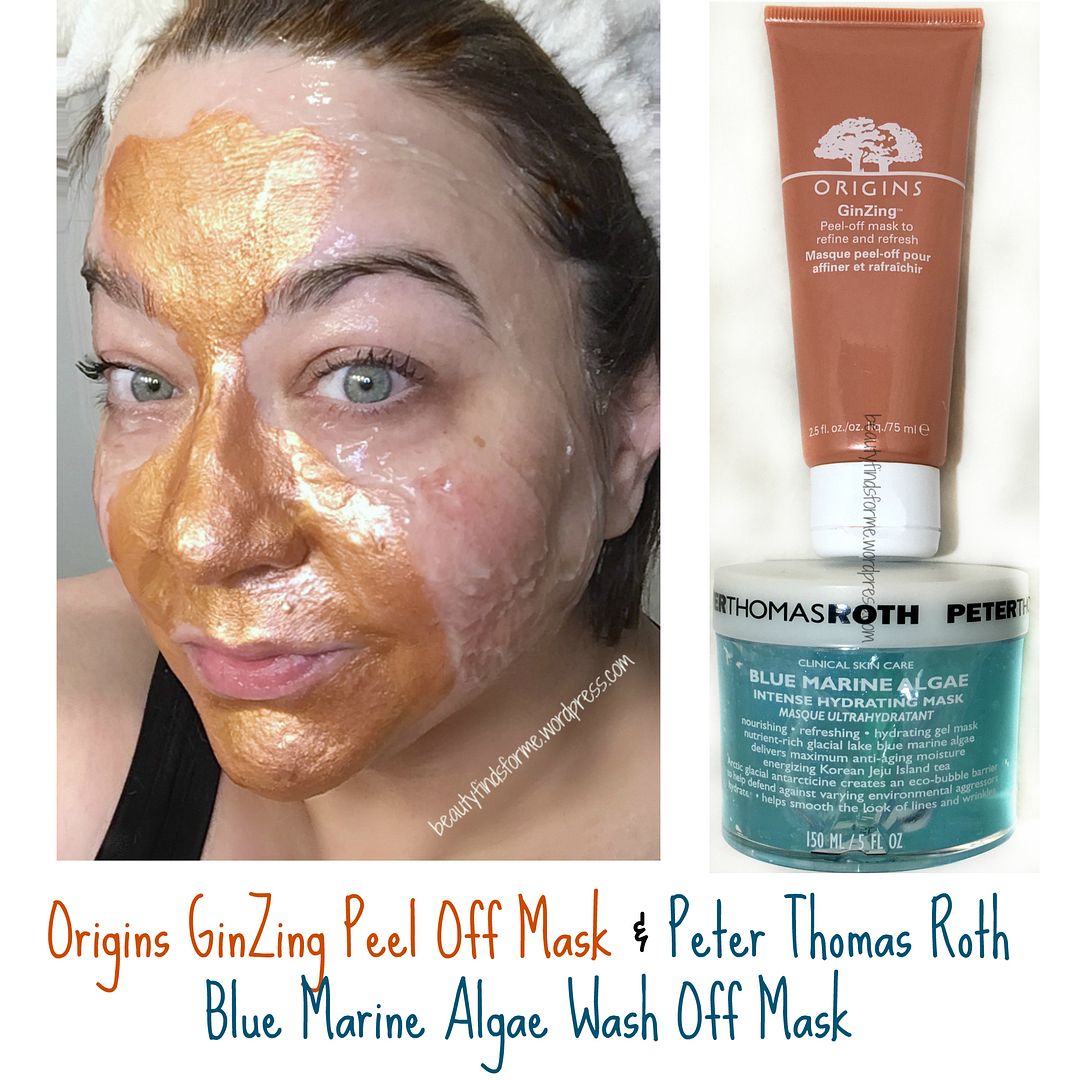 Origins GinZing Peel-Off Mask & Peter Thomas Roth Blue Algae Intense Hydrating Mask ~  I love Origins GinZing line and after seeing Anna @maskaddict try this mask, I really wanted to try this for myself as well!  This mask is a peel off mask, so expect a few things ~ it will have alcohol as one of its top ingredients, it will tug on peach fuzz and should be used on your T-Zone, not all over your face.  I noticed the alcohol scent fairly quickly, mixed in with a bright citrus scent ~ this doesn't smell like ginseng at all, but citrus is a favorite scent of mine, so I did like the scent. This contains coffee bean extracts, which contain antioxidants to help prevent anti-aging, ginseng ~ another antioxidant and skin brightener and a fruit acid complex, which will help aid in  cellular turnover. The color of this is so fun ~ a bright metallic copper ~ I honestly wanted to put this all over my face, but I do know that this can be drying so T-Zone only! This was very refreshing on my skin while I was wearing it ~   I waited until it dried down and then peeled off ~ it was really easy to remove, there were only a few spots where the mask didn't come off easily, which was around my nasal folds.  I noticed that my skin looked more brighter and felt more smooth, it was not drying to my T-Zone and it really cleaned out my pores, so they looked tighter and visibly smaller!  I love this mask for its performance, scent and color. 
Since I felt nekkid on the parts of my face where I didn't apply the GinZing mask, I went with PTR Blue Marine Algae Intense Hydrating Mask ~ I wish it was really more blue out of the jar, but it isn't.  I slathered it on ~ this is made from seaweed, which is a nutritious and hydrating ingredient.  It also contains Antarcticine, which according to PTR, is a "unique glycoprotein sourced from Arctic glacial ice and helps skin retain water & protects against water loss in extreme climates or temps".  It also has Jeju Island source green tea, which is full of antioxidants. For some weird reason, this smells faintly like coconuts to me, even though there aren't any coconut extracts in this product!  This is a very cool and refreshing mask to wear and when I rinsed it off, my skin felt soft and hydrated.
Origins GinZing Peel-Off Mask Description:  A refreshing peel-off mask with a unique pearlized finish that instantly lifts away dull, tired skin. It is refreshing peel-off mask is fortified with coffee beans, panax ginseng, and a gentle fruit acid complex. It helps lift away dull, dead skin, and dirt and debris to leave your skin looking clear and radiant. Clinically proven to reduce the appearance of pores, it leaves skin looking smooth, refreshed while pores seem reduced.  Made without parabens, sulfates, phthalates
Coffee Beans: Contains antioxidant ingredients to support antiaging.
Parax Ginseng: Brightens up the look of the eye area.
Fruit Acid Complex: Obtained from citrus fruits and apples; promotes cell turnover.
Essential Oil Blend of Grapefruit, Lemon, and Spearmint: Refreshes.
Origins GinZing Peel-Off Mask Ingredients: Water, Alcohol Denat., Polyvinyl Alcohol, Zea Mays (Corn) Starch, Silica, Hexylene Glycol, Citrus Limon (Lemon) Peel Oil*, Citrus Grandis (Grapefruit) Peel Oil*, Mentha Viridis (Spearmint) Leaf Oil*, Citrus Aurantium Dulcis (Orange) Peel Oil*, Limonene, Linalool, Citral, Panax Ginseng (Ginseng) Root Extract, Pyrus Malus (Apple) Fruit Extract, Algae Extract, Camellia Sinensis (Green Tea) Leaf Extract, Citrus Aurantium Dulcis (Orange) Fruit Extract, Citrus Limon (Lemon) Peel Extract, Saccharum Officinarum (Sugar Cane) Extract, Isoceteth-20, Caffeine, Xanthan Gum, Aminomethyl Propanol, Carbomer, Phenoxyethanol, Mica, Iron Oxides (CI 77491), Titanium Dioxide (CI 77891). *Essential Oil  cosDNA analysis

Peter Thomas Roth Blue Marine Algae Intense Hydrating Mask Description: A nutrient-rich hydrating gel treatment mask that helps soothe and nourish skin with blue marine algae and other potent humectants.  Blue marine algae is a nourishing seaweed that infuses skin with nutrients and humectants to help defend against dehydration and prevent future damage. Antarcticine—a unique glycoprotein sourced from Arctic glacial ice—helps skin retain water and protects against water loss in extreme climates or temperatures. Sourced from the Jeju Islands of Korea, tea delivers deep nourishment and abundant moisture. Skin is left instantly hydrated and smooth with a healthy-looking, dewy glow. Over time, as the treatment balances skin's hydration levels, fine dehydration lines are visibly diminished.
Blue Algae: Soothes, nourishes, and infuses skin with nutrients and humectants to help defend against dehydration and prevent future damage.
Tea: Sourced from the Jeju Islands of Korea, delivers deep nourishment and abundant moisture.
Antarcticine: Unique glycoprotein sourced from Arctic glacial ice helps skin retain water and protect against water loss in extreme climates or temperatures.
Microalgae and Sea Water: Provide bioprotective moisture and minerals to help maintain a hydrated state in the skin all day.
Peter Thomas Roth Blue Marine Algae Intense Hydrating Mask Ingredients:  Water, Salvia Officinalis (Sage) Flower/Leaf/Stem Water, Glycerin, Pseudoalteromonas Ferment Extract, Camellia Sinensis Leaf Extract, Kappaphycus Alvarezii Extract, Algae Extract, Maris Aqua (Sea Water), Sodium Hyaluronate, Mica, Silica, Carbomer, Sodium Hydroxide, Disodium Edta, Citric Acid, Caprylyl Glycol, Potassium Sorbate, Sodium Benzoate, Phenoxyethanol, Titanium Dioxide (CI 77891), Blue 1 (CI 42090) cosDNA analysis

Make P:rem In-Shower Face Mask I decided to use this mask this morning.  This is a honey colored jelly that has a floral-herbal scent ~ it is light and not overpowering. I applied this after I washed my face and did some exfoliation with a scrub.  Then slathered this jelly on my face and went about the business of showering.  They said this wouldn't drip or slide off your face and that is correct! My biggest issue was trying not to wipe my face while it was on, but it did not come off voluntarily.  You are supposed to leave this on for 15 to 20 minutes and then rinse off.  I rinsed it off after 20 minutes ~ I took a LONG shower today ~ and massaged it around my face while rinsing ~ it does not come off with a quick swipe, you do have to use your hands to remove. I looked in my shower mirror (yes, I have one and you should too!! It really helps me gauge if I got the product completely off my face or if I want to inspect my pores, etc).  I could tell immediately that this is a moisturizing product ~ my face looked like I had put something on it besides water.  It wasn't filmy or anything like that, just that I could see the moisture from the product on my wet skin ~ and it did absorb nicely into my skin as it dried down.  My face felt very hydrated and soft, very clean.  So, did this product "create a hydrating barrier to brighten, soften and smooth skin"?  I would say yes, it did.  I would also say that I don't have 20 minutes to keep a mask on in the shower ~ this is AFTER you wash your face and if you want to exfoliate, you do need to do this before you apply this mask ~ otherwise, you will lose the benefits of it at exfoliation time. It is supposed to be a time saver in the morning, but I don't think so.  I think it adds more time in my routine as my shower is longer. I think that this mask is great for if you take a bath and can just sit back and read a book or something for 20 minutes.  That is the con of this mask, plus its price ~ it is $36.00 at Glow Recipe, but if you can do a group haul, you can get it for as low as $19.20.  Even by itself, it is $25.00 at amazon, which is still a huge savings.
Why the Wonder Essence (review here),  you ask?  Well, @hipsterskincare shared this vid from @morgansbeautybreakdown about "Korean Beauty Tips from K-Drama Stars".  I scoffed at washing my face for 45 minutes, but I did like a couple of the tips.  One was not to dry off your face with a towel ~ instead pat the water into your face and let it dry naturally after cleansing.  Another was to keep a bottle of toner in your shower, as the tip was you should apply toner to your face within 3 minutes after cleansing.  As I have hoards of toners, I thought this was a fine idea and decided to keep my plastic, unbreakable bottle of Simplistic Skin's Wonder Essence in my shower caddy ~ it is a first essence and it would be the first product I slap on my face after cleansing anyway.  I think this is a great idea! Many thanks to @hipsterskincare for sharing that youtube video!!
Description  An innovative in-shower mask that creates a hydrating barrier to brighten, soften, and smooth skin.  The ultimate time-saver, Make P:rem's In-Shower Face Mask provides hydrating relief to dry, tired skin during your daily shower. Multi-task by applying this no-budge, no-slip mask onto damp skin, showering as usual, and then rinsing off. The steam and heat allows plumping Hyaluronic Acid and brightening berry extracts to more easily penetrate into skin. Argan oil and Shea butter provide lasting nourishment while Squalene and Ceramides lock in hydration long after your shower.
Ingredients: Water, Glycerin, Methylpropanediol, 1,2-Hexanediol, Betaine, Algae Extract, Eclipta Prostata Leaf Extract, Rubus Fruticosus (Blackberry) Fruit Extract, Rubus Chamaemorus Seed Extract, Centella Asiatic Extract, Ficus Carica (Fig) Fruit Extract, Rubus Idaeus (Raspberry) Fruit Extract, Vaccinium Angustifolium (Blueberry) Fruit Textract, Morus Alba Root Extract, Fragaria Vesca (Strawberry) Fruit Extract, Ulmus Davidiana Root Extract, Amaranthus Caudatus Seed Extract, Ascophyllum Nodosum Extract, Sodium Hyaluronate, Hydrogenated Lecithin, Argania Spinosa Kernel Oil, PEG-40 Hydrogenated Castor Oil, Carbomer, Dipropylene Glycol, Xanthan Gum, Glyceryl Polymethacrylate, Potassium Hydroxide, Dipotassium Glycyrrhizate, Maltodextrin, Ethrylhexylglycerin, Caramel, Hydrolyzed Avocado Protein, Fructooligosaccharides, Propylene Glycol, Lecithin, Disodium EDTA, Beta-Glucan, Butylene Glycol, Caffeine, Dimethicone, Squalane, Hydrogenated Polyisobutene, Alcohol, Hydrolyzed Hyaluronic Acid, Acacia Senegal Gum, Isononyl Isononanoate, Polyglyceryl-10 Stearate, Polyglyceryl-10 Oleate, Cetearyl Alcohol, Butyrospermum Parkii (Shea) Butter, Stearic Acid, Polyclyceryl-2 Dipolyhydroxystearate, Sodium Dilauramidoglutamide Lysine, Thermus Thermophillus Ferment, Lysolecithin, Phytosterols, Sodium Ascorbyl Phosphate, Inulin Lauryl Carbamate, Ceramide NP, Disodium Stearoyl Glutamate, Leuconostoc/Radish Root Ferment Filtrate, Citric Acid, Fragrance, Potassium Sorbate
Matcha Obsessed Matcha Clay Exfoliating Mask  I purchased this last week based on @gracefulfaceblog review and I am glad I did! This DIY clay mask is 100% natural, made with ceremonial-grade matcha (green tea), coconut milk, organic  honey, organic echinacea and botanic clay (made with 3 different types of clay).  These ingredients will help provide anti-oxidant care, antibiotic to help fight blemishes, reduce inflammation and redness, moisturize and  gently exfoliate by unclogging pores, removing excess oil and debris from your pores. This mask is made in the USA and its ingredients are raw, natural, organic and  is not tested on animals (cruelty free). I mixed some powder with warm water to make a smooth creamy paste ~ it really doesn't have much of a scent at all.  You can add other liquids instead of water ~ like honey, yogurt, milk, even eggs!   
This was pretty easy to apply to my skin and it didn't drip too much ~ you can control the thickness of the mask itself by how much liquid you add.  It started to dry down pretty quickly and it did not pull or make my skin feel uncomfortable or itchy.  The mask hardens to a smooth "shell" with minimal flaking.  It was easy to rinse off and I noticed right away how clean my pores looked, how much "tighter" they looked in appearance ~ if your pores are clean and excess oil and debris are removed, your pores do "look" smaller.  I also loved that my skin did not feel dry or stripped, but smooth and soft and naturally hydrated.  I believe @gracefulfaceblog has drier skin than me and she loved it too ~ I have oily skin and felt it also really did do a great job to cleanse and exfoliate my skin.    Two thumbs up for this matcha clay mask!
Description: Soft and clear skin through gentle exfoliation and deep hydration. This matcha clay mask combines purifying organic clay, hydrating coconut milk, and pure honey, with the powerful antioxidants of organic matcha powdered tea. Studies show that Matcha reduces inflammation and fights damaging free radicals.  This Matcha Coconut Clay Mask removes impurities and tightening the pores, toning the skin, exfoliating dead skin cells and reducing redness, inflammation in acne.  Suitable for All Skin types. Treats acne. Moisturizing. Detoxifying. Reducing inflammation and redness
Ingredients
Ceremonial-Grade Matcha: MatchaObsessed uses only the purest and highest possible grade of Matcha green tea, ceremonial grade. This matcha tea provides powerful antioxidant benefits, naturally smells great, and reduces inflammation.

Coconut Milk: Naturally dehydrated Coconut Milk Powder provides natural moisture and rejuvenating nutrients directly into your skin cells.

Honey: Organic Honey with natural antibiotic and antimicrobial properties leaves your skin blemish free, fights acne, and keeps your matcha clay mask pure.

Echinacea: Our high grade organic Echinacea naturally reduces inflammation and redness.

Botanic Clay: A proprietary blend of 3 different organic clays cleanse and remove unwanted skin oils, dead cells, and leaves your skin with a natural healthy glow.

That's it! There no preservatives, chemicals, or any other compounds. This mask is 100% natural and has only 5 of the highest-quality ingredients.
Make P:rem Radiance Cleansing Pack  This is my second item from Make P:rem and it is a wash off clay mask/foaming cleanser.  I have tried several different brands with this concept and it is fantastic ~ if you are on a budget or traveling, this is a 2-in-1 one product that is great for those of use with oily skin or blemish prone skin!  This is a very soft clay mask that is easy to squeeze out of the tube ~ too easy in fact as I had too much on my face this morning.  It has a light pleasant smell ~ I am not sure if it is floral or not, but I wasn't put off by it.  The instructions say to leave on for only 3 to 5 minutes and it doesn't seem to dry down hard or tight, very comfortable.  I rinsed off in the shower, massaging it around and yes, it does foam up!!  After rinsing clean, my skin did feel very hydrated and moisturized due to the argan oil, ceramide and squalene ingredients ~ it had the same effect on my skin as the In-Shower Face Mask that I used last week.  I will say it did a fairly decent job cleaning out my pores, but it wasn't WOWZA.  I could still see some gunk on my nose.  My face did look brighter and felt smooth, not dry or stripped.  Is this worth the $$?  At an expensive shop, it is $30.00. Do not spend thirty bucks on this.  Go to Amazon and purchase it there ~ if you can get some friends who are interested in this, you can purchase it in bulk and get it for less than $20.00.  Have you tried any Make P:rem items? What did you think of them?  I did order their black foam & black cleansing water from Amazon, so I think highly enough of this brand to try out more of their products.  I do think that it is a pricey brand that does a decent job, however, I am not sure that the hype matches the performance yet.
Mask Revisited:  So I tried it out again, but this time, I took @irawatysarah advice and left it on for longer ~ about 25 minutes. This soft clay mask never really dries down hard, but it will dry down. It was not uncomfortable at all but it did take a bit more effort to rinse off, so I used my pore brush. The pore brush not only helps break up the mask, but it really creates more foam as this isn't just a clay mask, but a foaming cleanser too! I have to say, keeping it on longer made a huge difference. I had complained that it didn't fully clean more pores with the 3 to 5 minute recommended wait time, but with the longer wait time, it really did clean out my pores. No gunk this time! My face felt smooth and soft, refreshed and brighter. However… my face did sting a bit (a reaction?) so I think I will keep it on for 15 minutes the next time and see if that cuts down on the stinging. I don't have sensitive skin, but maybe I did leave it on a bit too long. Did anyone else get a stinging reaction from this? 
Description: Make P:rem's Radiance Cleansing Pack is a cleanser and wash-off face mask hybrid that deep cleanses pores without drying out the skin. Kaolin clay acts as a magnet, attracting impurities and residue out of pores while apple extract and Vitamin C brighten and re-energize skin by evening out skin tone. Natural moisturizing factors like Ceramides and Squalene keep skin hydrated.  Made without Parabens, Synthetic Dyes, Mineral Oils
Ingredients: Water, Kaolin, Glycerin, Sodium Cocoyl Clycinate Zea Mays (Corn) Starch, Titanium Dioxide, Decyl Glucoside, Dipropylene Glycol, Betaine, PEG-7 Glyceryl Cocoate, Centella Asiatica Extract, Ficus Carica (Fig) Extract, Pyrus Malus (Apple) Fruit Extract, Rubus Chamaemorus Seed Extract, Aloe Barbadensis Leaf Extract, Althaea Rosea Flower Extract, Algae Extract, Eclipta Prostata Leaf Extract, Ascophyllum Nodosum Extract, Moringa Pterygosperma Seed Extract, Hydrogenated Lecithin, Argania Spinosa Kernel Oil, Magnesium Aluminum Silicate, Xanthan Gum, 1,2-Hexanediol, Algin, Chondrus Crispus (Garrageenan), Ethylhexylglycerin, Disodium EDTA, Dimethicone, Squalane, Hydrogenated Polyisobutene, Alcohol, Isononyl Isononanoate, Polygylceryl-10 Stearate, Dipotassium Glycyrrhizate, Allantoin, Cetearyl Alcohol, Butyrospermum Parkii (Shea) Butter, Stearic Acid, Polyglyceryl-2 Dipolyhydroxystearate, Fructooligosaccharides, Butylene Glycol, Lecithin, Beta-Glucan, Polyglyceryl-10 Oleate, Sodium Dilauramidglutamide Lysine, Thermus Thermophillus Ferment, Inulin Lauryl Carbarmate Hydrolyzed Hyaluronic Acid, Ceramide NP, Lysolecithin, Phytosterols, Sodium Ascorbyl Phosphate, Disodium Stearoyl Glutamate, Maltodextrin, Leoconostoc/Radish Root Ferment Filtrate, Retinyl Palmitate, Bioflavonoids, Citric Acid, Ascorbic Acid, Tocopherol, Hesperidin, Fragrance, Phenoxyethanol, Potassium Sorbate cosDNA analysis

Wonderuci Real Cacao Brightening Mask Back in 2014, I got this mask via one of Memebox's infamous global boxes (those were the days). I loved this mask and was sad when Memebox stopped carrying it.   They recently got it back in stock, so I thought I would finally review it! This has raw cacao in it, which is full of antioxidants and has essential omega fatty acids.  First off, let me say, that the texture has changed.  It used to  be a more gooey mask, sticky, but easy to spread.  What I have now is a thick paste and not easy to spread.  It still smells the same ~ like a deep dark chocolate brownie and it looks good enough to eat (but don't ~ I mean, it does taste like chocolate, but don't eat it…).  Since it was so thick, the application on my face is not even or smooth and I used up more product that I wanted to. I have a solution to that ~ more on that later on.  At any rate, once it is on, I leave it on for about 40 minutes ~ it doesn't dry down at all.  I recommend that you use this mask before you get in the shower, as it is very difficult to remove.  Use warm water and massage off or use a warm, moist towel to remove.  I do love this mask ~ because once it was off, I remembered why I loved it so much ~ my skin is so much more brighter, firmer, my pores are clean and look smaller.  My skin is glowing and it is not irritated. Have you tried this cocoa mask?  Memebox still carries it, btw 
Tip to applying this mask: Scoop out how much you think will cover your face.  Place the paste in a small bowl and then put the bowl in another bowl of hot water, so that it softens the mask. That will make it much easier to spread.
Ingredients: Glycerin, Theobroma Cacao (Cocoa) Seed Powder, Diatomaceous Earth, Caprylic/Capric Glycerides, Algin, Silica, Dimethicone/Vinyl Dimethicone Crosspolymer, Cetyl Ethylhexanoate, Water, Polysorbate 80, Octanediol, Ethylhexylglycerin, Citrus Paradisi (Grapefruit) Seed Extract, Artemisia Vulgaris Extract, Macadamia Integrifolia Seed Oil, Lavandula Angustifolia (Lavender) Extract, Chamomilla Recutita (Matricaria) Extract, Rosmarinus Officinalis (Rosemary) Extract, Portulaca Oleracea Extract, Allantoin, Fragrance, C13-14 Isoparaffin, Polyacrylamide, Laureth-7 cosDNA analysis
And that is a wrap for Part 4 of my Wash-Off mask packs.  I have so many more, so there will be a Part 5, but if you want to see the reviews quicker, follow me on Instagram as I post them there first.   I have linked the product name to a store where you can purchase these masks and if they are popular, you probably can find them at other online sites as well. 
Have you tried any of these masks?  Which one(s) would you like to try? 
[ blog post contains affiliate links. Descriptions in italics from product site. Some products were received for review purposes and are marked as such ]