Disclaimer: This product was sent to me for review purposes. All opinions are my own and unbiased. Contains affiliate links

Q-Depot sent me the It's Skin Power 10 WR Effector Serum in late December to test and review.  They say this is one of It's Skin's top sellers in the cold and dry winter months. In case you do not know what Q-Depot is, it is a huge Korean cosmetics online shop ~ with brands from The Saem, Innisfree, Dr Jart, Etude House, O HUI and so much more ~ offering Korean skincare and Korean makeup items and shipping worldwide.

Skin Type/Concerns:  Oily, aging skin, blemish prone, fine lines and wrinkles, hyper-pigmentation
About It's Skin Formula Effector Serums
I came to know about It's Skin products through their Power 10 Formula Effector Serums, which are very popular in Korea and I noticed they are making Power 10 Effector Toners as well.   They make quite a few of them and it can be hit or miss with this series.  I have used a few of them in the past, with only one standout ~ the Propolis serum, which was very nice and moisturizing.  The other two that I used, WH and Syn-ake, did not work for me at all ~ WH did not brighten or even out my skin tone and Syn-ake was too intensely moisturizing and sticky for my oily skin. 
VC=Vitamin C, Brightening  #1 Best Seller
CO=Collagen, Vegetable collagen extracts help hydrate the skin and elasticity #2 Best Seller
YE =Yeast, Provides nutrients and moisture to skin, vitality  #3 Best Seller
GF=Grifola Frondosa, Moisturizing and brightening effect
WH=Whitening, Contains arbutin to help brighten and even out skin tone
Q10=CoEnzyme Q10, Firms and restores your skin
PO=Pore, Sebum and pore control
VB=Vitamin B, Balances moisture and oil
VE=Vitamin E,  Antioxidant and anti-aging
WR=Wrinkles, Contains caviar and mistletoe for anti-aging and recovers skin resilience
LI=Licorice, Brightening and soothing effects
Propolis Prevents skin issues, hydrates and brightens
Syn-ake Reduces facial wrinkles and fine lines
You can layer these serums or use them as spot treatments, depending on your needs. It's Skin shows you the texture of each serum and its viscosity, so you know where in your skincare routine to apply the serum.  The rule of thumb is to apply them from the most watery to the thickest textures.  For the WR Serum, they recommend that it can be used with the Q10 serum, as these are both anti-aging serums
They even put together a chart to show you in what order to apply the serums!
I love how this serum comes packaged ~  It is in a glass bottle that has a nude-peach pearlized finish.  This has a standard eye drop applicator but It's Skin also added a clear cap that fits over the applicator, making it look very classy.  This has a nice clean line to it.  However, be careful as the bottle is glass and can break if dropped.  The applicator is easy to use and it actually does dispense the product nicely without any issues.  Believe it or not, there are some products whose eye drop applicators do not work that well!  I am currently using another product and its applicator doesn't like to pick up the product at all.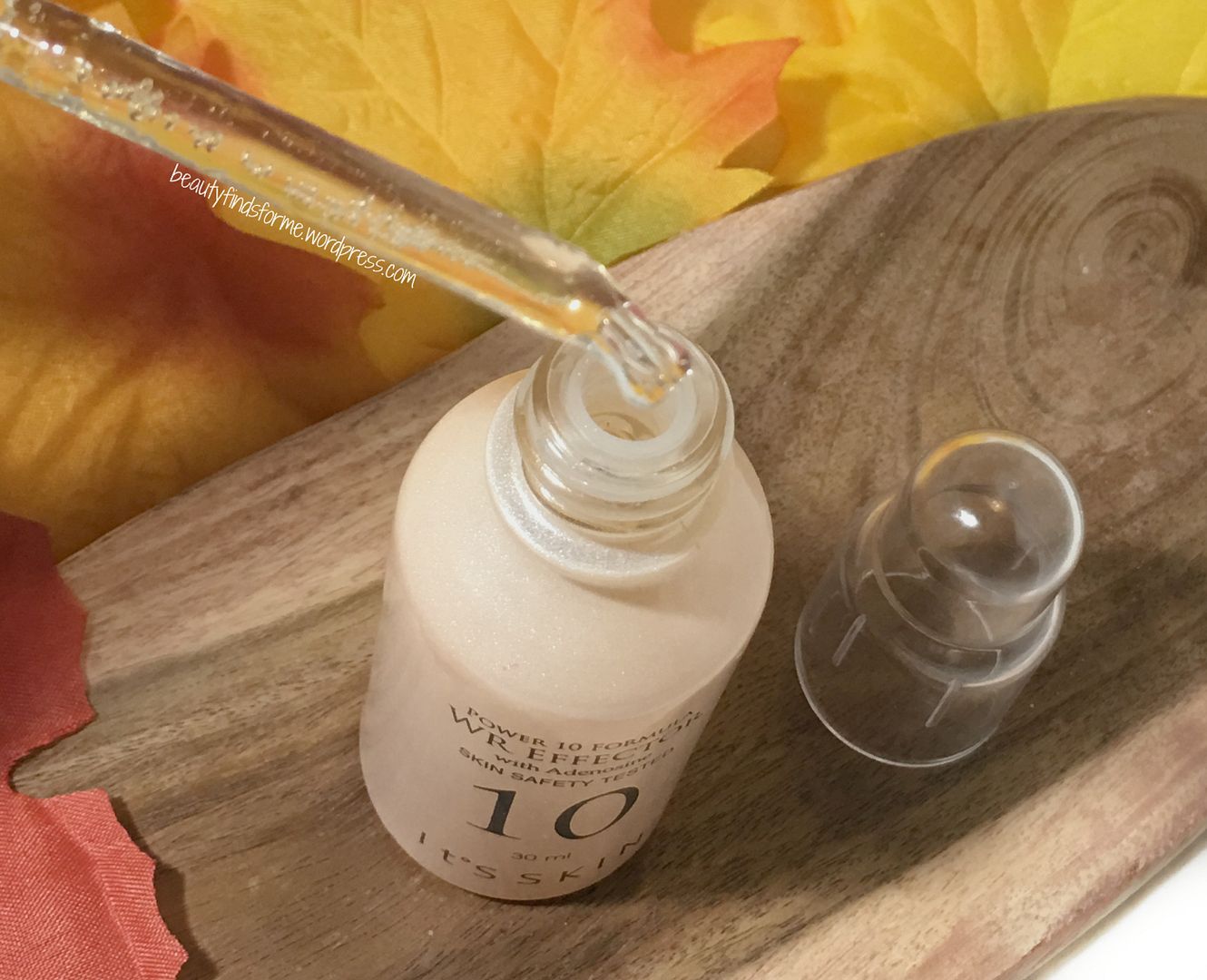 Description: A concentrated anti-wrinkle facial serum. Formulated with caviar and mistletoe extracts for anti-aging benefits. Reduces the appearance of wrinkles and sagging skin. Provides skin with necessary nutrients and vitality. Promotes cell metabolism & enhances skin elasticity. Unveils a firmer, clearer, smoother and younger looking complexion.  Can be used as a cosmetic enhancer. Dermatologist-tested

Key Ingredients
As this is an anti-wrinkle product, I expect to see some highly moisturizing ingredients in here.
Polyglutamic Acid ~ yes, my favorite peptide makes an appearance in here!  This ingredient made from fermented soybeans (natto) and helps moisturize and exfoliate old skin cells.  It can penetrate to the deepest layers in your skin, locks in moisture and helps increase the production of NMF (Natural Moisturizing Factor), making your skin smooth, soft and elastic.

Salicornia Herbacea is a plant that grows near salt marshes in South Korea and it has antioxidiant properties, helping to combat free radicals and help reverse their damage, such as reducing fine lines, wrinkles and brightening effects on your skin, making it a rejuvenating skincare ingredient (study).   It will also help hydrate your skin and lock in moisture
Viscum Album (mistletoe) is a semi-parasitic plant that latches onto evergreen trees.  It contains flavonoids and has a rich source of mucilage, meaning that it is viscous in texture, acts as an emollient ~ moisturizing and hydrating your skin to keep it supple, while protecting the skin from dry, harsh conditions.
Caviar ~ yes, fish eggs.  Unlike some other bad ingredient translations that mistake a green seaweed, caulerpa lentillifera, as "caviar", this is the REAL caviar.  Caviar is a strange ingredient for skincare at first glance, but it does contain amino acids, lipids, proteins, vitamins and minerals, along with essential fatty acids ~ omega-3 and omega-6 ~ which help to reduce inflammation, aid the production of collagen to promote firm, elastic skin while reducing the appearance of fine lines and wrinkles. 
Adenosine is a yeast derived, amino acid and it became popular after it was found to help improve the reduction of wrinkles, smoothing your skin and anti-inflammatory. Adenosine is safe to use day and night, unlike vitamin C and retinol.
As noted, this contains caviar, so it is not a vegan product.
Ingredients: water, butylene glycol, glycerine, polyglutamic acid, salicornia herbacea extract, viscum album (mistletoe) leaf extract, caviar extract, dipropylene glycol, ethylhexanediol, triethanolamine, carbomer, ethylhexylglycerin, acrylates/C10-30 alkyl acrylate crosspolymer, caramel, fragrance, adenosine, disodium EDTA  cosDNA analysis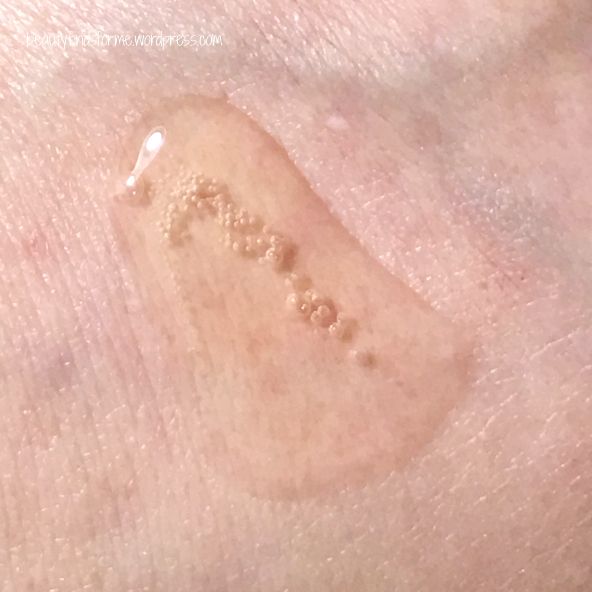 This serum is a slightly yellowish but clear gel-liquid.  It isn't watery, but it isn't overly thick either ~ it has almost an oil like texture, without being oily on my skin.  It does have a soapy, perfumed scent, similar to the Propolis serum. Why, oh why, do companies make skincare products with a heavy perfume fragrance ~ fortunately, the scent disappears  ~ it takes a minute or two, but it does go away.  I find that this serum absorbs quickly and without any tacky or sticky residue, unlike the Syn-ake serum from It's Skin. 

It is very moisturizing ~ about 71% increase in moisture and 72% in oils ~ it is just too much for me to use during the day time as an all-over face serum, so I just target my cheeks, which are normally drier than the rest of my face.  I also discovered that this is fantastic as serum for my eyes!  I normally use a facial oil under my eyes at night before I apply my eye cream, but during the day, I cannot do this as it will react badly with my makeup.  This serum is a fantastic substitute for oil ~ it has that same texture as an oil, but without the oily feeling and absorbs nicely into my skin.  My skin under and around my eyes is thin and I suffer from fine lines and wrinkles, plus if that skin gets too dehydrated, it will look crepey.
WR Effector is perfect to put around my eye area as it immediately plumps up my fine lines and wrinkles while moisturizing deeply into my skin, so I avoid the paper-thin and wrinkly look.  Since it absorbs quickly, I don't have to worry about my eye cream or makeup sliding around.  
I haven't used this on my face overall as I have oily skin, but I have to say, this is fantastic as an eye serum and for my drier skin, such as my cheeks and neck.  If you have really dry skin, you can use this overall on your face as your skin will feel very moisturized and plumped up.  It's Skin also states that this serum can be used in your foundations and BB creams, to give your skin more moisture and hydration.

For those interested in pH levels, this clocks in at a solid 5, so it is mildly acidic.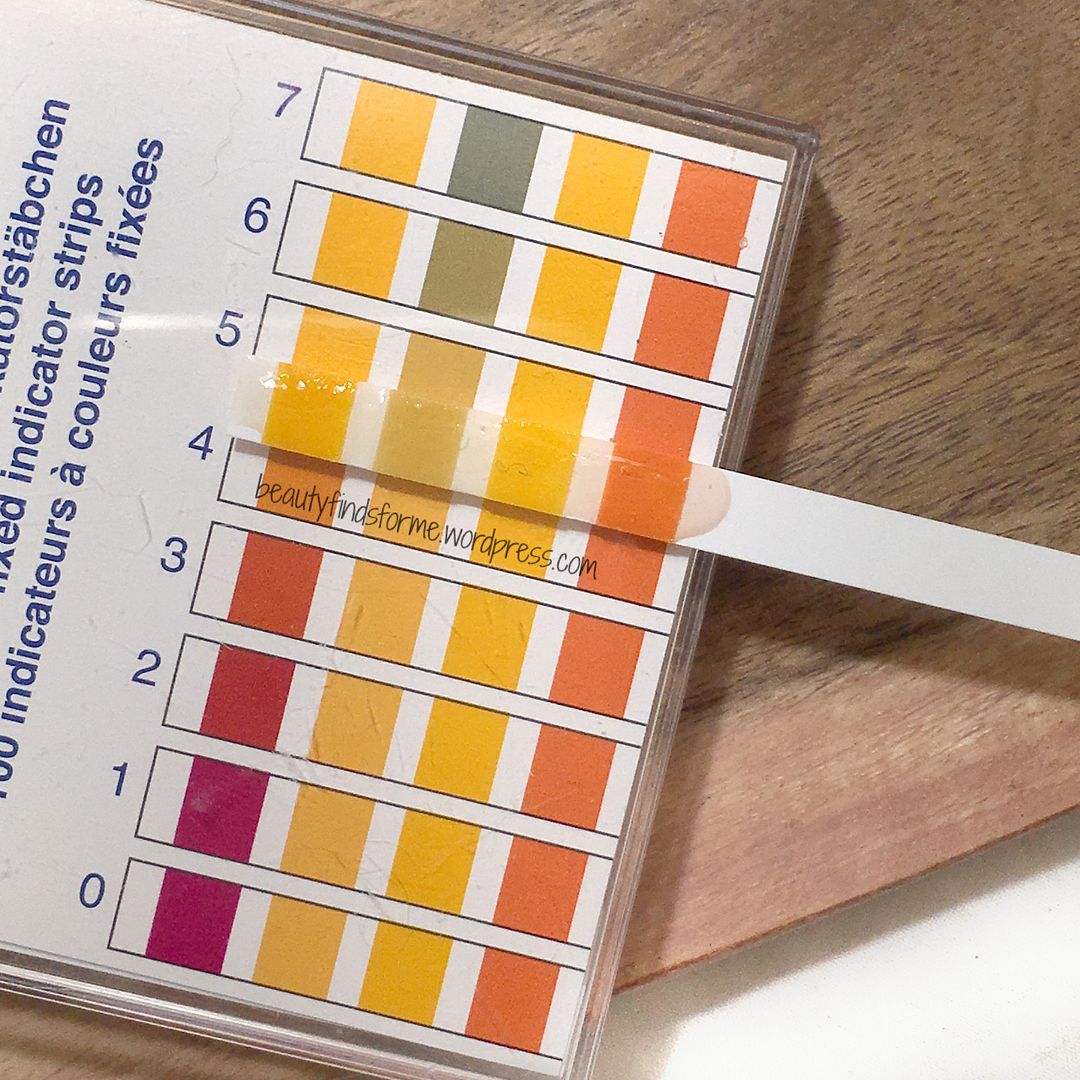 Final Thoughts
As I mentioned in the beginning of this blog review, It's Skin Power 10 Effectors can be hit or miss.  I think that the WR Effector is a hit with me, as it does do pretty much what it claims to do ~ it softens fine lines and wrinkles, hydrates and makes my skin more supple.  It absorbs nicely into my skin without any tacky or sticky residue and it acts like a facial oil, without the shine (dewiness).  I think that for oily skin, you just need to target those areas where you are not too oily or blemish prone and it will work just fine ~ like it did with my cheeks, neck and eye area.  If you have combination or dry skin, I would think you can use this all over your face, as it really does hydrate and moisturize!  
I love the packaging too ~ the glass bottle is really nicely designed and I love that It's Skin uses colors to differentiate between the serums.  It is also very inexpensive for a 30 mL so if it doesn't work for you, you aren't out $40.00 to $60.00 ~ I know I have tried some very expensive products that did nothing for my skin.  My only complaint is the scent ~ I wish skincare brands would stop with the perfume scent.  So, out of the 4 It's Skin Power 10 Effectors I have tried, it is a 50-50 split on effectiveness and I do put this one, the WR Effector Serum in the "It works well" category for me.

Have you tried any of the It's Skin Power 10 Effector Serums?  Which ones and how did it work for your skin?  Did it meet your expectations or was it a colossal failure?  Let me know in the comments below ~ I love to hear from my readers.  I believe that I will want to try the YE Effector Serum and Toner next from It's Skin, as I love my yeasty products!
Where to Purchase
Q-Depot carries the full line of It's Skin Power 10 Effector Serums as well as a few in the Effector Toner line as well!  The WR Effector Serum is under $14.00 and you can use my promo code of MM1124 to receive 10% off if this is your first time purchase at Q-Depot.

Q-Depot, for those who may not know, is an online Korean cosmetic store that has over 15,000 Korean skincare and   Korean makeup products with over 25 famous brands, such as Banila, Etude House, Hera, Skinfood, The Face Shop, History of Woo, Tonymoly, Innisfree, Missha, IOPE and many more.   Q-Depot has free international shipping with any orders $49.00 or more and you will get free samples with every order as well.  If you are socially conscious, another reason to shop with them is that 3% of their net profit will be donated to social causes, as social responsibility is one of their core values.  They also are the only shop that I am aware of that has a section dedicated to products that are cruelty free, which is fantastic.  You can also save 7% off when purchasing from their Cruelty Free section ~ use promo code GoCF7off.  Check out their deal of the day too ~ they have some awesome prices on products!
[ product was complementary from Q-Depot.  All opinions are my own and unbiased ]
[ blog post contains affiliate links ]