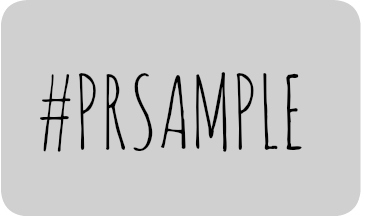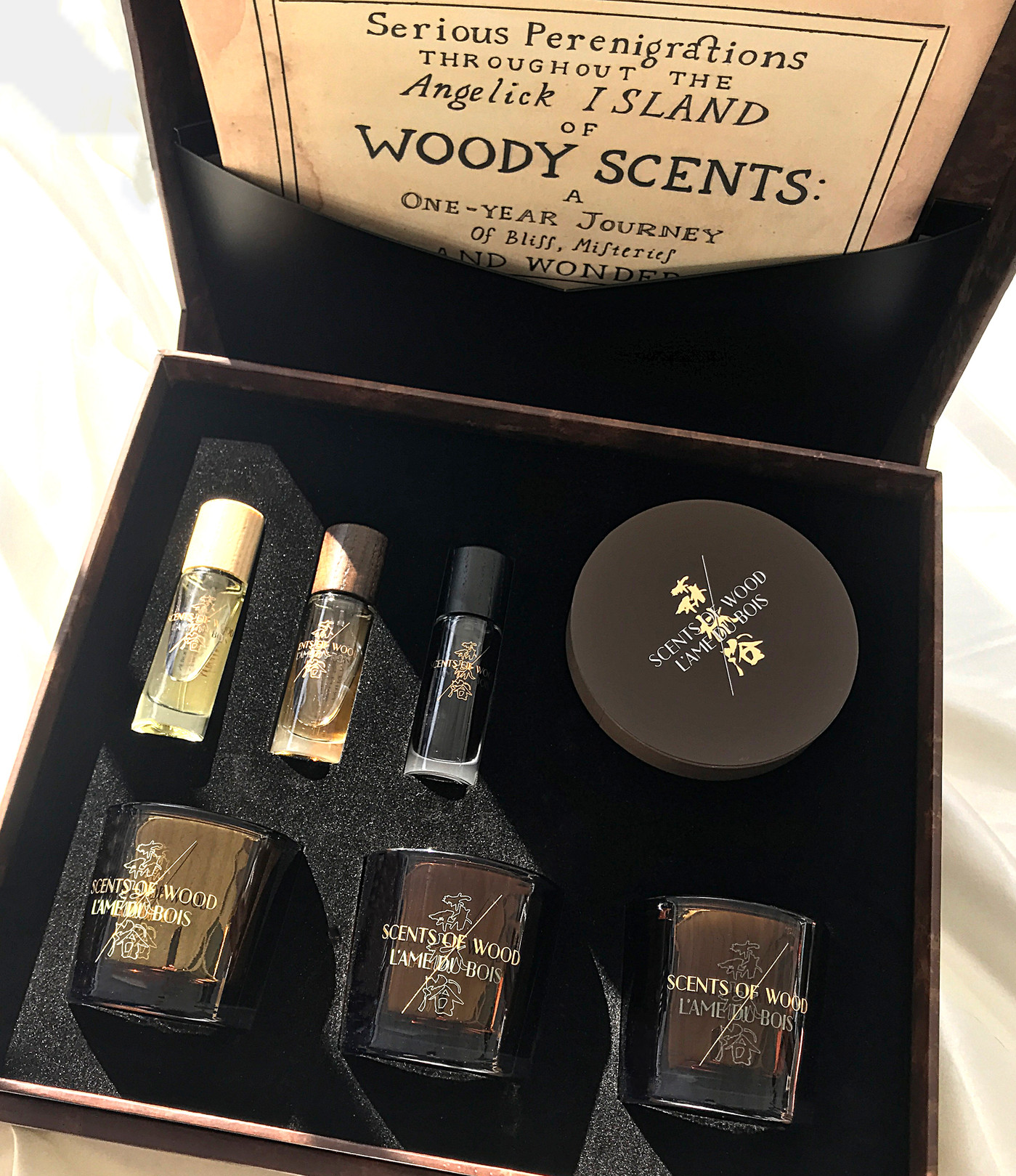 I saw this brand pop up as an AD in my Instagram feed and fell in love!  I reposted one of their products  in my stories and the owner actually DM'd me to thank me for the support!   Scents of Wood sent me a full sized perfume and candle for review purposes ~ and  LOVED  them so much, that I felt this was a worthy product to have a subscription with, as they do have a monthly subscription box.  This review will be split into three parts:  What is Scents of Wood, the PR that was sent to me and the monthly subscription box and its process.
 

I received some of these  products complementary to review and was not paid.  All reviews are my own honest opinion and  I never have been asked to write copy for a brand.  This blog post might contain promo codes, affiliate and referral links, which using my links will help generate a small commission that helps support my blog at no extra cost to you.
What is Scents of Wood?
Scents of Wood, or the brand's Japanese name 森林浴 ShinrinYoku, is about capturing the essence, the draw, the attractive to forests and nature.  ShinrinYoku  translates to Forest Bathing or taking in the forest atmosphere, which is a Japanese meditation method of walking in the woods ~  this is both physical and mental meditation method that relieves burnout from life's daily challenges as well as reconnecting and protecting forests.   L'Âme du Bois is the brand's French name, and that means Soul of Wood, which works with the creative way they age their organic alcohol.    
They actually age their organic alcohol in barrels to grab the essence of the wood used to make those barrels, such as French Oak, Chestnut, American Oak, Acacia, Cedar as well as vintage barrels that were used to age alcohol, such as Cognac.  Scents of Wood is a cruelty free brand and doesn't test on animals. 
image from scents of wood
Instead of infusing the alcohol with essential oils, the alcohol is PART of the fragrance, picking up the scents of these barrels, both new and vintage barrels ~ the vintage barrels have added benefits, as they contain the essence of the liquor that used to be housed in there.  These barrels are collected from all over the world and Scents of Wood ages their organic alcohol in these barrels to create a rich, deep scent as its base.  Oils are added  to this alcohol to create their fragrances.  
Scents of Wood Perfume and Candle
I received these two items complementary from Scents of Wood.  The full sized items come beautifully packaged in black boxes with a thin wood logo insert on the top of the box.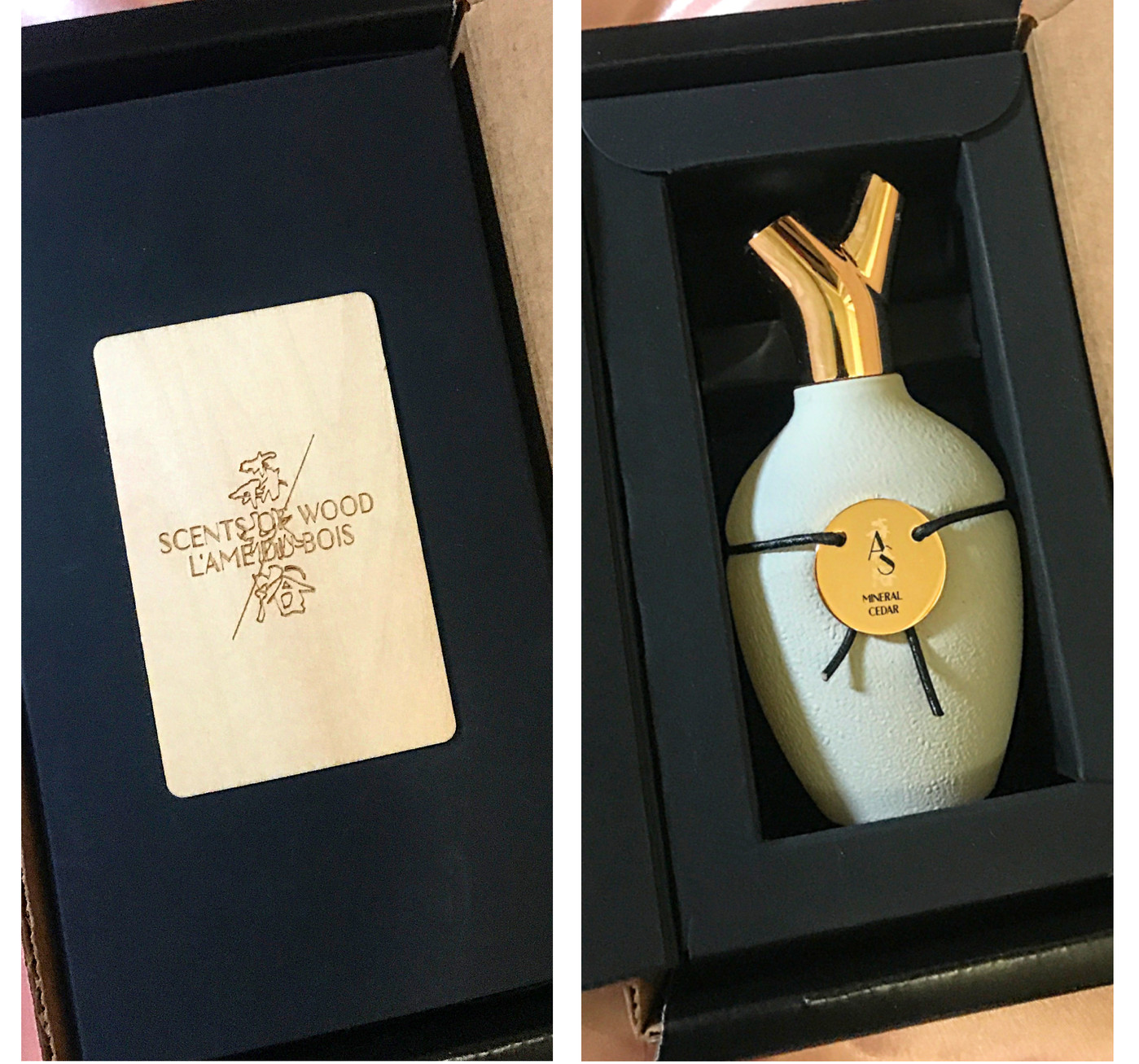 Perfume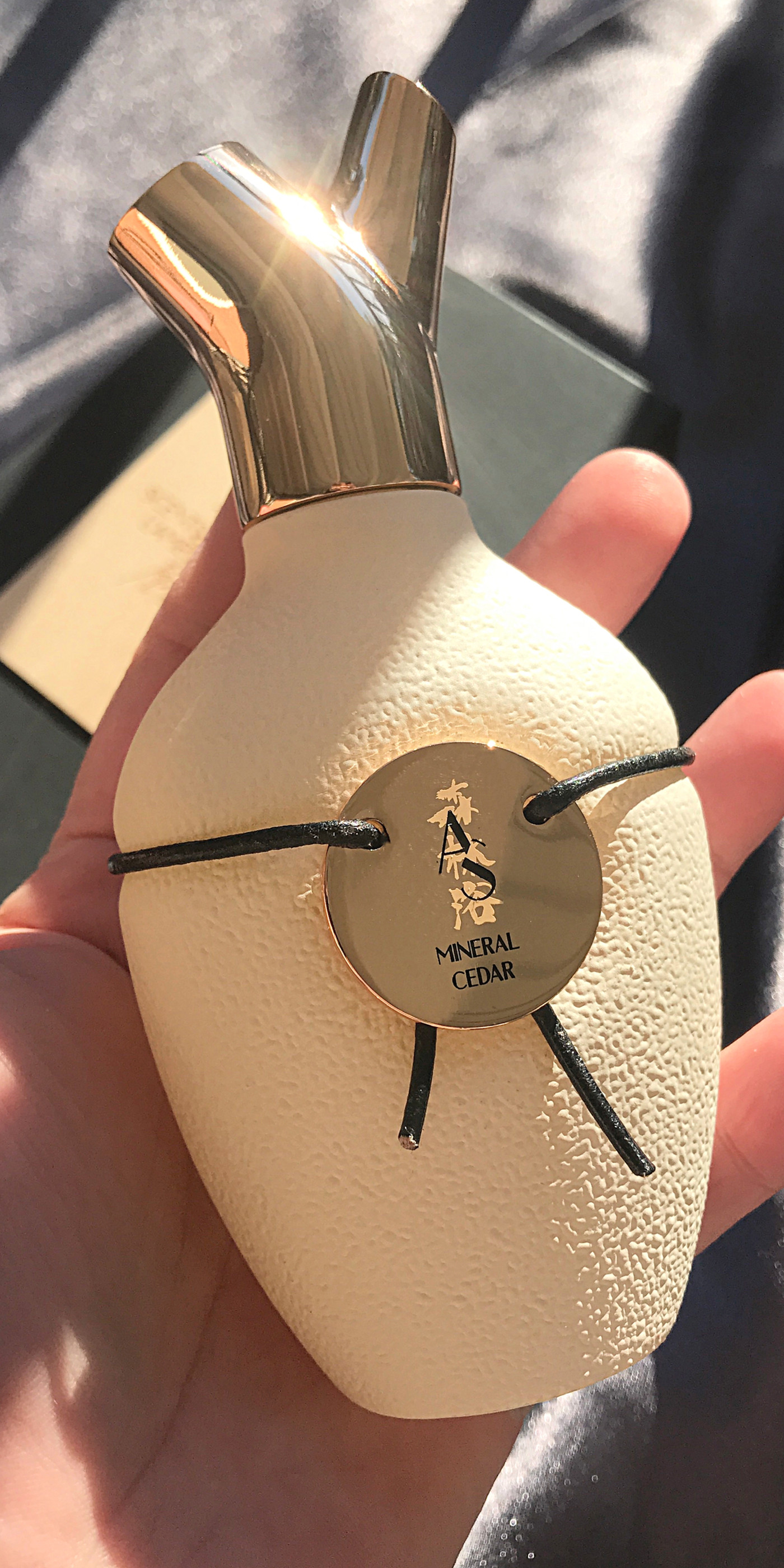 Let's stop and just pay homage to this bottle.  Seriously, it is so beautiful.  These 75mL bottles are customizable ~ you can choose from the textured bottle body of ivory, charcoal or dark chocolate and the cap can be black or gold.  Each bottle some with a tie around it with a golden medallion that has the Scents of Wood logo and the name of the perfume. The cap is in the shape of a twig, which is so pretty!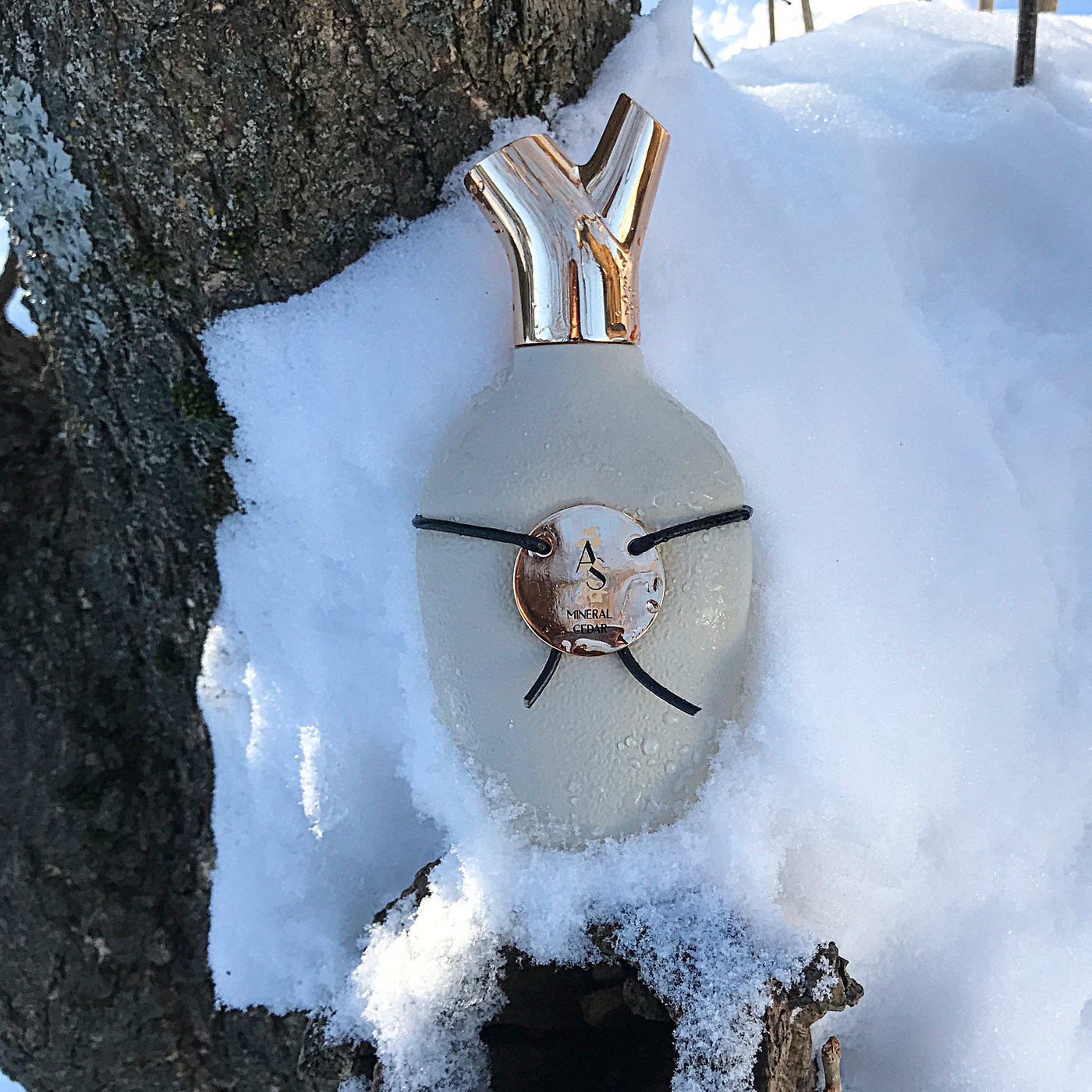 I received  Mineral Cedar/Cèdre Minéral, a cooler scent that invokes the coastal woods and ocean.  This perfume has notes of cypress oil,  juniper berries, bergamot oil, caraway oil, lavandin heart LMR, olibanum oil, guauicwood oil, sandalwood oil, operanide, ambertonic, and tonka bean absolute.  The organic alcohol is aged in an American Oak barrel.  I do pick up the wonderful aromatics of cypress, juniper and bergamot, but there is something else going on in this complex scent.  I wasn't that familiar with the following notes, so I looked them up.
Olibanum ~ this is actually frankincense, which is part of the woodsy  balsamic notes, green, spicy. 
Operanide ~ a sharp mossy green with an amber forest note 
Guauicwood ~ smokey, sweet and vanilla
Lavandin ~ a herbal lavender, with a camphor note.   
And of course the cedar undertones as the alcohol was aged in a cedar barrel.  This does smell like the woods by a salty oceanside with resins and and earthy, refreshing scent from the lavandin.  This does initially come on strong, but it dries down and lasts several hours as it slowly fades away.     
Candle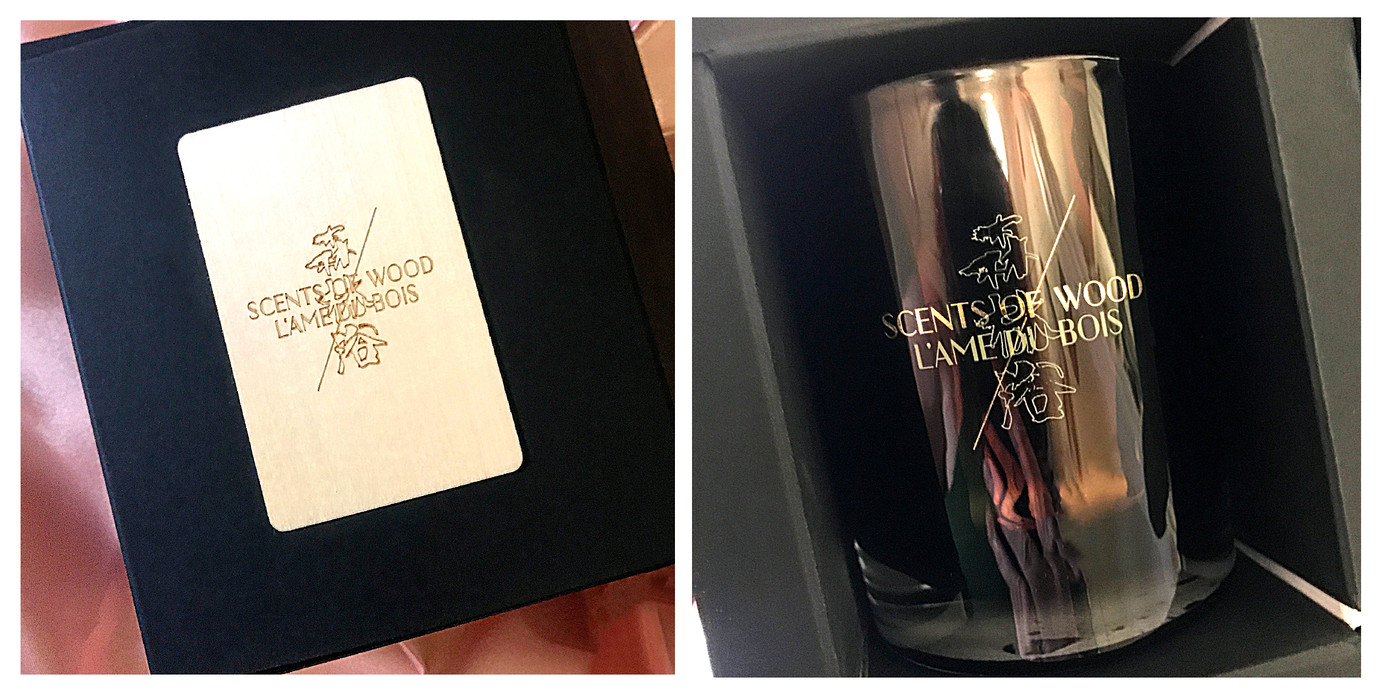 This is one heavy candle!  The glass votive is so thick and weighty, in a lovely dark brown with gold and light cream-grey lettering.  The inside of the candle votive is gold colored as well and the wax is a cream color, with a cotton wick.  Each candle is handmade, using the natural scents that were aged in the wooden barrels and the scents are so rich and sophisticated, with a heady fragrance.  I do not know what type of wax they use, but I would assume it is beeswax.  Each full sized candle is 225 grams with about 60 hours of burn time.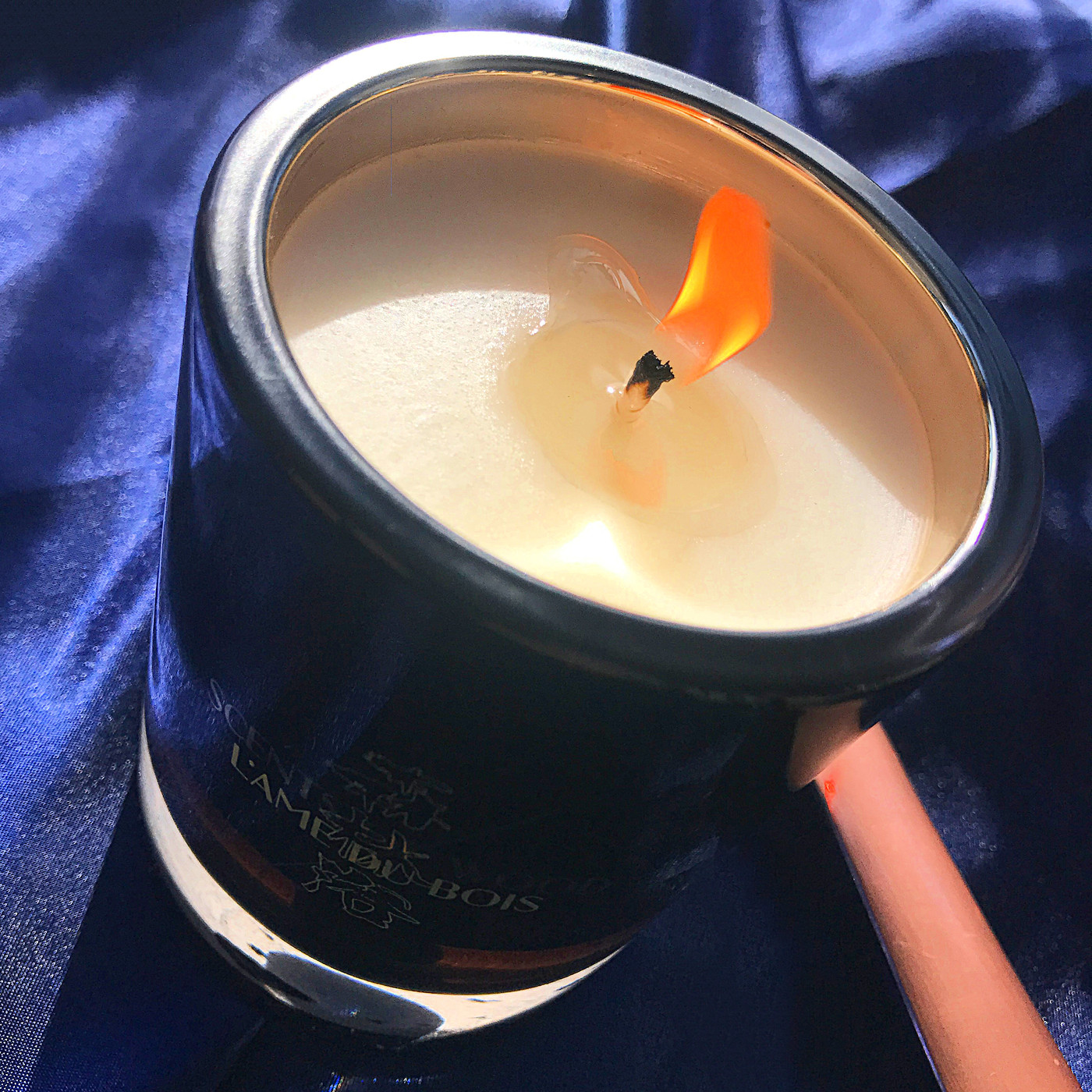 Oak in Oak/Chêne en Chêne is a spicy wood with notes of saffron, incense, cumin seed, orris root, oakwood CO2 LMR, tonka bean LMR,  amber Xtreme IFF and patchouli oil. Oak in Oak's alcohols' base is aged in a French Oak barrel.  The patchouli is the least of the fragrances that I can pick up, which is surprising as patchouli usually overwhelms all other fragrances.  I pick up the incense right away, very dry, very fragrant with that smokiness.  This is not a sweet scent, it is very earthy, full of leather notes, but it is a soft scent. Not very loud, but more cushioned.  In a nutshell, I would say this is a woody, dry fragrance with warm, smoky, amber notes.
Scents of Wood Monthly Subscription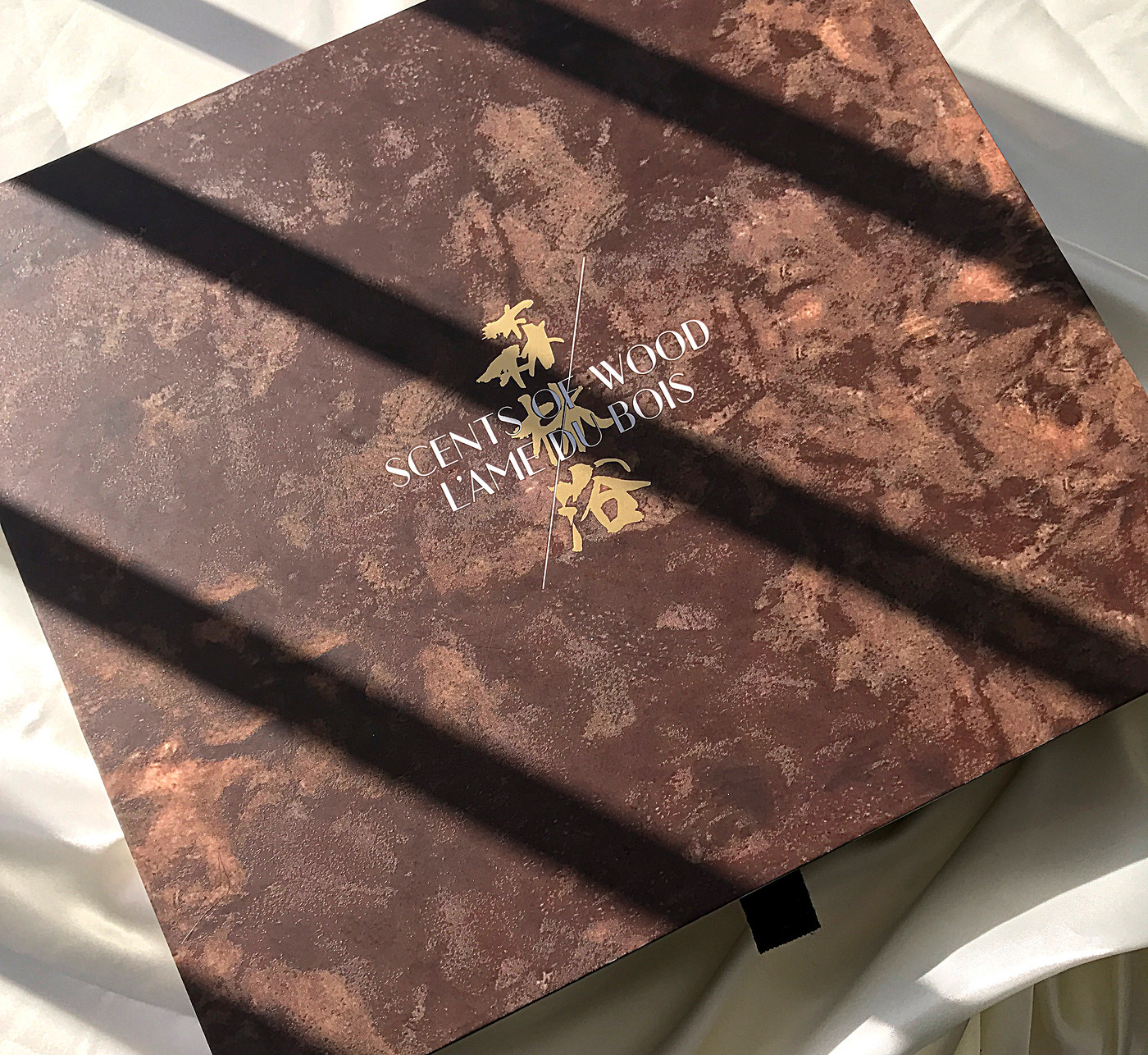 After receiving the PR items, I decided that I would subscribe to Scents of Wood monthly subscription.  The name of my blog, Unboxing Beauty Finds for Me, came from its original inception, where I did a lot of subscription beauty box unboxings!  I have transitioned to actually doing reviews on products, so this is the first monthly beauty box that I have subscripted to in a LONG time.  That is how much I love these fragrances.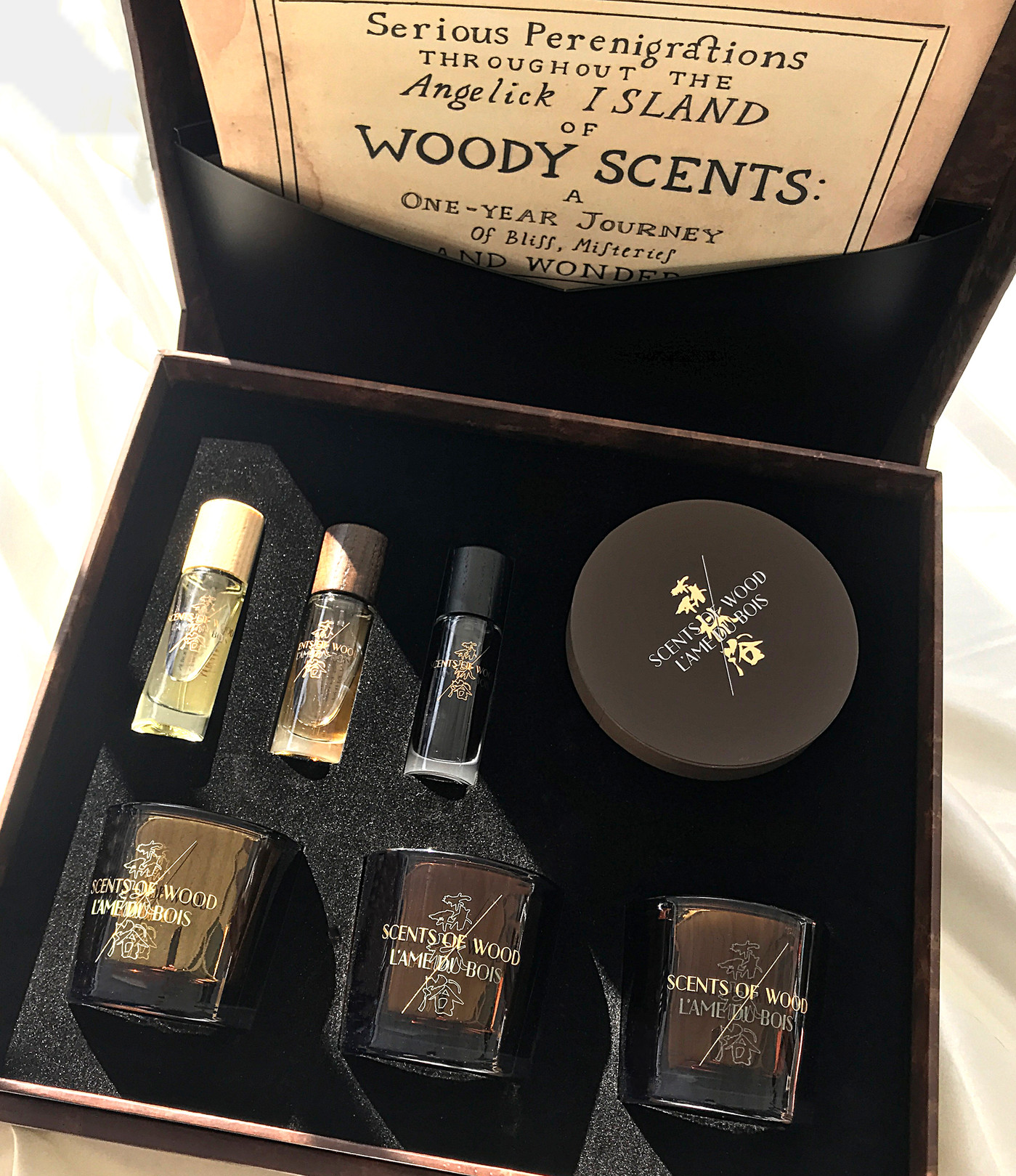 It doesn't matter when you sign up for the yearly subscription, you will always get the three-piece introduction set, which includes a huge Collectors box, a "map" of their scents, three 10 mL perfumes, three 20 gram candles and incense leaves.  Your next month will follow the map, so don't worry that you might miss out on a scent because you started subscribing later on.   The first month is $98.00 but I purchased mine when they had a 50% off promo code and they do offer this quite frequently and you can also ask them if they have a promo code.
The "Map"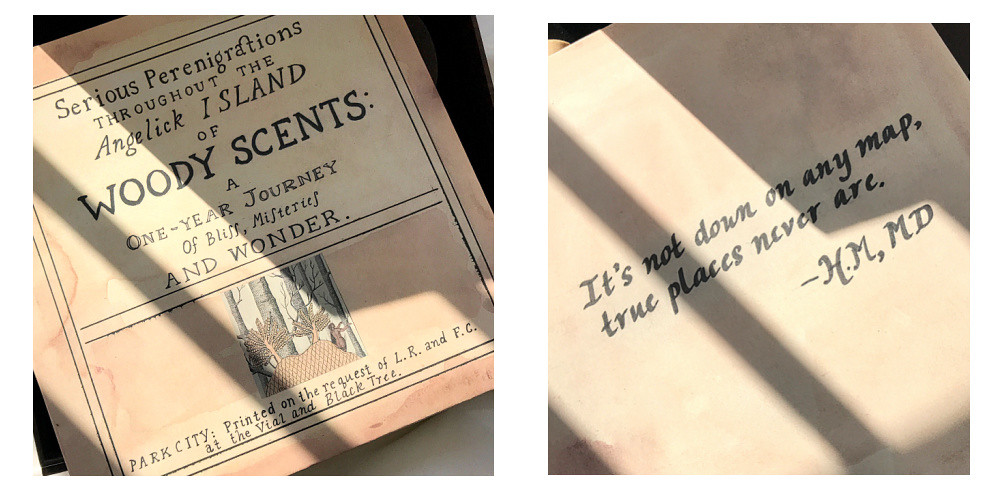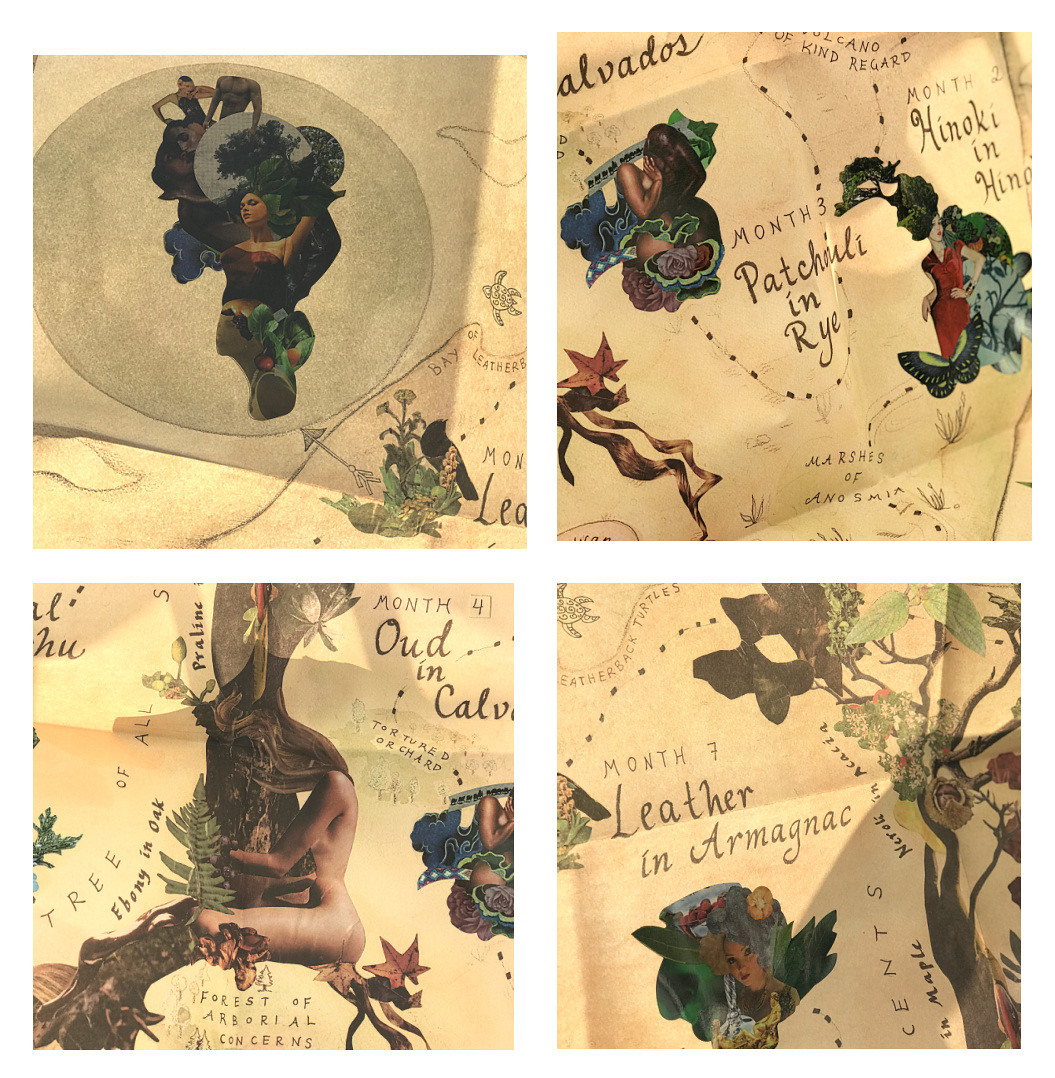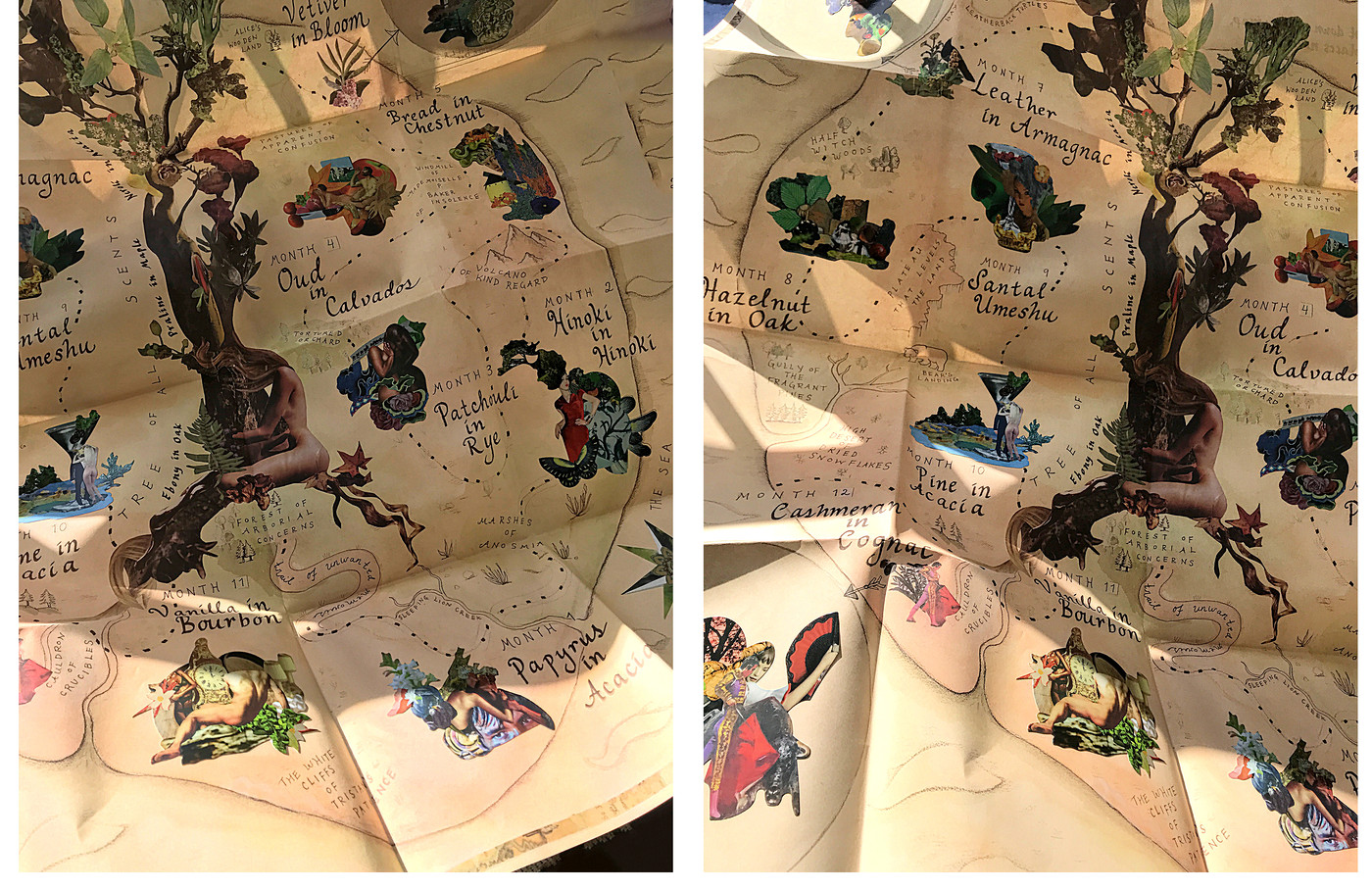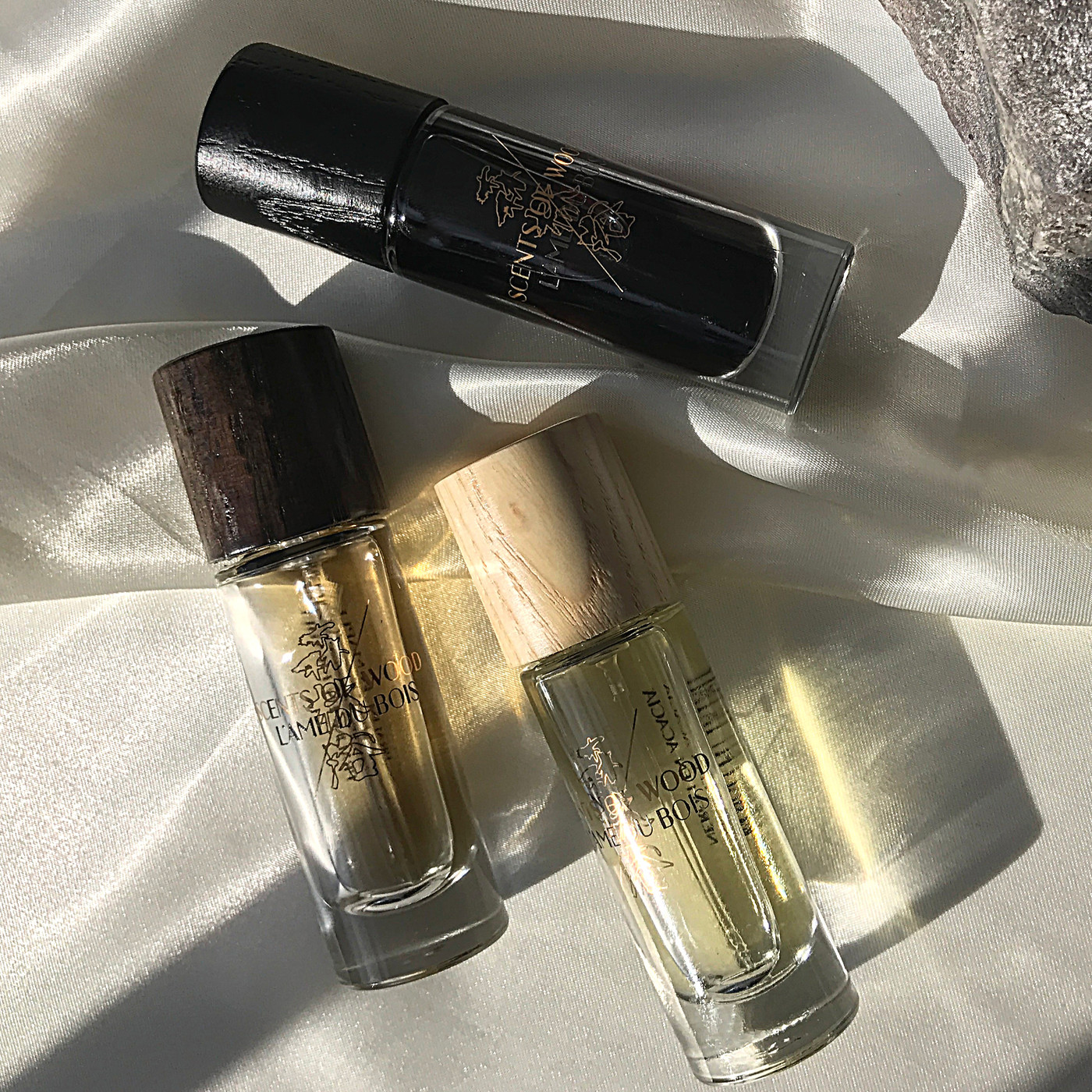 The Collectors Box includes these three scents:  Ebony in Oak,  Néroli in Acacia and Praline in Maple. What surprised me was even the color of the fragrances are different, which must be based on the alcohol aged in the barrel ~ it makes sense that Ebony in Oak will be very dark.  Please note that the darker the color, the more it can stain clothing, so always spray directly on skin or hair. The fragrances come in glass bottles with a spray applicator, topped off by a wooden cap.   
Ebony in Oak/Ebène en Chêne  contains notes of pink pepper C02 LMR, cardamon oil Ceylon LMR, saffron, geranium oil Madagascar LMR, ebony, suederal, cocoa absolute LMR, tonka bean absolute LMR and  cedarwood virginia. The alcohol base is aged in a French Oak barrel.
Suederal:  smokey, leather, tobacco   
Oh wow, very deep and sweet, ~ I do smell tobacco, cedarwood and as it dries down, the a lovely cocoa fragrance.  Not a lot of spice in here, more smoke, wood and chocolate-vanilla.  This is not a fragrance to spray on clothing as it is a blue-black perfume liqiud and could stain ~ wear it on your skin or hair only.  
Néroli in Acacia/Néroli en Acacia contains notes of petitgrain oil Paraguay LRM, bitter orange extract, upcycled carrot seed heart LMR,  orange flower absolute Egypt LMR, néroli oil Tunisia LMR, oakwood C02 LMR, oakwood C02 LMR and cashmeran.  The alcohol base is aged in an Acacia barrel. 
Cashmeran ~ This is a synthetic accord that has spicy, citrusy and vanilla notes, which is supposed to remind you of cashmere wool.
Oh I love a good neroli scent, and this one starts out with a bright bitter note of neroli, tempered by the citrus scent of cashmeran. It has a floral note with orange blossoms and petitgrain, very fresh, very sparkling.  There is a sweet-honey tone with  barrel notes from acacia wood. This one is the least woody fragrance of the three.  The liquid is very pale  but I would stick to the skin and hair as well.
Praline in Maple/Praline en Erable  contains notes of black pepper, pink pepper C02 LMR,  clove bud oil, roasted praline chestnut accord, Peru balsam fair trade LMR, olibanum, cedarwood atlas, guaiacwood oil LMR, patchouli oil Indonesia MD LMR. This is a gourmand  fragrance, very candied sweet maple syrup, with a smokiness to it.  There are also notes of vanilla in here, along with the spices of clove and pepper, and the dryness of the woody cedarwood atlas.  This is one of my favorites already ~ I do love a smoky gourmand fragrance.  The color of the perfume is a very pale amber shade.
I do have to quibble about the scents ~ two of them leaked in transit as the ring around the glass tube was not tightened down properly.  You can see how much leaked out in the two scents, whereas the third one was just fine.  I will see if this continues to be an issue in the monthly box.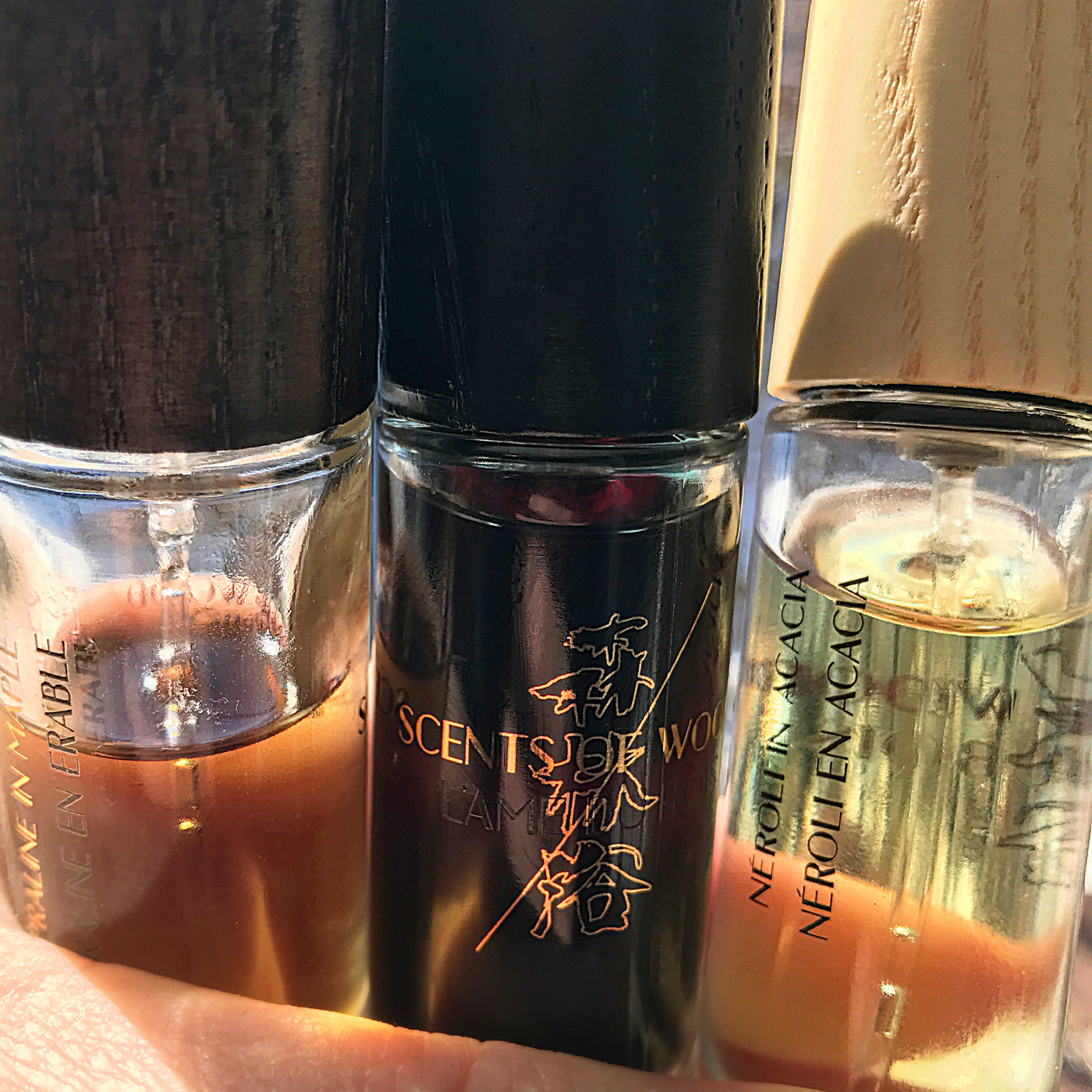 The incense leaves are new to me ~ these are paper leaves infused with the fragrance oils and you burn them in an incense tray.  These have all three fragrances and come in a reusable brown round box.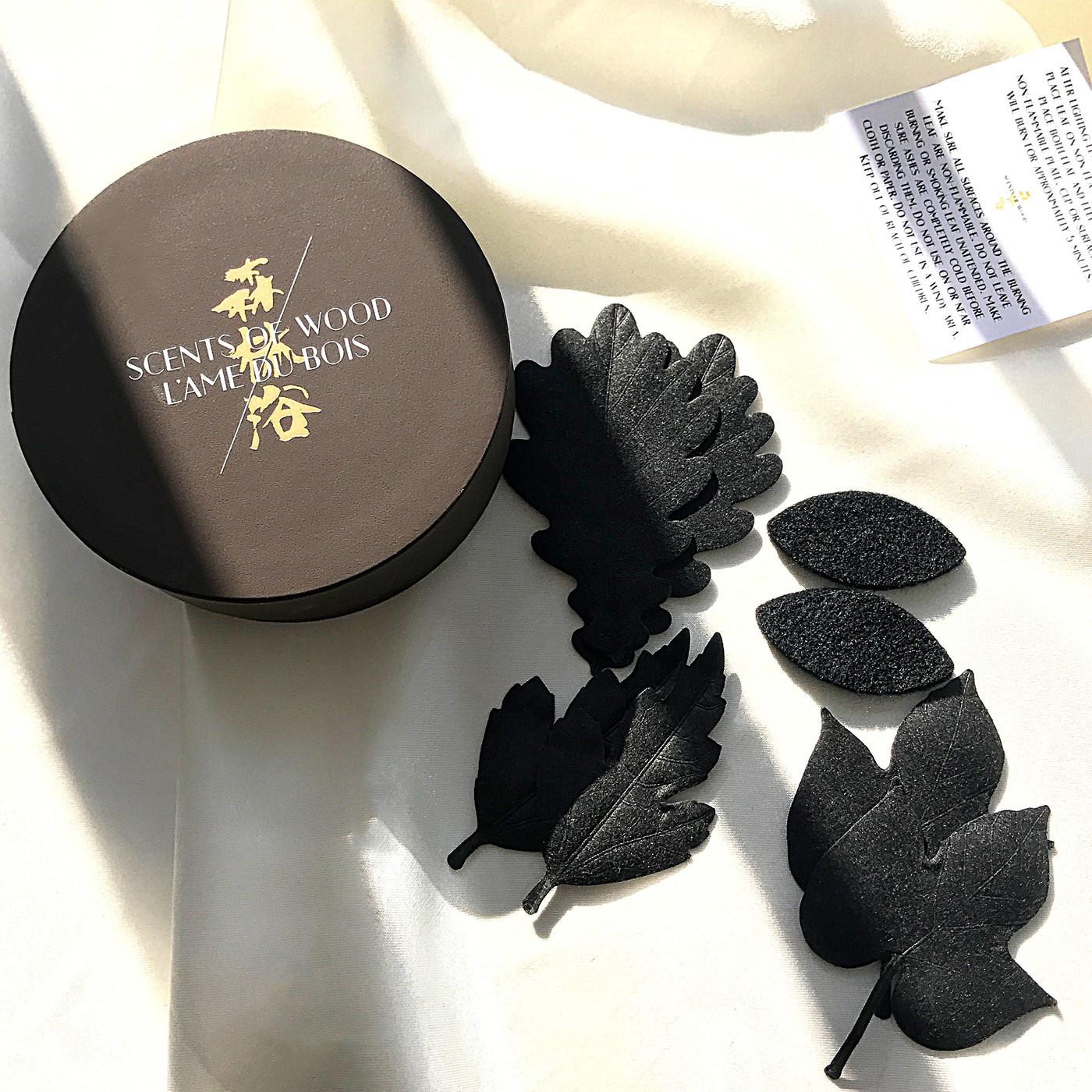 The candles are really pretty ~ they are a mini-me of the full sized candle ~ Scents of Wood makes sure that even the smaller sizes have the same detail as the full sized candles.  The burn time on these 20 grams weight candles are 10 hours each.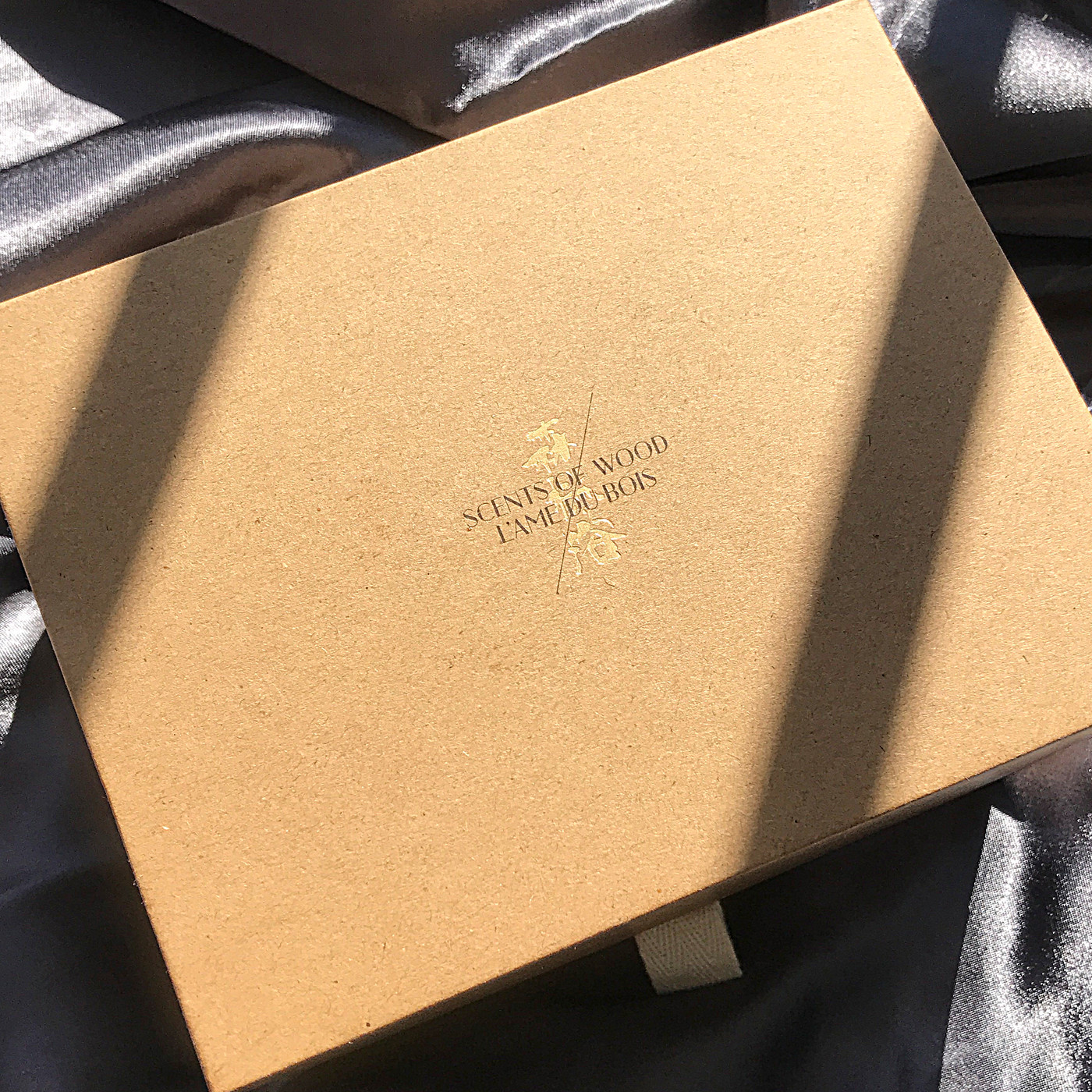 After your CollectorsBox, you will receive a monthly box that contains one 10mL perfume, one 20 gram candle and the incense leaves for that scent.  Each month is $44.00.  The 2nd box contains the scent and comes in a much smaller, but very sturdy box.  These are great boxes to store things in too!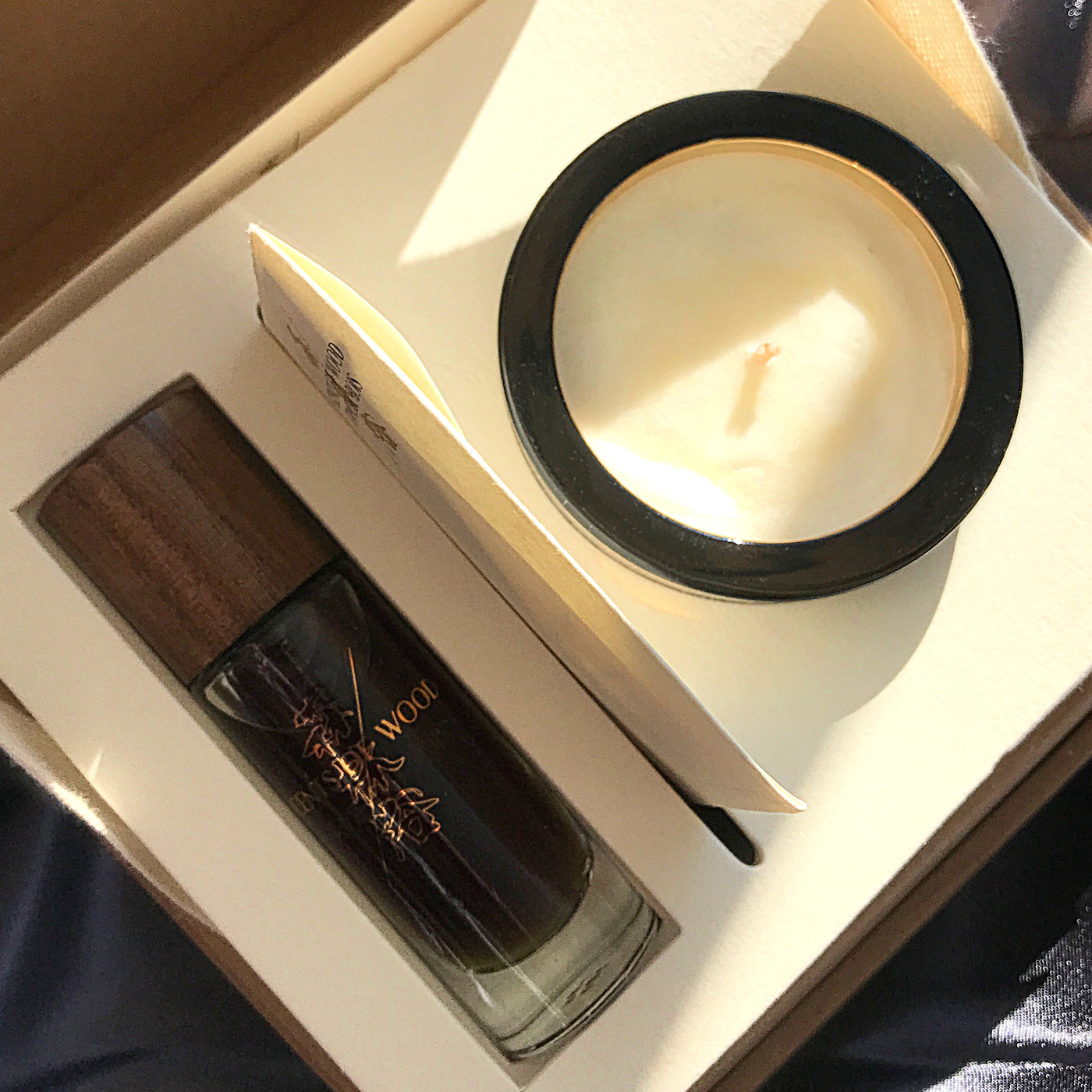 The fragrance for the 1st month is Papyrus in Acacia/Papyrus en Acacia and the 10 mL   fragrance, candle and incense leaves are all included ~ this time the two incense leaves come in a thick paper envelope and there is a description card for the monthly scent instead of that keep-sake map.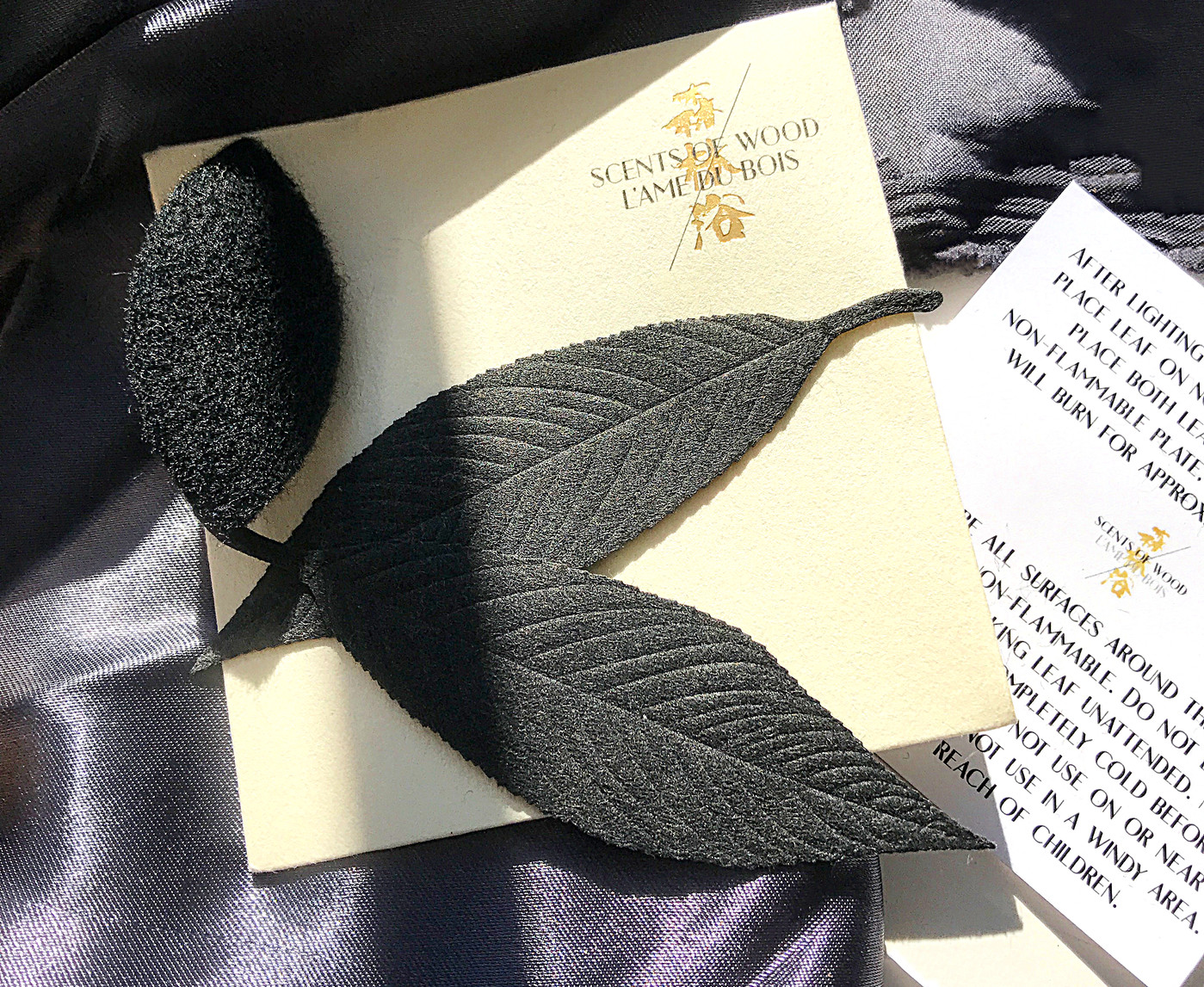 Papyrus in Acacia contains the notes of star anise, carrot oil, geranium absolute Egypt LMR, orris concrete LMR, tuberose absolute India LMR, cassie absolute Egypt LMR, cypriol heart LMR, vetiver and tonka bean absolute LMR .   The alcohol has been aged in an Acacia barrel. 
Cypriol ~ warm, earthy, woodsy, used in oriental fragrances.
This initially COMES on strong with almost a bitter, medicinal scent, a bit salty.  It is a green scent with the vetiver ~  in fact the oil IS GREEN, but it also has a bit of leather and powder.  I am not sure about this one, but it is totally different from the other fragrances I have tried from Scents in Wood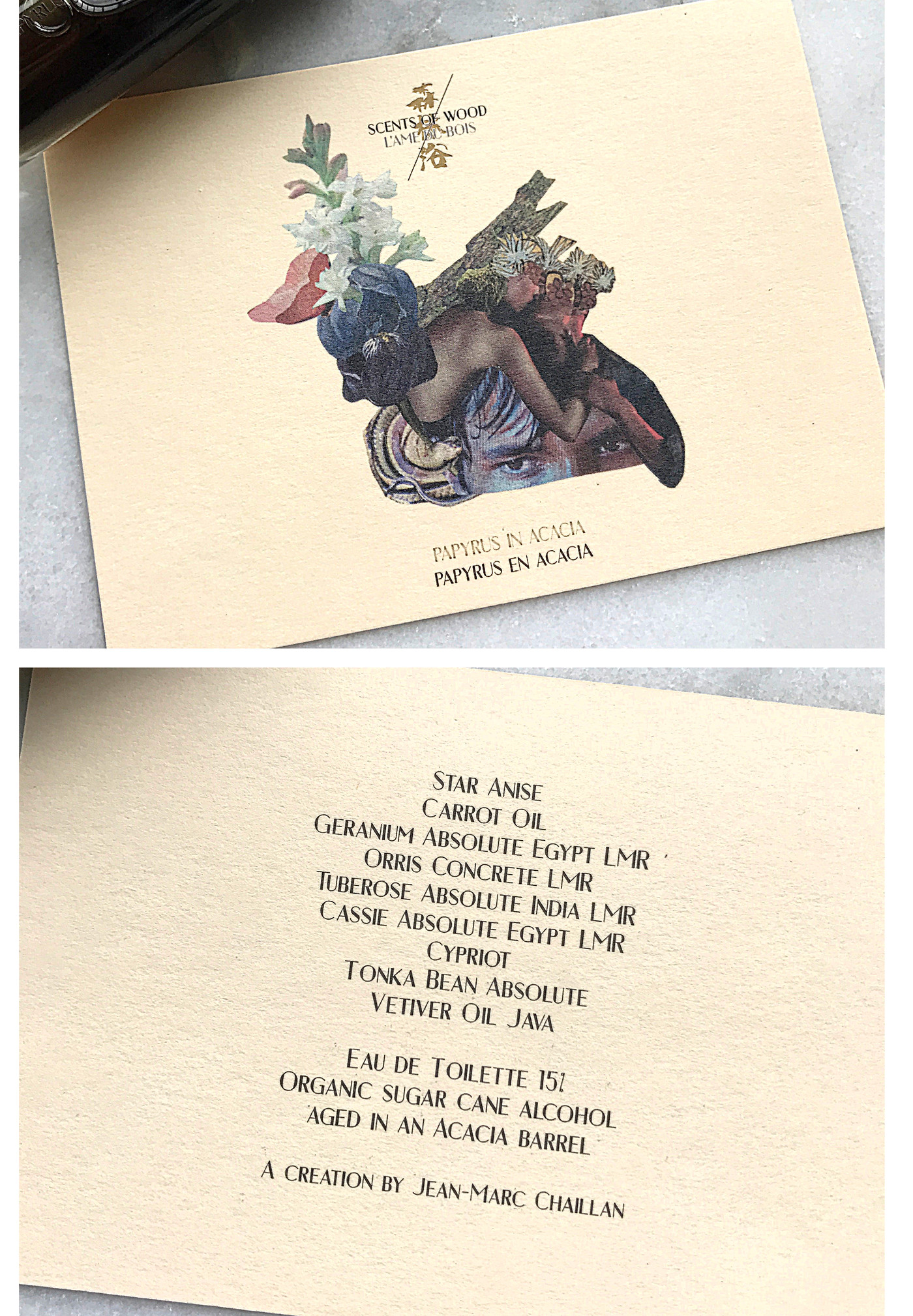 Purchasing Deets
To subscribe to their monthly boxes, click here.  The Collectors Box and it is $98.00, with a total retail value of $240.00 and does have a fixed shipping fee of $22.00.  The remaining 12 boxes will be $44.00 each with free shipping.  This is a young company and you are getting a great deal here, so PLEASE don't be that person who signs up for a yearly subscription, receives the Collectors Box and then cancels their subscription.  It would be the end of their business if people did that, so please respect the terms and stay on for the full year.  
You can also purchase the regular monthly boxes by themselves, without subscription, for $68.00.  Full sized fragrances are 75mL for $280.00 and full sized candles are $70.00. Currently Scents of Wood only ships to USA and Canada and offers free shipping on fragrances and candle purchases over $150.00 
[ disclaimer: some  products received complementary for review purposes ]