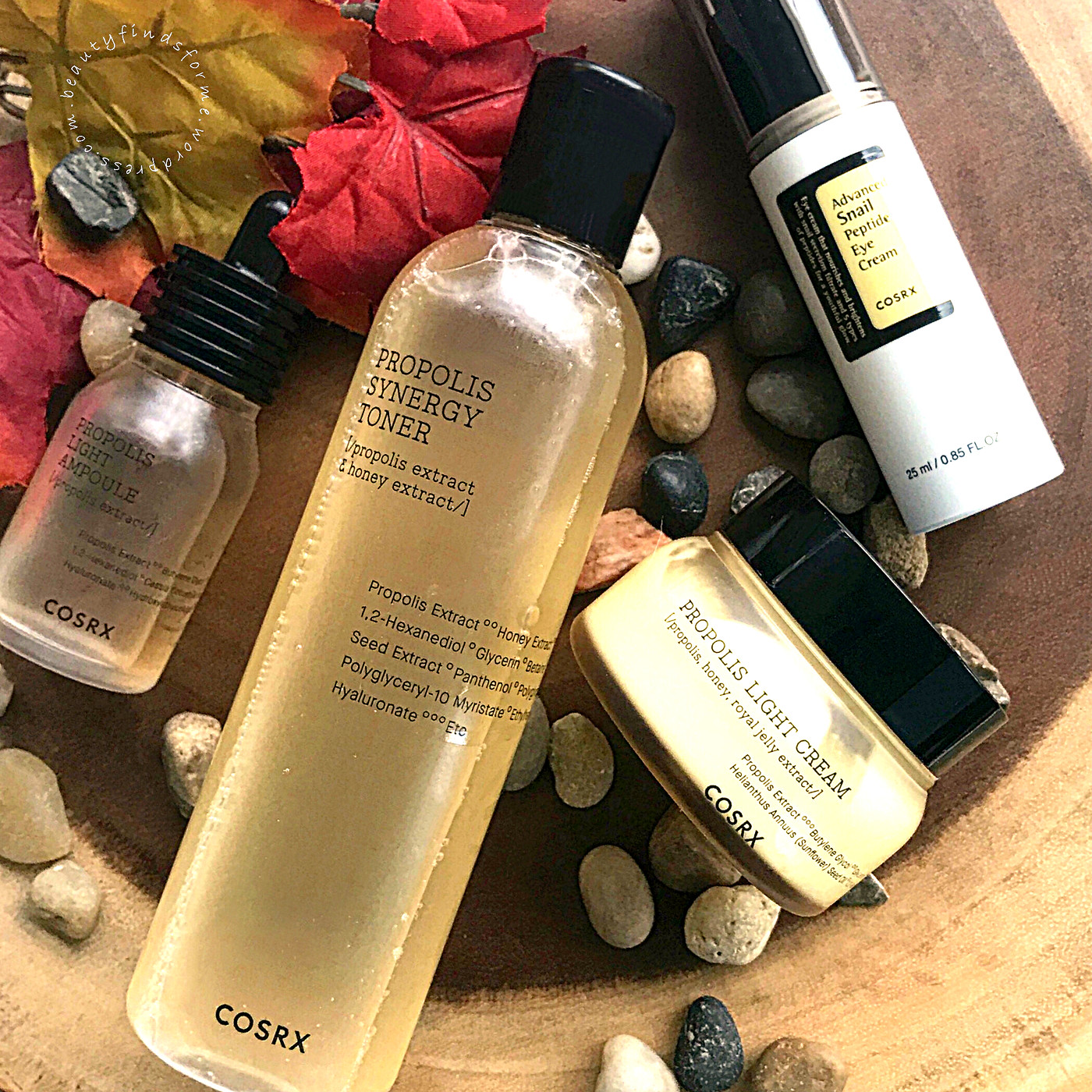 Do you love snail and propolis products?  Let me know your favorites in the comments! A few months ago, I received several new and repackaged items from cosRX for review purposes, featuring a few of my favorite ingredients, like propolis and peptides!! All of these products do not have a fragrance and the Propolis line has been repackaged with a sleek new look.  Since these do contain animal by-products, they are not vegan.    I am a huge fan of cosRX products and you can read all of my past reviews here. 
Skin type/concerns:  Oily, aging, blemish prone, pores, hyper-pigmentation, fine lines and wrinkles. 
I received these products complementary to review and was not paid.  All reviews are my own honest opinion and  I never have been asked to write copy for a brand.  This blog post might contain promo codes, affiliate and referral links, which using my links will help generate a small commission that helps support my blog at no extra cost to you.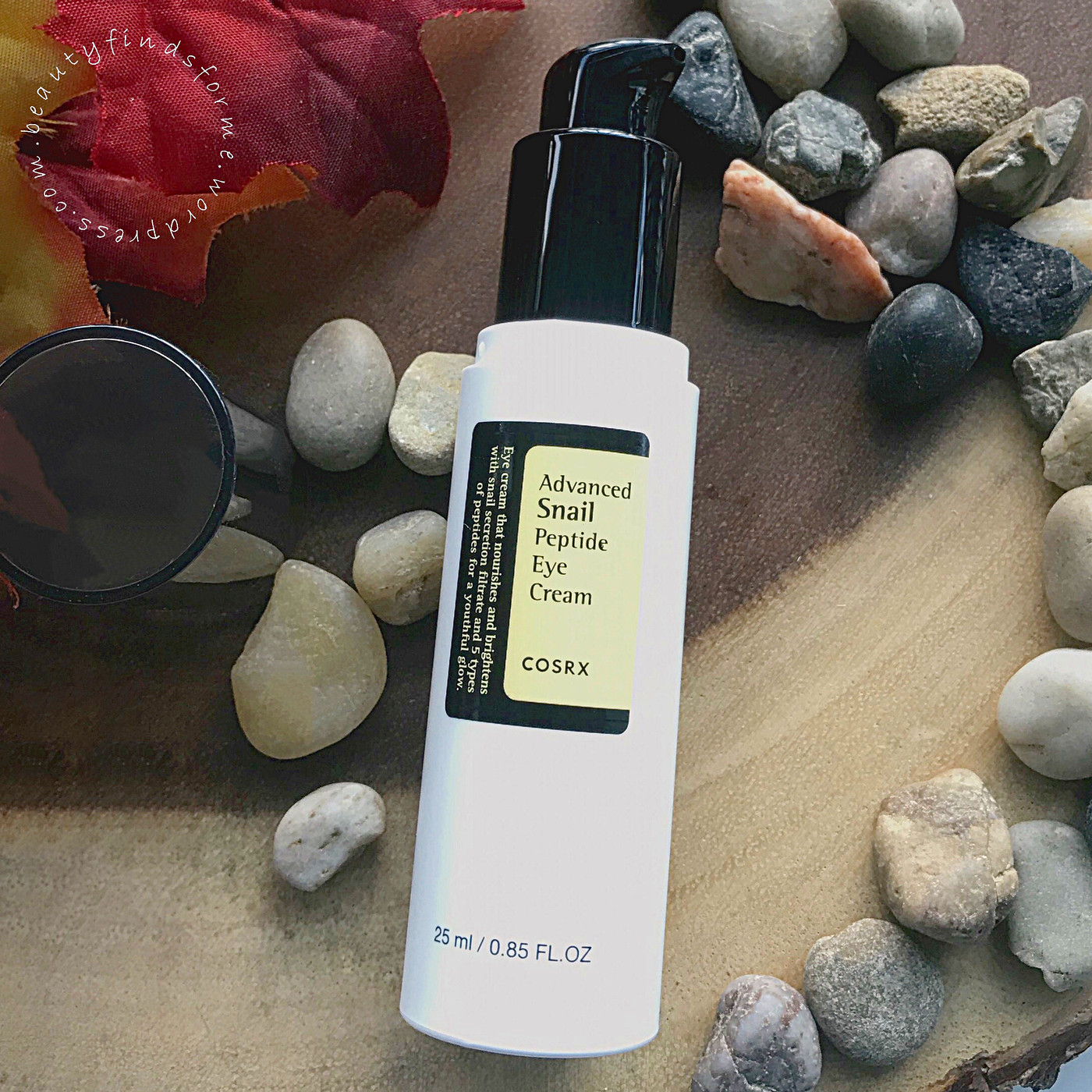 Jude at Instagram @fiddysnails uses the cosRX Advanced Snail 92 All In One Cream for her eye cream, so I was floored when they came out with an Advanced Snail Peptide Eye Cream. This lightweight creamy eye cream contains 72% of moisturizing snail slime, which aids skin elasticity and firmness while repairing skin. This does have more anti-aging and moisturizing ingredients for the delicate skin around your eyes, such as sunflower seed oil, vitamin E, panthenol, adensoise, sodium hyaluronate and adenosine along with five anti-aging peptide to help aid in the production of collagen, including popular copper tripeptide-1. All purpose skin brightening, antioxidant niacinamide is also here as well.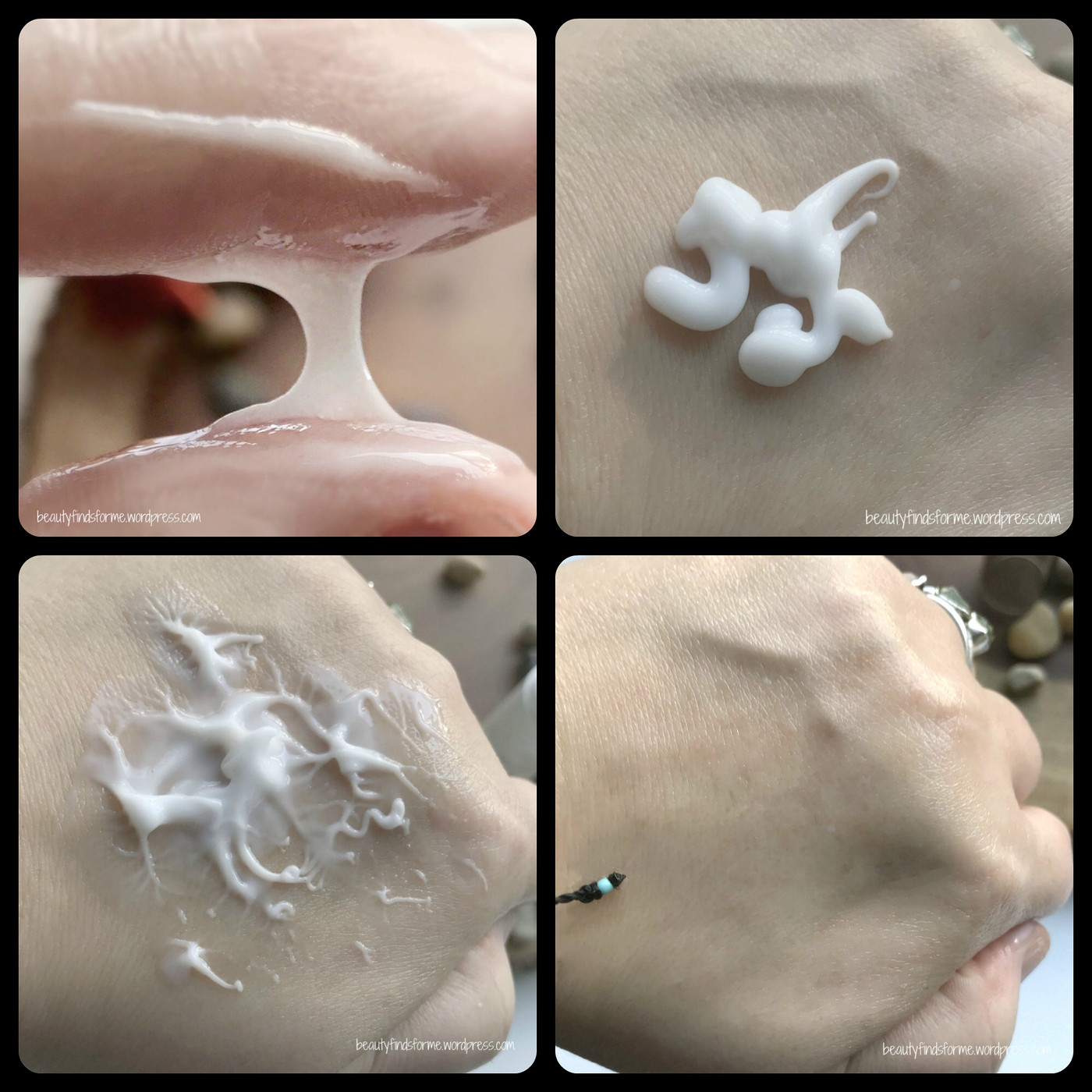 This comes in a slim smaller airless pump bottle, which I am always happy to see. This is lightweight and due to the 72% snail secretion filtrate in here, it has a bit of that "stringiness" that I find with snail slime products, but it isn't sticky at all. It absorbs quickly, leaving my skin moisturized and it does plump up my fine lines and wrinkles.  I have not noticed brightening at all, but this is a really nice solid eye cream with great ingredients. You can actually use this as a facial cream as well, but it is quite a small bottle and I wouldn't recommend you do it that often ~ Just purchase the Advanced Snail 92 All In One Cream instead.
Ingredients: Snail Secretion Filtrate(72%), Butylene Glycol, Glycerin, Helianthus Annuus (Sunflower) Seed Oil, 1,2-Hexanediol, Niacinamide, Water, Palmitic Acid, Arginine, Carbomer, Stearic Acid, Betaine, Cetearyl Olivate, Sorbitan Olivate, Sodium Polyacrylate, Allantoin, Tocopheryl Acetate, Panthenol, Hydroxyethyl Acrylate/Sodium Acryloyldimethyl Taurate Copolymer, Sodium Hyaluronate, Adenosine, Xanthan Gum, Myristic Acid, Copper Tripeptide-1, Acetyl Hexapeptide-8, Palmitoyl Pentapeptide-4, Palmitoyl Tripeptide-1, Palmitoyl Tetrapeptide-7 cosDNA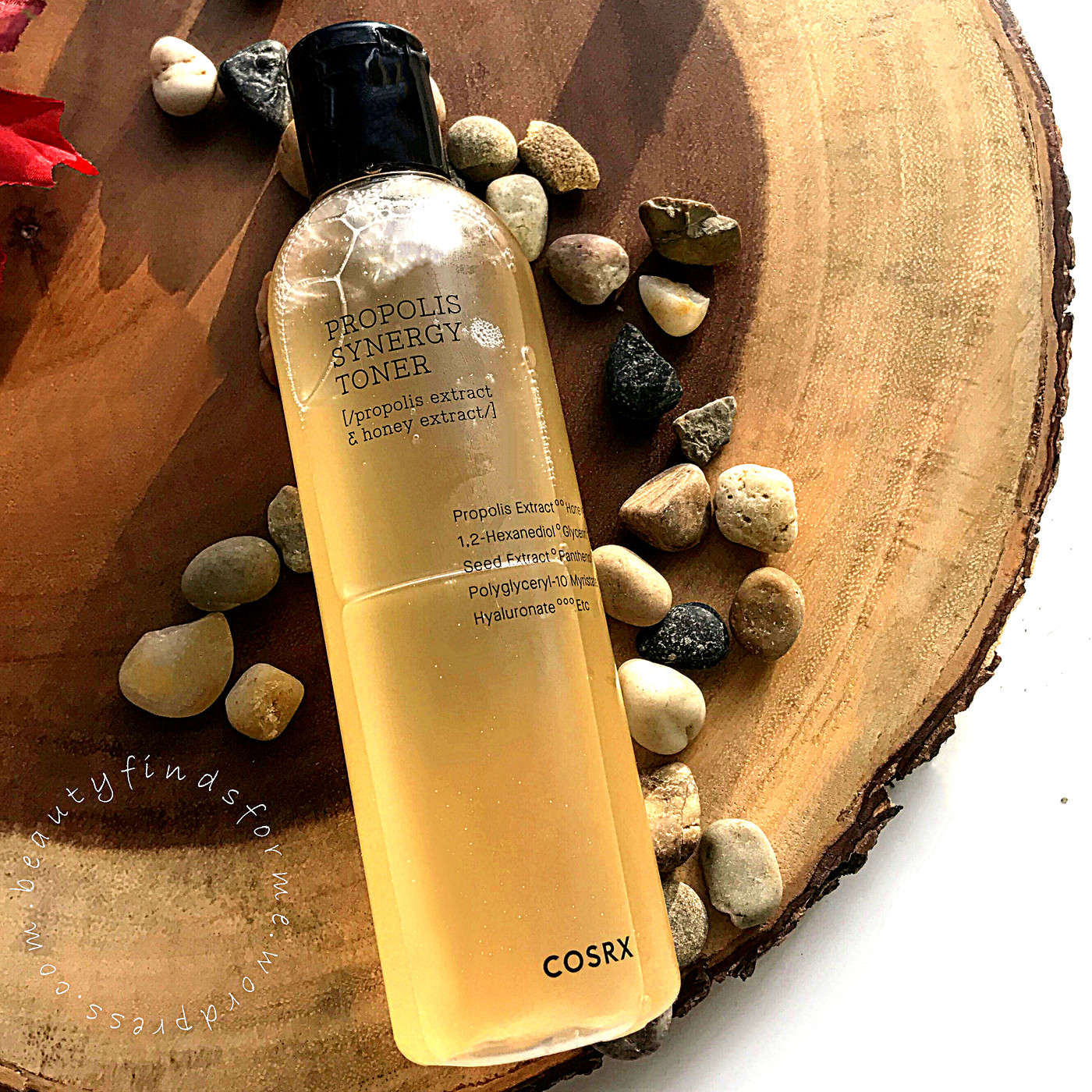 Next up are a trio of Propolis products, starting with the brand new Propolis Synergy Toner which comes in a HUGE 280 mL bottle! I love this toner ~ it is very rich, yet isn't sticky, doesn't make my skin look oily and it contains 72.6% black bee propolis and 10% honey extracts ~ I love propolis and honey and I will tell you why it is great for oily skin types. 
Propolis (bee glue) is created by honey bees by using the sap from evergreens or the sap on conifer, evergreens and other trees whose leaves are needle-like. This sap is then combined with beeswax and results in a sticky, resinous goo that is used to build their hives. Propolis has been used for medicinal purposes for thousands of years and is known for its antibacterial, antiseptic, anti-inflammatory and anti-fungal properties as well as speeding up the healing time on wounds. It contains antioxidant properties due to its slew of vitamins, minerals and has over 50 different flavonoids. It is also an emollient, so it is not only a good blemish and anti-aging treatment, it also moisturizes your skin as well
Honey has antibacterial properties and can speed up healing in your skin ~ think acne, rashes, cuts ~ while preventing additional infection.  The wonderful texture of honey will keep moisture close to your skin, which makes for a glowing and radiant complexion.  Not only does honey keep moisture in your skin, but it is a humectant, which means it attracts moisture too!   Honey is also an antioxidant, which means it helps repair and combat any damage caused by free radicals and prevents premature wrinkling.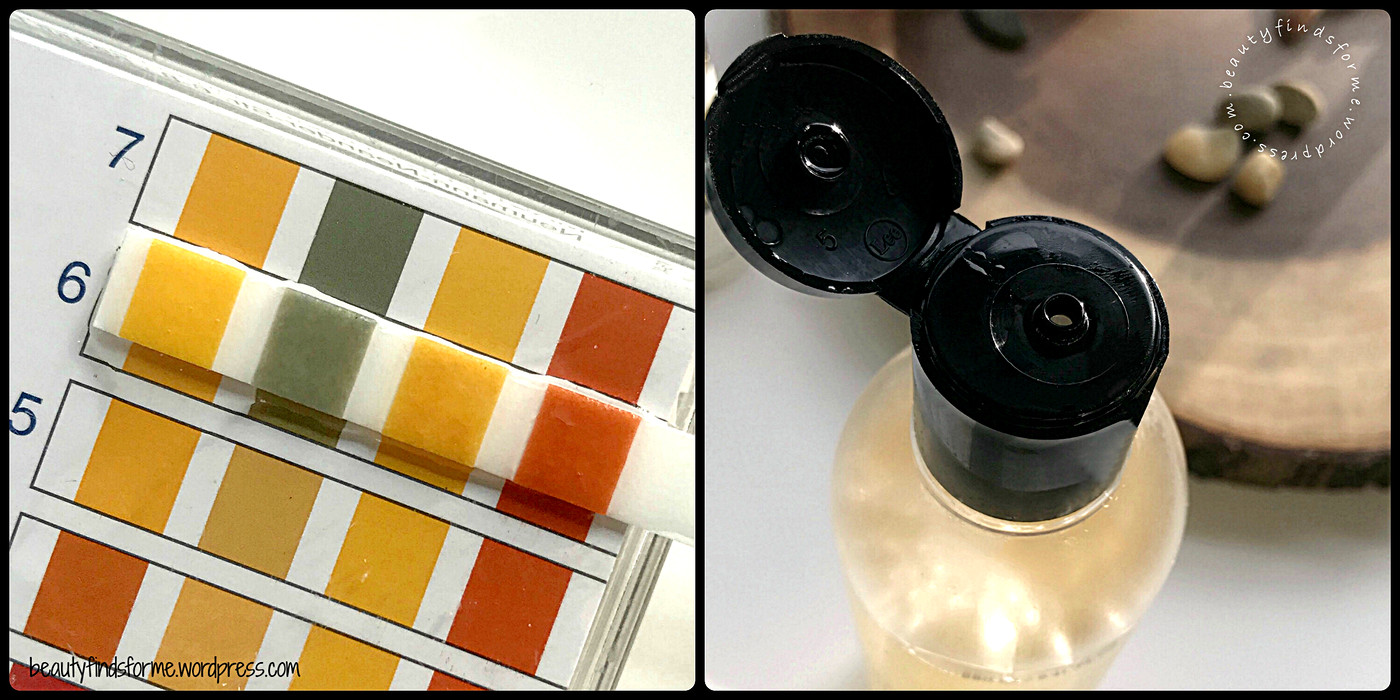 This toner has a rich texture, similar to an essence, but it isn't heavy, just slightly viscous.  I love t  It is very calming and hydrating, while not being greasy. I just splash this on and let it soak in ~ it does its job perfectly as a hydrating booster while helping to calm my skin down.  I did measure this as a pH of a 7.
Ingredients: Propolis Extract (72.6%), Honey Extract (10%), Butylene Glycol, 1,2-Hexanediol, Glycerin, Betaine, Cassia Obtusifolia Seed Extract, Panthenol, Polyglyceryl-10 Laurate, Polyglyceryl-10 Myristate, Ethylhexylglycerin, Sodium Hyaluronate, Hydroxyethyl Acrylate/Sodium Acryloyldimethyl Taurate Copolymer, Caprylic/Capric Triglyceride  cosDNA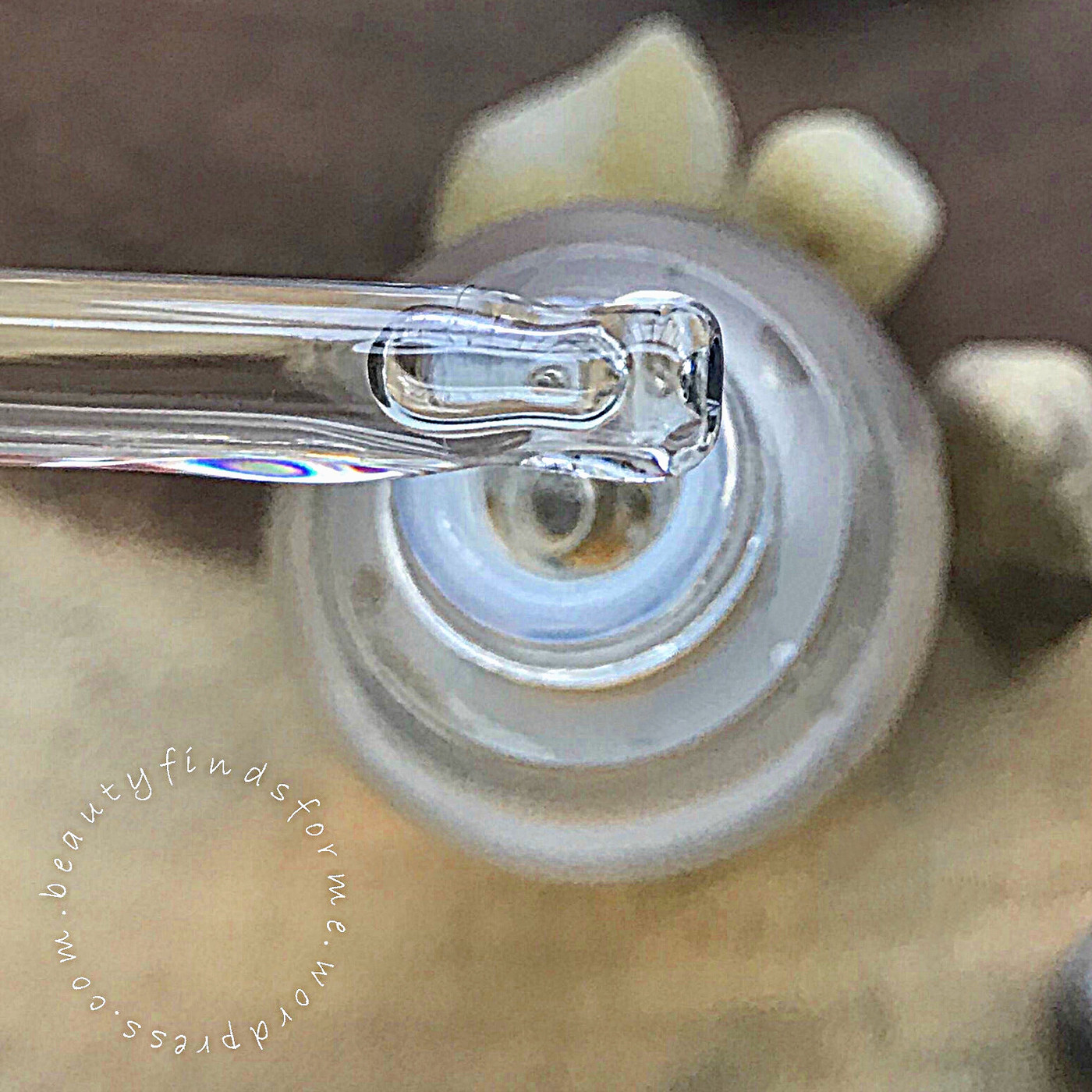 The Award Winning Propolis Light Ampoule is one that has been around for a while, but cosRX has repackaged it.  This is one of my favorite propolis ampoules as it isn't greasy or sticky ~ the word is LIGHT and if you have oily skin, you will love this one.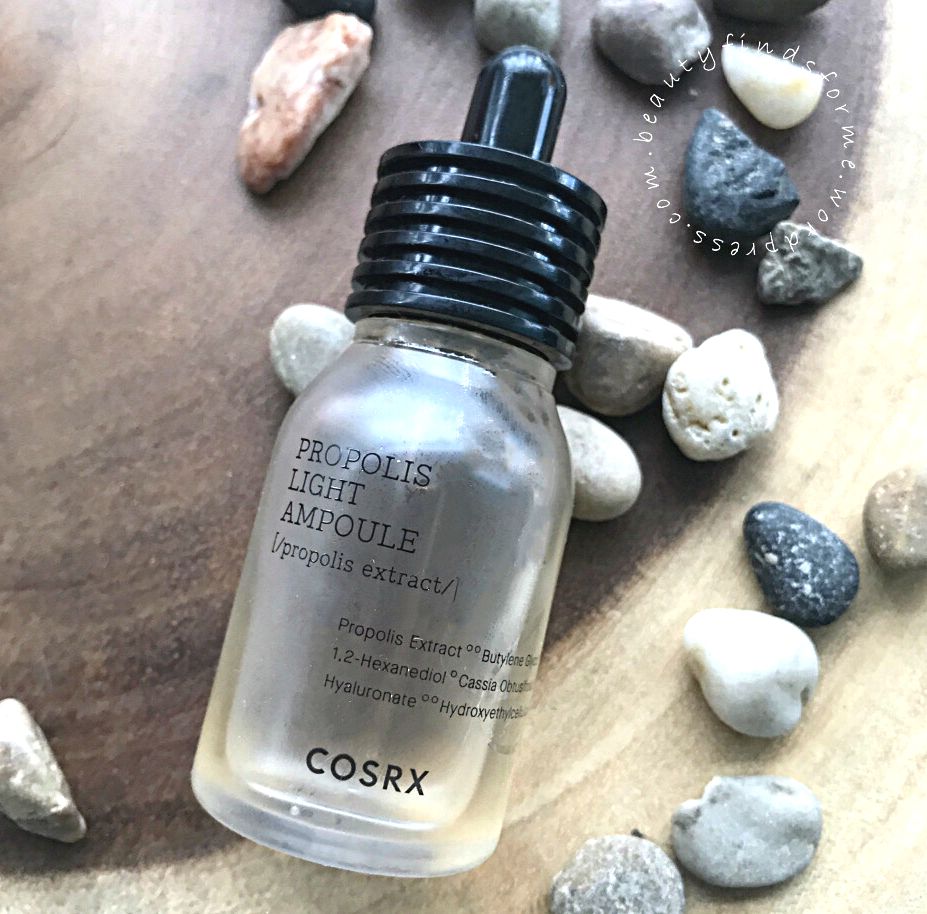 Drier skin types may not  like it as much, because this is the light version. Only containing 11 EWG grade ingredients, the Propolis Light Ampoule contains 83.25% of black bee propolis extract, hydrating glycerin, betaineand  sodium hyaluronate and anti-inflammatory, antioxidant and calming Chinese senna. This ampoule has no scent, has a light viscous gel-texture and applies without any stickiness or tacky feeling. It really helps with calming and soothing my blemishes and skin redness while providing a nice glowy, but not dewy finish.  I find that this really is a glow-upper for my skin and I am reminded how much I loved it in the past.

Ingredients: Propolis Extract(83.25%), Butylene Glycol, Glycerin, Betaine, 1,2-Hexanediol, Cassia Obtusifolia (Chinese senna) Seed Extract, Sodium Hyaluronate, Hydroxyethylcellulose, Carbomer, Panthenol, Arginine cosDNA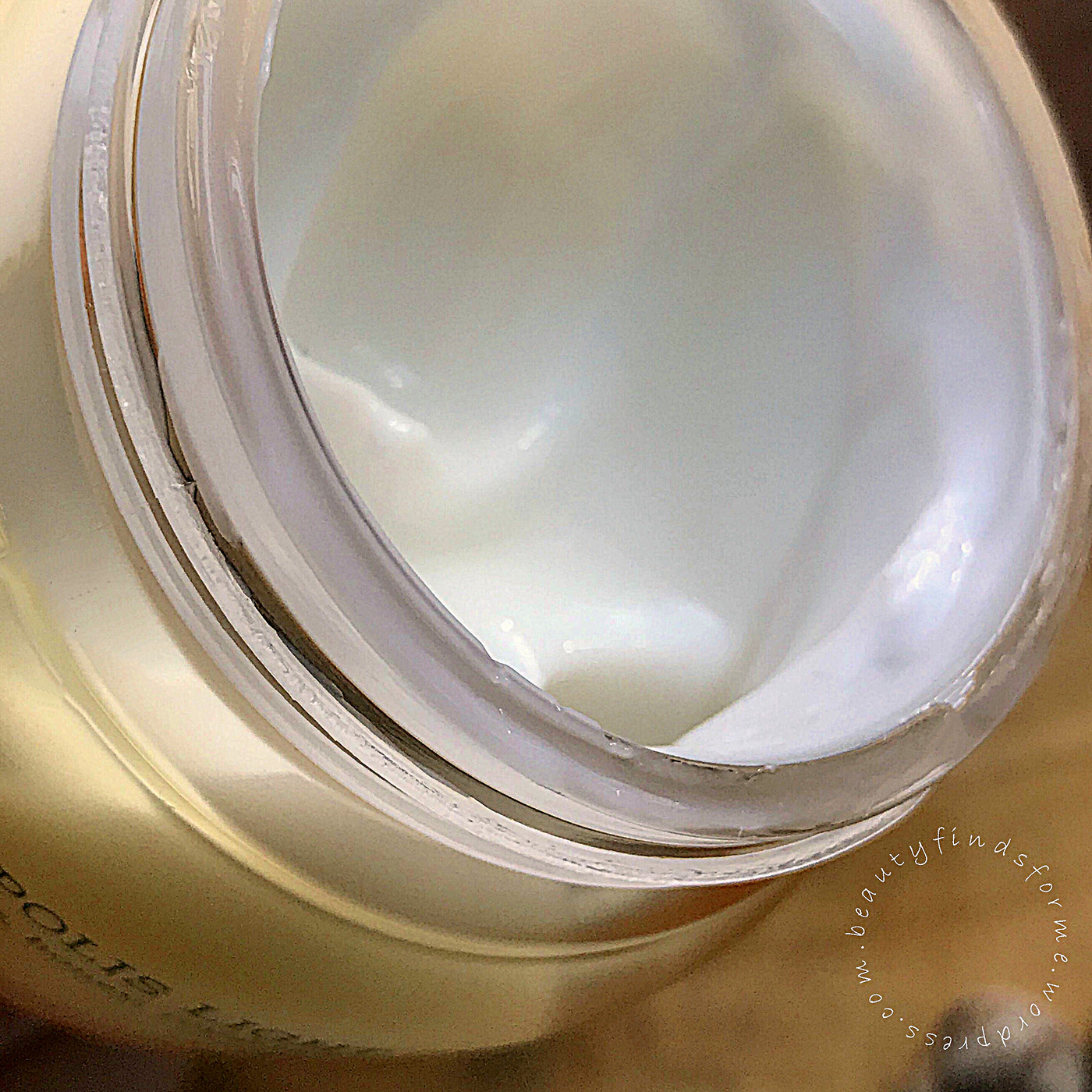 Finally, the Propolis Light Cream! I never tried this before as I normally shy away from creams ~ I like lotions and gel-creams, but this cream is actually really nice for oily skin. This contains 65.69% of black bee pro-barrier complex consisting of black bee propolis, honey and another honey bee by-product ~ royal jelly. Royal jelly contains B-complex vitamins, flavonoids, essential fatty acids, amino acids, enzymes, minerals and natural antibiotic and antibacterial compounds.  It is an anti-aging ingredient as well, as it can increase collagen production in your skin.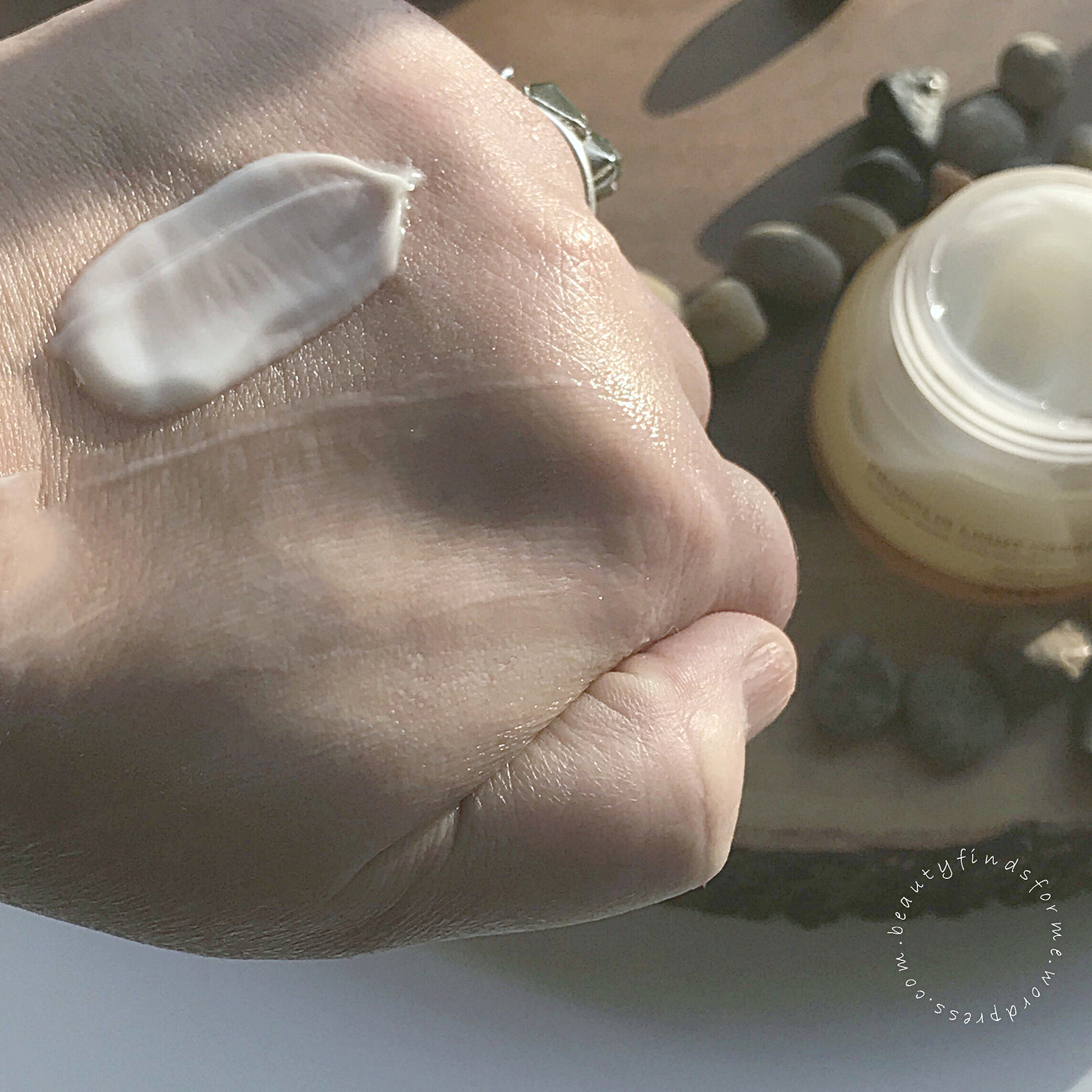 The moisturizer is smooth and it is a gel-cream ~ leaning more on the cream than gel, but it is  very lightweight, has a great silky slip to it, absorbs quickly and feels so nice on my skin.  I use this at night time and also on my neck area as well.  This is very moisturizing without being sticky ~ it is a bit dewy, which is why I use it at night, but in the morning, my skin is so soft and hydrated. This helps with any irritation or redness I have as well ~ if you have drier skin or don't mind the dewy look, this is great for daytime use as well.
Ingredients: Propolis Extract, Butylene Glycol, Glycerin, Caprylic/Capric Triglyceride, Helianthus Annuus (Sunflower) Seed Oil, 1,2-Hexanediol, Honey Extract, Royal Jelly Extract, Hydroxyethyl Acrylate/Sodium Acryloyldimethyl Taurate Copolymer, Cassia Obtusifolia Seed Extract, Cetearyl Olivate, Beeswax, Cetearyl Alcohol, Sorbitan Olivate, Allantoin, Arginine, Carbomer, Xanthan Gum cosDNA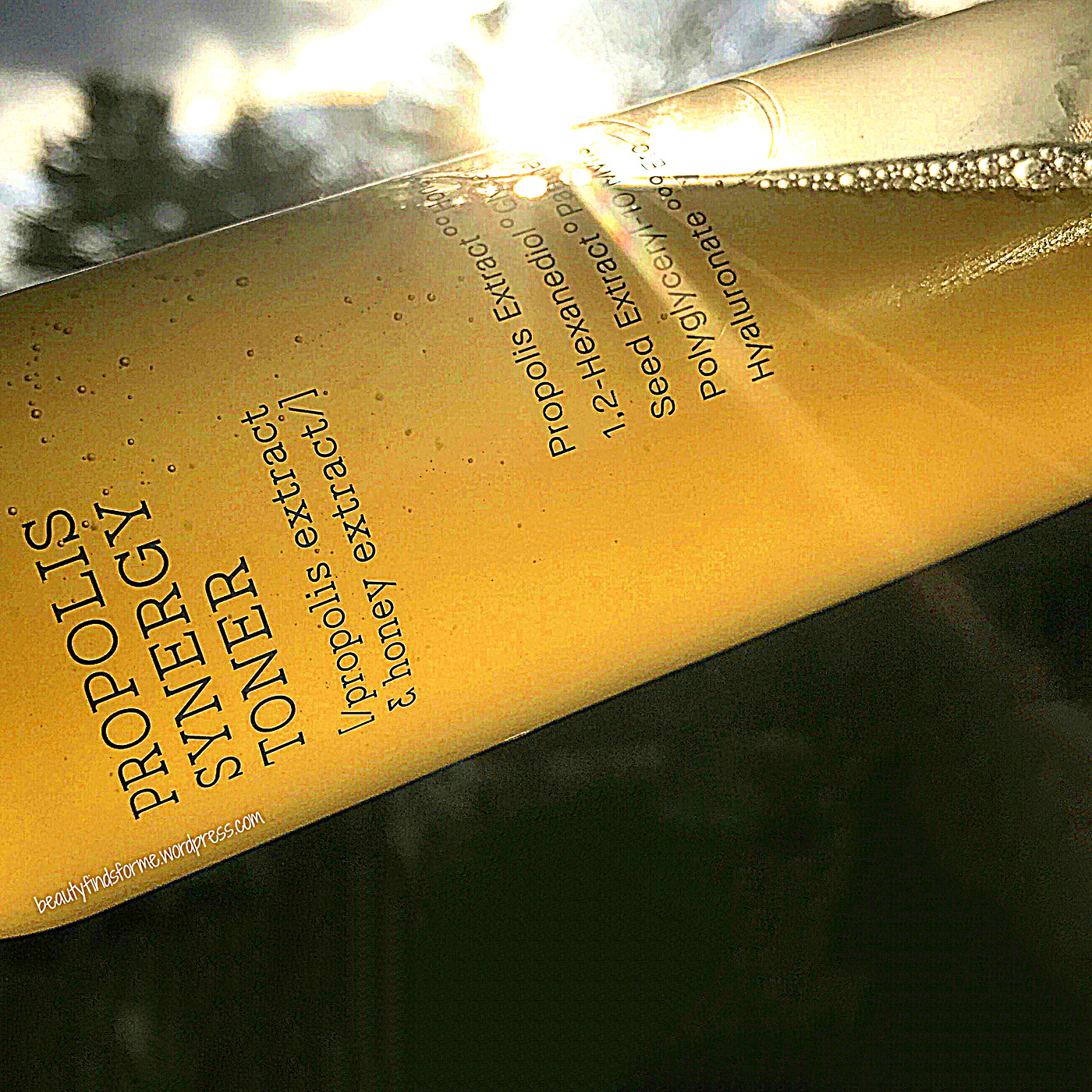 I really enjoyed all of these products!  One thing I was very impressed with was the lack of fragrance, no sticky, tacky or greasy residue and all of these products are suitable for oily skin types.  My favorites are the Propolis Light Ampoule and Propolis Synergy Toner and I will repurchase those again during the cooler months.  If you are a fan of Propolis, you really need to check out their line ~ it is one that works for oily and combo skin quite well. 
Where to  Purchase
So many places! cosRX is a very popular brand, so expect to find it at many places.  The standard pricing, give or take a few dollars, should be as follows:
StyleKorean   You can get free shipping in some countries and only if you reach a threshold.
YesStyle  Free shipping to the USA with $35.00 or more and they do have international shipping. 
Amazon USA  Free USA Prime Shipping
Jolse  Jolse has free shipping and carries Advanced Snail Peptide Eye Cream   (click here to purchase), plus lots of free samples! 
cosRX of course!! 
[  products received  complementary for review purposes  ]