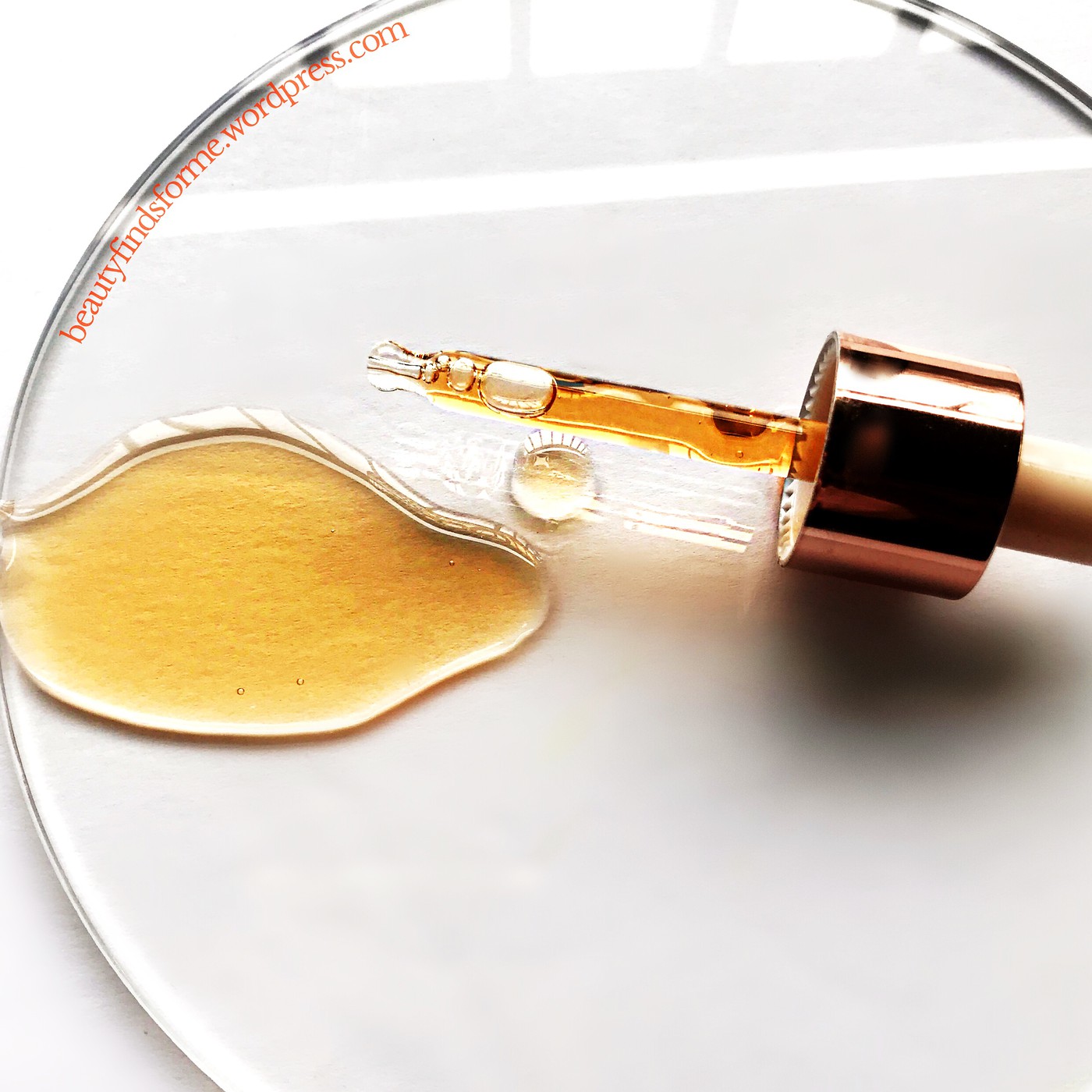 AZN Labs is a new company that is registered with the online K-Beauty shop Beauty Tap.  They created their very first product, using K-Beauty technology using Japanese active ingredients: AZN Labs Afterglow Ampoule.  This ampoule is supposed to help age related skin issues such as dryness, dark spots, dullness and elasticity loss.  AZN Labs graciously sent me their Afterglow Ampoule for review purposes.
Some products were complementary to review and was not paid.  All reviews are my own honest opinion and  I never have been asked to write copy for a brand.  This blog post might contain promo codes, affiliate and referral links, which using my links will help generate a small commission that helps support my blog at no extra cost to you. 
Skin Type/Concerns: Oily, aging, hyper pigmentation, fine lines/wrinkles, pores, blemish prone
Ingredients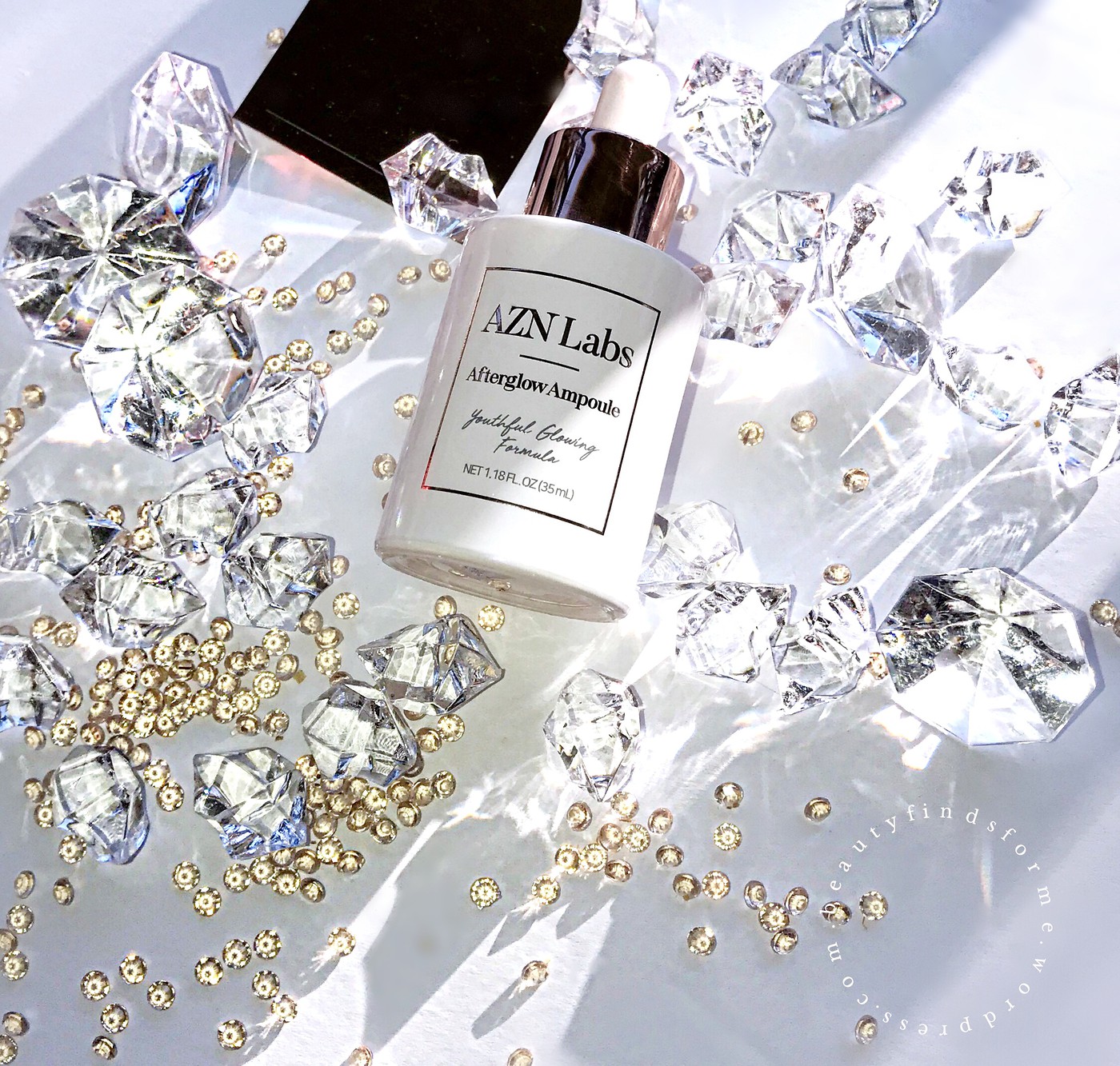 AZN Labs threw the kitchen sink in here!! This has so many ingredients, from botanicals, to peptides, marine vegetation and other good stuff ~ but I will only focus on what ingredients I find to be interesting.  The second ingredient in this long list sounds a bit scary, rhizophora mangle (red mangrove) callus culture, but it is a powerful antioxidant, helping to combat free radicals, while healing and reversing skin damage. Asataxnthin is another anti-oxidant, anti-inflammatory carotenoid and with this product, it is harvested from rainwater microalgae.   Its undiluted color is a deep red-salmon, which explains why this serum is a peachy-red.   Asataxnthin is supposed to be the latest new thing in antioxidants.   A clinical study performed at Creighton University displayed that asataxnthin destroys free radicals 6000 times better than Vitamin C, 800 times more than CoQ10, 550 times more than Vitamin E and green tea extracts, 75 times more than alpha lipoic acid and 20 times more than beta carotene (source)  Other studies have shown that it can reduce melanin, which causes hyper-pigmentation, by about 40% and over time, will fade hyper-pigmentation.  (source)
Arbutin breaks down into hydroquinone, which is a compound that prevents melanin formation and is a common ingredient in skin-lightening products. However, arbutin is much gentler and safer than straight up hydroquinone.  Firming and brightening ubiquinone ~ also known as CoQ10 that helps with elastin production and is an anti-oxidant as well.  Amino-acid, humectant betaine is an anti-irritant, providing silky smooth skin while soothing and calming skin. Glutathione is an antioxidant that can reverse sun damage on your skin, including hyper-pigmentation.  AHA lactic acid  will help gently exfoliate the surface of your skin, providing moisture and anti-aging skincare benefits.
Along with this botanical cocktail, there are two types of vitamin E, two types of vitamin C and five types of anti-aging peptides.  More good stuff includes ferulic acid, an antioxidant that also works well with other antioxidants and stabilizes vitamins C and E.  Caffeic acid is another antioxidant with anti inflammatory benefits, helping skin damaged by UBV rays.  Powerful antioxidant thioctic acid enhances glutathione and vitamins C and E (all in here!) and aids in collagen production, keeping skin youthful. is a powerful anti-oxidant, enhancer of the antioxidant effects of glutathione and vitamins C and E, co-factor to energy production – keeping cells youthful, delays formation of fine lines and wrinkle, has anti-inflammatory benefits, promotes collagen synthesis.   Xanthophylls stimulate collagen and elastin production, repairing and rejuvenating skin.   
Moisturizing macadamia seed oil is an emollient that applies smoothly on the skin. It is a non-greasy oil, full of vitamins, leaving skin smooth and soft, resulting in more firm, supple and youthful looking skin.  Sunflower seed oil is a lightweight oil that has a high concentration of vitamin E, which is a powerful anti-oxidant and may also help protect the skin from UV rays. It is known for its hydrating and moisturizing properties and it contains omaga-6 fatty acids. Allantoin is known for healing, soothing and softening skin, helping remove cracked and chapped skin, leaving behind healthy looking skin. Adenosine is an amino acid and it became popular after it was found to help improve the reduction of wrinkles.
Ingredients: Water, Rhizophora Mangle Callus Culture Extract, Butylene Glycol, Glycerin, Alcohol, Diethoxyethyl Succinate, Arbutin, Betaine, Astaxanthin, Camellia Japonica Flower Extract, Ubiquinone, Ferulic Acid, Caffeic Acid, Thioctic Acid, Glutathione, Xanthophylls, Hydroxycinnamic Acid, Tocopherol, Tocopheryl Acetate, 3-O-Ethyl Ascorbic Acid, Sodium Ascorbyl Phosphate, Galloyl Pentapeptide-33, sh-Oligopeptide-1, sh-Oligopeptide-2, sh-Polypeptide-1, sh-Polypeptide-10, Superoxide Dismutase, Portulaca Oleracea Extract, Viscum Album (Mistletoe) Extract, Glycyrrhiza Uralensis (Licorice) Extract, Cinnamomum Cassia Bark Extract, Tremella Fuciformis (Mushroom) Extract, Haematococcus Pluvialis Extract, Phellinus Linteus Extract, Ganoderma Lucidum (Mushroom) Extract, Sparassis Crispa Extract, Hericium Erinaceum (Mushroom) Extract, Cudrania Tricuspidata Fruit Extract, Polygonum Cuspidatum Extract, Caffeine, Allantoin, Adenosine, Macadamia Ternifolia Seed Oil, Helianthus Annuus (Sunflower) Seed Oil, Glycosyl Trehalose, Lactic Acid, Panthenol, Propylene Carbonate, Bis-PEG-18 Methyl Ether Dimethyl Silane, PEG-240/HDI Copolymer, Bis-Decyltetradeceth-20 Ether, 1,2-Hexanediol, Ethyl Hexanediol, Hydrogenated Starch Hydrolysate, Polysorbate 60, Decyltetradeceth-25, Octyldodeceth-16, 1,2-Hexanediol, Caprylyl Glycol, Chlorphenesin, Ethylhexyl Methoxycrylene, Ethylhexylglycerin, Polyacrylate Crosspolymer-6, Ammonium Acryloyldimethyltaurate/VP Copolymer, Disodium EDTA, Hydrogenated Lecithin, Potassium Cetyl Phosphate, Cholesterol, Ceteth-3, Ceteth-5, PEG-5 Rapeseed Sterol, Brassica Campestris (Rapeseed) Sterols, Hydroxyethylcellulose, Caprylic/Capric Triglyceride, Hydroxypropyl Guar, Biosaccharide Gum-1, Polyglyceryl-10 Oleate, Polyglyceryl-10 Stearate, Lysolecithin, Pentylene Glycol, Sodium Phosphate, Lecithin, Fragrance  cosDNA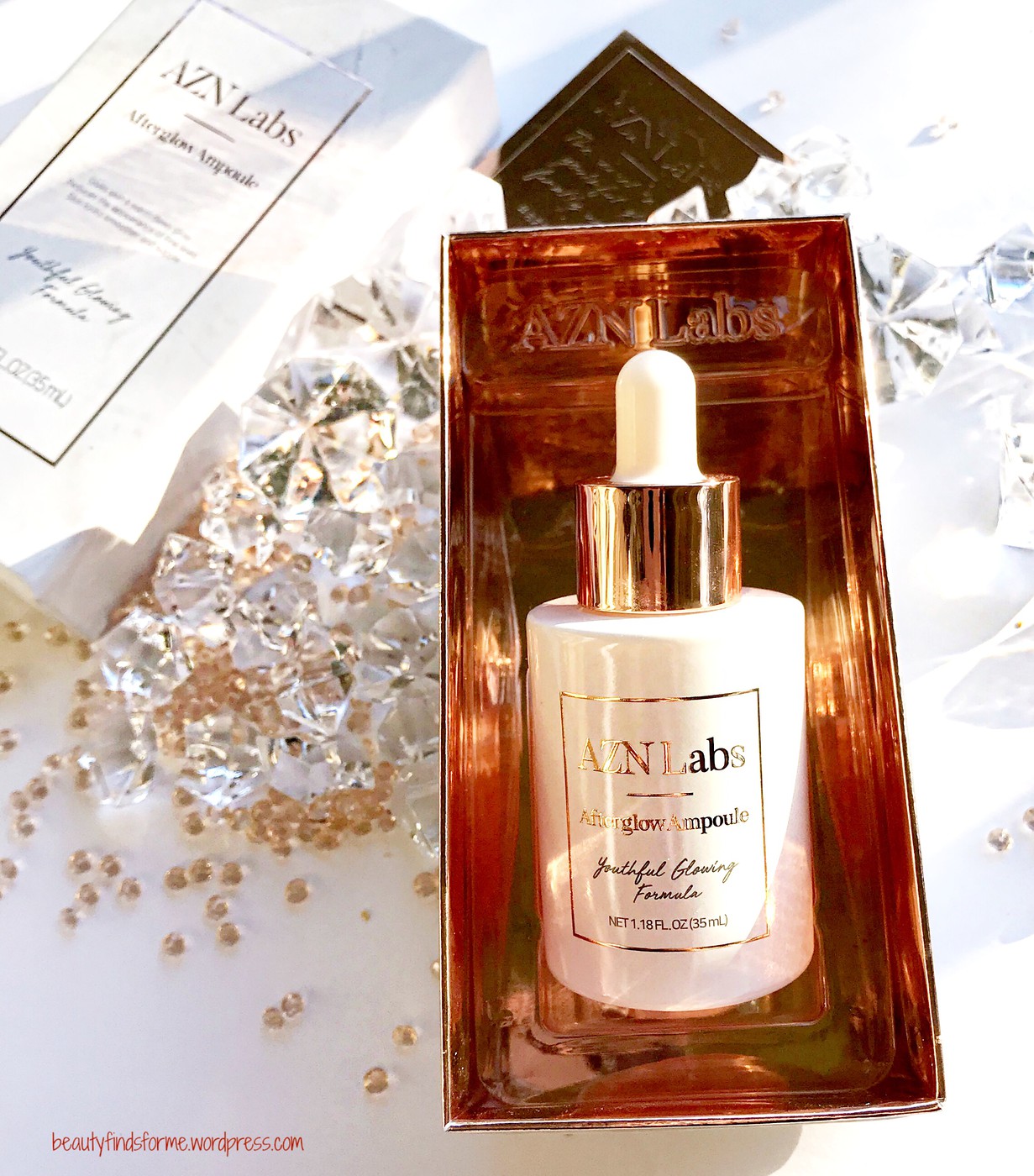 The packaging for this product is beautiful  ~ it comes a 35 mL white opalescent bottle with a metallic rose gold letter and collar with a eye drop applicator. Even the box it comes in screams luxury as it is a faux marbled box with a rose gold interior.  The texture of the Afterglow Ampoule is like a light oil and it has quite a potent fragrance, which I dislike immensely ~ it is a strong floral scent that doesn't really fade that quickly.  The product feels like a lightweight, slick oil and the trick is not to use a lot of it, but build up.  If I use too much of this product, my skin is very sticky and tacky, with a greasy feel.  By using one drop at a time, I can control the amount that goes on my skin and allow it to absorb the product so there isn't a greasy, sticky feeling.  This increases my moisture levels by 23% while reducing my oils by 46% when I use the proper amount.  All bets are off with the oil levels if I use TOO much.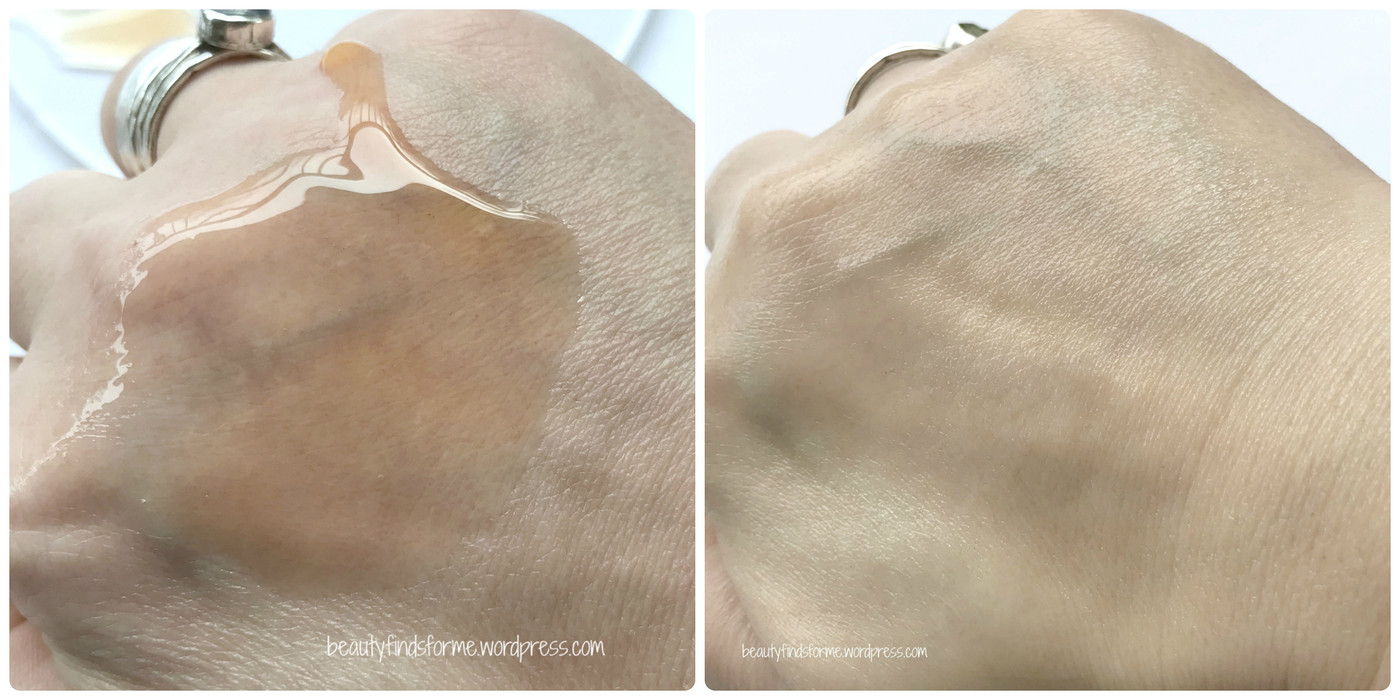 The glow is REAL!! This ampoule does provide a plumped up appearance of my fine lines & wrinkles, while providing a nice radiant glow to my skin.  I haven't noticed any reduction of hyper-pigmentation at this time, but I do see that my skin looks more healthy and feels very soft and smooth when I use this product.  If you have dry skin, you can add more of this product and get that dewy look.  For me, as I have naturally oily dewy skin, I try to minimize that moist look and am just pleased that my skin looks more glowing and healthy.  I use this mainly at night time, but have used it during the day, if my skin needs an additional boost of luster.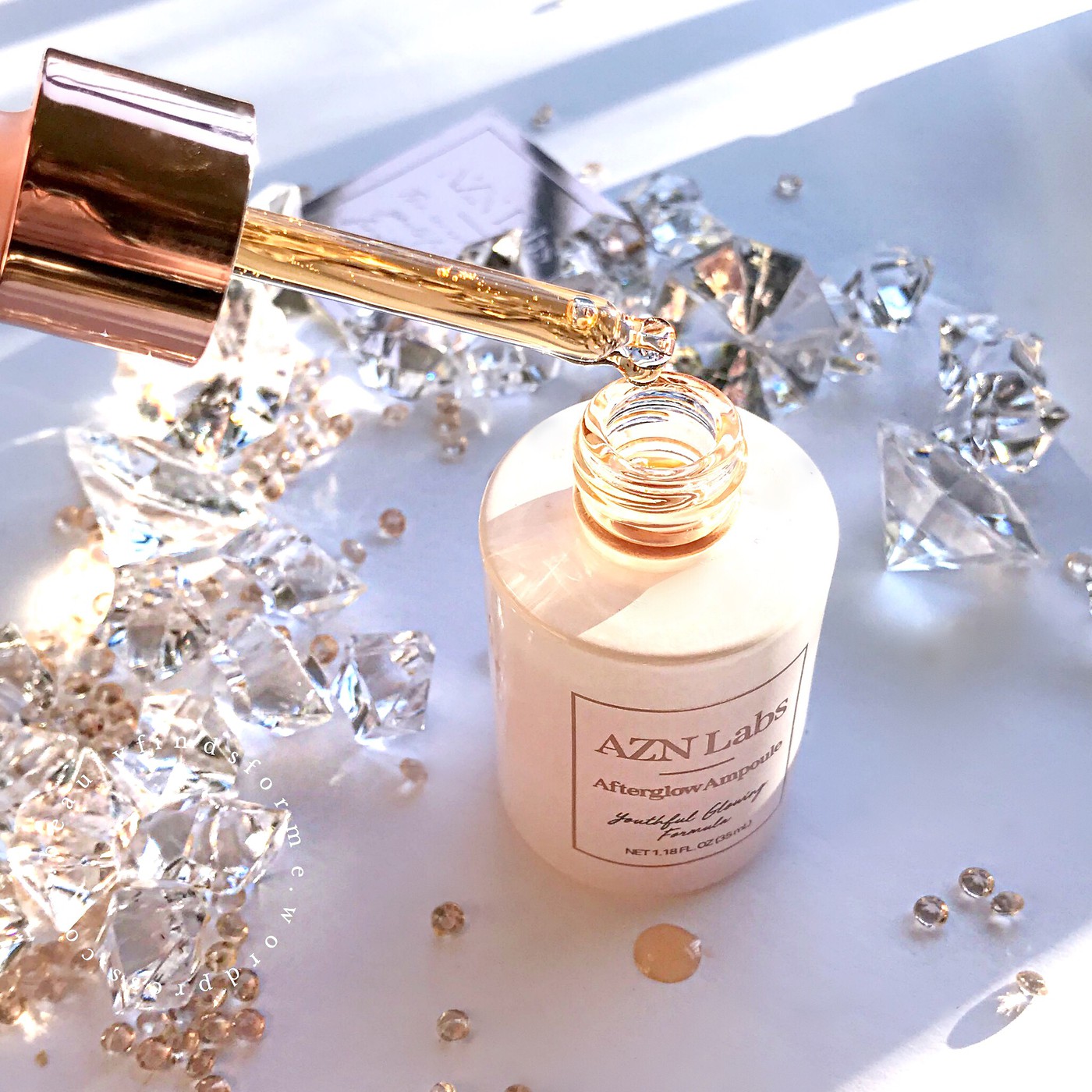 Final Thoughts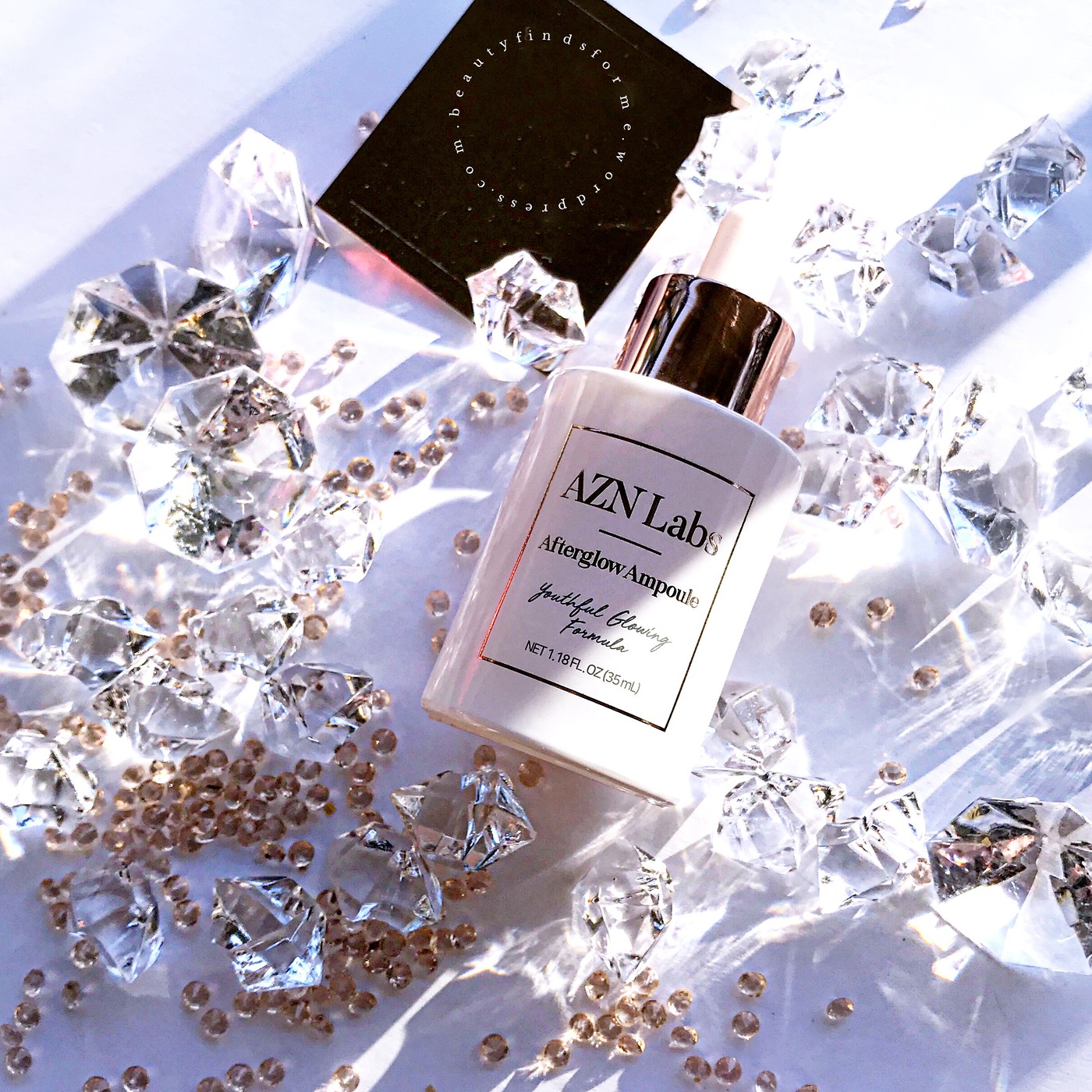 Hmmm.  I think that AZN Labs is off to a good start with their first product, as it does provide a nice luminosity to my skin while nourishing with so many anti-aging and brightening ingredients to create silky smooth skin.   The packaging is amazing and the ingredients list is solid.  However, I do think that this product is probably better suited for those who have drier and duller skin than I do ~ my skin is not dry, just dehydrated and it also isn't dull, but just hyper-pigmented.   I wish that AZN Labs didn't add the perfumed fragrance as that is a major distraction from me really enjoying this product. The price tag is also very steep ~ this is $120.00 USD at Beauty Tap, and I have a hard time wrapping my head around that cost.  For that price tag, I would have expected more dramatic results ~ however, this product will last A LONG time as I don't need that much and even if you have dry skin, you will find that the slick oil-like texture will go a long way.   I do recommend that you wait for sales or use my promo code of UNBOXING15 to get 15% off your purchases at Beauty Tap, but HURRY, as this code expires at the end of March and I do not know when they will renew it again.  So sad.  I am eager to see what other products AZN Labs produces and hopefully they will be more affordable! 
Where To Purchase
Beauty Tap is the official distributor of AZN Labs and this is the only product they currently have.   Again ~  use my affiliate code of UNBOXING15 to get an additional 15% off as well!  This coupon is good until the end of March 2019.  Beauty Tap sells internationally and their shipping is a bit costly, but it is free once you reach a threshold ~ I recommend doing some hauls with your friends!!  For the USA, it is $70.00 and for other countries, it is $120.00 ~ but they do ship DHL or EMS, so you will get it sooner.  I am not sure why they went with such an expensive shipping service, as that means less people will purchase items.  This product is available in both the Free USA shipping and the international shop
[ disclaimer: products received for review purposes.  blog post contains affiliate links ]