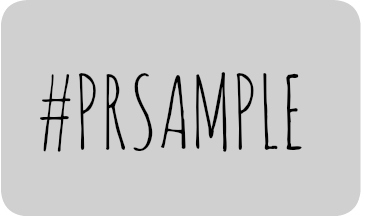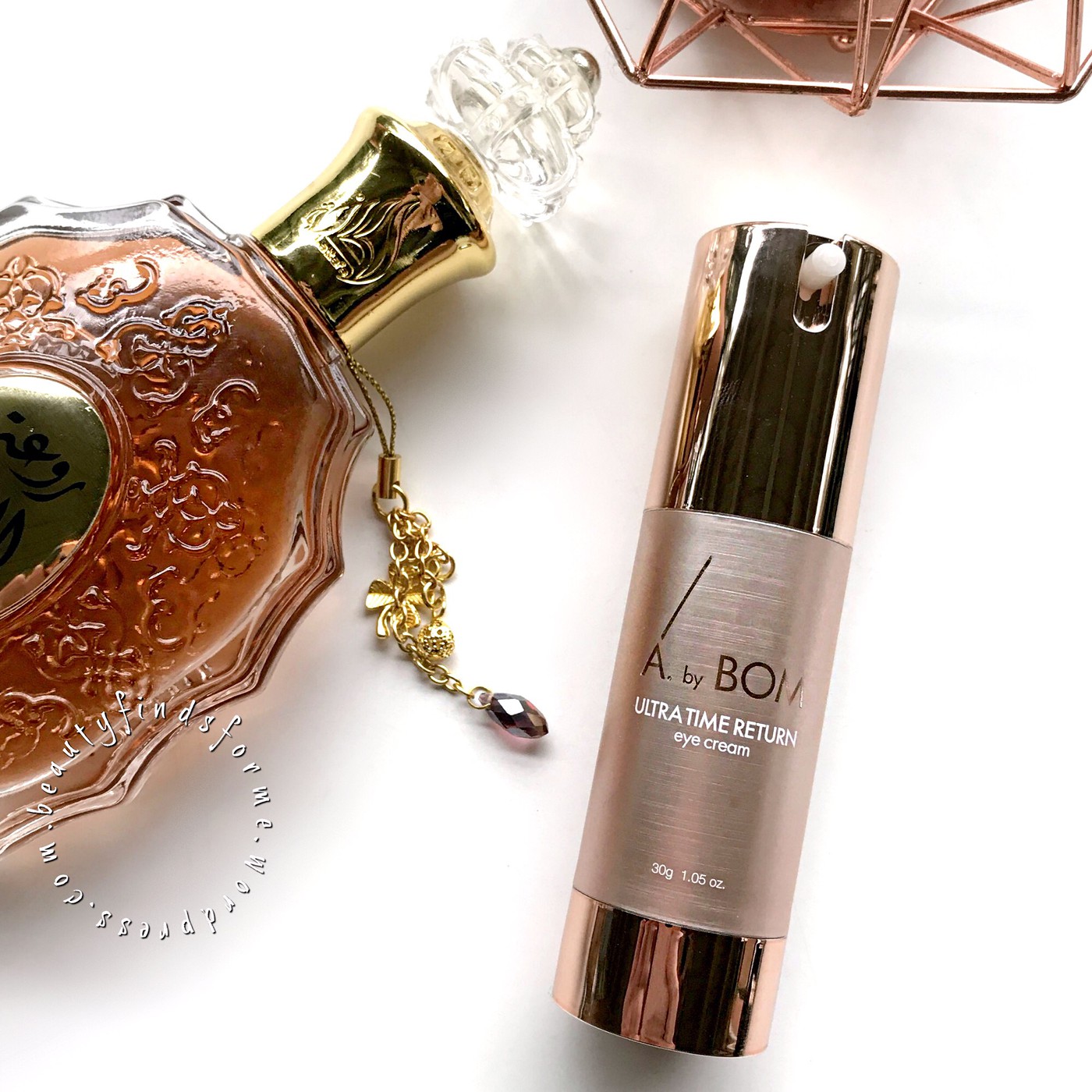 A. by BOM was founded in their luxury beauty salon in Seoul's Cheongdam, Gangnam district and they showcase ingredients from natural vegetables and botanicals  ~ such as using autumn grains which will help nourish and revive dull, tired skin; floral extracts that will create firm, toned skin that is elastic and soft and seed oils, giving nourishment to make your skin glowing and radiant.  A. by BOM believes that the beauty of Korea is the world's best, constantly looks to improve and bring better, unique products to their customers and listens to their customers needs.  I have reviewed many of their products so far ~ click here to read.   I am a HUGE fan of their products and the Ultra Watery Eoseongcho Cleanser is my HG for cleansing balms and I adore the Ultra Time Return Eye Serum.

Skin type/concerns:  Oily, aging, blemish prone, pores, hyper-pigmentation, fine lines and wrinkles. 
I received these products complementary to review and was not paid.  All reviews are my own honest opinion and  I never have been asked to write copy for a brand.  This blog post might contain promo codes, affiliate and referral links, which using my links will help generate a small commission that helps support my blog at no extra cost to you.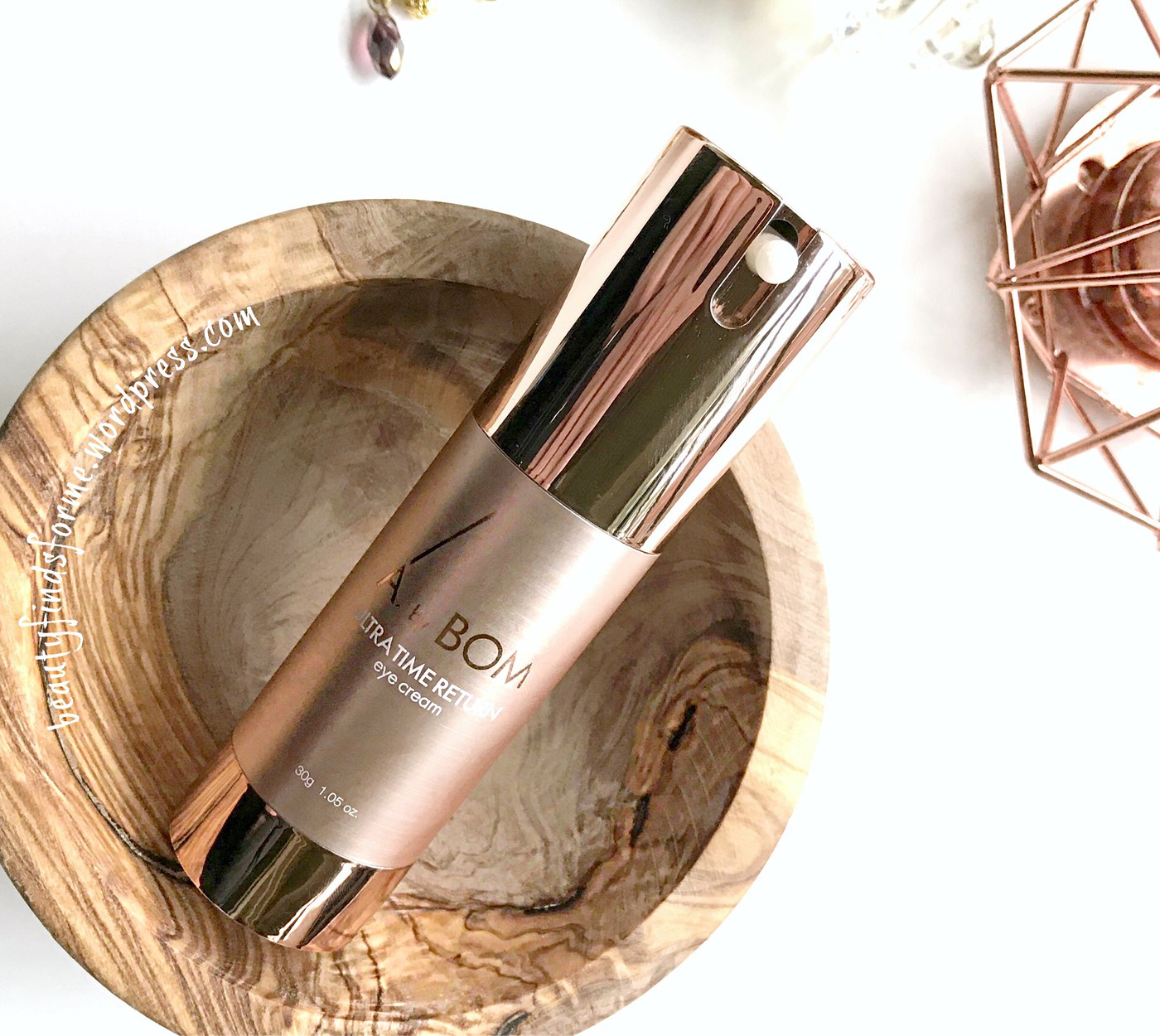 Ultra Time Return Eye Cream I had been waiting for A. by BOM to release an eye cream for a while.  Last year, they had released a lovely and one of my favorite eye products, Ultra Time Return Eye Serum (review here) and it helped tighten up the skin under my eyes.  I needed a cream to complete this set and A. by BOM came out with an eye cream in the Ultra Time line this past fall.  The biggest aging issue for me on my face is around my eyes.  I have wrinkles and crinkles, crow's feet, laugh lines, whatever you want to call them, I have them.  Lots of damage from the sun, not wearing sunscreen, sun glasses and squinting all the time has taken its toll.    
This impressive rose gold tube is full of botanticals, hypoallergenic and dermatologist tested.  Humectants glycerin and sodium hyaluronate moisturizes and hydrates the skin, leaving your face feeling smooth and soft.  Fourth generation moisturizer polyquaternium-51 (lipidure) retains moisture better than beta-glucan. Speaking of beta-glucan, this eye cream does include it and beta glucan heals, soothes and calming skin due to its anti-irritant and strong anti-inflammatory properties. Beta glucan will moisturize, locking in natural moisture and is an anti-aging, anti-wrinkle ingredient due to its anti-oxidant properties and also helps repair your moisture barrier.  
A slew of hanbang ingredients known for their topical benefits are also in here: dioscorea japonica (Japanese yam) has anti-oxidant, anti-wrinkle properties, skin brightening, reduces inflammation of the skin while moisturizing.  Poria cocos fungus is used for its anti-aging, anti-inflammatory and antioxidant properties, combating free radicals.  Cordyceps sinensis is a parasitic fungus that grows on a caterpillar and yes, it does kill the caterpillar and mummifies it. It has long been used in traditional Chinese and Tibetan medicine, and does have antioxidant skin cell regeneration benefits. Kava (piper methysticum) has been used as a folk remedy for thousands of year in the South Pacific for skin issues and speed up wound healing, while retaining moisture in your skin, as it forms a moisture barrier on your skin.
Centella is a common herbal ingredient that is used medicinally to help speed up wound healing, such as blemishes and skin rashes.  Ginseng is a huge player on the anti-aging ingredient front ~ it will help protect and calm your skin. Undaria pinnatifida (wakame) is an edible green sea vegetable is also beneficial in skin care products, as it has antioxidant and anti-inflammatory, as it contains a slew of B vitamins (B1, B2, B3, B6, B12) and it helps protect your cells against external factors such as UV rays. It also helps suppress an enzyme that prevents your skin from creating hyaluroic acid, which is what keeps your skin elastic, firm and smooth.   Maca, aka lepidium meyenii, helps help, tone and clear up your skin.  Blackberry leaf has similar antioxidant benefits as green tea ~ I was surprised NOT to see green tea in here!  This ingredient helps keep skin soft, supple and aids in the product of collagen and elastin, keeping your skin toned and firm.
This contains 4 vitamins ~  niacinamide, which is also known as vitamin B3 and is not only powerful antioxidant that acts as an anti-inflammatory, improves your skin elasticity, enhance the skin barrier function, but it also helps with hyper-pigmentation and even out your skin tone.  Panthenol ~ vitamin B5 ~ is an excellent hydrating ingredient for your skin. Tocopherol is vitamin E, providing antioxidant and anti-aging benefits and is used to help heal scars and other skin issues. Folic acid (vitamin B9) folic acid (vitamin B9) applied topically keeps your skin radiant and glowing, as it can slow down premature skin aging, repair DNA damage and photo-aging (source)
Yeast derived adenosine has anti-aging, anti-wrinkle and anti-inflammatory properties. Betaine is an amino acid that is a humectant and anti-irritant, providing silky smooth skin and soothes and calms skin.  Allantoin is known for healing, soothing and softening skin, it also helps remove cracked and chapped skin, leaving behind healthy looking skin. Anti-aging palmitoyl pentapeptide-4 helps with toning, lifting and skin elasticity.  
From the honey bee, royal jelly contains B-complex vitamins, nucleic acid, decanoic acid, flavonoids, essential fatty acids, amino acids, enzymes, minerals and natural antibiotic and antibacterial compounds. It is an anti-aging ingredient as well, as it can increase collagen production in your skin.  Saccharomyces ferment filtrate, my yeasty friend, is full of amino acids, beta glucan, vitamins and minerals with antioxidant benefits.  
And omg, look at all of the deep moisturizing butters, oils and other moisturizers in here: mango seed butter, argan oil, vitamin E, shea butter, squalane and ceramides ~ all designed to protect, nourish, strengthen, firm your skin, as they contain vitamins and fatty acids. 
Ingredients: Water, Glycerin, Methylpropanediol, Betaine, Cyclopentasiloxane, Hydrogenated Polyisobutene, Niacinamide, Dicaprylyl Carbonate, Pentaerythrityl Distearate, Dioscorea Japonica Root Extract, Cetearyl Alcohol, Mangifera Indica (Mango) Seed Butter, Cetearyl Glucoside, Caprylic/Capric Triglyceride, Hydrogenated Poly(C6-14 Olefin), Poria Cocos Sclerotium Extract, Royal Jelly Extract, Cordyceps Sinensis Extract, Yeast Extract, Piper Methysticum Leaf/Root/Stem Extract, Centella Asiatica Extract, Panax Ginseng Berry Extract, Undaria Pinnatifida Extract, Lepidium Meyenii Root Extract, Rubus Fruticosus (Blackberry) Leaf Extract, Hydrogenated Lecithin, Argania Spinosa Kernel Oil, Sodium Hyaluronate, Saccharomyces Ferment Filtrate, Sodium Polyacrylate, Dimethicone, Sodium Stearoyl Glutamate, Tocopheryl Acetate, Squalane, Polyquaternium-51, Alcohol, Glycosyl Trehalose, Isononyl Isononanoate, Polyglyceryl-10 Stearate, Allantoin, Hydrogenated Starch Hydrolysate, Raffinose, Biosaccharide Gum-1, Butyrospermum Parkii (Shea) Butter, Stearic Acid, Adenosine, Polyglyceryl-2 Dipolyhydroxystearate, Disodium EDTA, Lecithin, Beta-Glucan, Caramel, PVA/MA Copolymer, Butylene Glycol, Propylene Glycol, Panthenol, Inulin Lauryl Carbamate, Acacia Senegal Gum, Folic Acid, Disodium Stearoyl Glutamate, Cyanocobalamin, Cermaide NP, Cholesterol, Tromethamine, Maltodextrin, Palmitoyl Pentapeptide-4, Fragrance, 1,2-Hexanediol, Phenoxyethanol, Ethylhexylglycerin cosDNA 

image credit abybom.com
The Ultra Time Return Eye Cream is a rich and restorative eye cream enriched with collagen boosting ingredients and plant botanicals to give firmness and vitality back to the skin around your eyes.
And that description is pretty much on target.   All the ingredients in this 30 mL rose gold tube point to a nourishing, richly emollient eye cream that will soften wrinkles while firming the delicate skin around your eyes.  Let's talk about the packaging for a minute, as A. by BOM really outdid themselves here.  This cream comes in a rose gold tube that is about 4 1/2 inches in height, so it fits nicely in the palm of my hand.  The rose gold tube has two shiny end caps and then the middle of the tube is in a brushed matte finish.  I WISH ALL products looked like this one.  This is one solid piece, so all you have to do is press down on the top of the tube and out comes the cream.  One pump is more than enough product for BOTH eyes.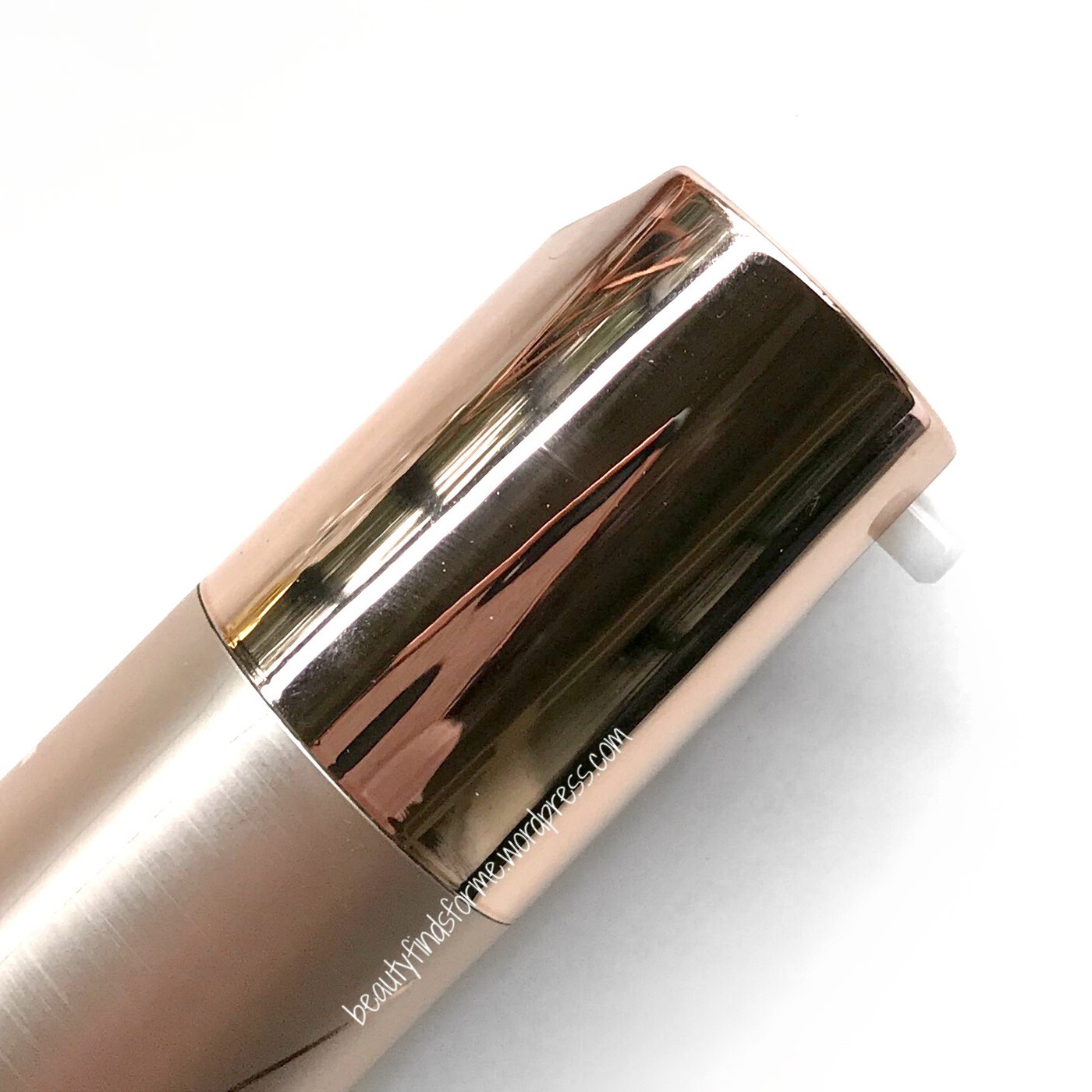 The cream is a thick light beige-pink color gel-cream that holds a peak ~ I know just by that peak this is going to be very moisturizing.  There is a light floral fragrance, but I really had to sniff the cream to pick it up ~ it is very subtle.  The Ultra Time Return Eye Cream spreads so smoothly and glides easily on the delicate skin around my eyes ~ no tugging or pulling at all.   

This almost leaves an oily finish but it is quickly absorbed into my skin, leaving a finish that feels moist, supple and soft. This increased my moisture levels by a whooping 72%!!  It did decrease oils, but I do have oily skin ~ so about 30%.  My under eye area is softened, but it isn't puffy at all ~ my wrinkles won't go completely away, but they are lessened in appearance.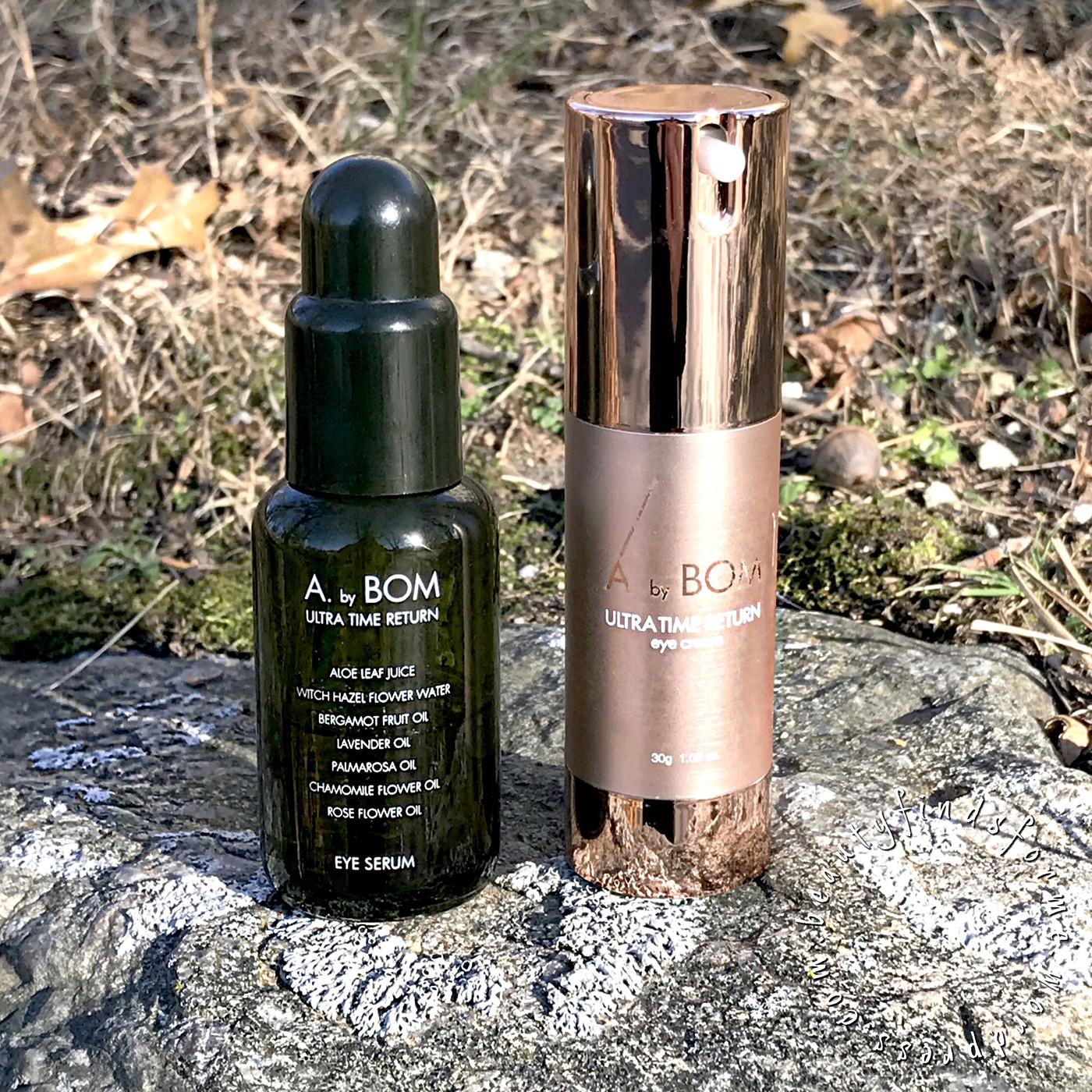 The best way to use this eye cream is to pair it with the eye serum.  The eye serum, for me at least, firms the skin under my eyes so they do not look as puffy.  As I age, I pick up baggage (haha see what I did there?) under my eyes.  The Ultra Time Return Eye Serum works perfectly with the Ultra Time Return Eye Cream, as they both do different things on my skin.  They go together like peas and carrots, as someone once said. 
Final Thoughts
I rarely am disappointed by A. by BOM and this eye cream is just lovely.  It is full of hanbang ingredients that will help firm, soften and nourish your skin.  It doesn't cause my concealer to pill under my eyes either and the packaging is so on point ~ elegant, modern and simple.  However, if you want the FULL treatment, I highly recommend picking up the serum as well.  Seriously, these two together pack a one-two punch and I am so happy to see that A. by BOM put a lot of thought to make these two products work in harmony with each other.  Many thanks to Lisa at Bemused Korea for her generosity and providing me with the Ultra Time Return Eye Cream.  I think Bemused Korea needs to make the two Ultra Time Return Eye products a special gift set for the holidays ~ what do you think? 
Where to Purchase
Currently, the best place to get these products is at Bemused Korea and they are an authorized retailer for A. by BOM which ships internationally.  Bemused Korea will ship free with purchases $50.00 or more and they always give the free gifts and samples. 
[ disclaimer: products received for an honest & unbiased review. description in italics from bemusedkorea.com  ]
Save