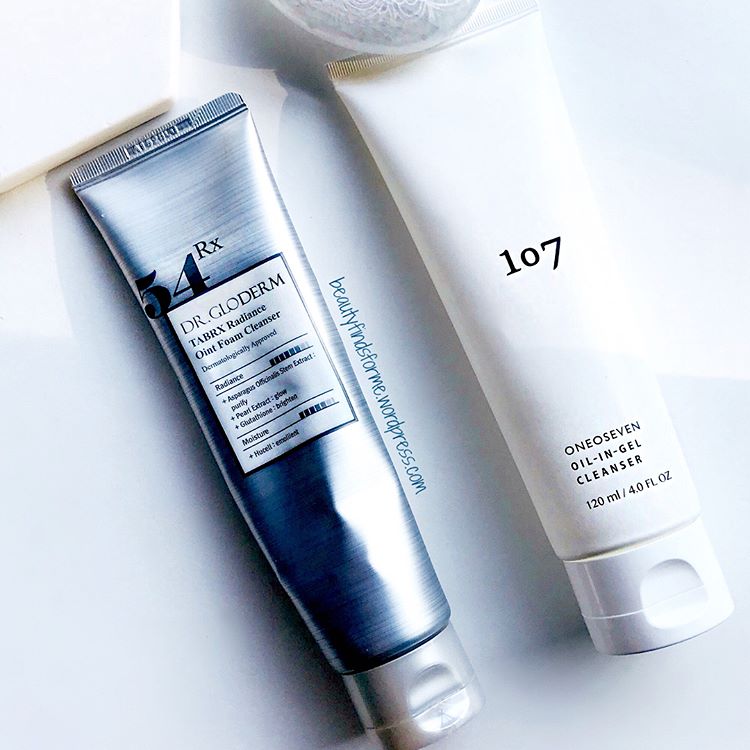 I didn't expect to put these two cleansers ~ Dr GloDerm TABRX Radiance Oint Foam Cleanser and 107 One O Seven Oil-In-Gel Cleanser ~  into one review blog post, but they are really a new type of cleanser for me and have similar features.  I also received them around the same time, so I thought this would be good to showcase both of them.  I have a few cleanser reviews coming out over the next few weeks, but all that means is that I have been using the products for a few months now and these reviews are long overdue!
Skin Type/Concerns: Oily, blemish prone, pores, aging concerns with fine lines/wrinkles and hyper-pigmentation
I received these products complementary to review and was not paid.  All reviews are my own honest opinion and  I never have been asked to write copy for a brand.  This blog post might contain promo codes, affiliate and referral links, which using my links will help generate a small commission that helps support my blog at no extra cost to you.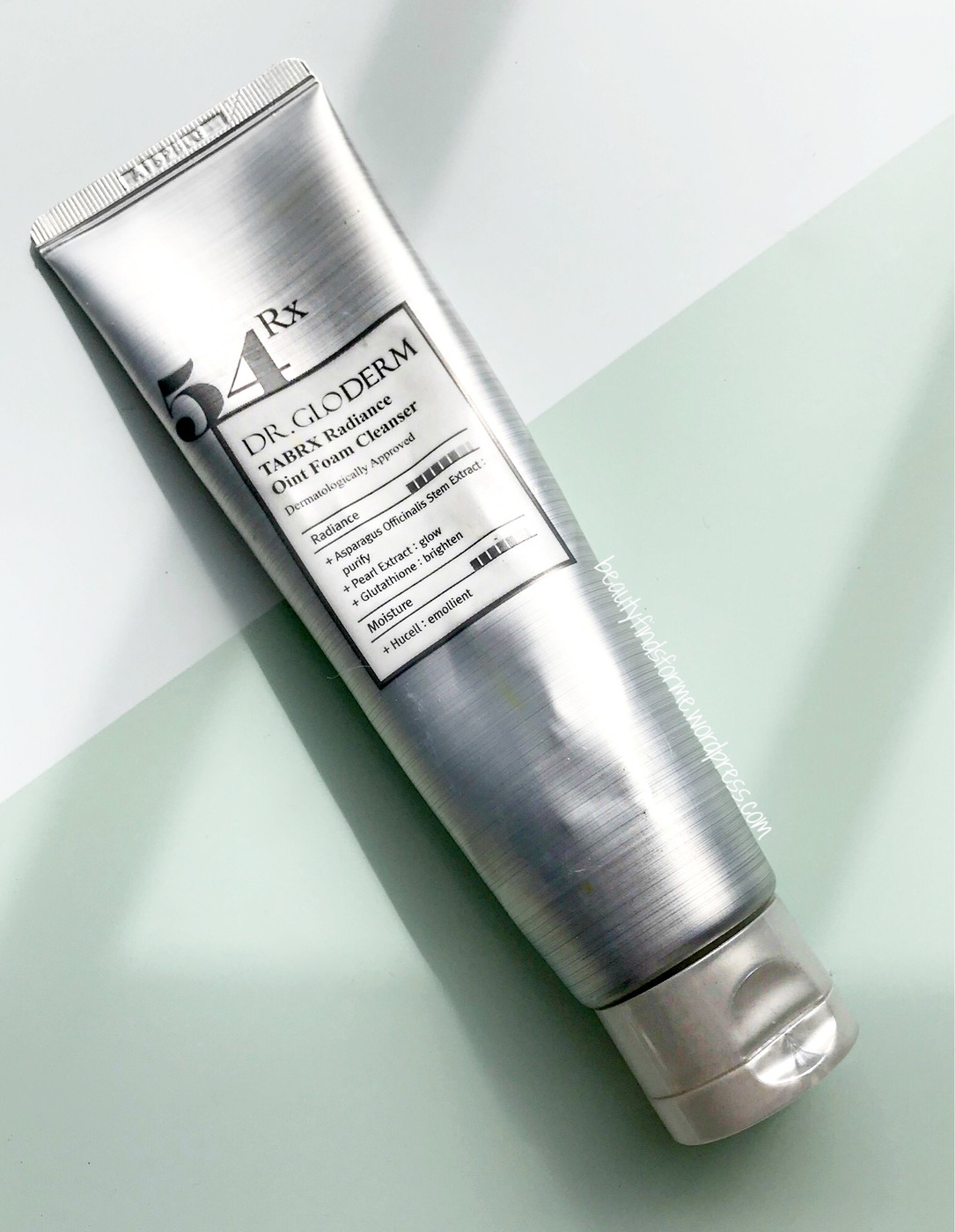 Dr GloDerm TABRX Radiance Oint Foam Cleanser (courtesy of Beauty Tap) I do not know much about this brand so I looked at Beauty Tap's Brand Info 'Dr.Gloderm is a medical cosmetic company founded in 2017 by 54 dermatologists from Seoul National University, South Korea's most prestigious university. Based on the data of 5 million prescriptions and 20 years of skin research, these dermatologists created a skincare line to address the real needs of real people. Free of paraben, mineral oil, benzophenone, phenoxyethanol, and talc, Dr.Gloderm products are developed by and in consultation with dermatologists and are verified through European standards of dermatological safety testing. It's no wonder their tagline is "Better prescription, better beauty."'  So, this is a fairly new brand, created by dermatologists and is free from harmful ingredients.  Let's see what I think of this cleanser!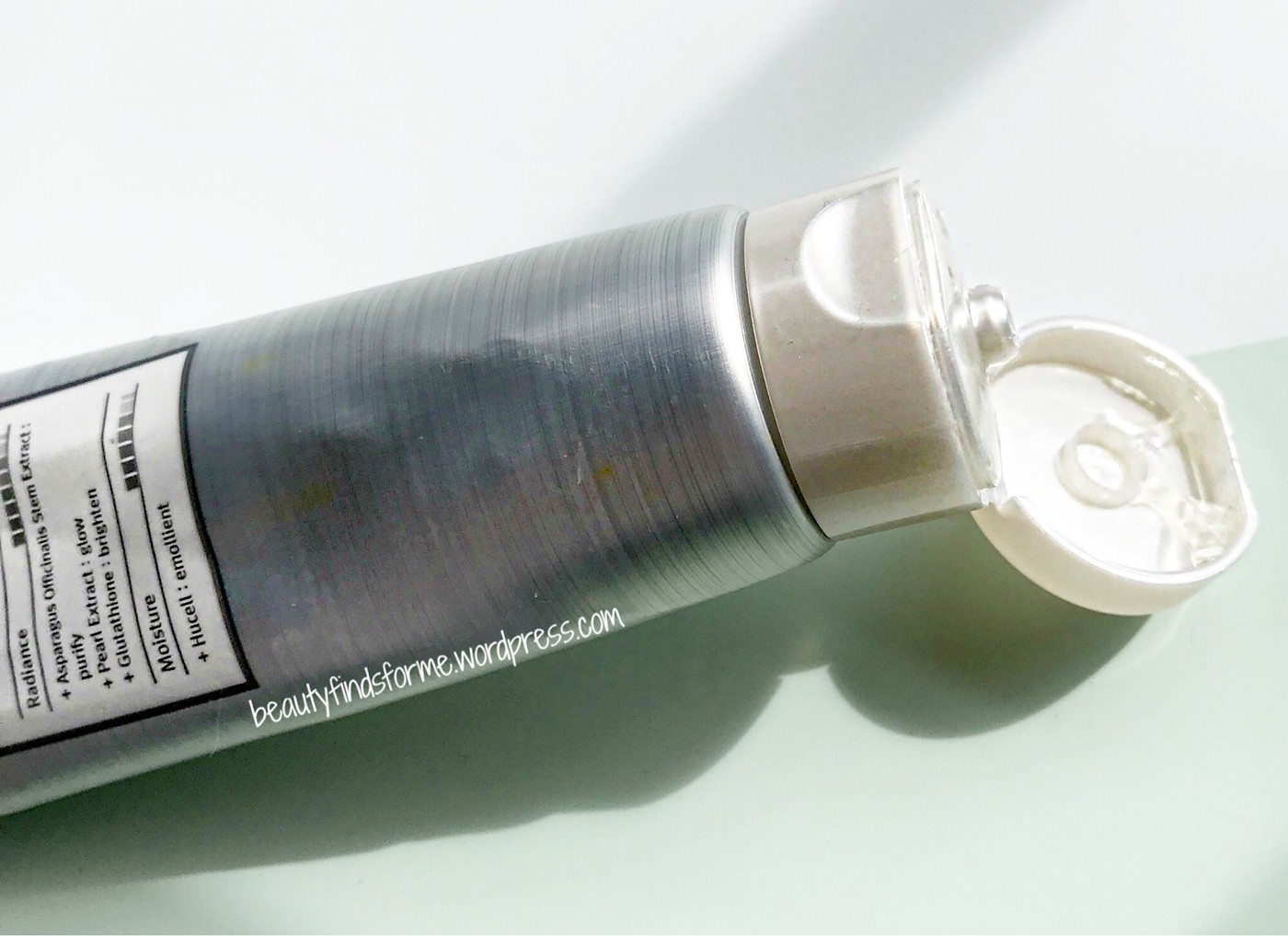 This comes in a cool metallic silver tube that has a brushed finish on it. Standard flip cap applicator for ease of use as well.  This contains some pretty interesting ingredients for a 1st Step cleanser ~ its main oils are olive and argan along with a medium strength surfactant  and emulsifier cocamidopropyl betaine.  It contains white asparagus, full of saponins which purify your skin cells. It uses positive ion cleansing technology, so that it can attract and absorb makeup residue and air pollutants. This has silica, which helps strengthen your collagen and elastin. This has humectants sugar and xylitol, which are very hydrating ingredients along with pearl which is full of amino acids and minerals, will keep skin healthy and radiant. Glutathione is an antioxidant that can reverse sun damage on your skin, including hyperpigmenation. 
Squalane penetrates and absorbs rapidly into your skin and has anti-oxidant properties and is an anti-bacterial as well as being an excellent moisturizing ingredient.  This also contains some moisturizing lipids ~ ceramide, phospholipids and phytospinggosine, to help repair and protect your barrier function.  Gluconolactone (PHA) is a skin hydrator and brightener as well, as it gently exfoliates your skin. Now, this is a cleanser, so it won't be on your skin for long, so whereas I do not believe this is the same as leaving a product ON your skin ~ overtime, this can produce positive benefits with daily use.
Ingredients: Water, Glycerin, Cocamidopropyl Betaine, Silica, Olea Europaea (Olive) Fruit Oil, Cellulose Gum, Caprylyl/Capryl Glucoside, Sodium Chloride, PEG-32, Fragrance, Tromethamine, Stearic Acid, Sucrose, Sodium Hydroxide, Sapindus Mukurossi Fruit Extract, Sodium Benzoate, potassium Sorbate, Xylitol, Argania Spinosa Kernel Oil , Allantoin, 1,2-Hexanediol, Caprylyl Glycol, Polyquaternium-10, Butylene Glycol, Propanediol, BHT, Disodium EDTA, Pearl Extract, Asparagus Officinalis Stem Extract, Squalane, Phospholipids, Phytospinggosine, Ceramide 3, Calcium Gluconate, Gluconolactone, Phytosterols, Glutathione  cosDNA
This cleanser's texture out of the tube reminds me of an ointment or Vaseline ~ it is a cloudy opal cleanser that really does feel like I smeared a topical medicinal ointment on my face ~ it is oil solidified.  It does have a floral scent to it that can be distracting for some (like me!).  I know some folks really want to know the pH level and since I did find this to foam a little bit, I decided to test it despite it being a 1st Step cleanser.  It is hard to get a good reading for oil cleansers with my unscientific, Amazon purchased pH strips but I found that this one is close to a 7.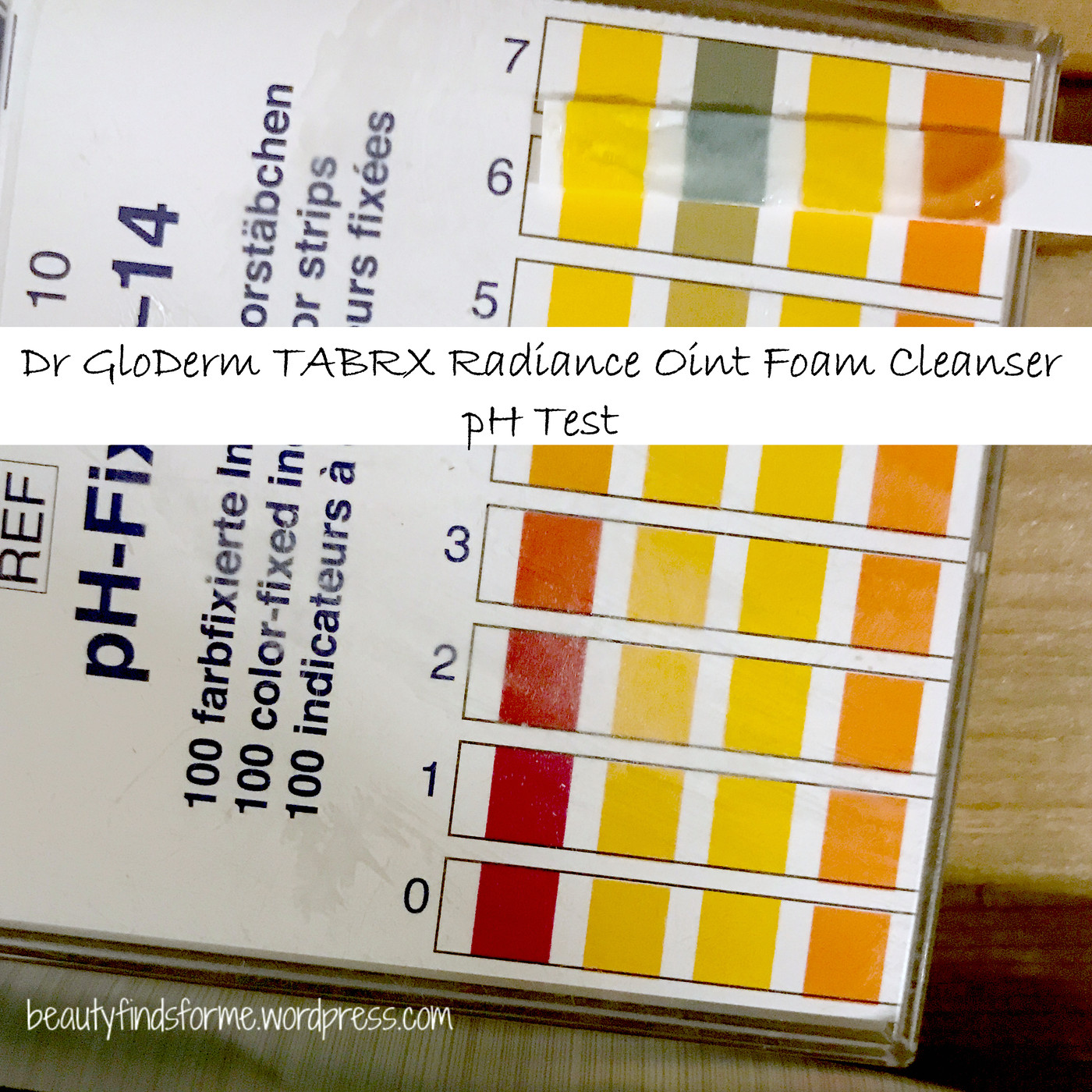 It does a decent job in removing stubborn makeup and then adding some water to it, it emulsifies and foams up very lightly ~ this is not a foam monster!  I do my cleanser tests with some really hard to budge makeup, so I was not surprised that it couldn't remove ALL of my makeup.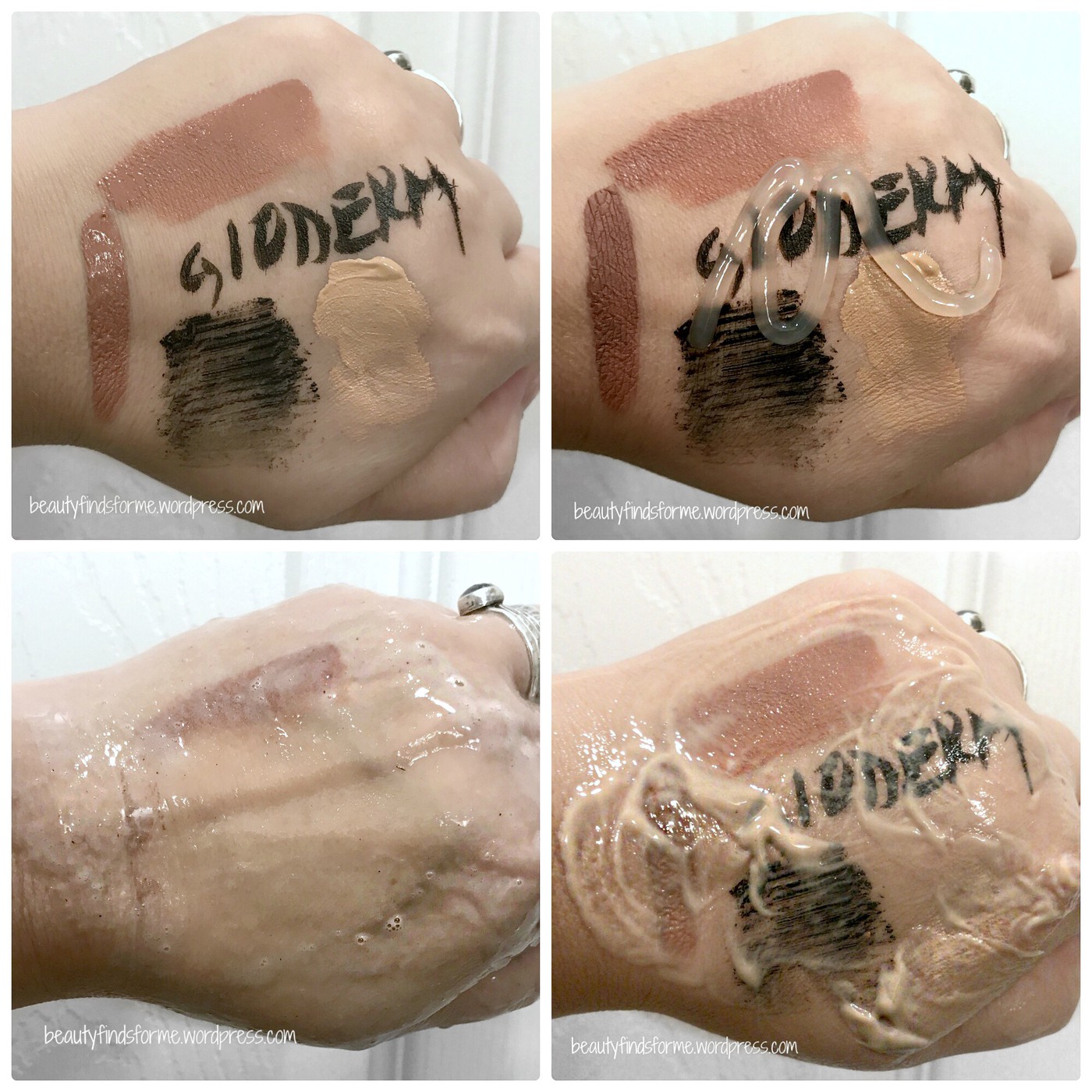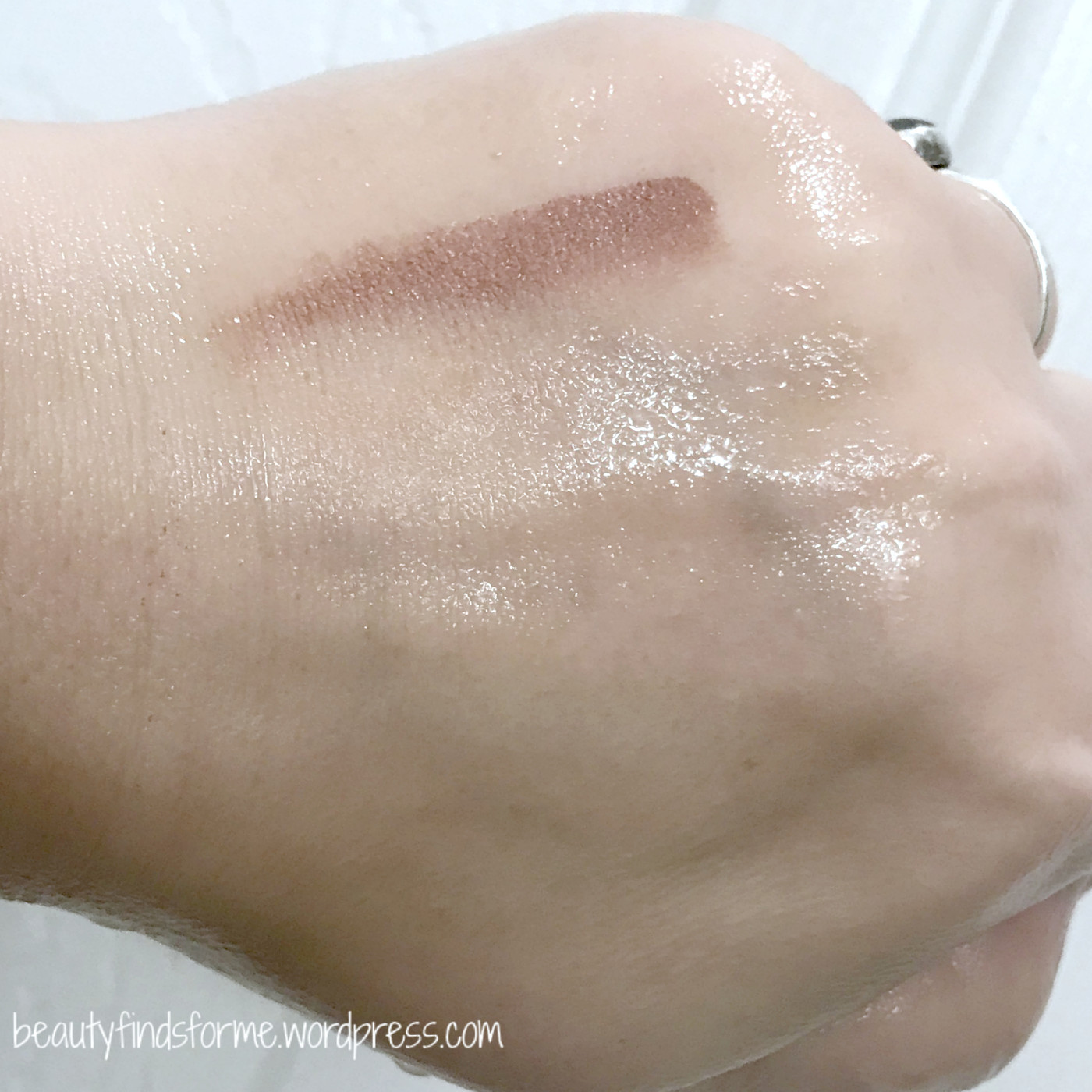 The above photo shows my final test with all of the product rinsed off  ~ I think Dr GloDerm did a good job in cleansing and my skin does feel very clean without dryness.  I have been using this cleanser for a while now and I haven't noticed any "brightening" from using this.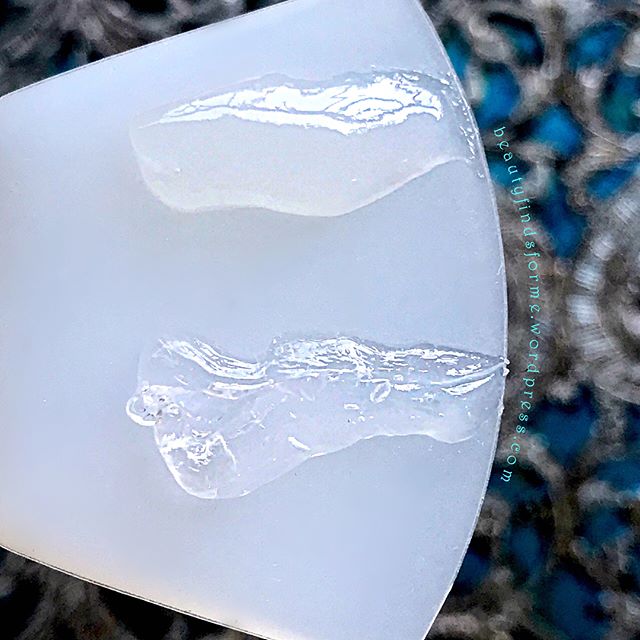 Textures:  Dr GloDerm top, 107 OneOSeven bottom. You can see the difference in the textures ~ Dr GloDerm does look like an ointment as it is slightly opaque looking whereas 107 OneOSeven is crystal clear and looks like jelly.  However, it isn't a jelly at all….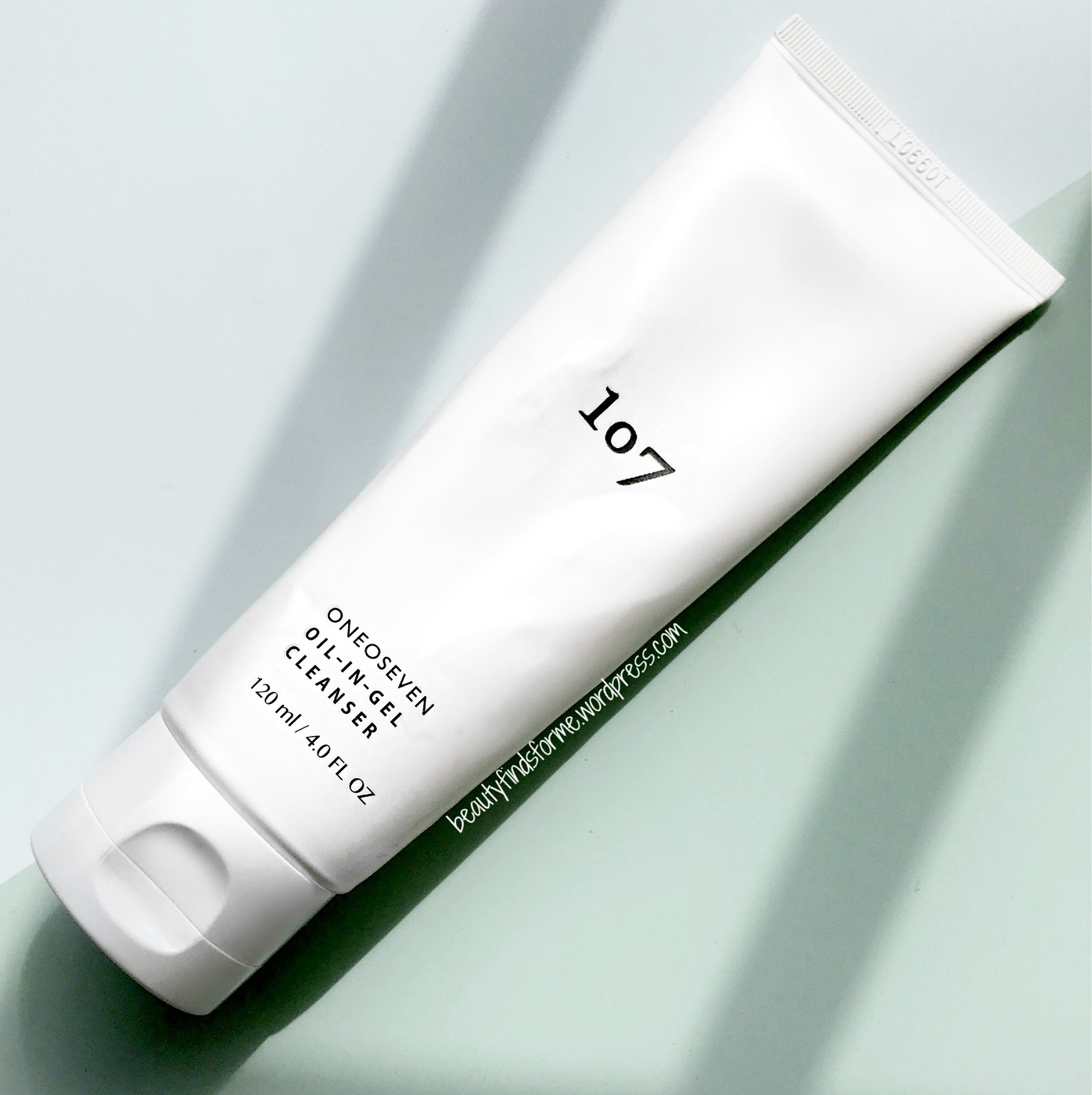 107 One O Seven Oil-In-Gel Cleanser (courtesy 107 OneOSeven)  A bit about one of my favorite brands ~ One O Seven is a family owned business and they also run Korea's largest naturally  fermented vinegar brand~ Hanega.  Ohk Ran Chung, a pharmacist,  developed a specially aged vinegar with 20 oriental herbs which will produce essential amino acids, which helps rejuvenate and purify your skin.

One O Seven is a Korean cosmetics brand that develop cleansing foam and skincare products using natural fermentation vinegar as the raw material based on 107 magic formulas succeeded for 35 generations. Ohk Ran Chung is a pharmacist and the 35th chairman of Hanega, Korea's biggest natural fermentation vinegar brand. She developed premium vinegar cosmetics after she noticed that the quality natural fermentation vinegar fermented for over 5 years helps relieving skin troubles including atopic dermatitis and prevents aging. During the research process, she discovered seven essential amino acids and organic materials including saccharomyces and lactobacillus that naturally forms from natural fermentation vinegar. Combination of craftsmanship and high-tech research brought creation to an innovative cosmetics brand, One O Seven.
There are 7 essential amino acids in the award winning One O Seven fermented Hanega vinegar and they are all natural and organic.  Our body will easily absorb natural nutrients and these essential amino acids are anti-aging, increase the skin's tone and elasticity, while healing and strengthening your skin.  If you are wondering what 107 stands for, it is their 107 secret secret formulas which have been in their family for 35 generations.  One O Seven works with UHIC to help children in Tanzania, Africa.  They donate office space to the 20 child care facilities, which work to help prevent the spreading of diseases. One O Seven also donates part of their proceeds to UHIC every month while supporting the volunteer and events sponsored by UHIC.  One O Seven's philosophy is to make the world a better place for all of us.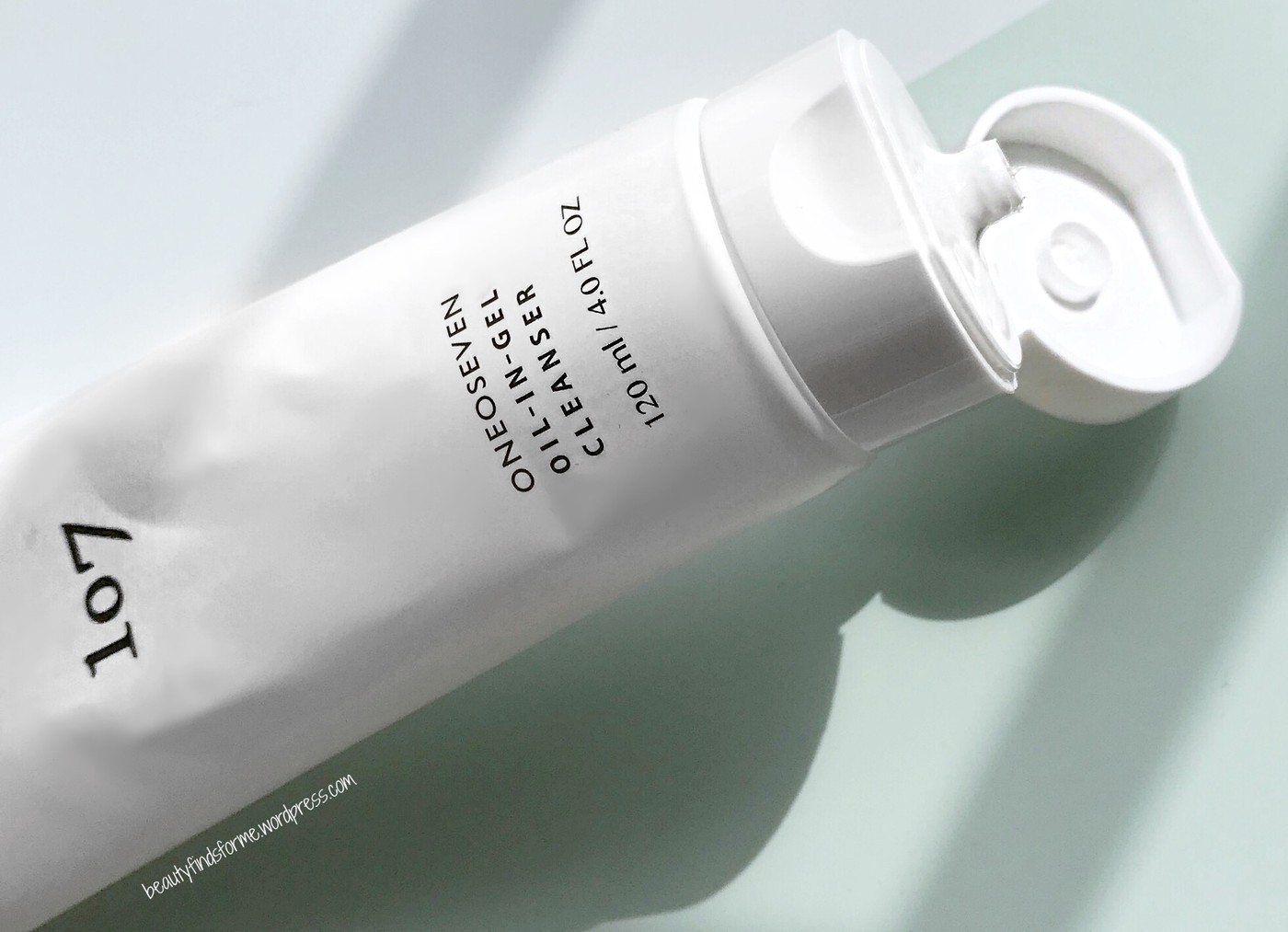 107 OneOSeven Oil-In-Gel comes in a white plastic tube with a cap that flips open.  The minimalist design is really appealing here with the simple black font against a stark white background.  This has a very simple ingredient list, including coconut oil derived caprylic/capric triglyceride, a superb emollient and helps prevent moisture loss. Sucrose laurate is an emulsifier that turns this oily gel cleanser into a milky emulsion once you add water to it.   Sucrose cocoate is a mild surfactant derived from sugar and coconut and jojoba oil is a lightweight, yet deeply hydrating natural seed oil. Jojoba oil is packed with nutrients like vitamin  E, B-complex, copper and zinc.
And of course … Vinegar!  This is made with cosmetic grade vinegar that has been naturally fermented 🏺 for over 5 years and contains 7 essential amino acids. Vinegar is a natural anti fungal, antibacterial, and anti-inflammatory and it will help restore the pH balance to your skin. It contains acetic acid and is known to kill off bacteria and reduce acne. By restoring pH balance to your skin, it will help make your skin inhospitable for bacteria as well, while helping your skin create essential proteins and fatty acids. The vinegar used in these products are from wheat grown in the Gurye region in Korea ~ why is this interesting? The Gurye region grows its wheat completely free of agricultural chemicals and it is processed free from preservatives and bleaches.
Ingredients: Caprylic/Capric Triglyceride, Glycerin, Purified Water, Sorbitan Stearate, Sucrose Laurate, Simmondsia Chinensis (Jojoba) Seed Oil, Sucrose Cocoate, 1,2-Hexanediol, Vinegar  cosDNA
According to the description, this is a gentle dual action cleanser and it removes dirt, makeup, oil  while leaving your skin clean, soft and moisturized.   This is a 1st Step cleanser, not a second step and you would use it just like any other cleansing oil or balm ~ on dry skin, massage into skin and then add water to emulsify, before rinsing off.  The oil gel is crystal clear, scentless and looks like a jelly, but it is a thick oily product.  It isn't as oily as Dr GloDerm, but it is close.  I did do a pH test here as well, but again, as it is an oil 1st Step cleanser, this pH reading should not be taken to heart if you need a low pH cleanser.  Oil readings are very hard to take as the concept of a pH strip is based on water, not oil.  One O Seven is between 6 and 7.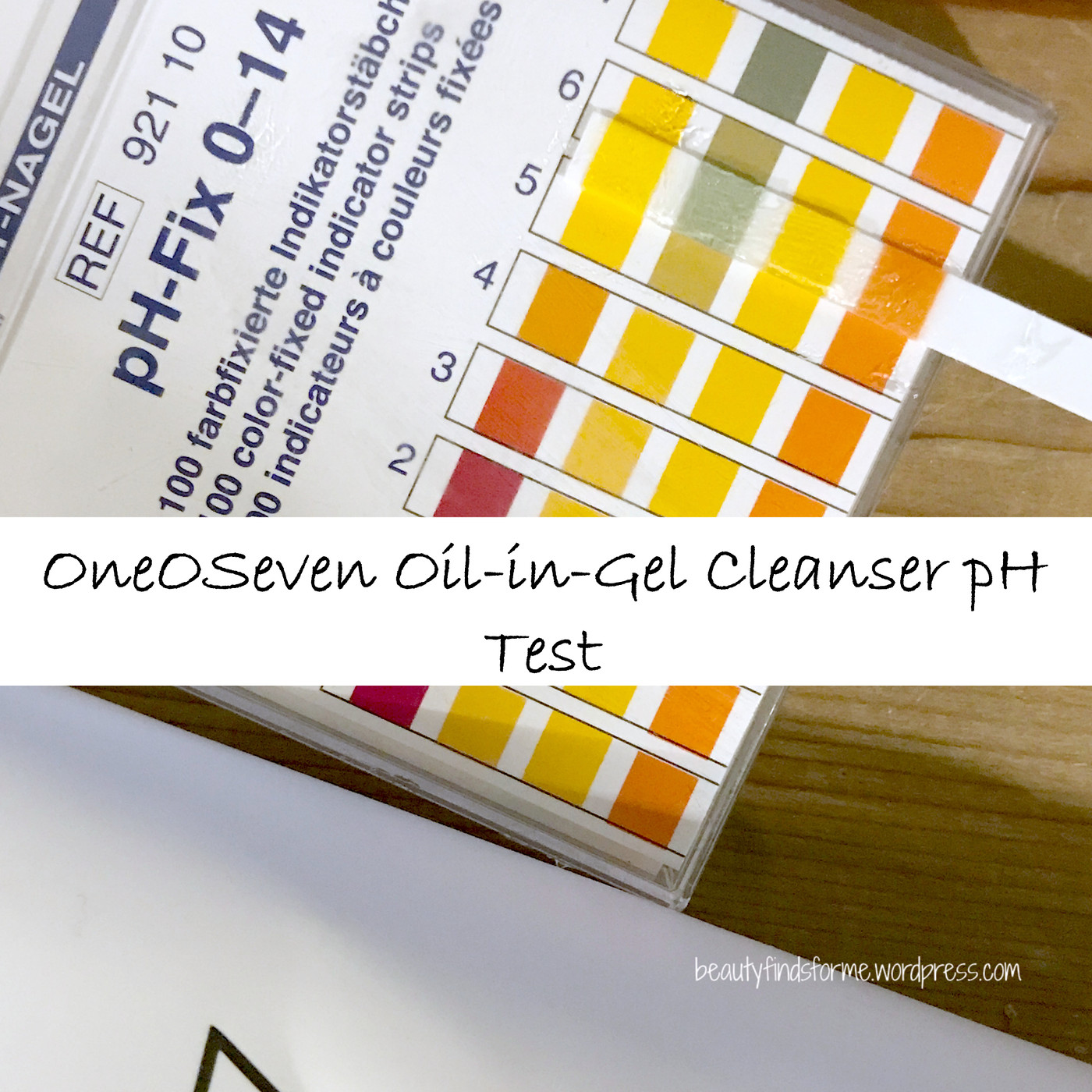 My cleansing tests are usually a lot more intense than what most people would wear on their face in real life.  The four photos below show the progression of cleansing, including how it turns a bit milky once water is introduced.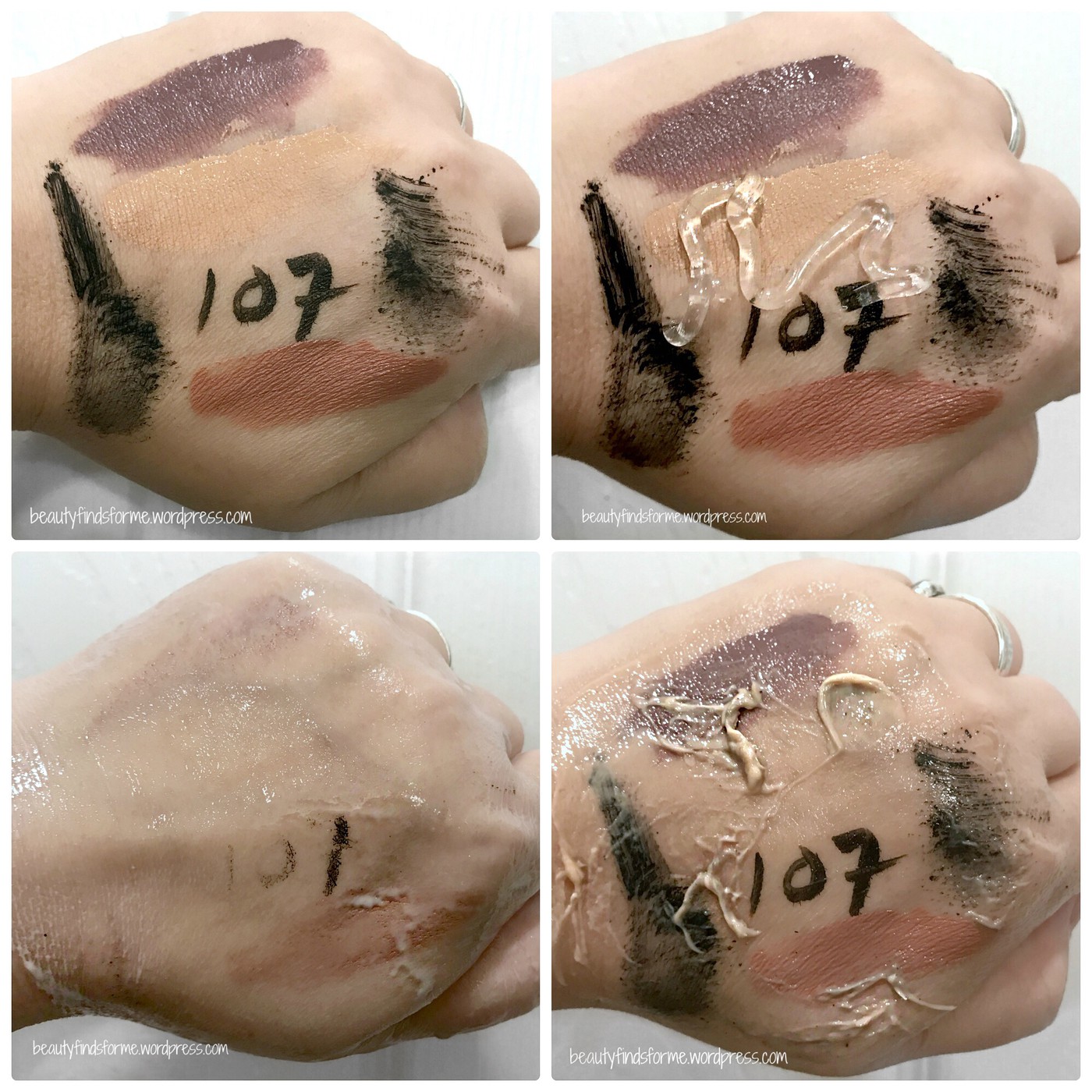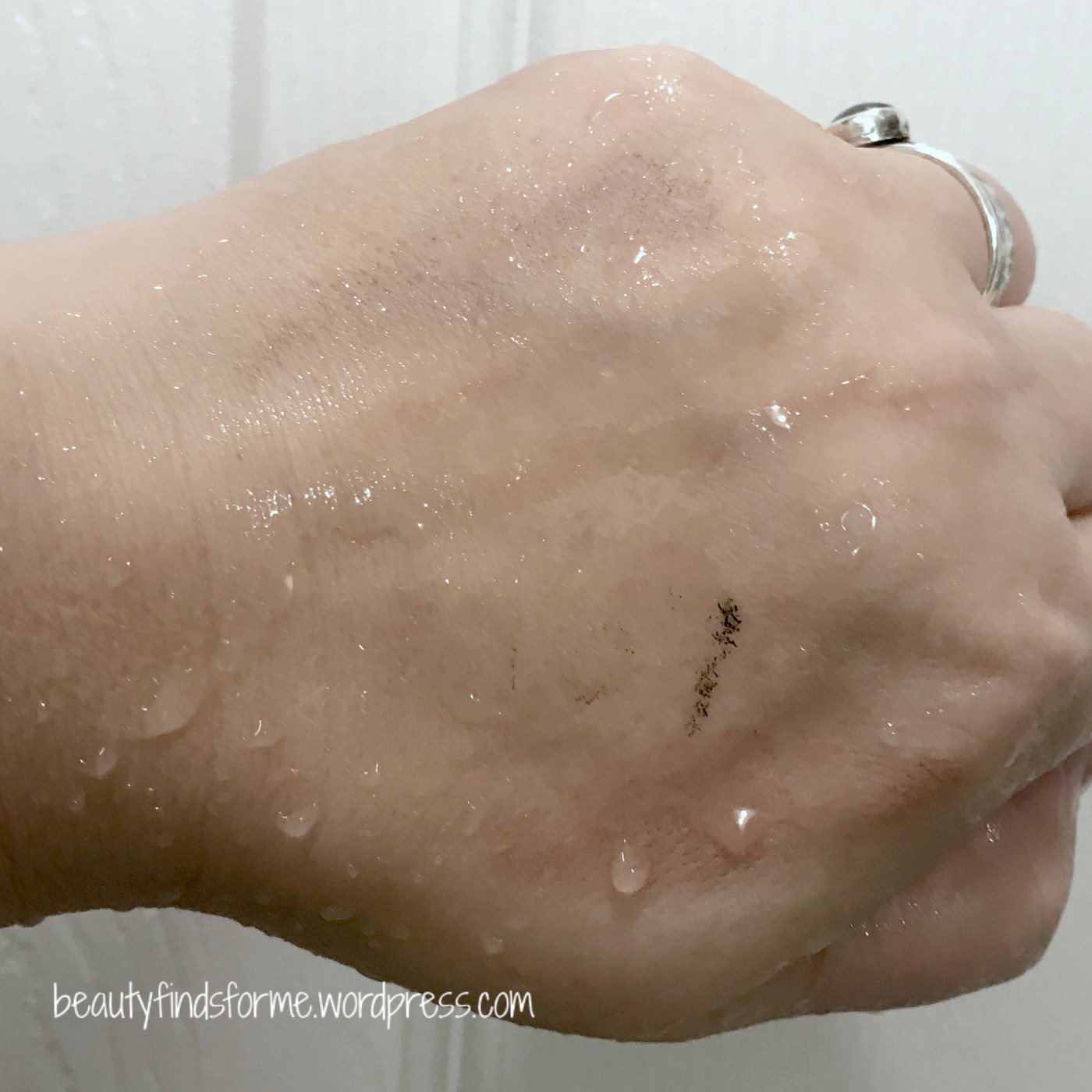 The above photo is the final rinse off ~ you can see that this Oil-In-Gel cleanser removed the majority of stubborn makeup off my hand, with just a few marks of makeup left.   I would follow up with a foaming cleanser at this point, but I have used this cleanser by itself in the morning and my skin does feel soft without any tightness or dryness. 
Final Thoughts
So I love the concept of these oil gel cleansers ~ traveling just got easier as having a semi-solid oil cleanser in a tube means no more oil leakage or melting cleansing balms.  Being in a tube form means it is easy to squeeze out and if you do not wear a lot of makeup, you could forgo the 2nd Step cleanser as these do not leave an oily residue.   
I did prefer the 107 OneOSeven Oil-In-Gel Cleanser over the Dr GloDerm TABRX Radiance Oint Foam Cleanser for a few reasons ~ I liked the texture better ~ it was more of an oil gel rather than an ointment.  I liked that it didn't have a scent whereas Dr GloDerm did have a floral scent. Since I didn't notice any brightening or radiance after using Dr GloDerm, I liked the simplicity of the ingredients list in 107 OneOSeven. OneOSeven provided better cleansing capabilities as well.  Granted, 107 OneOSeven is $11.00 more than Dr GloDerm and Dr GloDerm did provide foaming action when 107 OneOSeven did not, but overall, I felt that 107 OneOSeven was the better product for me. 
That isn't to say Dr GloDerm is a bad item ~ it isn't.  If I didn't have the 107 OneOSeven product at the same time, I would have rated it higher.  There are several reasons why I would recommend Dr GloDerm ~ the price point,  the ointment texture ~ that could be more soothing for someone whose skin has been compromised ~ the repairing benefits of its ingredient list, if you like floral scents and if you do not like vinegar in your skincare products. 
Where to Purchase
Beauty Tap
carries both items and you can use affiliate code
unboxing15
to save 15% off regular priced items.  Beauty Tap ships globally, provides tons of free samples and has free shipping with purchases $60.00+ USD.
You can also purchase them directly from OneOSeven (click here).  107 One O Seven also ships internationally as well.
[ products received complementary for review purposes  blog post contains affiliate and referral links ]