[ this blog post contains referral & affiliate links ]
Another month where I am late in getting my Yogi Surprise Lifestyle Unboxing up!  The weeks go so fast, don't they?  Woops!   I always enjoy getting my Yogi Surprise Lifestyle box ~ even if you do not practice Yoga, this is a great eco-friendly, green lifestyle subscription box.  What is Yogi Surprise?   

Yogi Surprise Lifestyle Box
6-8 full-size yoga lifestyle items

Vegetarian and GMO-Free

$70+ retail value in every box

$44.95/month + free shipping
This month's theme is "Love of  Yoga" ~ bringing you products to help enhance your techniques and ground you as we transition to fall in these last few summer days.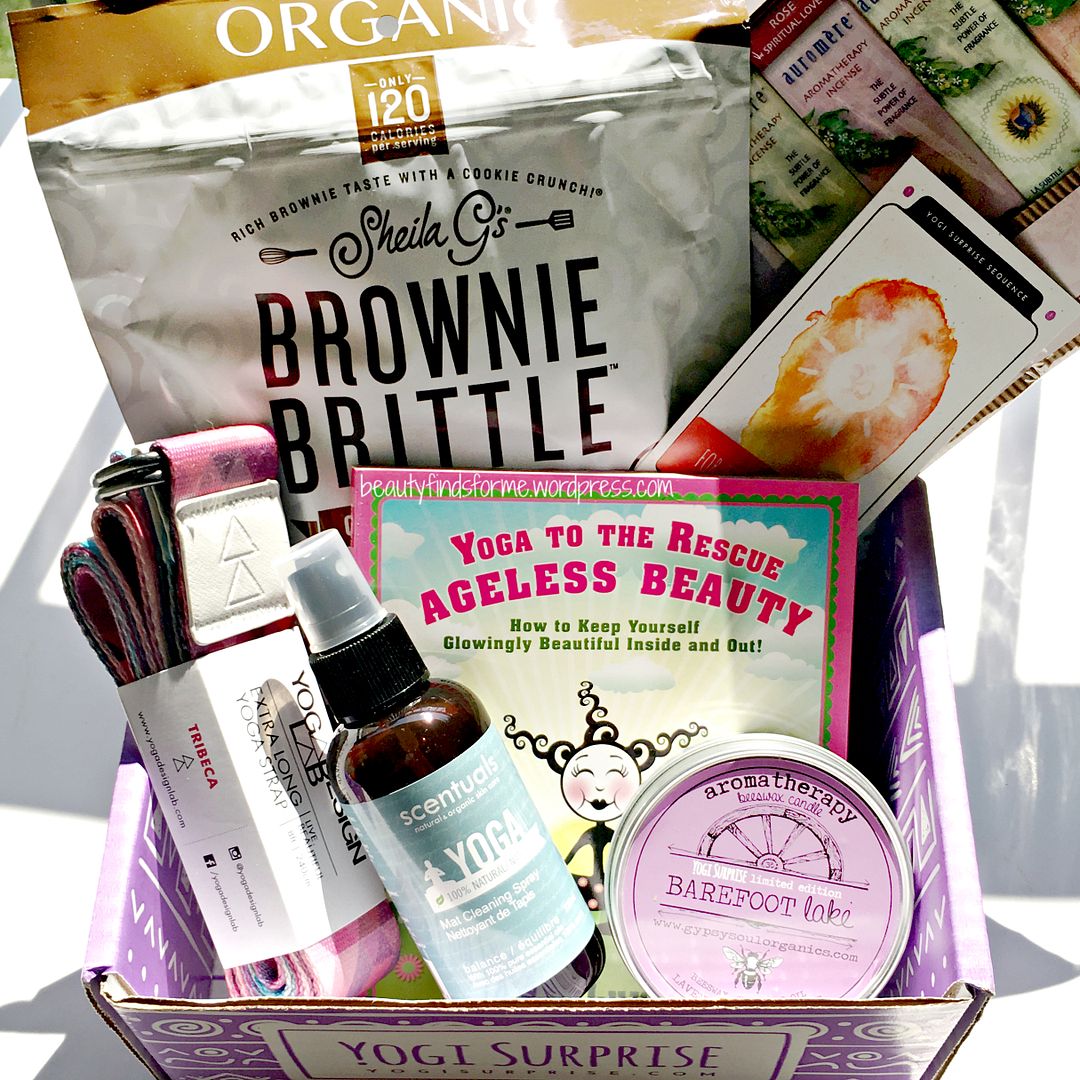 Informational Card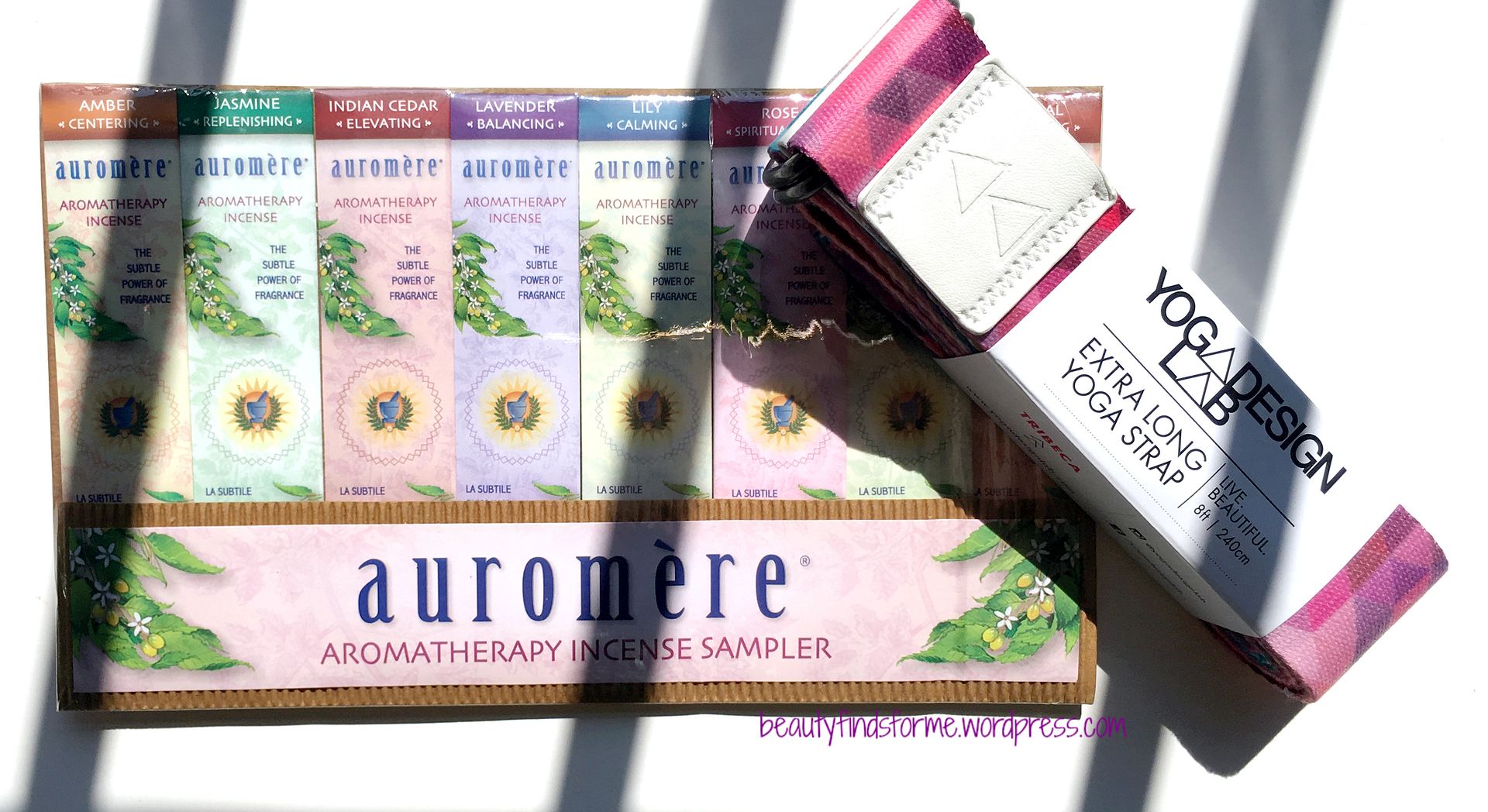 Auromere Aromatherapy Incense Sampler This is REALLY nice ~ I have some incense holders from my Nekoboxes and can use some more.  Incense is an ancient form of aromatherapy and helps re-balance and bring harmony into our being.  It also smells GREAT.   There  8 difference scents here, 3 mini sticks in each scent,  from the Aromatherapy line and Auromere also has incense for Ayurveda and Flowers & Spices too.
Amber – Centering (Pinus succinifera) Calming for disturbed conditions, restores equilibrium by harmonizing energy imbalances, stimulates and centers the being in the heart chakra.
Jasmine – Replenishing (Jasminum grandiflorum) Balancing to male and female hormones, calming, restores balance and confidence, anti-depressive, soothes headaches and insomnia, promotes feelings of optimism and increases receptivity.
Indian Cedar  – Elevating (Cedrus deodara) Calming and elevating, anti-depressive, helps develop a sense of self-control, integrity and fortitude, clears the mind [good for daydreamers and the absent-minded], helpful for breath control [pranayama].
Lavender  – Balancing (Lavandula officinalis) Promotes a steadying influence on the psyche, tempering extreme emotional states with a sense of rationality. Counteractive for stress, anger, depression, hypertension, mood swings, insomnia,etc.
Lily – Calming (Lilium) Gently sedative and soothing, calms the heart, nerves and emotions. Helpful for irritability, anxiety, and insomnia. Prevents negative dreams, and reduces worries.
Patchouli  – Stimulating (Pogostemon patchouli) Strengthens the nerves and stimulates the senses, anti-depressive, helps put problems into perspective, aphrodisiac, regenerative.
Rose – Spiritual Love (Rosa indica) Increases love, compassion and devotion, gives a sense of security and spiritual attunement, promotes sleep, reduces anger, gently anti-depressive, calms strife and instills a feeling of peace, happiness and confidence, helpful during menopause and for fluctuating female hormones.
Sandal – Purifying (Santalum album) Aids spiritual purification and meditation, focuses the mind away from distracting influences, reduces irritability, anxiety and depression.

I love that this is a sampler, because there is bound to be a scent that is pleasing!  The paper presentation package is actually handmade too, which makes this a lovely idea for gifts.  25% of the profits from Auromere are donated to maintain and develop an Intergral school in rural Supporting Integral Education in rural Ichhapur, Orissa, India.   RV $9.00
Yoga Design Labs Yoga Strap in Tribeca  I have gotten yoga straps before, but they were plain ~ either in grey, oranges or olives ~ this is the first time I have received such a beautiful, colorful strap in a multi-color geometric design.  Colors range from pinks/purples, to aquas and blues and peach/brown neutrals.  Straps are very handy to help aid you in stretching.  Even if you do not practice yoga, using a strap to help stretch will increase your flexibility.  As I age, I find that I rely on straps to help me stretch longer without causing damage to my joints.  This is an extra long ~ 8 feet ~ made from super soft premium cotton, eco-printed strap and has adjustable wide loops  RV $16.00  Promo Code: Use YDLBO15 to save 15% off any purchase at Yoga Design Lab .  Expires 9/30/2017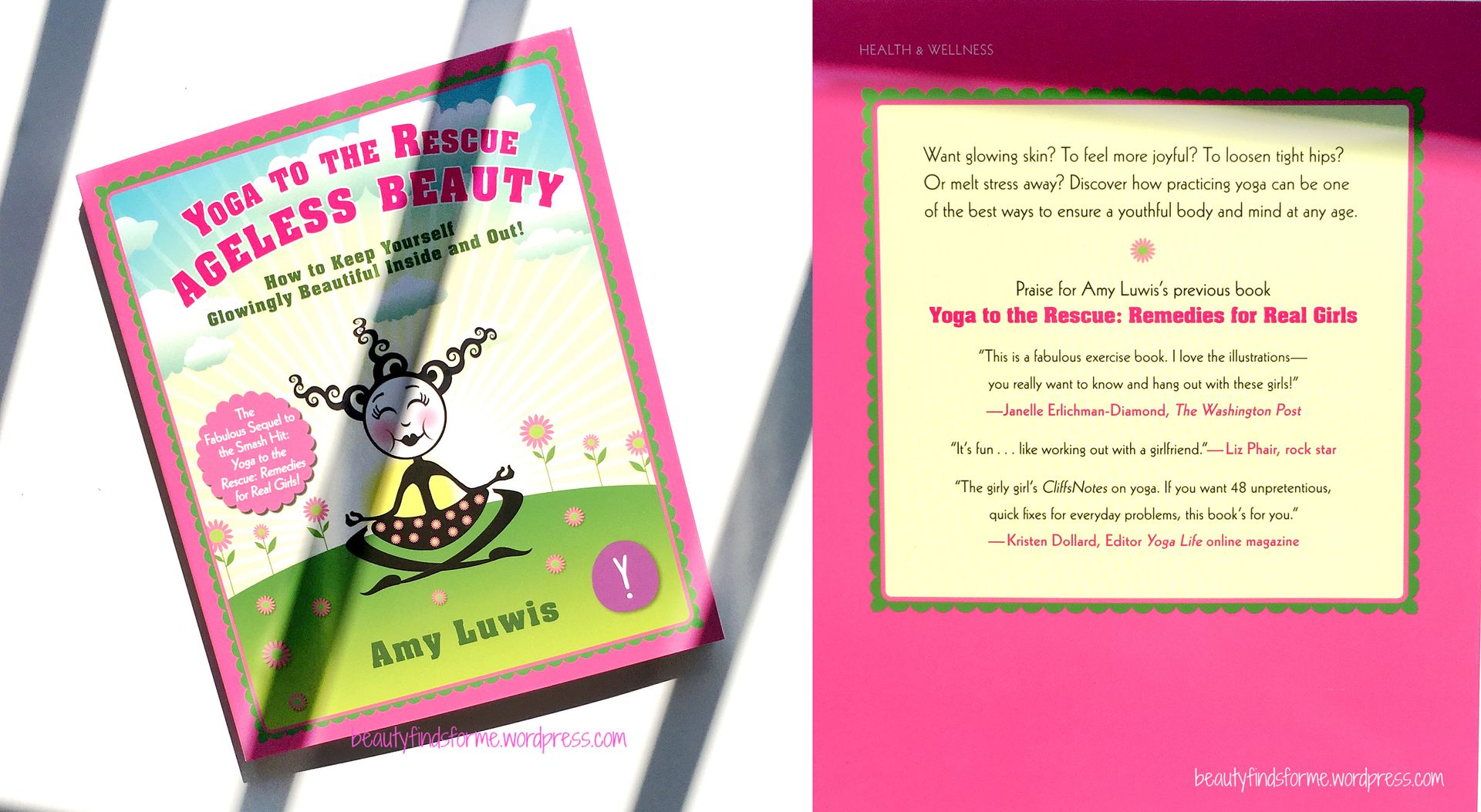 Yoga to the Rescue: Ageless Beauty by Amy Luwis I love getting books in my subscription boxes!  Especially ones that are easy to read like this one ~ a little light reading before I fall asleep at night.  This book will help deal with health and beauty issues using yoga techniques. 
Fatigue? Pain? Brain Fog? Wrinkles?  Yoga to the Rescue: Ageless Beauty has solutions for these and many more–making it a great book for yoginis to yoga-phobics. Contains 48 illustrated yoga poses with mental and physical benefits.  Shows focus points and key elements for you to achieve the correct pose, along with the beginner version of each pose.  Bonus "superstar" health tips, from hot water to seaweed! Diminish wrinkles, lessen varicose veins, improve posture, reduce fatigue, diminish depression, and strengthen the mind and body. Safety tips, modifications to the poses, mini-workouts, and advice on living like a yogini make this an awesome go-to reference book.  Writer/illustrator Amy Luwis is the author of Yoga to the Rescue: Remedies for Real Girls (Sterling, 2007) and creator of the comic blog RedandHowling.com. When Amy isn't doing her favorite poses, she's busy with the nonprofit organization she co-founded, AdoptAPet.com, North America's largest Web-based pet-adoption service.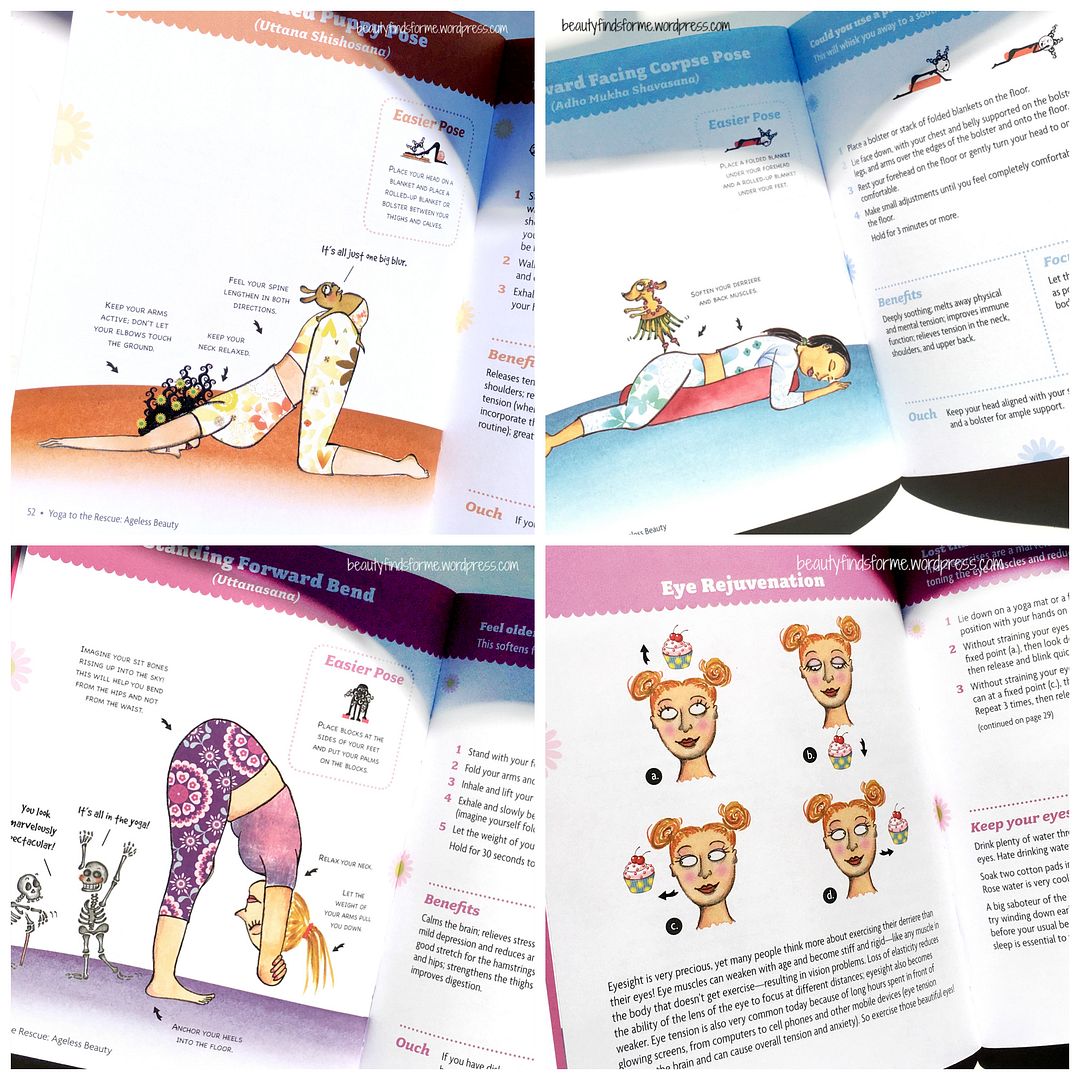 The book is broken down into several chapters: Prologue, Amy's Superstar Health List, Introduction, Joy, Pain, Serenity, Rage-a-holic, SuperGirl, Favorite Resources, Poses at a Glance and The Original RescueGirl.  The illustrations are SO cute and detailed and I love that there are little dogs and cats to help out with the yoga poses, along with Amy's light humor to help guide you thru the book. RV $15.00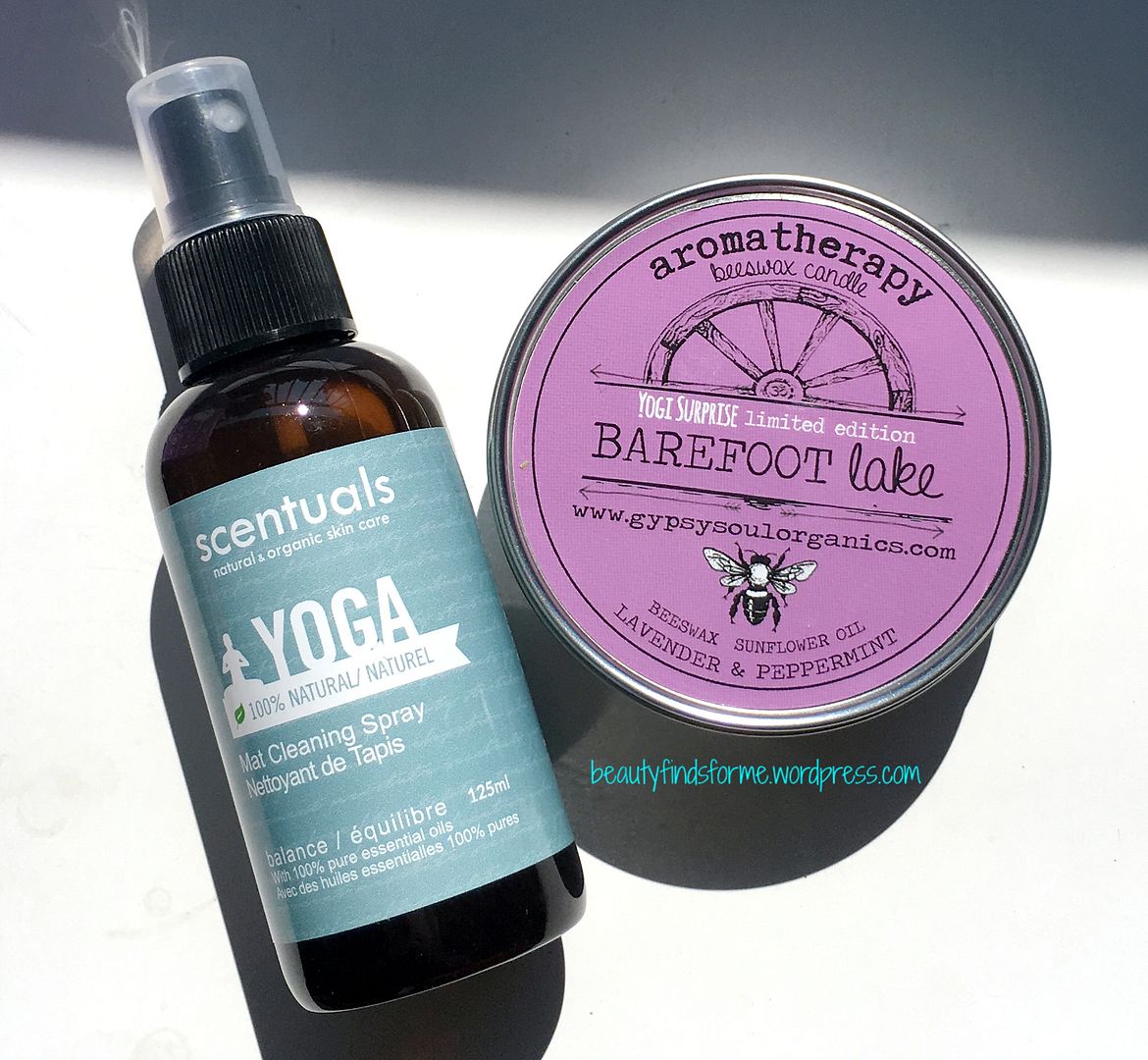 Scentuals Yoga 100% Natural Balance Mat Cleaner  This spray is made with 100% natural and pure therapeutic grade essential oils in a witch hazel base, with no alcohol.  It has anti-bacterial and anti0microbial essential oils of tea tree, lavender, peppermint, lemon grass, lemon, grapefruit and thyme and can be used to clean your yoga mat, exercise equipment, sneakers, or anything that needs to be cleaned!  I love the scent of this and this will be used for my stinky sneakers!  125 mL RV $10.00
Ingredients: filtered water, hamamelis virginiana (witch hazel), cymbopogon schoenanthus (lemongrass) oil, melaleuca alternifolia (tea tree) oil, lavandula angustifolia (lavender) oil, citrus limonium (lemon) oil, citrus paradisi (grapefruit) oil,  mentha piperita (peppermint) oil, thymus vulgaris (thyme) oil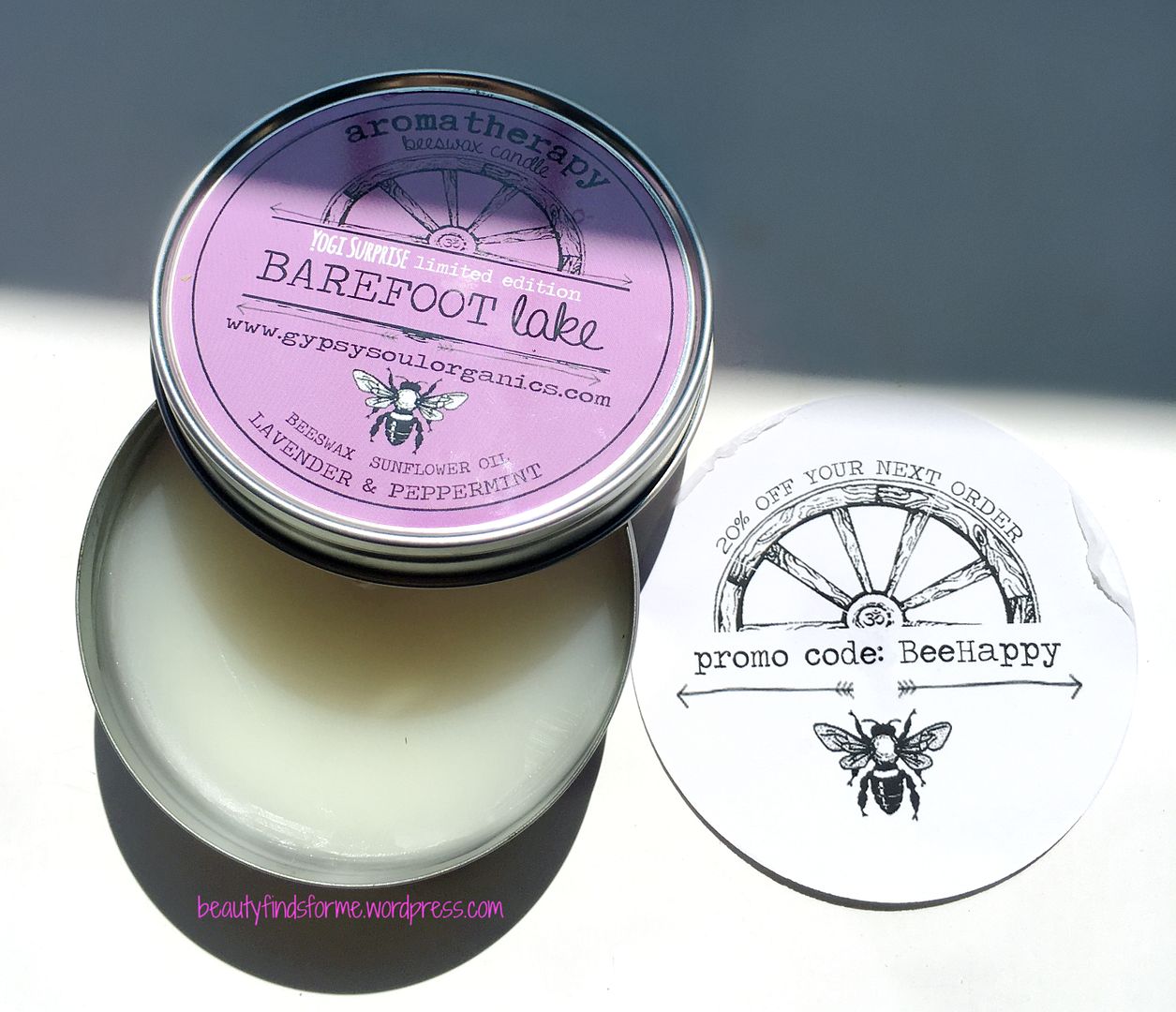 Gypsy Soul Barefoot Lake Candle Part of the Bee Peaceful Collection, this 100% natural beeswax candle is infused with lavender and peppermint to help ground and relax you. It is very cooling and soothing and I love these two scents. 4 oz tin 30~40 burn time hours RV $15.00    Promo Code: Save 20% on your next purchase at Gypsy Soul with BeeHappy and free shipping with orders over $25.00 (no code needed)  
Ingredients: organic beeswax, organic sunflower oil, organic lavender eo, organic peppermint eo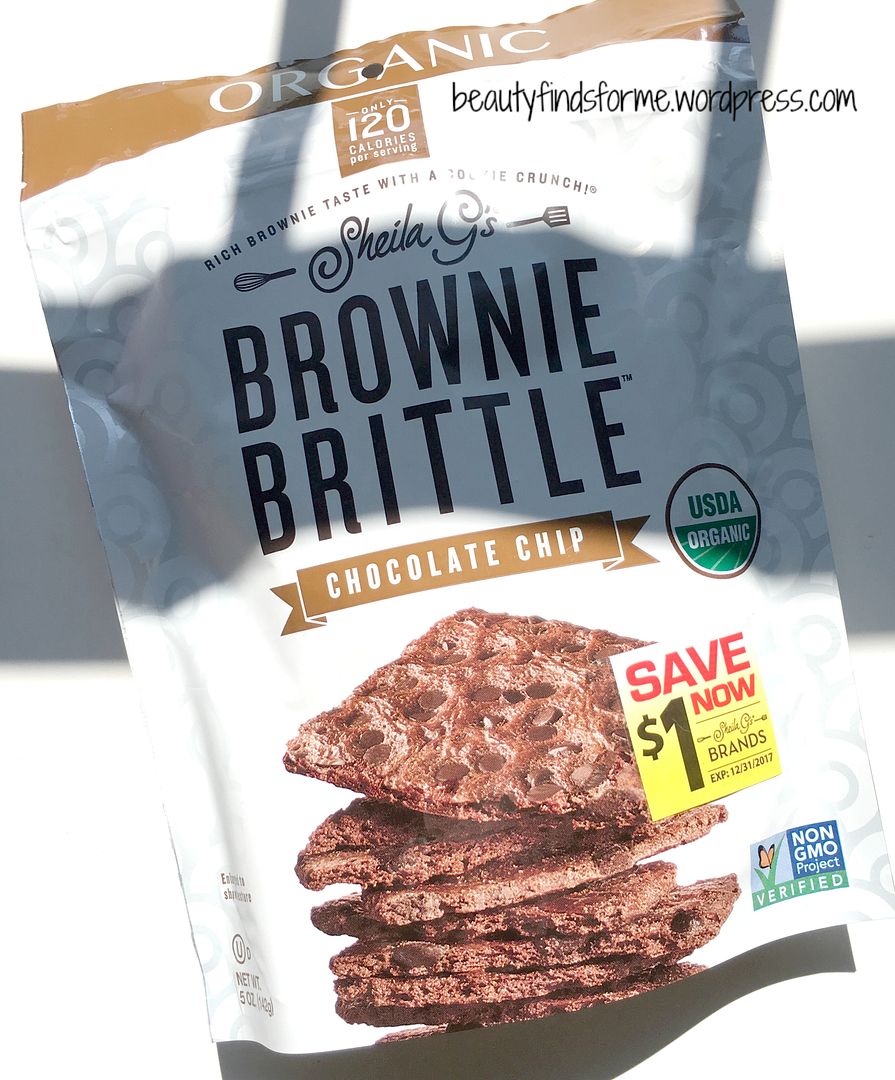 Sheila G's Organic Brownie Brittle  It is organic, so I guess it is healthy!  lol I love the original Brownie Brittle (thanks Costco for turning me onto it) and now they have organic and gluten free versions too.  This is USDA certified organic, non GMO verified and made with chocolate chips, crispy and so good ~ and I ate it all up!!  It is 120 calories per 1 oz serving.  It contains 4 grams of total fat (2 g are saturated), 0 cholesterol, 80 mg of sodium, 21 grams of total carbs, with 1 g of fiber, 14 grams of sugar and 1 gram of protein plus 4% of iron.   5  oz   RV $5.00
Ingredients: organic wheat flour, organic evaporated cane juice, organic palm oil, organic cane sugar, organic cocoa(processed with alkali), organic unsweetened chocolate, organic malt syrup, organic soybean oil, organic corn starch, organic cocoa butter, organic egg whites, organic dextrose, organic soy lecithin (an emulsifier), sea salt, leavening (baking soda), natural flavor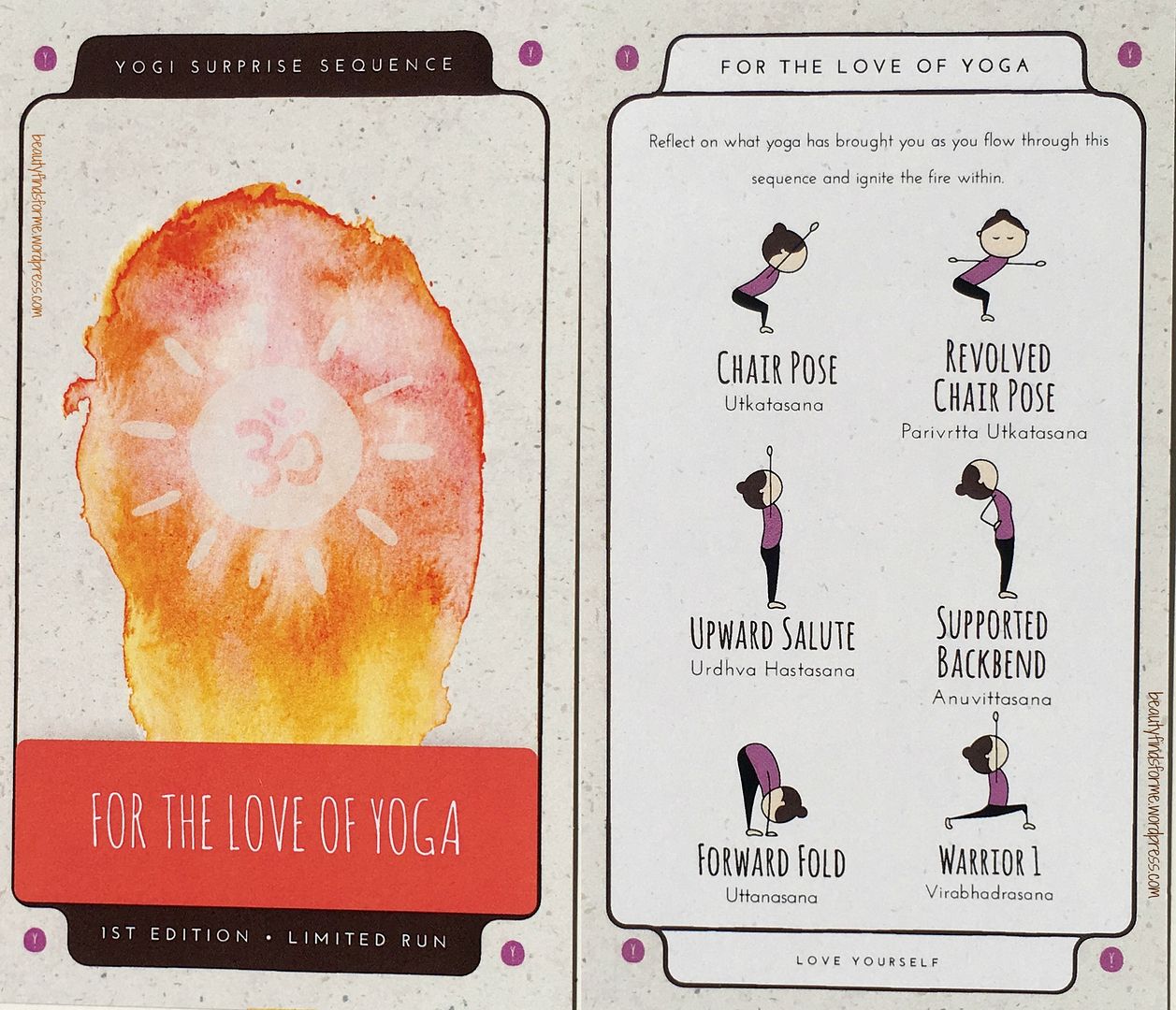 Bonus Item: Yogi Surprise Yoga Sequence Series Card:  For the Love of Yoga: Reflect on what yoga has brought you as you flow through this sequence and ignite the fire within.  Yogi Surprise always has a sequence card in every lifestyle box with poses and positions that reflect the theme of the box.

What a nice box this month!  I love getting candles, especially with lavender and peppermint and the incense sampler is a unique touch ~ I don't remember getting incense before!  I am really happy to have a new strap and spray cleaner as well as a fun book ~ I will be bringing this with me on vacation.  The brittle is also yummy and an unexpected surprise.  Really great box with the Yoga loves theme and curated well.  This box has a retail value of $70.00. Do you subscribe to Yogi Surprise Lifestyle Box?  What was your favorite item this month?

If you are interested in signing up to Yogi Surprise for either their Lifestyle or Jewelry box, I would love it if you used my referral link   They are currently running a 10% off special for the first month, no promo code needed.   Check out the spoilers for next month's boxes below!    If you sign up for the Lifestyle box, use YOGILOVE to get 15% off the life of your subscription!

Next Month Spoilers

If you sign up now, you get a free gift worth $20.00 ~ Chakra Healing Stones  (these came in the May box ~ see my unboxing here)
Jewelry Box   Balanced Mala For our upcoming theme on becoming Balanced this October, we're excited to reveal our Balanced mala to you. This beautiful mala has been carefully crafted to show off delicate and shining pearl-colored beads balanced with hints of black, blue, and brown. Pearls are known to calm and center the spirit while black hematite promotes grounding and stabilization. Wearing this mala during your yoga and meditation practice will help harmonize your energies so you can move more freely with the ebb and flow of life.  Retail Value: $49
Lifestyle Box    Lotus Flower OM Massage Oil, Bohemian Funk This October, bring your body, mind, and spirit back to a state of balance with this soothing massage oil from Lotus Flower Om. Blended with hints of musk, amber, and vanilla for an overall earthy aroma, just a few droplets massaged into the skin will make you feel like you've been wisped away into the woods where nature can quietly work its restorative magic on you. Retail Value: $35  (ohhh exciting!)
[ all descriptions in italics from linked website.  this blog post contains referral & affiliate links ]