[ this blog post contains referral & affiliate links ]
I always enjoy getting my Yogi Surprise Lifestyle box ~ even if you do not practice Yoga, this is a great eco-friendly, green lifestyle subscription box.  What is Yogi Surprise?   

Yogi Surprise Lifestyle Box
6-8 full-size yoga lifestyle items

Vegetarian and GMO-Free

$70+ retail value in every box

$44.95/month + free shipping
This month's theme is "Freedom" ~ this month's offerings will help encourage you to explore yourself and your world around you, while keeping your energies balanced.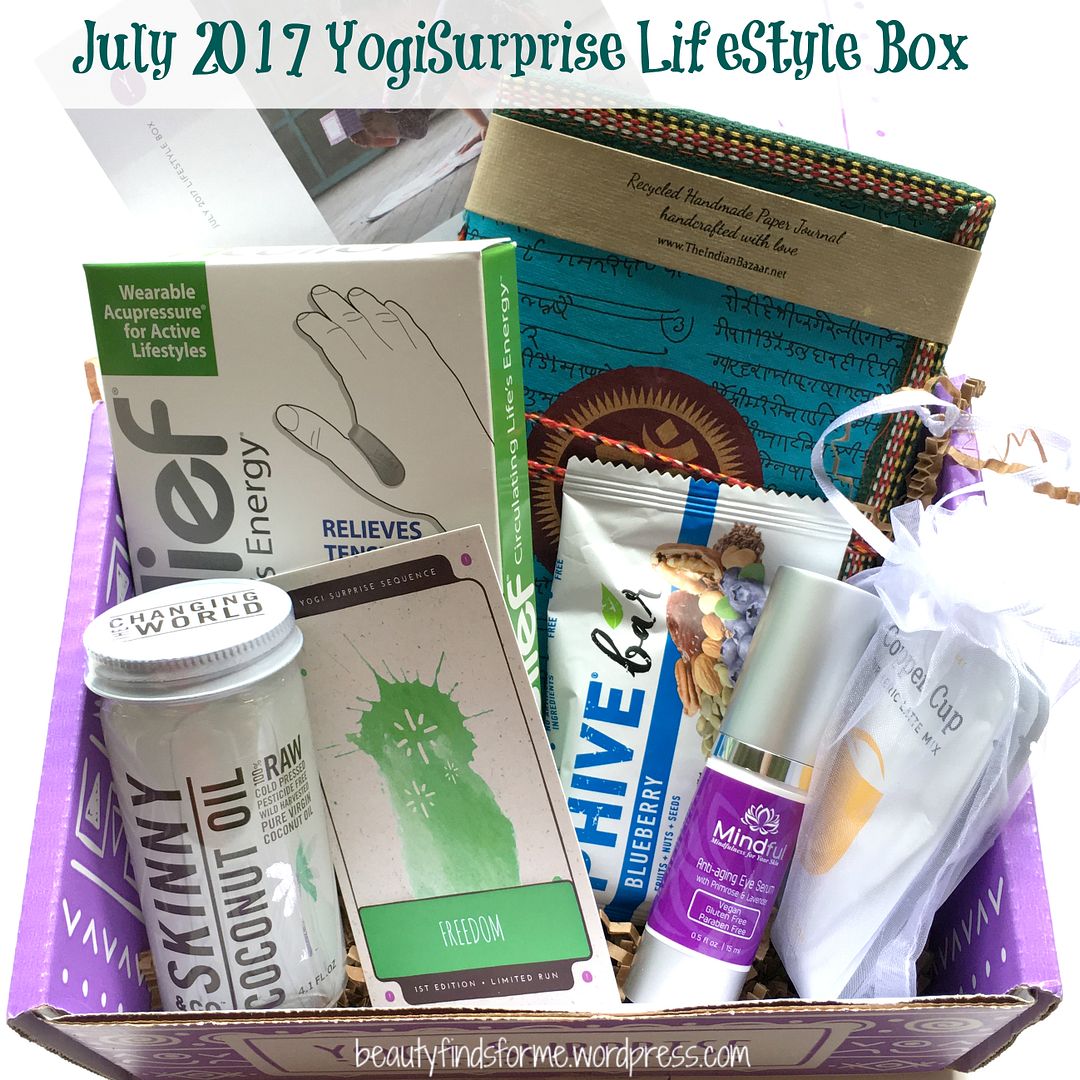 Informational Card
Skinny & Co Coconut Oil I love Skinny & Co Coconut Oil! I have tried it before and this is 100% raw patented Nutralock coconut oil that has been pressed by cold process. It is free from chemicals, fillers, solvents and preservatives.  I do use coconut oil for my DIY projects and also into my diet as well.  Skinny & Co's oil is made from fresh, wild harvested coconuts from Vietnam and is a high alkaline oil ~ 7.3-7.8 pH.  This this is gluten free, vegan and pesticide free.   It is really good in coffee, chai, teas and lattes too ~ it adds a nice smoothness and sweetness.  r  Lauric acid and linoleic acid are two important components in this oil ~  Lauric acid, which makes up 50% of Skinny & Co's coconut oil, helps increase the  good  cholesterol (HDL).  Linoleic acid has been shown to be a fat burner and helps increase muscles and endurance.  There was a study done that shown when women consumed  two tablespoons of coconut oil each day, for 3 months, they did not gain weight but lowered their abdominal fat.   4.1 oz Value $14.00
Our patent-pending Nutralock System™ crafts the ONLY raw & alkaline coconut oil on the market today!  This internationally exclusive extraction uses no heat to extract, rather cooling the coconut to release the oil (yes that's right ZERO heat!).  Skinny is the closest you can get to a raw coconut.  Just open the jar, and find out why so many people are making Skinny their coconut oil!  Our coconuts are WILD HARVESTED from the jungles of Vietnam.  The coconuts are hand-picked and transported directly to our plant; a controlled environment ensuring quality.  Once cracked open, the coconut meat is put into the closed-loop, dehumidifying Nutralock System™. This extracts the moisture without heat, leaving all of the raw nutrients of the coconut intact.   source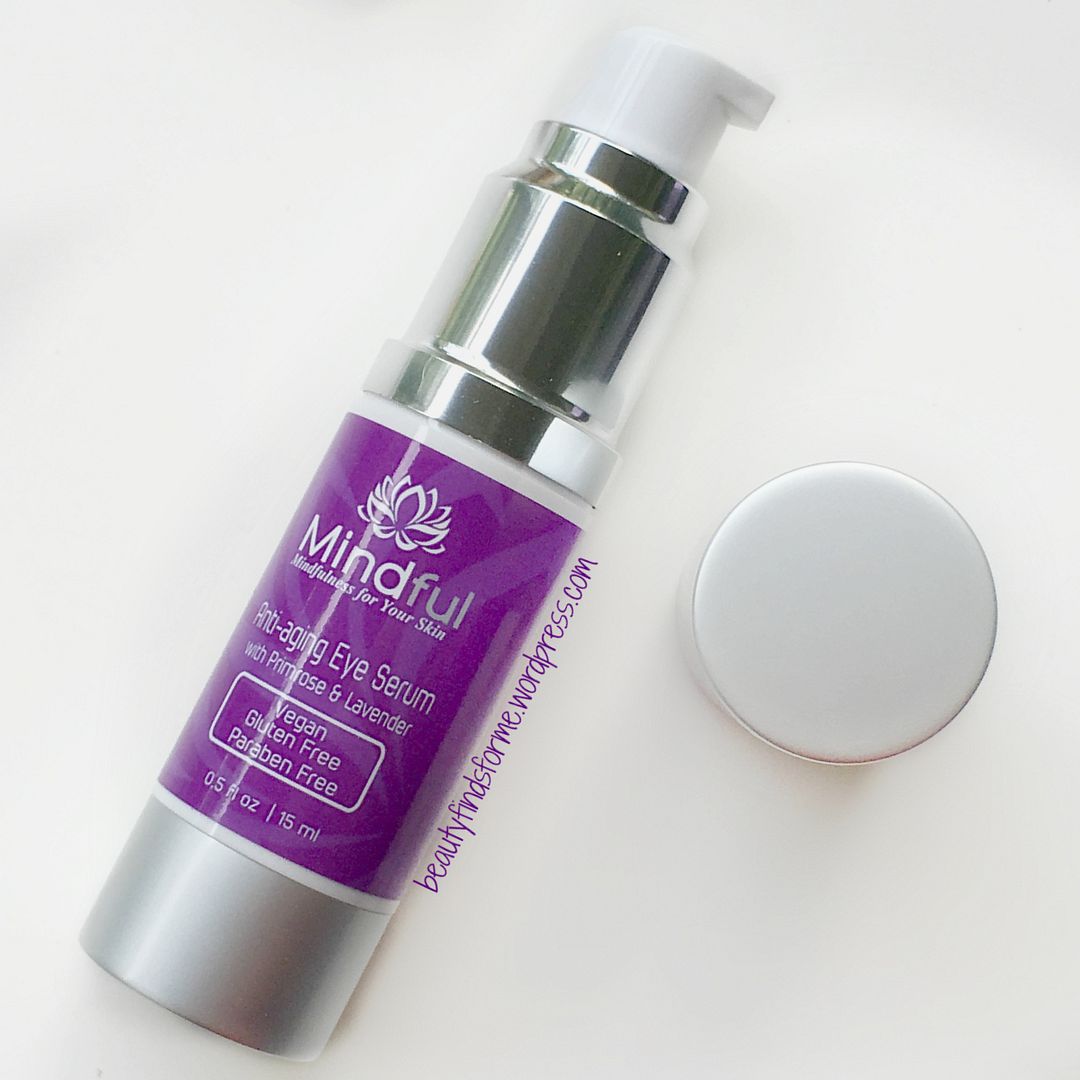 Mindful Anti-Aging Eye Serum with Primrose & Lavender   This vegan, gluten and paraben free eye serum is a lightweight eye product.  Serums are usually not as heavy as creams and are a good product for all ages ~ if you are younger, you can use just this ~ if you are older, like me, you use this first and then layer a cream over it.  This is doesn't really have a scent to it ~ it anything, it is a generic scent that is very light and unoffensive.  It comes out of the pump very creamy and then as I spread it around, I can tell that this is very silky, smooth and lightweight ~ it absorbs quickly as well.

This contains some amazing moisturizing oils, which is why I am shocked at how weightless this serum is ~ jojoba, borage, evening primrose ~ and it has hydrating aloe and hyaluronic acid, along with calming, soothing and healing lavender.   This is vegan and free from parabens, sulfate and gluten, and it is also cruelty free as well.  15 mL RV $49.00
Ingredients: Aloe Barbadensis (Organic Aloe) Leaf Juice, Simmondsia Chinensis (Organic Jojoba) Seed Oil, Emulsifying Wax NF, Tocopherol (Vitamin E), Butyrospermum Parkii (Organic Shea) Butter, Lavandula Angustifolia (Organic Lavender) Flower Extract, Camellia Sinensis (Organic White Tea) Leaf Extract, Calendula Officinalis (Organic Calendula) Flower Extract, Aspalathus Linearis (Organic Rooibos) Extract, Olea Europaea (Organic Olive) Oil, Daucus Carota (Carrot) Seed Oil, Methylsulfonylmethane (MSM), Sodium Hyaluronate (Hyaluronic Acid), Glycerin, Oenothera Biennis (Evening Primrose) Oil, Rosa Canina (Rosehip) Fruit Oil, Borago Officinalis (Borage) Seed Oil, Rose Oil, Allantoin, Xanthan Gum  cosDNA analysis

*Some ingredients used in skincare may be derived from either plant or animal sources. Mindful Skincare only uses plant derived versions of these ingredients to ensure a vegan end product.
OM Journal This beautiful teal-blue OM journal is hand sewn and bound in India and it has
handmade,  acid-free, wood-free cotton paper pages that are made from recycled products.  For some reason, my photos came out with a blue shade, but it does have green teal tones in it.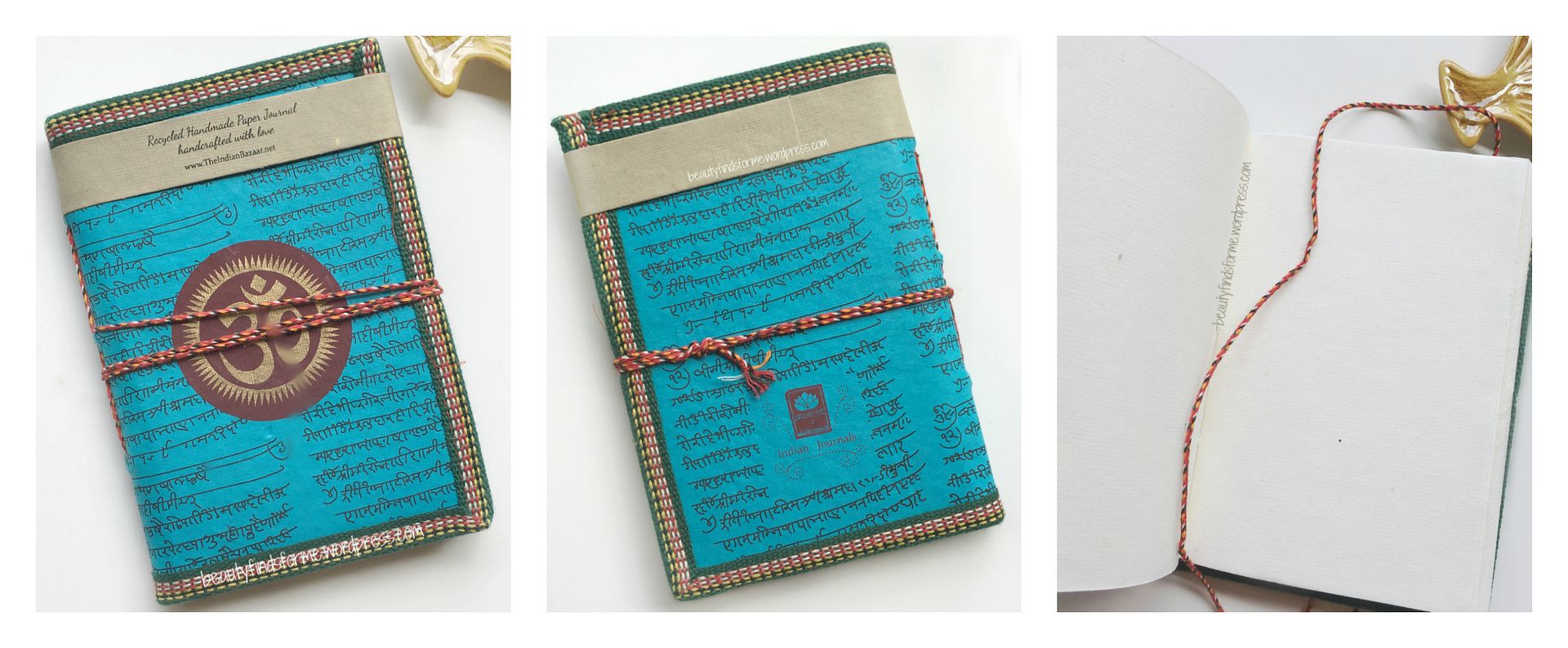 Om (ॐ )  is a mantra of Hindu origin and OM (AUM) is known as the vibrational sound of cosmic universe and is also known as omkara.   This journal has about 45 to 50 pages and it is 7 x 4 inches.  This is a great for any notes, sketching and anything else you can put down on paper!   The Indian Bazaar has other colors in this journal as well.  RV $10.00  Promo Code:  Use YOGISURPRISE and get free, word wide shipping on your orders at Indian Bazaar
Description: "OM" or "AUM" is said to be the vibrational sound of the cosmic universe. The vibration of "OM" symbolizes the manifestation of God in form. "OM" is the reflection of the absolute reality. The mantra "OM" is the name of God, the vibration of the Supreme.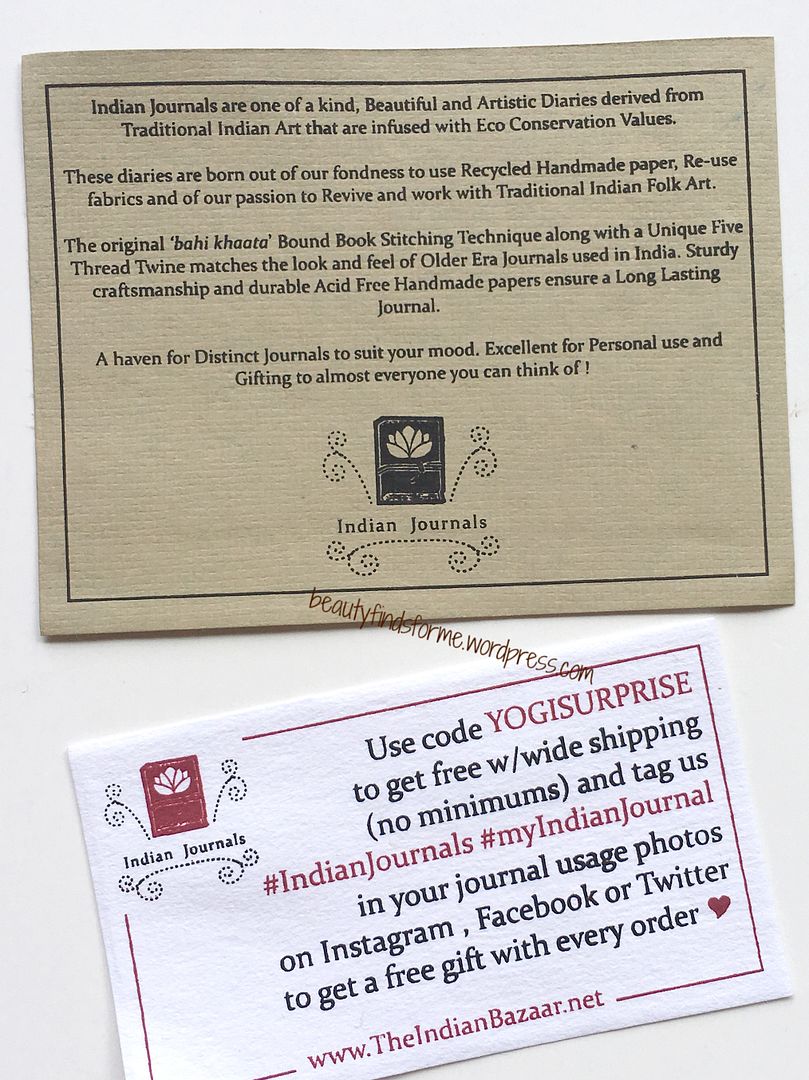 Phive Bar in Blueberry  This is a nutrient dense snack, filled with blueberries and nuts ~ it is both naturally sweet, chewy and crunchy with the seeds and nuts.  This is very tasty. moist and this wholesome protein bar is a great way to have breakfast on the go ~ it is non-GMO, USDA certified organic and certified gluten free.  It is full of superfoods, such as quinoa, blueberries, sunflower seeds and flax seeds and it really does satisfy both my sweet tooth and hunger pangs!  This also has 4 grams of fiber, which we Americans DO not get enough in our diet.  RV $3.00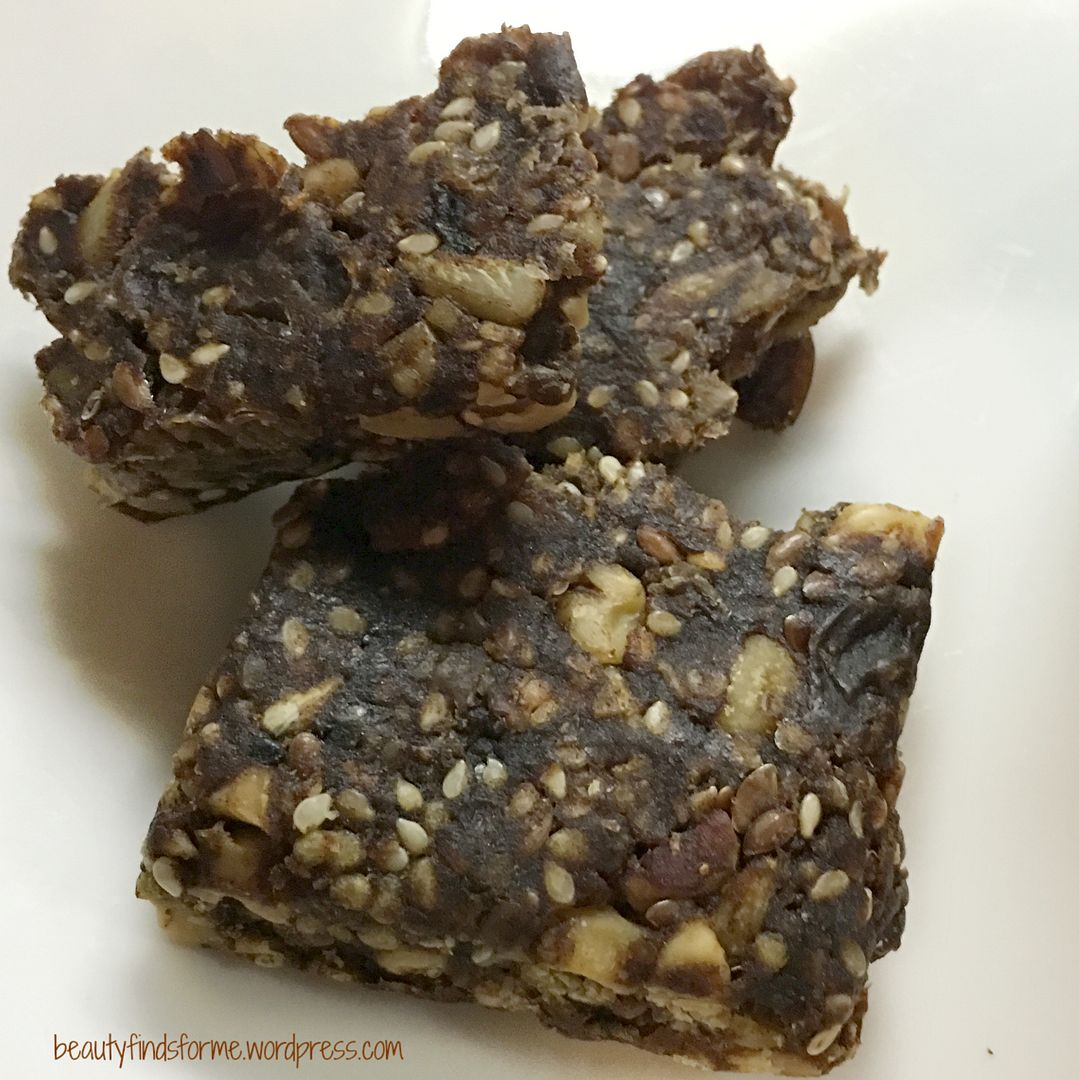 Ingredients: organic dates, organic raisins, organic cashews, organic sunflower seeds, organic sesame seeds, organic almonds, organic prunes, organic walnuts, organic dried figs (organic figs, organic rice flour), organic quinoa, organic pumpkin seeds, organic flax seeds, organic pecans, organic blueberries (organic blueberries, organic apple juice concentrate, organic sunflower oil), organic natural flavors, sea salt.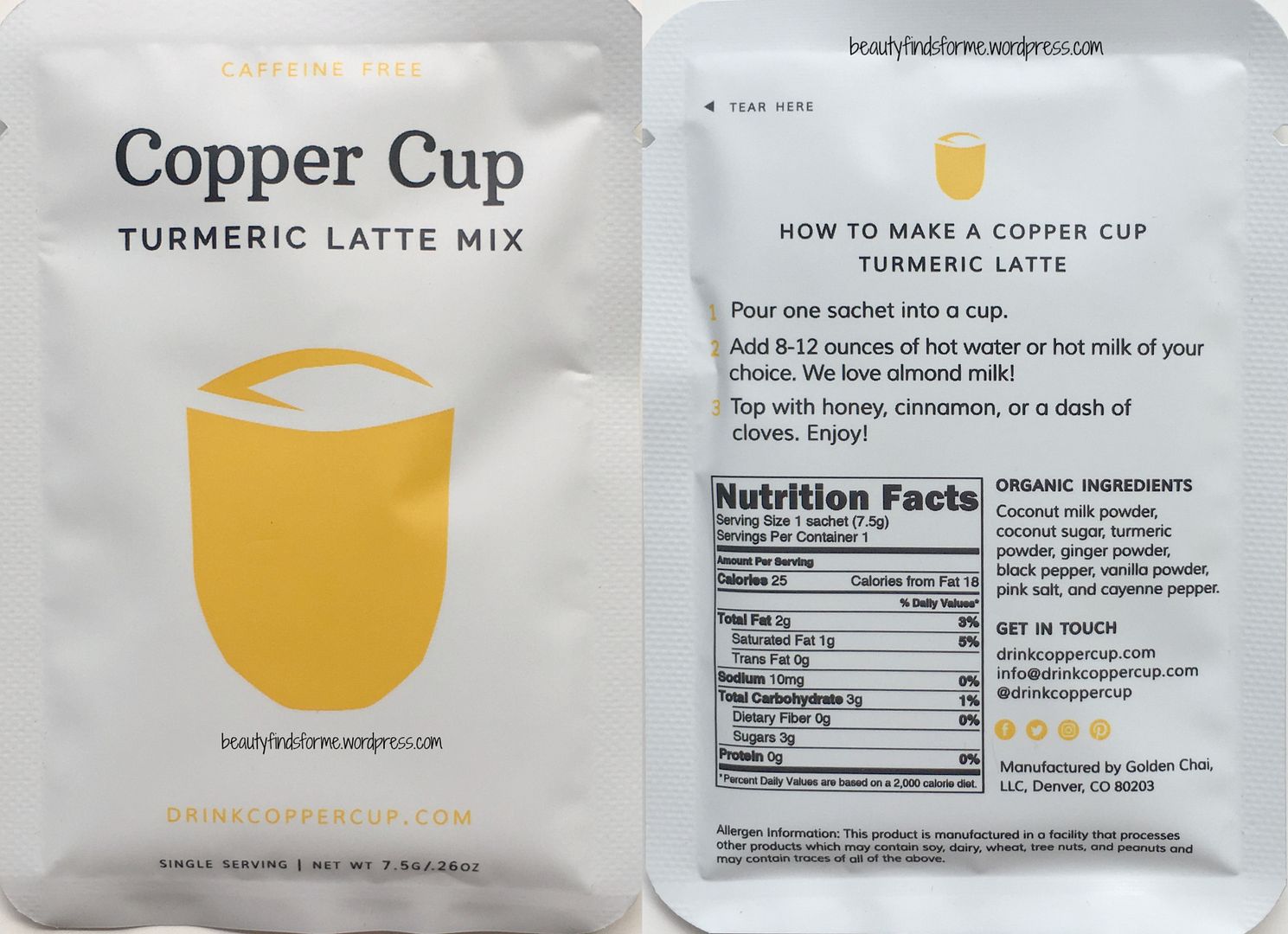 Copper Cup Turmeric Latte Mix This is an amazing find! I love pre-packaged drinks, hot or cold, and this is instant yumminess!  Also known as golden milk, this is made with tumeric, a soothing spice that has calming and pain killing benefits, this powder turns into a smooth bright golden yellowy hot drink with a creamy texture, which is due to the organic coconut milk in it. This also has a nice little spicy kick with ginger and black and cayenne peppers, with the sweetness of vanilla and coconut milk sugar.  To make, just add one package in a cup, add 8 to 12 oz of hot water or milk ~ can be cows milk or almond, soy, coconut! Add honey, cinnamon or cloves! This is SO good and it is caffeine  free and organic.  3 packets $9.00  Special:  Want to try this out?  For 99 cents, you can get 2 packets of the latte mix at Copper Cup    Free shipping too!   Save 10% off your first order with coupon code  WELCOMETOTHECLUB10
Description: Copper Cup's turmeric and unique blend of herbs give you energy in the morning. Copper Cup brings your body into balance you get energy in the morning without caffeine, and it helps you sleep better at night. Copper Cup picks you up in the afternoon. Turmeric relieves stress and improves your mood. Copper Cup makes your body feel really good. Not a surprise when turmeric is as effective as ibuprofen for reducing arthritis pain. Coffee and caffeine keep you up and make the sleep you do get less restful. Copper Cup is caffeine-free, so it doesn't mess with your sleep. And turmeric, when taken in the evening, is actually a sleep aid!
Ingredients: Organic coconut milk powder, organic coconut milk sugar, organic turmeric powder, organic vanilla powder, organic ginger, organic fresh ground black pepper, organic ginseng, himalayan pink salt, and organic cayenne pepper
Aculief Wearable Acupressure  I love acupressure and this little device is using natural traditional Chinese medicine to help relieve tension and headaches.  I know when I am feeling anxious or have a headache, I am always rubbing and pressing that muscle that is that 'web' of skin between my thumb and forefinger as it helps alleviate my nervousness and the pain.  This device works the same way ~ It slips between your thumb and forefinger (the large intestine median) to help reduce stress, headaches, even relief from cold symptoms (do not use this if you are pregnant).  You can even put it between your toes as well ~ that is the liver median and it will help with stress, headaches, anxiety, anger.  If you are interested in acupressure, which is similar to acupuncture but without the needles, this is a great website with the different pressure points and what symptoms it will help with.    $20.00 

Description: Aculief provides pressure to the LI4 acupressure point. The LI4 acupressure point is one of the most powerful points on your body and has been used for thousands of years to provide natural relief of headaches, tension and promote your bodies natural energy! Relieves tension and promotes the flow of your body's natural energy to reduce stress & tension. Nurtures overall well-being and holistic health. Aculief is drug free and has been developed to help you self treat without medication. Aculief is wearable acupressure for active lifestyles, designed to wear anytime and provide natural relief from tension and restore the natural flow of energy throughout your body.
Aculief provides pressure to the LI4. The LI4 acupressure meridian is located on your hand between the thumb and forefinger and has been used for thousands of years as one of the most effective acupressure points for immediate tension relief and restoring your body's natural flow of energy and relieves headaches & tension. Acupressure to the LI4 works to relieve imbalances throughout the body and restore your natural life energy known as Qi (chee) in Traditional Chinese Medicine for a holistic healing. It has been designed to apply this pressure consistent with Acupuncture Techniques without the down time. Aculief is wearable acupressure for active lifestyles!
Bonus Item: Yogi Surprise Yoga Sequence Series Card:  Freedom:  This sequence was designed to open the heart and throat to allow for more freedom, lightness, compassion and acceptance in your life.  Yogi Surprise always has a sequence card in every lifestyle box with poses and positions that reflect the theme of the box.

What a great box!  I think my favorite items are the Copper Cup Turmeric Latte, Aculief and the OM Journal ~ but all of the items in here are winners.  The eye serum is very lightweight and perfect for hot summer months, Phive protein bar was really tasty and not dry, like some other protein bars can be, and I love getting another bottle of Skinny & Co's coconut oil.  This box has a retail value of $105.00!! Do you subscribe to Yogi Surprise Lifestyle Box?  What was your favorite item this month?

If you are interested in signing up to Yogi Surprise for either their Lifestyle or Jewelry box, I would love it if you used my referral link   They are currently running a 10% off special for the first month, no promo code needed.   Check out the spoilers for next month's boxes below!    If you sign up for the Lifestyle box, use YOGILOVE to get 15% off the life of your subscription!

Next Month Spoilers

If you sign up now, you get a free gift worth $20.00 ~ Chakra Healing Stones  (these came in the May box ~ see my unboxing here)
Jewelry Box   Citrine Basket Necklace For our upcoming August theme on Giving Back, we're bringing you our Citrine Basket Necklace to help you manifest abundance and prosperity. Known to stimulate the solar plexus, citrine can help you harness your personal power and expression of will. The more you give toward others by aligning your emotions, thoughts, and actions with abundance, the more abundance you will attract back to you.
Lifestyle Box   Peaceful Warrior Canvas Pouch  Get a powerful reminder to be kind and courageous every time you zip open this Peaceful Warrior canvas pouch. Let its simple message inspire you whenever you reach into it for your makeup, jewelry, hair accessories, or anything else you want to keep tucked away in there.
Headbands of Hope Sky Flower Tube Turban  Embrace the light and airy colors of late summer with this Sky Flower tube turban from Headbands of Hope. Designed to comfortably fit everyone from children to adults, one headband goes to a child with cancer for every headband that is sold.
[ all descriptions in italics from linked website.  this blog post contains referral & affiliate links ]